Last Updated on by Rodrigo @ OutofYourComfortZone
In memory of my dear friend Augusto Lima Guimarães who passed away while I was editing this article. No matter how many "friends" we make in our travels, they will rarely be as important as our old friends back home…..be in peace my brother…
Traveling with friends and family is usually synonymous with a great adventure… hopefully… 😉 Since you already know them, you know what each person is like, their interests, and, in general, you like the same sort of things (especially if you chose to travel with them). Besides this, being able to share the joys and emotions while traveling with people close to you is priceless.
However, we cannot always count on this company for our travels. Whether it's a matter of money or time, often there won't be anyone to join us on our adventures. To be honest, this has happened to me much more frequently than the contrary.
So, should I travel solo or wait for someone that I know to come with me?
As I mentioned above, traveling with someone that you know (and like) is really great, but it doesn't mean that you can't still enjoy your trip A LOT if you go alone.
Obviously, there are some people who already want to travel alone to avoid stress, have time for introspection, or be able to relax without focusing on other people. If this is your case, well, you're probably not concerned about making friends and meeting people while traveling….but hopefully you will still enjoy this article.
So, if you get to the chance to travel, even if it's alone, YOU HAVE TO GO! Here are some benefits of traveling solo:
You will be able to meet more people traveling alone than if you were to just stay with your friends or travel partners the whole time

You will have complete freedom to define your trip… itinerary, how much time to spend in each place, what activities to do, and much more

You won't have any relationship Even if you really like your travel partner, after 1 or 2 months of traveling and spending all of your time together, it can be difficult to avoid arguments or even ugly fights which can ruin a friendship. After all, just because someone is your friend does not mean you have compatible traveling styles.
Besides, if you are like me and believe that traveling is more than seeing fancy churches or beautiful beaches and instead about meeting people from other countries, cultures, languages, religions, and customs for you to learn about and help you open your mind, then these tips are for you. Plus, if you've seen the video on I put on my page about finding your ideal accommodation, you'll already know one of my favorite quotes: "happiness is only true when shared." For this reason, if you are traveling alone and agree with this quote (it's ok if you don't, thought), you will have to meet people and make friends to share this happiness.
Even if you are a really social guy (or gal) that finds it easy to converse, you won't always find yourself in situations where you can actively meet other people. Saying this, we made this list to help you create and find these situations where it's easy to meet other people as well as give some tips to facilitate the process of making new friends.
Stay in hostels
In my opinion, staying in hostels is the easiest way to meet other people because they are full of travelers from other countries that are doing the same activity as you and starting conversations are usually easy and relaxed. They can begin in the dormitory, the common room, or the kitchen during dinner. Practically everyone staying in a hostel is open to meeting other travelers. So just get the ball rolling by asking where the person is from, what their trip is like, and what they've done in the area you're in now. Ideally, you can explore the city together and through that a friendship is made.
Success story: There's too many of these to count. In most of the hostels that I've stayed at alone, I've ended up meeting people and exploring the area together. It's difficult to be alone when you don't want to be. I remember one time in Singapore when I met a bunch of people during the hostel breakfast and then afterwards went together to swim, explore the city, and, at night, had a huge party. On another trip in Europe, I even stayed at the house of one of the people that I met… priceless.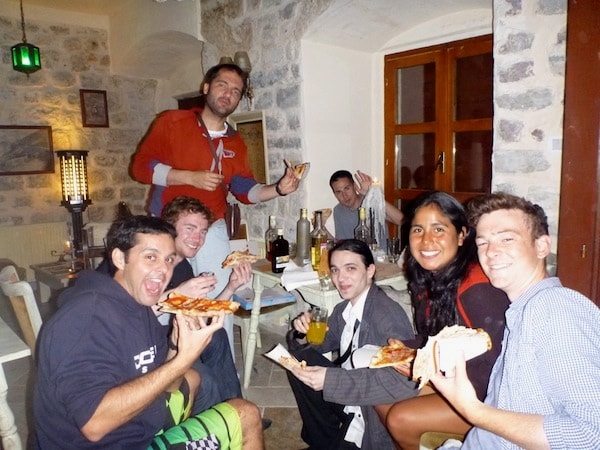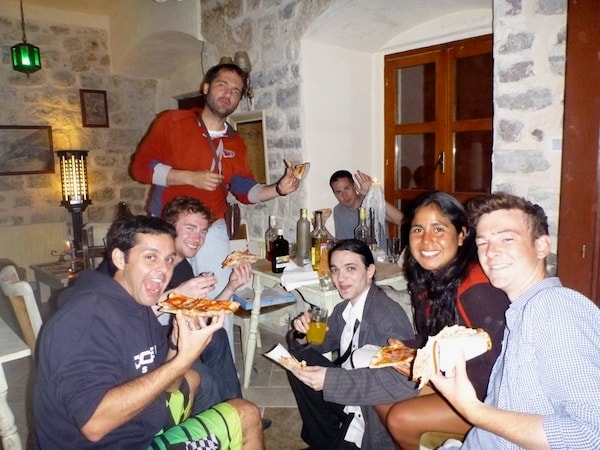 TIPS: Look for hostels that have a common area (you'll find it under "facilities" on whatever website you use to book) and a high rating for "environment." The "environment" rating will determine if the hostel is more for people that want to relax (hostels with a low "environment" rating) or want to socialize (hostels with a high "environment" rating). Plus, if you like to party, participating in "drinking games" with fellow travelers at the hostel before going out guarantees that you will make a lot of friends.
Hang out in hostel bars and do "pubcrawls"
Even if you are not staying in hostels, you can still go to hostel bars. Like I mentioned above, as the customers are other travelers who don't live in the area and probably don't know many people, they are usually completely open to meeting new people. Don't miss your chance!
When it comes to pubcrawls, normally they are organized by hostels or other travel companies for backpackers. Even if you are staying in a hostel different than the one that's organizing it, you can normally go. Basically, the idea of a pubcrawl is to get a bunch of people to meet in one place during the night and from there go from bar to bar drinking a little bit in each place. Normally, you will have to pay to participate but in exchange you'll reserve some "free" drinks in each bar and have the chance to meet all of the people that are in the pubcrawl. If you like to party, this is for you!
Success story: I've done these a few times in touristic cities that have lots of visitors… and I almost never regretted it (just the next day with the hangover.. 😉 ).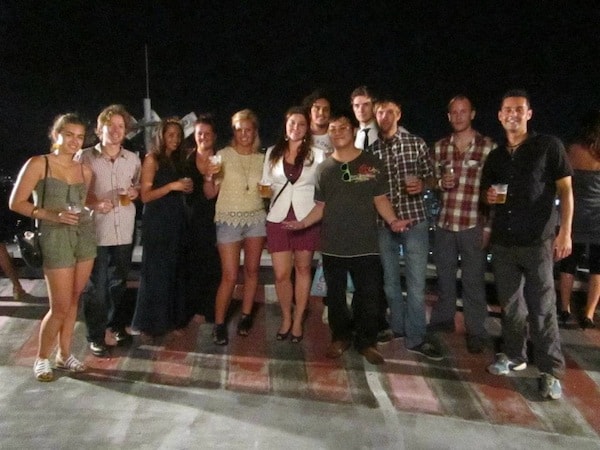 Tips: Try to "pre-game" at the hostel before so you don't spend so much money at bars (even though some drinks are included, it might not be enough for the party animals out there J). Besides this, during the night you can try to find a group to explore the city with the next day…. or a few days later after the hangover has passed…
Use Couchsurfing for accommodation
You can find more information about Couchsurfing on this page (just go towards the bottom of), but I'll give a quick summary here. Basically, it is a website where you can find hosts in diverse cities around the world and sleep in their houses for free. Beyond the money part, one of Couchsurfing's main attractions is to meet someone local (instead of other just travelers, like most of my other tips help you with) from the place you are visiting. This way, he or she can tell you a little bit more about what real life in the country is like, giving you a deeper understanding of the place than if you had just stayed in a touristic hotel. Besides this, many times the host can show you around or you can meet their friends. It's always awesome to meet locals.
Success Story: I used Couchsurfing in Lithuania and my host was great, taking me to see a castle close to the capital and to eat typical food with one of her friends.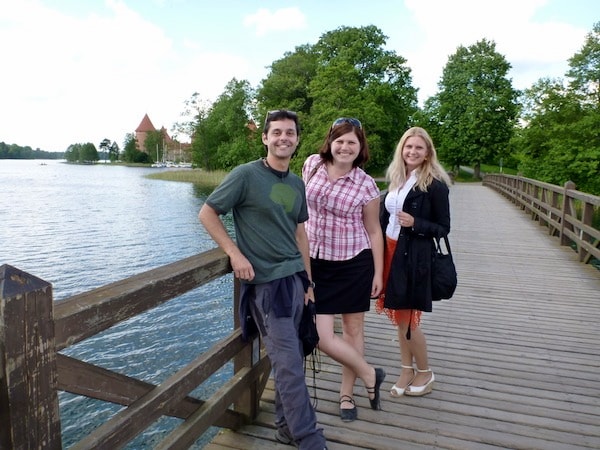 TIPS: While the majority of people I've met who have Couchsurfed had have great experiences, you always have to take safety into account. Be careful with people who don't have any reviews (or mostly bad reviews) and if you get weird vibes from anyone, remember you can leave any time.
Also, don't forget to offer something to your host in exchange for their help! It doesn't have to be something monetary… just something small like helping them with their language skills or washing the dishes can be enough.
Check out Couchsurfing events
Even if you don't use Couchsurfing to sleep somewhere, you can still participate in one of the thousands of events that the members of Couchsurfing organize every day all around the world… normally for free! You might find an event to go to a bar and chat, play football in a park, meet somewhere to practice English (or any other language), or socialize while playing cards. The best thing is that, alongside other travelers, you'll probably also meet local people at these events as they sometimes don't have the chance to travel but still want to meet foreigners visiting their city.
Success Story: One time backpacking in Helsinki, Finland, I didn't know anyone and I didn't feel like being alone. I went to the Couchsurfing website, took a look to see if there were any events that week and… BINGO! I met up with a bunch of people in a bar and afterwards went to one of their houses and found myself in a typical Finnish party where I was the only foreigner… a very authentic taste of Finnish life!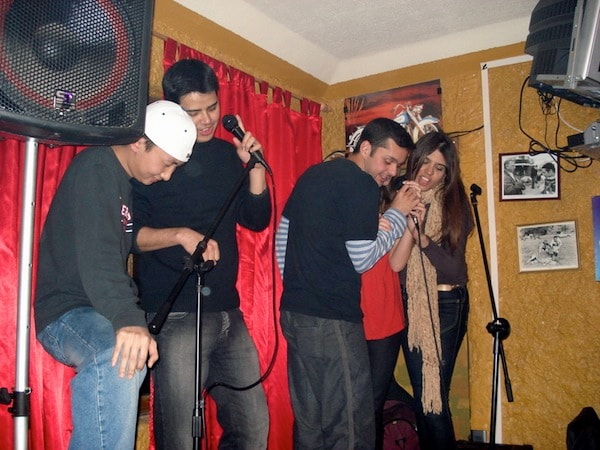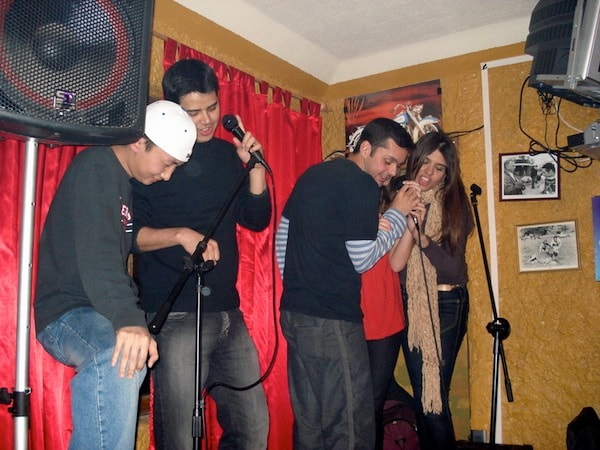 DICA: As above, take a look at my page about accommodation where I also explain about Couchsurf events. In addition, you do not need to travel to attend these events. Maybe even where you live in your country has scheduled events where you can participate and have the opportunity to meet people from other countries.
Do a Free Walking Tour (FWT)
This is a tip that I mention on my page about activities to do during your trip. Basically, "Free Walking Tours" are amazing tours, given by locals where you pass the sights of the city and, at the end, you pay the amount that think the tour is worth. Besides learning more about the place you are visiting, you will have the chance to meet other cool travelers like youself, who want to learn about a place without sitting through a 2 hour history lesson. Plus, the good guides will give you tips for places to eat and go out and, many times, at the end of the tour they take the people out to have a beer or coffee with them.
Success Story: I NEVER miss a Free Walking Tour if it exists in a city that I'm visiting. I've met A LOT of people during these walks and many times we end up doing something that evening. Here's just one example of many: there was a girl from Slovenia that I met during a FWT in Lithuania that, after I year, I ended up meeting again in her hometown.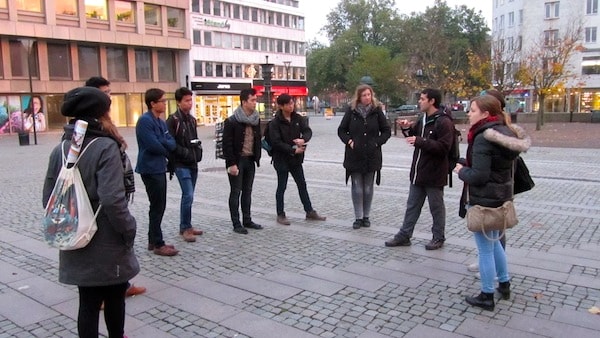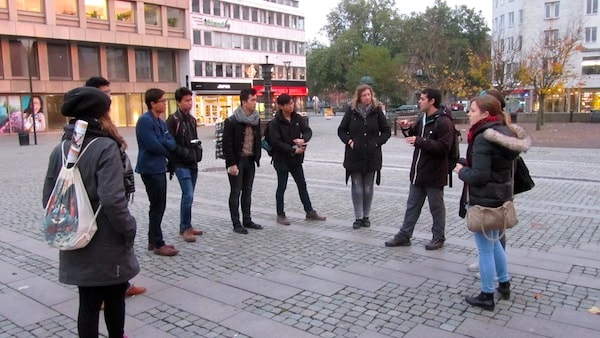 TIP: On my page about activities to do during a trip, I explain how the tours work and how you can find them.
EXTRA NOTE: Do you know when I was living in Malmo, Sweden, I created my own Free Walking Tour? I'll be writing a post sometime soon about how you can create your own… it's more fun and more profitable than you'd thinkJ. Be sure to subscribe on the right or at the bottom so you don't miss it!
Embrace trains and other forms of public transportation
Often during your travels, you'll find yourself on long treks via train, boat, bus, or plane. These are great opportunities to meet other people whether it is someone sitting next to you on a boat or, even better, in those little 6-person cabins on many European trains. Those little cabins, in particular, are great for starting a conversation because many times you are actually facing the other people. And to avoid being awkward, it is even better to make conversation than staying silent.
Success Story: Once again, too many to count… a French girl on a bus in Australia, a German guy on a boat in Indonesia, and New Zealander in Bosnia. All people that I met on transportation and then ended up traveling with afterwards.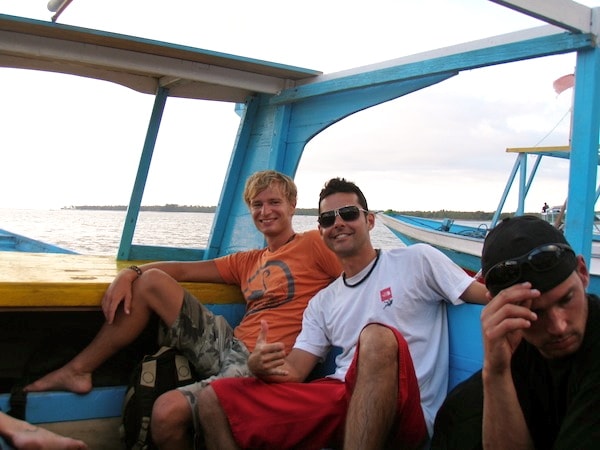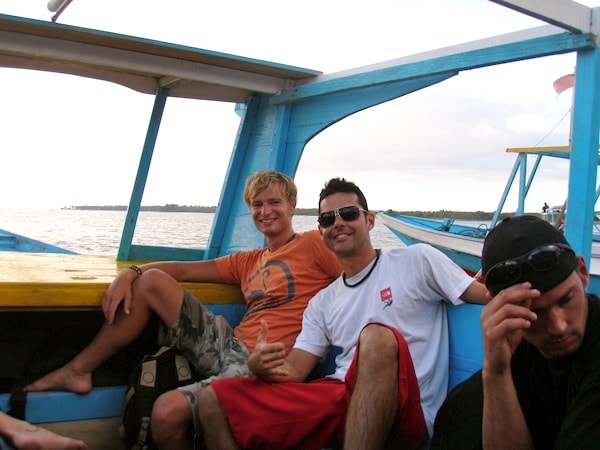 TIP: If you spend the whole trip looking at your phone playing Candy Crush, you'll never meet any people. Appear available and look around to see if there are opportunities to chat.
Hitchhike
This is a useful way to meet people while also getting a free ride. Anyone who has hitchhiked before knows how important it is to talk with the driver (or stay quiet, if that's what they prefer) as a form of gratitude. The only problem with this is that sometimes you'll find an odd driver and end up in a strange conversation that you can't avoid until you arrive at your destination… or perhaps you'll find that they don't speak your language at all!
Success Story: I've hitchhiked many times, but normally on trips where there aren't other forms of transportation. One encounter that has always stuck out to me was a man we met in East Jerusalem after we got lost. He picked us up as we were walking up a big hill without us sticking our thumbs out. Although we couldn't talk to him much, he drove us to a beautiful lookout point of the city and helped us get to our next destination.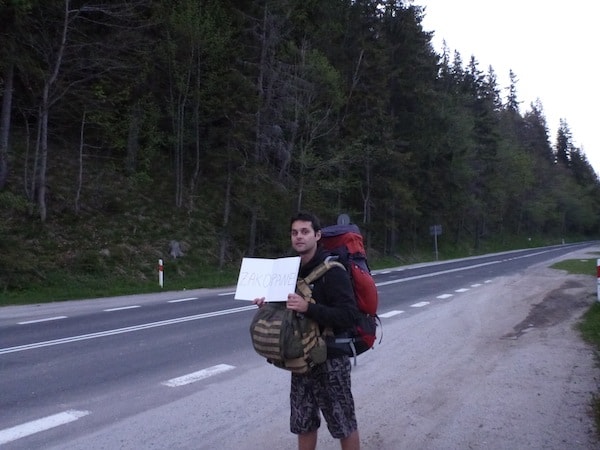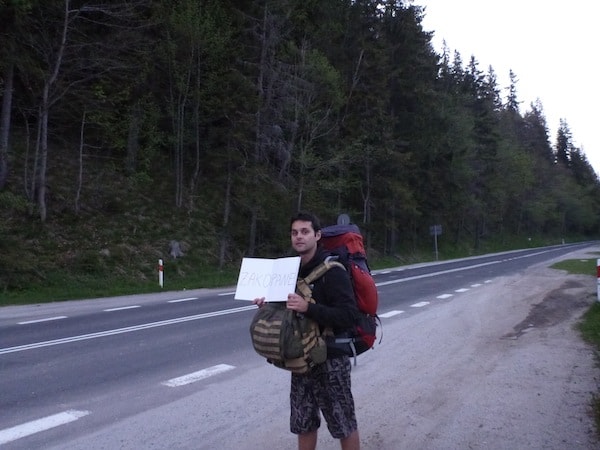 TIPS: On my page about saving on local transportation, you can find advice about hitchhiking around the world.
Rideshare is something like an organized ride where you divide the cost of the trip with other people or the driver. Basically, there are various site that arrange this type of trip. You can put in, for example, that you need a ride from New York City to Boston. If anyone has a car and is taking this trip, they'll let you know and together you arrange the cost and the trip. Once you meet, you can also decide to do other activities along the way.
You can also do the reverse. Imagine that you have a van and you want cross the United States and have someone to hang out with. You make a post with your trip, people send you a message if they are interested, and suddenly you have a full car of people excited about the trip who can help you split the cost and plan the stops.
Success Story: One time, while crossing part of the United States to get to Canada, there was no public transportation. I found someone online doing the trip and we did the trip together. The person was a little bit older and I initially thought we wouldn't have anything is common, but we ended up having good conversations.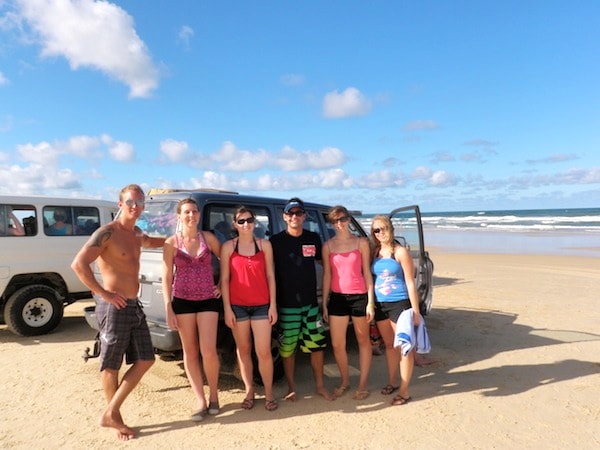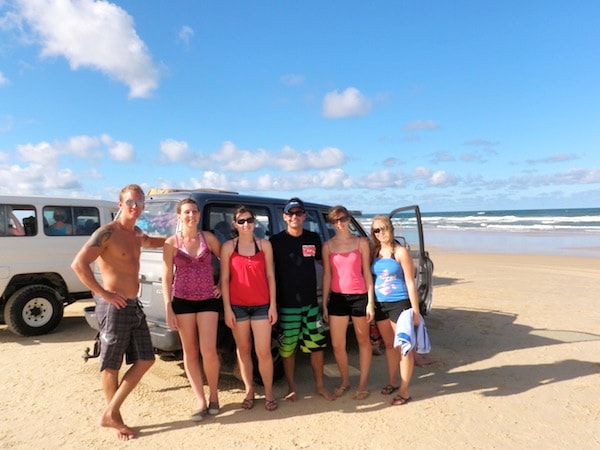 TIP: In order to be successful with this, it's good to plan a little bit ahead. Here are some sites where you can search for or post rideshares:
Alternatively, you can meet people in your hostel or during tours who want to go to the same destination as you do and you rent a car together. You both save and build up a relationship!
In this case, our article with the The 5 Best and Cheapest Websites to Compare and Rent Cars Around the World can help you save on your car rental.
Check Meetup.com
Meetup.com is a site that brings together the largest number of local groups around the world. It helps people organize local groups with similar interests or lets you find these groups in the city that you are in. Basically, if you'd like to go to a museum, for example, you can check Meetup.com to see if there's a group to go to the museum together. You'll also find special language groups, hiking groups, running groups, chess player groups, etc. etc. Participating in these events, you'll have the chance to meet lots of people and, the majority of the time, they are free.
Success Story: When I was in Malmo, Sweden, rather than going to the city's Christmas festival alone, I saw that there was a group of people going together on Meetup.com. I joined them and met a lot of new people.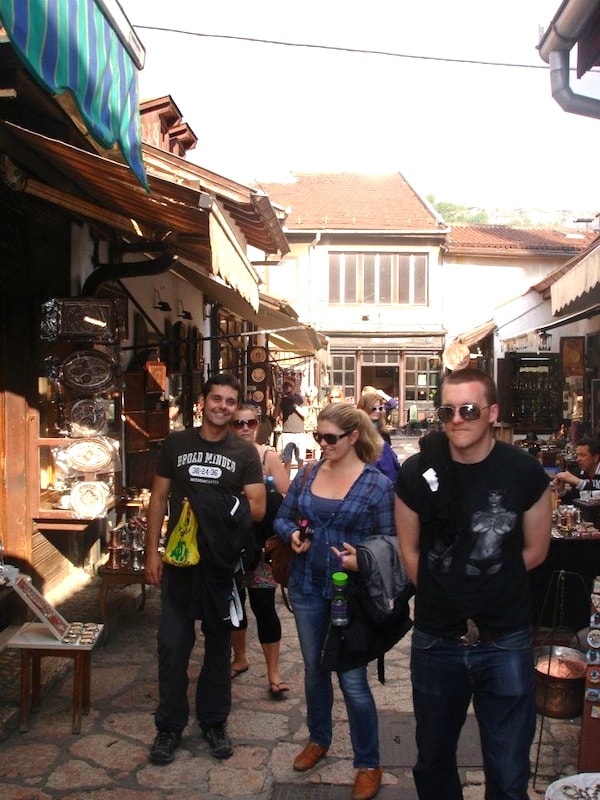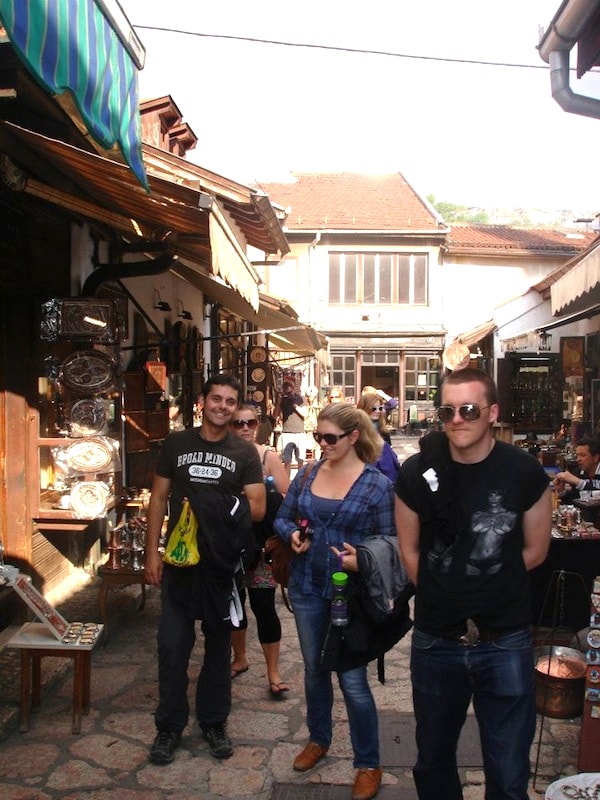 TIP: You can also use these site to find events in your hometown. Perhaps you really like dogs… check and see if there's a meetup for dog lovers soon where you live (or organize your own). If you are going to travel and already have your itinerary and dates, begin searching for events in the cities you will be passing through before. That way, when you arrive in that city, you'll already have an activity to do in case you don't find anything better.
Look into excursions and travel packages
If you don't find anyone to travel with you and you don't want to start your trip alone, you can go on a tour or travel package. With this, you be a part of a group that'll probably all stay in the same hotel, use the same transportation, and do all of the activities together. So, it'll be easy to meet others.
To find a great travel package or tour that fits your traveling expectations, take a look at our page with The 5 Best Tour Group Companies for International Travel.
Success Story: To be honest, I don't have a lot of experience with travel packets. I have nothing against them, they're just not really my thing… besides the fact that they are always a bit more expensive than traveling independently. However, I have done some short excursions and ended up meeting a lot of people who, after three days on the same bus, felt like best friends!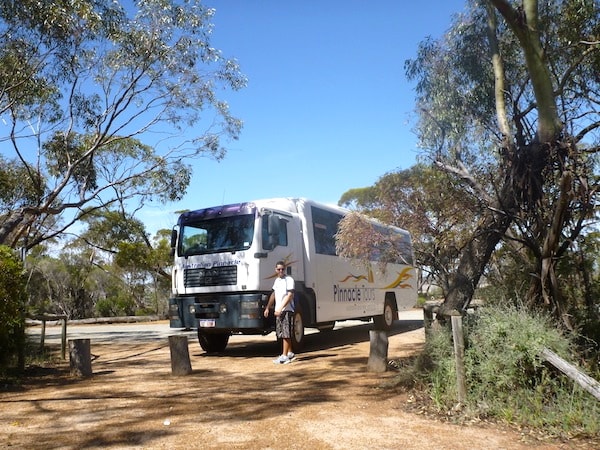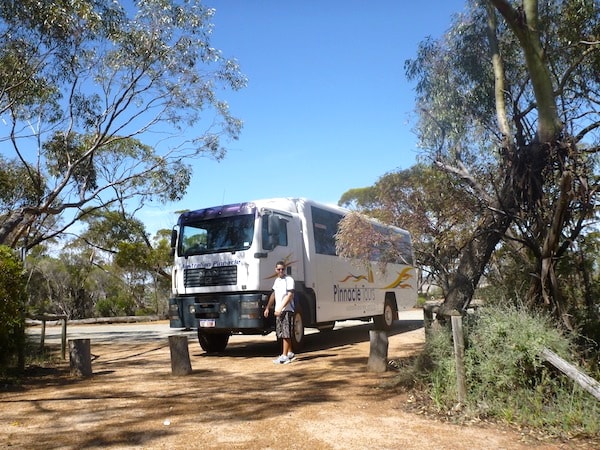 TIP: Pay attention to the type of crowd your excursion or travel package is meant for. If you are 20 years old, perhaps you wouldn't like to go on an excursion made for families with young children. If you are 60 years old, perhaps you don't think it'd be very interesting to go on an excursion catering to backpackers who just want to party. Ask the company that you are buying the package or excursion what the average age is of the participants and what the "atmosphere" is like.
Look for a travel partner before your trip begins
Now with the internet, it's easy to find people with the same interests that are planning trips to the same destination as you and are searching for a companion. Just use one of the sites below, type in where you are going and write a bit about yourself. Then, those interested can contact you. The opposite is also true. Take a look to see if there are already people going where you are going… and just send them a message.
Here are a few websites to look at:
https://www.facebook.com/aTravelBuddy
https://www.lonelyplanet.com/thorntree/forums/travel-companions
Success Story: To be honest, I've never used this type of service. And the reason is in the TIP…
TIP: It can already be difficult to travel for a long time with someone that you like. So, imagine traveling for a long time with someone that you met on the internet! Make sure you think and search carefully about the person you will be your companion. If it's possible, meet them personally to get a beer (or a café J ) to see if you have interests in common and you don't fall in the trap of traveling with someone who is a pain in the ass.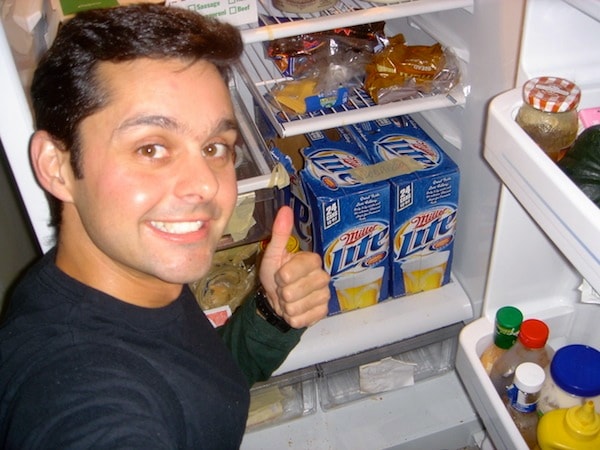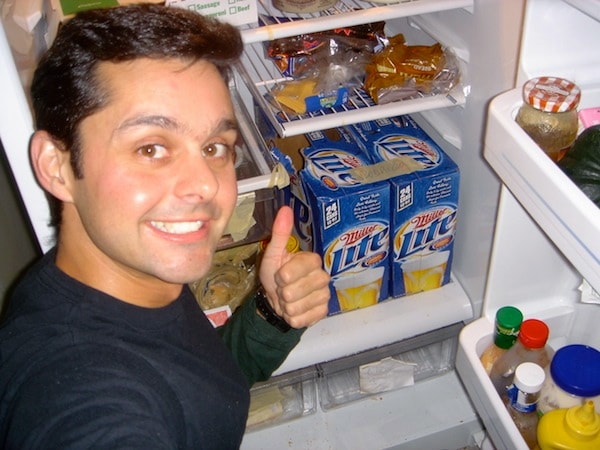 General Considerations for the above advice
For you to be successful in any one of the tips above, here are some considerations that are important to help you in your task:
Don't be afraid to talk to people! Although you may be rather shy in the place that you live, don't forget that you are in a place where no one knows you, with people you will probably never see again (unless you really want to, that is). So, take a risk! Truthfully, some people find it easier to make conversation with strangers during their trips than during day-to-day life where in their hometowns.
Be outgoing and invite people to get a beer or explore the city with you after a little conversation. The worst you'll hear is a no, then you go for the next person…
As I already mentioned above, don't stay holed up in front of your computer or cell phone. If you are not open to meet other people, they won't come to talk to you.
Keep an open mind to talk with anyone, despite the sex, nationality, color, religion, sexual preference, age, etc… if you are traveling, it is not to meet people like the ones you know back home….open you mind!
If you don't want to be alone, focus on touristic routes where you know there are a lot of travelers so it's easier to fit in.
Take initiative! Don't just stand there waiting for people to talk to you because it'll never happen if they are just as shy as you.
Be careful with preconceptions and what you say about other cultures or countries. Listen more and ask more questions about the person's country instead of declaring your opinion about it (because, chances are, they know more about it than you do). Don't come in with pre-conceived ideas like: " ah, you are German so you should do X" and "ah, you are Japanese so you probably like Y." Try to know a little bit more about the country like the capital, language, etc… it'll help you. Being ignorant about the world is usually not attractive.
Don't make so many plans and be flexible. If you are totally restricted in your itinerary and don't have any free time to take a stroll with the people you just met, you'll end up following your schedule .. but alone….
And to finish, be friendly and always have a big smile. This is the best postcard to represent you and your country.
NOTE ABOUT SECURITY: Just as in the place you live, be careful who you talk with. Unfortunately, it can be difficult to trust people these days. So, if you've spent a couple of days together and now they're asking to borrow money, get out of there! Sometimes, you'll find people staying in hostels that specialize in taking money from well-meaning travelers. I met someone once like this in Boston and once in Nashville… so, it really can happen! I talk more about security on this page.
Uffda, this ended up being much longer than I thought it would but I think I covered everything. Or do you have another piece of advice for meeting people during your trips? If so, please let us know in the comments below… we welcome both criticisms and suggestions.
Happy travels and many new friendships for the rest of your life!
Planning your next trip?

Then don't forget travel insurance! You don't want to get stuck paying a ton of money and ruining your trip if you get sick or have an accident without travel insurance. WorldNomads is ideal for adventurous travelers, backpackers, or anyone looking to be protected during their trip. They cover almost every single activity you can image!

Already reserved your hotel or hostel? If not, we recommend Booking.com. They have a huge selection of hotels and hostels all over the world. Plus, in most cases, you can cancel your reservation without any costs up to a few days before the check-in date!

Still haven't booked your plane ticket and want to save big? Take a look at Momondo. It's a flight aggregator that combines several other ticket search websites to make it easier for you to compare prices and make sure you are getting the best deal.

And finally, will you need to rent a car during your trip? Then check out Rentalcar.com to search and compare car rental companies from all over the world in a single website. Then, you can find the cheapest price for the best car!
If you want to hear about new articles, check out our latest pictures, and read our newest updates, be sure to follow us here….
…..and subscribe to our newsletter below!