Last Updated on by Lohanna Reis
Traveling independently isn't the only option for sustainable tourism…there's also some great companies out there who offer sustainable, guided, and nature-focused tours! So read on below to see how to meet people and places and have adventures with the most sustainable tour & excursion companies in the world! 
When I say "sustainable travel," what comes to mind? 
Most people say something like a nature-y destination accompanied by activities that preserve the environment. However, sustainable tourism can be so much more! 
Traveling sustainability also means not only being aware of your impact on the environment, but on local communities and economies as well. 
Of course, this can be done on your own independent trips. In which case, I recommend you take a look at my article with 10 Simple Tips for Traveling More Sustainably.
However, today's article will be focused on guided sustainable travel experiences with small-group tours. And so, I'll be talking about the 3 most sustainable tour and excursion companies in the world below. 
So if you're interested…take some time to read a bit about each of them, where they go, and the benefits of this type of travel!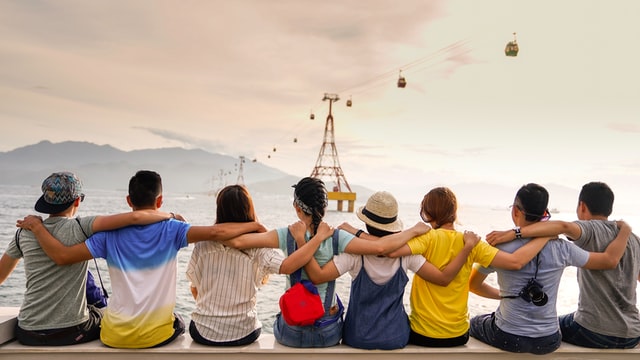 Why choose sustainable travel? 
This single question brings us to several others: do our choices really make a difference? Is traveling sustainably worth it? Do I need to do a super-budget backpacking trip to travel sustainably? 
These answers aren't perfect, but generally I'd say yes, yes, and no. 
To help expand on these ideas and help you decide for yourself, here are 3 of the biggest reasons to choose sustainable travel: 
You can help preserve the destination you've chosen 

You can contribute positively to the local economy 

You can have a totally unique travel experience 
You can help preserve the destination you've chosen 
One of the most obvious reasons for traveling sustainably is that you help preserve and maintain your trip destination.
You've probably heard of (or even seen) places that have become so touristic that they no longer have the beauty they once had. 
It might sound silly, but many destinations (especially coastal ones) end up suffering from excess tourism. 
As an example, the Thai government had to close Ko Phi Phi island and the Philippines had to close the island of Boracay because their natural environments were badly damaged by "hyper" tourism. 
To get started, there are a few simple actions you can take like choosing a destination that's not already suffering from overtourism, traveling outside of the high season, choosing places you can get to on foot or by public transportation, and avoiding any kind of animal tourism. 
You can contribute positively to the local economy 
By traveling sustainably, you make a point to participate in activities that benefit the local economy. 
For example, by choosing a local restaurant or hotel over a large international chain, or making sure the souvenir you purchased was actually made in the area. 
You can have a totally unique and authentic travel experience 
Whether you're traveling alone or in a group, traveling sustainably allows you to rediscover yourself or travel in a new way. These small actions can make all the difference as you pick a local hostel over a hotel, choose public transportation over taxis, or select a family-owned restaurant for your meals. 
At the end of the day, these actions add up to not only have a positive impact on the environment, but give you a closer look at the local culture authentically as you "live life like a local." 
Benefits of choosing a sustainable tour company over traveling by yourself 
Now that you know how important it is to be conscious of how you travel, here are 3 more reasons to take your sustainable trip with a small guided tour with one of the companies below! 
You'll have company for your adventures 

You'll have the opportunity to visit uncommon destinations 

You'll have the safety & security of being accompanied by professional guides 
You'll have company for your adventures 
Many people like to make friends when they travel. If this sounds like you, then a group tour is a great option! 
By traveling with a group, you'll always have company to share the best (and the worst) of the trip. And, of course, you can also invite along friends or people you know on the tour as well. 
For example, ever thought about meeting new people during a trip to Madagascar? Or enjoy a volunteer experience with your friends in the Amazon jungle? These are just a few examples of the incredible experiences you can have with these sustainable tour companies! 
You'll have the possibility to visit uncommon, hard-to-get-to destinations 
And when I say hard-to-get-to, I mean hard-to-get-to! There are excursions to Antarctica, 12-day trips in the Arctic, visits to the Jordanian desert, or cultural experiences deep in the Amazon jungle with indigenous communities!
Though of course, these companies also have more "classic" European trips and the like. But even with these more "popular" destinations…these companies can help travel to them more sustainability! 
You'll have the safety & security of being accompanied by professional guides 
One final benefit of relying on a tour company is that you'll have access to experienced guides. This is especially useful when you're traveling in a place where you don't know anybody! 
In some cases, you can expect to have a team that accompanies your group from the start to the end of the trip. In others, local guides will be present. 
Comparison table of the 3 most sustainable tour companies in the world 
To choose which tour is right for you, you'll have to do a bit of research. To help you out, here's a quick comparison table of the 3 companies we'll discuss below. 
This way, you can have a quick idea of what type of excursions and expeditions each company offers before diving into the details. 
| | | | |
| --- | --- | --- | --- |
| | Vivalá | G Adventures | Intrepid |
| Has options for classic European destinations | No | Yes | Yes |
| Has tours in Brazil  | Yes | Yes | Yes |
| Has excursions & expeditions to Antarctica/the Arctic  | No | Yes | Yes |
| Offers family tours  | No | Yes | Yes |
| Has options for voluntourism  | Yes | Yes | No  |
What are the 3 most sustainable group tour & excursion companies in the world? 
And now, it's time to dive a little deeper into the tour companies, which include: 
Vivalá

G Adventures

Intrepid
Read on below for more details about the history of each company, what services they offer, and what their highlighted tours are.  
Our first company on the list here is from Brazil – and as a Brazilian, I simply have to recommend it…especially because my country has some of the best experiences for sustainable travel in the world! 
Vivalá aims to connect travelers with destinations throughout Brazil to promote and empower local communities. 
If you're in search of nature and are concerned about environmental, social, and economic issues, you'll find what you're looking for with Vivalá. 
All of Vivalá's expeditions are destined for conservation units spread across the country, in addition to being based around the local residents (in other words, they really prioritize a connection and experience exchange with the community). 
Another thing that makes Vivalá stand out is that all of their expeditions involve eco-tourism aimed at developing local family businesses. 
The organization also puts a good percentage of its profits back into the community, whether through professional training, business management, or hiring touristic services from local entrepreneurs.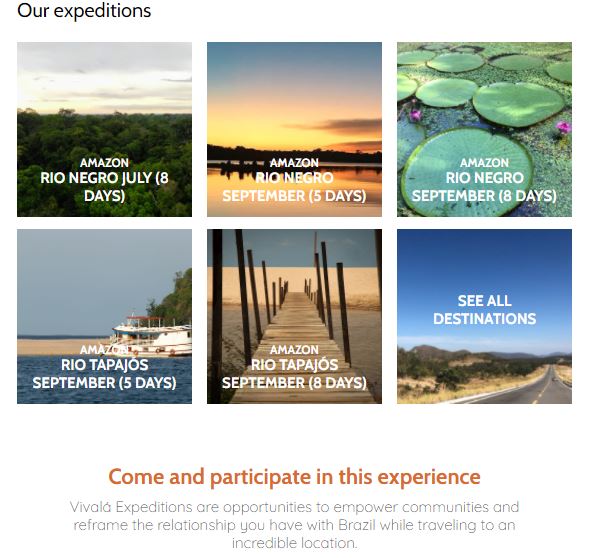 Tours & excursions from Vivalá worth highlighting:  
At the moment, Vivalá is only working with expedition destinations in the Amazon rainforest. All their excursions are year-round and vary from 4 to 9 days. 
During your expedition, all meals, accommodation, and tours will be included, as well as the services of a local guide and a facilitator from Vivalá. 
If you're looking for more variety in your destination options, then take a look at G Adventures. As a company that has spent the last 30 years promoting social, environmental, and ethical well-being through community tourism…they've got a lot to offer!  
Like Vivalá, G Adventures' goal is for your trip to have a positive impact, mainly through contact with the local community. 
The company has small-group tours that you can join as a solo traveler or with friends. And if you're traveling on your own, you can even choose to have a private room. 
Overall, they have a ton of options for tours all around the world! Whether you're looking for a family tour, an adventure tour, or a Local Living Tour, you'll likely be able to find something for you with G Adventures. 

Tours & excursions from G Adventures worth highlighting: 
Expedition Cruises: As you saw on the comparison table above, G Adventures offers expeditions to the Arctic, Antarctica, and Greenland that last anywhere from 8 to 21 days. So if you're interested in seeing polar bears or penguins in their natural habitat, these are great options!
National Geographic Journeys: These are diverse itineraries for anyone who wants a deep dive into a certain region. There are more than 20 options for you to choose from ranging from Zimbabwe to Colombia to Nepal…as well as in more classic destinations like The United States, Portugal, and Greece. 
Wellness Travel: These are tours made for anyone who wants to look inward and connect nature. Whether that's hiking through the Skogafoss e Seljalandsfoss waterfalls in Iceland, snorkeling/diving in Indonesia, or stand-up paddling in Costa Rica. 
The last option on today's list of sustainable tour companies is Intrepid. This Australian company has spent the last 30 years in search of and promoting trips with purpose. 
Some of the actions that have made Intrepid a leader in the field of sustainable travel are creating experiences in uncommon destinations, promoting tree planting during trips, and fighting for diversity and inclusion. 
As with G Adventures, their tours and excursions are done in small groups, and you have lots of options and destinations to choose from.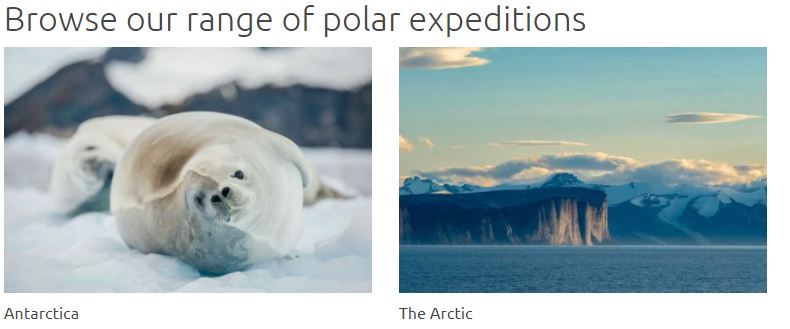 Tours & excursions from Intrepid worth highlighting: 
Wildlife Trips: Intrepid offers several types of expeditions that don't have direct contact or interaction with wildlife, but instead offer the chance to see them in their natural habitat. South Africa, Peru, and Antarctica are just a few of the destinations you can choose from for these types of tours. 
Tailor-Made: If you like, you can even create your own custom guided tour itinerary. With a Tailor-Made tour, you can rely on travel consultants who will help you sort through logistics, activities, and how to make your trip a reality. 
In sum… 
Throughout this article, you've read about the importance of traveling sustainably, the benefits of small-group travel, and the 3 most sustainable tour and excursion companies in the world. They were: 
Vivalá

G Adventures

Intrepid 
In conclusion… 
Overall, traveling sustainably is easy if you take a few simple actions before and during your trip. Plus, it gives you a great chance to explore a new place like a local and dive deep into a different culture.  
And so, let me know below what you think of these 3 sustainable tour companies as well as one type of trip you're currently dreaming of. 
And of course, if you have any other tips for traveling sustainably or have any other questions, share them with us in the comments area below!   
Planning your next trip?