Last Updated on by Talita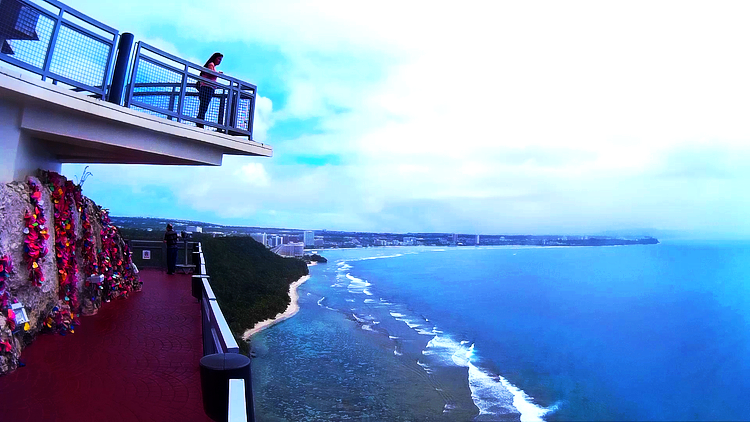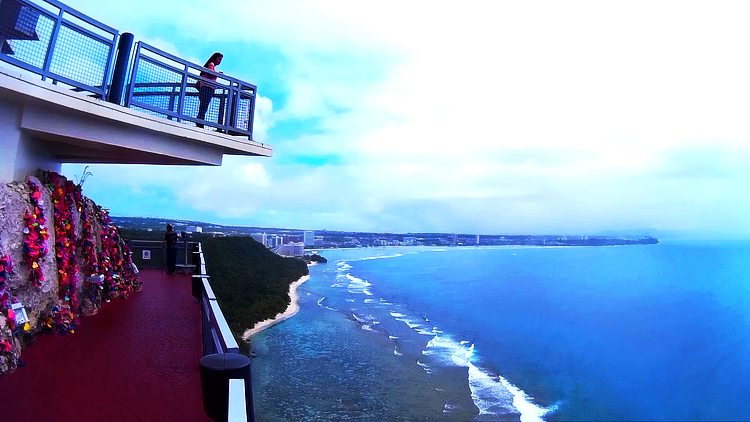 Guam was never on our original plan.
But thanks to a conveniently-placed layover (read more about how we grabbed that layover and planned our trip here) on our flight from Palau to China, we decided to tack it onto our trip.
And we sure are glad we did!
Although we only had 12 hours to explore the island, Guam is small enough that we managed to cover a lot of ground.
Over the course of just one day, we got a taste of Guam's:
Postcard-perfect beaches

Diverse blend of Pacific Chamorro, Spanish, Japanese, and American culture

Dramatic cliff and ocean views

Lingering colonial and World War II history

And more!
Of course, we would have loved to stay longer….but this just gives us a reason to head back 🙂
So, we wanted to share our itinerary with you so you can make the most of your layover or short trip to Guam.
How to use this Guam travel itinerary
As you'll see below, our detailed itinerary below is for around 1 day in Guam (about 8-12 hours). We were in Guam from 5:00 AM-5:00 PM, and this itinerary occupied most of our time there. Obviously, feel free to adjust it based on your time of arrival and the length of your stay.
And as we go through the itinerary, we'll also offer alternatives for several of the stops if our suggestion doesn't suit you.
And at the bottom, we'll give you some extra alternatives to extend your stay either in Guam or beyond it.
P.S: You might notice I didn't give you that much background history/info about each stop….but I do give you the links to check yourself AND can read about it there with historical signposts everywhere.
Guam Fast Facts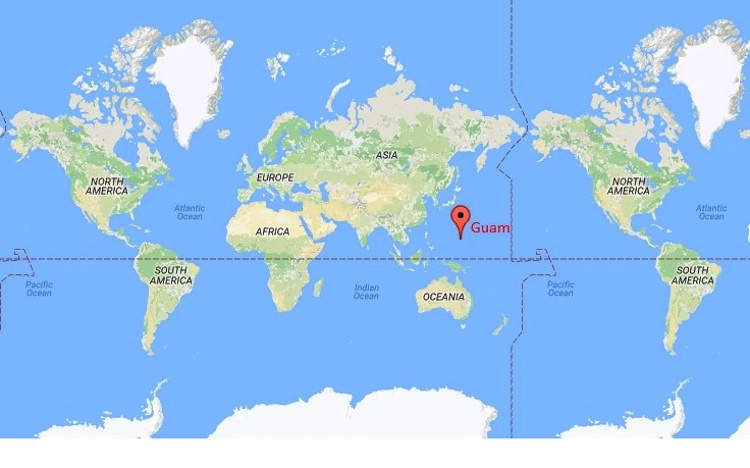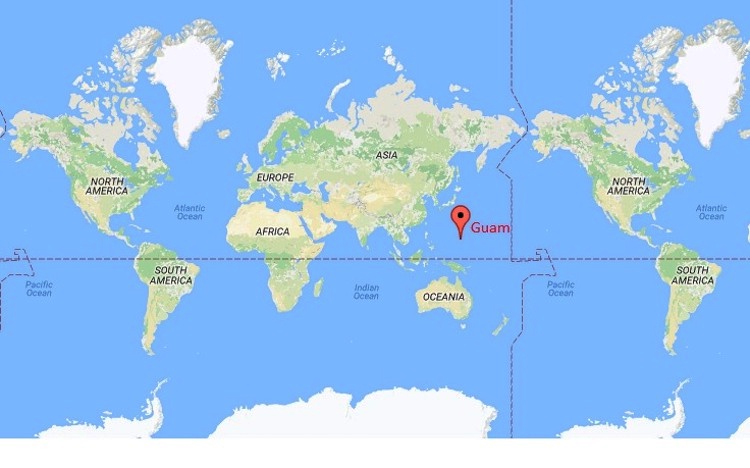 The What and the Where: Guam is an island and U.S. territory located in the Pacific Ocean. It's closer to Australia and Asia than the United States mainland (it would take you 19 hours to fly from New York)!
Guam prides itself on being "Where America's Day Begins" as it is 15-18 hours ahead of the mainland.
How big is Guam? 30 miles (48 km) long, 4-9 (6-14.5 km) miles wide, population of 163,000 people
What is Guam's currency? The U.S. Dollar
What language do people speak in Guam? English and Chamorro (the language of Guam's indigenous islanders)
IMPORTANT VISA NOTE: Guam is an American territory. So, if you need a visa to visit the American mainland, you also need a visa to visit Guam (it's the same visa).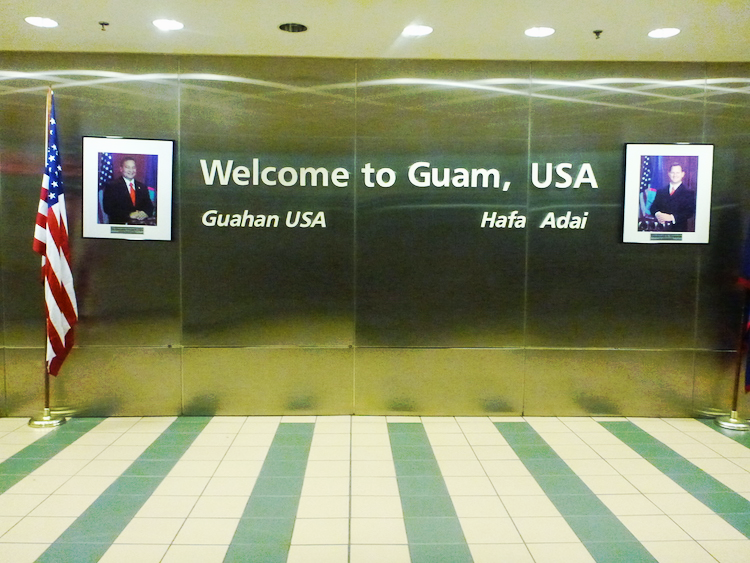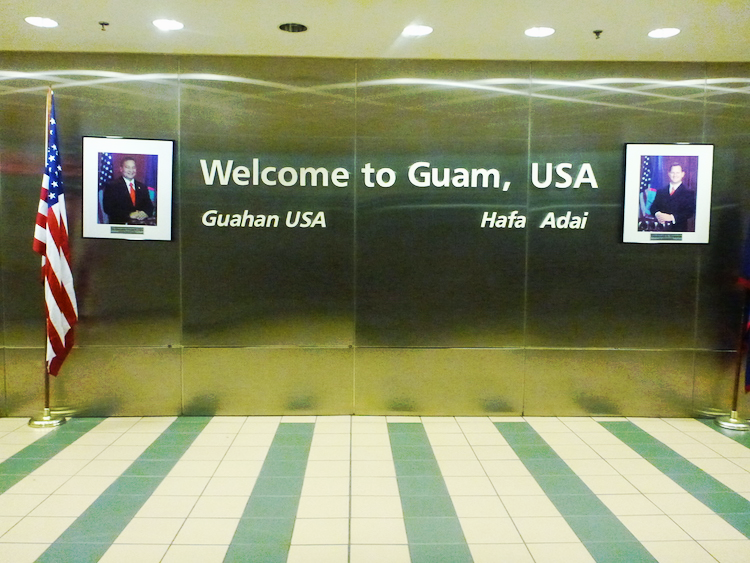 When to Visit Guam
Guam has been blessed with a tropical climate, so any time of the year is a great time to go.
2.5. Is Guam going to be attacked by North Korea?
Most likely not.

(But just in case you want to know how to visit North Korea on a budget, just check our article here.)
How Long to Stay in Guam
Unfortunately, we only had a layover so we had just 12 hours in Guam.
But there would be plenty to do if you wanted to stay longer.
If you're interested in doing more island exploration, adventure activities, or hiking, you could easily spend several days on Guam.
And if you'd like to add in some days of beach and ocean relaxation, you can extend this even more.
How to Get to Guam
As we explain in our itinerary-planning article here, we managed to include Guam as a 12 hour layover between Palau and China.
Honestly, finding layovers can be a little tricky and it can take some trial and error.
If you are going direct, keep in mind that it can sometimes be easier to fly to one of the neighboring Asian countries and then buy a separate ticket from there to Guam.
Here's a look at the flight times from Guam to its neighbors: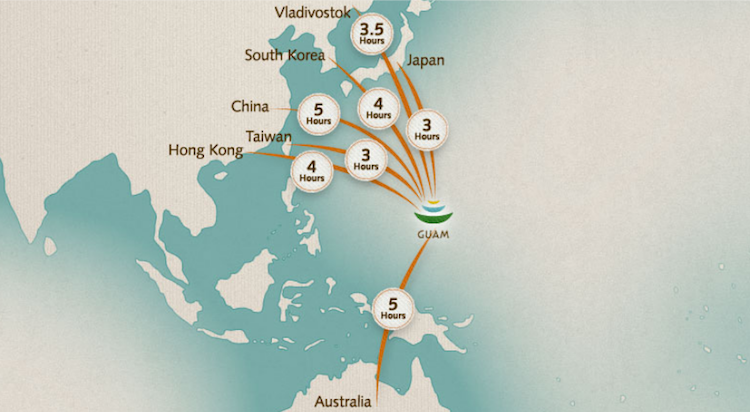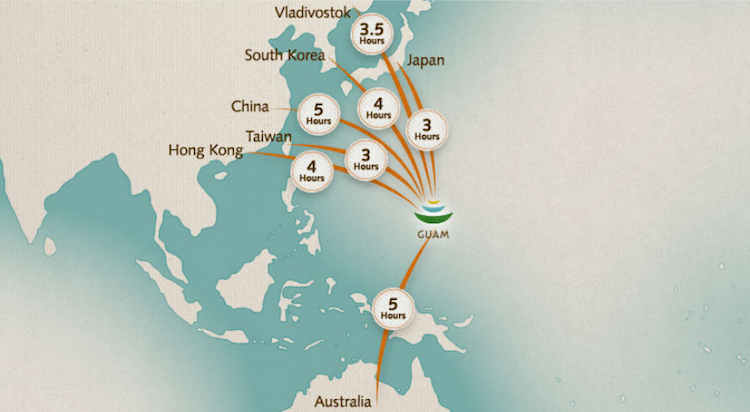 For more tips on searching for cheap flights, see our 16 Best Tips for Saving on Plane Tickets.
You can't take a ferry to Guam from a neighboring island, but cruise ships do occasionally stop here (and this itinerary is perfect for cruisers who just have a day!).
How to Get Around Guam
Public transportation is infrequent in Guam and is mostly nonexistent outside of the main cities.
So, if you want to maximize your time and get the most from your day (and make sure you don't miss your connecting flight!), you'll definitely need to rent a car.
Luckily, it's pretty cheap! We rented a car for 24 hours for just $25 USD from Priceline.com.
See how to use Priceline and find out how to get a great deal on your Guam rental car with our article 5 best and cheapest websites to rent cars from.
Where to Stay the Night in Guam
We didn't personally spend the night on Guam (since our flight left at 5 PM).
But if you have a longer layover or you'll be staying on Guam overnight, you'll probably want to stay somewhere close to Hagåtña, Guam's capital, or Tumon/Tamuning, Guam's touristic center.
Staying in either of these places will make you central enough that you can maximize your limited time on the island. Plus, they'll put you close to the airport so you can easily catch your flight the next day.
There isn't much Guam budget accommodation, unfortunately. They don't have any hostels and the cheapest you'll find for a hotel is about $70.
But here are some of the higher-rated and reasonably priced options (you can click on the images to see more details).
Alternatively, you can check out an Airbnb for your stay. Get $27 off with this discount code here.
P.S: If you are spending the night on Guam on a Wednesday, don't miss out on the Chamorro night market in the heart of Hagåtña!
What to Do in Guam (Our 1 Day/12 Hour Guam Road Trip Itinerary)
Even if you have just a day in Guam, there's a lot of you can do. Here's a peek at the map of our recommended 12 hour itinerary with 8 stops: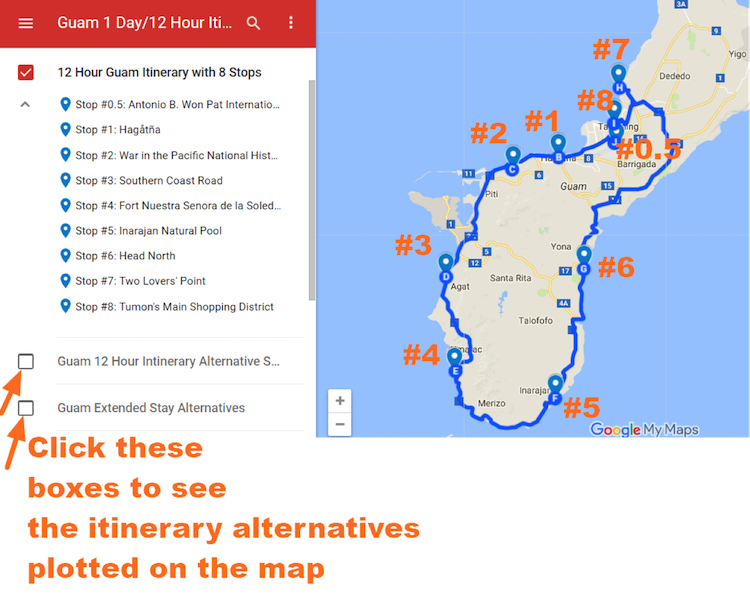 (Click the image above or here to see a live version of the map above)
If you were to just drive this route straight through without stopping, you could likely make this whole circle in 90-120 minutes.
But if you are going to stop to visit any attractions, look out over any viewpoints, eat lunch, swim, etc. (which hopefully you are!)…this itinerary could easily take your entire day.
Between all of our stops, this itinerary here probably took us 10+ hours…but that was just what worked for us!
Something else to keep in mind is that our itinerary was affected by the time we arrived. We arrived in Guam very early in the morning (5:00 AM) before most things were open, so the first thing we did was hit up places that we knew didn't have specific hours.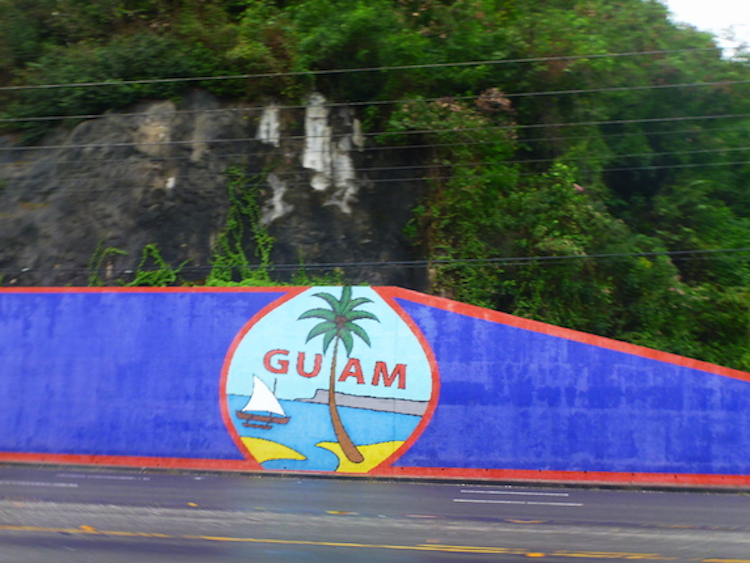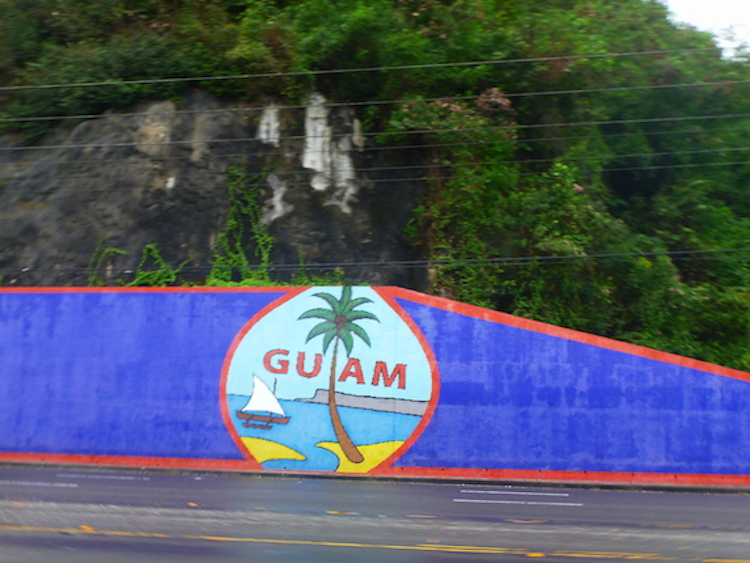 Finally, just note that we are not listing all our stops here – there'd just be too many! But we are listing the main ones that'll give you the general direction to follow. So, as you are driving along, feel free to stop any else you like!
BONUS TIP: Even with our itinerary and map here, you're going to want to pick up a detailed roadmap at the airport or at the car rental office. Just in case. Then, once you have the map, you can mark up your stops.
So, here we go!
Stop #0.5: After landing, go through immigration, and pick up your car at Guam's Antonio B. Won Pat International Airport
First things first, after landing at the airport, you'll have to go through immigration. Expect it to be like U.S. immigration would be anywhere on the American mainland.
If you checked a bag, also keep in mind that you'll probably have to pick it up, even if you just have a layover in Guam. Ask the attendant when you check in for your flight to confirm.
From there, you'll have to pick up your car! Likely, you'll have to take a free shuttle from the airport to the car rental company's main office to fill out your paperwork and pick up your car.
Stop #1: Explore Guam's capital city, Hagåtña
After you pick up your car, you'll likely be in Tumon, not far from the airport. A short drive south will take you to Hagåtña, Guam's capital.
Begin your time in Hagåtña at the Chamorro Village (it should be labeled on any map you have).
At the entrance, you'll find a sign for the Hagåtña Heritage Walking Trail.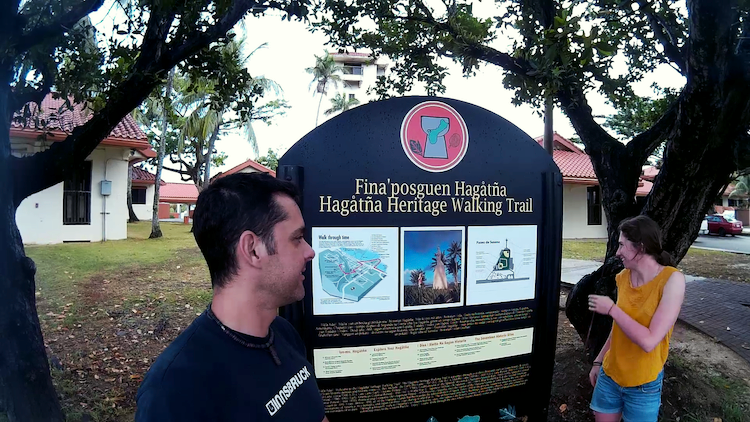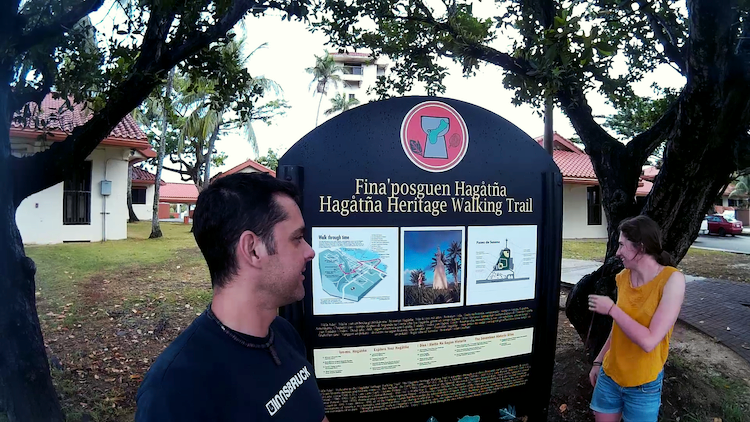 This entire walking trail is about 1.6 miles (2.5 kilometers) long and a great way to stretch your legs if you've just slept on a plane!
It'll probably take you 1-1.5 hours or so to complete with sightseeing along the way.
Here is the route: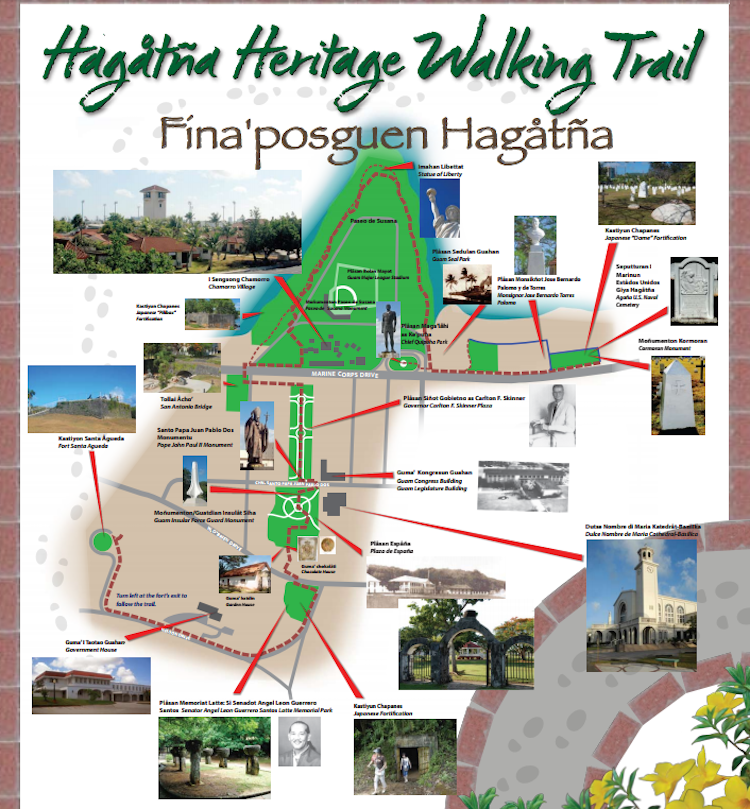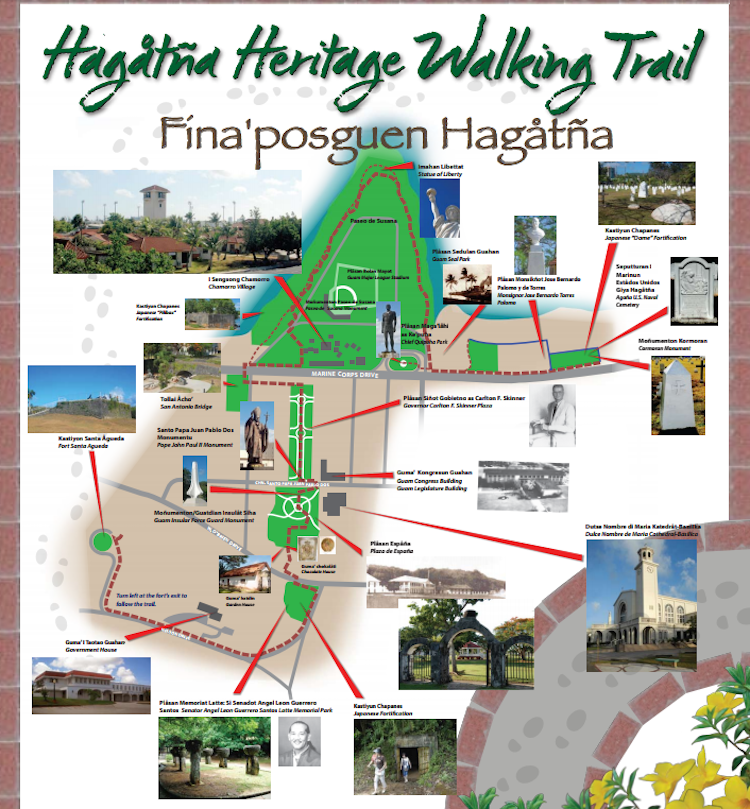 Click the image above (or this link here) to see the route in detail and read info about each of the stops.
STOP #1 ALTERNATIVE: Walk Along Tumon's Beaches
If you arrive early like we did before most things open, you could also begin your day with a stroll along the beaches of Guam's main tourist district – Tumon.
In general, Tumon can be very busy and highly-commercialized with all the big fancy resorts, but it's calm and serene early in the morning.
Gun Beach (at the northern end of Tumon Bay) is supposed to be stunning, so that could be a good place to start your walk.
Personally, we chose to skip this and begin exploring Hagåtña as we had just come from a week in beachy Palau.
Stop #2: Learn about Guam's Role in WWII at War in the Pacific National Historic Park
If you continue south from Hagåtña, you'll end up at War in the Pacific National Historic Park.
You may want to set aside a couple of hours or so as the park is very large and has many outdoor sections to explore (Asan Bay Overlook, Piti Guns Unit, Ga'an Point, etc – get more info about each place here).
Here are some things you can expect to find there: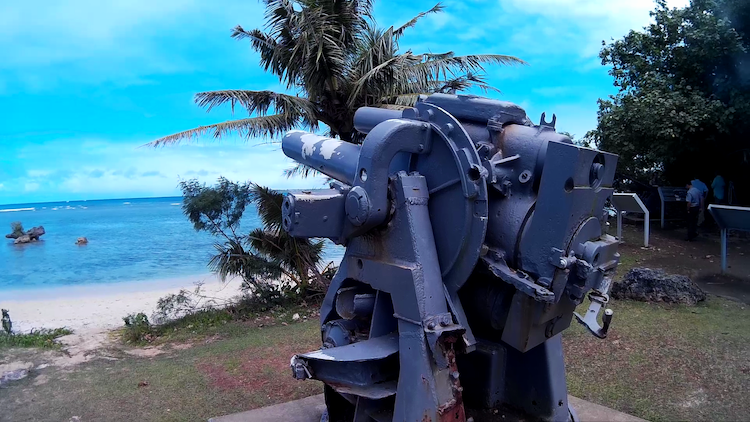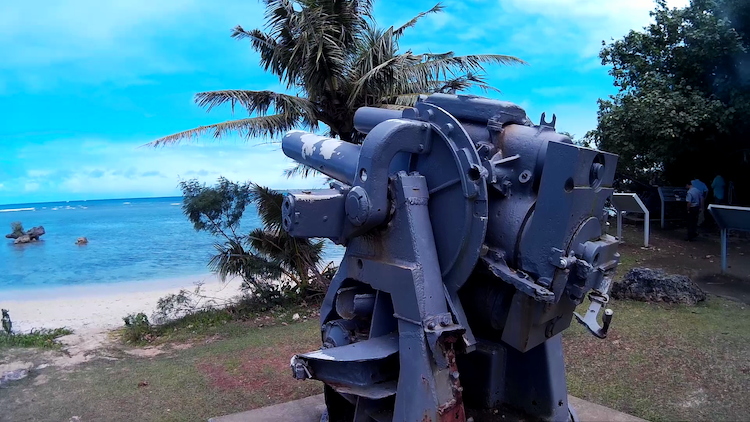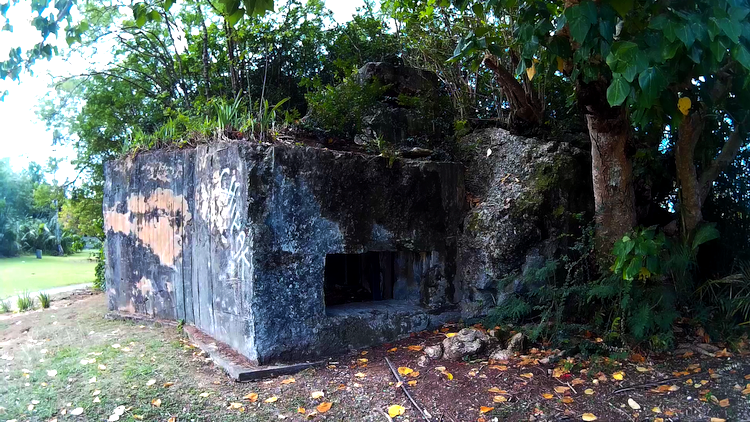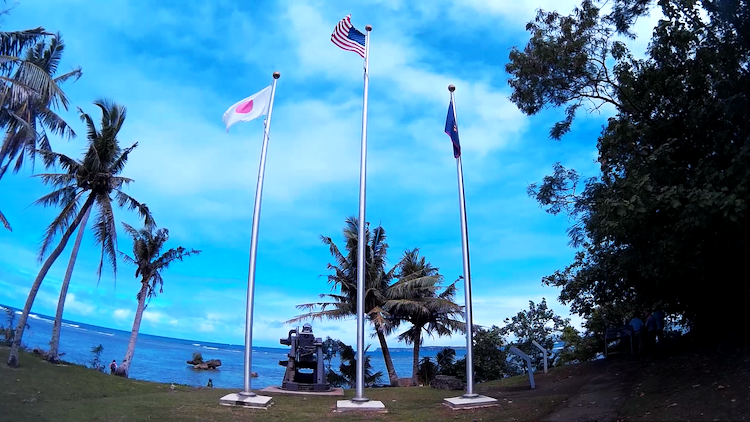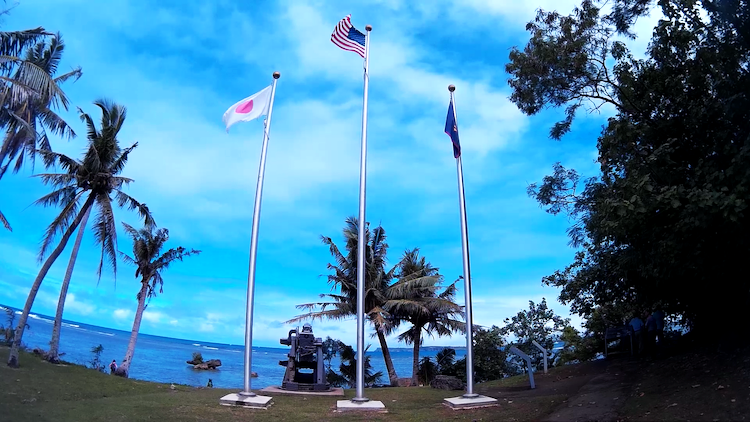 The park's outdoor areas are open at any time.
They also have an indoor visitor center (which we really enjoyed) showcasing Guam's WWII history and the history of the War in the Pacific as a whole.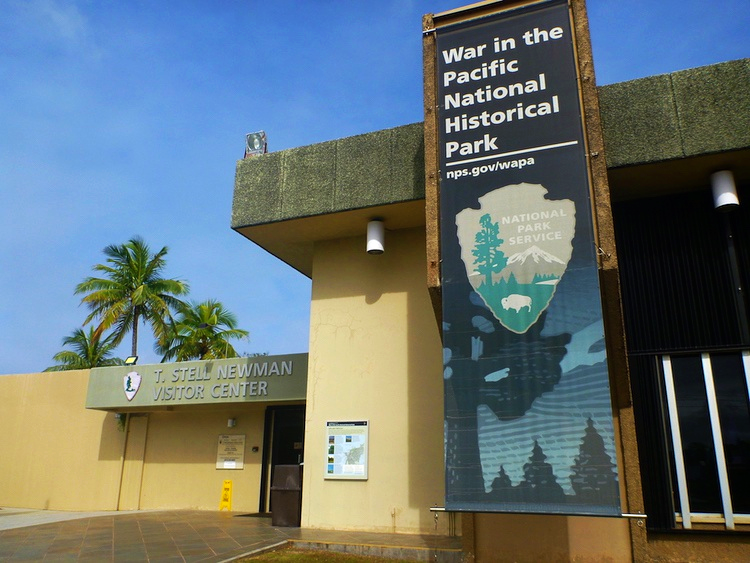 I'd definitely stop in there to see the displays and talk to the rangers (who are super helpful and friendly!).
The visitor center is free and open from 9 AM – 4:15 PM.
STOP #2 ALTERNATIVE: Head Underwater in the Fish Eye Marine Park
If you want to get some underwater action, just past the War in the Pacific National Historic Park is Fish Eye Marine Park.
Here, you can snorkel, walk on the ocean floor, or watch sea life from the observatory 30 feet under the sea. Prices vary per activity and you may need to book in advance.
Stop #3: Road Trip Down South
As you drive south, your only job is to enjoy the drive, appreciate the lovely coastal views, and pull over whenever you see something you like (like the view below).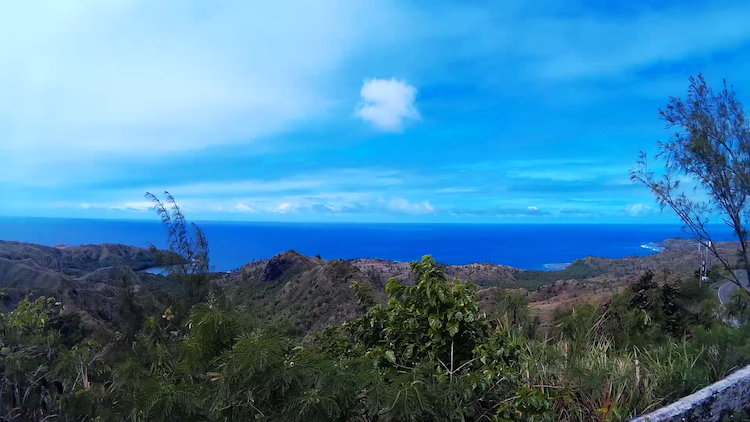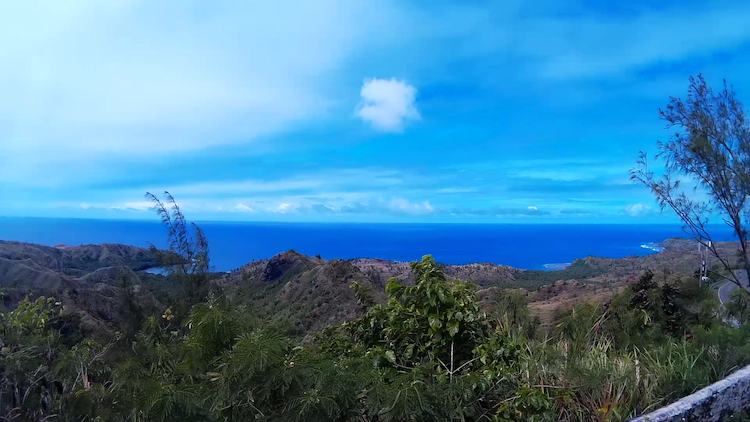 Stop #4: Look Out Over Umatac Bay from Fort Nuestra Senora de la Soledad
The view from the top of this Spanish-era fortification was one of our favorites on the island. This could be a great place to stop and eat lunch if you packed something

And if you like, take a wander through the sleepy village you'll drive through just before arriving at the fort: Umatac.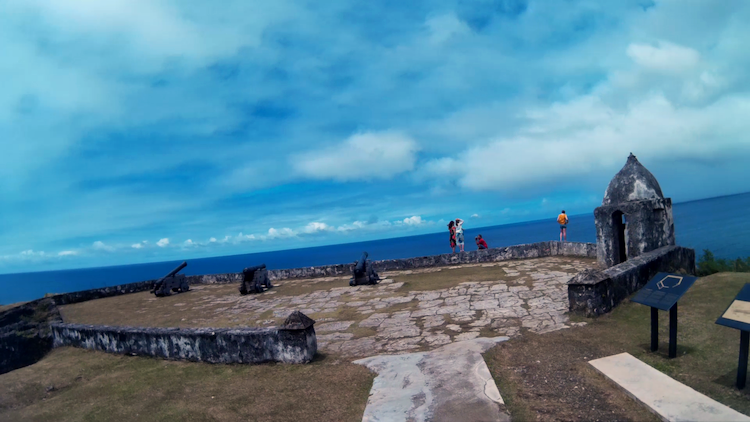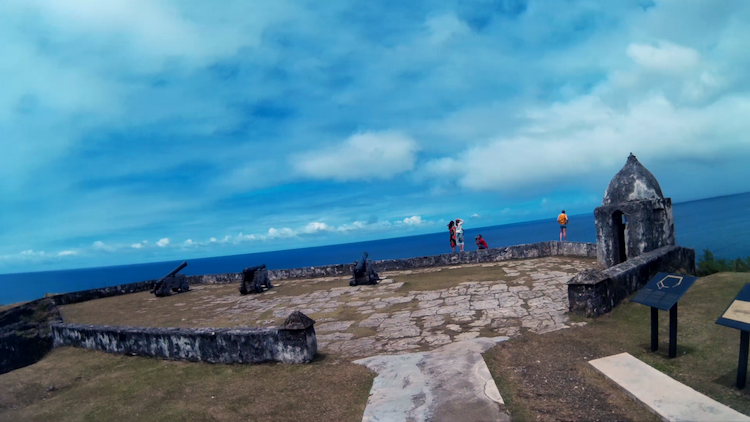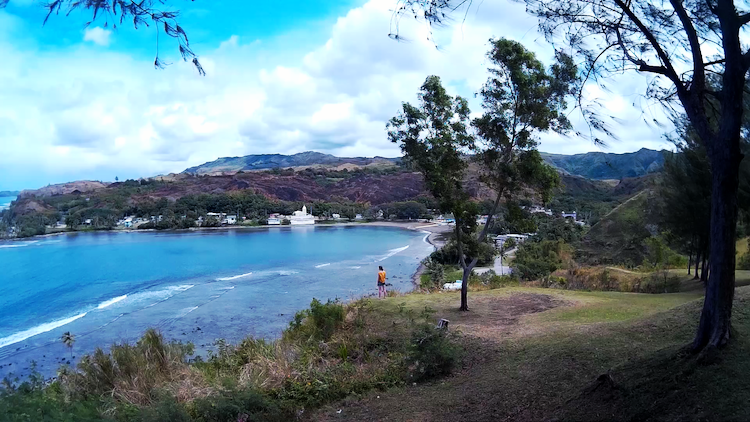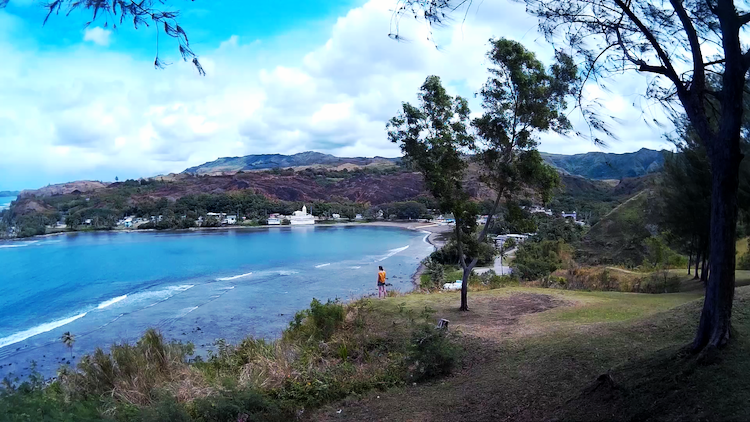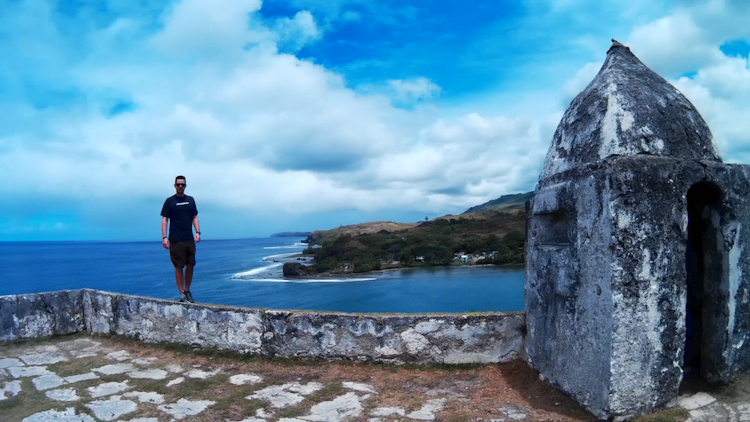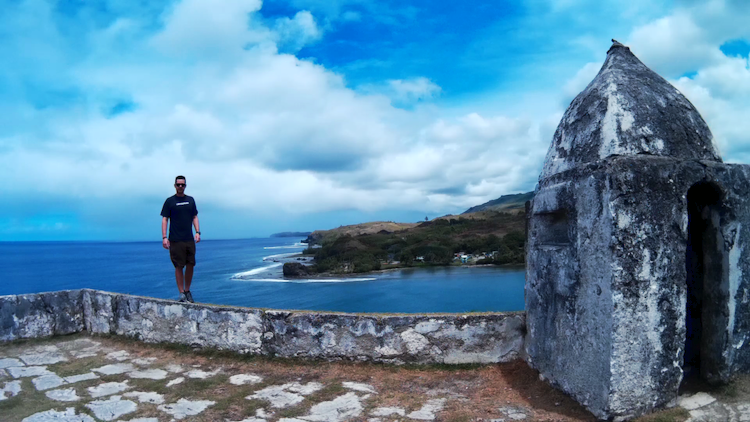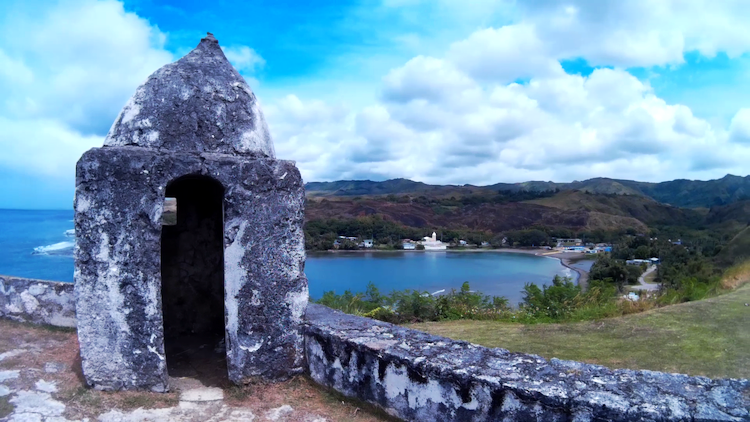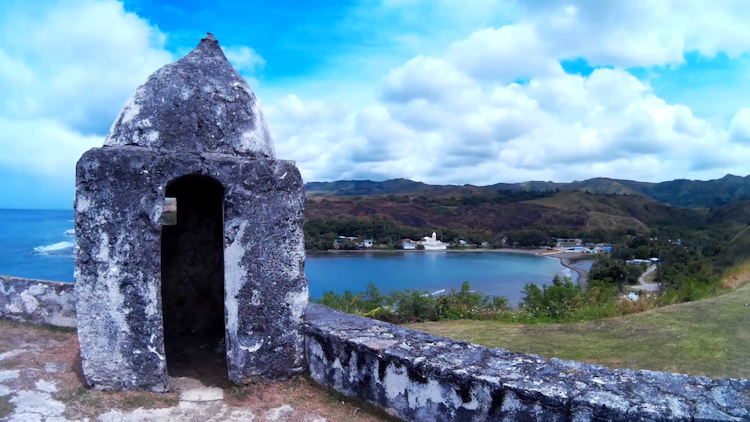 Stop #5: Cool Off with a Swim at Inarajan Natural Pools
As you finish up your southern loop and start to head north, you'll stumble upon the picture-perfect Inarajan Pools. Protected from the strong surf by a natural coral ring, these are an excellent place to go for a quick dip.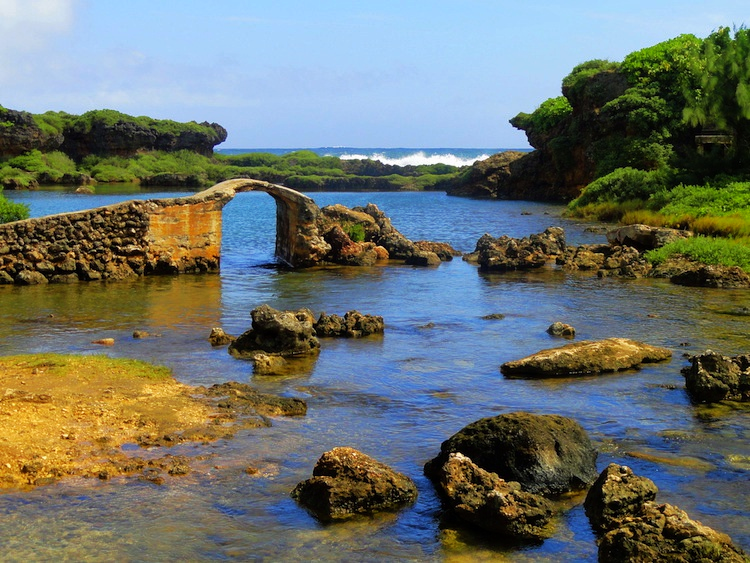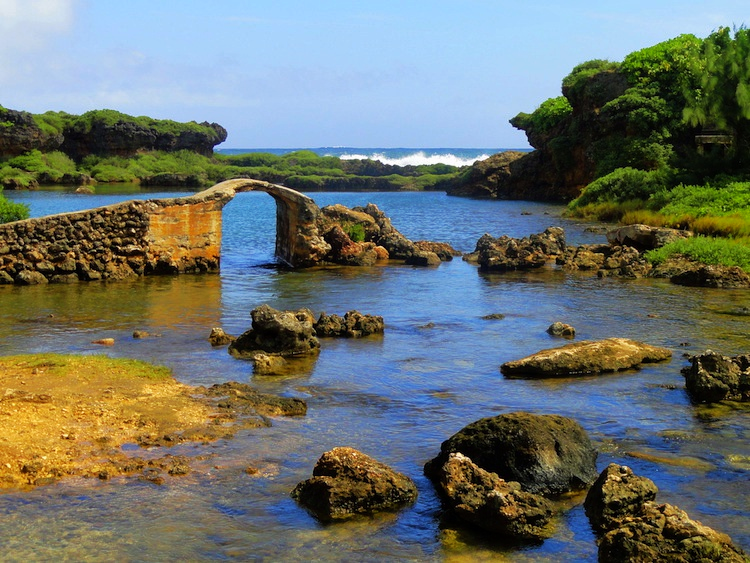 If you brought a snorkel and a mask, this is also a great place for it!
The swimming hole even has outdoor freshwater showers. So, you can still "clean up" a bit after your swim.
This is especially important if you are just visiting Guam on a layover and have another flight that same evening!
STOP #5 ALTERNATIVE:
Don't feel like swimming? Consider visiting Gadao's Cave or Gef Pa'go (a Chamorro Cultural Village) nearby.
Stop to Avoid: Talofofo Falls
If you've done any sort of research about things to do in Guam, you've maybe come across Talofofo Falls.
We had as well, so when we saw the sign for it north of Inajaran Pools, we turned off our main route and head in that direction.
But when we got there, we found out that the waterfall was a bit overpriced ($20). And as we stood looking at the sign, someone walking out told us it definitely wasn't worth the money.
So, we decided to pass on it.
Later, out of curiosity, I checked Talofofo's Tripadvisor, and it looks like the reviews are overwhelmingly negative.
Unfortunately, we did waste some of our short time in Guam driving out there….looks like you win some, you lose some.
TALOFOFO FALLS ALTERNATIVE: If you still want to get some waterfallin' in, I've heard great things about Sigua Falls in Yona (see live map above for location).
Stop #6: Head North
By this point in our trip, we didn't have a ton of time and we knew there was still one major stop (stop #7) that we wanted to make sure we got to.
So, at this point, we mostly just head north toward stop #7, pulling over occasionally to enjoy the view.
Stop #7: Appreciate the View From Two Lovers' Point (Puntan Dos Amantes)
We were told if you only have time to do one thing in Guam, it should be visiting Two Lovers' Point.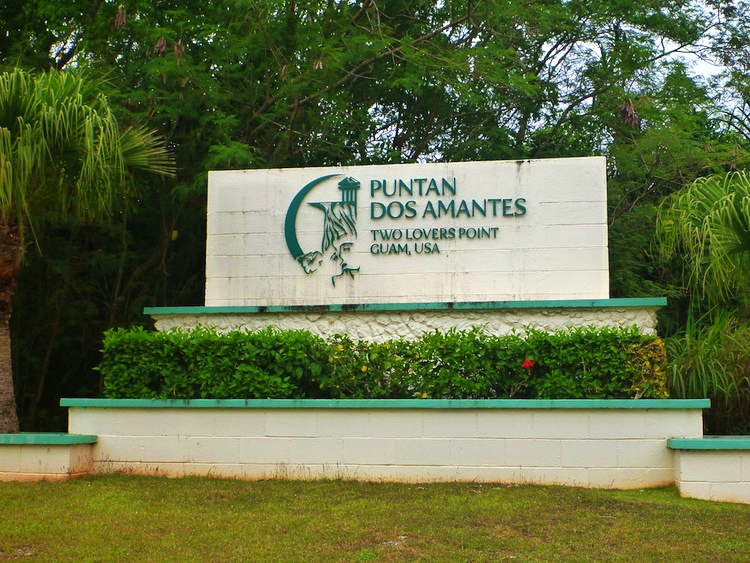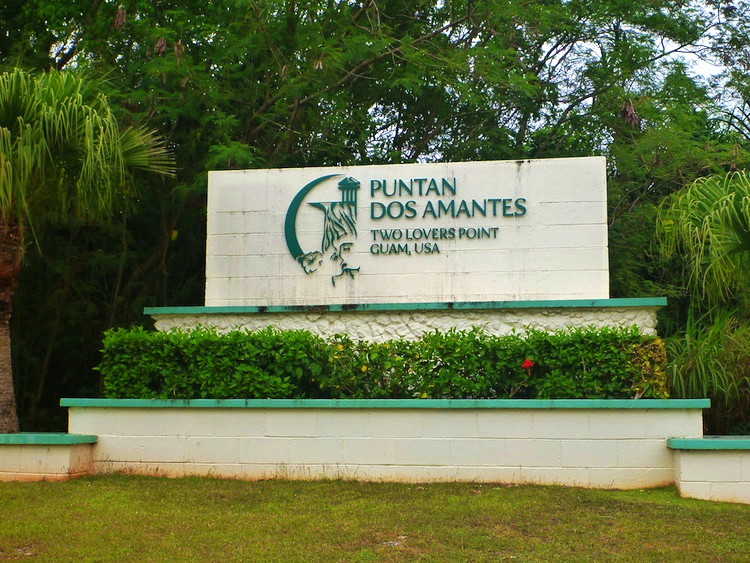 And between its sweeping cliff views and dramatic star-crossed lover story (which you can read all about there), it certainly didn't disappoint.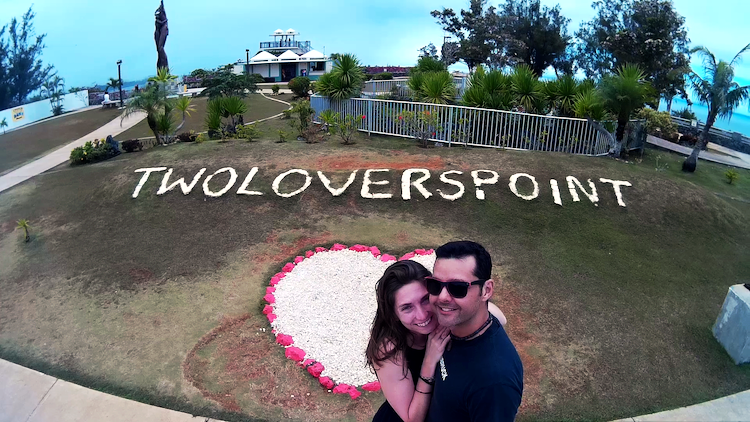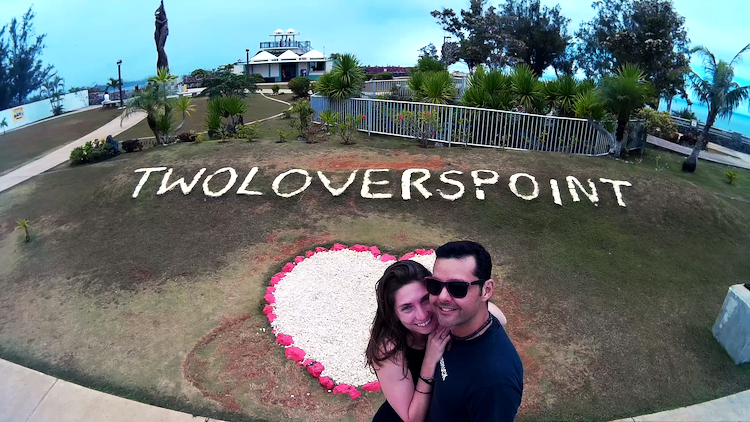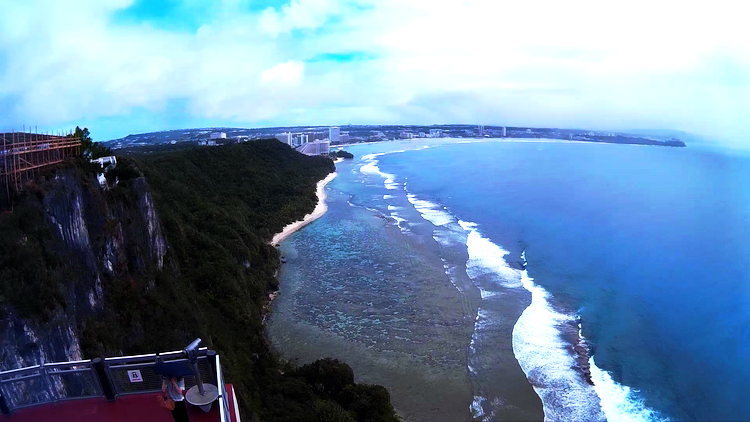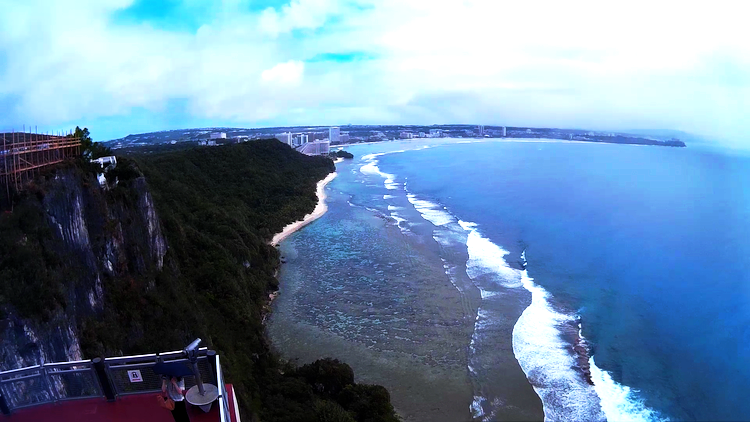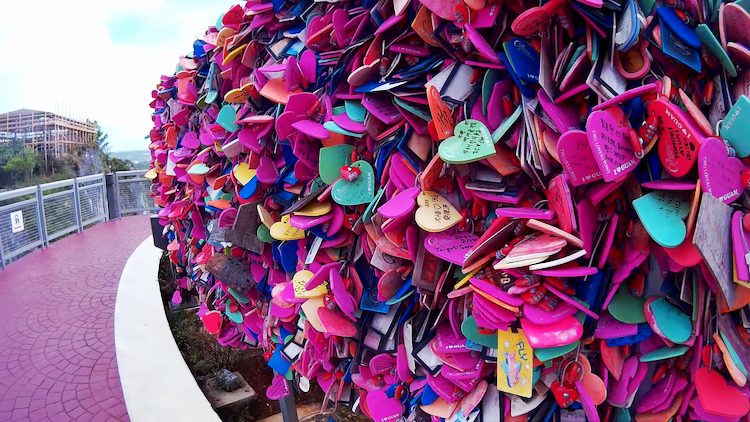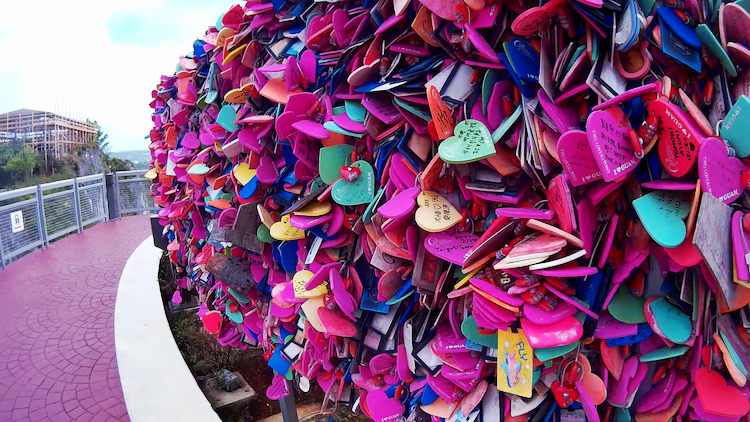 It's open from 7 AM – 7 PM and costs $3 USD to enter (cash only).
Stop #8: Drive Through Tumon's Main Shopping Street Back to the Airport
Since we didn't walk through Tumon in the morning (as this itinerary suggests as an alternative to stop #1), the last thing we did was drive through the main street of Tumon on our way back to the car rental office.
We didn't stop, but if you want to do some shopping, here's the place to do it!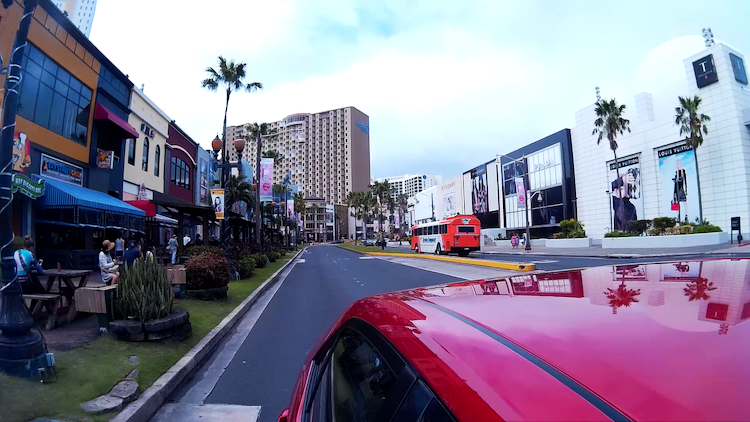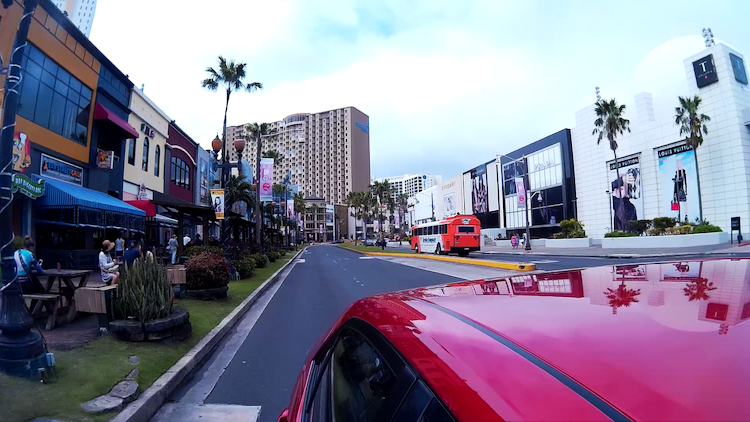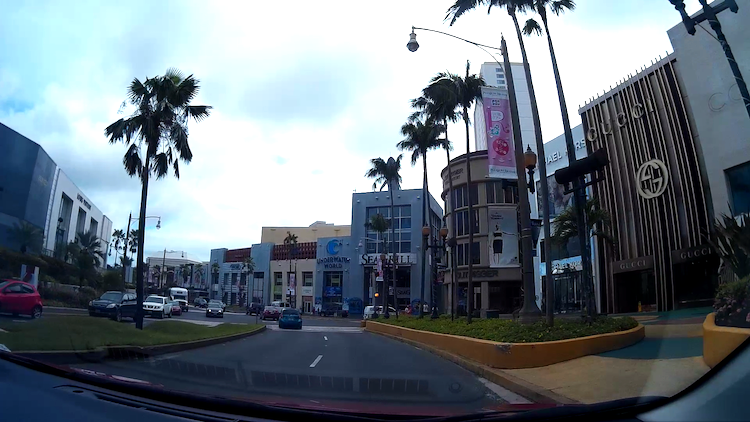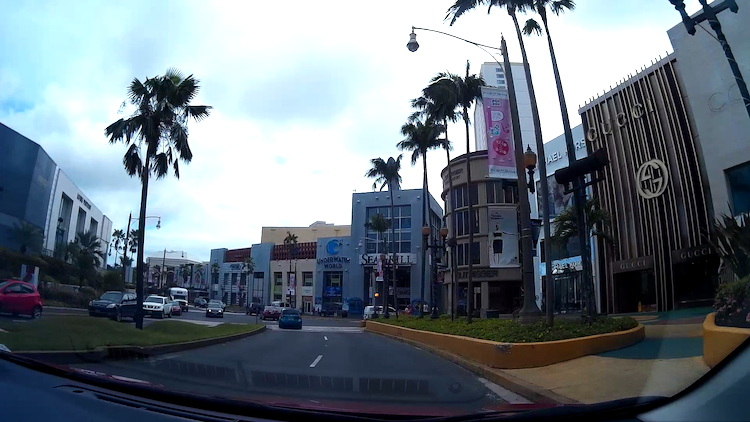 Have more time in Guam?: Guam Itinerary Alternatives
If you have more time in Guam, you can add these alternatives to your itinerary. Or, feel free to change up our 12 hour itinerary with some of the activities below.
Reminder: You can see exactly where all the alternatives are by marking the boxes in the live map at the top of the article.
Overall, we were pretty happy with our itinerary…. but if there was one thing we would change, it'd be this!
Instead of focusing most of our time south (as we did), you can venture north like so: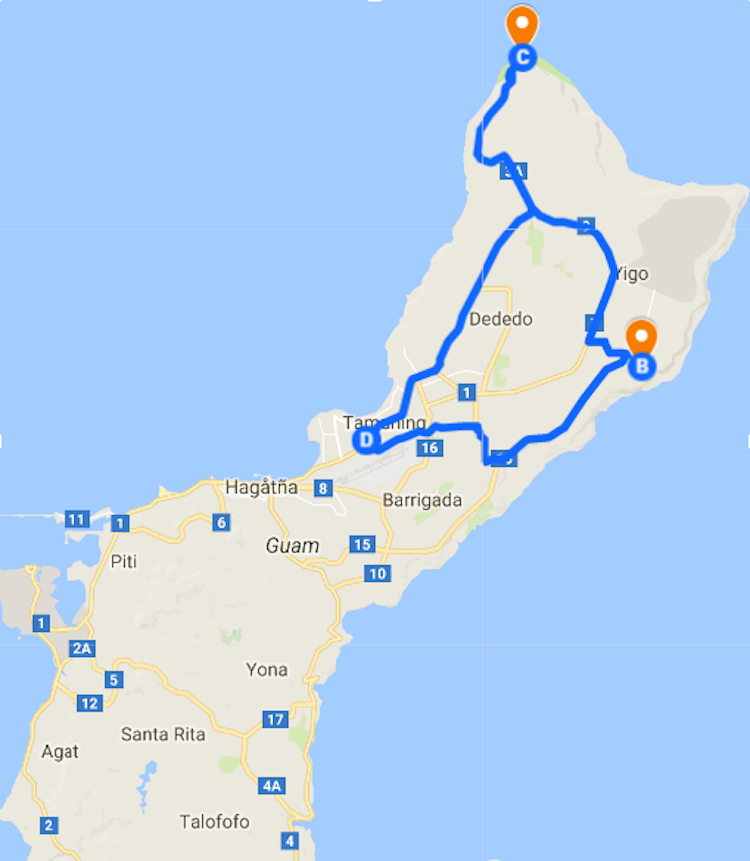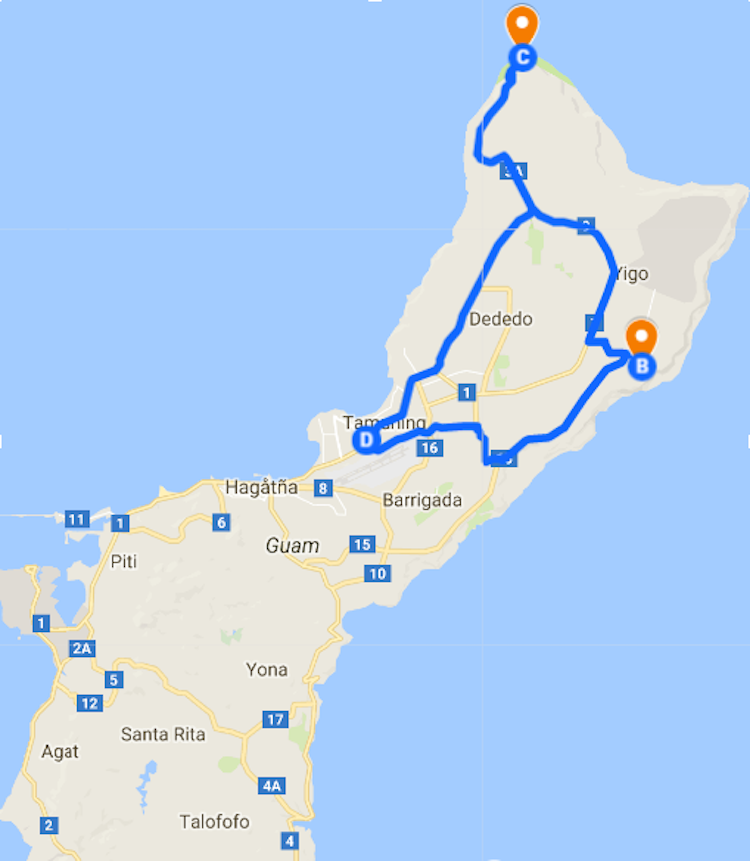 There are two main reasons you'd want to visit the north.
The first is to visit Mount Santa Rosa (point B on the map). The views from the top are supposed to be lovely and it'll also give you a birds-eye view of Andersen Air Force Base. You can drive directly to the top of Mt. Santa Rosa.
The second (and the one thing we are still disappointed we didn't get to do!) is to visit Guam's Ritidian Point (point C on the map).
Ritidian, Guam's northernmost point, is part sandy-white beaches, part animal-filled wildlife refuge, and part Chamorro historical lesson.
Based on what we've heard about it, you can easily spend an entire day exploring. If you've been, let us know in the comments below!
NOTE: Visiting Ritidian Point is free, but it does have slightly limited hours. It's open from 7:30 AM – 4:00 PM most days and you'll find it closed on federal U.S. holidays.
Hiking (or "boonie stomping," as its called in Guam), is plentiful on Guam.
Want to visit the hike "the world's tallest mountain"? Although it only clocks in at 406 meters above sea level, Mount Lamlam technically grabs that title due to its depth below sea level

It's not far from the Spanish fort in Umatac, stop #4.
Want to hike through the jungle to a waterfall? Then try out the hike to Sigua Falls in Yona.
Spend more time at the beach
And of course, if you're into beaches, Guam will give you more than enough to choose from.
You'll find lovely beaches throughout the island, but some of the more famous ones are Gun Beach, Tanguisson Beach, Gab Gab Beach, and Taga'chang Beach (if you want to watch the sunrise, we've been told Taga'chang Beach is one of the best spots!
Remember, all of these have been plotted on the live map above.
Looking for your next stop?: Where to Go Before or After Guam
Because of the island's Pacific location, Guam is a practical stop between many Oceania and Asia locations.
We ourselves used Guam as a midpoint while flying from Palau to China.
So, if you are looking to extend your trip before or after Guam, there's a lot of places you can get to easily. Here's a quick list of those places with some links to articles we think can help you keep planning:
South Korea (see: 13 Places to Visit in South Korea Outside Seoul)
China (see: 25 Things to Know Before Visiting China)
Palau (see: The Ultimate Guide to Budget Travel in Palau)

Australia
Bonus Tips for Visiting Guam
We've covered a lot of ground, so here are a few last tips to make sure you have a great trip to Guam!
You can extend your layover. Want to stay in Guam for more than just 12 hours or 1 day? Look into getting a multi-day layover.
Don't forget to rent a car before you arrive to get the best deal. See our 5 Best and Cheapest Car Rental Companies for help.
Want to buy some American goods? K-mart!If you were an American living in Asia (as I was), fear not….Guam has K-mart! After more than a year away from U.S. soil, I was really excited to go to K-mart and get real peanut butter 🙂
If you are staying overnight, book accommodation early. Guam isn't exactly a budget destination, so cheaper accommodation sells out quickly. Take a look here for the best accommodation deals.
Talk to the Guam Tourist Office for some tips. The Guam Tourist office is super helpful. We contacted them before our trip with some questions, and they mailed a full "what to do" in Guam brochure all the way to Korea for us. They also sent us an email with the best place and time to watch the sunset per our request! You can contact them here: https://www.visitguam.com/plan/contact/
Other activities, attractions and tours in Guam
If you are looking for activities and tours in Guam, I recommend that you take a look at the Viator website. There you can find and buy amazing tickets, tours and excursions in Guam.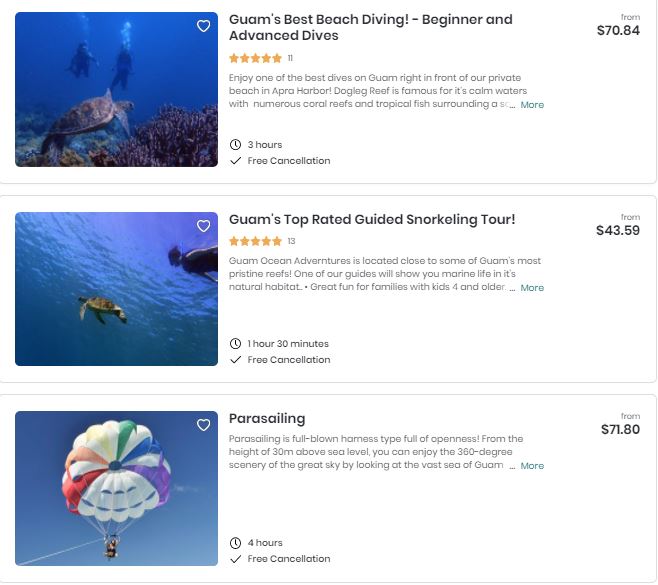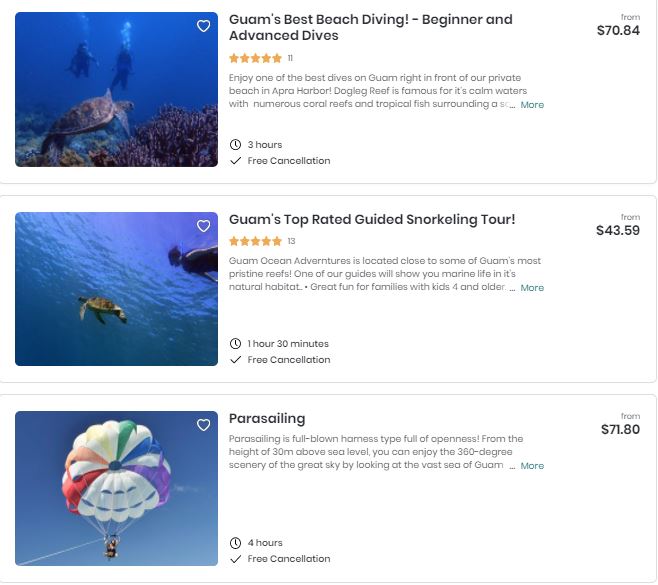 Anyone out there planning a trip to Guam? Or have you already been and have something to add to the itinerary? Let us know in the comments below!
Planning your next trip?

Then don't forget travel insurance! You don't want to get stuck paying a ton of money and ruining your trip if you get sick or have an accident without travel insurance. WorldNomads is ideal for adventurous travelers, backpackers, or anyone looking to be protected during their trip. They cover almost every single activity you can image!

Already reserved your hotel or hostel? If not, we recommend Booking.com. They have a huge selection of hotels and hostels all over the world. Plus, in most cases, you can cancel your reservation without any costs up to a few days before the check-in date!

Still haven't booked your plane ticket and want to save big? Take a look at Momondo. It's a flight aggregator that combines several other ticket search websites to make it easier for you to compare prices and make sure you are getting the best deal.

And finally, will you need to rent a car during your trip? Then check out Rentalcar.com to search and compare car rental companies from all over the world in a single website. Then, you can find the cheapest price for the best car!
If you want to hear about new articles, check out our latest pictures, and read our newest updates, be sure to follow us here….
…..and subscribe to our newsletter below!