Last Updated on by Talita
Planning a trip to the Solomon Islands? Wondering what to do, where to stay, what islands to visit, how to plan your Solomon itinerary, and more? Read on for all you need to know!
The Solomon Islands is a special place.
Because a trip to the Solomons will give you a chance to:
Explore a rugged Pacific island nation virtually untouched by tourism

(the Solomons consistently rank among the top 10 countries with the fewest tourists each year worldwide)

Scope out some of the most spectacular, pristine dive sites

– for wrecks

and

reefs – in the world

Journey through the nation's haunting World War II history by visiting the many sites and relics scattered across the country

(including monuments, abandoned bunkers, anti-naval guns, downed planes, and more)

Visit traditional Polynesian villages

, participate in rich cultural events, see the saltwater crocodiles, and perhaps even make your way to Skull Island (the final resting spot for the last of the Solomon headhunting chiefs)

Meet some of the friendliest and most welcoming locals

you'll find just about anywhere (there's a reason why they call themselves "the Happi Isles!")
All that said…
Tourism in the Solomons is still very much in its infancy. Which means the Solomons are *not* the easiest place to travel.
And although that's certainly a part of the allure for those who choose to make the trek here…
It also makes it difficult to plan!
As we found out the hard way, much of the information you need to know simply isn't published online (at least not yet!).
Before our own trip to the Solomon Islands, our internet searches for "what to do in the Solomon Islands," "Solomon Islands itineraries," and "how to plan a trip to the Solomons" didn't turn up a lot of results.
So now that we've had the chance to visit ourselves, we wanted to share all that we learned to help you on your trip to the Solomon Islands.
Let's get to it!
Solomon Islands Fast Facts
1.1. Where are the Solomon Islands?
The Solomon Islands is a country located in the southwestern Pacific Ocean.
It's situated to the east of Papua New Guinea (close enough that you can take a boat between the two countries) and several hours northeast of Australia by plane.
The archipelago stretches over a large area of ocean, covering approximately 11,000 square miles (28,000 square kilometers) of land and consisting of hundreds of islands.
The capital city is Honiara, which is located on Guadalcanal, one of the country's largest islands.
1.2 How many islands are there in the Solomon Islands?
Calculations vary, but estimates clock in at 900-1,000+ islands.
Of these islands, only a fraction of these are inhabited, with the major population centers located on larger islands like Guadalcanal, Malaita, and New Georgia.
1.3 What language do they speak in the Solomon Islands?
The official language of the Solomon Islands is English, which serves as the language of government, education (at least in the capital city of Honiara), and business.
However, English is not the first language for the majority of the population, as there are dozens of indigenous languages spoken throughout the various islands of the archipelago.
One of the most widely-spoken indigenous languages is Pijin, which is a creole language derived from English with its own unique vocabulary and grammar. Pijin, rather than English, is what's most commonly used as the lingua franca among different ethnic groups.
1.4 Are the Solomon Islands safe to visit?
Personally, we felt very safe in the Solomon Islands.
Crime tends to be focused in the capital city of Honiara on the island of Guadalcanal. We'll talk more about safety in Honiara in section 5.2 below.
But elsewhere in the Solomons, crime rates are very low.
1.5 Is it easy to visit the Solomon Islands?
It depends on your definition of easy!
As I mentioned in my introduction, tourism in the Solomons is still very much in its infancy. While this is certainly part of the island's charm for many visitors, it also means that there is minimal tourist infrastructure and that your trip may require a bit of "roughing" it.
Plus, there's also the challenge of actually planning your trip itself.
You can book many of the larger hotels and resorts online. But the more budget-friendly accommodation options will require you to email them directly.
You'll likely find that tours and activities in the Solomons are very hard to book in advance, as most of the options are not published anywhere online. So, you have to be comfortable with a bit of spontaneity on your arrival. 🙂
(Note: Make sure you read section 2 below for important info and tips on organizing your trip!)
1.6. Are the Solomon Islands expensive?
Due to the lack of tourism and very low local salaries in the Solomons, I mistakenly believed that it wouldn't be an expensive place to visit.
Turns out, I was very, very wrong!
In general, the cost of just about any "tourist" activity or accommodation is very high.
There are a few factors at play here – including the fact that these activities/hotels are primarily catering to an expat population of aid workers who earn high western salaries, the low demand of tourists like us, and the outrageous price of fuel and electricity in the country.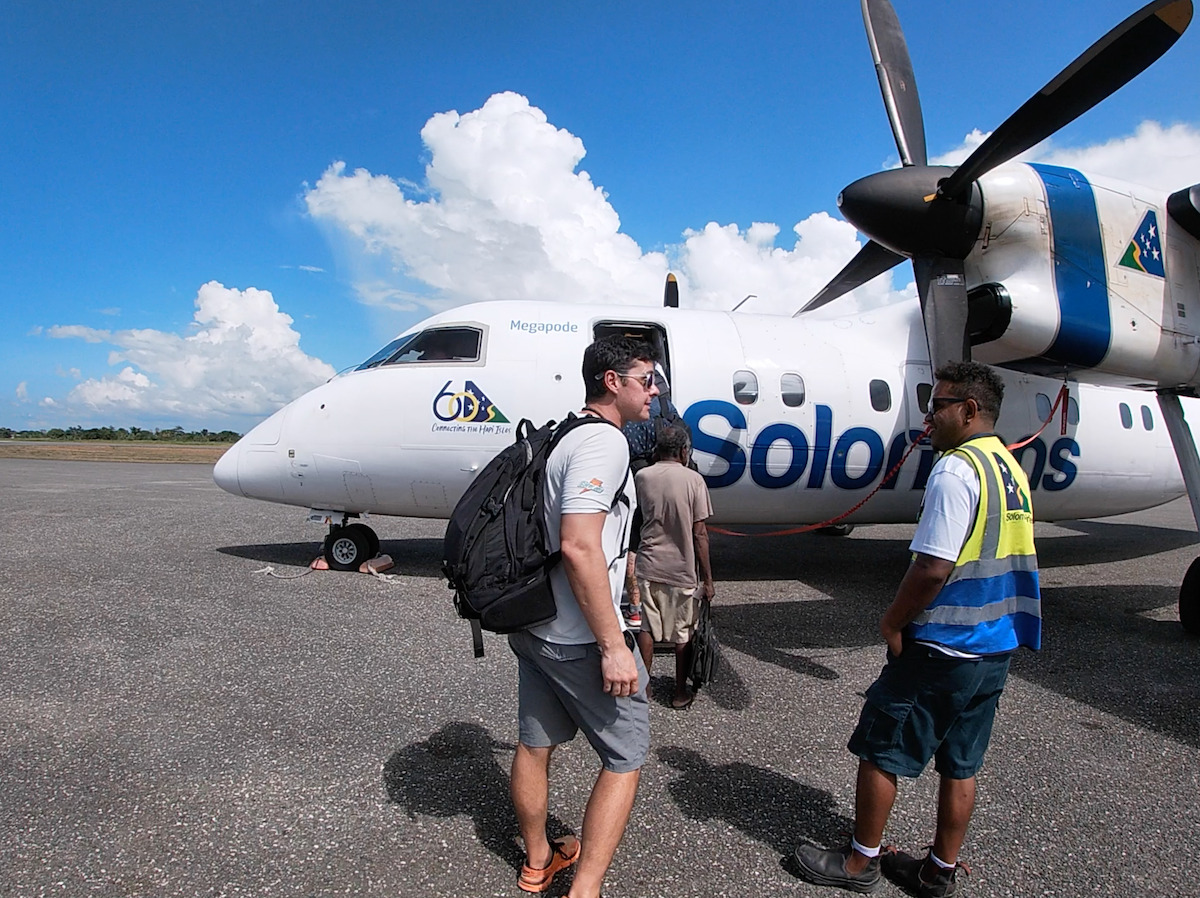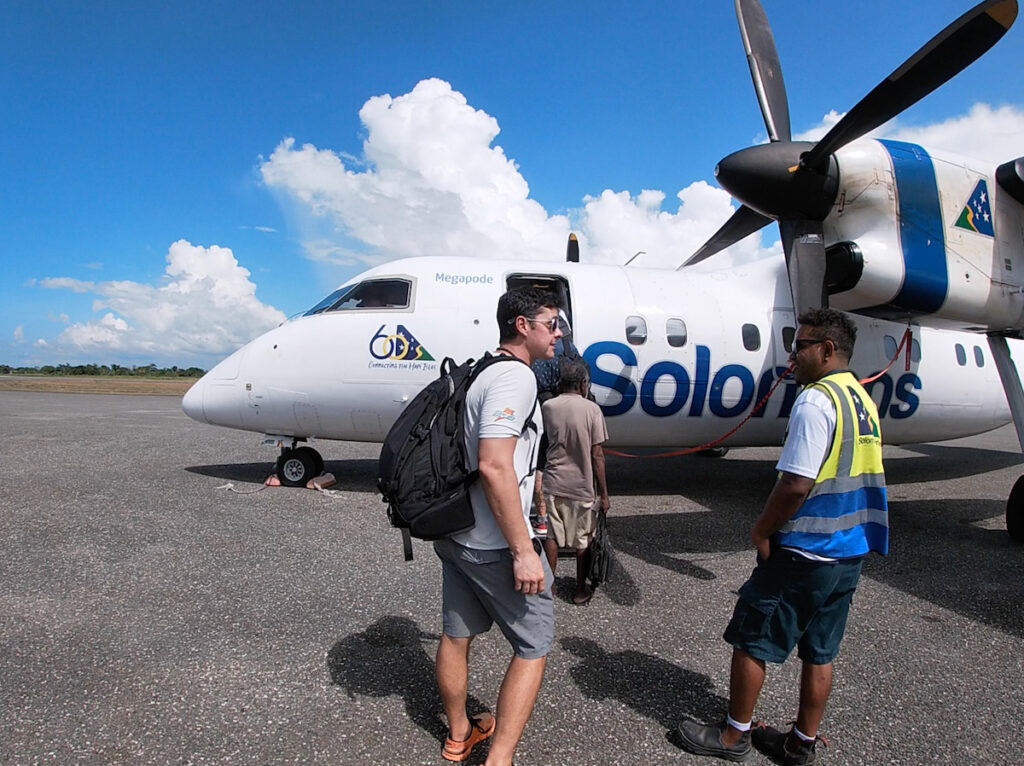 (Surprise! The Solomon Islands has the most expensive electricity in the world.)
This means you'll definitely want to set aside some padding in your budget. Not just for accommodation (which isn't cheap!), but also for excursions or other activities. Because much of the Solomons is so remote, you'll be limited in how much you can do independently.
1.7 Where can I learn more about the Solomon Islands before my visit?
Glad you asked! I recommend watching this "Solomon Islands" episode from one of my favorite Youtube channels, Geography Now.
Otherwise, much of the other content out there focuses on the Solomon Islands' bloody World War II history.
If you like war movies, "The Thin Red Line" is a philosophical look at WWII. The film takes place in (and was filmed!) in the Solomons.
Otherwise, I've heard that "The Pacific" mini-series does a great job of capturing the history of Guadalcanal and other battles throughout the country.
How to plan your trip to the Solomon Islands
2.1 How to get to the Solomon Islands
Your trip to the Solomons will likely begin with a flight into Honiara, the country's capital city, on the island of Guadalcanal. You can find direct flights to Honiara from several cities in Australia. Or if you're trying to fly into the Solomons from just about anywhere else, you'll most likely connect in Fiji.
(Note: sometime in 2023, Solomon Airlines is going to be launching a direct flight from Brisbane, Australia to Munda, a tranquil village famous for diving tucked into the Marovo Lagoon. So stay tuned!)
Apparently, it's also possible to cross into the Solomons from Bougainville, Papua New Guinea. However, we were told there aren't any official border crossings to verify your entry into the country. So proceed with caution here. Occasionally, you can also find small fancy cruise ships or live-aboard diving vessels that stop in the Solomons.
2.2 How long to stay in the Solomons
There's really no right answer here.
Personally, we stayed for about 10 days, splitting our time between Honiara/Guadalcanal and Munda. Between those two islands, we felt like we had enough time.
However, if you'd like to spend more time diving, hanging out at the beach, or visiting additional islands, then you may want to add on some days.
Alternatively, if you were to skip Honiara and focus your time exploring Munda and other islands in the Western Province, then a week may be plenty.
2.3 What islands to visit in the Solomon Islands
As I mentioned above, we personally divided up our time between the islands of Guadalcanal (Honiara) and Munda. We took a few day trips to additional islands (we'll mention those when we dive into the destinations below!), but these are the two islands we stayed overnight on.
We enjoyed Munda a lot, so I'd definitely recommend adding it to your itinerary. Particularly since it really offers everything that usually brings people to the Solomons – sparkling turquoise lagoons, spectacular diving, WWII relics and history, authentic cultural experiences…
Whether or not you add Guadalcanal to your trip is up to you. We'll chat a bit more about this in the "Is Honiara worth visiting?" below. (Section 5.1)
Although I can't speak to these other islands from personal experience, here are some of the other "common" (or as common as any tourist experience in the Solomons can be!) islands that people visit:
Ghizo (home to Gizo, the capital city of Western Province…not far from Munda and with similar attractions to be found)

Malaita (the Solomon Island's most populous island, known for its lush rainforests, waterfalls, and traditional village life)

Tulagi (a small island located between Guadalcanal and Malaita, famous for its diving and WWII sites)
2.4 Where to stay in the Solomon Islands
See the section above!
But to put it simply: I'd probably recommend, at minimum, a night or two in Honiara/Guadalcanal to see the war sites and memorials. And then divide up the rest of your time between other islands like Munda, Ghizo, or Tulagi.
2.5 What to wear in the Solomon Islands as a woman
In general, women in the Solomons tend to dress a little on the conservative side.
Most wear skirts, though I did see a few loose-fitting shorts. However, I don't think I ever saw anyone wearing a skirt or shorts that went much more than an inch or two above the knees.
On top, a sleeveless or a T-shirt is totally fine. But cleavage or exposed chests aren't common.
Of course, when you're at your hotel, you're free to wear whatever. But these are just some of my observations and the clothing guidelines I stuck to so I could dress respectfully.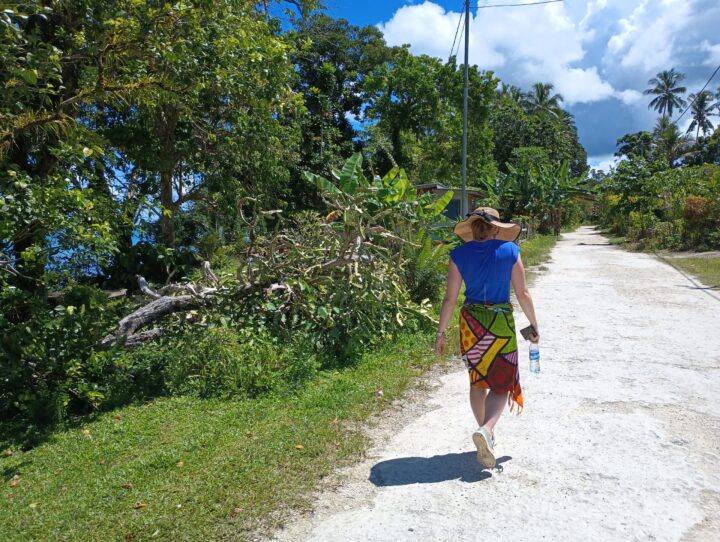 2.6 Where to go diving in the Solomon Islands
In general, basically anywhere in the Marovo or Roviana Lagoon (near Munda, Gizo, etc.) will be spectacular. This area is known for its WWII wrecks, often submerged in shallow, crystal-clear water. There's great reef diving, too.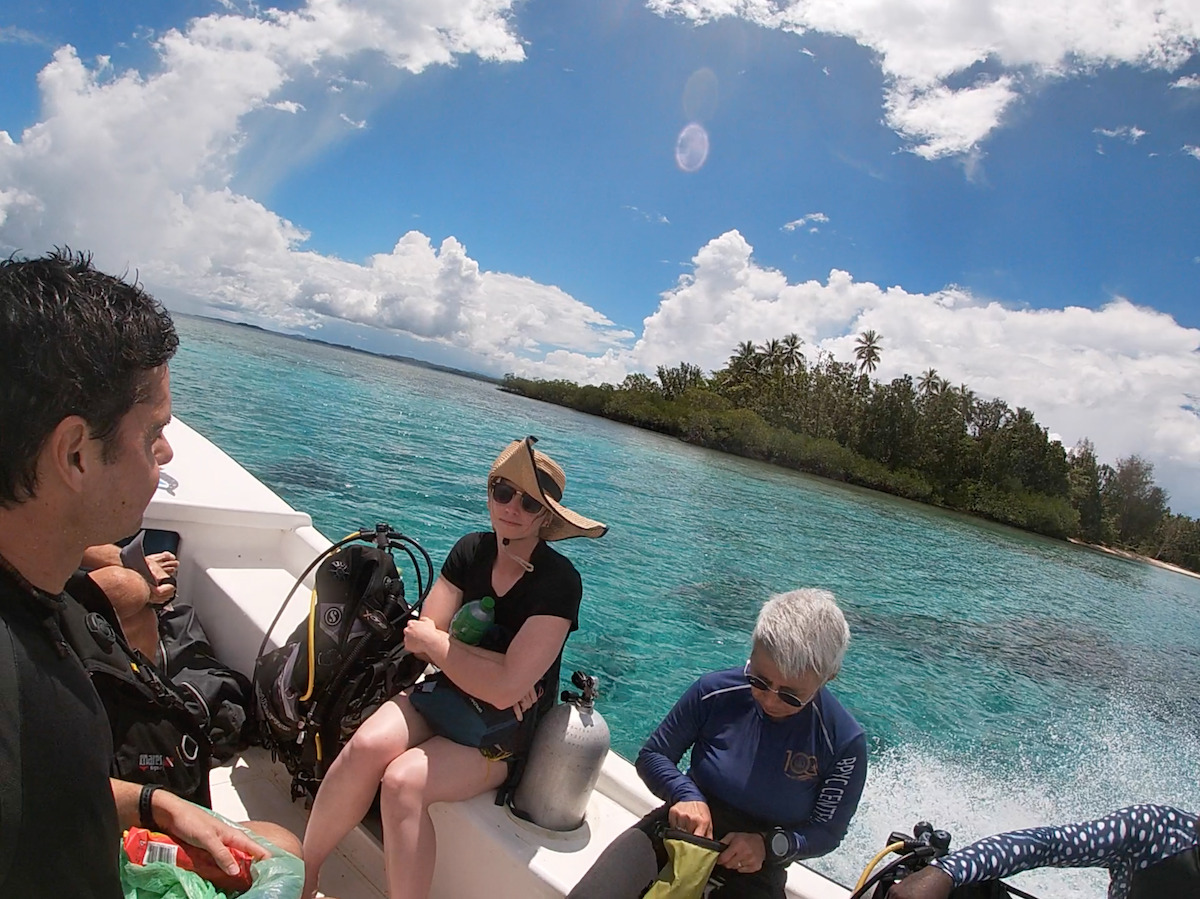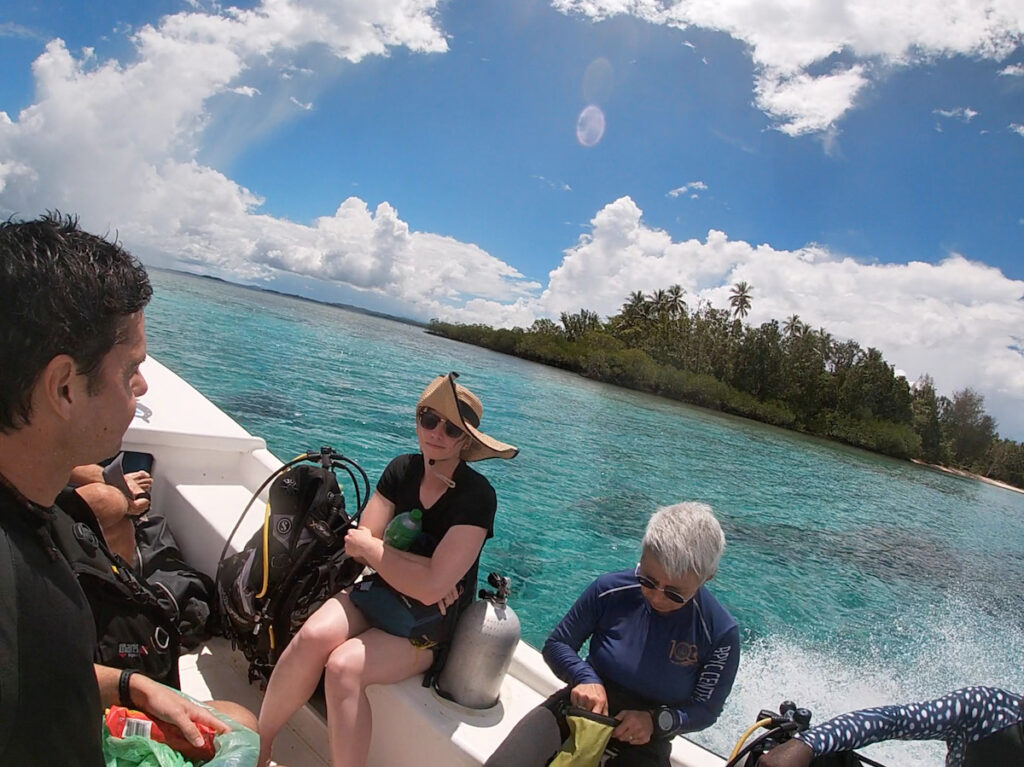 Otherwise, Tulagi's "Iron Bottom Sound" (so named for its high concentration of sunk WWII planes and ships) is another well-known spot for wreck dives.
Note: At the time of writing (June 2023), Tulagi Dive Shop, which runs out of Honiara and would take you out to dive in Tulagi, isn't currently in operation after closing down during the pandemic. We spoke with the shop's owner and it sounds like he hopes to re-open again soon.

If you'd like to try diving in Honiara or Tulagi, try reaching out to him here or here before your trip to see if he's up and running again.
Other than Tulagi Dive, there are no other active dive shops in Honiara.
2.7 IMPORTANT: How to organize your activities and tours in the Solomon Islands
If you've tried to do any sort of planning ahead for your Solomon Islands trip, you've probably come across a bit of a roadblock – namely, it's very hard to find information about what to do in the Solomon Islands online!
So, here's the best piece of advice I can give you. As soon as you arrive in Honiara, make your way to the Solomon Islands' Visitor Center (it's located right off the main road in Honiara's city center, so you really can't miss it).
The staff here were SO helpful in helping us set up everything we wanted to do.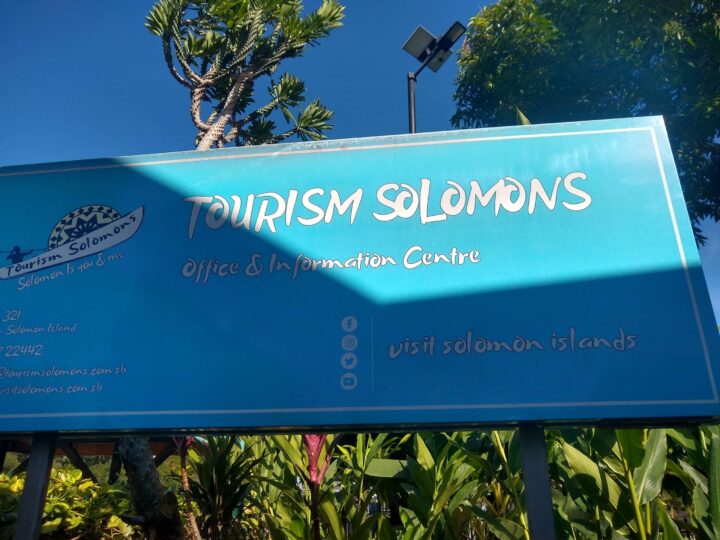 They gave us recommendations, called tour operators and guides to see what was/wasn't available, and just generally helped us organize our time in the Solomons in a way that we never would have been able to do on our own.
Alternatively, rather than waiting to talk to them when you arrive, you can try reaching out ahead of time to see what's available on their website here (Personally, we never heard back when we emailed them before our trip. But it's worth a try!)
Transportation in the Solomon Islands
3.1 How to get around on the Solomon Islands
On many of the islands, you'll be able to find local buses (just look out for the white vans). As far as I can tell, most buses don't have set schedules.
In Honiara, you'll also find plenty of taxis that you can catch for reasonable-ish prices.
Outside of Honiara, hitchhiking with friendly locals is a solid option as well.
Personally, we did a combination of going around by ourselves as well as doing tours/going with a guide. Although we generally aren't big "tour" people…many places in the Solomons are simply impossible to get to without one.
(Plus, for many of the WWII sites, it was nice to have a knowledgeable guide.)
3.2 How to get between the islands in the Solomon Islands
There are a handful of passenger ferries that you can take between islands in the Solomon Islands, including from Honiara to Gizo/Munda/Seghe, Honiara to Auki, Honiara to Malaita, and more.
Pelican Express seems to be the most popular option when it comes to "express" ferries. (Though note that these "express" trips are very expensive…and when we were there, all of their ships were inoperational for one reason or another.)
If you're interested, you can try (no guarantees they'll answer!) contacting them here.
Otherwise, there are a few "slow" ferry options. Be warned that these "slow" ferries operate on limited schedules, are prone to delays, and are known for being a bit "adventurous." (AKA not a comfortable experience.)
We personally didn't take any ferries as they didn't match up with our schedule.
Note that it's very hard to find up-to-date schedules for the ferries online.
So, I'd highly recommend getting in touch with the tourism board (if you're lucky enough to get them to answer you by email!). Or simply plan to ask around when you arrive in the country.
Otherwise, you can catch a domestic flight with the national carrier, Solomon Airlines. Though the cost of a ticket is pretty expensive for how short the flights are, they can get you just about anywhere.
Plus, the views are simply incredible.
(Psst! If you fly with Solomon Airlines, keep your eyes peeled for an article I wrote for their in-flight magazine about Munda 🙂
3.3 How to get from Honiara to Munda/Gizo/Western Province
As far as we can tell, there are currently two overnight ferry options between Honiara and Western Province, each leaving roughly once per week.
One is the MV Fair Glory, and the other is the MV Anjeanette.
See 3.2 above for more info on these ferries and other options for getting between the islands of the Solomons.
3.4 How to rent a car in the Solomon Islands
As far as we can tell, Honiara is the only place in the country where you can rent a car. And there's just one rental car shop, right off Honiara's main street by the gas station.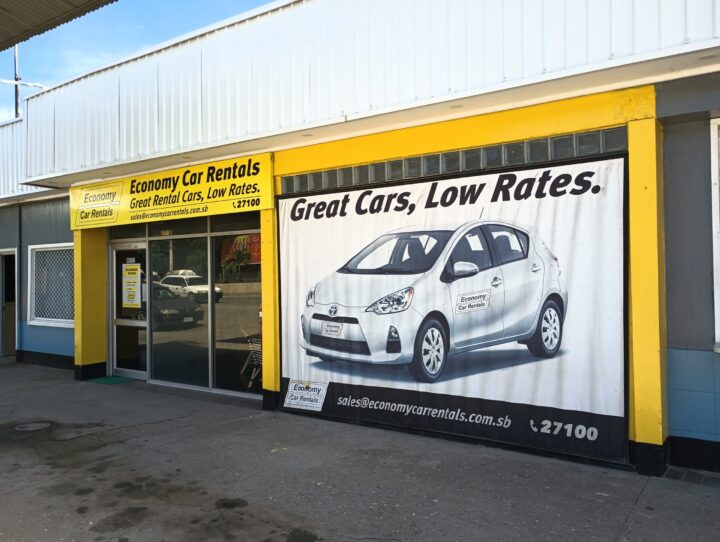 (You should be able to find it on Google Maps…otherwise, just ask! People are incredibly friendly and happy to help.)
They told us they don't accept online bookings. But here's a photo we took of their brochure with pricing and contact info: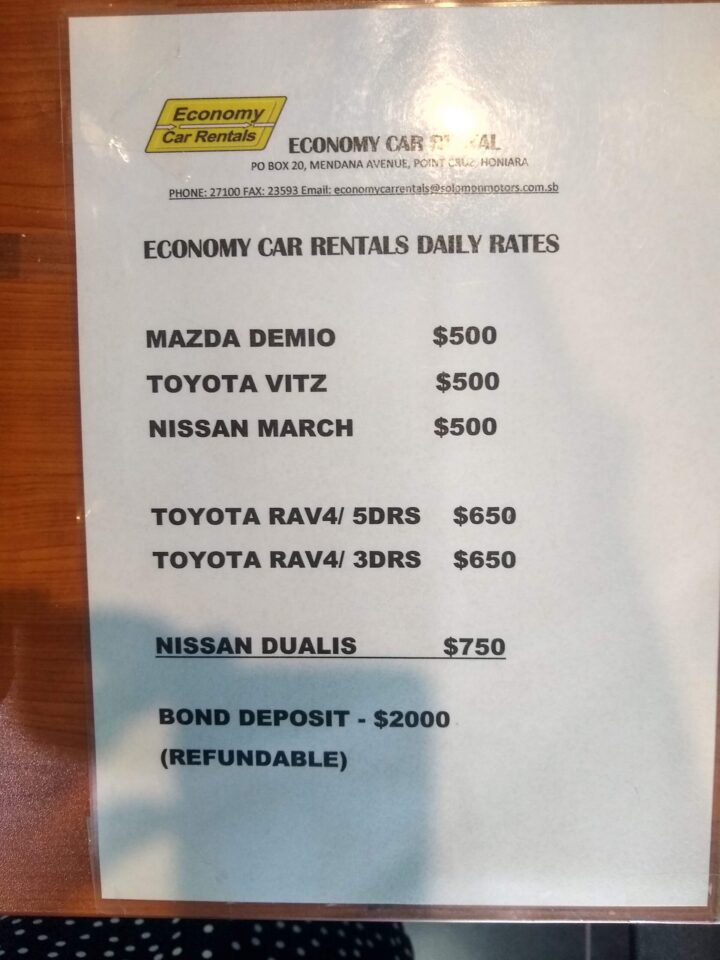 You can try reaching out by email before your trip to reserve a car. Or just chat with them when you get to Honiara, as I don't get the impression that they often sell out.
Fair warning: the roads in Honiara and Guadalcanal are pretty rough. (Though they are currently redoing many of them for the 2023 Pacific Games…so perhaps they'll be a little smoother by the time you get there!)
And do keep in mind that they also drive on the left side of the road.
Guide to visiting Honiara & Guadalcanal
4.1 Is it worth going to Honiara?
I'll be honest here: Honiara isn't exactly the nicest place to visit.
It's busy, it's crowded, it's not very pretty…and there's just honestly not a ton to do as a tourist. In general, I would say there are plenty of other more "enjoyable" places to visit in the Solomon Islands.
But that doesn't mean Honiara isn't worth a visit.
For one, as the country's largest city and capital (and as a city made up of Solomon Islanders from all different islands), it can give you an interesting perspective on life in the country.
Plus, it also serves as a jump-off point for a lot of other unique sites, including the WWII memorials and relics scattered throughout the island of Guadalcanal. Or other nearby islands like Savo, Tulagi, or even Malaita.
Not to mention, you'll probably end up in Honiara anyway since this is where most international flights land (although there will soon be a direct flight from Brisbane to Munda, so stay tuned for that!).
I think as long as you manage your expectations and make plans for activities outside of the city, Honiara could be worth the stop.
4.2 Is Honiara safe?
Before our visit to the Solomons, we came across a few things online that warned us about safety in Honiara.
Now, obviously our experience is our own and we can't promise yours will match ours.
But we personally felt very safe and welcome while walking around Honiara, at least in the main area. And most of the other people we spoke to (expats living in Honiara, the staff at our guesthouse, etc.) confirmed that the city was far safer than its reputation suggested.
This isn't to say there haven't been more serious safety concerns in Honiara's past. And you do see clear hints of crime prevention – like fences and security guards stationed at most hotels, as well as in the local market and watching over the ATMs.
So, obviously don't walk around flashing your fancy jewelry or camera. But that's just good advice anywhere.
4.3 Where to stay in Honiara on a budget
In general, accommodation in Honiara is quite pricey, with the nightly average coming in at over 100 USD per night.
However, you can find some cheaper options…but you won't find them on Booking.com. Rather, you'll have to email them directly.
Personally, we stayed at a community-center-turned-guesthouse called St. Agnes Mothers Union Resthouse.
It wasn't fancy. But it was clean, cheap by Honiara standards (about 60 USD per night), and right near the city center.
They have shared kitchens and a few different types of rooms for you to choose from. Just make sure you pick a room that has A/C!
You can reach out to them here: https://www.visitsolomons.com.sb/tour/st-agnes-mothers-union-resthouse/
Otherwise, here is a list on the tourism website of some other budget accommodation options in Honiara. Though do be aware that many of these didn't respond back to our emails requesting a quote, so I imagine they didn't survive the pandemic: https://www.visitsolomons.com.sb/where-to-stay/budget/
4.4 Where to dive in Honiara
Take a look at section 2.6 above for more on diving options in Honiara and the Solomon Islands at large.
4.5 What to do in Honiara/Guadalcanal (and a 3-day Honiara/Guadalcanal itinerary)
To give you an idea of what to do in the Solomon Islands, here's a quick look at our own itinerary in Honiara and Guadalcanal.
Of course, feel free to customize it however you want. But hopefully, it'll give you a solid starting point.
HONIARA/GUADALCANAL ITINERARY DAY 1: ARRIVAL + "SITES" OF HONIARA
The truth is that Honiara itself probably won't entertain you for very long. That's why on day #1, I highly recommend you make the Solomons tourist office downtown your first stop.
As I said above (section 2.7), coordinating and booking things in advance is quite difficult in the Solomons. But the tourist office was absolutely amazing in giving us recommendations and helping organize whatever we wanted to do on Guadalcanal and even on other islands.
After you've spoken to the tour office, I'd recommend heading straight to the national museum right across the road.
From there…there's not much else to do in Honiara. The ocean and port views from Breakwater Cafe are nice (though the cafe was far too expensive for us!), and there's a local handicrafts market near Palm Sugar Cafe.
Otherwise, we enjoyed ourselves just generally walking around, saying hi, and taking note of how friendly everyone is.
HONIARA/GUADALCANAL ITINERARY DAY 2: GUADALCANAL WWII TOUR WITH WRECK SNORKELING AT BONEGI BEACH
Some of the largest and bloodiest battles of WWII took place in Guadalcanal, and you can still see many marks of the war today in everything from the current airport (built by the American soldiers) to the dozens of plane and shipwrecks that can be found at the bottom of the bay.
Given that transportation to many of the WWII sites was limited (and that we wanted to hear the history behind all of these sites), we opted for a guided tour that we organized through the Honiara tourist office.
Whether you're interested in WWII history or not, I still highly recommend making some time to visit some of the Guadalcanal WWII sites. (Particularly as you'll also get a bit of an island tour, and some great views, as you go.) Here's a look at just a few of the WWII sites to visit on Guadalcanal.
The U.S. War Memorial at Skyline Ridge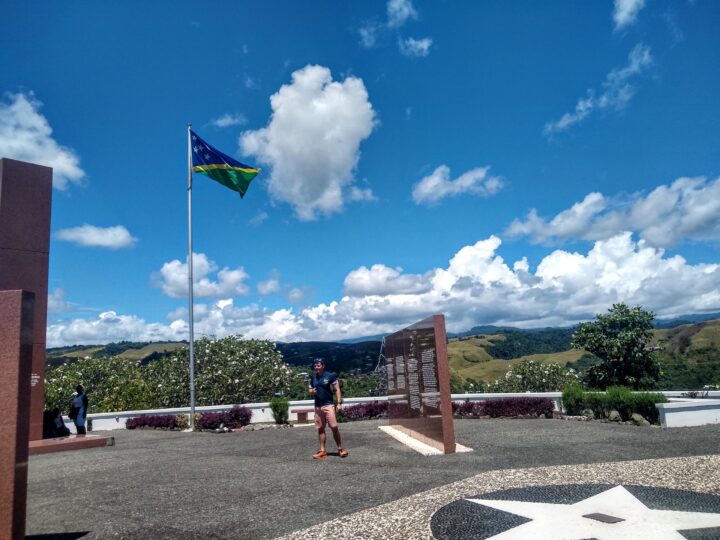 The Japanese Peace Park at Mt. Austen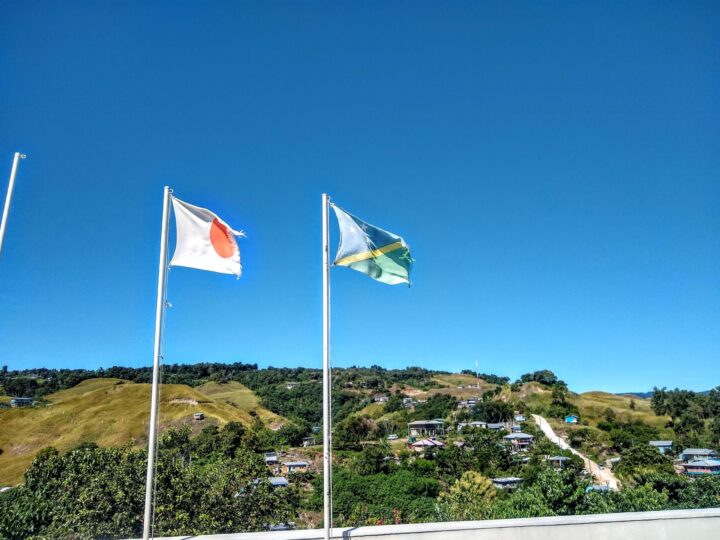 Bonegi Beach (home to a sunken WWII Japanese freighter, visible from the shore – if you want to snorkel, make sure to bring your own gear as there is nowhere to rent at the beach or even in Honiara!)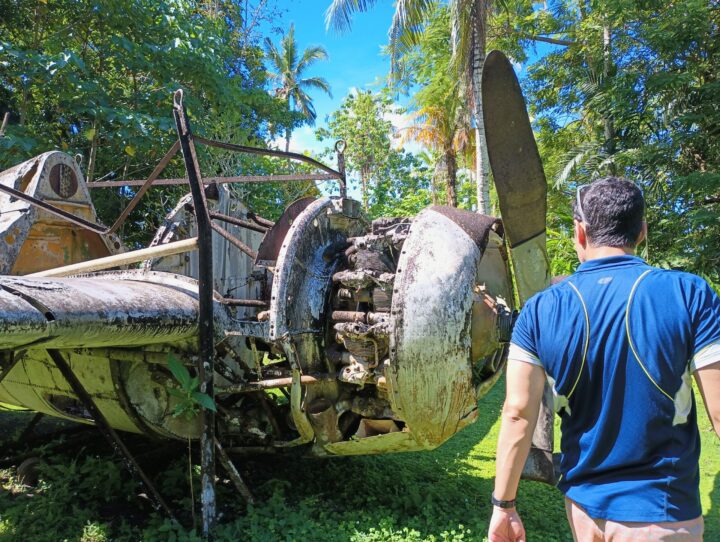 Beyond this, as part of your tour, you'll likely also see battlefields, Edson's Bloody Ridge, the CoastWatchers Memorial, and more.
HONIARA/GUADALCANAL ITINERARY DAY 3: DAY TRIP TO SAVO ISLAND BY BOAT WITH VOLCANO HIKE
With our last day in Honiara, we organized a day trip to neighboring Savo, a volcanic island about an hour by boat (weather dependent!) from Honiara.
Although the way back was a little rough (take something for seasickness if you need it), it was a lovely day.
We saw dolphins, enjoyed the sea breeze (a welcome break from the suffocating heat of the city), and hiked through the jungle along a steaming river toward a volcano.
As a heads up: this hike might not be for everyone. It requires a good level of fitness, mobility, and balance as you must crisscross a near-boiling river many times. Given that it can burn you, you definitely don't want to lose your balance or fall in. So, it may not have been the *safest* hike…but it was still a pretty cool experience!
4.6 Other activities to consider in Honiara/Guadalcanal
All of what you'll see below are suggestions based on brochures and other information we found from the tourist office in Honiara. We didn't ask about any of these particular activities, so you'll have to confirm current pricing and whether or not they are still running with the tour office.
Sorry in advance for the terrible quality of these pictures…but since you won't be able to find any of these online, I thought it'd be helpful to add them into the article anyway!
Hike to Tenaru Falls (day trip from Honiara or with optional overnight stay at Parangiji Mountain Lodge)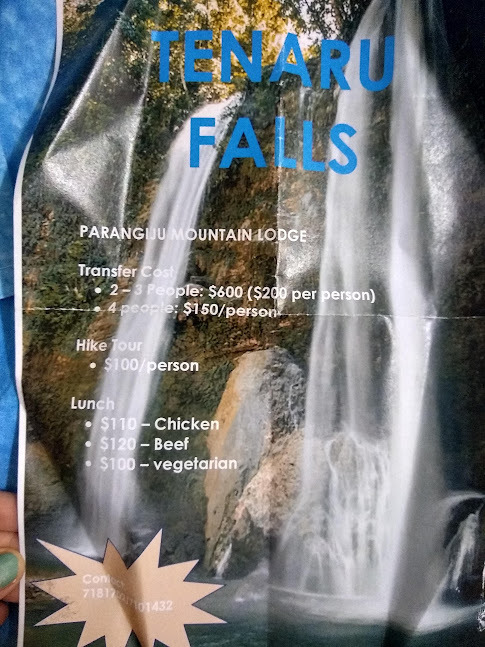 Stay at the Tetepare Island Eco-Lodge (Tetepare is the largest uninhabited island in the South Pacific and a very impressive conservation project! Note that this is quite far from Honiara, but you can still ask about it in Honiara's tour office if you're curious.)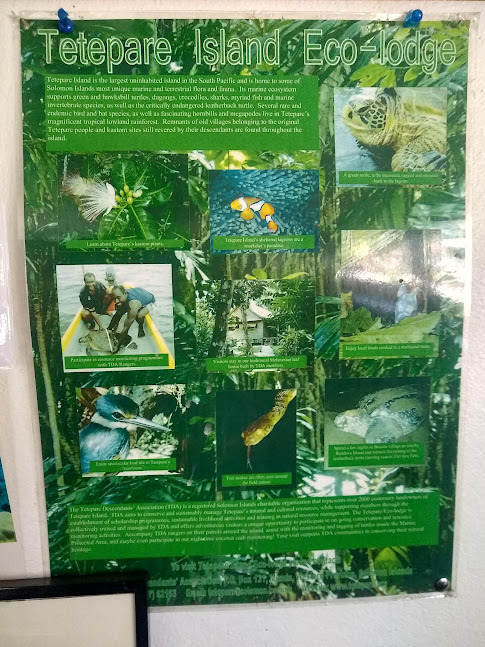 Go on a rafting or kayaking adventure through the rainforest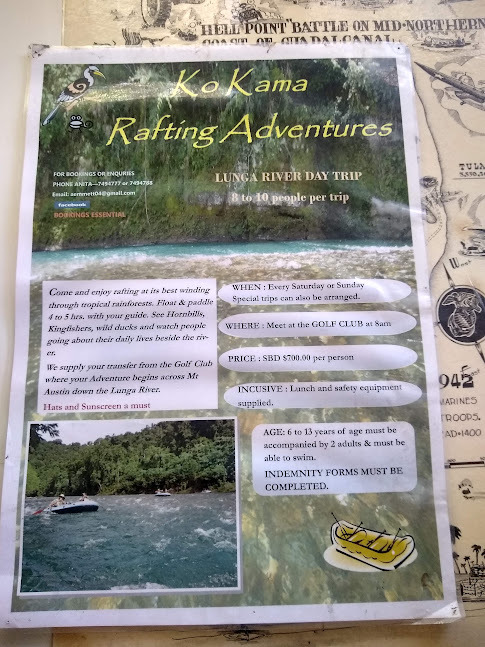 Go wreck diving in Tulagi if the dive shop is open again (see note in section 2.6 above)
Guide to visiting Munda and the Western Province
5.1 How to get to Munda
Essentially, you have two choices. Either brave one of the ferries from Honiara (not for the faint of heart!). Or fly with Solomon Airlines from Honiara or directly from Brisbane (route available fall 2023, I think).
See section 3.2 on "getting between the different islands of the Solomons" for more details.
5.2 Where to stay in Munda
If you've looked at all into accommodation in Munda, then you've probably come across Agnes Lodge.
This lively family-run hotel, located right on the lagoon and about a 7-minute walk from the airport, is one of the best, and most popular, accommodation options in Munda.
This is where we stayed, and we'd highly recommend it!
Unlike many of the other accommodation options in the Solomons, you can book Agnes Lodge directly on Booking.com.
The hotel's restaurant, which features some beautiful lagoon views, is pretty decent as well. (Pro tip: if you're on a budget, order off the breakfast menu. $5 USD eggs and toast is hard to beat!)
While Agnes Lodge isn't necessarily cheap, it is one of the cheapest options for accommodation in Munda. That said, I believe Qua Roviana Hotel, right across the street, might have slightly lower rates if that's what you're looking for.
5.3 Where and how to dive in Munda
There is just one dive shop in Munda – the aptly-named dive Munda – and you can rest assured that Belinda, Brian, and the rest of the team will take great care of you during your stay.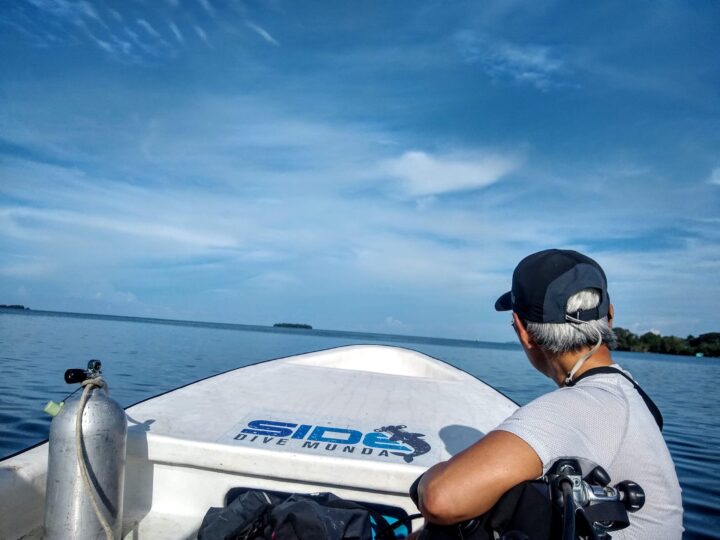 The shop operates out of Agnes Lodge Gateway Hotel, though you don't have to be staying there to dive with them.
And if you ask nicely, they'll take you to other classic Munda stops (like the infamous "Skull Island" and/or Kennedy Island, the location of JFK's base during WWII) as part of your day of diving 🙂
My husband Rodrigo had a wonderful time diving with Dive Munda and would highly recommend them.
But if you don't dive (like me), you may still be able to join in on the fun by coming on the dive boat for a smaller fee. Or partaking in any of the other fun excursions and activities they offer, as seen below.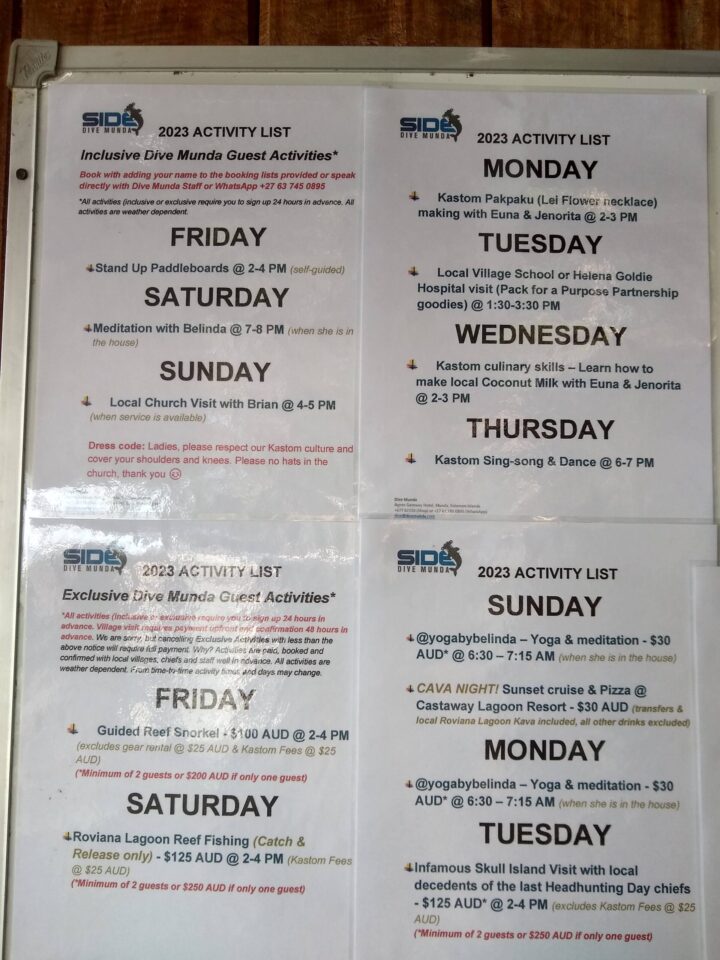 We highly recommend taking the paddleboards out and paddling across the lagoon to Castaway Resort!
(Note that the activities listed as "free" are only free if you are diving with Dive Munda. Otherwise, the "paid" ones are available to anyone.)
5.4 What to do in Munda (Munda itinerary ideas)
Here's a quick list of some of the top activities to do in Munda:
Go diving (duh!) or snorkeling at any one of Marovo or Roviana Lagoon's impressive WWII wrecks or spectacular reefs
Visit the infamous Skull Island, the final resting place for the last of the Solomon headhunter chiefs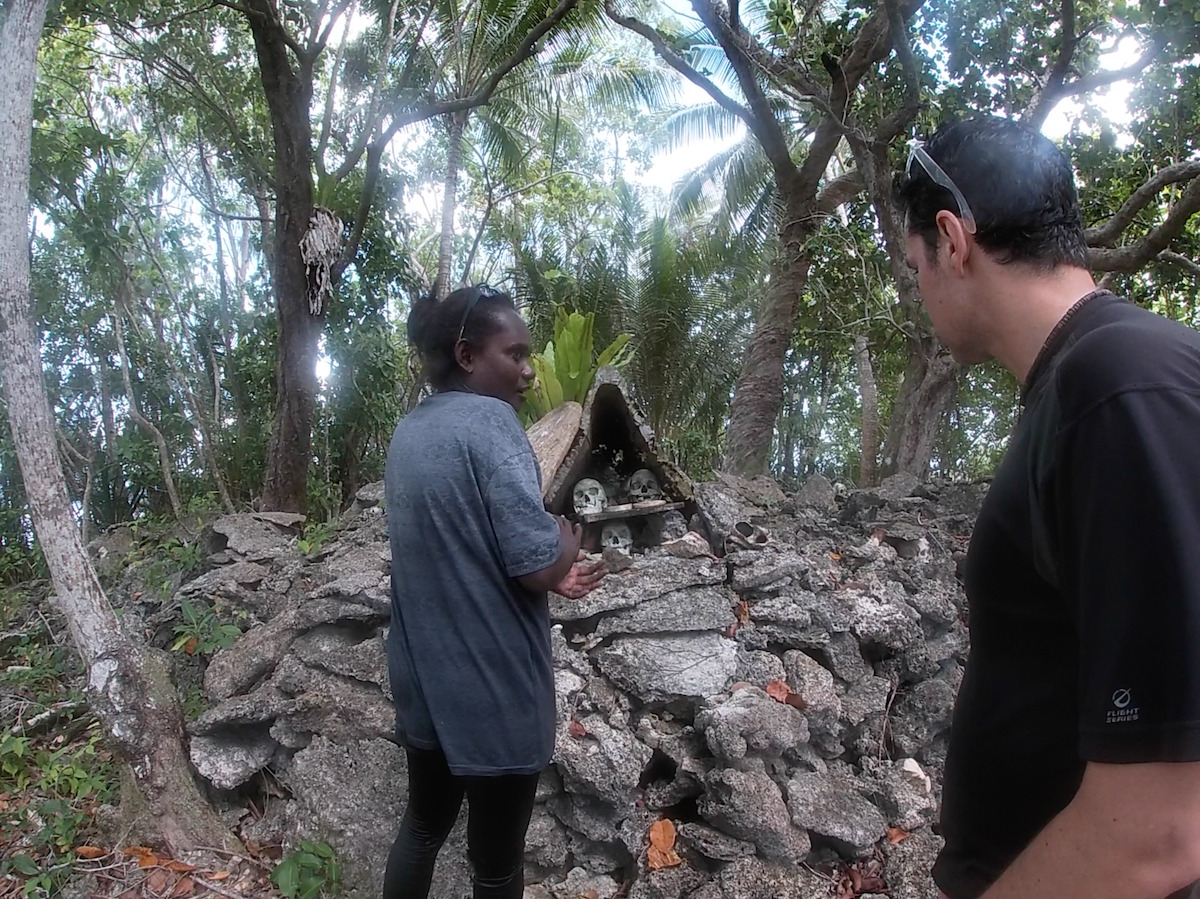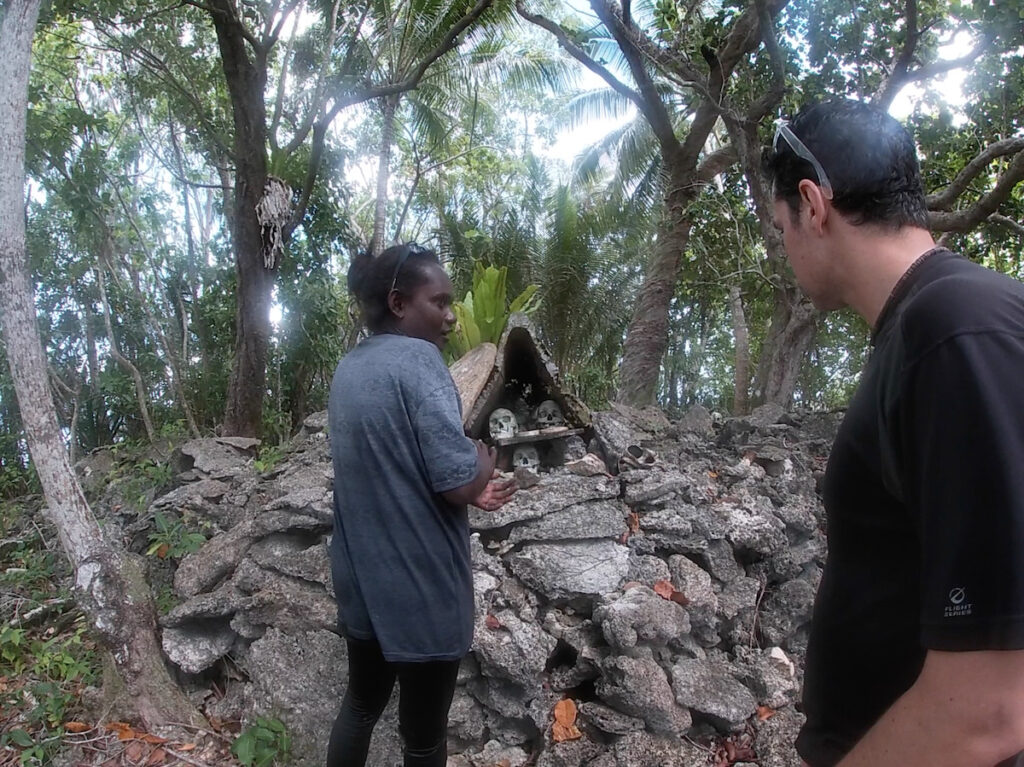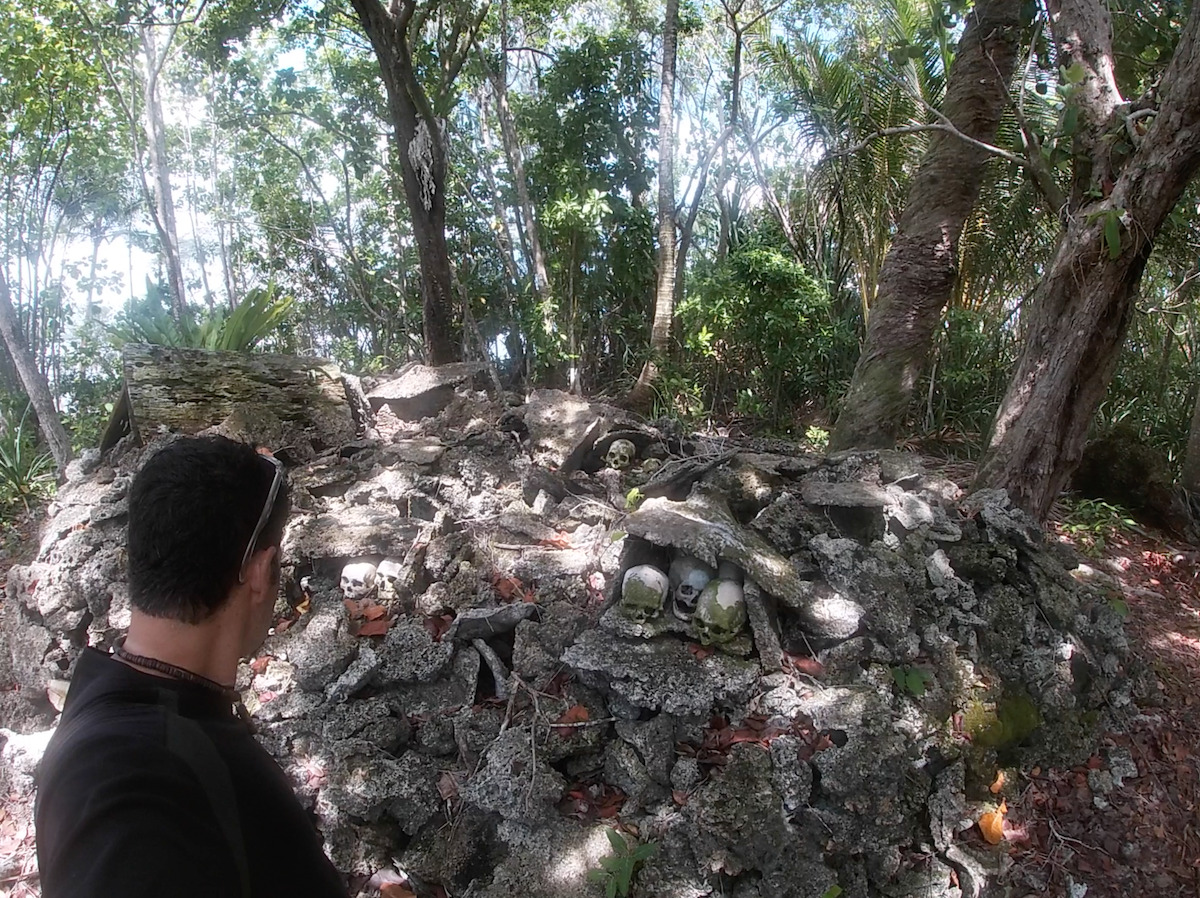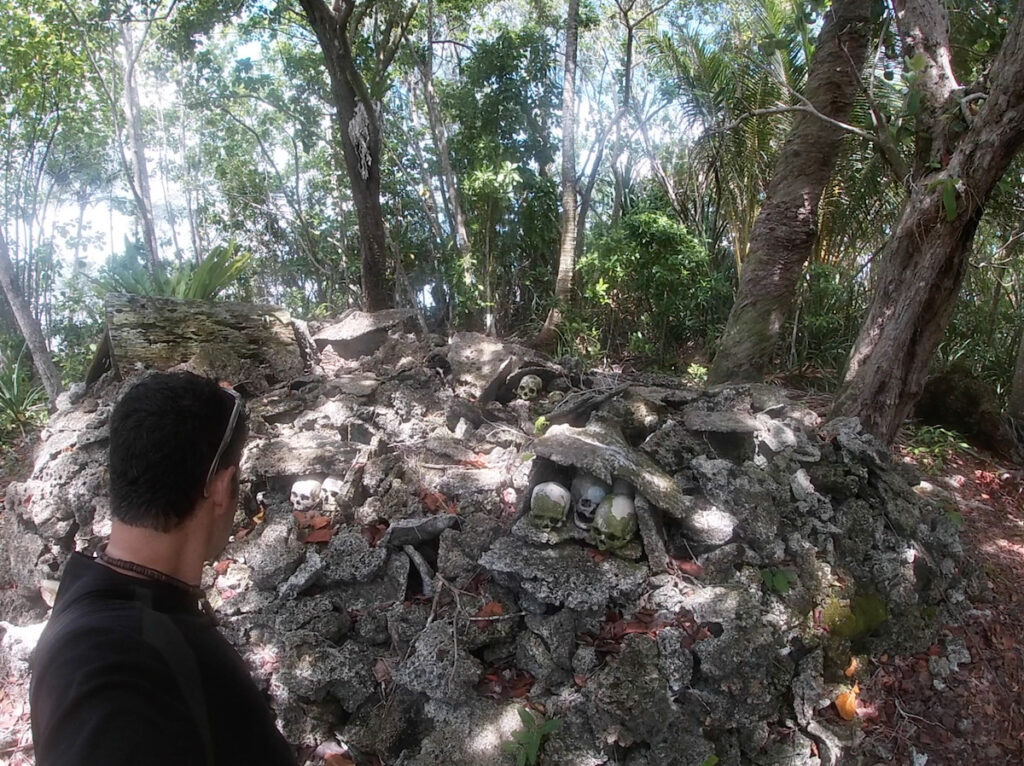 Get a tour of Luberia Island, American president John F. Kennedy's base during WWII (while you're at it, make sure to ask about JFK's rescue by two brave Solomon Islanders – it's quite the story!)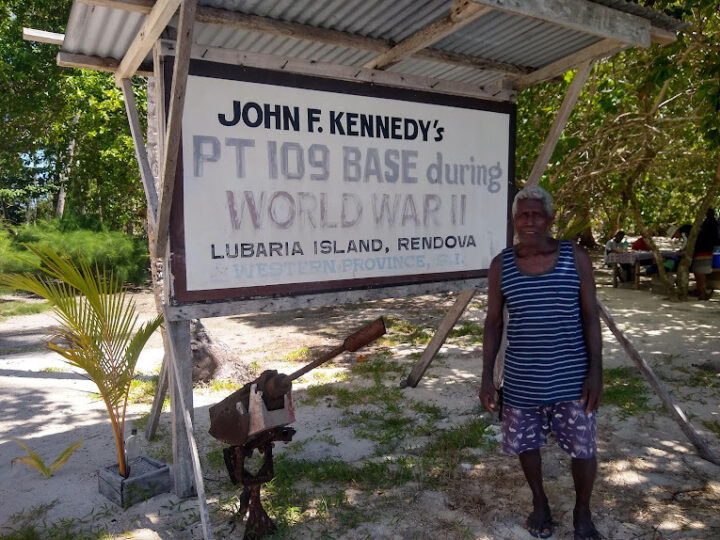 Take part in the cultural activities and community visits organized through Dive Munda (see picture in section 5.3 above for an idea of your options)

Head out on a kayaking excursion with stops in local villages (and to see the saltwater crocodiles in their natural habitat!)

Take a walk to see Munda's WWII relics and the Peter Joseph WWII museum on the outskirts of town (section 5.6)
To give even more inspiration for your Munda itinerary planning, here's a picture of the tours and excursions that Agnes Lodge can help organize: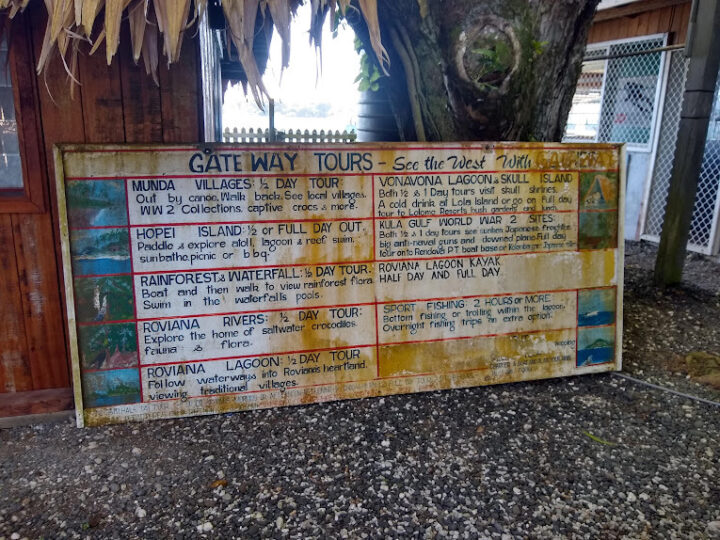 5.5 How to organize tours, excursions, and activities in Munda
Unfortunately, due to lack of transportation and overall remoteness, there just aren't many activities in Munda you can do independently (with the exception of visiting some of the local WWII sites, which I'll talk about in the next section!).
In which case, I recommend organizing your activities once you arrive through Dive Munda and/or Agnes Lodge (see previous sections for more).
5.6 How to visit the World War II sites/ruins in Munda
Scattered throughout Munda and its outskirts, you'll be able to find old abandoned bunkers, rusty anti-aircraft guns being used as landscaping decorations (yes, really!), and an American dump site that's been overtaken by the forest.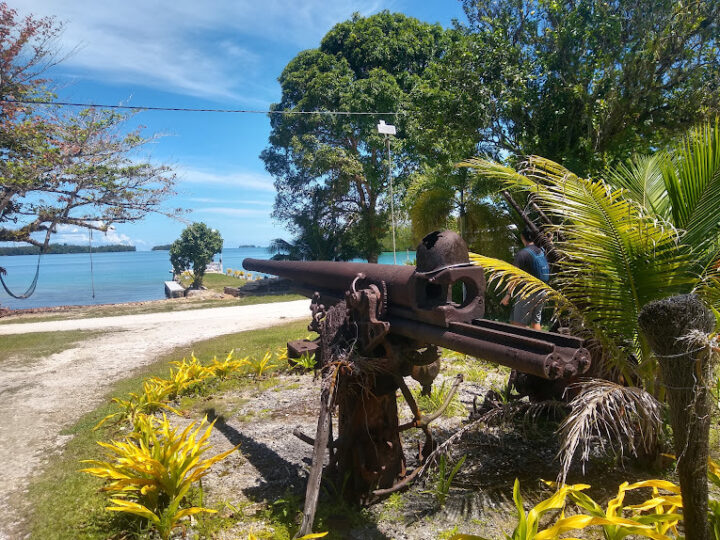 All of these sites are located along the dusty gravel road that hugs the coast a short (though hot!) walk from Munda. I recommend checking with your hotel (or just asking locals as you go) for exact directions.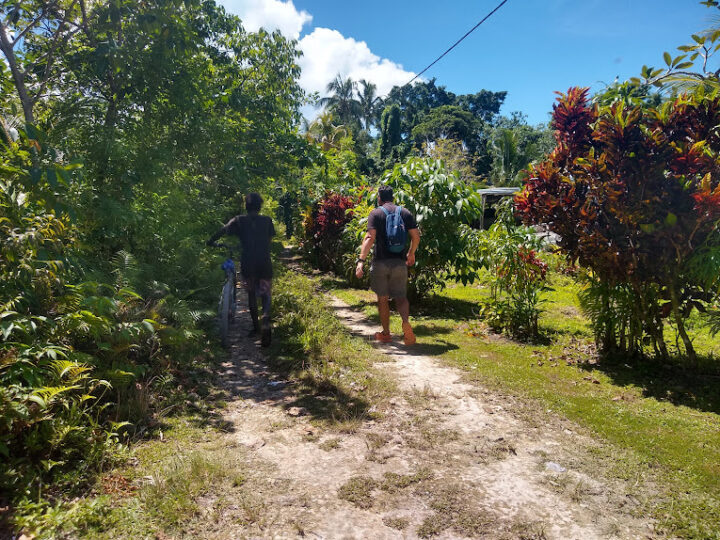 Otherwise, it's worth making the time to see the collection at the Peter Joseph WWII Museum. Barney, the owner of the museum, is a wealth of knowledge and full of stories. Even more impressively, he's spent decades diligently gathering these relics himself from the surrounding rainforest.
You can find this humble museum tucked behind the city's soccer field (again, ask your hotel or ask locals for "Barney" if you get lost)
Final tips and things to know before visiting the Solomon Islands
Fewer tourists in the Solomons mean fewer crowds…but it also means fewer (and more expensive!) tour and accommodation options.
Tourism in the Solomons is still in its infancy. While this is certainly part of the island's allure for many visitors (ourselves included!), it also means that it can be a bit trickier to plan.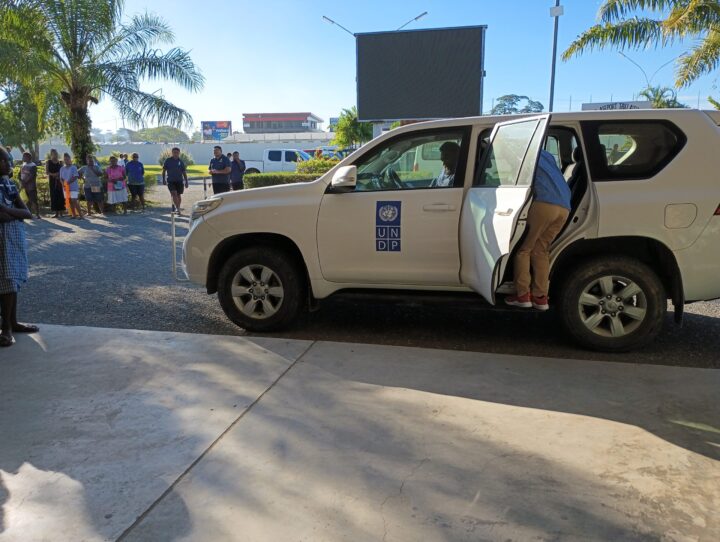 Stay flexible and ready for a bit of an adventure. (This isn't Tahiti or Fiji, after all!)
There are a lot of words that come to mind when I think of travel in the Solomons: rugged, adventurous, undeveloped. Perhaps a little "rough around the edges."
It's a unique experience, to be sure. And as long as you don't arrive expecting the same luxury, comfort, or ease of more popular Pacific islands and vacation spots…
I'm sure you'll have a great time 🙂
It's quite hard to book much of anything in advance as most things aren't published online. So be prepared to organize much of your trip and activities when you arrive.
See section 2.7 at the top for more on this.
We were able to use our credit card for "Bulk Shop" (the main supermarket in Honiara), Dive Munda, and Agnes Lodge in Munda. Other than that, everything else (other tours, transportation, day trips to other islands, our hotel in Honiara, etc.) was cash only.
Try to visit at least a few islands, if you can.
Each island has its own particular customs, flair, and even language. So to make the most of your experience in the Solomons, it's worth trying to explore at least a few.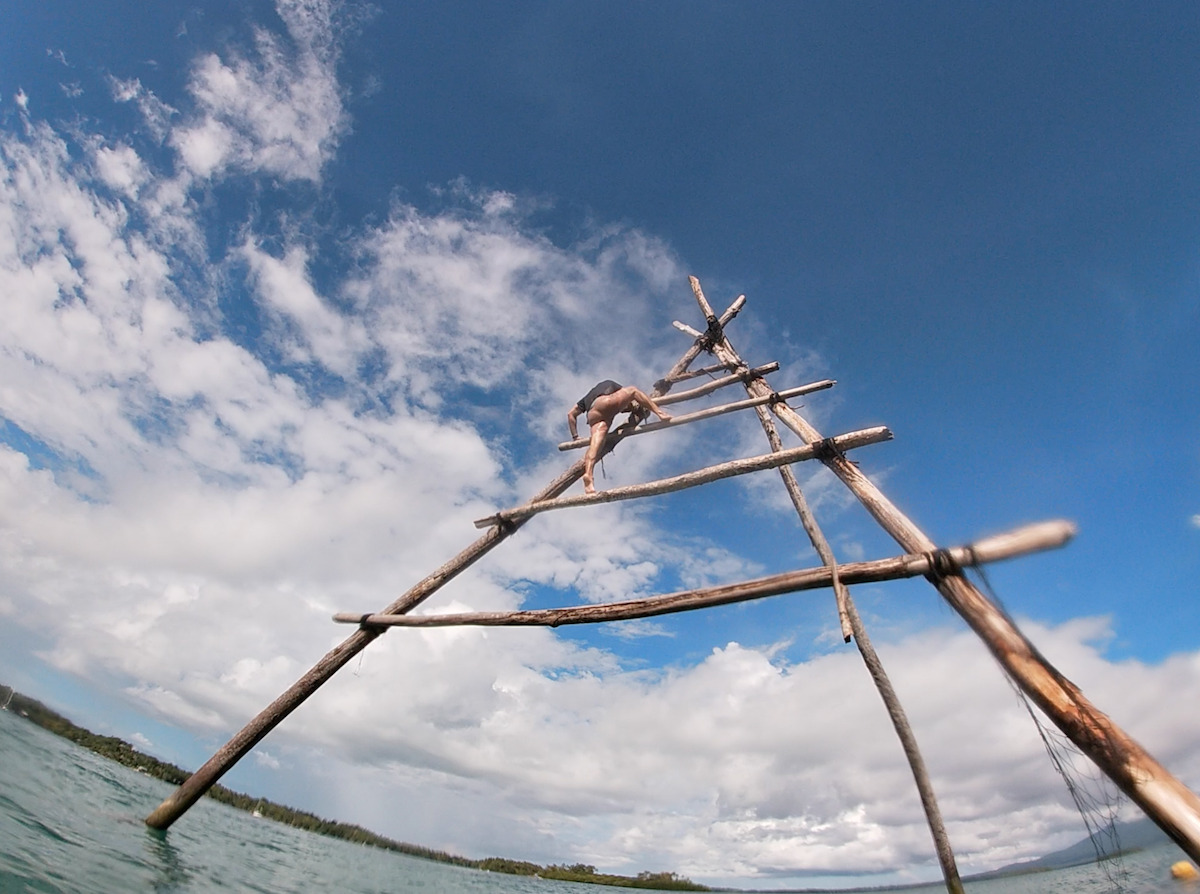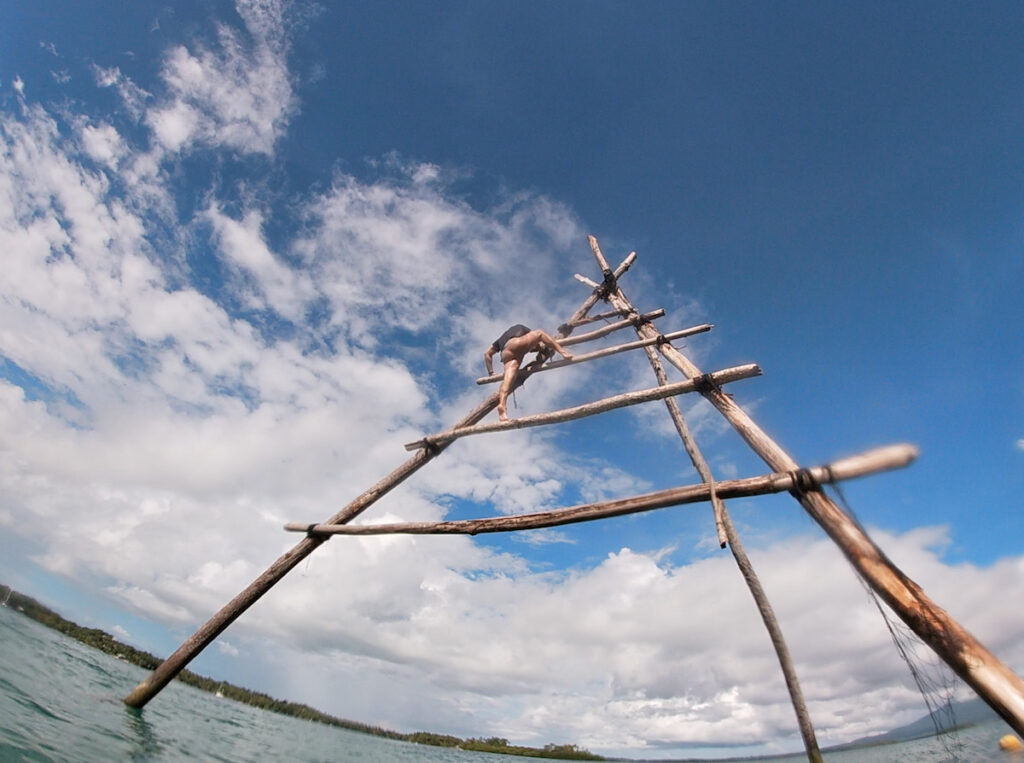 Don't limit your stay to Honiara or Guadalcanal.
While Honiara and Guadalcanal certainly do have some interesting things to see, the real magic lies elsewhere.
Inter-island flights are expensive. But likely worth it for the views.
I mean…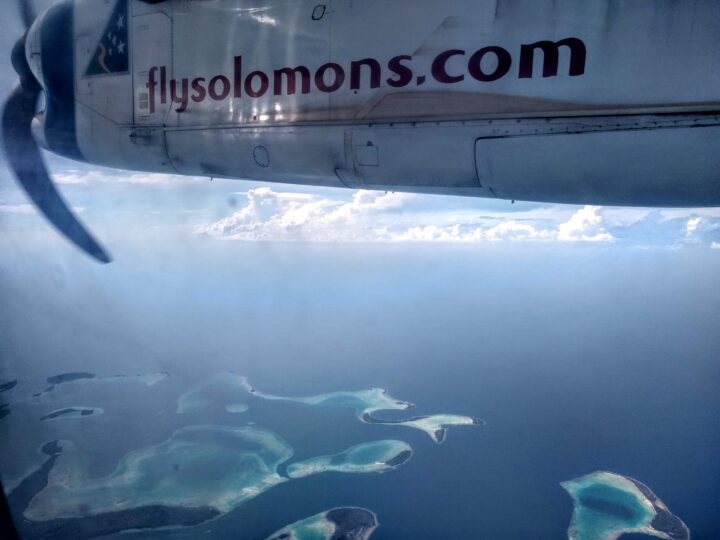 Don't be afraid to ask questions – about history, about the country's current politics, about the current divisions between the many islands…
In general, we found locals to be incredibly open, warm, and willing to chat. (Not to mention, they were some of the friendliest folks we've ever found in our travels anywhere!)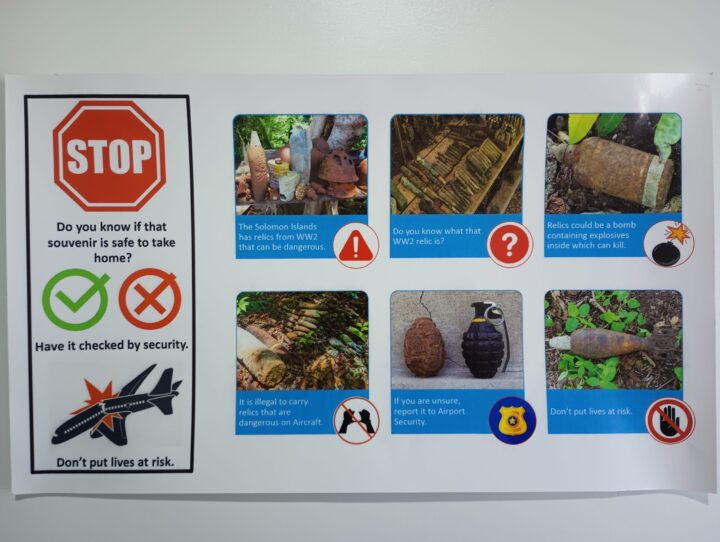 Have fun! You're in one of the least-touristed countries in the world. And that's something special.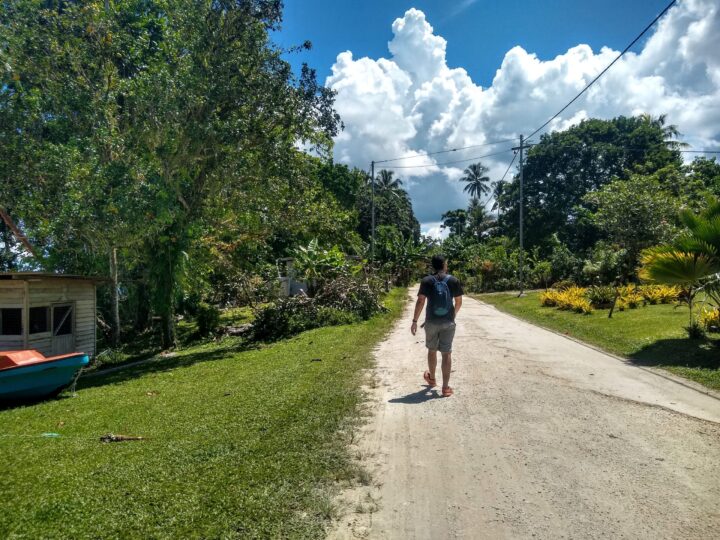 In conclusion…
And that's all for today! Still have questions about your trip to the Solomon Islands? Or have you already been and have something to add?

Let us know in the comments area below and we'll get back to you!
Planning your next trip?

Then don't forget travel insurance! You don't want to get stuck paying a ton of money and ruining your trip if you get sick or have an accident without travel insurance. WorldNomads is ideal for adventurous travelers, backpackers, or anyone looking to be protected during their trip. They cover almost every single activity you can image! Plus, you can have a 5% discount with the coupon code comfort5.

Already reserved your hotel or hostel? If not, we recommend Booking.com. They have a huge selection of hotels and hostels all over the world. Plus, in most cases, you can cancel your reservation without any costs up to a few days before the check-in date!

Still haven't booked your plane ticket and want to save big? Take a look at Momondo. It's a flight aggregator that combines several other ticket search websites to make it easier for you to compare prices and make sure you are getting the best deal.

And finally, will you need to rent a car during your trip? Then check out Rentalcar.com to search and compare car rental companies from all over the world in a single website. Then, you can find the cheapest price for the best car!