Last Updated on by Editor
China can be a beautiful & fascinating… and can also be pretty overwhelming. So, if you're traveling to China, there are a few important things you should know. Read the article for things like places to visit in China, customs, how to access blocked websites (Facebook, Gmail, Instagram, etc), and other tips you won't find in the guidebook!
You know, China really is something else. During our 3 month trip around Asia and Micronesia, we spent nearly a month and a half just in China and, to be frank, we still didn't cover that much ground (seriously, China is MASSIVE). During these 6 weeks we did, however, do our best to visit some parts of the country that were incredibly different in terms of scenery, culture, and lifestyle. At the very least, while 6 weeks is by no means anywhere close to making us experts on China, 6 weeks was enough to teach us some things that are probably useful to another traveler heading off to explore the world's most populous country. So, here's just a handful of those things:
China as a whole is pretty cheap to travel in…. with the exception of its expensive entrance fees.



You can expect to take the bus for about 15 cents and eat for just a few dollars…. but want to see some of the top tourist attractions? Expect ticket prices anywhere from $10.00 to a whopping $35.00.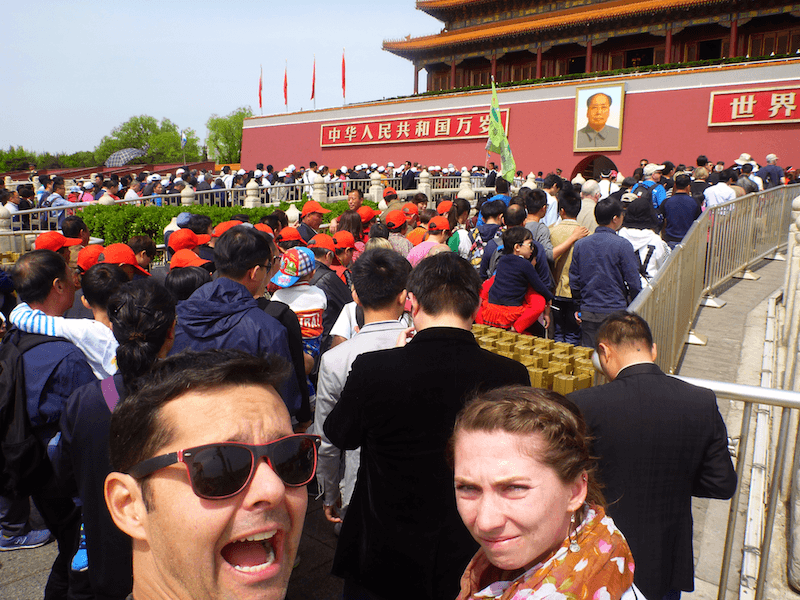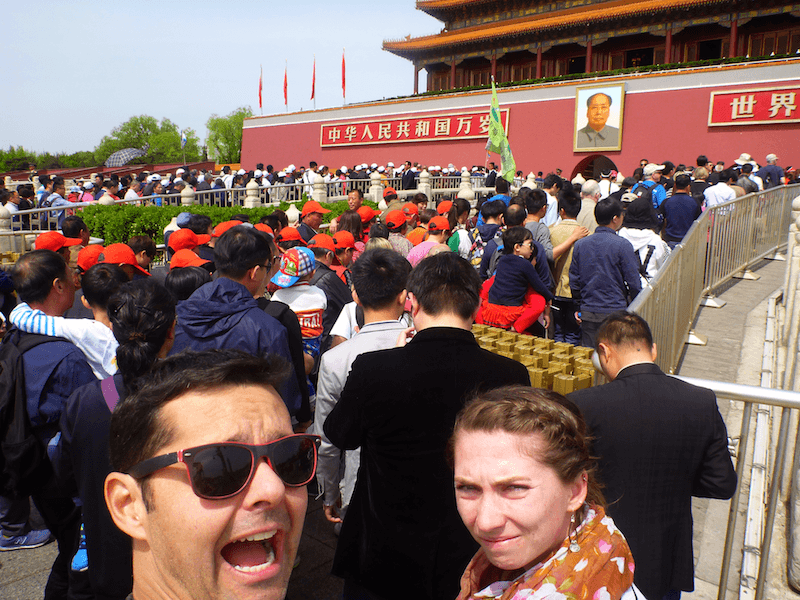 Always ask about student discounts
Like I said above, tickets for some of the bigger attractions in China can be surprisingly expensive. So if you're a student, it's always worth trying to show your student card. It doesn't need to be the ISIC (International Student Identity Card), it can be any card from your university, high school, school library, etc….Although, having the ISIC during your travels can lead to a lot of good deals. Click here to learn more.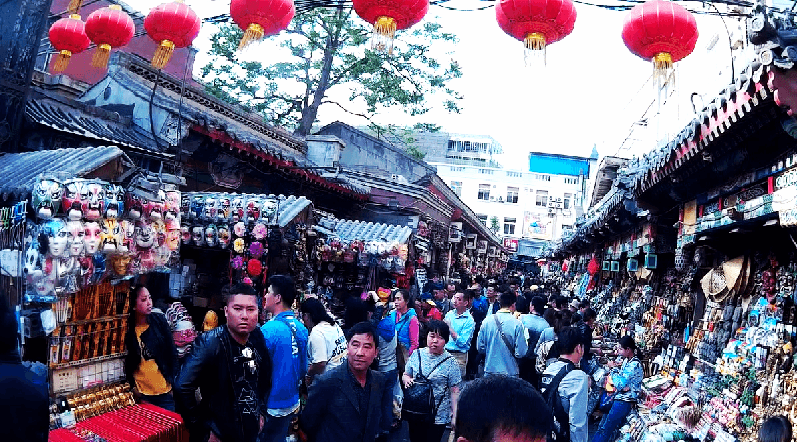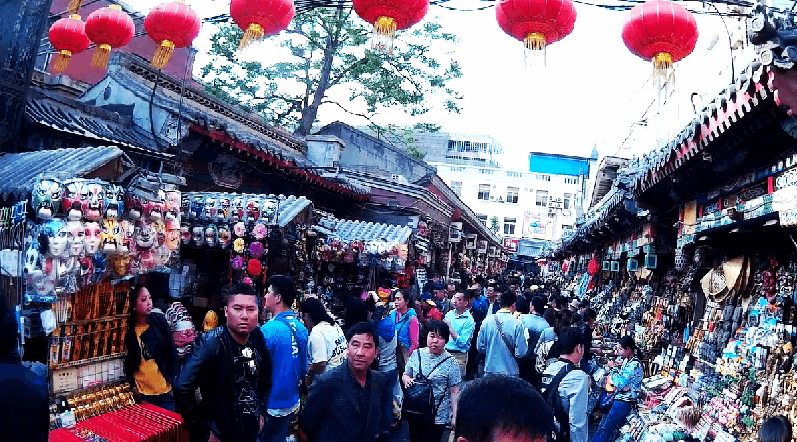 Don't expect to use your credit card.
Like Japan and Taiwan, you'll be hard pressed to find places that accept credit cards. Instead, it's better to keep some cash with you at all times.
Yes, the big cities (think: Beijing, Chengdu, Xi'an) are very polluted, but China also produces more wind power than any other country in the world.



China tends to get a lot of criticism for its polluted cities. Now, after going more than a week without seeing blue sky (instead, the sky always looked like the first picture below) and basically always feeling like we had a cough, I'm not going to deny that are definitely some changes that need to be made.
However, China also deserves some credit for the work they are doing in implementing alternative energy strategies.
The visa process can be a bit of a pain so make sure you plan ahead for it.



You can't get a visa on arrival so make sure you plan this in advance wherever you are. Check the Chinese embassy's website to learn more. There are also some specific cities that you can visit 72 hours visa-free such as Beijing and Shanghai and others. Learn more here.
Your average toilets are going to look like this picture.



So make sure you start working those squat muscles.
ALWAYS BRING TOILET PAPER!!
Seriously, sometimes there wasn't even toilet paper in the hostels/hotels that we stayed in (which really is something that I just didn't understand).
Lines are not a thing.
This was another thing that I just really didn't understand. People do not wait nicely in lines. While I've encountered this in a few other countries, China pushed (pun intended) this concept to an extreme. Anytime there's a large crowd of people, you'll probably find just pushing your way through to be more effective than actually lining up.
Sometimes, flights between big cities will be cheaper than taking the train.



For example, the cost of our flight from Xi'an to Beijng was actually cheaper than taking the train.
Check our page about 16 tips to find cheap flights to know where to start your search. Otherwise, we found some really cheap flights within China on Ctrip.com
However, for a great, cultural experience definitely try to take an overnight train at least once.
You'll probably make lots of friends just because of your novelty factor. Make sure you bring ramen!

There's a few different companies that have English websites to sell train tickets, but we recommend using China Highlights to search for and buy your tickets. You can also find flights and tours on their website.
Facebook? Google? Instagram? Not in China.
China's internet is pretty heavily censored so if you want to access a lot of the websites you would use at home, make sure you download a VPN before arriving. You could try the "free" VPNs but I've heard they tend not to be quite strong enough for China's "great fire wall." We used Vyper VPN and found it to work pretty well. Here are few other options as well. Remember that you can also use a VPN to access things (such as American TV shows) that are blocked in other countries:
ExpressVPN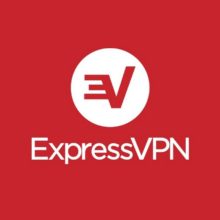 Purevpn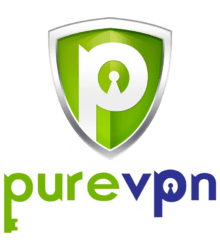 Coupon code with discount: discount10
To learn more about VPNs and find out why all travelers should have one, be sure to check out our article about The 4 Best VPNs for Travelers.
RMB and Yuan are the same thing.
They can be used interchangeably as the name of the Chinese currency…. so don't let that confuse you!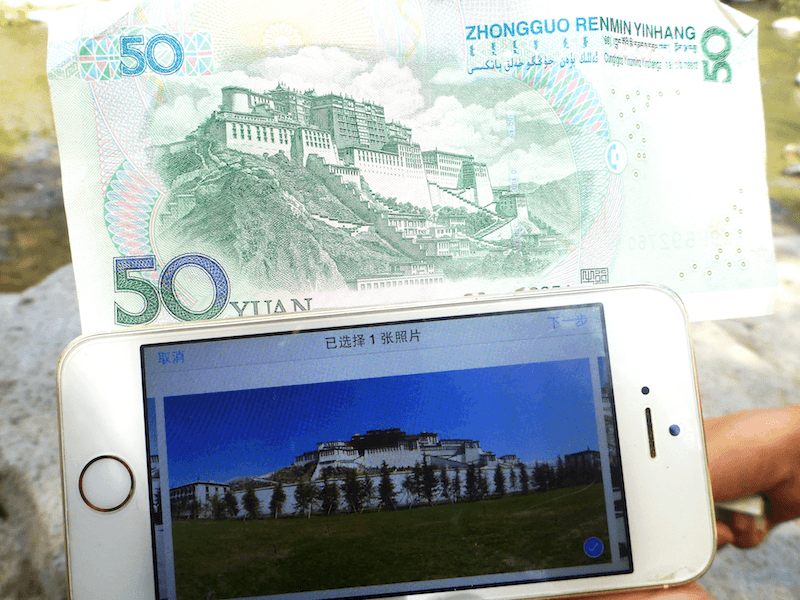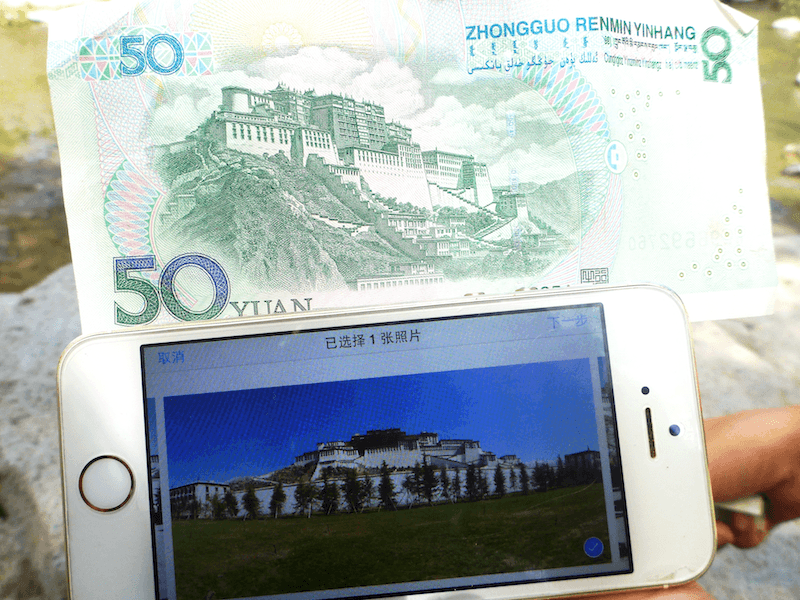 Basically, you'll need your passport for everything.
You'll need it not just for checking into your accommodation, but also for buying train and bus tickets.
They aren't into sun.



Though you'll find this in lots of places in Asia and it's actually probably much safer and healthier than how we usually respond to the sun, I can't help giggling every time.
Watch out for common tourist scams (especially in the big cities).



Unfortunately, tourist scams are alive and well in China.You'll find taxi drivers claiming that you had agreed upon 300 RMB (45 USD) instead of 3 RMB (0.45 USD), random people trying to get you to pay to cross their "bridge" during a famous hike, or , perhaps most common of all, trying to lure tourists in to what they call the "tea scam" in cities like Beijing and Shanghai.
This tea scam, unfortunately, is really quite common (we personally met a handful of people that fell for it and were approached by some of the "scammers" ourselves) and has been going on for years. It goes a little something like this: you are walking through the streets obviously looking like a tourist when you are approached by a friendly, seemingly normal Chinese lady in her 20s. She strikes up a conversation with you saying stuff like how she just wants to practice her English, get to know foreigners, etc. Then, she suggests you go to a tea house. After finishing your tea, you realize that you bill is somehow hundreds of dollars and that you are suddenly surrounded by a few large, menacing looking Chinese men or something else that forces you to fork over the cash.
The best way to prevent this or similar things from happening? To be frank, this was something we really struggled with in China. While we usually try to give people the benefit of the doubt when we travel, we felt extra wary in China of any local who approached us offering friendship or help. I'm pleased to report that, especially outside of the big cities, we met plenty of people who were genuinely kind and had no ill-intentions. Unfortunately, we always felt a least a little bit of doubt at the first interaction with anyone we met.
We talk a bit more about common scams/traveling safely here. And just in case, there are also some travel insurance policies that'll help cover you in the case of theft or other problems while traveling… our page about the 3 best travel insurance companies will tell you all you need to know.
Remember that China is a HUGE country with lots of variety (in other words, there's more than just the Great Wall and the Terracotta Warriors).
Honestly, there is so much to do in China that you could spend months exploring it…. easily. It's definitely not all big cities and crowds and you'll be rewarded with a more unique perspective and (often) kinder people if you head to the less visited areas (although, honestly the Great Wall is awesome so definitely try to hit that up if you can). There's parts of China that'll break all your stereotypes of China and parts of it that'll make you feel like you're in a different country altogether (after all, there's 56 ethnic groups all with their own culture and language)!
Expect reeeallllyy long travel times.
Unless you can afford to bullet train (which we definitely can't) and it is actually going to where you want to go, be prepared for lots of long hours spent in transportation.
Shangri-La is a real place and it's in China.
Okay, so it's a little more complicated than that. The city was originally named Zhongdian but they decided to change the name in 2001 in the hope of attracting more tourists. Well, I don't know if that goal was successful, but it certainly is a pleasant enough little city.
Sometimes, you might see things that will shock you.
Such as this baby playing with a knife.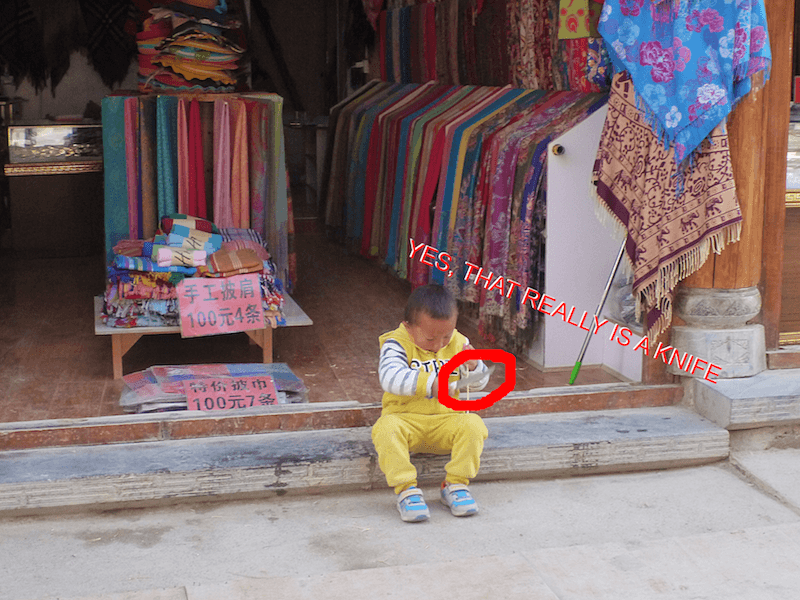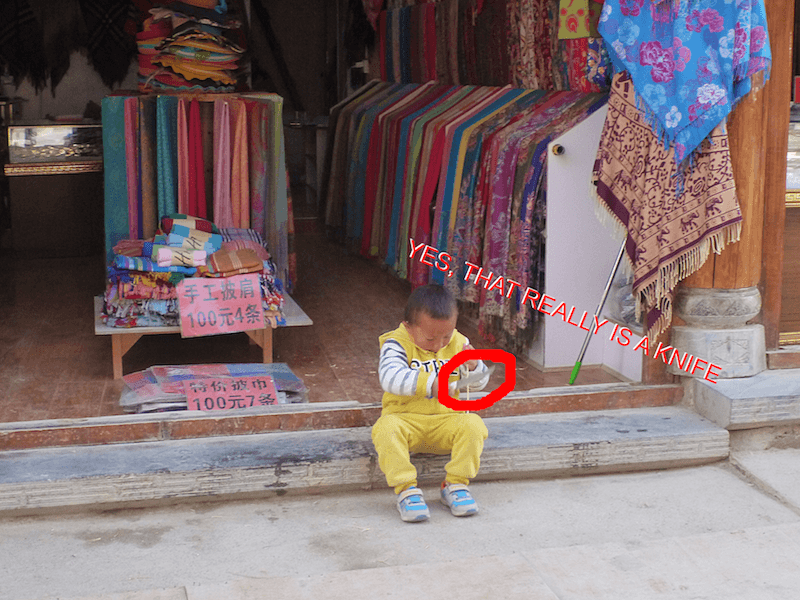 You'll see lots of pictures of Mao.
Love him or hate him, you won't have any trouble finding him.
And maybe some really bizarre things like this comic (which we actually spotted in Beijing) warning about the danger of attractive foreigners.
Read all about it here: https://www.cnn.com/2016/04/21/asia/china-foreign-spies/
Security is TIGHT and you'll find lots of police and military.
Besides Israel, I don't think I've ever been to a place with such a strong police and military presence. You see them walking all over the city, you have to go through a metal detector to take the subway and, in the autonomous regions (like Tibet or Xinjiang in the west) where tensions are higher than normal, you'll see full riot-gear stations, massive armored vehicles parked on street corners, and you won't even be allowed to bring liquids on the public bus. Ultimately, though, this actually meant that we felt incredibly safe the entire time (minus the annoying scammers discussed above).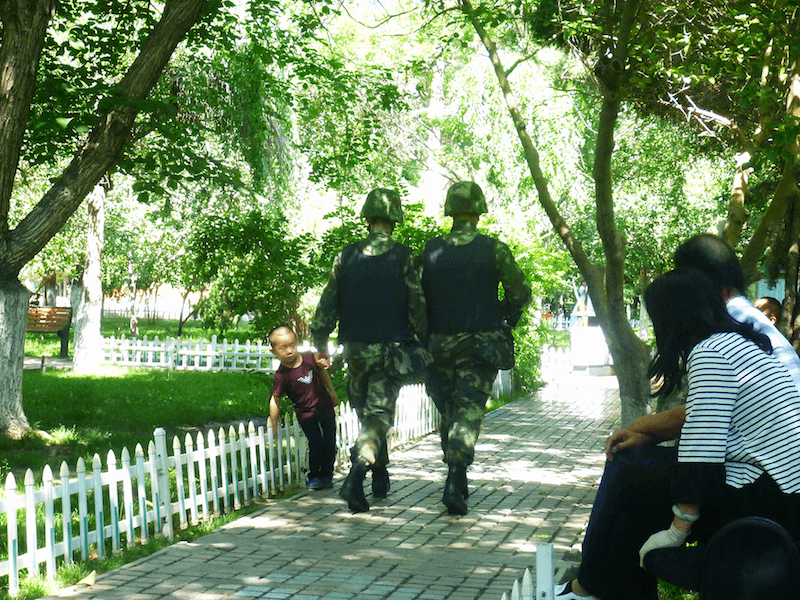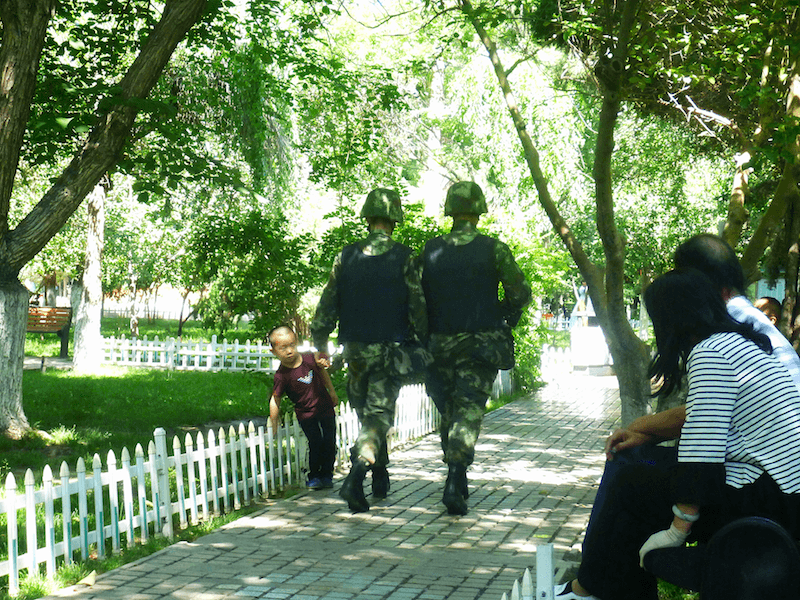 Sometimes, things are horribly lost in communication.



And this is why your high school Spanish teacher always told you not to trust Google Translate:
If you want to go to Tibet, you still need the government permit/a tour guide.
Unfortunately, this is very expensive. Fortunately, we found to a wonderful city with an 80% Tibetan population set in the mountains even higher than Lhasa that you can actually visit without a tour or government permit.
To find out how, check out our article about How to Visit Tibet Without the Chinese Permit.
China can be a frustrating, challenging place to travel, but it's absolutely worth the journey.

Sure, you'll probably struggle with language barrier (unless you've actually managed to navigate Mandarin…. in which case, respect!) and perhaps find some of the cultural differences difficult to deal with, but China is also a country unlike any other you will ever visit with some of the world's most stunning nature, fascinating ancient history and unique culture.
How to find attractions, tours and activities to do in China?
One of the most important and memorable parts of a trip is the tours and activities we do. Some should know that it is not always easy or cheap to find and practice these activities, so there are tour search tools like Viator and Tiqets. On these sites it is possible to quickly find different styles of tours, compare their prices and book the chosen activities. All in one place!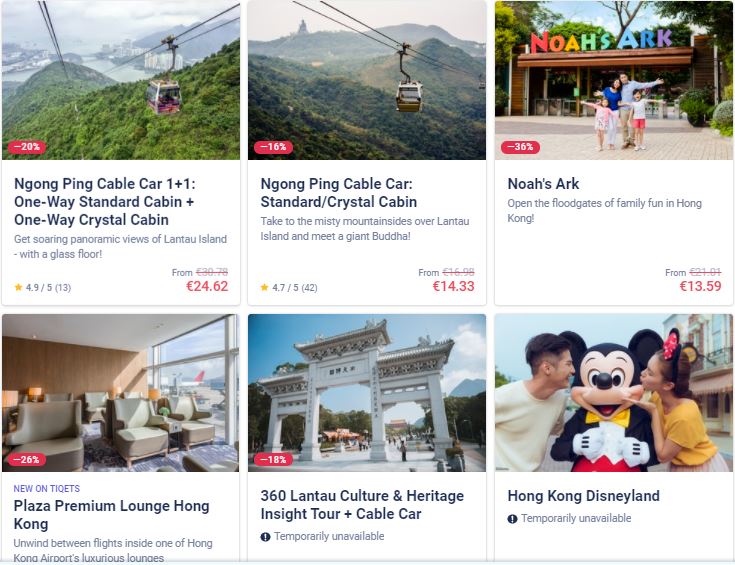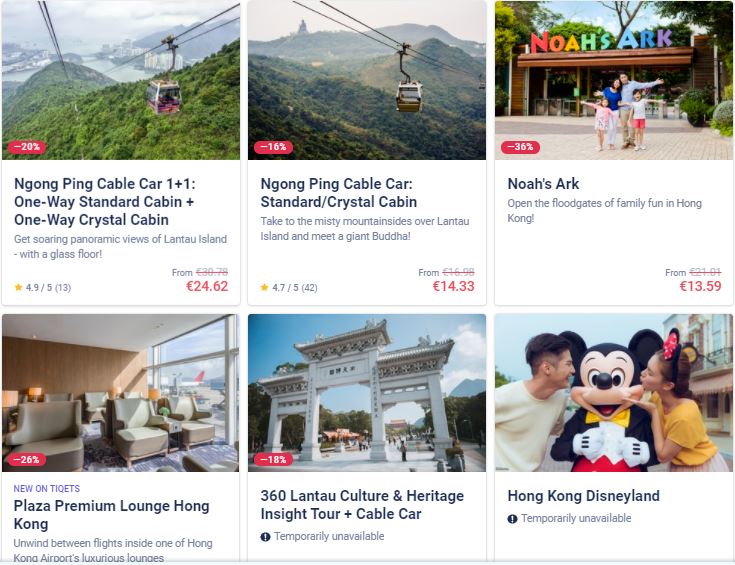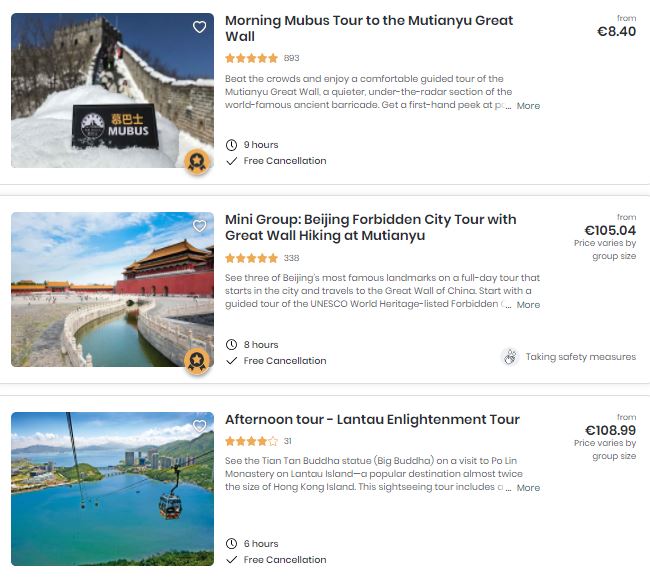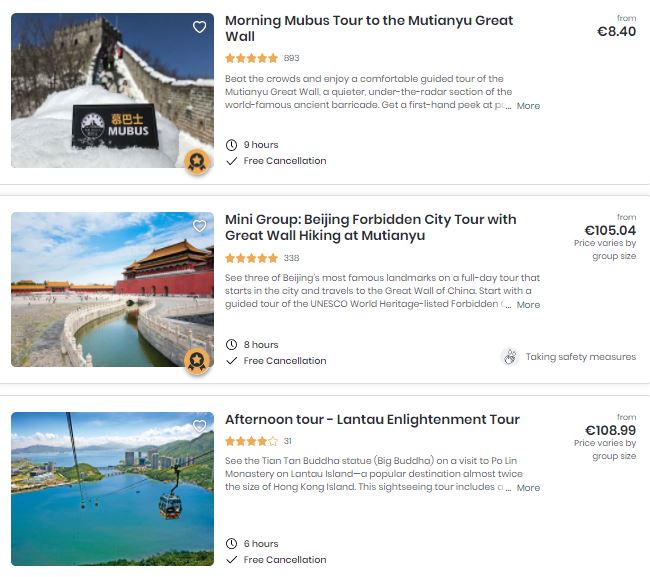 Have you been to China yourself? Anything you would change or add to the list? Give us your thoughts and questions below!
Is your next stop Mongolia? Find out all you need to know (plus see some nice pictures) about the cheapest way to get from Beijing to Ulaanbaatar, Mongolia in this article right here.
Planning your next trip?

Then don't forget travel insurance! You don't want to get stuck paying a ton of money and ruining your trip if you get sick or have an accident without travel insurance. WorldNomads is ideal for adventurous travelers, backpackers, or anyone looking to be protected during their trip. They cover almost every single activity you can image!

Already reserved your hotel or hostel? If not, we recommend Booking.com. They have a huge selection of hotels and hostels all over the world. Plus, in most cases, you can cancel your reservation without any costs up to a few days before the check-in date!

Still haven't booked your plane ticket and want to save big? Take a look at Momondo. It's a flight aggregator that combines several other ticket search websites to make it easier for you to compare prices and make sure you are getting the best deal.

And finally, will you need to rent a car during your trip? Then check out Rentalcar.com to search and compare car rental companies from all over the world in a single website. Then, you can find the cheapest price for the best car!
If you want to hear about new articles, check out our latest pictures, and read our newest updates, be sure to follow us here….
…..and subscribe to our newsletter below!