Last Updated on by Rodrigo @ OutofYourComfortZone
13 excellent and diverse guided tours in China. Tours with a variety of prices, durations, destinations, themes, age groups, luxury levels, and adventure levels.
China is a country with great diversity, rich history, and culture that spans thousands of years. Each year, it becomes increasingly popular as a tourist destination, attracting visitors from all over the world who are eager to explore its many tourist attractions and experience the unique cuisine that China has to offer.
Tourism in the country is primarily composed of historical and cultural sites, as well as breathtaking natural beauty. Tourists can encounter stunning views of karst mountains, crystal-clear lakes, rivers, and vast forests, while also enjoying the bustling atmosphere of China's major cities, which are home to some of the world's largest metropolises.
China's most famous attractions are recognized as UNESCO World Heritage Sites, such as the Great Wall, an iconic piece of Chinese architecture that stretches over 20,000 kilometers, and the Forbidden City, which served as the residence for various Chinese emperors during the Ming and Qing dynasties.
In addition to historical sites, China is also a country with numerous natural attractions. For instance, the Li River in Guangxi is considered by many to be one of the most beautiful rivers in the world. Other examples include West Lake in Hangzhou and Zhangjiajie National Forest Park in Hunan.
China also boasts a unique and delicious cuisine that varies from region to region, reflecting the country's vast territory and population.
With so much to offer, it's clear why tourism in China is on the rise.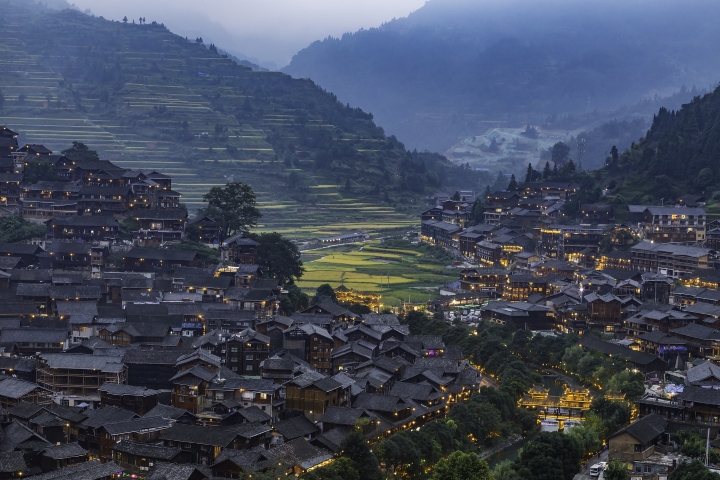 Top 10 Tourist Attractions in China
Before diving into the main topic of this article, we thought it would be helpful to introduce some of China's most famous tourist attractions to assist in your search for tours, itineraries, and excursions that suit your preferences.
As mentioned, China is a country with diverse and awe-inspiring nature. Below, we list the top 10 tourist attractions that capture the attention of visitors in China:
The Great Wall: One of the most famous constructions in the world, the Great Wall of China is a UNESCO World Heritage Site. Built during the Qin Dynasty to protect the country from foreign invasions, visitors can walk along the wall and explore its many watchtowers and fortresses to gain a deeper understanding of Chinese culture and history.
The Forbidden City: Located in Beijing, the Forbidden City is a complex of imperial palaces that served as the residence for Chinese emperors during the Ming and Qing Dynasties.
The Terracotta Army: Situated in the city of Xi'an, the Terracotta Army is a collection of life-sized statues representing soldiers and horses from the army of China's first emperor, Qin Shi Huang.
The Li River: Located in the Guangxi region, the Li River is one of the most beautiful rivers in China, surrounded by karst mountains and traditional villages.
Guilin: Another city in the Guangxi region, Guilin is renowned for its picturesque karst landscapes and local culture.
Zhangjiajie: A city in Hunan province, Zhangjiajie is famous for its stunning rock formations and suspended glass bridges.
Lhasa: The capital of the Tibet Autonomous Region, Lhasa is known for its Buddhist temples and unique Tibetan culture.
The Summer Palace: Located in Beijing, the Summer Palace is an imperial palace with ornate gardens and artificial lakes.
The Temple of Heaven: Another famous site in Beijing, the Temple of Heaven is a Taoist temple that served as a place of worship for Chinese emperors.
Chengdu: A city in Sichuan province, Chengdu is known for its spicy cuisine, giant pandas, and the ruins of the ancient Jinsha city.
Is it better to travel independently or in group tours in China?
Regardless of whether you choose to travel independently or on a group tour, each option has its pros and cons.
Opting for independent travel, for example, allows you greater flexibility to plan your own itinerary and choose activities that align with your interests. You'll also have the autonomy to decide when and how to engage in activities, allowing you to explore China at your own pace. Cost savings can also be a positive factor, as depending on your choices, this option can be more budget-friendly.
However, independent travel requires detailed planning, including research on accommodation, transportation, and activities, which can be time-consuming and effort-intensive. Additionally, communication may become a barrier if you don't speak the local language, and there are increased safety risks, especially in more remote areas.
On the other hand, a group tour with a guide provides companionship and is a great opportunity to meet like-minded people. It's also easier and safer to travel in a group, especially when accompanied by a knowledgeable local guide.
However, this option may limit the freedom to explore China more freely, as you'll be restricted to pre-established schedules and activities set by the group.
In summary, the choice between traveling independently or in a group depends on personal preferences. Both options have advantages and disadvantages, and it's important to carefully evaluate which one is the best fit for you.
If you choose to travel independently, you can check out our tips on "25 Things to Know Before Traveling to China."
| | |
| --- | --- |
| Pros of traveling on a group tour | Advantages of traveling on your own |
| Company and opportunity to meet new people | Possibility of access to places or activities that may be difficult or impossible to reach alone |
| Living in a group | Autonomy to follow your own schedule |
| More safety with an experienced local guide | Freedom to explore China without having to stick to a schedule |
| Less planning and research required as the tour already has it all | More economical |
| Possibility of access to places or activities that may be difficult or impossible to reach alone | Greater challenge and opportunity to learn and grow with the experience of planning and conducting your own trip |
13 Best Tours and Itineraries to Explore China
Best China Tours and Itineraries for Guided Small Group Adventures
   1. GAdventures – China Express (8 Days)
Embark on a fast-paced journey through China's highlights, walking along the Great Wall into the past and facing an army of Terracotta Warriors before leaping into the future of Shanghai's incredible skyscrapers. With a perfect mix of guided activities and free time to explore on your own, this adventure is ideal for anyone looking to get a taste of China in no time.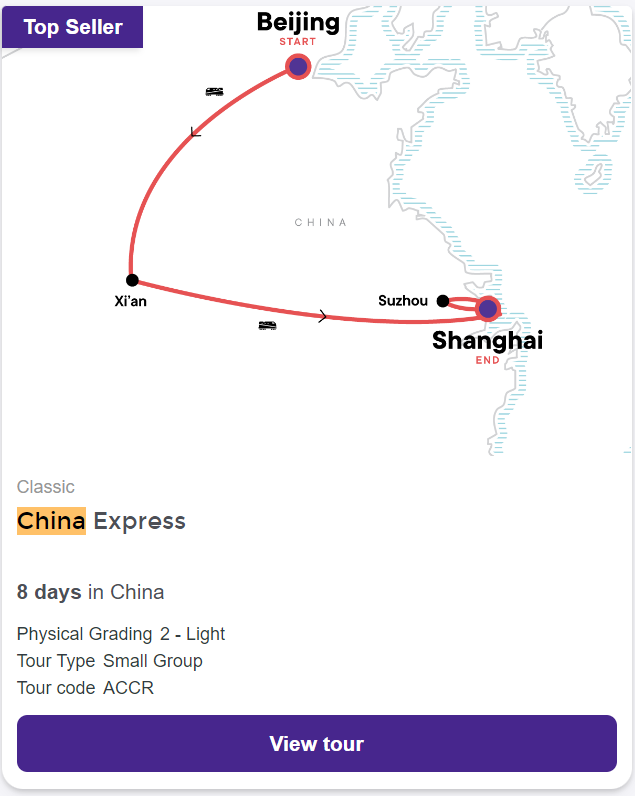 2. GAdventures – Beijing to Tokyo (16 Days)
Discover two ancient nations on an adventure-filled 16-day journey that takes you from the epic stretches of the Great Wall of China to the poetic vistas of Mount Fuji. Board trains and ferries and face off against an army of Terracotta Warriors for a historic encounter you won't soon forget. Stay in a traditional ryokan and a shukubo temple for an authentic Japanese experience. This tour will take you off the beaten path to reveal the cultural treasures of the region's ancient sites.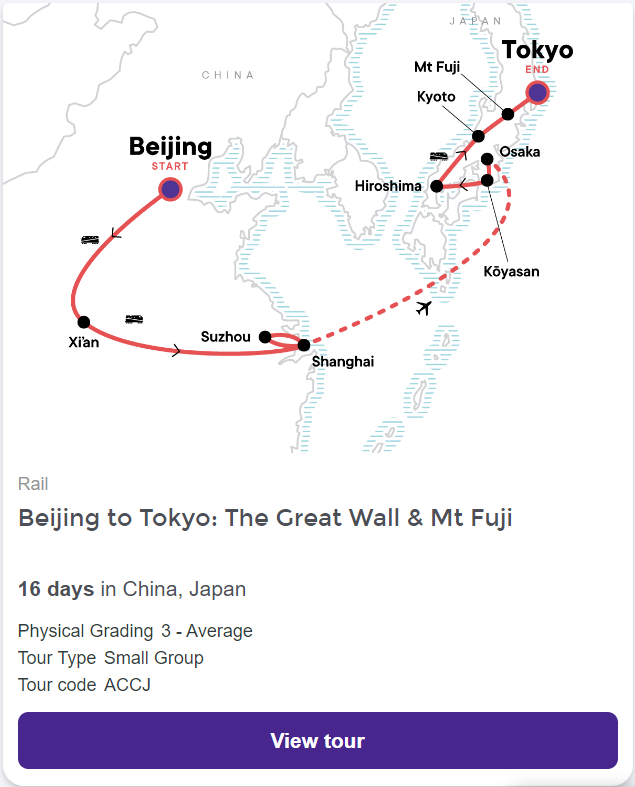 3. Encounters Travel – Beijing To Shanghai Express (9 Days)
This nine-day tour of China will take you from the capital Beijing to Shanghai, the most populous city in the world. You'll experience the best of China's urban and rural landscapes on an adventure through this magical country.
Leaving the city crowds behind, the tour heads into the Chinese countryside, with the option of hiking to Moganshan Peak and visiting Chairman Mao's former summer residence. The tour also passes through a stunning lagoon for swimming in the crystal clear waters. The final destination is Shanghai, the largest city in the world, where you will have time to experience the vibrant nightlife on offer.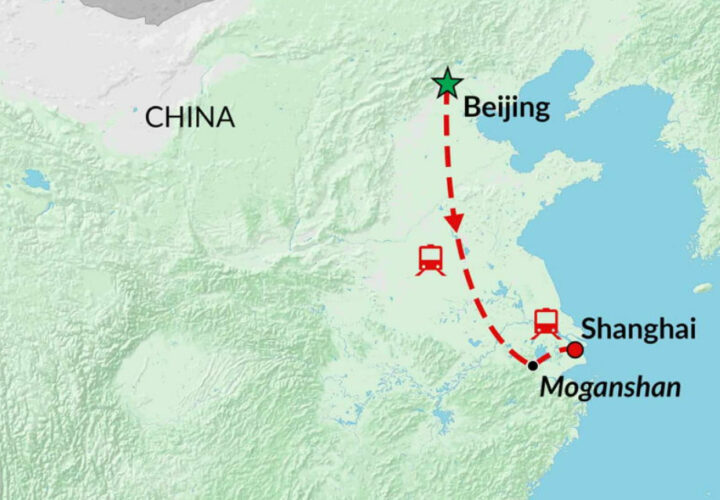 4. Encounters Travel – China on a Shoestring (25 Days) 
On this 25-day budget tour of China starting and ending in Hong Kong, you can explore the Yangshuo region with its limestone mountains and adventure activities. Afterwards, head to Chengdu to visit the adorable panda bears and Xi'an to meet the famous Terracotta Warriors. Next, Dengfeng offers the opportunity to watch and train with martial arts masters at the iconic Shaolin Temple. In Beijing, don't miss the chance to camp on the Great Wall of China and watch the sunrise and sunset. As you approach Shanghai, stop in Hangzhou to explore bamboo forests and crystal clear lagoons. End the tour in Hong Kong, with a stop in Fujian to experience the best of rural China.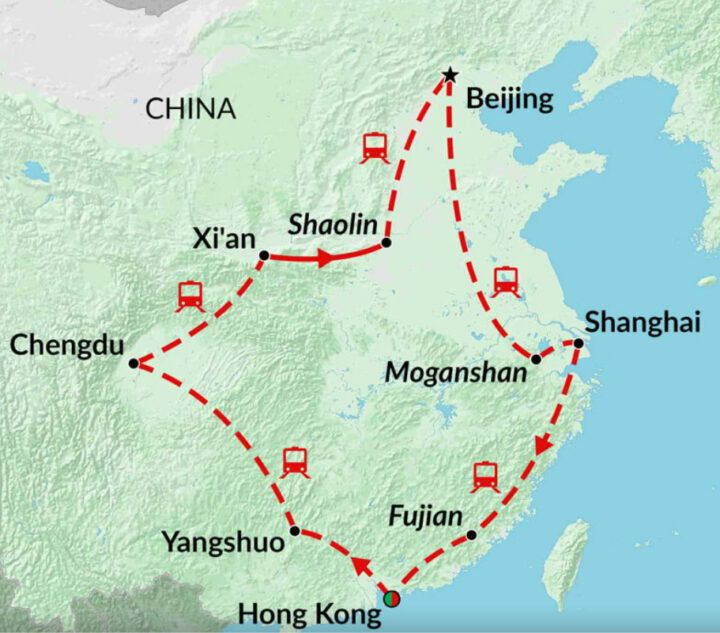 5. Intrepid – China Experience (19 Days) 
Discover the diversity of cultures, flavors and landscapes on one of our most popular tours of China. Marvel at the grandeur of iconic attractions like the Great Wall and Terracotta Warriors, and discover a quieter side of the country on a Yangzi River cruise and a stay at a Buddhist monastery tucked away in the Emei Shan Mountains. Explore a land of epic history, vibrant cultures and dramatic vistas on this 19-day journey through China.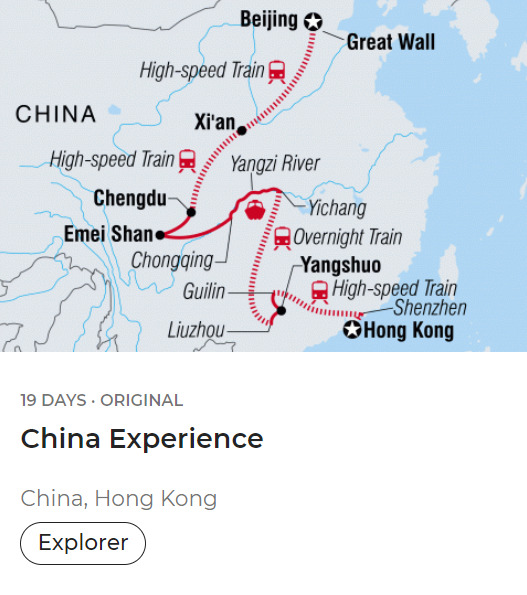 6. Intrepid – North China Getaway (12 Days)
On this 12-day trip, you'll discover the stunning countryside and rich cultural history of northern China, starting and ending in the bright lights of the country's biggest cities. From the dizzying heights of Huangshan, the Great Wall and Shanghai waterfront to the underground cities that house thousands of Terracotta Warriors, this journey explores the diversity and importance of China.
Here you will go beyond the tourist trails, immersing yourself in the local ways of life, with carefully curated experiences and stays in small village guesthouses along the way.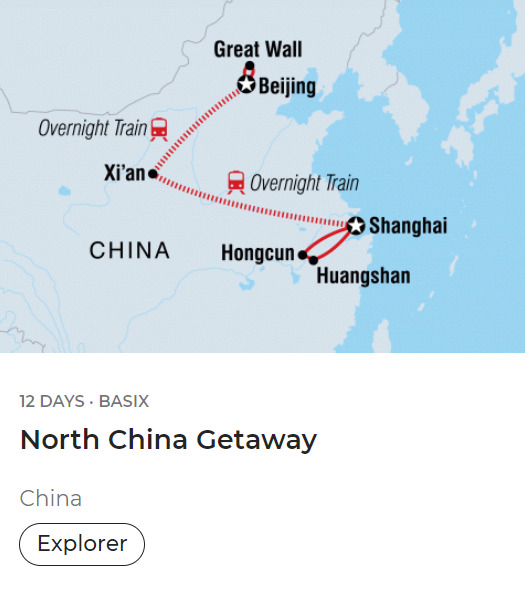 Best China Tours and Itineraries for Groups of Young Singles (18-35 Years Old)
   7. Contiki – China Adventure (12 Days)
Embark on a journey through the exotic territories of China, where the modernity of cities collides with ancient history. During the 12-day tour, you'll feast on Peking duck, explore the Great Wall and be enchanted by museums, markets and all kinds of excitement. In no time, you will become a complete guide to China.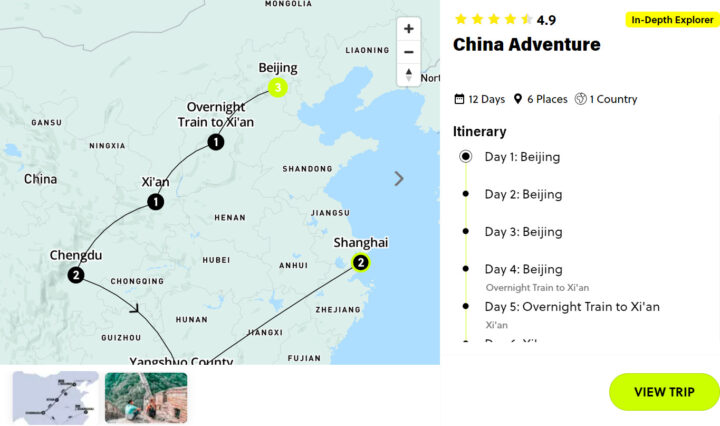 Melhores excursões e itinerários de luxo e conforto na China para pequenos grupos com guias
   8. Trafalgar – Classic China (10 Days) 
Walk in the footsteps of the ancients: climb the ornate staircases of the Forbidden City and walls of the Great Wall, winding through rolling countryside, and the ancient winding alleys of Beijing's hutongs to learn about Chinese traditions over a home-cooked lunch.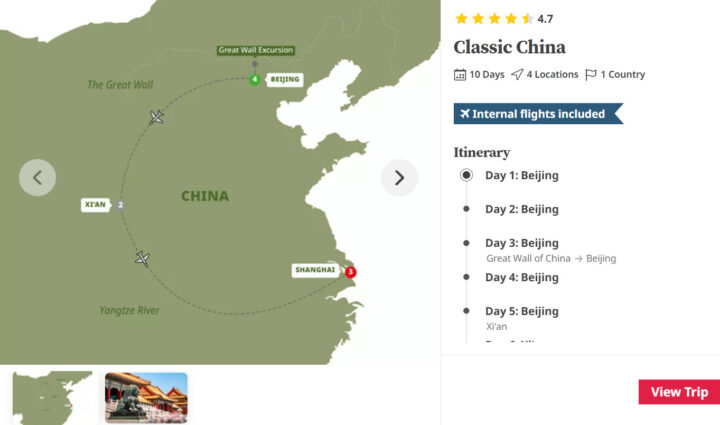 9. Trafalgar – Best of China with Yangtze Cruise (15 Days)
Explore the cityscapes of Beijing and Shanghai, the Terracotta Warriors of Xi'an and the rare giant pandas of Chengdu on this captivating China experience, which includes a leisurely cruise on the Yangtze River.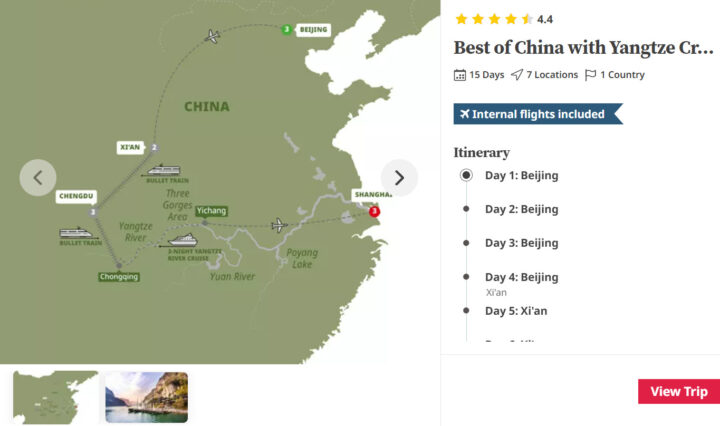 Melhores tours para China do Tourradar (melhor site para buscar e comparar excursões na China de diferentes durações, estilos, preços, e operadores)
   10. Tourradar – China Highlights (9 Days) 
Start in Shanghai and end in Beijing! With the China Highlights in-depth cultural tour, you have a 9-day tour package that passes through Shanghai and 3 other destinations in the country. China Highlights includes hotel accommodation, as well as an expert guide, meals, transportation and more.

   11. Tourradar – China Delights (11 Days)
Start in Shanghai and end in Beijing! With the China Highlights in-depth cultural tour, you have a 9-day tour package that passes through Shanghai and 3 other destinations in the country. China Highlights includes hotel accommodation, as well as an expert guide, meals, transportation and more.

   12. Tourradar – Walking The Great Wall (9 Days)
Start and end in Beijing! With the "Walking the Great Wall" Walking and Trekking tour, you have a 9-day tour package that passes through Beijing and Jinshanling. This Great Wall tour includes hotel accommodation, an expert guide, meals, transport, and more.

   13. Tourradar – Amazing China (27 Dias)
Start in Beijing and end in Shanghai! With this in-depth cultural tour, you have a 27-day travel package that will take you through Beijing and 10 other destinations in the country. The package includes meals and transportation.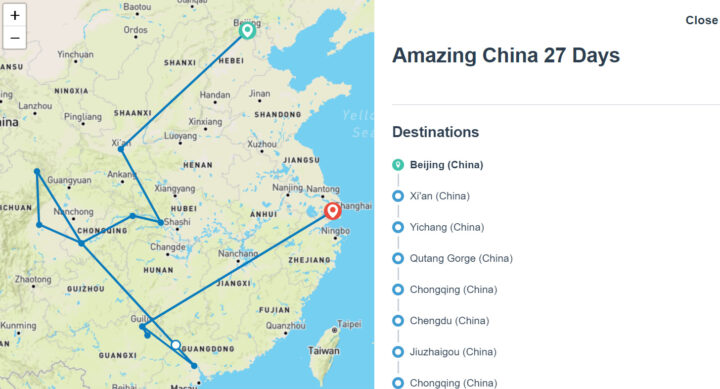 Concluding
China is an incredible destination for those looking for cultural, historical and adventure experiences. With so many options for tours and excursions available, it's important to research carefully before choosing the company that best meets your needs and expectations.
Check the reviews of other travelers and the details of the accommodations offered. This is essential to ensure a smooth and safe journey. But regardless of the chosen company, one thing is certain: visiting China is a once-in-a-lifetime experience!
From the Great Wall to the Terracotta Warriors, China offers a wealth of amazing places to visit and experiences to experience. And we can't forget to mention the delicious Chinese cuisine. So get ready for an unforgettable trip and embark on this adventure across the country!
Planning your next trip?

Then don't forget travel insurance! You don't want to get stuck paying a ton of money and ruining your trip if you get sick or have an accident without travel insurance. WorldNomads is ideal for adventurous travelers, backpackers, or anyone looking to be protected during their trip. They cover almost every single activity you can image! Plus, you can have a 5% discount with the coupon code comfort5. 

Already reserved your hotel or hostel? If not, we recommend Booking.com. They have a huge selection of hotels and hostels all over the world. Plus, in most cases, you can cancel your reservation without any costs up to a few days before the check-in date! 

Still haven't booked your plane ticket and want to save big? Take a look at Momondo. It's a flight aggregator that combines several other ticket search websites to make it easier for you to compare prices and make sure you are getting the best deal. 

And finally, will you need to rent a car during your trip? Then check out Rentalcar.com to search and compare car rental companies from all over the world in a single website. Then, you can find the cheapest price for the best car!