Last Updated on by Talita
After we visited Armenia last fall (our last trip overseas before COVID

), we wrote a loooong article about 19 things to know before visiting Armenia (if you haven't read it already, here's the link!).
So today, we want to stop in with another loooong article about what you can actually do during your trip to Armenia with a few itinerary options.
And if you have a trip to Armenia in the books, you've got a lot to look forward to. Including:
A chance to learn first-hand about the remarkable yet often heartbreaking history of this Caucasus nation

Thousands of traditional, hand-painted, millennia-old monasteries (Armenia was, after all, the first nation in the world to adopt Christianity way back in the 4th century!)

Pristine lakes, winding mountain roads, and the longest cable car in the world

A potential visit to Nagorno-Karabakh – the disputed, technically-still-at-war region (literally at war if you are reading this in October 2020) that's full of natural beauty and locals willing to share their story with you
So, let's get started!
Armenia Fast Facts
1.1. Where is Armenia?
Armenia is a small, mountainous country located in the Caucasus region alongside its caucasian neighbors Georgia and Azerbaijan. It also shares a border with Turkey to the west and Iran to the south.
1.2. Is Armenia Asia or Europe?
Honestly…it depends who you ask!
Armenia is often considered to be a part of Asia geographically since it is so far east of the rest of Europe. However, it tends to identify more as European culturally (it participates in the European Games and Eurovision, for example).
Others say that Armenia, Georgia, and Azerbaijan should be given their own label inspired by the name of the mountain range that runs the length of the region: Caucasian.
All that said, most of the Armenians we met on our trip described Armenia as a blend of the above.
How to Plan a Trip to Armenia
2.1. How to get to Armenia
The easiest course of action is to fly into the international airport in the capital city of Yerevan. You can find pretty reasonable flights here from Europe, and even from the US because of its large Armenian diaspora.
Alternatively, if you are in neighboring Iran or Georgia, you can take ground transportation across the border (bus from Iran, train or marshrutka minibus from Georgia).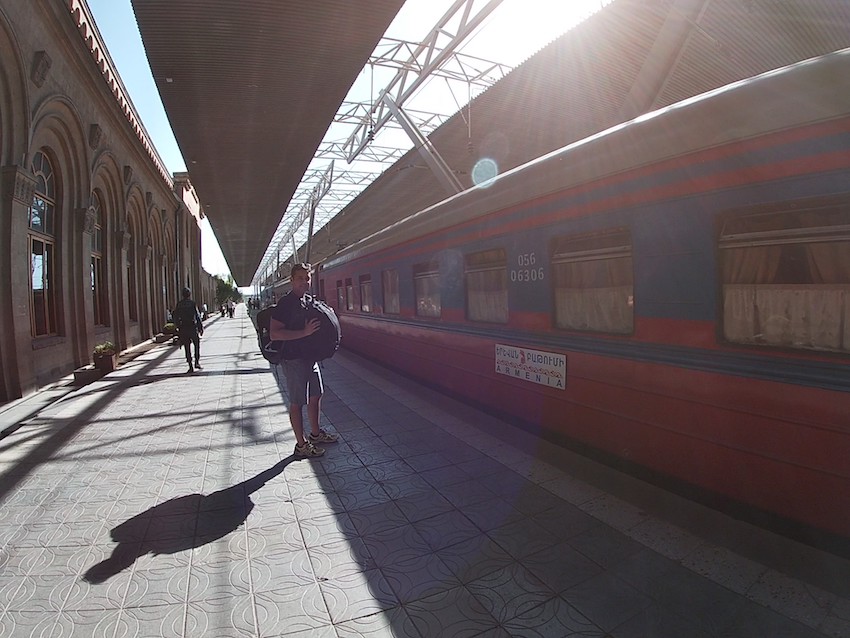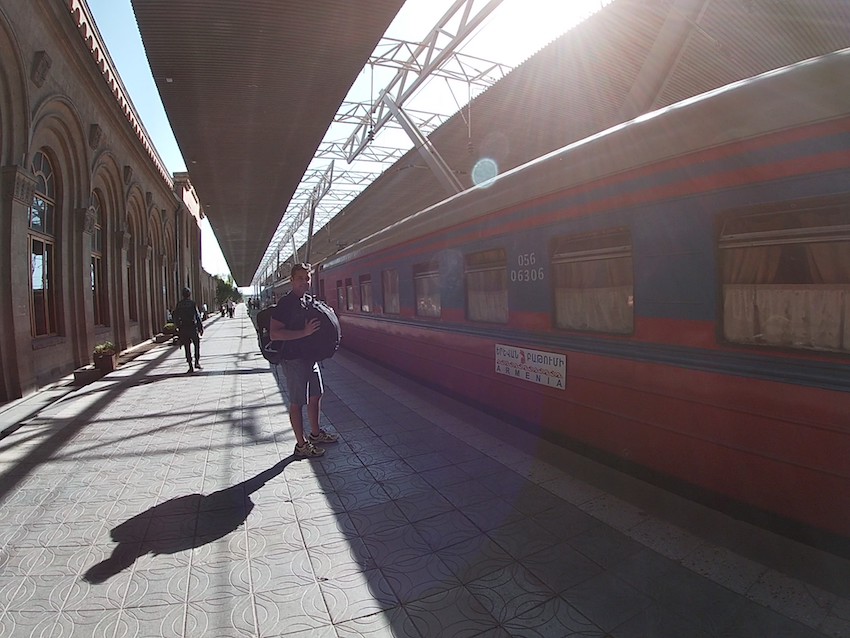 However, keep in mind that the borders between Armenia and Turkey/Armenia and Azerbaijan are CLOSED. These countries do not have diplomatic relationships and you cannot cross from one to another.
So if you're in one of these countries and want to get to Armenia, you'll need to cross to either Georgia or Iran first.
(If you'd like to visit both Azerbaijan and Armenia in a single trip, you may want to visit Azerbaijan first. We talk more about why this is in "things to know" #10 & #11 in our other Armenia article here.)
2.2. How long to visit Armenia
Honestly, this small country packs a powerful punch!
You could easily spend a week here without running out of things to do, plus extend your trip beyond a week if you plan on visiting some of its neighbors as well.
For example, we personally spent 10 days traveling altogether with 7 days in Armenia and a quick weekend trip to Tbilisi, Georgia.
2.3. When to visit Armenia
Armenia is a good destination all year round. But one thing to keep in mind is that their summers are HOT.
We went in September and were still stuck with 90+ degrees F (33+ C) in Yerevan.
2.4. Where to stay in Armenia
In Yerevan, there are plenty of hostels, guesthouses, and hotels to choose from.
In other cities (such as Goris and Stepanakert in Artsakh), you'll be a bit more limited in your options. We'll link a few accommodation options that we stayed in throughout the itinerary. But in most cases, we found all our accommodation through Booking.com.
Armenia transportation options
3.1. How to get around Armenia
Within the capital city of Yerevan, we recommend using the efficient Soviet-era metro (renovated by the European Investment Bank) to get around (learn more about the metro and find out how Armenia tricked the USSR into building them this metro system for free in "thing to know" #13 in our other Armenia article here).
Outside of Yerevan, you have a few options:
Marshrutka minibuses and normal buses (just be aware that the scheduling isn't so convenient, and the driving can be a bit chaotic)

Hitchhiking (a fairly common, albeit unreliable, option)

Rent a car (see more about this in section 3.2 below)
Use a local tour company (see more about this in section 3.3 below)
3.2. How to rent a car in Armenia & things to know before you rent
Frankly, we aren't sure we'd recommend renting a car in Armenia as it was quite a stressful experience for us. Although, you should know that it is an option.
Renting a car wasn't our first choice because we wanted a more low-key trip, but it ended up being our only option to see the things we wanted to see within our available timeline.
So if you're interested in renting a car in Armenia, make sure to read "thing to know" #8 in our other Armenia article here.
3.3. Best local Armenian tour company for day trips from Yerevan
If you're planning on doing day trips from the capital Yerevan, we'd highly recommend a local tour company.
For one, they happen to be really, really cheap ($10-15 for an entire day tour!). Plus, unless you rent a car, these types of companies will be your only option to get to those more isolated attractions that public transportation can't reach.
As you'll see in our itinerary below, we took 2 trips with a local tour agency in Yerevan called One Way Travel, and we'd highly recommend them.
(And no, they didn't pay us or give us any discount to say this….we just really, really enjoyed our time with them!)
You can read more about our experience with this company in "thing to know" #7 in our other Armenia article here.
What to do in Armenia: Our Roadtrip-Optional Itinerary for 5, 7 & 10 Days
4.1. What to know before we begin
A few notes about these itineraries before we dive in…
Days 1-3 of our itinerary below were done without a car. The remaining days were done with a rental car (discussed in section 3 above). If you don't want to rent a car, you could also fulfill most of the itinerary with local marshrutka minibuses, taxis (for more isolated destinations that buses don't go to), and day trips from local tour agencies like One Way Travel. We'll give specifics on your options for getting to each stop below.

Just below, you'll find our "core" 7-day Armenia itinerary. However, at the bottom of this you'll also find suggestions for how you can turn this into a 5-day Armenia itinerary or a 10-day Armenia itinerary.

All of the places in this itinerary are labeled on the map below. You can click on the map to zoom in and then check/uncheck options to see things on the left.
7-Day Armenia Itinerary by car
Days 1 & 2: Arrive in Yerevan & explore this capital city with an optional evening trip to Garni temple & Geghard Monastery
What to do in Yerevan
If you're coming from outside Armenia, you'll most likely fly into the capital city, Yerevan. So, our itinerary will begin here.
With your first day in Yerevan, we highly recommend beginning with the Yerevan free walking tour to orient yourself with the city.
(Learn more about this walking tour and get an important note about making your reservation in "thing to know" #18 in our other Armenia article here.)
The rest of your first day and your second day in this city can be spent exploring the city however you like. There is plenty of other info out there about what to see in Yerevan (the Yerevan Wikitravel page will give you lots of ideas), but here's a quick list to get you started:
Check out any one of Yerevan's many museums

Wander through the city's markets

Visit the Armenian Genocide Museum (note: this is located on a hill a bit outside the city, so plan your time and transportation accordingly)

Walk to the top of The Cascade: a giant stairwell full of sculptures and flowers that will reward you with a view of the city and a mountain backdrop

Explore Victory Park at the top of "The Cascade" and pay a visit to the Mother Armenia Statue (which was erected to replace the statue of Stalin in 1962) as well as the Soviet-era amusement park
If you have time on your 2nd day in Yerevan, we highly recommend taking a half-day to visit the nearby Garni Temple and Geghard Monastery.
How to visit Garni Temple & Geghard Monastery from Yerevan (optional itinerary bonus)
Although the Garni Temple may look like something out of ancient Greece, it's actually one of the only pagan temples that's still standing in Armenia. After Armenia adopted Christianity as a national religion in the 4th century, nearly all of its pagan temples were destroyed. Why Garni Temple wasn't remains a mystery.
Geghard Monastery, located just 15 minutes by car from Garni, is a logical addition to your trip to Garni.
We actually talk quite a bit about Geghard Monastery in "thing to know" #12 in our other Armenia article here since it was, without a doubt, the most interesting and unique monastery we saw during our entire trip to Armenia.
(And this is saying something because we saw a LOT of monasteries.)
As I described in the other article…this particular monastery is built directly into a cliff and full of caves, grottoes, and a mysterious spring that makes you feel like you are in Indiana Jones!
Unfortunately, neither Garni nor Geghard Monastery is accessible by public transportation. Although they are only 40 minutes from Yerevan, they are still quite isolated.
So you have two options for getting to them:
Rent a car (see 3.2 above for more details)

Join a half-day or evening tour from Yerevan
As we mentioned in 3.3 above, we'd highly recommend One Way Travel for a trip like this (especially since it only costs $7 USD!).
We personally did their "Evening Tour to Garni/Geghard" so we were able to spend our day in Yerevan and see the temple lit up at night. But they also have day tours. Just reach out and ask them for tours that go to both these stops if you're interested.
Hiking in the Garni Gorge
As a final note, apparently the Garni Gorge beneath the temple is quite lovely and makes for a cool hike with strange, basalt-rock formations. Since it was already dark by the time we got to Garni, we weren't able to see the gorge ourselves unfortunately.
Day 3: Lake Sevan & Dilijan day trip from Yerevan
What to do in Lake Sevan & Dilijan
A trip to Armenia is hardly complete without a visit to the famous Lake Sevan!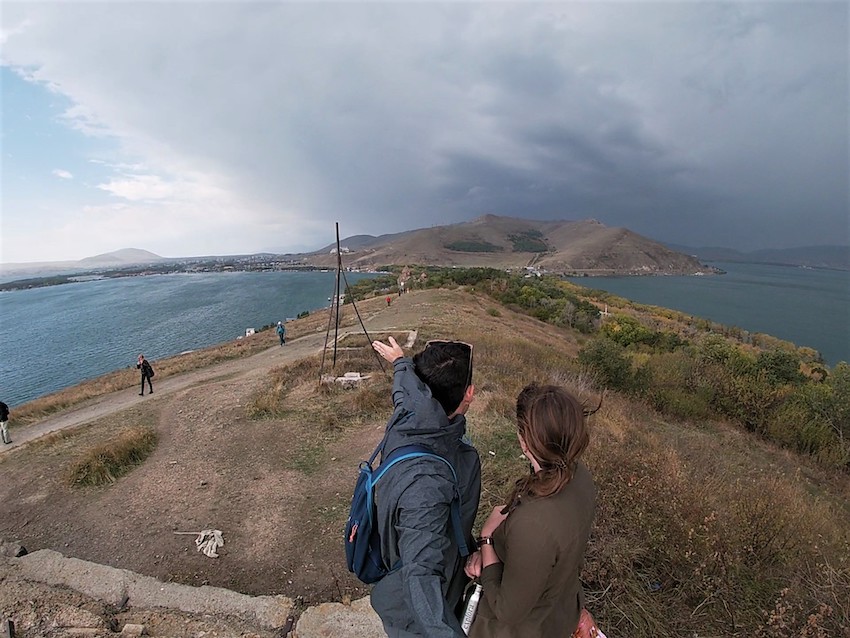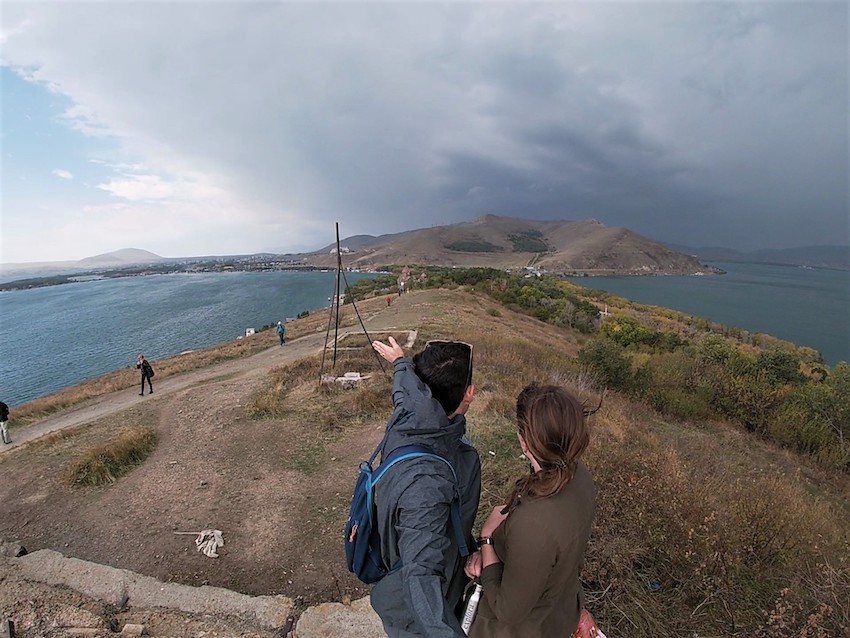 This sparkling, crystal-clear lake, which also happens to be the largest in the Caucuses, is a favorite escape for Armenians during their scorching summers.
If you're here during the summer and want to get some watersports in (jet skiing, windsurfing, swimming, etc.), you may want to consider spending the night in one of the many cheap bungalows that line the lakeshore.
If you're here outside of swimmable weather, the lake and the surrounding areas are still 100% worth a visit. For starters, there's the picture-perfect Sevanavank Monastery.
Not too far away, you'll also find Dilijan National Park, Dilijian old village (featuring traditional, well-preserved Armenian homes that'll take you back a century), and a number of lovely 13th-century monastery complexes (such as Goshavank and Haghartsin) nestled in the mountains.
You'll also find the tranquil Lake Parz a short walking distance from Dilijian old village and tucked within the forest – the perfect spot for a bit of relaxation and fun (featuring boats to rent, a ropes course, ping pong, and more).
How to visit Lake Sevan & Dilijian
If you just want to visit Lake Sevan and see Sevanavank Monastery, there are fairly regular buses that go to Sevan town from Yerevan (approx. 1 hour of driving).
But if you're interested in going to any of the other stops above (Dilijan National Park, Dilijian old village & resort town, the monastery complexes, or Lake Parz), you'll either need to rent a car or take a tour.
As with visiting Garni and Geghard Monastery, we decided to do a day trip from Yerevan with One Way Travel and their "Lake Sevan & Dilijan" tour.
This 9 AM – 7 PM tour was under 10 bucks (plus whatever we spent on lunch). It also gave us the chance to visit all the places I mentioned above as well as spend the day learning from a great guide.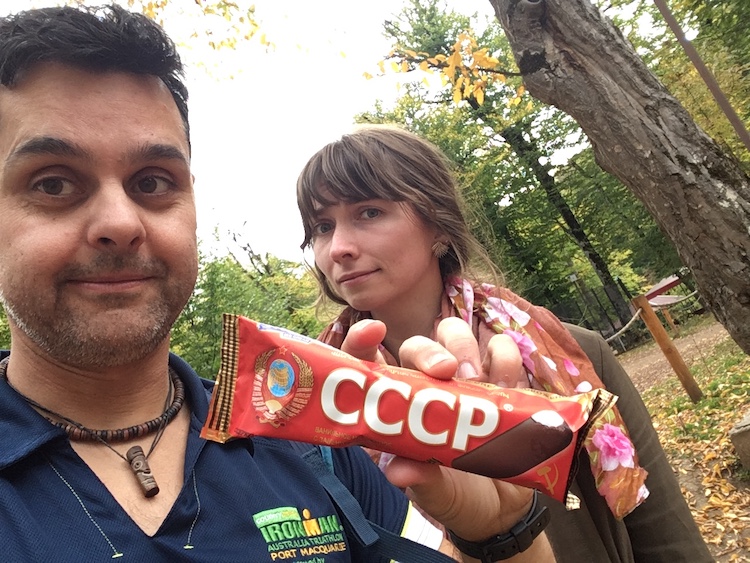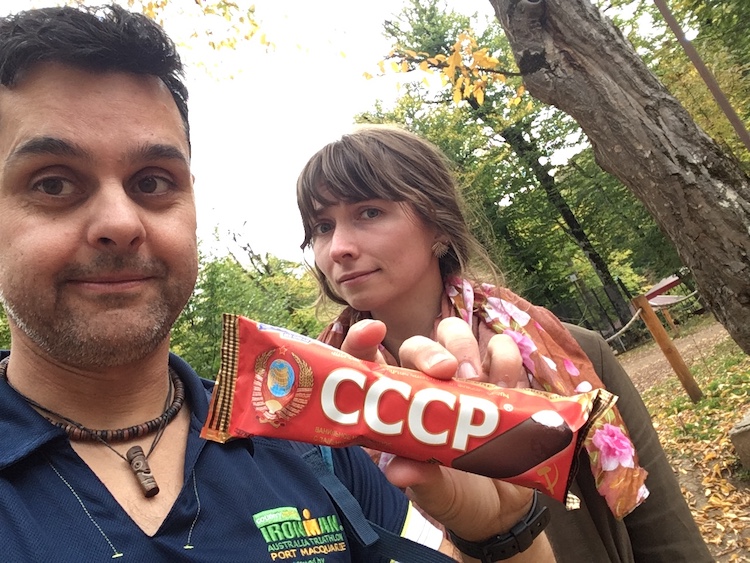 Day 4: Drive along Lake Sevan and through the Armenian mountains from Yerevan to Stepanakert, Nagorno-Karabakh with stops at Noratuz Cemetery, Vank, and tank monuments (night spent in Stepanakert)

Driving from Yerevan to Nagorno-Karabakh
**First things first, if you're not 100% sure what Nagorno-Karabakh is or if you should go, please please please read "things to know" #4, #5 & #6 in our other Armenia article here**
On day 4, we rented a car in Yerevan and headed south towards Stepanakert, the capital of the disputed, technically-still-at-war region of Nagorno-Karabakh.
Although we had been to Lake Sevan the day before, we took advantage of the drive to head south along the lakeshore (rather than north as we had the day before) for some more stunning views.
If you do the same route, there are a few stops you can add along the way (simply look at the map here to get an idea of where they are):
Noratus Cemetary – a medieval cemetery featuring stone-carved crosses (located before you cross into Nagorno Karabakh)

Vank – a weird village in Nagorno-Karabakh home to a number of bizarre giant sculptures (including a huge lion head carved directly into the rock and a titanic-inspired (and titanic-shaped) hotel built by a local millionaire called the "Eclectic Hotel")

The various tank monuments you'll see along the way built in honor of the lives lost in the Nagorno-Karabakh conflict
Beyond the stops in the list, make sure to take some time to enjoy the winding, sometimes-terrifying mountain roads themselves. Today, the drive and accompanying views will very much be a part of the experience!
If you drive straight without stopping (although you should stop, of course), it'll take you roughly 5 hours to get from Yerevan to Stepanakert.
How to cross from Armenia to Nagorno-Karabakh
If you cross by car, at some point *after* crossing the "border" you'll find a police checkpoint where you need to stop to get your visa to get into "Artsakh" (how the Armenians call Nagorno-Karabakh).
The police were friendly, and the process was very easy. We simply had to fill out a basic application form (in English), show him our passports, and pay a small visa fee (I didn't take down the exact amount, but it should be under $10 USD).
The visa office at the border does close at some point (we were unable to get an exact time – but perhaps around 5 PM?), so I recommend leaving Yerevan early so you have enough time to enjoy your drive while still getting here on time. For reference, Yerevan to the border without stops is about 2.5 hours.
If you go by minibus, you should receive a small piece of paper after showing your passport. Based on what I could tell (and please note: I am NOT 100% sure about this so try verifying in Yerevan before you go), you'll need to take this piece of paper to the Ministry of Foreign Affairs in Stepanakert's center square after you arrive.
If you arrived by car like us, you will get your visa on a separated piece of paper that you can keep after leaving the region. Don't need to do anything else in Stepanakert.
Where to stay in Stepanakert (Khankendi for the Azerbaijanis), Nagorno-Karabakh
There aren't a ton of options for accommodation in Stepanakert, but we found Hostel R&K and would highly recommend it!

Day 5: Explore Stepanakert, drive from Stepanakert to Goris with a stop in Shushi, Hunot Gorge, and Khndzoresk Cave Village & Suspension Bridge (sleep in Goris)

What to do in Stepanakert
Since you'll be waking up on day 5 in Stepanakert, you may as well begin your morning here.
Honestly, there isn't a ton to see in the city. However, there are a few visits we made that we can recommend:
Renaissance Square (the city's main square and home to the President's Palace and the National Assembly)

The Fallen Soldiers Museum (which shares the stories of the many deaths of the Nagorno-Karabakh conflict – it's a bit tricky to find as it is on a back street, behind a building, so I recommend asking at the hostel for directions before you go)

We Are Our Mountains statue (Nagorno-Karabakh's most well-known symbol – located slightly north of the city)
How to get to Shushi
From Stepanakert, you'll drive a mere 20 minutes to Shushi (also called "Shusha" in Azerbaijani and Russian). There are also buses that go frequently between the two cities.
What to do in Shushi
Shushi, a historic town founded in the 15th century, has been the heart of many conflicts and the home to a revolving mixture of Armenians and Azerbaijanis for centuries.
As its Wiki page explains:
Following the Shusha massacre in 1920 by Azerbaijani forces and their Turkish supporters, the Armenian half of the population of the city was mostly killed or expelled, and the city reduced to a town with a dominant Azerbaijani population. After the capture of Shusha in 1992 by Armenian forces, its population diminished dramatically again and is now almost exclusively Armenian.
In Shushi, you can:
Walk the town walls of the Shushi Fortress

Wander through the old town and visit the Shushi museum

See many remnants of the war – including abandoned Azerbaijani mosques (which, as a cultural heritage, are being preserved by Armenia and Iran, even if not currently in use) and the Shushi Tank Memorial (found just outside of town as you drive in)
How to visit the Hunot Gorge & Zontikner Waterfall
Just outside of Shushi, you'll find the Hunot Gorge. There is a famous lookout called "Jtrtuz" that puts you at the top of the gorge and allows you to peer down into it.
That said, we only made it to the viewpoint after much confusion and probably a solid hour of getting lost. In other words, do NOT trust your GPS to get you here. Be sure to ask a local where it is before trying to get there so you can struggle a bit less than we did

Although we didn't stop by, apparently there is a tourist office in Shushi which may be able to help.
Within the Hunot Gorge, there's also an option to hike to the impressive Zontikner Waterfall and umbrella caves. Unfortunately, we didn't have the time to get there ourselves so we can't give too much advice on the how-to.
However, it does seem to be quite isolated and there isn't a ton of information out there about it…so you may want to get yourself a guide or ask for details in Shushi.
How to visit Old Khndzoresk Cave Village & Swinging Suspension Bridge
From Shushi, you'll cross the border back into Armenia again (the border police didn't stop us at all) and head towards one of our favorite stops of our whole trip: Khndzoresk.
Khndzoresk is an ancient, 13th-century cave city built into the rock that once held as many as 15,000 inhabitants. People even lived here until the 1950s! You can wander through the caves quite freely, as well as cross the gorge via a cable suspension bridge to get there.
By car, Khndzoresk is slightly under a 2-hour drive from Stepanakert.
At the time of writing this article, putting "Khndzoresk" into your GPS will get you to the village, not directly to the caves. Luckily, the caves are quite nearby. After you enter the village (you'll be greeted by a metal gate welcoming you in Armenian and Russian), drive a bit farther until you see a dirt road on your right.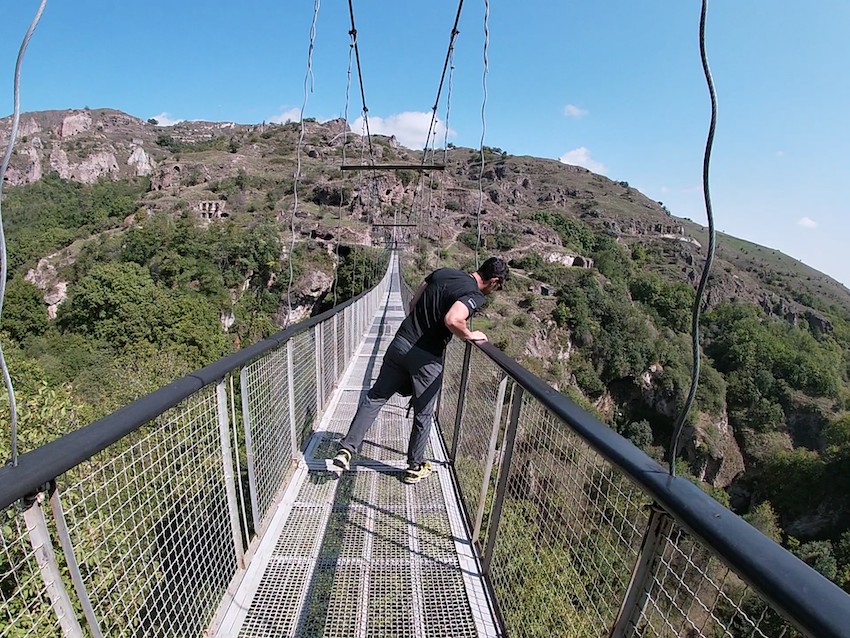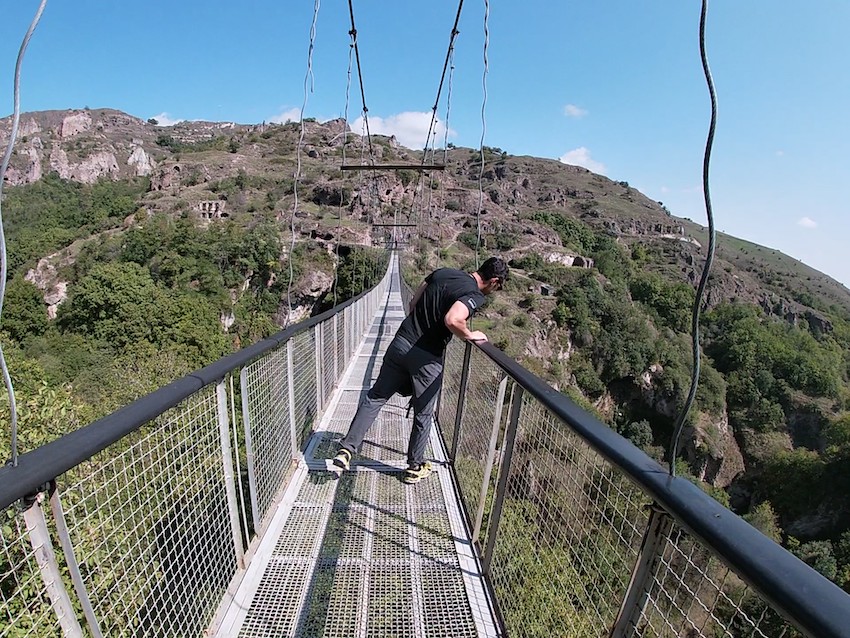 Continue down this road until you hit the gift shop, then take the steps down to the bridge.
As far as we can tell, there aren't any buses that you can take to Khndzoresk caves. However, if you take a bus from Stepanakert to Goris (which is just 15 minutes away from
Khndzoresk), you may be able to find a cheap taxi or private car in Goris to take you to Khndzoresk.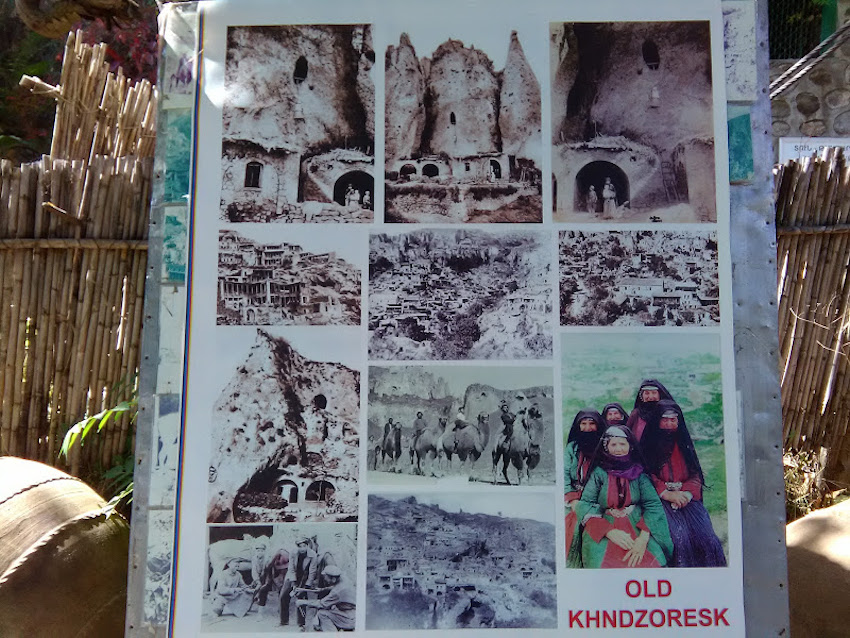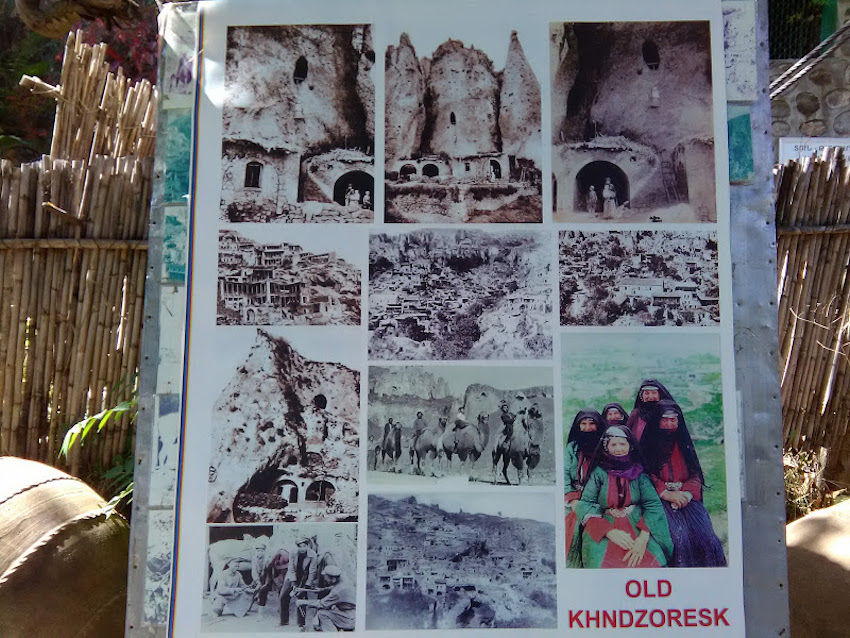 Where to stay in Goris
After you finish exploring Khndzoresk, you have an easy 15-minute drive to Goris where you'll be spending the night. Although Goris is a small town and doesn't really have that much to do, it does have a lot of accommodation options by nature of being close to Khndzoresk and to the Tatev cable car and monastery (your destinations for tomorrow!).
The place we ended up staying in Goris was pretty unforgettable….but you can find a lot of options for (very, very cheap) hotels and guesthouses on Booking.com.

Day 6: Explore Goris caves, drive from Goris to Yerevan with stops at Tatev cable car/Tatev Monastery, Karahunj & Khor Virap (sleep in Yerevan)
What to do in Goris/How to visit Goris caves
On your final full day in Armenia, you'll begin with a visit to the medieval Goris cave dwellings – a smaller, though still interesting, version of the cave city you saw in Khndzoresk the day before. Plus some bizarre, spiral rock formations and a view over Goris city if you choose to climb to the top!
The Goris caves are up on a hill behind the town cemetery (not far from the "Saint Gregory The Illuminator Church"). Asking locals or putting "medieval Goris cave dwellings" into your google maps should get you there.
One thing to be careful of: If you search "Goris cave dwellings" online, many websites (such as Tripadvisor, for example) will give you results for the more well-known Khndzoresk caves even if they are labeled as the "Goris cave dwellings."
So, just be aware since there are caves in Goris and in Khndzoresk even if they are mislabeled!
How to visit Tatev Monastery & Cable Car
From Goris, you'll drive about 25 minutes or so to the famous "Wings of Tatev." In other words, the longest cable car in the world! Riding the 6 km/3.5 mile cable car will bring you some impressive views and to the Tatev Monastic Complex on the other side of the canyon.
It's not possible to get to the cable car by public transportation, unfortunately. So if you don't have a rental car, first you'll have to take a bus to Goris (either from Stepanakert or Yerevan). Then take a taxi from Goris.
One very important note – make sure you reserve your time slot for the cable car online!
(Learn how to do this in "thing to know" #15 in our other Armenia article here.)
To visit the monastery itself, you have 2 options.
If you're short on time and want to take things easy, then you can take the cable car both ways to the Tatev Monastery.
Or if you're feeling a bit more energetic, you also have the option of taking the cable car one way and then hiking back through the gorge and along "Devil's Bridge" (which even has some hot springs underneath that you can swim in). The hike itself is a zigzaggy 6 miles (10 kilometers) with quite a bit of ups-and-downs…so make sure you bring lots of water and snacks….and spare time!
How to visit Khor Virap
3 hours of driving from Tatev will bring you to what is perhaps Armenia's most-prized photo spot: Khor Virap.
It's not too far out of your way back to Yerevan…and with the monastery framed by Turkey's snow-capped Mount Ararat in the background, it's easily worth the stop.
Note: you can also visit Khor Virap on a day trip from Yerevan (it's just 40 minutes away) with local buses or with a tour company like One Way Travel.
Bonus stop: how to visit Shaki Waterfall and Karahunj
If you have more time along your drive back to Yerevan, between Tatev and Khor Virap you also have 2 extra options for stops: Shaki Waterfall and Karahunj (Armenia's "Stonehenge").
Neither are very far off the road (10 minutes or so) you'll be taking to Yerevan anyways, so you may want to add them to your itinerary. Both stops are about 40 minutes by car from Tatev.

Day 7: Final day in Yerevan (your choice!)
Assuming that you'll be flying or taking the train out of Yerevan today, you'll likely want to arrive the night before.
So what you do on your final day depends on what you have time for – whether that is taking another city stroll or hitting up a museum that you missed before.
5-Day Armenia Itinerary
Don't have quite a full week for your trip? Then I'd recommend basing yourself out of Yerevan and doing day trips to the stops that interest you most in the itinerary above (Garni, Lake Sevan, etc.). You'll probably also want to remove Nagorno-Karabakh from your itinerary.
If you wanted to add Tatev and Khnodoresk to your trip, then you might consider spending one night in Goris. This area is roughly 4 hours one way, so it'd otherwise be quite the day trip!
10-Day Armenia Itinerary
We had 10 days in total for our trip. So alongside following the 7-day itinerary recommended above, we used our last few days to add in a weekend trip to Tbilisi, Georgia.
(You can find a few more details about how to do this in "things to know" #16 in our other Armenia article here)
Alternatively, if you'd rather stay in Armenia, here are a few things you could add to the 7-day itinerary:
Hike in one of Armenia's many natural parks such as Arevik National Park (near the border with Iran) or Hunot Gorge (near Shushi)

Spend more time enjoying Lake Sevan (weather permitting, of course) – home to parasailing, water sports, and cheap bungalows

Visit Gyumri, Armenia's second-biggest city and where you'll find old town, many churches, and a fortress

Relax in Jermuk, one of the most popular spa towns in Armenia (famous for its healing mineral water and mild climate)
4.5. Where to go before or after Armenia
Many people visit Armenia as part of a larger "Caucasus" trip including Georgia and Azerbaijan. But as we mentioned above, do keep in mind that you can't cross from Armenia to Azerbaijan, so you'd have to put Georgia in between them.
Iran is another option (assuming you're from a country that's easy to get a visa). And from Iran, you can head to Turkey (but again, remember that you can't cross into Turkey from Armenia!).
Beyond this, given that Armenia was once a part of the Soviet Union, you can get lots of cheap, easy flights to other ex-soviet states. As well as pretty inexpensive flights to much of Europe.
Final tips for visiting Armenia
I may be a little biased…but I think most of the other things that you may want to know before your trip can be found in our article here: 19 Things to Know Before Visiting Armenia
Alternatively, if you have any questions about Armenia, trip planning in general, or have any suggestions you want to add, let us know in the comments area below!
Other attractions, activities and tours in Armenia
If you are looking for activities and tours in Armenia, I recommend that you take a look at GetYourGuide and Viator. There you can find and buy amazing tickets, tours and excursions in Armenia.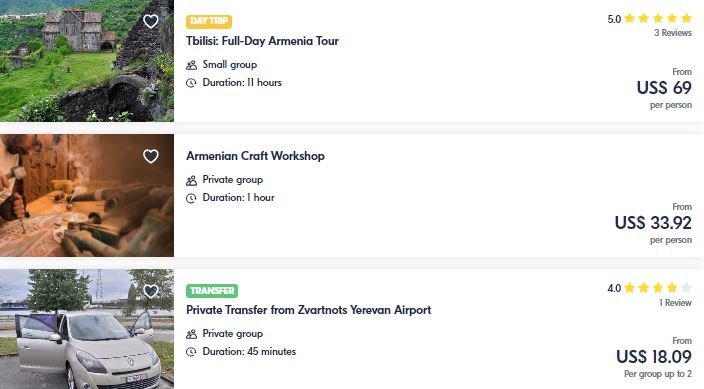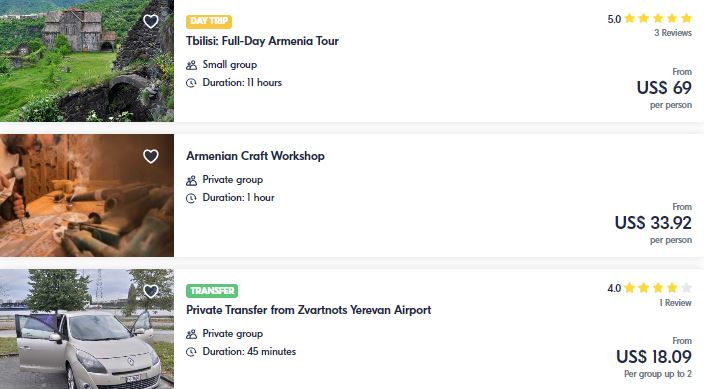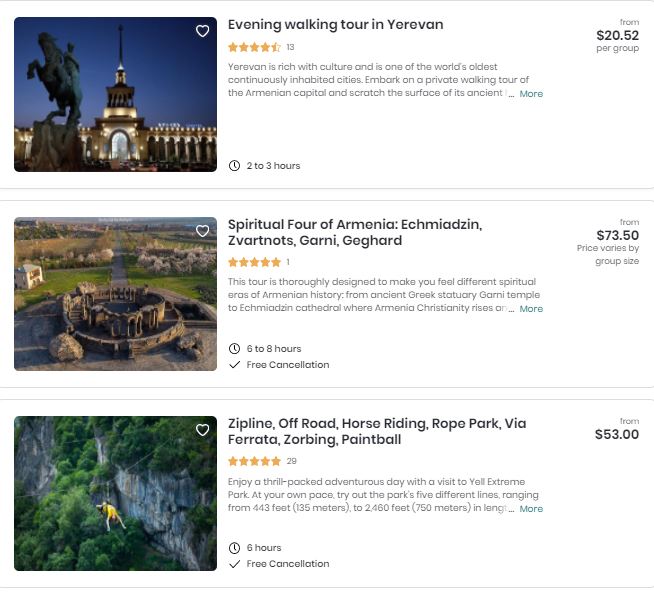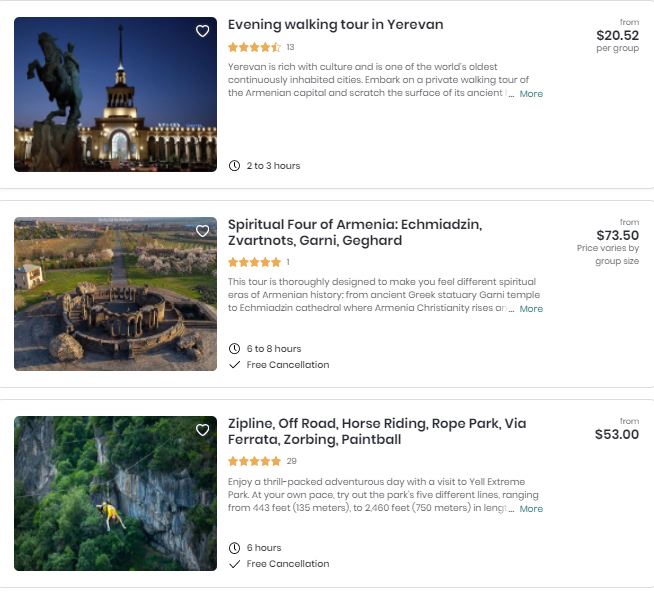 Planning your next trip?
Then don't forget travel insurance! You don't want to get stuck paying a ton of money and ruining your trip if you get sick or have an accident without travel insurance. WorldNomads is ideal for adventurous travelers, backpackers, or anyone looking to be protected during their trip. They cover almost every single activity you can image! Plus, you can have a 5% discount with the coupon code comfort5.
Already reserved your hotel or hostel? If not, we recommend Booking.com. They have a huge selection of hotels and hostels all over the world. Plus, in most cases, you can cancel your reservation without any costs up to a few days before the check-in date!
Still haven't booked your plane ticket and want to save big? Take a look at Momondo and Kayak. They are flight aggregators that combine several other ticket search websites to make it easier for you to compare prices and make sure you are getting the best deal.
And finally, will you need to rent a car during your trip? Then check out Rentalcar.com to search and compare car rental companies from all over the world in a single website. Then, you can find the cheapest price for the best car!