Last Updated on by Lohanna Reis
Home to stunning islands, incredible beaches, and friendly locals, Croatia is a beautiful country to consider if you plan on working abroad. Working in Croatia can be an exciting experience for foreigners. It has a well-developed market economy with a stable currency.
Croatia enjoys a laidback lifestyle, not just on its islands but also on the mainland. You'll find sailboats gliding along its idyllic coast and locals gathering around its tree-lined promenade early morning, others going for a walk while some are sipping coffee at one of the cosy cafes. Indeed, the atmosphere here is very relaxing compared to the much bigger countries in Europe.
The country may be small, but it offers a wide array of fascinating landscapes. If you prefer to live life at a slower pace, you'll find Croatia a wonderful place to work as an expat. But with so many beautiful places in the country, you're probably wondering where to base yourself.
Below, check out our list of the best places to work abroad in Croatia.
1. Hvar
If you want to live in a lively island and spend your rest days partying with celebrities, Hvar is where you should base yourself. Also called "Croatia's Party Island," Hvar is home to some of the country's most excellent bars and clubs. From casual beach bars to glamorous nightclubs, Hvar has something to offer for every partygoer.
Of course, Hvar is not only about the clubs and bars. It also has a rich culture and history, making it a wonderful place for the history lovers. The island has been inhabited since prehistoric times, although the Greeks were the ones who established their first colony here around the 4th Century BC. Head to St. Stephen's Square, where you will find the first church built on the island in the 6th century.
Fortica, a fortress perched high above the town, and illuminated beautifully at night, is also worth checking out. This medieval castle stands on an ancient Illyrian settlement from before 500 BC.
What draws most visitors to Hvar are its beautiful beaches, secluded coves, and tranquil bays. If you choose to base yourself here, you can spend your free days sailing around the island and visit its excellent selection of beaches, including those secluded coves and bays. Some of the best beaches in Hvar include Soline in Vrboska and Grebišće in Jelsa.
You will also enjoy exploring Hvar's beautiful coastal towns, where you can observe the Dalmatian way of living. There are many to choose from, including the abandoned stone villages of Malo Grablje and Humac. If you hike up the hills, you will find the ancient town of Pitve and the stunning vineyards of Svirče.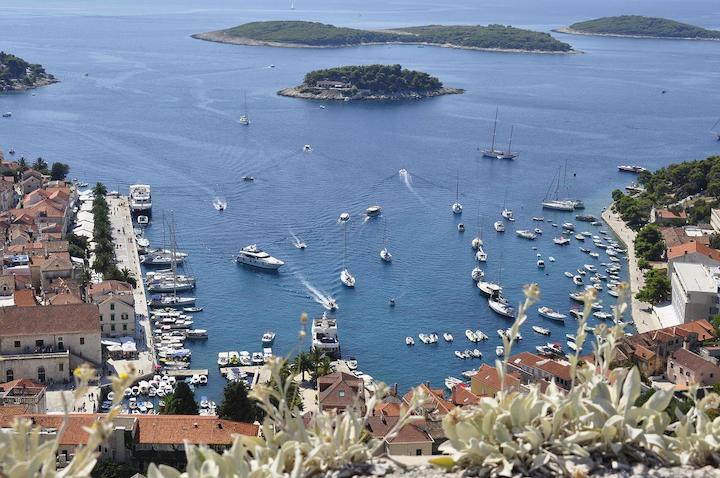 2. Split
Lying along the Dalmatian Coast, Split is a gorgeous port city famous for its beautiful architecture, ancient sites, and exquisite cuisines. Living in Split is a dream come true for many. So, if you are lucky enough to be able to work anywhere in the world, you should consider moving to Split.
When you're not working, you can spend your days lounging at the many sandy beaches of Split, and there are many to choose from. Head to Bavice Beach, one of the most beautiful beaches in Split.
It's also home to several good bars and restaurants, where you can treat yourself to refreshing cocktails. Meanwhile, Firule Beach is a bit smaller and more suited to families due to its shallow water and fine white sands!
When you are not working or lounging at the beach, you can spend your day strolling Split's Old Town. A UNESCO World Heritage Site, the town is home to historical sites like the Diocletian Palace, an ancient palace built for the Roman Emperor Diocletian during the 4th Century AD.
If you decide to move to Split, one of the first things you need to consider is where you will stay. Thankfully, you will find plenty of beautiful villas in the Split region that you can rent for the long term. These villas come fully furnished, so you'll have everything you need for the duration of your stay. What's more, many of these villas overlook the panoramic sea views!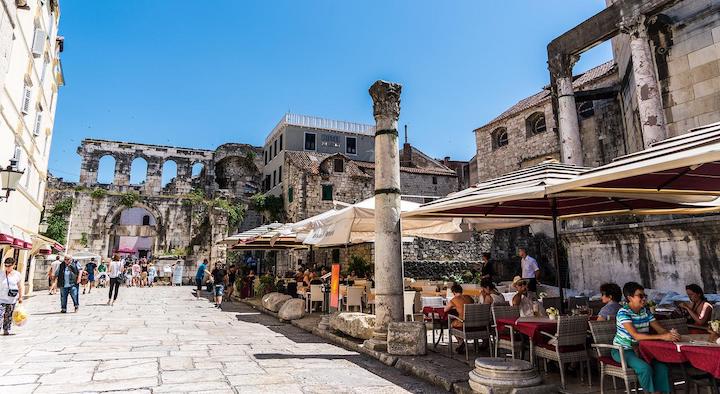 3. Istria
Istria is a heart-shaped peninsula shared by Croatia, Italy, and Slovenia. If you decide to settle here, you will have the time of your life! You'll wake up to the stunning views of crystal-clear waters and rolling hills.
There are also plenty of exciting things to entertain you when you're not working. Here, you can indulge in delicious Croatian cuisines, visit ancient historical sites, or wander around the picturesque stone villages.
Istria has many beautiful little towns you can explore when you need to take a break from work. Novigrad is one of them. This picturesque town lies north of the island and has excellent restaurants where you can indulge in delectable Croatian cuisines.
There's also a beautiful, pebbled beach where you can relax and chill out after a busy day at work. And if you feel like splurging for the weekend, check out its beautiful marina and dine at a posh restaurant overlooking the stunning sea views.
If you want to spend your rest days at the beach, head to Rabac, a small fishing village along Kvarner Bay. It has recently grown into a beautiful resort town with beautiful beaches where you can enjoy some water sports.
Aside from swimming, you can go snorkelling or diving since there's abundant marine life here. You can also hire sun loungers and umbrellas at the beach if you don't feel like doing anything, but better get there early since it could fill up quickly, especially during summer.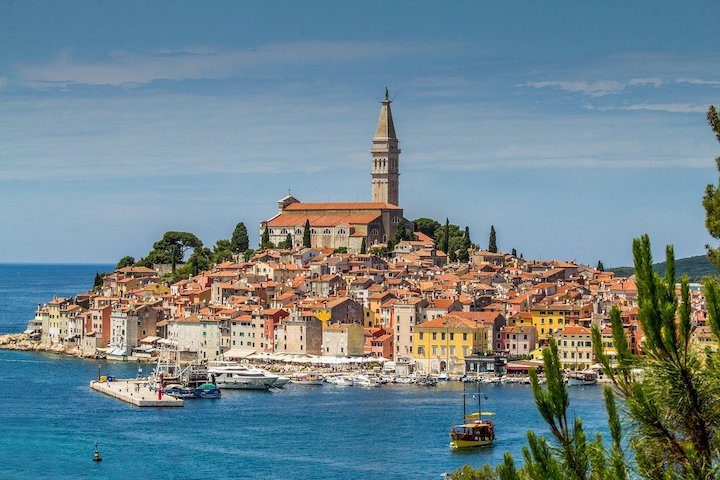 4. Dalmatian Coast
For the beach bummers who want to work in a place surrounded by stunning blue seas, head to the Dalmatian Coast. This uniquely beautiful region of Croatia runs from the coastal city of Zadar all the way to Dubrovnik. Renowned for its enchanting beaches, working on the Dalmatian Coast feels like being on a beach holiday every single day!
When it comes to the beaches, you will have tons to choose from, given its 400-kilometre coastline! On Vis Island, you'll find Stiniva Beach, one of Europe's most picturesque beaches. It's about 30 metres long and has a secret cove protected by massive rocks.
The Zlatni Rat Beach in Brac Island is a 500-metre-long beach that changes forms according to sea currents. As one of the most popular beaches in Croatia, be prepared to share it with many other beachgoers especially if you visit during the peak tourist season.
The Dalmatian Coast also delights visitors with its picturesque natural landscape of gorgeous mountains, majestic waterfalls, and beautiful lakes and rivers. The region is home to some of Croatia's most beautiful natural parks.
Hikers and mountain climbers will love Paklenica National Park, home to stunning canyons and vertiginous peaks that make up the Velebit Mountain range.
If you find the Dalmatian Coast interesting and want to choose it as your home base when working in Croatia, you should now start searching for a place to stay. Thankfully, you'll have many options. When you search for unique and large villas in Croatia, you will find that many of these villas are on the Dalmatian Coast.
5. Korcula
Offering a unique combination of ancient cultural traditions and spectacular nature, Korcula is a beautiful island to settle on if you wish to work in Croatia. The island has stunning bays and beaches where you can relax and unwind during your rest days. Aside from the beaches, Korcula has olive groves and vineyards that you can explore on a scenic hike.
If you want to take up fun activities during your work break, you will have plenty of opportunities in Korcula. The island is a great place to enjoy hiking, mountain biking, or cycling.
Although there are no specific hiking routes on the island, you will find many small pathways leading to beautiful vineyards and olive groves. The island's picturesque villages are also a joy to wander around. Take the cycling route from Korcula to Lumbarda, passing through the villages of Kosovo, Humac, and Javic.
Wine lovers will have a blast living in Korcula. It's a popular wine-growing region, producing some of Croatia's finest white wines. If you feel like going on a break from work, you should visit some of its vineyards and sample the delectable local wines. These wines are also available in some of the wine bars in Korcula Town.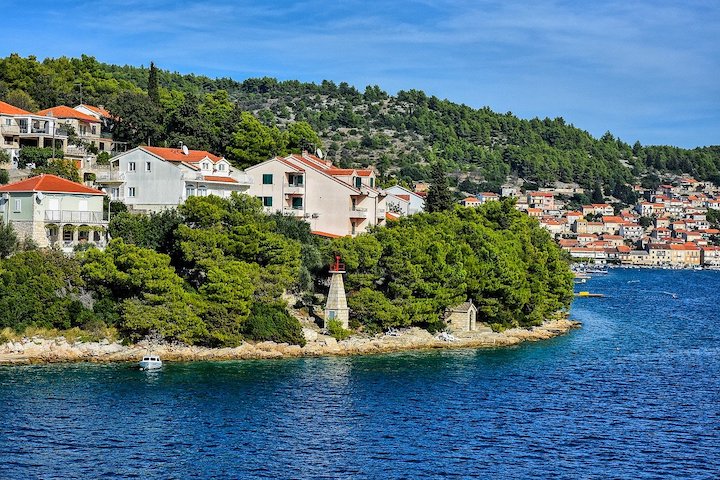 To summerize, the most wonderful places to live and work in Croatia:
Hvar

Split

Istria

Dalmatian Coast

Korcula
Planning your next trip?

Then don't forget travel insurance! You don't want to get stuck paying a ton of money and ruining your trip if you get sick or have an accident without travel insurance. WorldNomads is ideal for adventurous travelers, backpackers, or anyone looking to be protected during their trip. They cover almost every single activity you can image!

Already reserved your hotel or hostel? If not, we recommend Booking.com. They have a huge selection of hotels and hostels all over the world. Plus, in most cases, you can cancel your reservation without any costs up to a few days before the check-in date!

Still haven't booked your plane ticket and want to save big? Take a look at Momondo. It's a flight aggregator that combines several other ticket search websites to make it easier for you to compare prices and make sure you are getting the best deal.

And finally, will you need to rent a car during your trip? Then check out Rentalcar.com to search and compare car rental companies from all over the world in a single website. Then, you can find the cheapest price for the best car!