Last Updated on by Talita
Visit Spain in Africa….visit Britain in Spain….and throw in some boat trips along the way? Read on to learn how in this exciting Ceuta, Gibraltar and Malaga itinerary. Find all you need to know including attractions, cheap accommodation, what to do, crossing the Strait of Gibraltar…and more!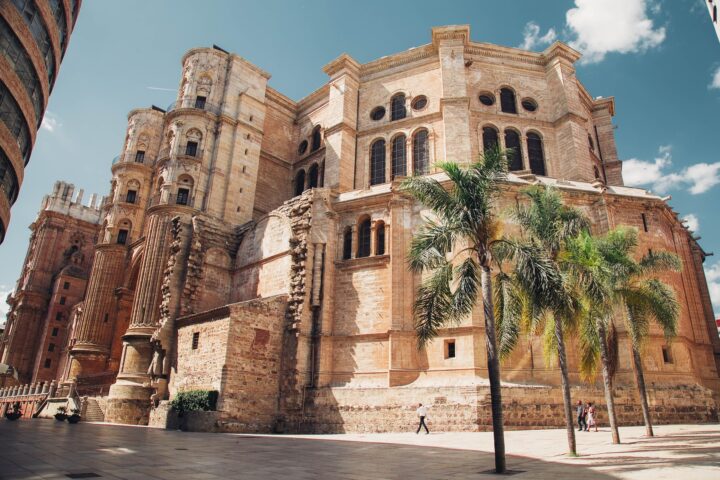 Feel up to an adventurous itinerary where you'll visit some of Europe's strangest geopolitical situations while covering 4 "cities," 2 "countries," and 2 "continents"…. in just 6 days?
Then read on.
If you follow our itinerary below, you'll visit:
Ceuta: an autonomous Spanish enclave located on the African continent, surrounded on 3 sides by the Mediterranean sea, and the 4th by Morocco
Gibraltar:

a wealthy British territory that shares no borders with the rest of the United Kingdom (but does share a border with Spain), is just kilometers from the African continent, and is known for its monkeys

Malaga:

a lovely coastal Spanish city with all the classic, southern Mediterranean charm (but few of the tourists)

The Strait of Gibraltar: as part of the itinerary, you'll also take a ferry (or even helicopter!) that crosses the famed Strait of Gibraltar, the narrow strip of water that separates Europe from Africa by just 9 miles (14 km)
Interested? Then let's get started!
How to start this it

in

erary (or how to get to Malaga)

You'll probably want to start this itinerary from Málaga, Spain, as it's the easiest place to get to. It's a major Ryanair hub (and other low-cost airlines fly there as well), so you can find cheap flights there from basically anywhere in Europe.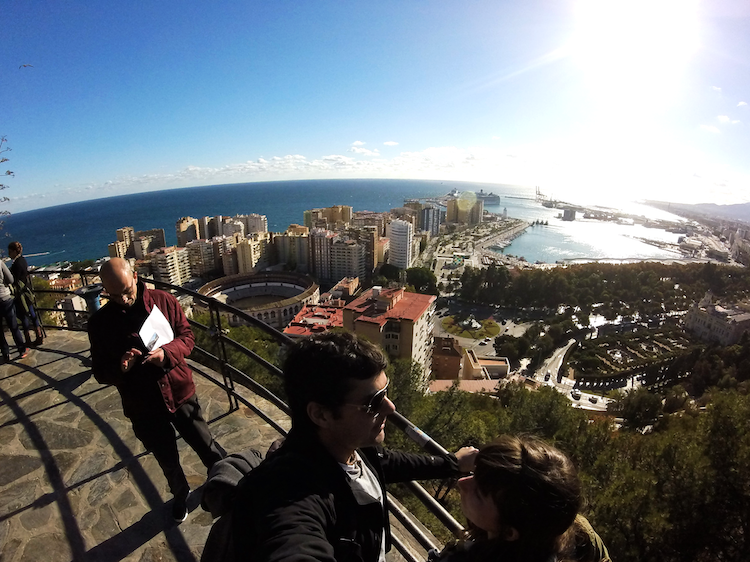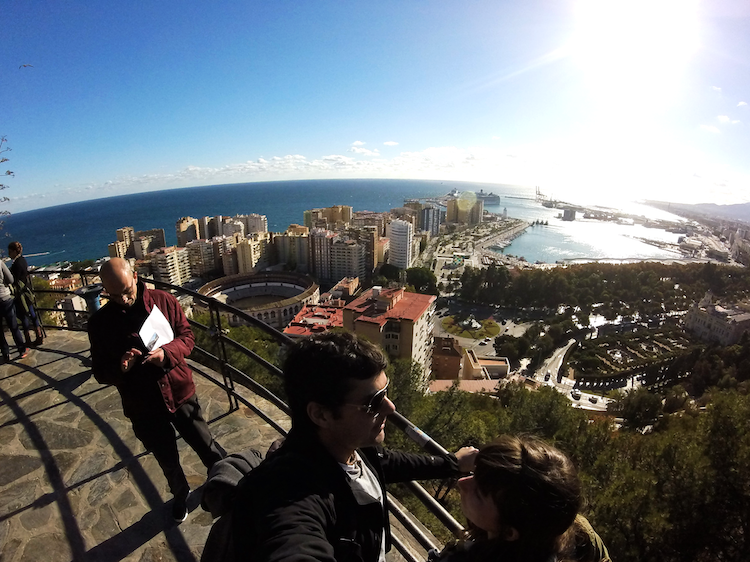 Look at the bottom of our article with 16 tips to save on flights to know what websites to start your search for cheap plane tickets and learn how to make good use of low-cost carriers.
Things to know before you go
This is a trip that has a lot of between-places travel. So, you're probably going to want to book things like your buses and ferries ahead of time. We'll give you the best links to book them below.
Beyond that, even if you're a European citizen, don't forget your passport to cross from Spain into Gibraltar.
What to do on your trip: 6 day Málaga, Ceuta, Gibraltar travel itinerary
Here's a quick look:
Day #1: arrive in Malaga, Spain & catch the ferry to Ceuta
Day #2: explore Ceuta, then catch to ferry to Algeciras, Spain
Day #3: take a slow morning in Algeciras, cross the border to Gibraltar & visit the main city of Gibraltar
Day #4: spend the day exploring Gibraltar's famous "rock" & head back to Málaga
Day #5-6: explore Málaga
Day #1: Arrive in Málaga & take the ferry across the Strait of Gibraltar to Ceuta
We decided to head to Ceuta the same day our plane landed in Málaga, so we'd wake up in Ceuta the next day and have plenty of time to explore.
Which means on day #1 you probably won't have too much time to wander in either city. But fortunately, you'll have a BEAUTIFUL ferry ride from the European to the African continent one to enjoy!
HOW TO GET FROM MALAGA TO CEUTA
From the Malaga airport, take the Renfe train to the Maria Zambrano bus station (we actually wrote an article about

transportation to/from Malaga airport if you want to read it here

)

Take a bus from Maria Zambrano bus station to Algeciras

(another city in Spain). It takes about 2 hours (if you buy the direct bus) and costs about 17.50 euros. You can book directly with Avanza here.

Take the ferry from Algeciras, Spain to Ceuta. The ferry is about 90 minutes and costs 60 euros round trip. You can book directly with Baleária here.

Promotional code

with 10% discount for Baleária: FLEX10
As you can see, the ferry isn't super cheap. But truly, the taking the ferry is an experience in itself! It's a lovely trip and gives you a chance to see how close Europe is to Africa. Just like this picture (Europe is on the right, Africa is on the left):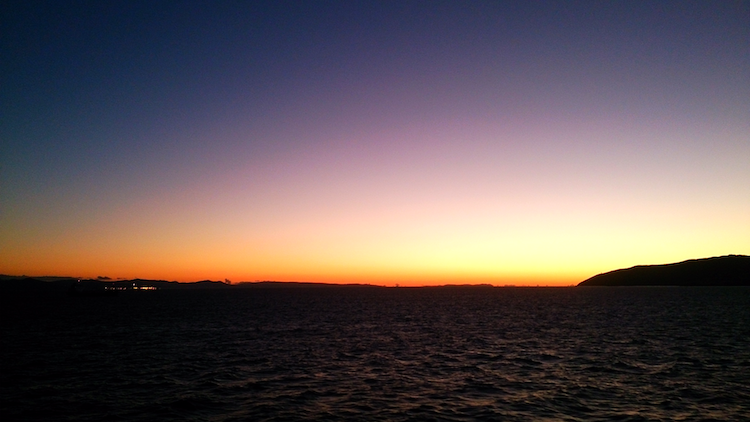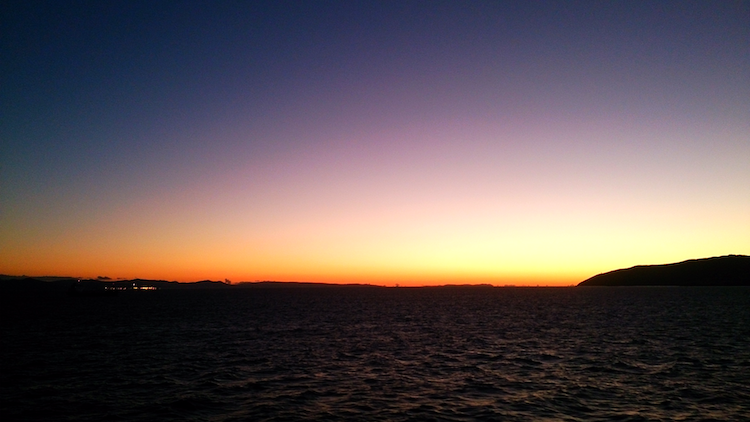 And Gibraltar, your next destination: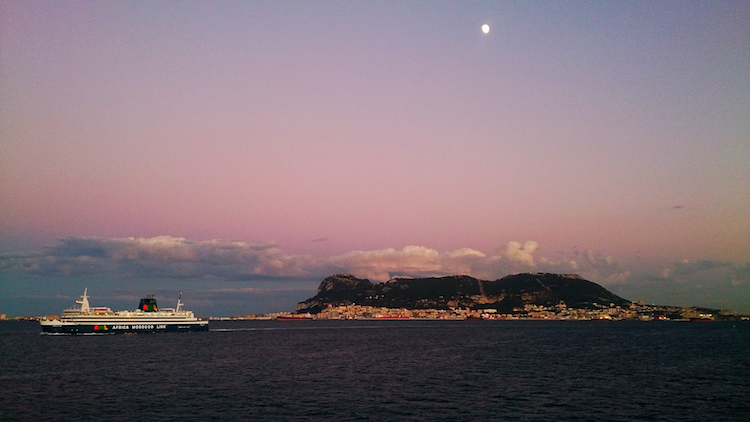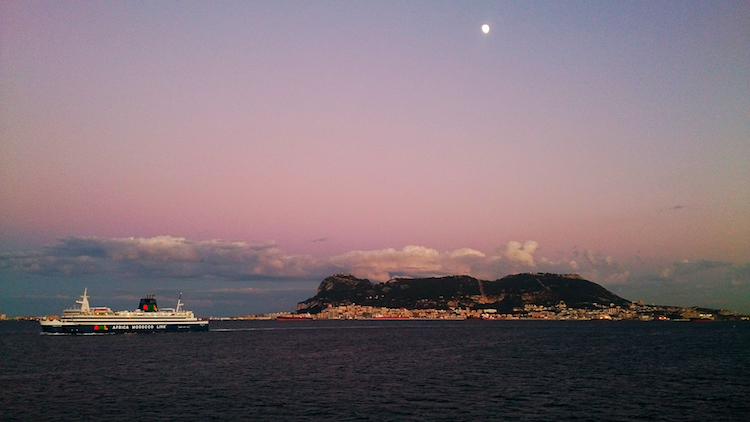 Most ferries will have an area where you can sit outside, so if it's not too cold or too hot, you can hang out there for a little bit.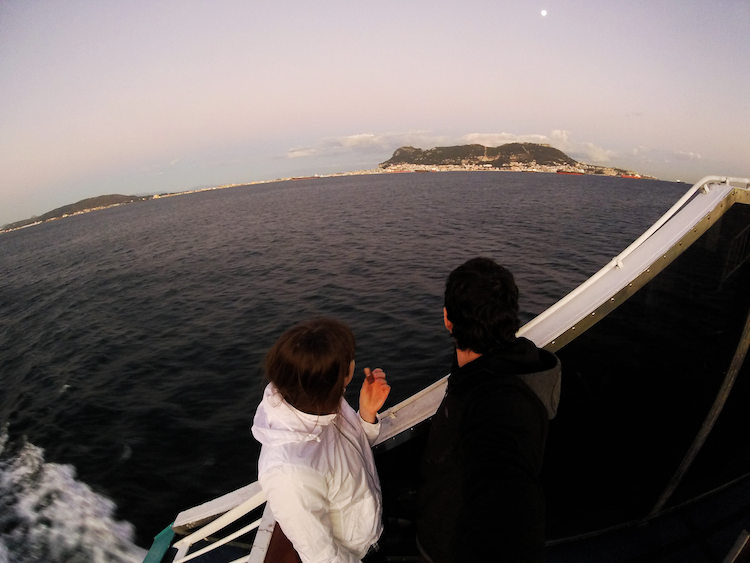 IMPORTANT NOTE: So, it turns out you can take A DAMN HELICOPTER for *nearly* the same price as the ferry (35 euros one way)! We were pretty disappointed to miss it…. but by the time we found out, we couldn't change our itinerary

There is only one day a week with this price (otherwise, it's 50 + euros) from each direction.
From Algeciras to Ceuta: FRIDAY has two trips for 35 euros from 14:30-14:40 and 15:35-15:45
From Ceuta to Algeciras: SUNDAY has 1 trip for 35 euros from 19:30 – 19:40 PM
You can book the helicopter here (www.helity.es). Just click the upper right button to change the website language to English. They also have an office right at the Algeciras ferry terminal.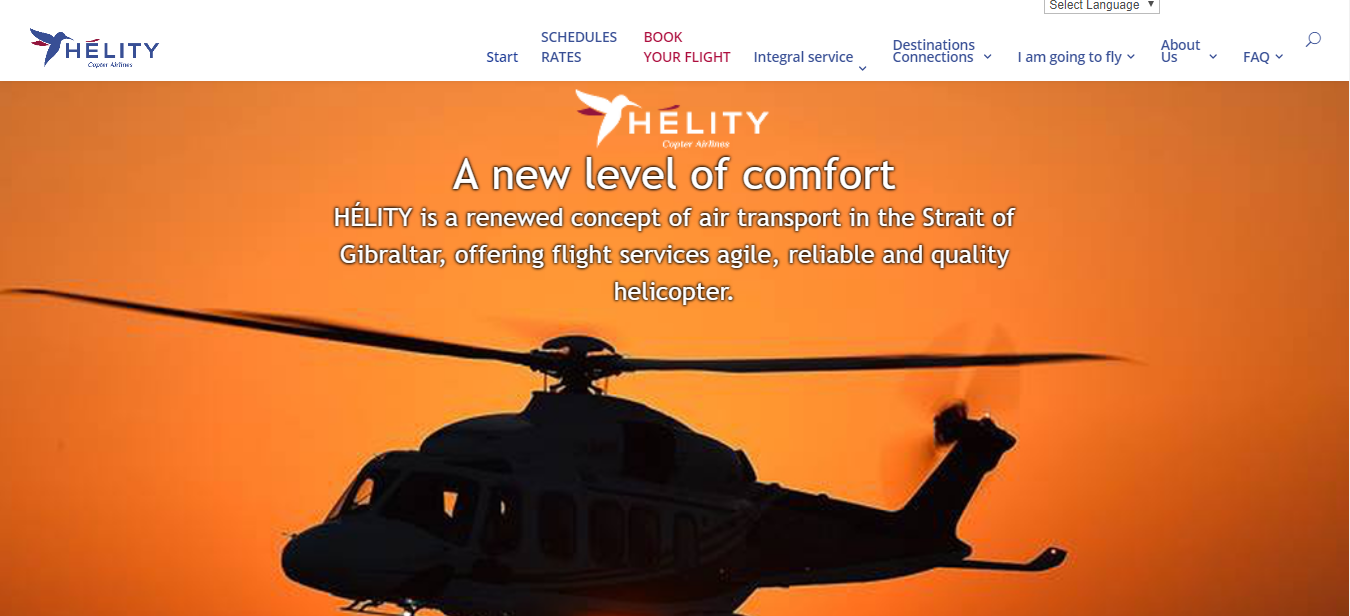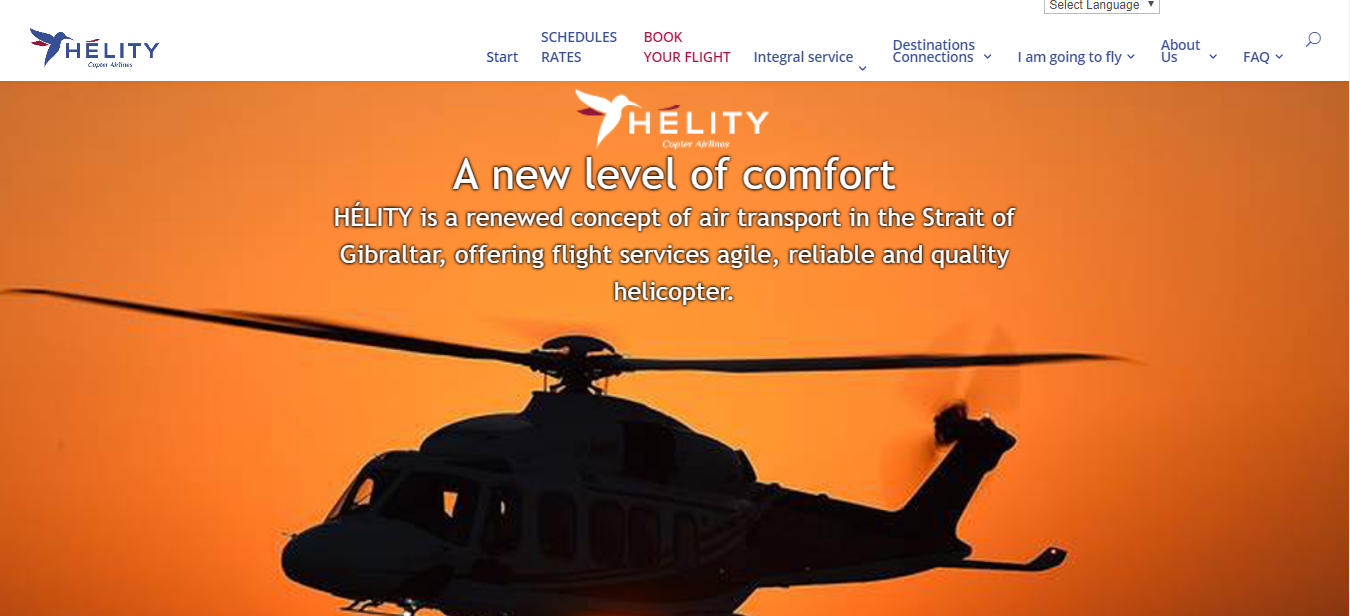 OUR RECOMMENDATION: the ferry was still one of the highlights of our trip….so even if we knew about the helicopter ahead of time, we'd probably take the ferry one way and the helicopter the other way.
WHERE TO STAY IN CEUTA
There aren't a ton of accommodation options listed online for Ceuta.
But since we knew we were going to be arriving late, we wanted to stay somewhere close to the ferry terminal (even if it was a bit far from the city center).
So, we stayed at Pension La Puntilla (which also ended up being the cheapest accommodation we could find) and paid about $40/night for a private double with a shared bathroom.
It was a pleasant enough place and likely your best option if you are on a budget. Plus, the owner was really nice and helpful!


If you want to stay somewhere a little bit nicer and closer to the center, Hostal Plaza Ruiz also looks to be a good choice.


Click either of the images above to get more info about the places or to book your room.

Day #2: Explore Ceuta and spend the night in Algeciras
Ceuta isn't very big, so we felt like 1 full day was enough for us to visit what we wanted. So, we booked our ferry back to Algeciras at 7 PM that same day.
But there a ton of ferries back and forth, you can have some flexibility in how long you stay. Just be sure you don't miss your ferry

WHAT TO DO IN CEUTA: 1 DAY TRAVEL ITINERARY
Check out our complete 1 day in Ceuta itinerary article here for all the info you need.
HOW TO GET FROM CEUTA TO GIBRALTAR/ALGECIRAS
Ideally, we would have gone straight from Ceuta to Gibraltar, but there's no direct ferry. So, we took the same ferry as before (which you can book here or take the helicopter here) back to Algeciras and just spent the night there (since we didn't arrive until 8 PM).
Luckily, Algeciras is quite close to Gibraltar as you can see in the map below.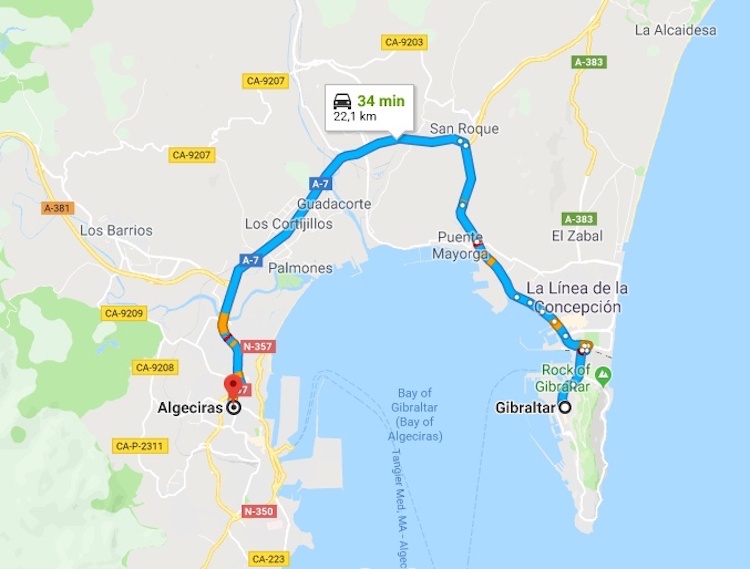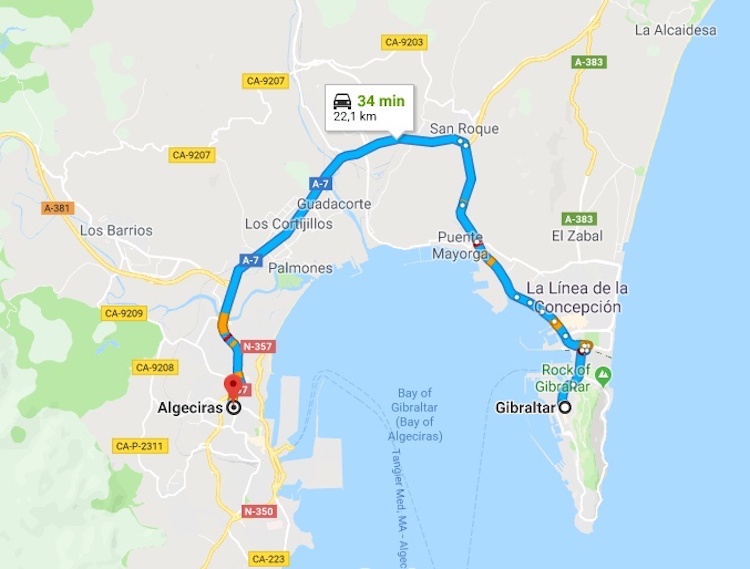 WHERE TO STAY IN ALGECIRAS
Honestly, Algeciras is probably not a place you want to wander around too much at night. So, we chose a guesthouse that was just a short walk from the ferry terminal (and also close to the bus station where we'd need to catch the bus to Gibraltar the next day).
It wasn't anything special, but it was fine for a night and also happened to be the cheapest option we found.
Here it is (click here to check current prices and availability):


If you're looking for a slightly nicer place and have a slightly higher budget, Guest House Lisboa Algeciras is highly rated. It's also still close to the center — about a 15 min walk from the ferry terminal.


Day #3: Take a slow morning in Algeciras, cross the border to Gibraltar, visit the main city of Gibraltar
WHAT TO DO IN ALGECIRAS
Algeciras is much nicer during the day than it is at night. There's not a ton to do, but it's worth taking a quick morning walk through the center to grab a bite to eat before heading to Gibraltar.
Here are a few things you can do in Algeciras:
Walk through the pedestrian area and market

near the Plaza Alta, the main (you'll see signs for Plaza Alta all over town or you can ask your guesthouse for a map). It's a great area for a cheap, outdoor breakfast.
Wander to the top of San Isidro neighborhood

— from Plaza Alta, take the small upward street going to the right of the main church (when you're facing it) and follow the hills all the way up

See the city's medieval ruins

— just follow the pedestrian street all the way to the end (when walking away from Plaza Alta)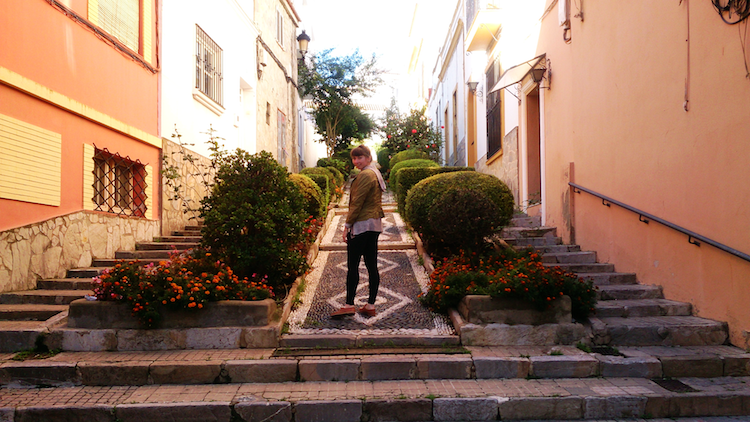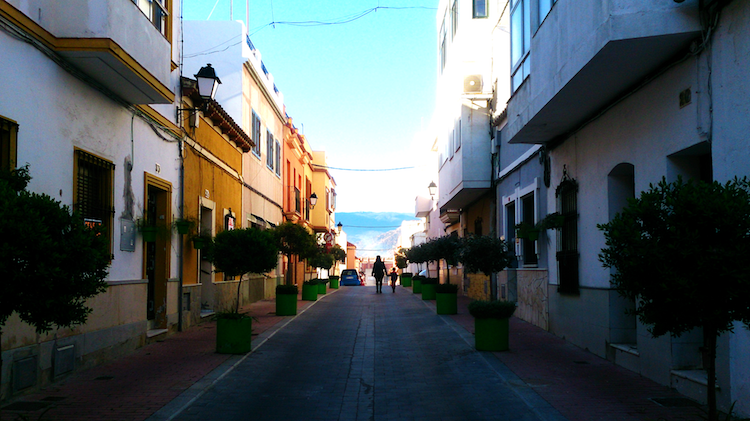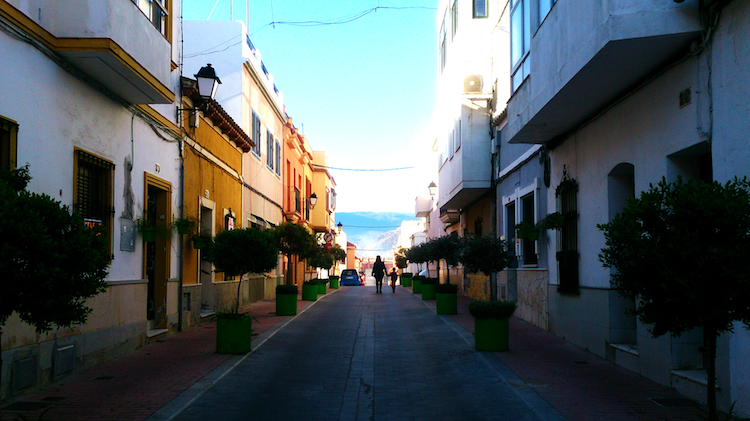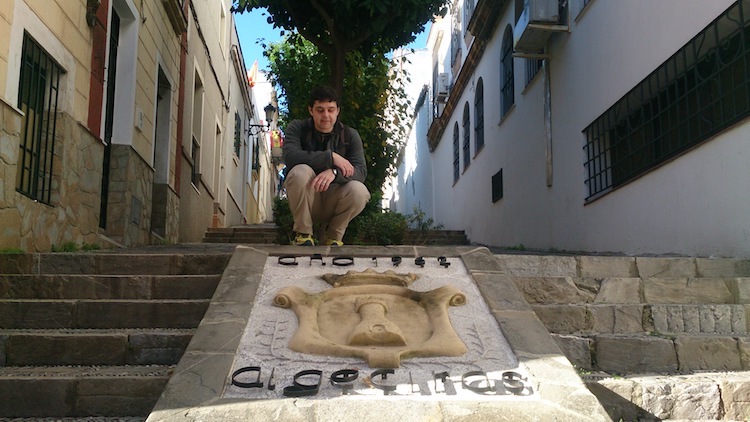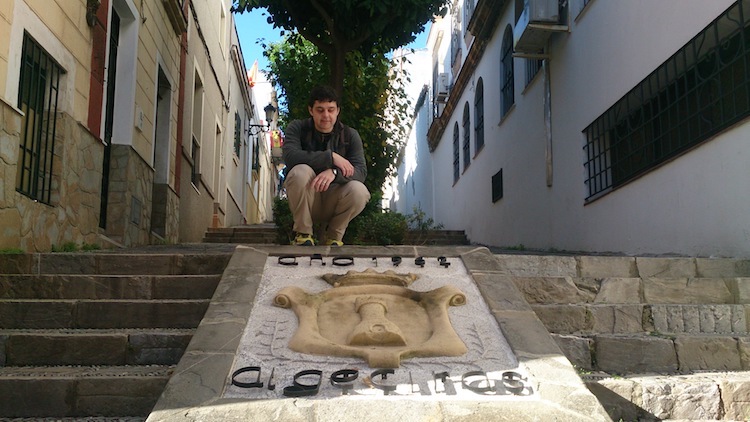 Here's a blurry picture of a map we took in Algeciras with some of these places marked: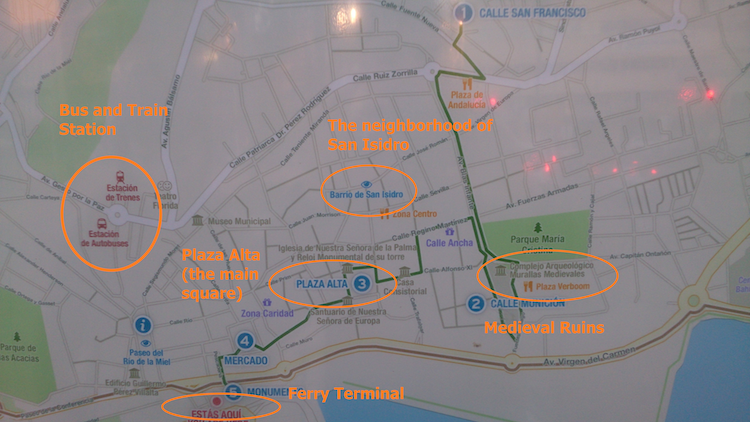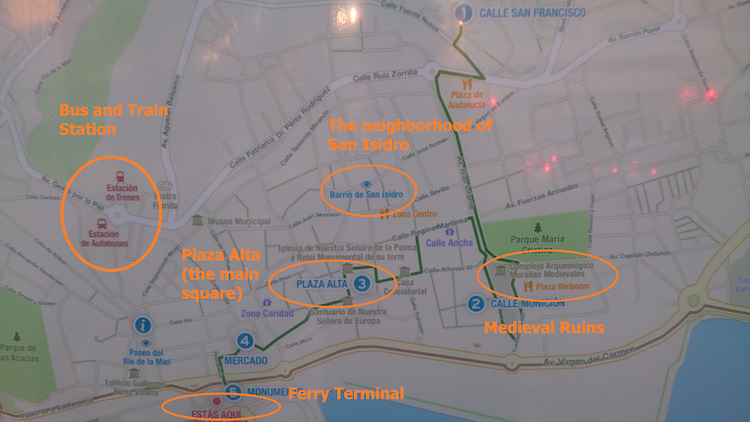 HOW TO GET FROM ALGECIRAS TO GIBRALTAR
After a quick wander through Algeciras (which probably won't take more than an hour or two), head to the bus station to take your bus to Gibraltar.
Buses go often (every half an hour or so), so just wait by platform #1 and you can buy the ticket directly from the driver.
NOTE: You won't actually be taking the bus directly to Gibraltar, you'll take it to the Spanish town just on the border (called La Linea).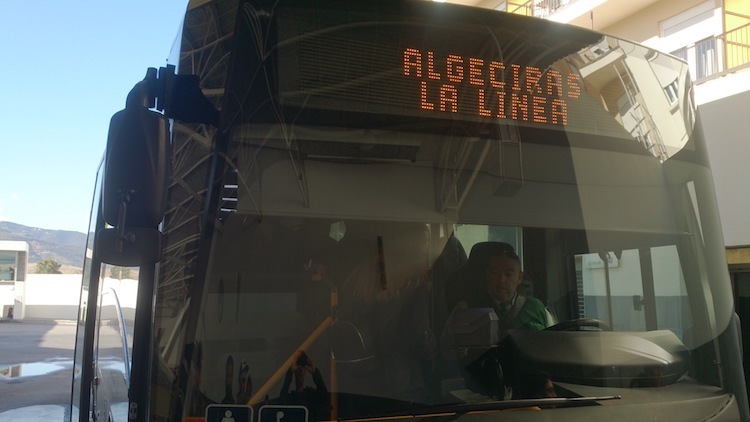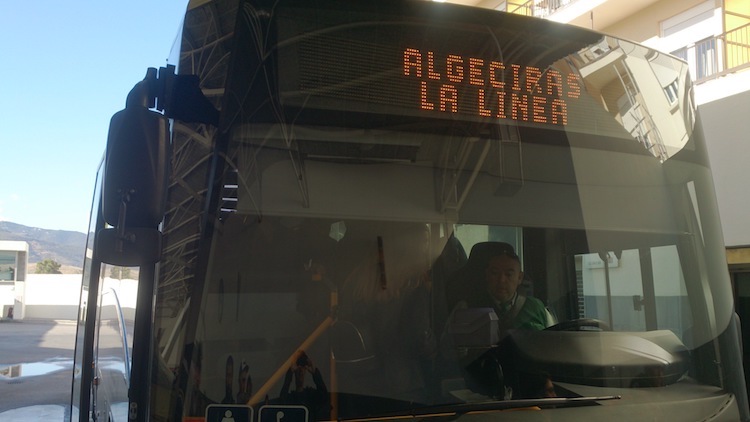 The bus takes about 30 min to an hour and costs 2.45 euros (paid directly to the driver).
Once you get off at the bus station in La Linea, take the main exit and turn left.
You'll see the big Gibraltar rock. It looks like this so you really can't miss it: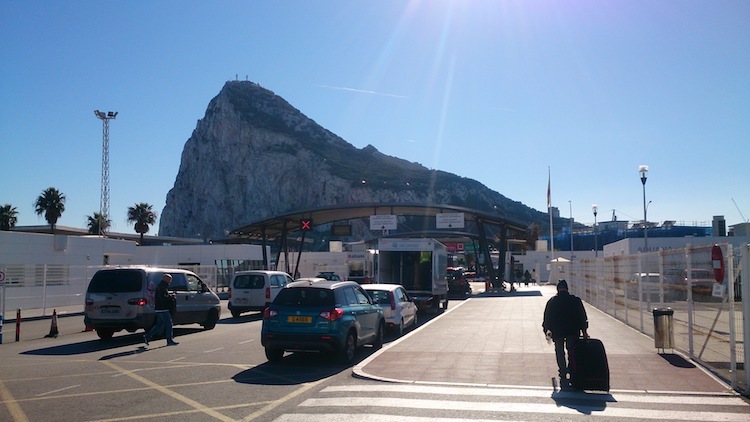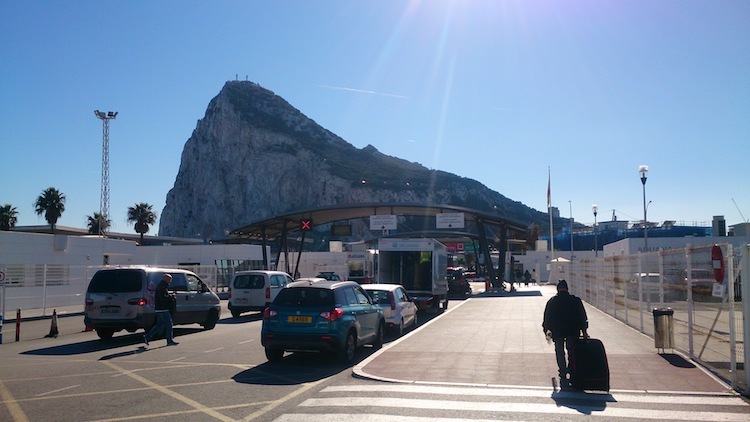 Just continue walking towards it and you'll end up at the border.
Usually, the border is pretty easy. When we crossed, they didn't even glance at our passport. Depending on how tense things are, this might change.
WHAT TO DO IN GIBRALTAR: "CITY" ITINERARY FOR DAY #1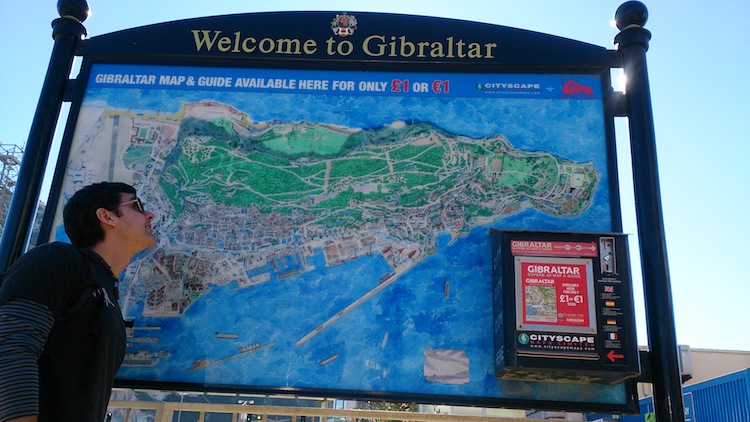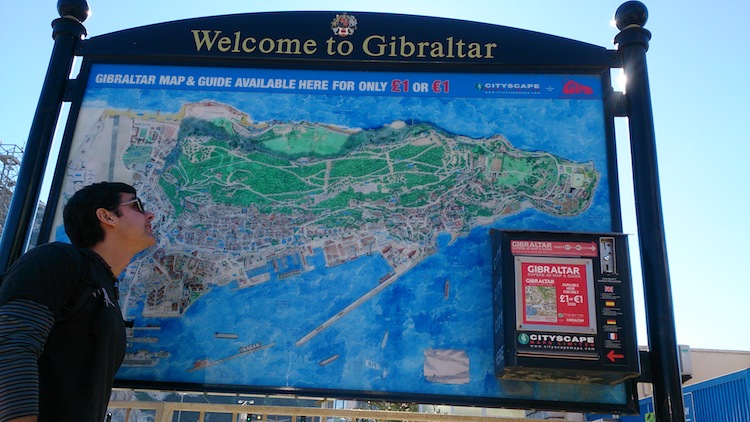 Since we arrived in the afternoon, our plan was to do all the "non-rock" things in Gibraltar. So, after dropping off our bags at the place we were staying (you'll find the link to it below), we set off to explore.
Here's the map of our Gibraltar itinerary (day #1 is in yellow, day #2 is in purple):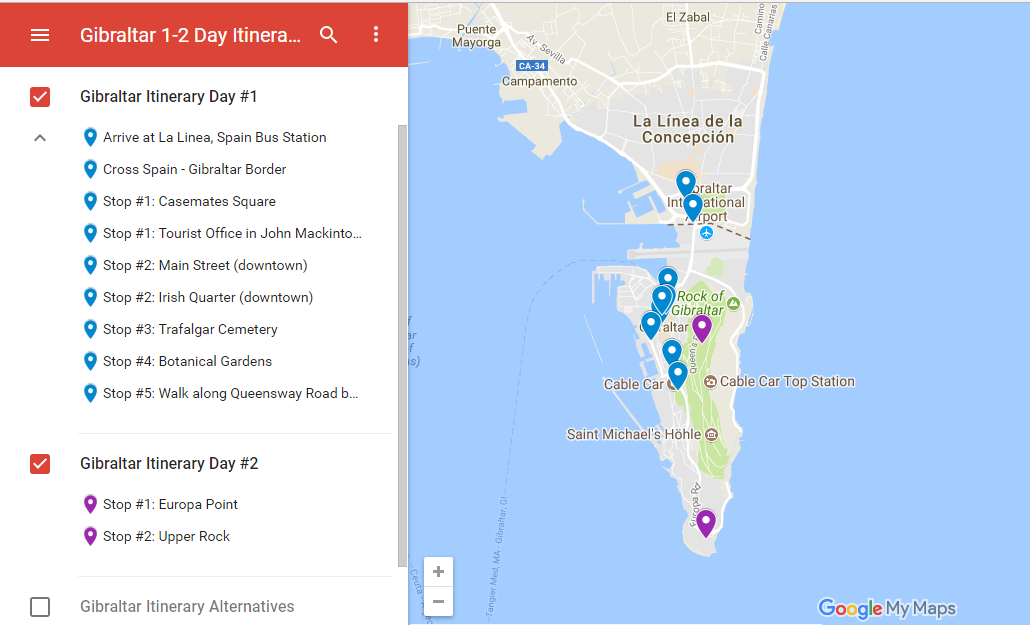 You can click the map above (or click here) to explore the stops in more detail.
Stop #1: Casemates Square & the tourist office
As usual, our first stop was the tourist office. In Gibraltar, this is located in John Mackintosh Square. Depending on where you're staying, getting there will probably take you through past Casemates Square (Gibraltar's main square) and the main pedestrian area.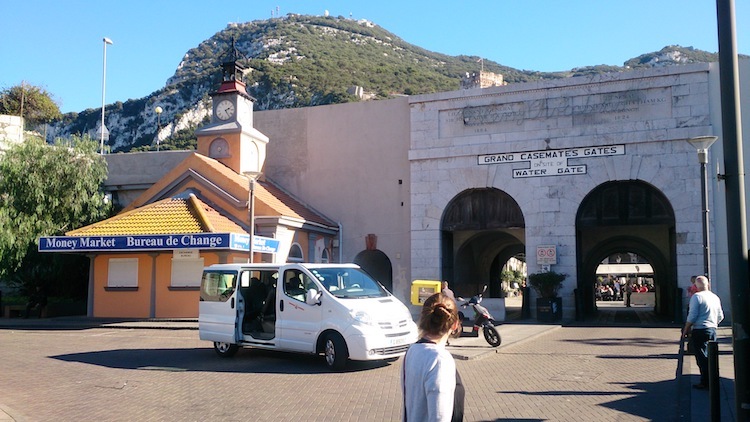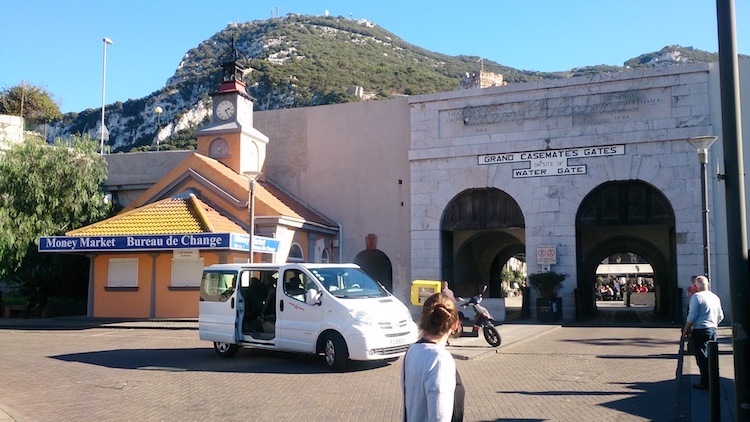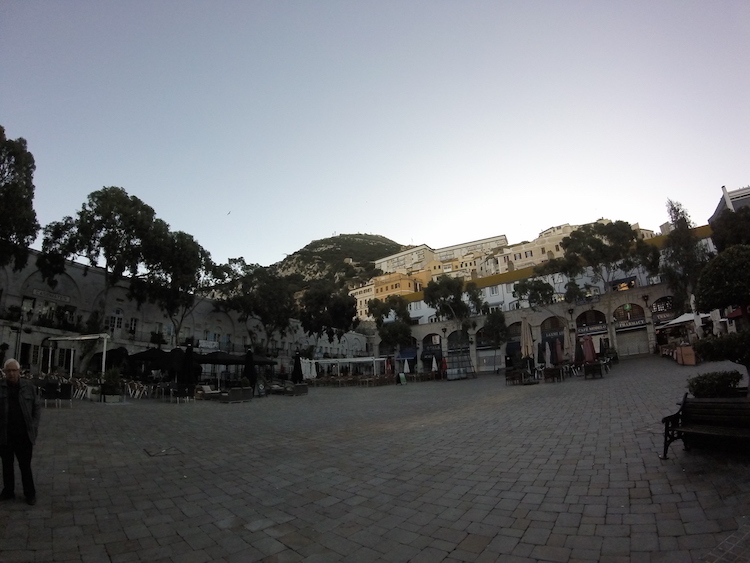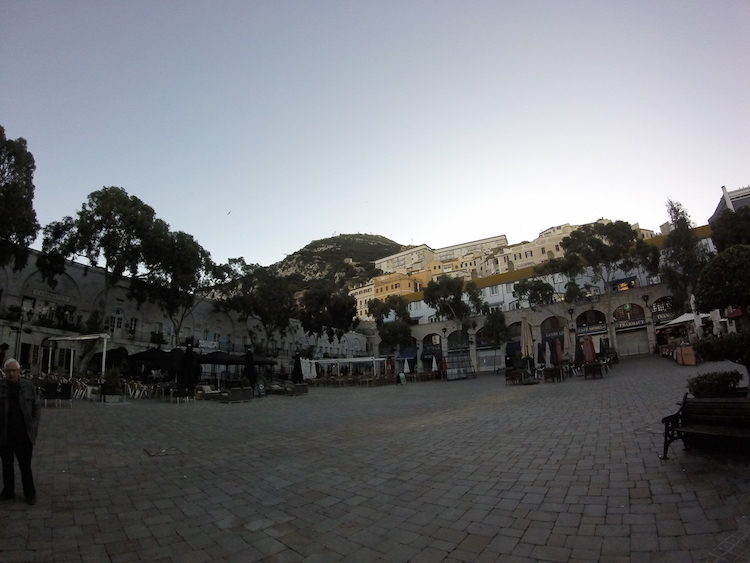 At the tourist office, don't forget to pick up a city map and a map to Gibraltar's "rock" for your hike tomorrow.
Stop #2: Main Street & the Irish Quarter
By now, you're already in the heart of Gibraltar's downtown (remember, Gibraltar isn't that big). Feel free to spend some time wandering the shops, people watching, getting a bite to eat, and just generally feeling out the atmosphere.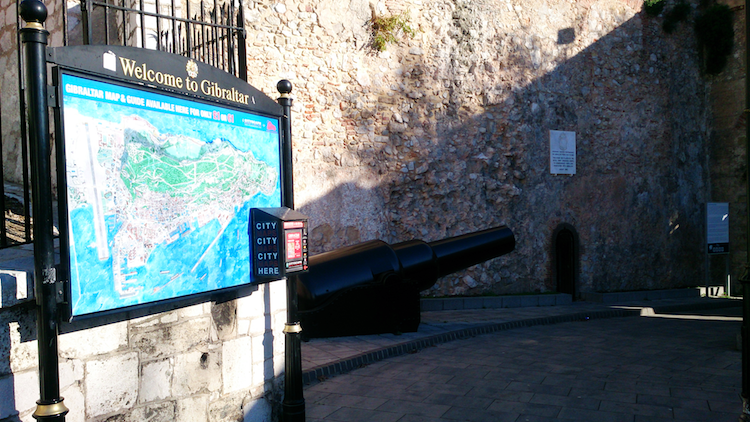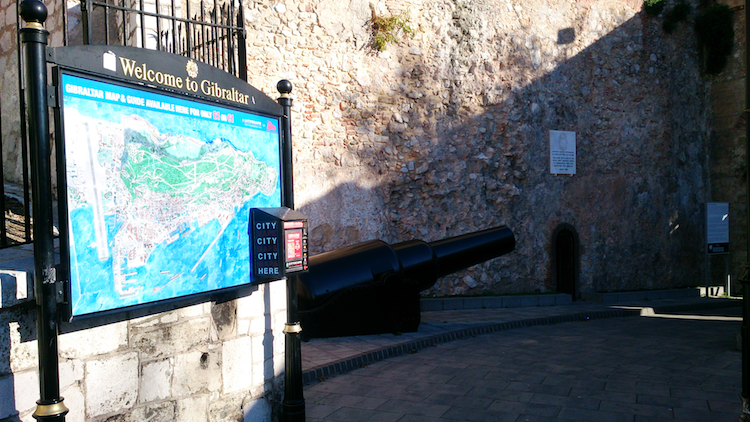 Stop #3: Trafalgar Cemetery
After you've had your fill of the downtown, continue following Main Street (in the direction going away from Casemates Square) until you reach Trafalgar Cemetery.
The cemetery is very picturesque, and there's some info you can read about it when you arrive.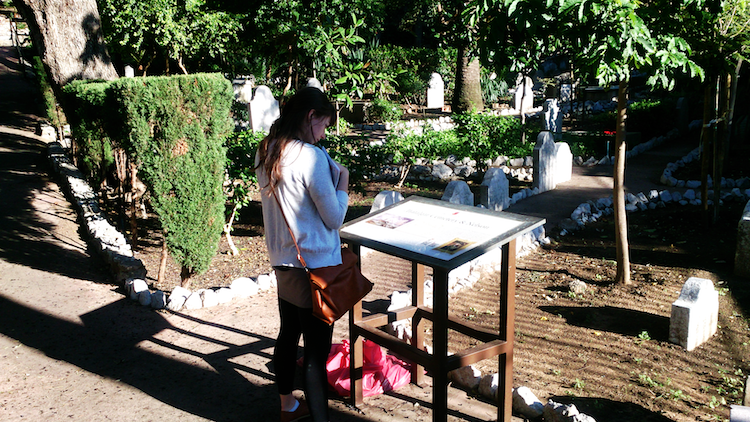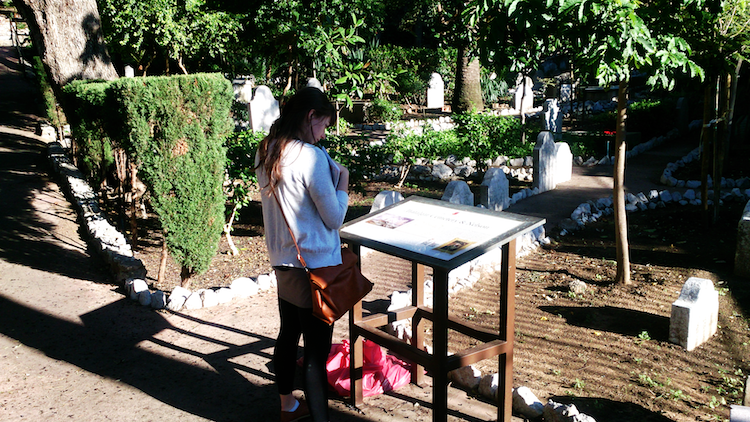 Stop #4: Botanical Gardens
After visiting Trafalgar, continue in the same direction you were going until you see the cable car station. Just beyond the station, you'll find the botanical gardens.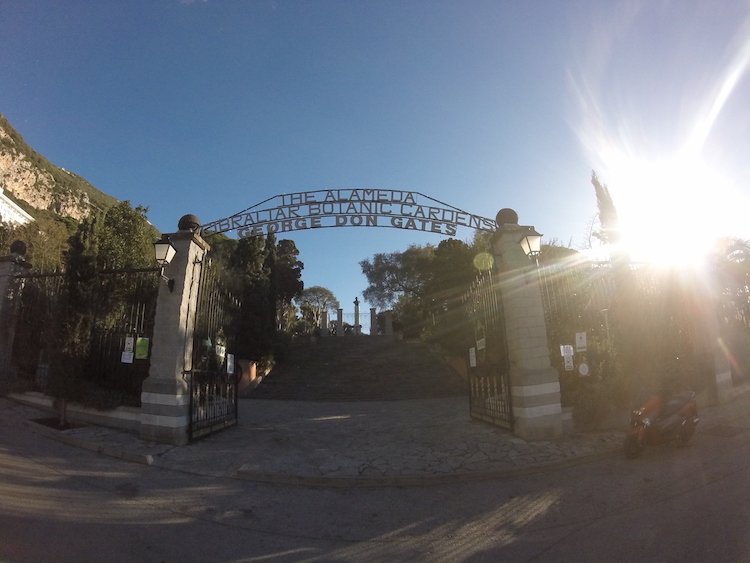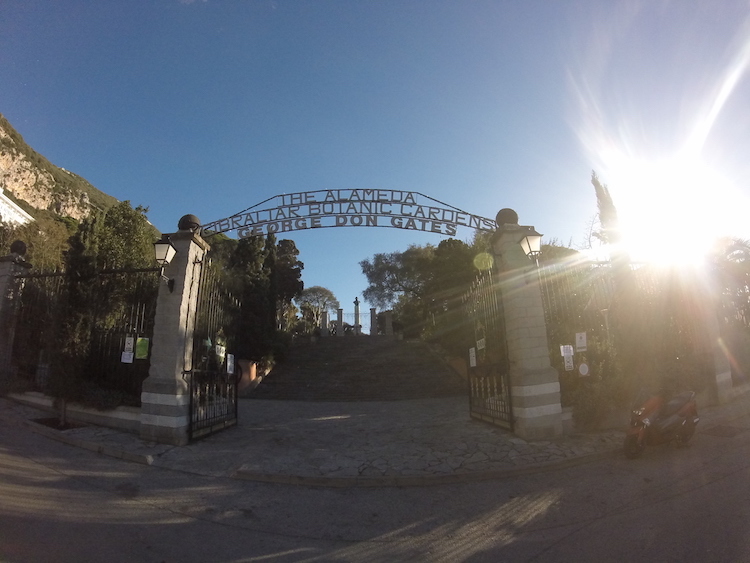 ITINERARY ALTERNATIVE: If you're short on time, you can take the cable car up to the top of rock from here the same day you arrive instead of doing the hike the next day. But if you have the extra day (and don't mind getting a little adventurous), I'd recommend dedicating more than just a few hours to the rock (we'll get into that in day #2 of the itinerary).
Stop #5: Coastal walk back to the city center
Now, it's time to head back to the city center. Instead of taking Main Street back, you can walk along the coast (Queensway Road) for a change of scenery. See map above for details.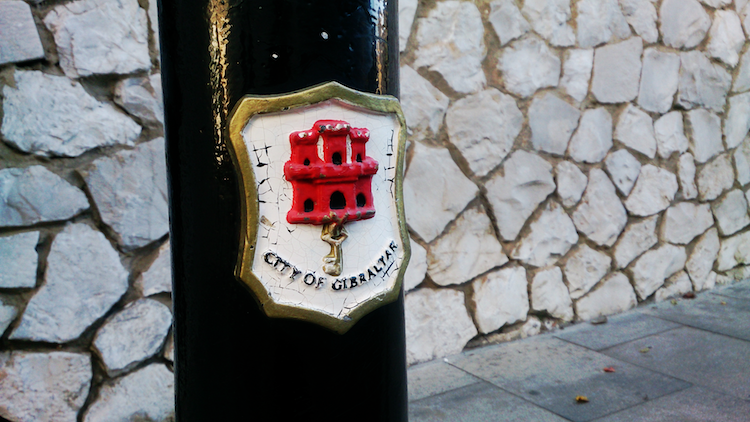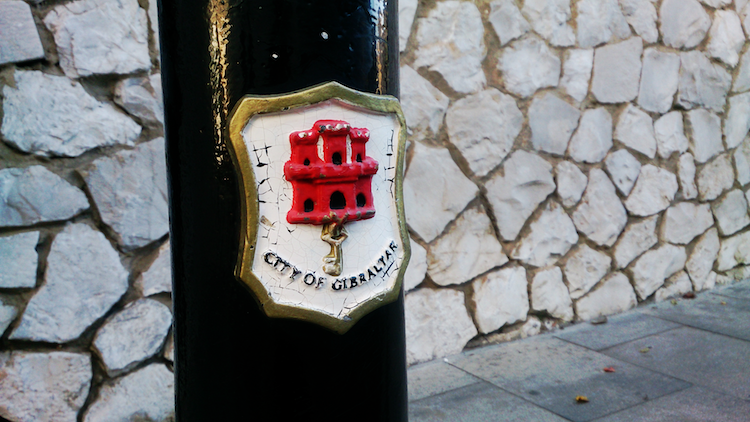 GIBRALTAR DAY #1 ITINERARY ALTERNATIVES
If you're short on time, then you can head to the rock on your first day before or after doing the other activities listed. You can either take one of the many Rock Tours offered, or take the cable car up yourself.
Here are a few other options:
WHAT TO DO IN GIBRALTAR AT NIGHT
Here's kind of a weird thing about Gibraltar – there isn't much going on at night. Or, at the very least, not when we were there.
So, honestly, we didn't really find that much to do in the evening (and we probably wouldn't have spent the night if we didn't want to spend the entire next day hiking the rock).
We personally entertained ourselves by walking to a giant grocery store, then eating disappointing M&M cookies on a bench. So, there's that. (But if you find something better to do in Gibraltar at night – please comment below!)
WHERE TO STAY IN GIBRALTAR
Unfortunately, spending the night in Gibraltar isn't very cheap. So, we actually went abnormally "fancy" (by our standards) and decided to stay on a boat. It was kinda cool, but also kinda pricey (it cost us about $80 for the night). Click below for more details:

If you're really looking for cheap accommodation in Gibraltar, you're probably better off just staying in La Linea on the Spanish side. Here is a complete list of accommodation in La Linea, and here's a highly-reviewed (and the cheapest) option:


Day #4: Hike Gibraltar's famous "rock" & head back to Málaga
Today, you get to see the real highlight of Gibraltar: the famous rock! Then, you'll finish off the day by taking an evening bus to Málaga.
WHAT TO DO IN GIBRALTAR: "UPPER ROCK" ITINERARY FOR DAY #2
Day #2 was a very active day for us that involved a steep hike up the Mediterranean steps trail, and lots of walking between all cool things to see in Gibraltar Upper Rock Nature Reserve. Altogether, we probably spent 7 hours or so exploring the rock (which we were able to do because we spent the night in Gibraltar the day before and booked our bus to Malaga at 8 PM that night).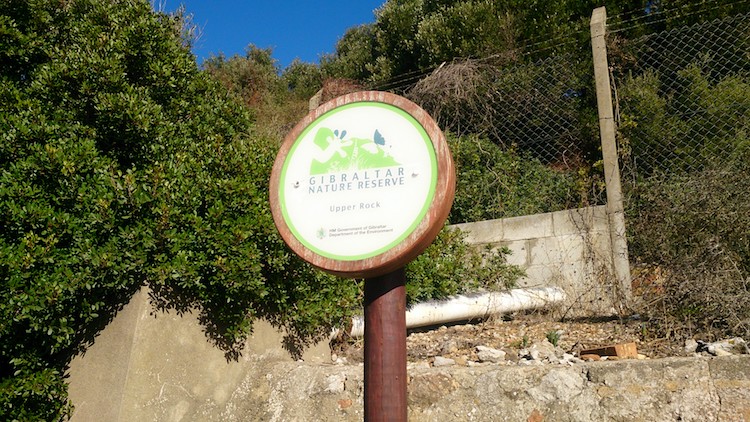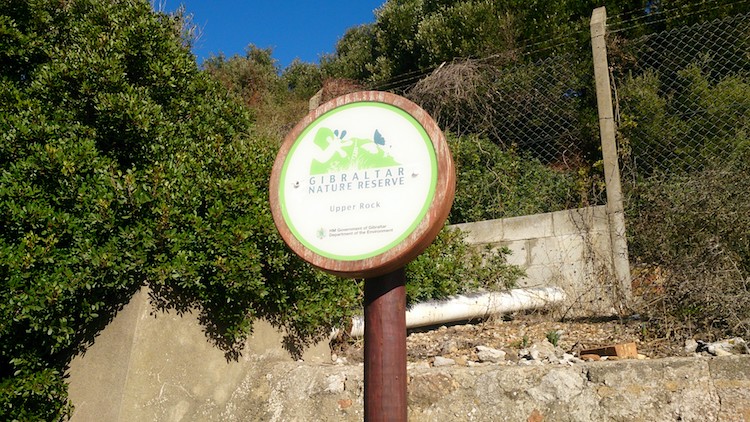 But of course, there are about a million different ways to explore the rock. So, although we'll be sharing our itinerary, we'll also drop in a few alternatives along the way so you can adapt as needed.
HOW TO GET TO AND HIKE GIBRALTAR'S MEDITERRANEAN STEPS
To start, you'll have to take a bus #3 from the downtown area. Just tell your bus driver you want to get off at the "Mediterranean Steps" or "Jews Gate," and they'll let you know when to hop off.

From there, you should see signs directing you to the "Upper Rock":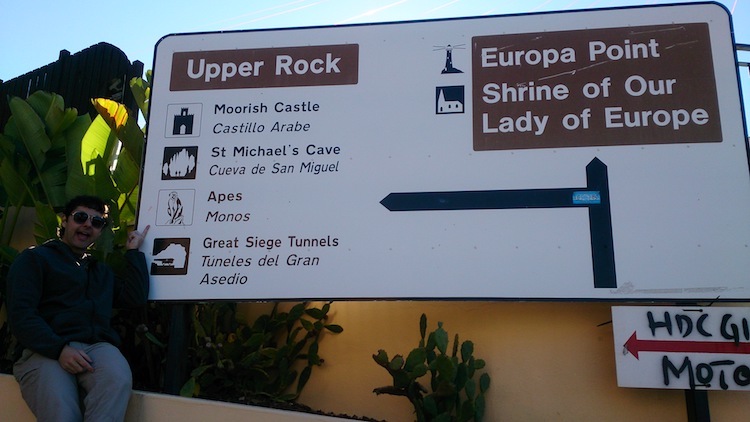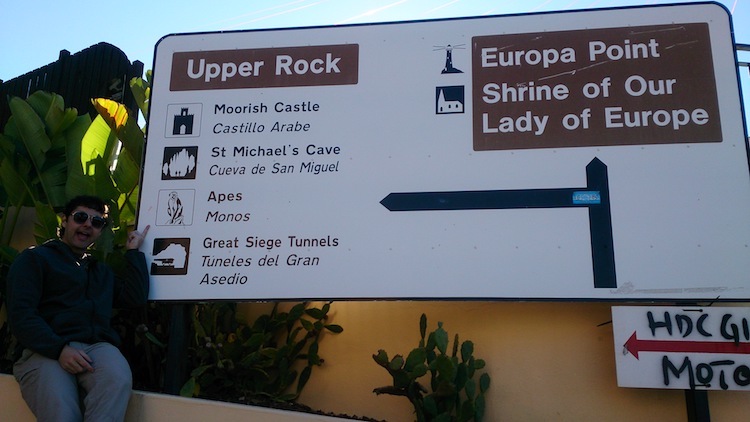 Just follow the signs and continue up the hill. You really can't get lost.
Eventually, you'll hit Jew's Gate. This is where you'll have to buy the entrance fee for the Upper Rock Attractions.
This article here gives some more info about ticket prices and covers what is and isn't included in your ticket: https://gibraltarinfo.gi/en/nature-reserve/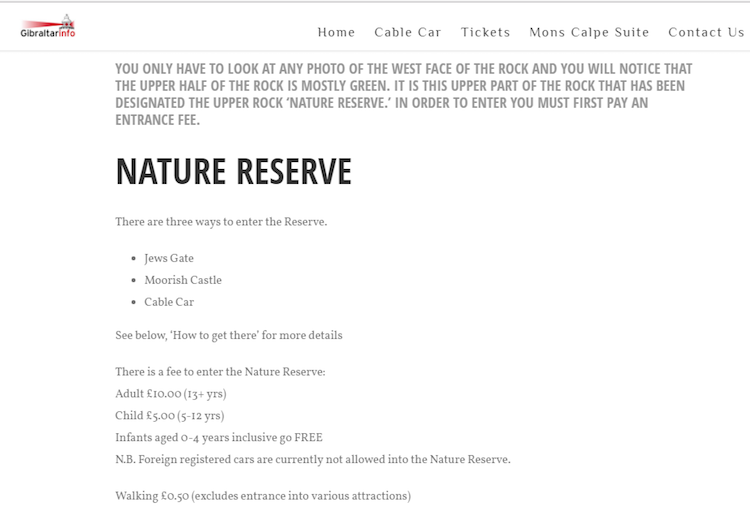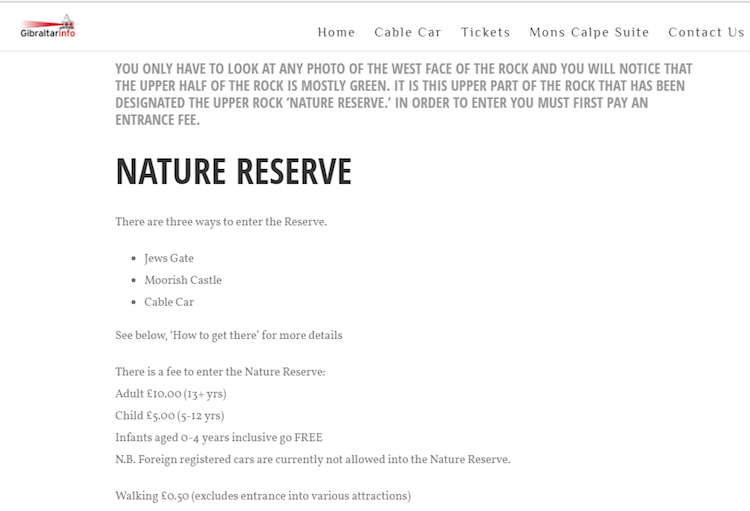 Honestly, if you have time, I'd recommend forking over the fee to visit the attractions! We really enjoyed them (and will get into more info about what they are below).
NOTE ABOUT ATTRACTIONS ON GIBRALTAR'S UPPER ROCK: O'Hara's Battery (which is included in your Nature Reserve Ticket) and the World War II Tunnels (which are NOT included in your ticket) are closed on Sundays.
Once you've purchased your tickets, you'll start the hike up the Mediterranean Steps. The hike itself is pretty strenuous and steep….but the views along the way are gorgeous. Plus, there's a lot of weird abandoned military stuff from WWII along the way that's cool to see.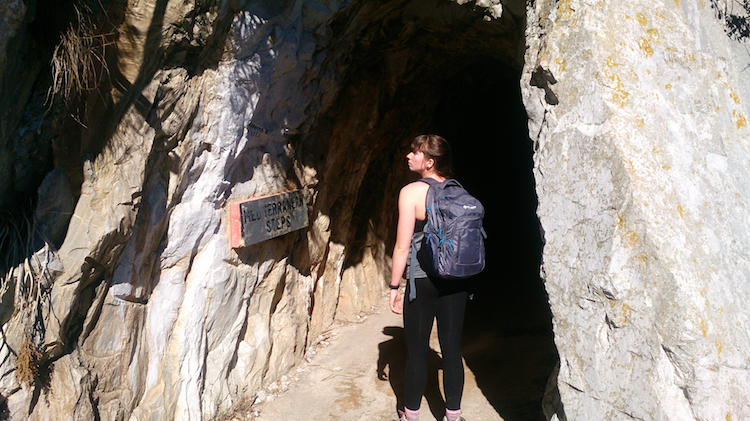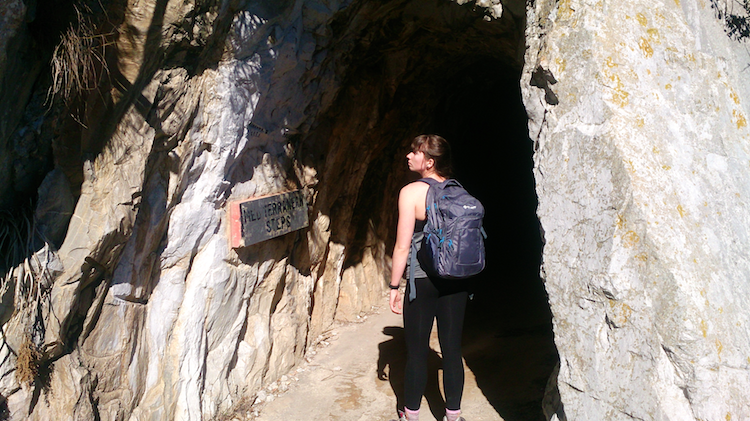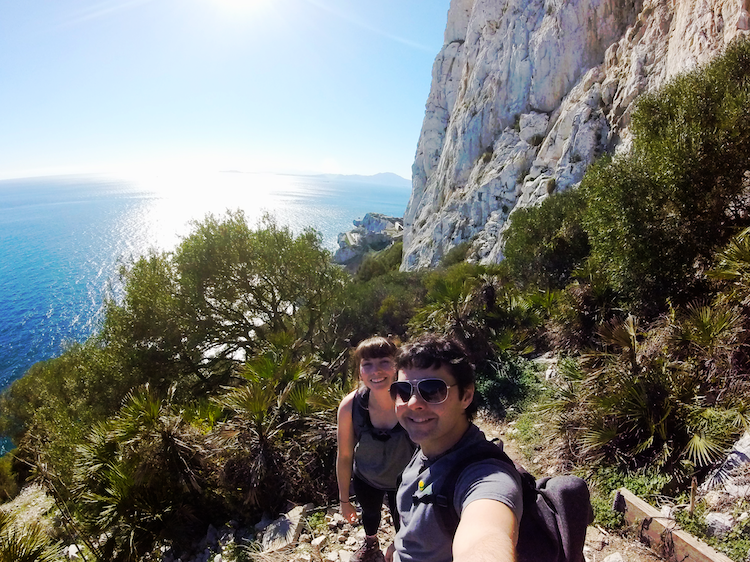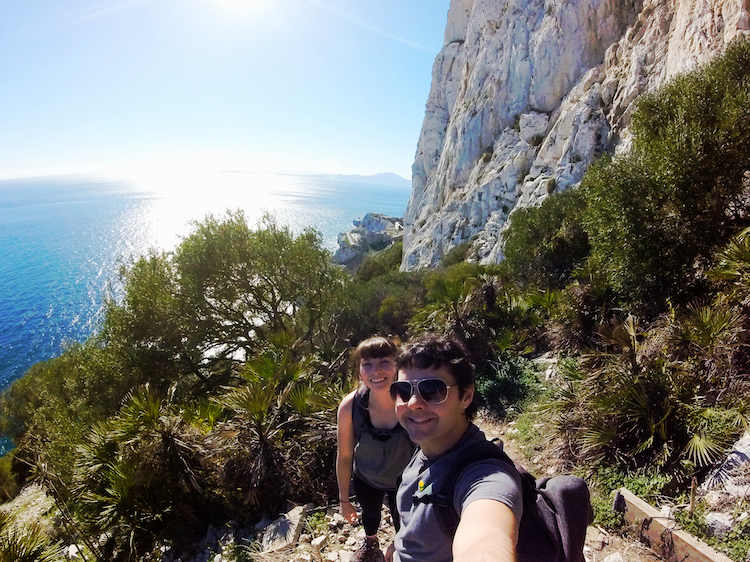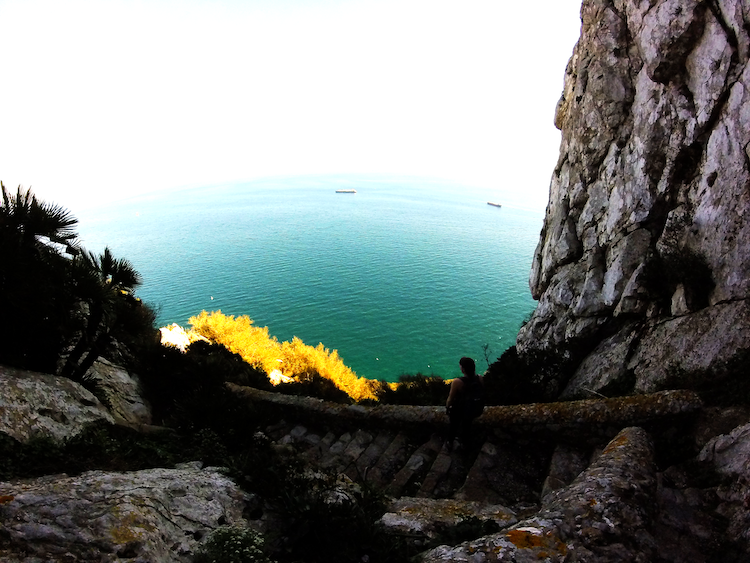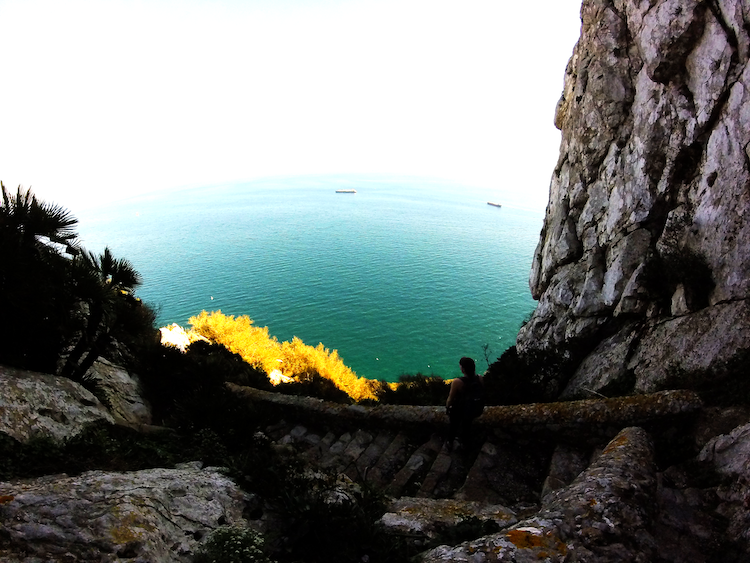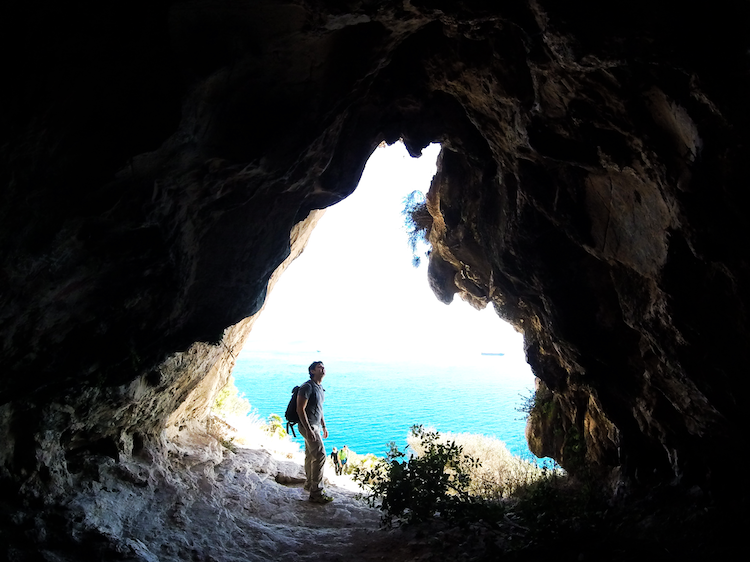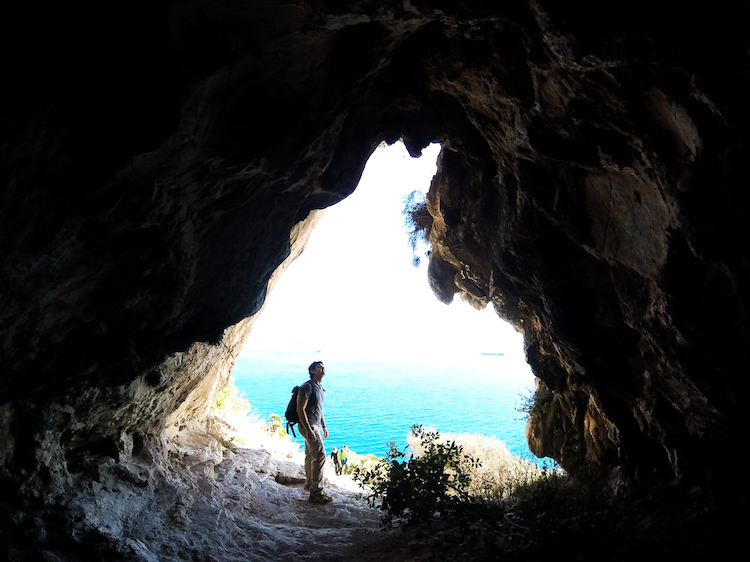 GIBRALTAR UPPER ROCK NATURE RESERVE ITINERARY
Like I said before, there's about a million ways you can do this. Seriously, just look at all the route options on this map: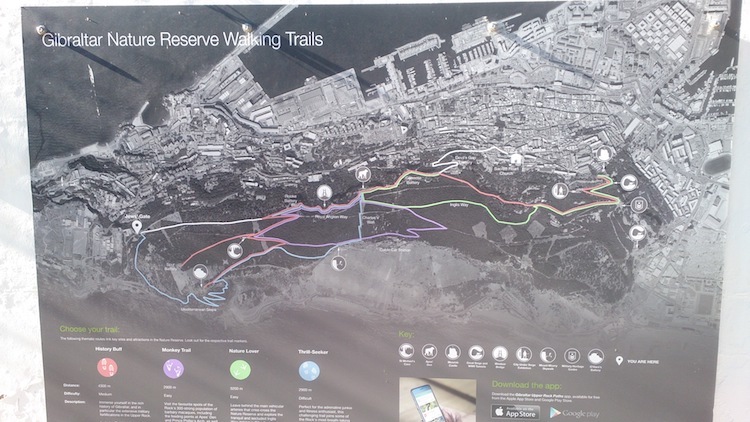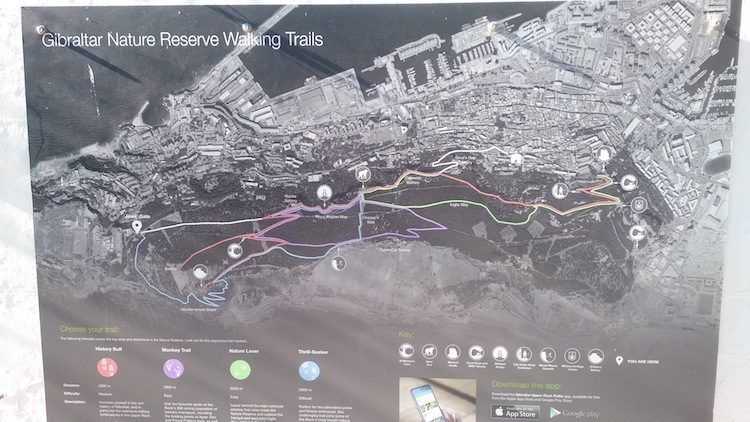 So, although I'll give you what we did here in the order that we did it, feel free to adapt and change however you like!
And one thing that's really great about the rock is that you don't need to worry about getting lost (so I won't even bother putting directions here — just pictures!). There are maps and signs all along the way, and you should also hopefully have a map that you picked up from the tourist office the day before as well.
Stop #1: Jew's Gate Entrance and the Mediterranean Steps Trail
Jew's Gate is where you'll buy nature reserve tickets and start the Mediterranean Steps Trail.
The trail will bring you to the top of the rock from the backside. Once you make it to the top of the rock, you can head down on the frontside to the other attractions.
Stop #2: St. Michael's Cave
This cave turned performance hall is well worth going to if you have the ticket (and to giggle a bit at the cheesy music).
Stop #3: Royal Anglican Way and the Suspension Bridge
After leaving the cave, follow the Royal Anglican Way path and cross the bridge. Watch out for the monkeys you might see along the way.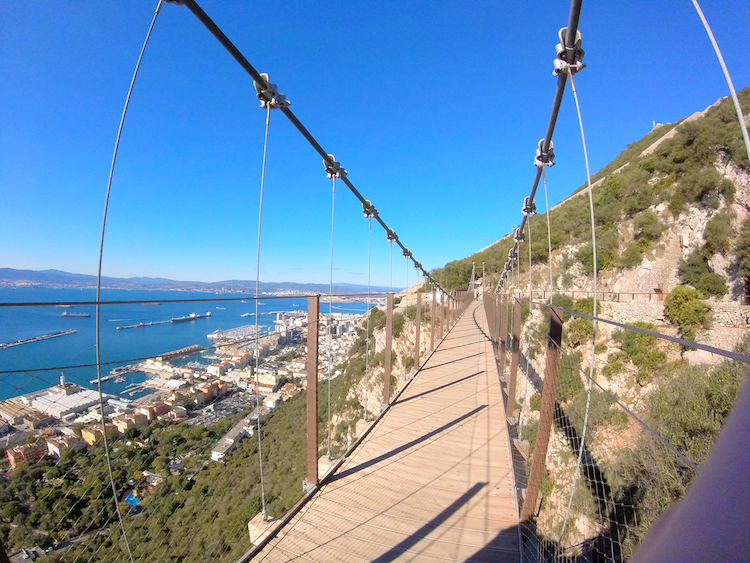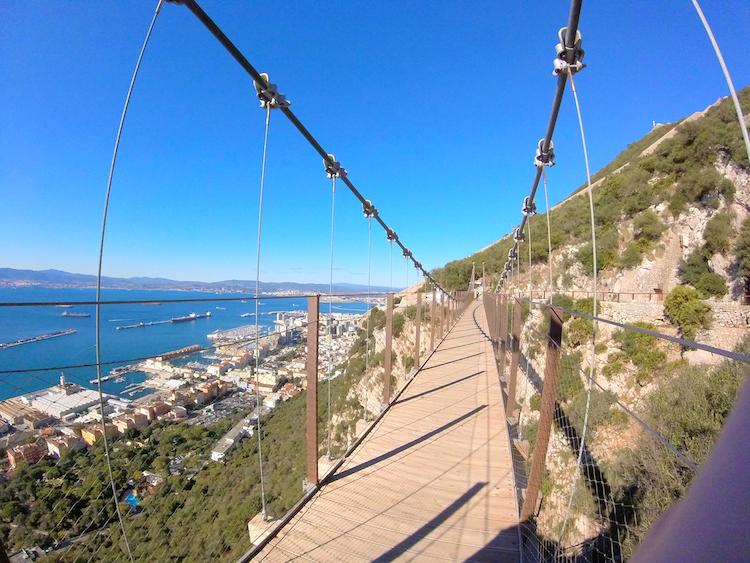 Stop #4: Ape's Den
Now, here's the part you've been waiting for (and the one thing you probably know about Gibraltar): the monkeys!
But one thing you should know: be careful with the apes! They aren't native to Gibraltar and are alarmingly comfortable with people. So, they may try to take your stuff as you walked by (I know this from a frightening experience). And they have big teeth.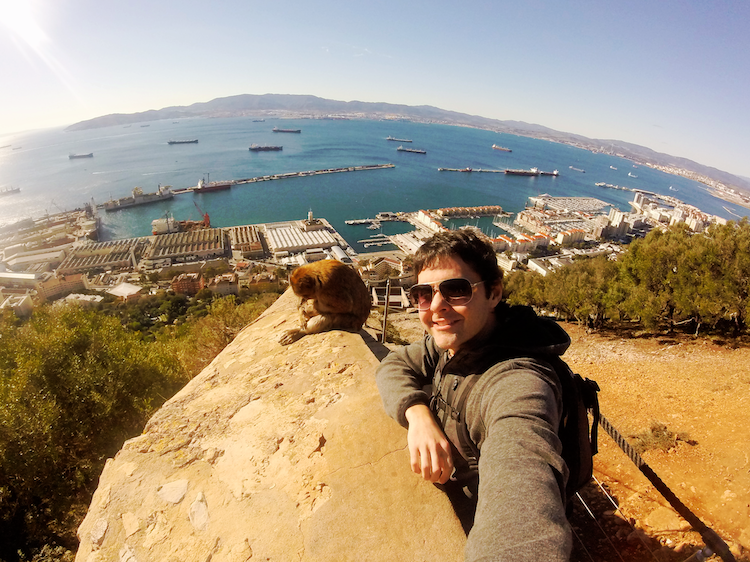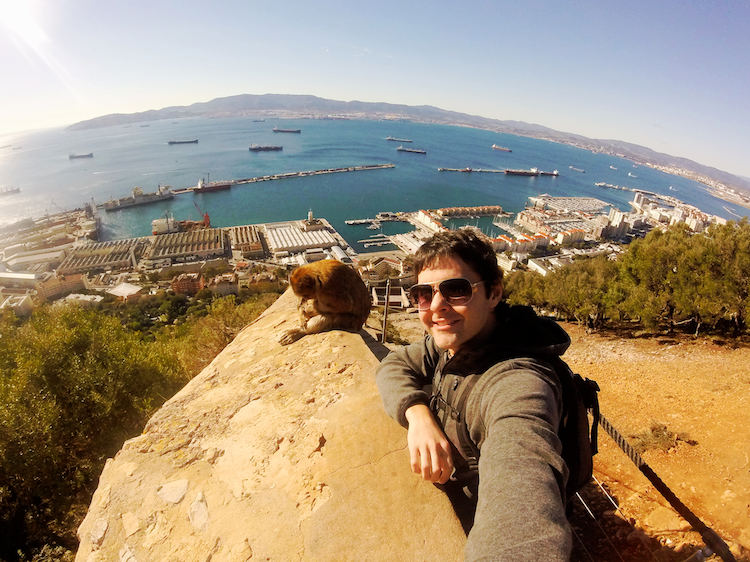 So, use your brains and please, DO NOT FEED THEM.
Your visit to the Apes Den will start at the bottom of long stairs like this: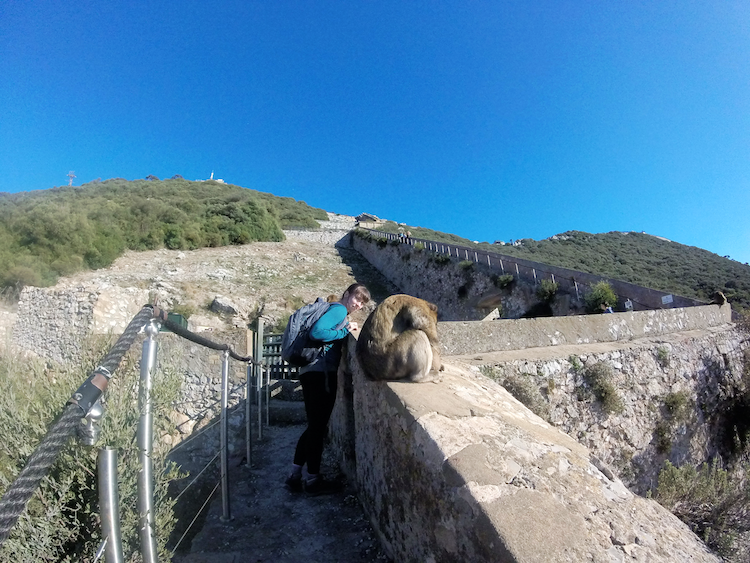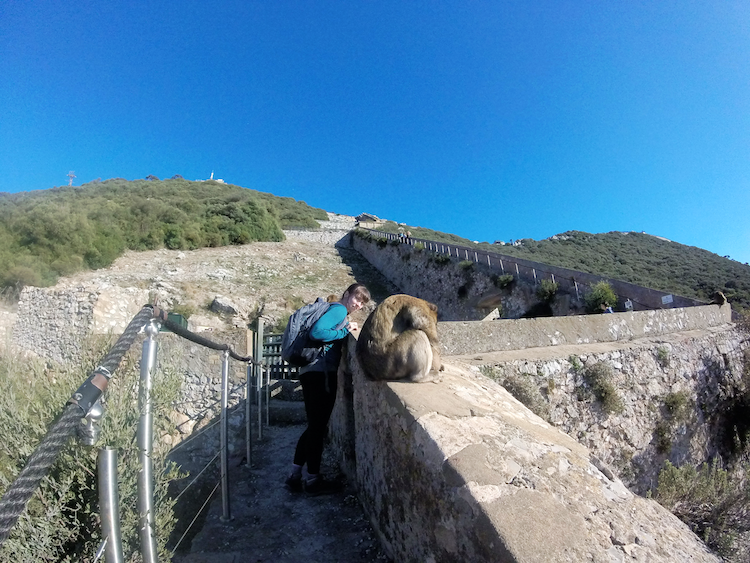 And finish at the top near where the cable car drops people off.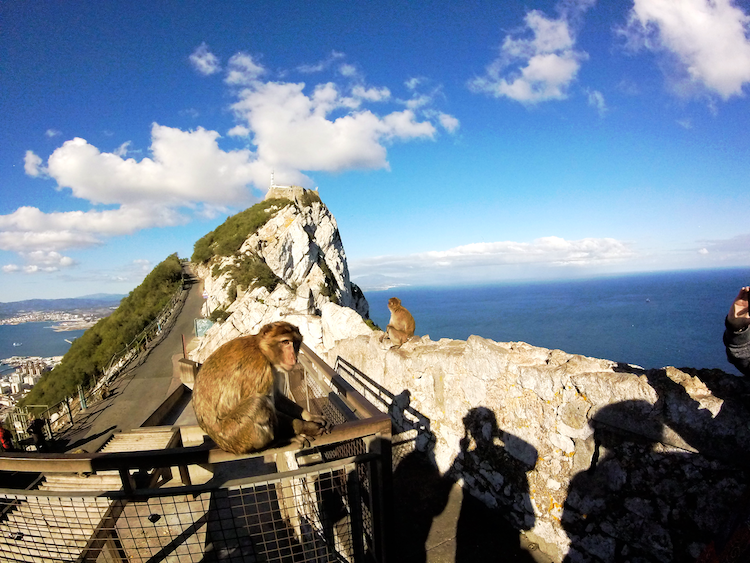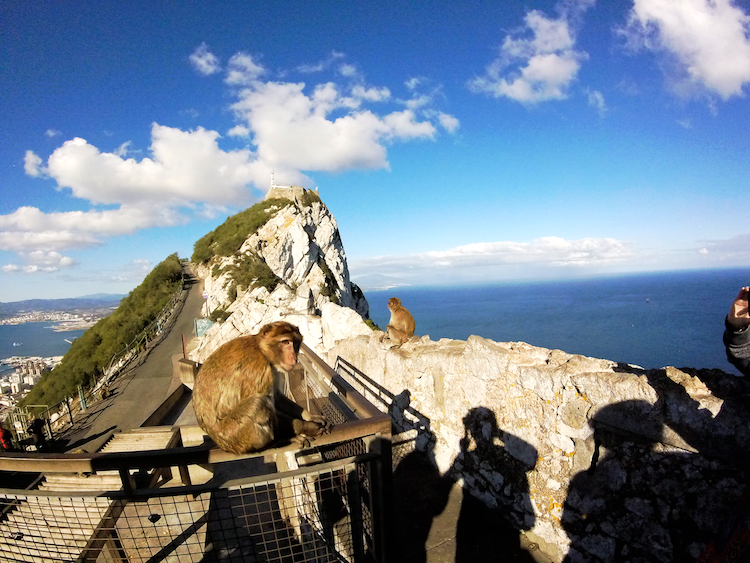 Stop #5: Great Siege Tunnels
These tunnels, whose construction began at the end of the 1700s and were still being added to even during WWII, are a great way to dig deeper into Gibraltar's history (plus get some cool city views along the way).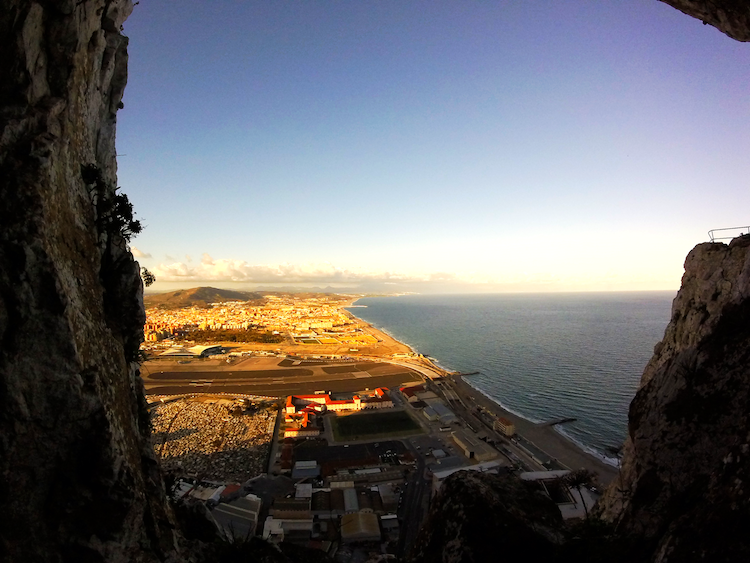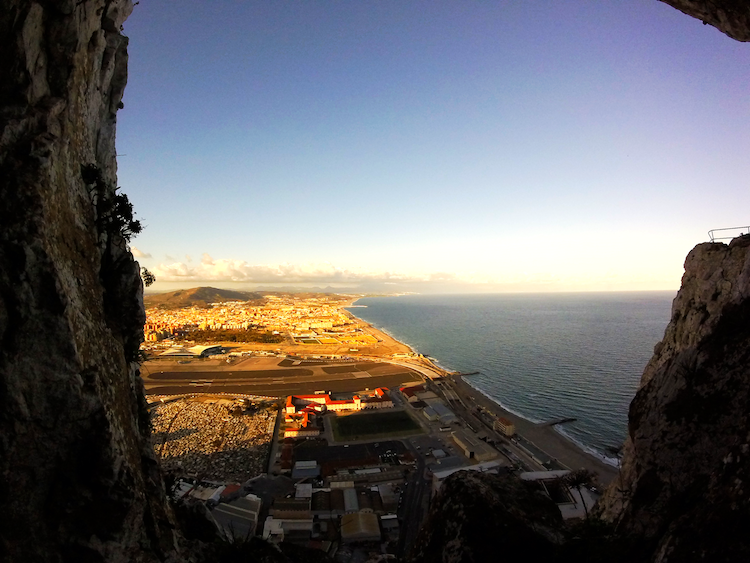 Stop #6: World War II Tunnels (not included in your ticket)
Unfortunately, these are not included in your ticket. Also, we found out the hard way that the tunnels were closed on Sunday so we weren't able to go
But if you want to visit the WWII tunnels, you have to book ahead of time by calling the phone numbers listed here: https://www.visitgibraltar.gi/tours-world-war-tunnels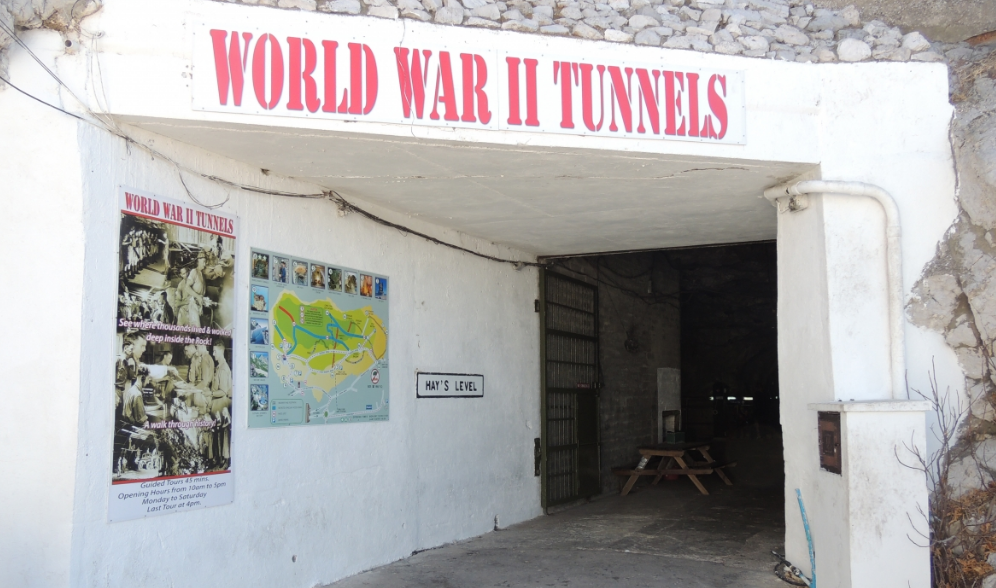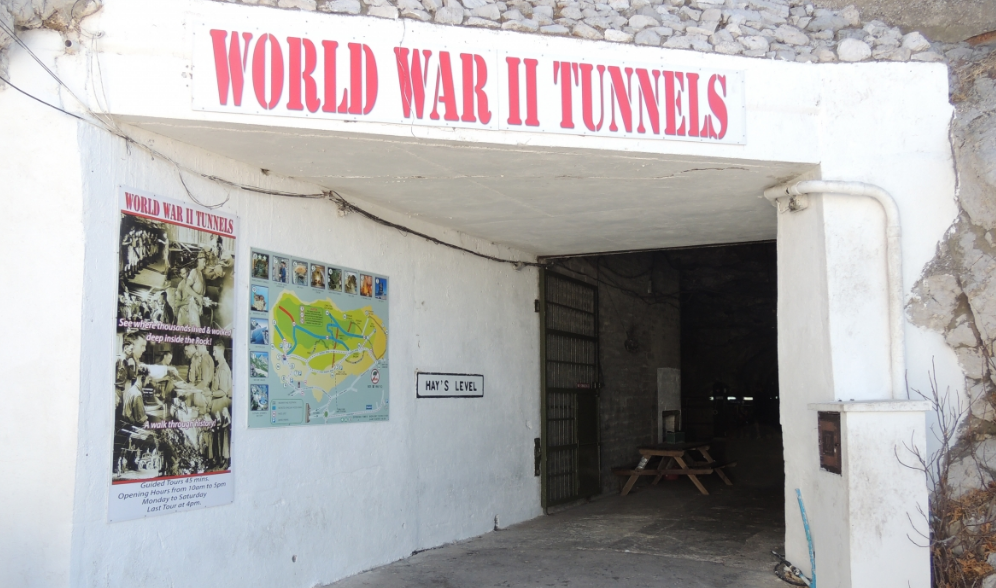 Unfortunately, it looks like you have to call them by phone since they don't have an online booking system (which is rather annoying). We usually use Skype for cheap international calls, and you can learn more about it in our article here.
Stop #7: Moorish Castle
Honestly, we were having so much fun just hiking around the rock and exploring that we only had 15 minutes or so left to check out the castle. Luckily, it's small….but was still nice to visit!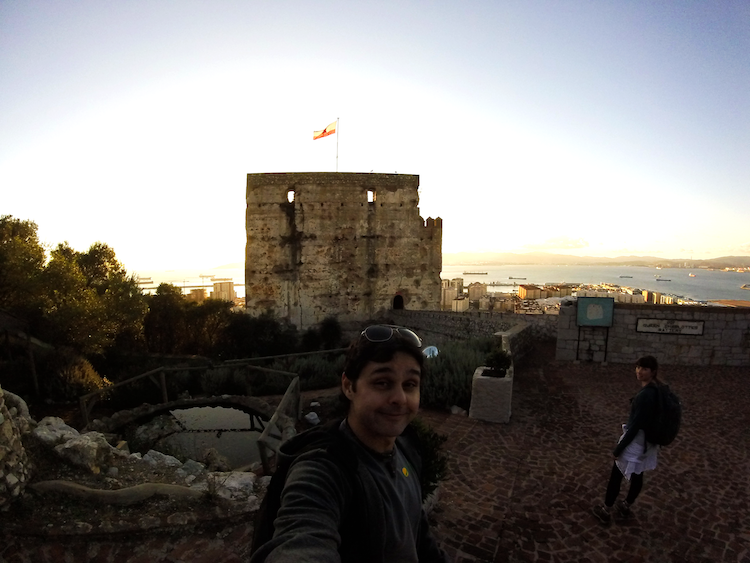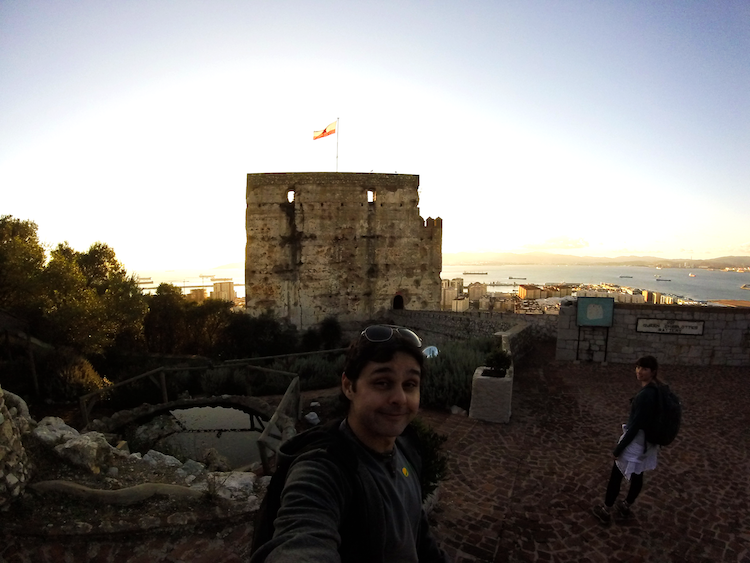 Stop #8: Back to casemates square
It'll take you about 10 minutes to get from the castle back down to Casemates Square. It's pretty straightforward and you'll just keep going down the main road, but ask a guide working at the castle for directions if you need it.
After that, you'll want to head back to your accommodation to pick up your bag…then on to the bus station to head back to Málaga!
GIBRALTAR "THE ROCK" ITINERARY ALTERNATIVES
If you're short on time or not as interested in hiking, then you have basically two options:
#1) Take a "rock" tour. There are a ton of people running them – just ask the tourist office or the place you're staying for recommendations
#2) Ride the cable one way or round trip. This is a good option if you don't want to hike/walk as much.
And keep in mind that there are also more potential stops and things to visit on the rock than just the ones we listed above….those were just the ones we chose and had time for!
HOW TO GET FROM GIBRALTAR TO MALAGA
We purchased our bus ticket at the bus terminal in La Linea for 7 PM because we knew we wanted a full day on the rock.
The bus from Gibraltar to Malaga takes about 3 hours and costs about 13 euros.
Just as when you arrived, your bus ticket will be for La Linea on the Spanish side of the border, not Gibraltar. So, you'll have to walk across the border again to the bus station.
Day #5-6: Explore Malaga
Malaga is a great city, and there's certainly enough to entertain you for as long as you want to stay (whether that's 1-2 days, or longer).
WHAT TO DO IN MALAGA: 1 DAY MALAGA WALKING ITINERARY
Stop #1: Málaga Free Walking Tour
We try to do free walking tours wherever we travel (don't know what a free walking tour is? Check out #3 on our article about you can learn more about it in our article here).…and Malaga was no exception!
It gave us a great overview of the city (particularly the old town) and let us see some of the highlights (Cathedral, Roman Theater, etc.) with some history sprinkled in.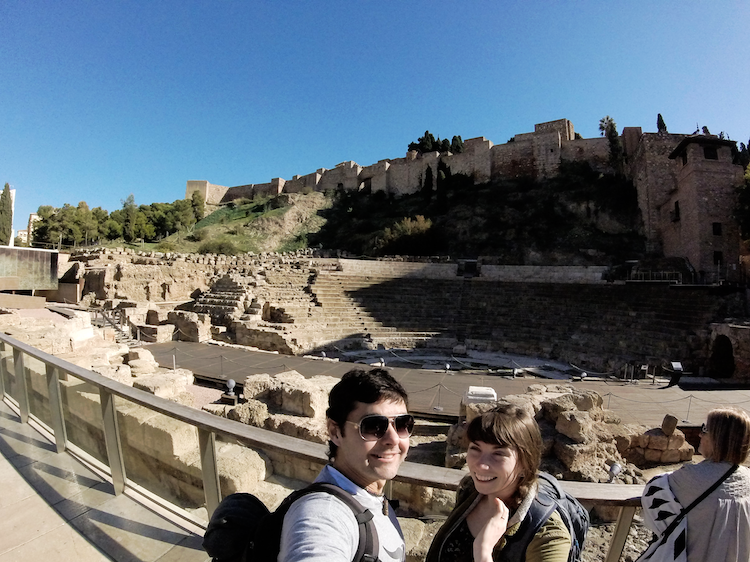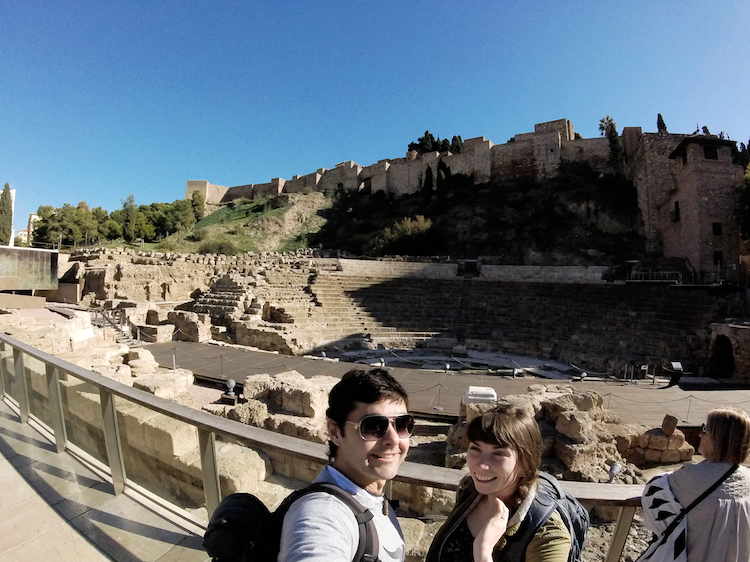 Here's the website for the free walking tour. They meet every day at 11:00 AM, and you don't need to book in advance.
Stop #2: Castilo de Gibralfaro Viewpoint
The free walking tour will end just a short walk away from the viewpoint, so that makes this a great place to head next. Just keep walking up the hill (or ask your guide for directions) until you get to the viewpoint.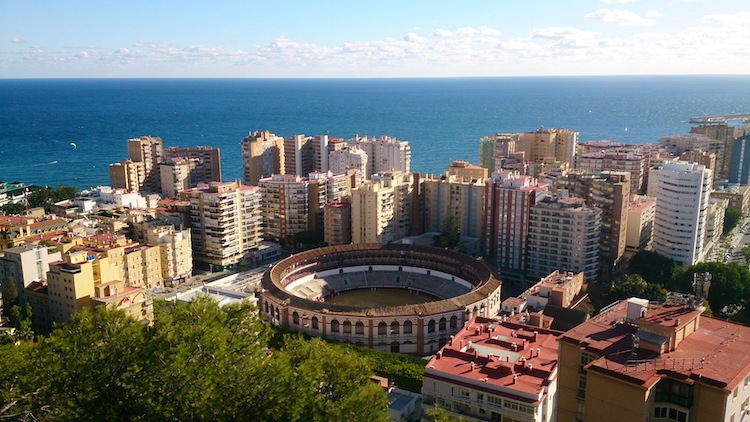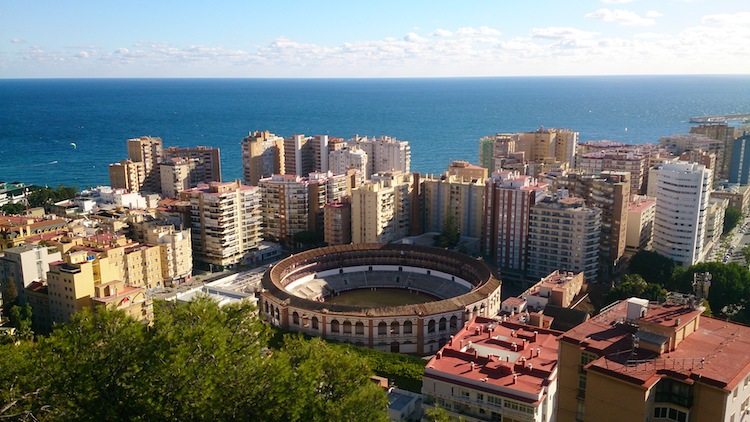 Stop #3: Paseo de La Farola ("Walkway of the Lighthouse")
Now, head downward from the viewpoint (take any of the trails going down), to this pleasant coastal walkway.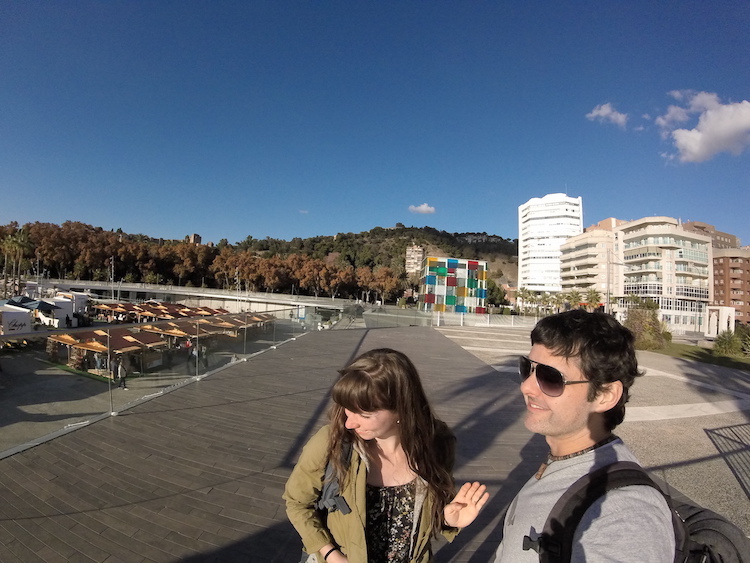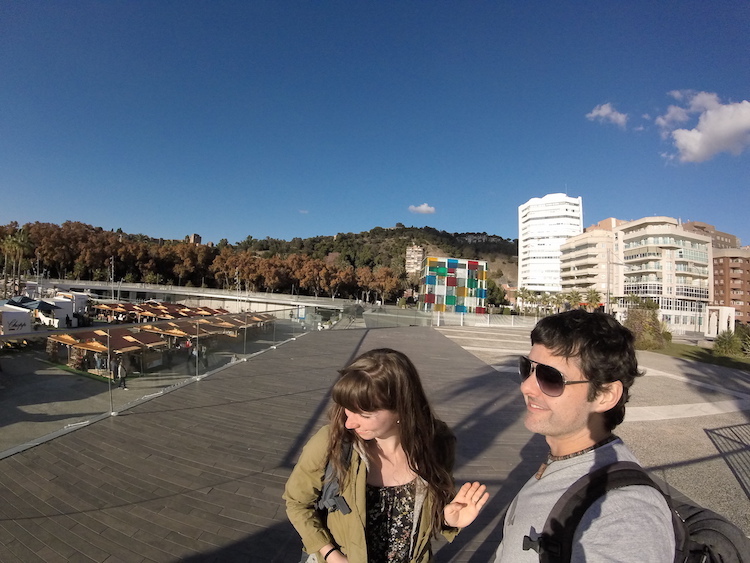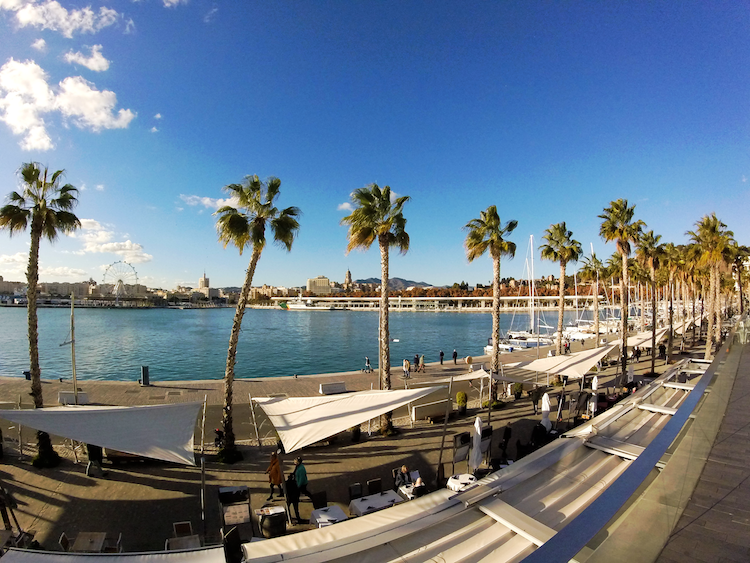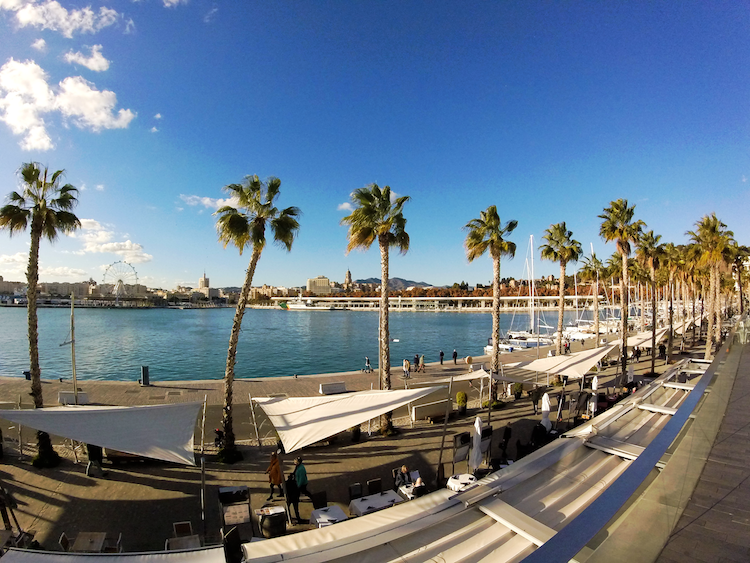 Stop #4: Paseo Del Parque
Once you hit the lighthouse, turn around and head back toward the castle. As you exit the lighthouse walk, you'll see another path with this weird white cover (as seen in the picture below).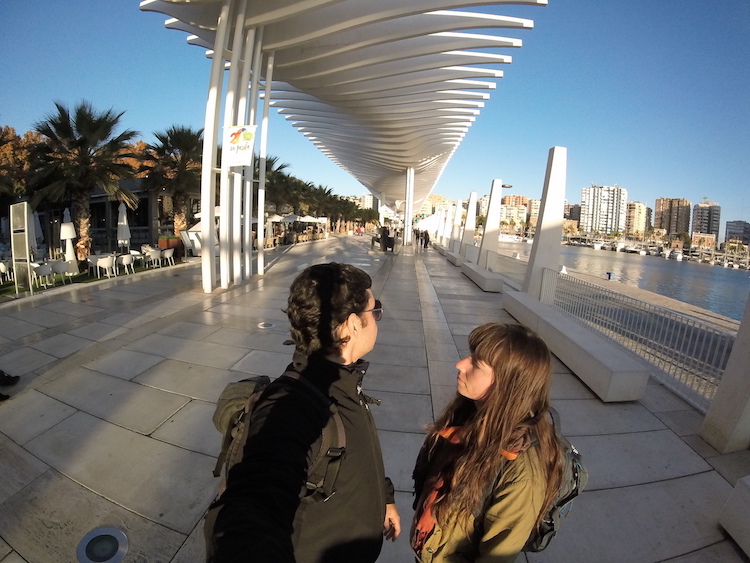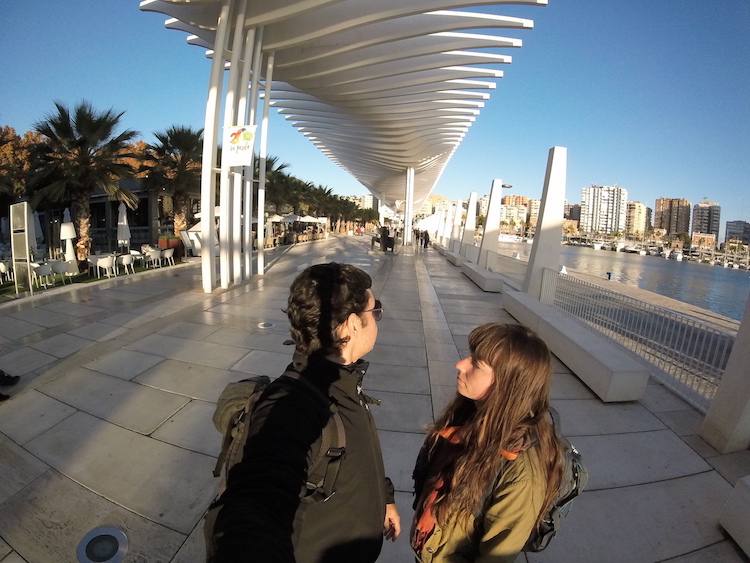 WHAT TO DO IN MALAGA: ALTERNATIVES AND DAY TRIPS
If you're extending your stay, here's a few more ideas for you:
Go inside the cathedral

Visit the Birthplace of Pablo Picasso (yes, he was born here!) and check out the

Pablo Picasso Museum

Rent a bicycle and ride along the coast

Hike in the impressive

Caminito del Rey

nearby
Other Activities and Tours to Do in Malaga
If you are looking for other activities and tours in Malaga, I recommend you take a look at Tiqets. There you can find and buy tickets, tours, and excursions in Malaga with discounted prices.
Tiqets: https://www.tiqets.com/en/malaga-c32
5% off Tiqets Coupon Code: RBBV5OFF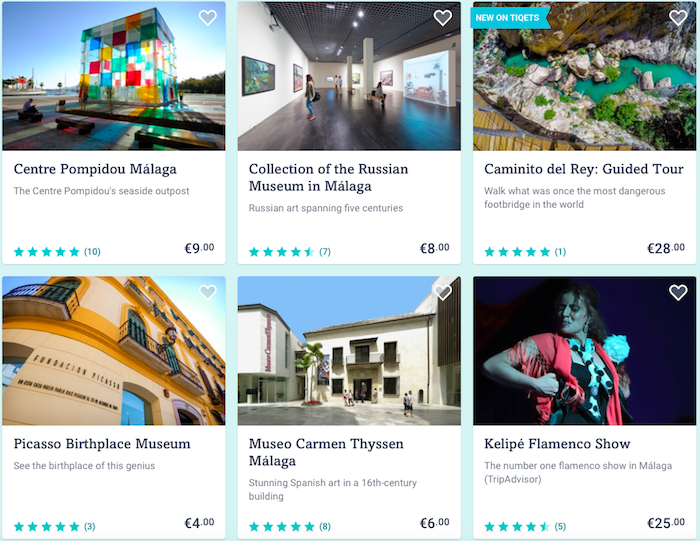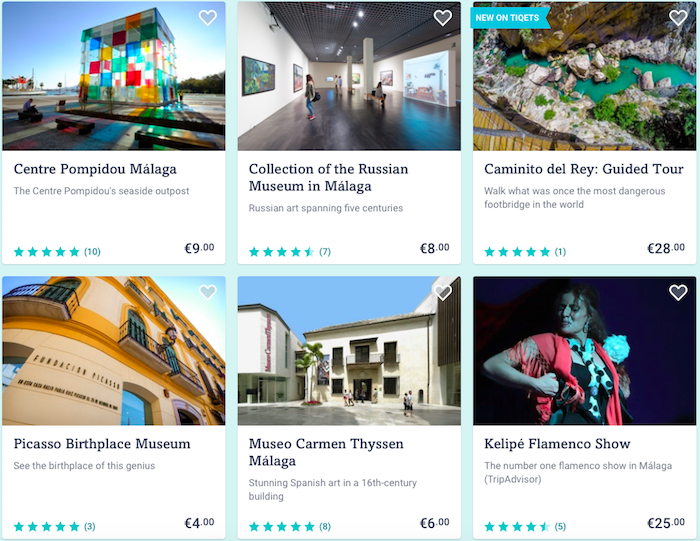 Looking for a next stop?: Where to Go Before or After This Trip
Want to extend your trip from Ceuta? Then consider:
Crossing the border into Morocco (Tangier is nearby and is a good jumping point for anywhere else in Morocco)

Take the ferry to Melilla, the other Spanish enclave in Morocco
Want to extend your trip from Malaga? Then consider any of the charming southern cities nearby like:
Cadiz

Sevilla

Grenada

Cordoba
Bonus Tips for This Itinerary (& an Awesome Trip!)
Have you been to any of the places on this list? If so, do you have anything to add? If not, what do you think of the itinerary? Let us know in the comments area below….and happy travels!
Planning your next trip?

Then don't forget travel insurance! You don't want to get stuck paying a ton of money and ruining your trip if you get sick or have an accident without travel insurance. WorldNomads is ideal for adventurous travelers, backpackers, or anyone looking to be protected during their trip. They cover almost every single activity you can image!

Already reserved your hotel or hostel? If not, we recommend Booking.com. They have a huge selection of hotels and hostels all over the world. Plus, in most cases, you can cancel your reservation without any costs up to a few days before the check-in date!

Still haven't booked your plane ticket and want to save big? Take a look at Kayak and Momondo. They are flight aggregators that combines several other ticket search websites to make it easier for you to compare prices and make sure you are getting the best deal.

And finally, will you need to rent a car during your trip? Then check out Rentalcar.com to search and compare car rental companies from all over the world on a single website. Then, you can find the cheapest price for the best car!
If you want to hear about new articles, check out our latest pictures, and read our newest updates, be sure to follow us here….
…..and subscribe to our newsletter below!