Last Updated on by Rodrigo @ OutofYourComfortZone
While having only one day to explore a city can make it feel like you're bound to miss out on things, Valencia is here to flip things around for you.
I'm lucky enough to live here, and I can assure you that Valencia is packed with history, culture, and delectable food that's sure to leave an impression. From enjoying horchata in a charming café to wandering through architectural wonders, Valencia offers a rich tapestry of experiences.
And sure, while only having one day here might not be ideal, you should see it instead as a great way to get a taste of the city – that hopefully encourages you to come back again!
In this guide, I'm going to show you how to make the most of a single day in Valencia. I'll cover historical sites, food hotspots, and a bit of the contemporary scene.
Whether you're here on a tight schedule or just looking to explore, this guide has got you covered. Ready to dive into Valencia's vibrant offerings? Let's get started!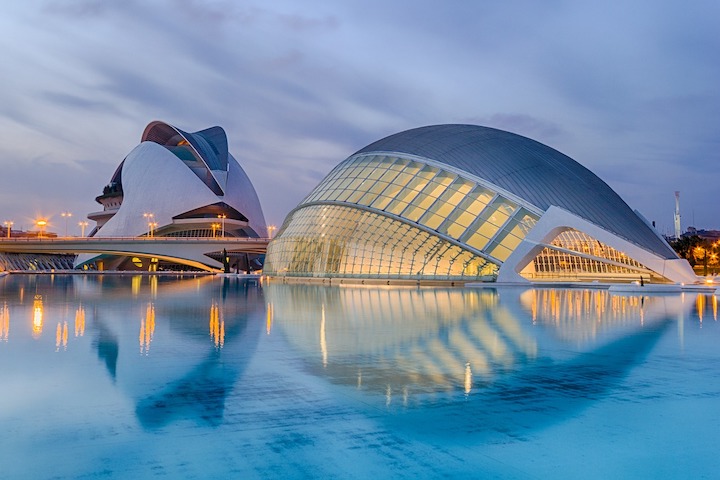 What to do in the Morning at Valencia
Mercado Central: A Feast for the Eyes… and Stomach!
Let's start our morning with the lively hum of Mercado Central – this place is the beating heart of Valencia! As you waltz into this grand Art Nouveau treasure, you can almost hear the walls singing with history.
Feast your eyes (and tummy) on mountains of fresh fruits, artisan cheeses, and a rainbow of seafood – it's like Mother Nature's buffet on full display!
And, speaking of feasts, make sure you seize the day with a Valencia orange. A bite into its juicy goodness is like catching a piece of Spanish sunshine in your mouth.
Silk Exchange: Step Back in Time
Just a hop, skip, and a jump away, La Lonja de la Seda is whispering for us to step back in time. As you enter the grand Contract Hall, with its mesmerizing, spiraling columns reaching for the heavens, it's as if you've wandered into a scene from a historical drama.
Once the pulsating hub of the Silk Road, this place is brimming with tales that transport you to Valencia's days of yore. A true historical goldmine!
Valencia Cathedral: An Architectural Symphony
Next, let's amble over to Valencia Cathedral – a place where history weaves together three stunning architectural styles into one magnificent tapestry. The Cathedral is a dance of Romanesque, Gothic, and Baroque designs.
Want to see Valencia from up high? Take on the Miguelete tower's 207-step challenge – the view at the top is Valencia's way of giving you a high five!
And, don't forget the mystical Chapel of the Holy Grail. Real or not, its history is as rich as they come.
Plaza Redonda: Wander into a Fairytale
Now, let's tiptoe into the picturesque Plaza Redonda – Valencia's adorable secret. With its round shape and delightful shops selling cute trinkets, it feels like we've wandered into a storybook!
If you're here on a Sunday, you'll find a buzzing stamp and coin market, where you can hunt for treasures.
Horchateria Santa Catalina: A Sip of Sweet Tradition
To wrap up your morning adventure, let's head to the legendary Horchateria Santa Catalina. Under the kaleidoscope of its tiled interior, savor a glass of 'horchata', Valencia's sweet, nutty nectar.
Don't forget the 'farton' – it's like a cloud of sugary heaven, perfect for dipping into your drink. Yum!
What to do at Lunchtime
While the fartons might keep you going for a little while, you wouldn't be blamed if your stomach starts rumbling right around now. Fortunately, it's time for lunch in the heart of the Old Town!
Old Town Valencia is like a treasure chest of cozy eateries, and oh, the golden treasure here is none other than the glorious paella! Originating from Valencia's lush rice fields, paella isn't just food – it's like a warm hug from history and culture.
Imagine savoring juicy rabbit, tender chicken, and hearty green beans all perfectly married in a delicious rice ensemble. Enjoying this in the midst of the ancient, romantic backdrop of the Old Town is almost like Valencia's history is joining you for lunch.
How to spend your afternoon in the city
Ciutat Vella: A Tapestry of Eras
Post-lunch, let's wander through the charming lanes of Ciutat Vella, Valencia's Old Town. It's like an open-air museum, where cobblestones whisper tales of yore and the walls are a canvas for today's dreams through vibrant street art.
Plaza de la Virgen: Where Stories Come to Life
Next, you'll saunter over to Plaza de la Virgen, the beating heart of Valencia's soul. Surrounded by the Cathedral and the Basilica, this square is like an old photograph come to life with the Turia Fountain joyfully presiding over the daily bustle.
Basílica de la Virgen de los Desamparados: Embrace Serenity
Just around the corner, the Basilica de la Virgen de los Desamparados awaits with open arms. With frescoes that feel like a caress from the heavens, this place is not just for history buffs and art lovers, but for anyone seeking a serene moment.
Café de las Horas: Eccentric Elegance in a Glass
Feeling footsore? Café de las Horas is calling us to sink into its plush charm. With its quirky Baroque flair, it's like stepping into a deliciously eccentric daydream.
Order the agua de Valencia. Spoiler alert – this cocktail, with its symphony of cava, Valencia orange juice, vodka, and gin, is about to become your new favorite. Cheers!
Torres de Serranos: Standing Tall Through Time
Feeling rejuvenated? Let's cap off the afternoon with a visit to Torres de Serranos, an age-old guardian of Valencia.
Climbing this iconic landmark might seem like a mini-quest, but at the top, Valencia unfolds before you like a beautiful map. Breathtaking!
Turia Gardens: Nature's Embrace in the City
As daylight dims, let's wander through Turia Gardens – the green ribbon that adorns Valencia.
Once a river, this stretch is now a symphony of green with sports fields, sculptures, and fountains. It's a lush, peaceful haven for tired feet.
Make sure you head through the park in the right direction for your next destination, which is…
City of Arts and Sciences: Skyward Dreams
Our afternoon stroll brings us to the gates of tomorrow – the City of Arts and Sciences. Here, futuristic buildings seem to defy gravity. As the sun sets, the complex is draped in magic.
Check out the Hemisfèric, the eye that looks into the universe, or dive into the world's oceans at the Oceanogràfic. As you marvel at these wonders, you'll see Valencia isn't just a city – it's a dream, a story, a future waiting to be lived.
As the sky blushes with twilight, we bid adieu to the afternoon, knowing that Valencia has imprinted its beauty and charm on our souls.
What to do in the Evening
As day turns into night, Valencia doesn't slow down – it transforms! The streets take on a magical glow, and the city whispers secrets through the cool evening breeze.
As your day draws to a close, let's make the most of the time you have left!
Dinner in Ruzafa:

As moonlight drapes itself over Valencia, we tiptoe to Ruzafa – or as it's known in Valencian, Russafa – the culinary heartthrob of the city. The streets here flirt with your senses; the aroma of sizzling dishes lingers in the air and laughter bubbles from the alfresco eateries.
This neighborhood is a tapestry woven from threads of the past and stitches of the new. The vintage facades whisper tales, while inside, contemporary menus sing songs of culinary innovation.
So get ready to feast – and, fortunately, Ruzafa has a banquet of choices. From cozy tapas bars where you can relish patatas bravas like grandma made them, to avant-garde restaurants experimenting with flavors that your taste buds didn't even know existed – it's all here.
Vegans and vegetarians, fret not; Ruzafa is a treasure trove. Discover quaint eateries serving up plant-based delights, from classic gazpacho to inventive seitan tapas.
And oh, the atmosphere! The streets come alive as brightly colored houses overlook the scene, with the sound of great times spilling out of each café and bistro. The clinking glasses, the cheerful chatter, the soft strumming of a Spanish guitar somewhere in the distance – it's pure magic.
But wait, let's not wrap up just yet! What about dessert? May I suggest trying a churro dipped in thick, velvety chocolate, or perhaps a slice of tarta de Santiago? Your sweet tooth will thank you!
It's crazy to think that Ruzafa was a seriously undesirable neighborhood only a decade ago. Seeing it today, it's like Valencia's own little Soho.
So as the night whispers its goodbyes, and you take that last sip of local red wine, I hope you think of all the flavors, the sounds and the sights of Valencia that you've been able to dive into today.
And, dare I say it, hopefully you've tasted just enough of the city to dive right into the entire buffet of experiences it can offer you next time!
Author bio: Anna is the founder of Spain Inspired, where she shares insider tips and hidden gems to inspire visitors to take the road less traveled and explore Spain like a local. Now living in Valencia, Anna's made it her mission to help fellow travelers experience the very best of this stunning country – with some great wine and tapas along the way, ideally!
Planning your next trip?

Then don't forget travel insurance! You don't want to get stuck paying a ton of money and ruining your trip if you get sick or have an accident without travel insurance. WorldNomads is ideal for adventurous travelers, backpackers, or anyone looking to be protected during their trip. They cover almost every single activity you can image! Plus, you can have a 5% discount with the coupon code comfort5.

Already reserved your hotel or hostel? If not, we recommend Booking.com. They have a huge selection of hotels and hostels all over the world. Plus, in most cases, you can cancel your reservation without any costs up to a few days before the check-in date!

Still haven't booked your plane ticket and want to save big? Take a look at Momondo. It's a flight aggregator that combines several other ticket search websites to make it easier for you to compare prices and make sure you are getting the best deal.

And finally, will you need to rent a car during your trip? Then check out Rentalcar.com to search and compare car rental companies from all over the world in a single website. Then, you can find the cheapest price for the best car!