Last Updated on by Talita
13 excellent and different guided tours around Spain. Tours with a variety of prices, days, destinations, themes, age, luxury level, and adventure.
Spain is one of the most popular tourist destinations in the world, attracting millions of visitors each year. With its rich history, vibrant culture, stunning landscapes and renowned cuisine, the country offers an unforgettable experience for travelers.
The country is known for its historic cities such as Madrid, the country's capital, and Barcelona, another iconic city famous for Antoni Gaudí's unique architecture, including the Sagrada Familia and Park Güell.
Hispanic territory is also blessed with a stunning coastline, offering incredible beaches on both the Mediterranean Sea and the Atlantic Ocean. The Costa del Sol, in the Andalusia region, is a popular destination for sun worshipers, with its beautiful beaches and lively nightlife. The Balearic Islands, such as Mallorca, Ibiza and Menorca, are paradisiacal destinations for those looking to relax on white sand beaches and crystal clear waters.
In addition, Spain has a cultural heritage, which you can discover through its architecture or its traditional festivals, which are popular and unique events.
Spanish cuisine is an attraction in itself, with delicious tapas, paella, churros and sangria. Each region has its own gastronomic specialty, and food lovers can explore different flavors and local products at traditional markets in various cities.
For art enthusiasts, Spain is home to a wealth of masterpieces. In addition to the Prado Museum, in Madrid, there is also the Reina Sofia Museum, where Picasso's famous painting "Guernica" is on display, and the Picasso Museum, in Barcelona, which exhibits a large collection of the artist's works.
With its pleasant climate, diverse landscapes, fascinating history and vibrant culture, Spain is a must-see destination for travel lovers. Whether exploring its vibrant cities, relaxing on sunny beaches or savoring its rich cuisine, Spain offers a unique and memorable experience for all types of visitors.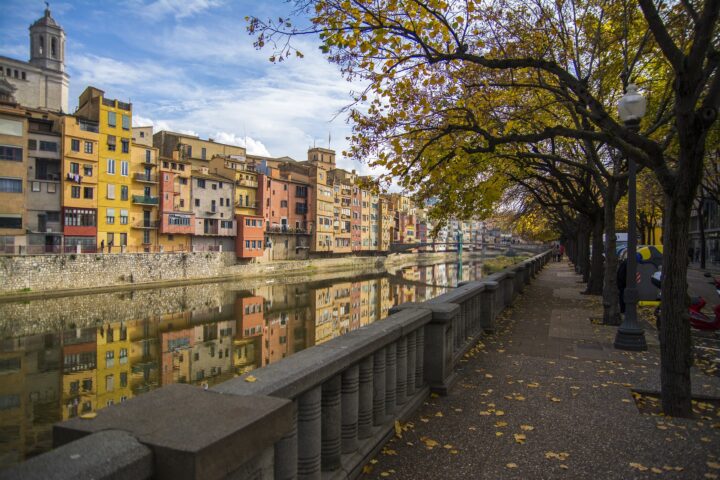 Top 10 Tourist Attractions in Spain
Before diving into the excursions themselves, we thought it would be nice to introduce some of Spain's most famous tourist attractions to facilitate your search for tours, itineraries, and experiences that align with your interests.
As mentioned above, the country is rich in history and culture, boasting several impressive tourist attractions. Here are the top 10 tourist attractions in Spain:
Sagrada Familia in Barcelona:

One of Spain's most famous landmarks, this magnificent temple designed by architect Antoni Gaudí is a masterpiece of modernist architecture.

Cathedral of Santiago de Compostela:

A Christian pilgrimage site, this medieval cathedral is the final destination of the famous Camino de Santiago and is considered one of the country's main sacred sites.

Alcazar of Segovia:

A fortified castle dating back to the 12th century, with imposing architecture and a privileged location on a cliff, offering breathtaking views of the city.

Park Güell in Barcelona:

Designed by Antoni Gaudí, this park is a masterpiece of Catalan modernism, featuring colorful structures, mosaics, and panoramic views of the city.

Alhambra in Granada:

A complex of Moorish palaces and fortresses dating back to the 14th century, renowned for its beautiful gardens, stunning architecture, and panoramic views of the city.

Plaza de España in Seville:

An iconic square with impressive architecture, surrounded by a canal where you can take a boat ride and admire the colorful tiles representing the Spanish provinces.

Mosque-Cathedral of Córdoba:

An impressive monument blending Islamic and Christian elements, famous for its Moorish-style arches and columns.

Royal Palace in Madrid:

The official residence of the Spanish royal family, this palace is an impressive example of Baroque architecture and houses a rich collection of art and historic furniture.

Prado Museum in Madrid:

One of the world's most important art museums, with a vast collection of masterpieces by Spanish and international artists such as Velázquez, Goya, El Greco, and Rembrandt.

Old City of Toledo:

A well-preserved medieval city known for its churches, synagogues, historic fortifications, and being a significant center for steel production.
Is it better to travel independently or on group tours in Spain?
Regardless of whether you choose to travel independently or on a group tour in Spain, both options have their pros and cons.
Opting for independent travel offers greater flexibility in planning a personalized itinerary and choosing activities that interest you. It also allows autonomy in deciding when and how to engage in these activities, enabling you to explore the country at your own pace. Affordability can also be a positive factor, as this option can be more budget-friendly depending on the choices made.
However, independent travel requires detailed planning, including research on accommodation, transportation, and activities, which can be time-consuming and effort-intensive. Additionally, communication may become a hurdle if you are not proficient in Spanish, and there are higher safety risks, especially in more remote areas.
On the other hand, a guided group tour offers companionship and is a great opportunity to meet like-minded people. It is also easier and safer to travel in a group, especially when accompanied by a knowledgeable local guide. However, this option may limit the freedom to explore the country more freely, as you will be restricted to the predetermined schedules and activities of the group.
In summary, the choice depends on personal preferences. Both options have advantages and disadvantages, and it is necessary to evaluate which one is the best fit for you and your traveler profile.
If you choose to travel individually, I recommend checking our article with 7 Unmissable Things in Spain.
| | |
| --- | --- |
| Pros of traveling on a group tour | Pros of traveling on your own |
| Company and opportunity to meet people with similar interests | Flexibility to create your own itinerary and choose activities |
| Peaceful and fun group experience | Autonomy to follow your own schedule |
| More safety when riding in a group, especially with an experienced local guide | Freedom to explore Iceland without having to stick to a schedule |
| Less need for planning and research as the tour already provides accommodation, transport and activities | Potential savings, since depending on the choices it can be cheaper |
| Possibility of access to places or activities that may be difficult or impossible to reach alone | Greater challenge and opportunity to learn and grow with the experience of planning and conducting your own trip |
13 Best Tours and Itineraries to Explore Spain
Best Tours and Itineraries in Spain for Guided Small Group Adventures
1. GAdventures – Classic Spain (15 Days)
In Spain, a country full of flavor, art and passion, there is no place for half measures. Start in the south, where the Andalusian capital, Seville, will introduce you to the most ardent of dances – flamenco.
Head north and sample Spain's Basque and Catalan provinces: vibrant Barcelona, laid-back San Sebastián, famous Logroño cuisine, cosmopolitan Madrid and the mighty Pyrenees. Each region of Spain has its own distinct character, style and language to offer. Find it all here.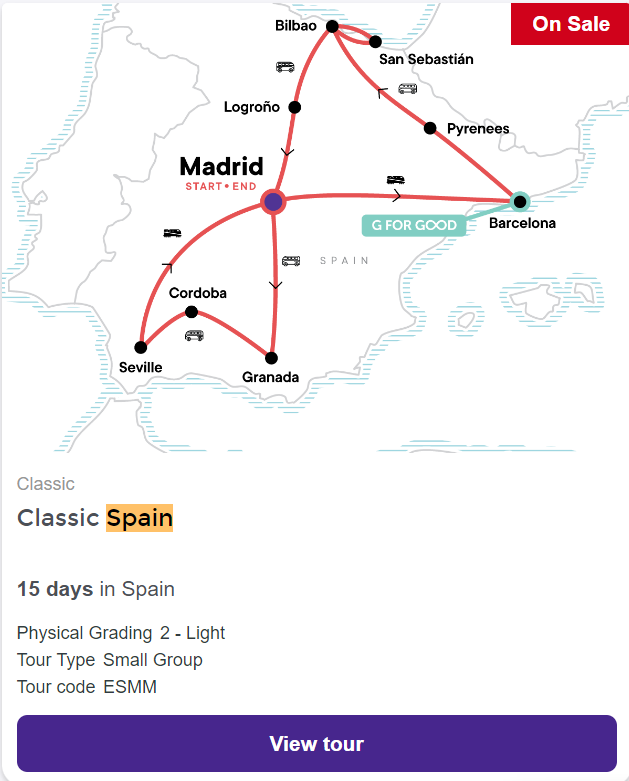 2. GAdventures – Best of Southern Spain (8 Days)
In some destinations, you always have to give up something, whether it's cuisine, history or simply the activities available. Fortunately, in southern Spain this is not necessary.
This tour covers the main highlights of Andalusia (southern Spain): the ornate Alhambra palace in Granada, Cordoba (an architectural pillar of Islamic culture) and the Andalusian capital of Seville, home of flamenco. Complement all this with time in Madrid and Barcelona, and you'll never run out of fun things to do, eat or see.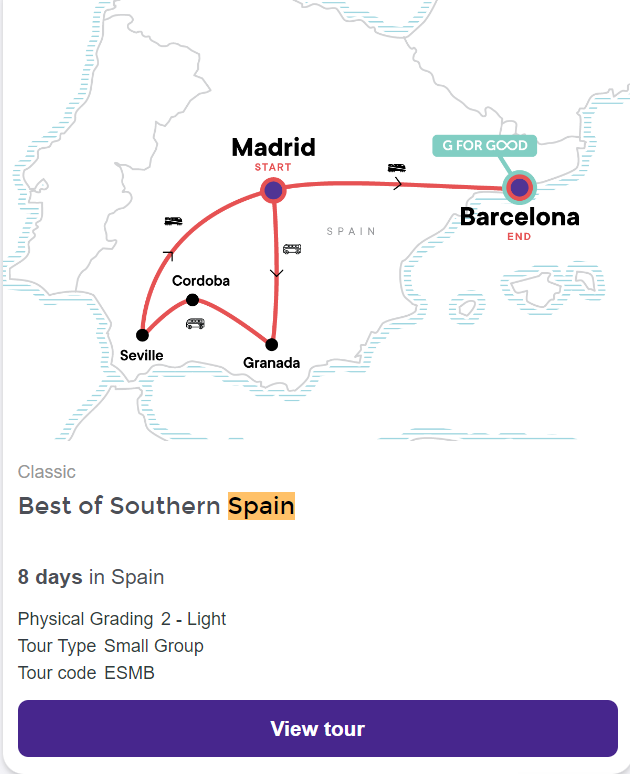 3. GAdventures – Best of Northern Spain (8 Days)
Spain has been described as less of a country and more of a collection of small nations working together. Each region has its own distinct character, style and even language. This eight-day trip shows you the Basque and Catalan provinces of Spain at its best: through food, art, culture and face-to-face contact.
Vibrant Barcelona, relaxed San Sebastián, the fabulous architecture of Bilbao, the famous cuisine of Logroño, cosmopolitan Madrid and the mighty Pyrenees, all in just over a week.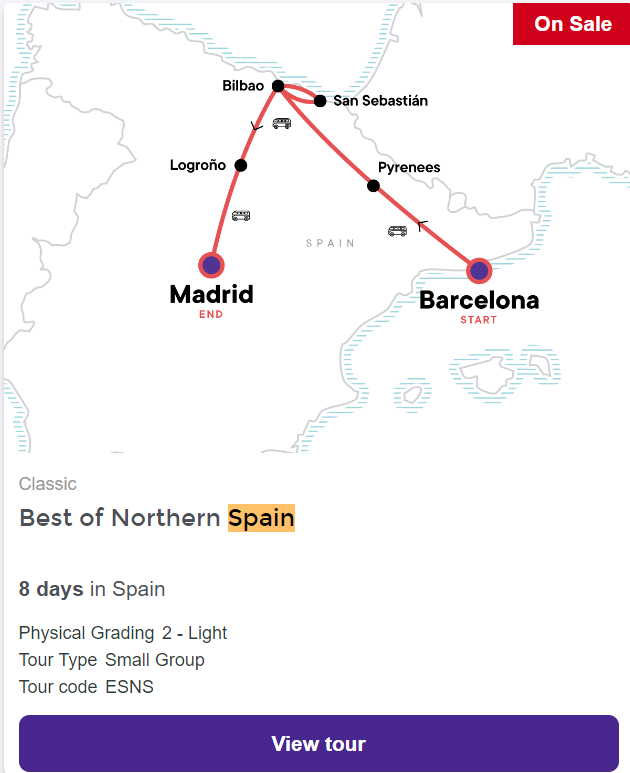 4. Intrepid – Premium Spain (11 Days)
Walk in the footsteps of Gaudí and Picasso, sample fine wines and tapas, and witness the whitewashed villages that bring Spain to life.
This comprehensive Premium journey from Madrid to Barcelona is a delight for the senses. See flamenco in Seville, taste paella in Valencia, feel the history of the Alhambra in Granada and discover the hidden corners of Córdoba. Let the eclectic architecture, revered cuisine and vibrant soul of Spain enchant you.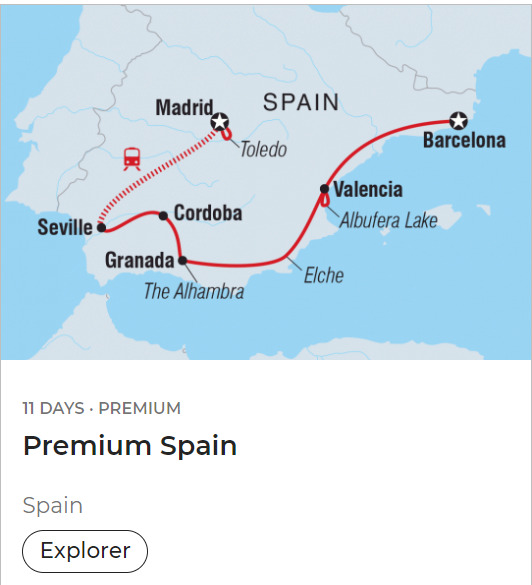 Best Tours and Itineraries in Spain for Groups of Young Singles (18-35 Years Old)
5. Contiki – Best of Spain (10 Days)
There is no better opportunity to live your best Spanish life than spending 10 days touring Spain. Together, we'll explore Spain's most iconic cities – think Madrid, Barcelona, Valencia and Granada – along with the small cobblestone towns of Burgos, Zaragoza, San Sebastian, Pamplona and Toledo. Between paella-making classes, evening flamenco shows, locally guided tours of the Albaicín and Alhambra, and plenty of tapas, you'll be feeling like Spanish locals in no time.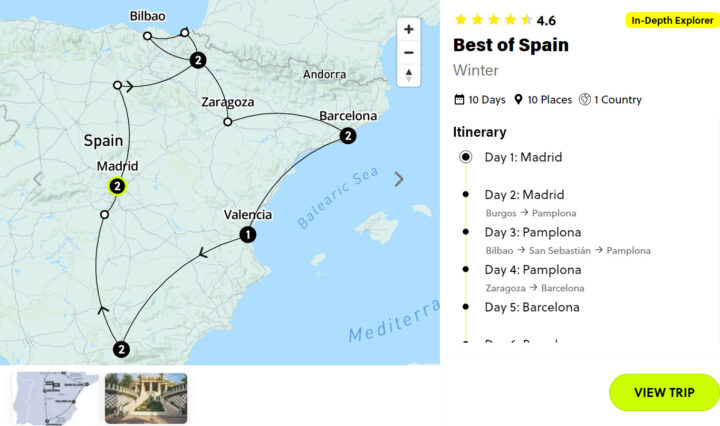 6. Contiki – Spain Pride (10 Days)
In love with Spain and LGBTQIA+ pride? This party will take you from Madrid to Barcelona with a visit to Sitges. Along the route, there will be a feast of cultural adventures for you to make the most of, including flamenco shows, tapas feasts, bike rides and much more.
And, of course, there will be a Pride party to remember and celebrate the end of the trip.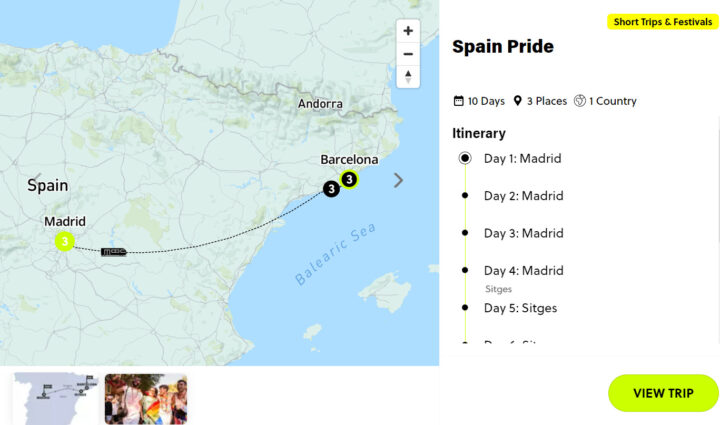 7. Topdeck – Delve Deep: Spain & Portugal (10 Days)
Explore the iconic sights and go on adventures with a local guide. On this tour you will enjoy all the main highlights that Spain and Portugal have to offer, but much more.
From Lisbon to Barcelona, get lost in the cobbled streets of the vibrant cities of Portugal. Indulge in gastronomy in the hot spots of Spanish cuisine. Sail along the mighty river of Porto enjoying a sweet wine. And discover the hidden historical gems of Sintra and Zaragoza. Forget superficiality.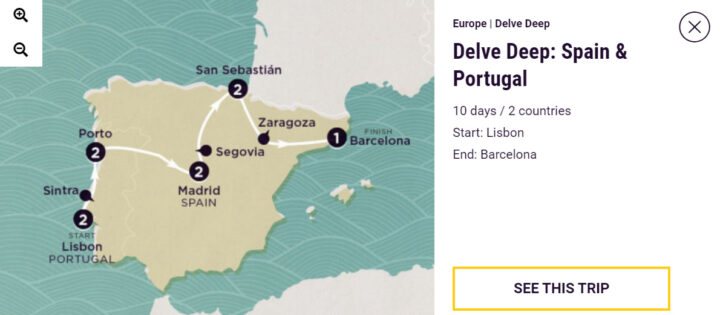 Best luxury and comfort tours and itineraries in Spain for small groups with guides
8. Trafalgar – Spanish Wonder (9 Days)
Savor moments shared with locals, enjoying sangria on sunny patios, tasty paella and the sounds of the Spanish guitar. On this journey you will explore the wonders of Spain, from the ornate walls of the Alhambra to the Gothic Cathedral and Giralda Bell Tower in Seville.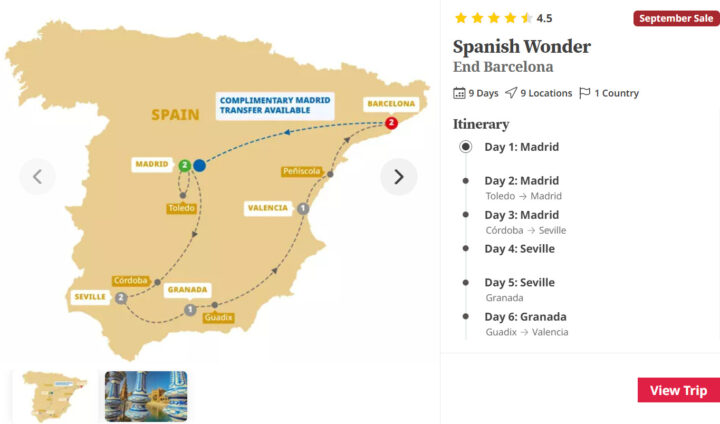 9. Trafalgar – Best of Spain (15 Days)
Don't miss a thing as you explore the best of Spain, with all the trip highlights and a few surprises, from tasting olive oil at an Andalusian farm to learning about Toledo's three religions, passing through the iconic cities of Madrid, Seville and Barcelona.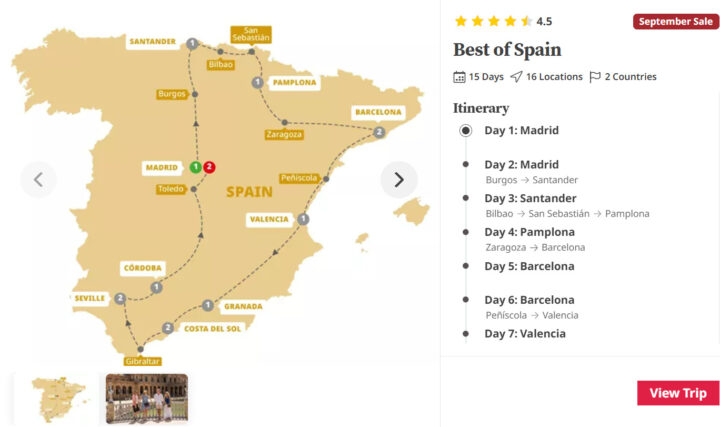 10. Insight Vacations – Spanish Heritage (18 Days)
This 18-day tour takes you from Barcelona to Madrid, stopping in each charming city along the way. Walk the narrow streets of Barcelona's Gothic Quarter with a local guide, making your way to lively Las Ramblas, where street performers perform.
Paella was created in Valencia, and you'll have the opportunity to taste this flavorful rice dish after a private demonstration by a local chef. Tap your feet in Seville during a flamenco dance class, then relax as the professionals put on a private show for you and your fellow travelers.
Cross Córdoba's 2,000-year-old Roman bridge, then meet a local historian at the city's 8th-century mosque, which has a Christian cathedral inside. In Madrid, walk with a Local Expert through the city's old quarter to the Prado Museum, where an art historian will reveal the stories behind masterpieces by artists such as Goya and Titian.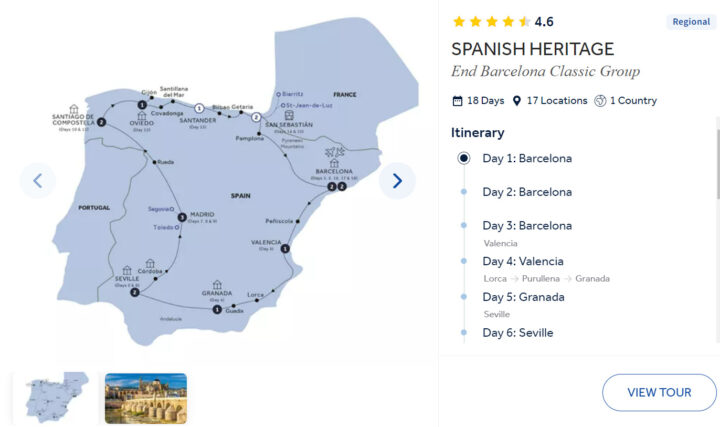 Tourradar's Best Iceland Tours (Best Site to Search and Compare Iceland Tours of Different Lengths, Styles, Prices, and Operators)
11. Tourradar – Taste of Spain (7 Days)
Start and end in Madrid! With this in-depth cultural tour, you'll have a 7-day package that takes you around Madrid and 8 other destinations in Spain. The tour includes hotel accommodation, as well as an expert guide, meals, transportation and more.

12. Tourradar – San Sebastian Surf House (8 Days)
Start and end in Zarautz! On this tour you will have an 8 day package that will take you through Zarautz, Spain and San Sebastian. The tour package includes accommodation, meals and more.

Best Itineraries and Group Tours in Spain for Women Only
13. Solo Female Travelers – Barcelona & Costa Brava
This is a once-in-a-lifetime opportunity to see Barcelona and the Costa Brava through the eyes of a luxury travel expert, who crafted this itinerary featuring hidden coves, postcard-perfect villas, stunning views, culinary feasts, winemaking traditions, cultural spots and your favorite hotels.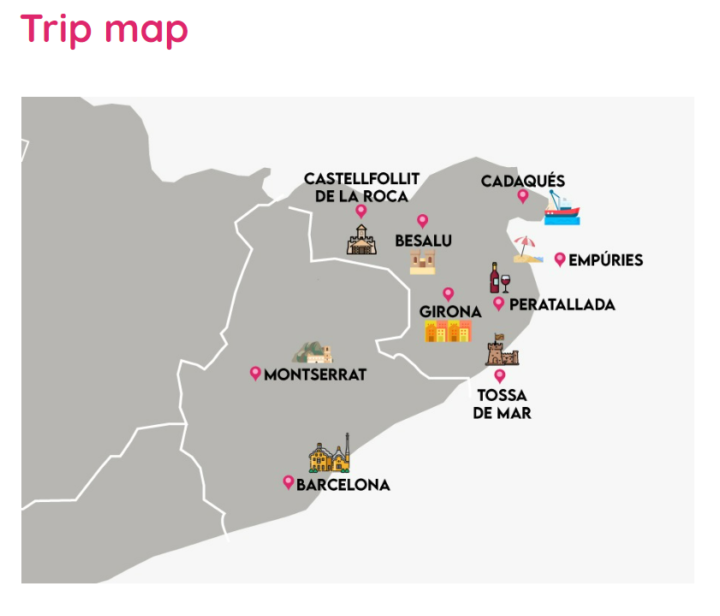 Concluding
In summary, Spain is a fascinating destination for those seeking cultural, historical and adventure experiences. With such a wide variety of tours, excursions and tours available, as exemplified here, it is essential to do some careful research before selecting the company and tour that best meets your expectations.
We recommend reading the reviews of other travelers and checking the benefits offered. This is very important to ensure a smooth and safe trip. Regardless of the chosen company, one thing is certain: Spain is an unforgettable place!
Planning your next trip?

Then don't forget travel insurance! You don't want to get stuck paying a ton of money and ruining your trip if you get sick or have an accident without travel insurance. WorldNomads is ideal for adventurous travelers, backpackers, or anyone looking to be protected during their trip. They cover almost every single activity you can image! Plus, you can have a 5% discount with the coupon code comfort5.

Already reserved your hotel or hostel? If not, we recommend Booking.com. They have a huge selection of hotels and hostels all over the world. Plus, in most cases, you can cancel your reservation without any costs up to a few days before the check-in date!

Still haven't booked your plane ticket and want to save big? Take a look at Momondo. It's a flight aggregator that combines several other ticket search websites to make it easier for you to compare prices and make sure you are getting the best deal.

And finally, will you need to rent a car during your trip? Then check out Rentalcar.com to search and compare car rental companies from all over the world in a single website. Then, you can find the cheapest price for the best car!