Last Updated on by Rodrigo @ OutofYourComfortZone
Do you enjoy exploring new locations as a traveler but find it a real challenge to fit your workouts in while on the road? Traveling is good for so many reasons but, when you don't have access to a gym or exercise equipment, it can be easy to flag your routine and stay on the couch.
With the aid of calisthenics, though, you've got no excuses not to keep up your good fitness habits when you're traveling.
Calisthenics can be used to create any type of workouts at any intensity level. They don't require any equipment and can be done anywhere, anytime. That makes them the perfect workout solution for travelers.
That means, that regardless of whether you're trekking in the mountains, relaxing on a beach, or discovering a new city, you can still get your sweat on.
Let's discover how.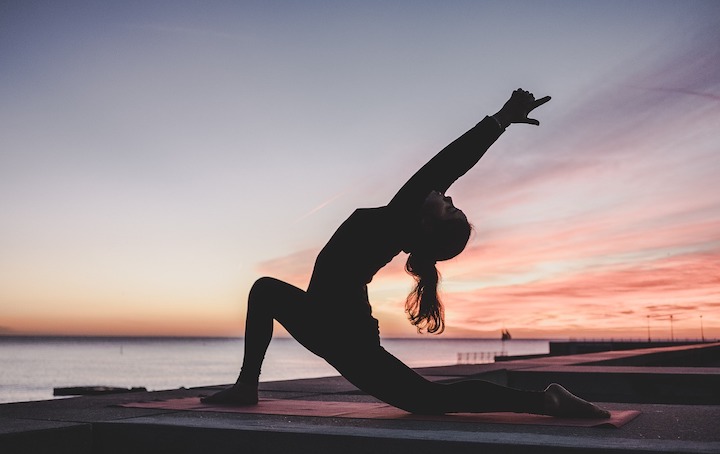 What are Calisthenics?
Calisthenics is a type of exercise that uses the body's own weight as resistance to improve balance, flexibility, strength, and coordination. The Greek words kalos (beautiful) and sthenos (strong) are the origins of the word "calisthenics."
The ancient Greeks invented calisthenics exercises to prepare their athletes and soldiers, and they have been practiced ever since. It gained popularity in the 20th century as a means to keep in shape and stay healthy without using equipment or needing a gym membership.
Benefits of Calisthenics for Travelers
Calisthenics provides a great workout option for travelers because it can be performed anytime, anywhere, and without any special equipment. That means that your good training habits don't have to be abandoned just because you're away from your regular gym.
Strength, flexibility, and balance can all be improved by calisthenics. Your own body weight serves as the resistance during calisthenics exercises, allowing you to change the level of difficulty by changing how you are positioned.
Calisthenics can be scaled to accommodate individuals with varying degrees of fitness.
For example, performing a push-up with one hand or raising the feet can make it more difficult.
The increased range of motion from calisthenics workouts can also help increase flexibility. For instance, a squat can increase ankle, knee, and hip flexibility. Increased flexibility can increase mobility overall and lower the chance of injury.
Because they force people to use their core muscles and maintain good form, calisthenics exercises help enhance balance. Balance and stability can be greatly enhanced by performing exercises like the plank, side plank, and bird dog.
Workouts including calisthenics are also time-effective since they frequently incorporate compound movements, which work several muscle groups simultaneously. This makes it an excellent option for travelers with limited time, allowing you to get a full-body workout in a short period of time.
If you're planning a hiking trip, make sure to fuel up with some healthy options.
Designing a Calisthenics Workout Plan for Travelers
When designing your calisthenics workout on the go, you should consider the amount of time available, your current fitness level, and your fitness goals.
Determine your current level of fitness before beginning any exercise program. This will allow you to use an appropriate level of volume and intensity of the exercises to be included in the workout plan. Test yourself on the following exercises by seeing how many you can do in 60 seconds …
● Push-ups
● Squats
● Lunges
Base the number of reps you program into your workout on the results of your fitness testing. If you can do fewer than 20 reps on each exercise, you should do 10 reps per set. If you can do 20-30 reps in a minute, program 15 reps per set. For reps higher than 30 in your minute test, program 20 reps per set.
Your travel itinerary will affect the frequency and length of workouts. Try to schedule sessions between two and three times per week for around 20-30 minutes each time.
If your goal is primarily weight loss, we recommend setting up a circuit workout where you run through 7-8 exercises with no rest between them. Then rest for 2 minutes and repeat the circuit, Work up to doing four rounds of the circuit.
If you are primarily interested in muscle gain, perform traditional sets where you rest for 45-60 seconds between each set. You can also pair exercises together in superset form, where you do two exercises back to back and then rest for 90-60 seconds before repeating.
Setting up an exercise routine is essential to avoiding under- or overtraining. A 3-day workout plan might look like this:
Day 1: Upper body exercises (push-ups, pull-ups, and dips)
Day 2: Lower body (squats, lunges)
Day 3: Complete body (burpees, planks)
This allows for sufficient rest between workouts for each muscle group.
You don't always have to shell out lots of money to eat when traveling.
The Big Six Calisthenics Exercises
There are six key moves that form the foundation of many calisthenics programs. These exercises should form the foundation of your traveling workout plan, with modifications in terms of set type and rep scheme.
Here are the six best calisthenics exercises:
Squats are much more than an effective quad builder. They work your entire body, including the core, which stabilizes the body.
Keep your chest up, your glutes back, and your feet flat on the floor. Your back should be slightly arched. Make sure that your shins are close to vertical and your knees line up with your toes. Stretch your arms out directly in front of you and squat down to just below parallel to the floor.
As well as working the quads, hamstrings, and glutes, lunges prepare your body for deceleration and change of direction. They are also an effective calorie burner.
Stand with your feet, ankles, knees, and hips in line with each other. Then step back, being sure to keep everything in line. Keep your chest up, and the shin and front of the legs almost vertical. Drop the rear knee down until it just touches the floor. Then push through the front thigh to return to the start position. Keep your hands on your hips throughout.
This old stand-by may well be the best compound muscle move that exists. As well as working the chest, shoulders, and triceps, there is also a great deal of core involvement. The thighs and hamstrings are even involved.
Get down in the traditional push-up position. Make sure that your arms are between 20 and 40 degrees from your torso. This will reduce pressure on the shoulder joint. Keep your elbows above the wrists, tighten the core and flex your quads.
Expand your pectorals by squeezing your shoulder blades together. From a straight arm position, lower directly down until your chest just kisses the floor. Pause and then explode back to the starting position.
The Burpee is a great metabolic booster. At the same time, it works nearly all the same muscles as you get from the push-up. That makes it extremely effective to hit both your cardio and strength goals in one move.
The four parts of the burpee are the squat, sprawl, push up and leap. Start in a full squat position with your palms on the ground. Rock your weight back onto your heels and lift your chest. Now kick your legs back into a sprawl plank position. You should now be at the top of a push-up position. Now complete a push-up and then move directly into a leap into the air.
The inverted row is the opposite of the push-up. It is the classic pulling motion. For this exercise, you will need to work with a horizontal bar that is at about the level of your hips.
Lie directly under the bar and reach up to grab it at shoulder level with an overhand grip. Stretch out your legs so that your body is in an inverted horizontal plank position. Now squeeze your shoulder blades together and bring the chest up to the bar. Pause and then lower.
You probably already know that pull-ups are great for building strength in the upper body. But they are also very good at decompressing the spine.
Hang from a bar with your legs straight and your hands slightly wider than shoulder-width apart. Now, look up at the bar, keeping your shin up. Pull up and back to bring your chest up to the bar. Squeeze your shoulder blades together and engage the lats throughout the movement.
Strength & Hypertrophy Workout Plan for Travelers
This workout plan is designed for strength and muscle gain. The rep scheme given is based on a person being able to do 2-30 reps of push ups, squats and lunges in a minute, which is about average. Base your actual rep count on the guidance provided above.
| | |
| --- | --- |
| Exercise | Set & Reps |
| Squat | 3 x 15 |
| Lunge | 3 x 15 |
| Push-Up | 3 x 15 |
| Burpees | 3 x 12 |
| Inverted Rows | 3 x 12 |
| Pull-Ups | 3 x as many reps as possible (amrap) |
Fat Loss Workout Plan for Travelers
Maybe you're not trying to get bigger muscles but just want to get a bit more lean. The following workout is designed to promote fat loss through increased calorie burn. It's a circuit workout consisting of seven exercises that are done with nor rest between them.
Then rest for exactly two minutes before repeating the cycle. Your goal is to do 3 rounds of the workout. I've designed the workout so that you are alternating between primarily aerobic (with air) and mainly anaerobic (without air) exercises.
| | |
| --- | --- |
| Exercise | Reps |
| Squats | 30 |
| Jumping Jacks | 30 |
| Lunges (left leg forward) | 20 |
| Burpees | 15 |
| Lunges (right leg forward) | 20 |
| Push Ups | 20 |
If you're traveling on the road and you want to bring a set of dumbbells with you, take a look at these.
Workout Consistency Tips for Travelers
Maintaining a regular fitness routine can be difficult while traveling. Here are seven tips to help maintain your motivation and consistency while working out on the go:
1. Pack your training gear: Be sure you bring the right footwear, suitable workout attire, and any other equipment you'll need for your workouts.
2. Set realistic goals: While it's important to push yourself, it's also crucial to create achievable fitness objectives that you can accomplish while traveling. If you're on vacation, consider allowing yourself to loosen the reins slightly.
3. Make it a priority to exercise: Consider physical activity a necessary component of your travel plans. Workouts should be incorporated into your daily schedule and kept to as strictly as any other key obligation.
4. Train early: If you're on vacation, try to get your workout in early in the day. You might even be able to train while the rest of the family are asleep. You can then enjoy the rest of the day together exploring the sights.
5. Find a workout partner: Working out with a friend or relative might help you stay accountable and motivated. Additionally, it can be a pleasant way to see your surroundings and keep active.
6. Change it up: Trying different exercises might keep you interested and motivated while you're away from home. Try taking a yoga class, going on a hike, or exploring the city on a bike.
7. Reward yourself: Finally, remember to treat yourself for maintaining your fitness routine even when traveling. Treating yourself to something special will help you stay inspired and on track, whether it's a soothing massage or a delectable lunch.
Planning a holiday hike? Check out these hiking tips to keep you safe.
Wrap Up…
Calisthenics provides an ideal form of exercise when you're traveling. With nothing but the body you were born with, you are able to get in a quick, functional workout to train your entire body even in the most restrictive of environments.
Choose between the calisthenics workouts provided here or, better still, use both of them, alternating from day to day, and you'll be able to return home fitter. leaner and stronger than when you left.
Autor Bio: Hi, my name's Steve Theunissen. I joined my first gym at age 15 and, five years later, I was managing my own studio. In 1987, I became the first personal fitness trainer in New Zealand. Over the past decade, I have built a freelance fitness writing career to share my fitness passion with the world.
Planning your next trip?

Then don't forget travel insurance! You don't want to get stuck paying a ton of money and ruining your trip if you get sick or have an accident without travel insurance. WorldNomads is ideal for adventurous travelers, backpackers, or anyone looking to be protected during their trip. They cover almost every single activity you can image! Plus, you can have a 5% discount with the coupon code comfort5.

Already reserved your hotel or hostel? If not, we recommend Booking.com. They have a huge selection of hotels and hostels all over the world. Plus, in most cases, you can cancel your reservation without any costs up to a few days before the check-in date!

Still haven't booked your plane ticket and want to save big? Take a look at Momondo. It's a flight aggregator that combines several other ticket search websites to make it easier for you to compare prices and make sure you are getting the best deal.

And finally, will you need to rent a car during your trip? Then check out Rentalcar.com to search and compare car rental companies from all over the world in a single website. Then, you can find the cheapest price for the best car!