Last Updated on by Lohanna Reis
A blazing yet glorious sun, clear blue skies, and pleasant breezy wind are the perfect recipe to get out of your house and go on a hiking adventure!
For most people, summer is the best time to go hiking either with family, friends, or by yourself. A day spent on the trail can be refreshing, exciting, and of course, it burns off calories. It can help you relax and release some of the serotonin stored deep in your brain.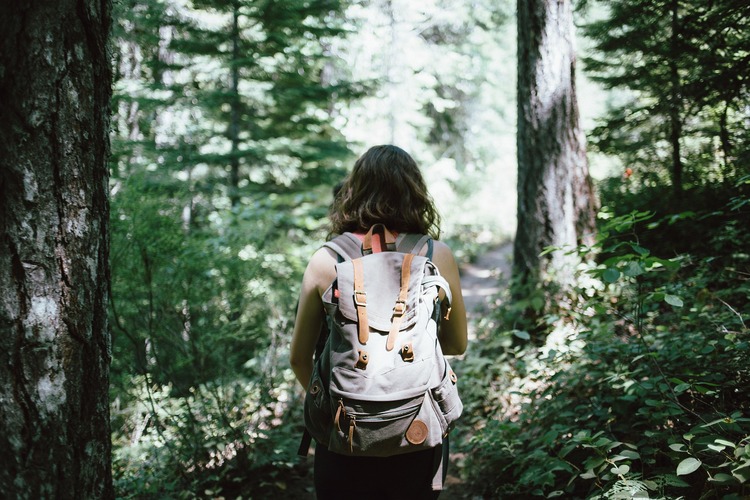 Typically, most people prefer to go on hikes in summers because of the longer daylight hours. However, you can also hike during the winter or any other season if you don't mind the weather.
Irrespective of when you go, it's important you're ready with not only the appropriate gear but also the appropriate knowledge that can help make your hiking experience a fulfilling one.
When hiking in hot weather, you should know how to manage the intense heat, dehydration, heat cramps, and other issues that you might come across. Here is a list of tips to help you when you're hiking the outdoors.
1. Check the weather before your hike
While summer is a great season for hiking, it's crucial to check the weather before making any decision. Exercising in extremely hot weather can put additional stress on your body, and if you don't consider the heat, it can ruin your trip.
When you work out in the heat, it can cause exhaustion, dehydration, and in the worst-case scenario — a heat stroke. If the temperature is near 95 degrees Fahrenheit and the humidity is at or near 100%, postpone your plans until the weather cools down.
Also, try to avoid hiking during midday since the temperature is the highest during these hours. Alicia Gerber, Summer Camp Director of Pali Adventures, says that you should start the hike as early as possible when hiking on a hot day.
So, depart early enough to ensure you're done with the most strenuous section before noon. Depending on how hot the weather is, you might want to stick to hiking early in the morning or late in the evening.
2. Fill up the water bottles…many of them!
You're going to be sweating a lot which means you will probably get dehydrated after some time. So, make sure that you carry enough water with you. Ensure each person has their own water bottle so that everyone can easily quench their thirst.
It's always better to take more water than what you think you might need because even if you have great stamina, hiking in hot weather will make you sweat a lot!
3. Bring some snacks with you to keep your minerals high
Since you will be sweating a lot during the expedition, it's essential to carry snacks to keep the blood sugar level optimal. Sweat affects salt levels the most, so to avoid low blood pressure or fatigue, throw in some protein bars or other nutritious snacks inside your backpack.
If you're hiking with your kid, bring some snacks for them too, or add them to their own backpack.
Of course, don't bring full meals, so you don't get sleepy or lazy during the hike. But bring enough food to help keep you active and give you some much-needed energy.
4. Hike near a body of water
This might not always be possible, depending on where you live. If you live close to a body of water, considering hiking a trail near the area. Hiking near a waterbody is smart. You have unlimited access to water no matter what. Although you might not drink the water, you can always use the water to wash your face and cool off.
If you have some survival skills, in the worst-case scenario where you're lost or ran out of water and badly need some, you can always create a water filter or bring one with you.
5. Check the location & have a map
You need to make sure to check out the area before you begin your hike. So, open up your phone, click on maps, and enter the exact trail you plan to hike. Examine the track as well as the number of pathways. Take a screenshot since you might not always have signal when you're outdoors.
This is necessary because if you ever get lost while hiking, especially if it's a track you've never been to, you might not know where to go and how to reach the endpoint. Though most hiking trails do have directional boards, some don't.
Don't forget to see what kind of animals live near the trail. See if it has insects or snakes, especially if it's a track deep in greenery.
6. Don't wear black or use cotton material
Have you ever noticed how most people wear darker clothes in cold weather and pastels and other light-colored clothes in the summer? Well, this has to do with heat absorption.
Heat and light are forms of energy, and energy is converted from one form to another as it goes about its business. So, sunlight converts into heat energy when it hits an object. The object absorbs some degree of it and reflects the rest into the air.
The darker an object is, the more heat it will absorb than reflect. The opposite happens with light-colored objects since the lighter it is, the more heat it reflects than it absorbs. Cotton absorbs the sweat and can make you feel hot, sweaty, and humid when hiking.
Hence, wearing black, other dark-colored clothes or cotton sportswear during a hike increases the amount of heat absorbed into your body. This also increases your internal temperature.
7. Wear layered clothing
This might sound strange since most people think you should just wear a t-shirt and shorts while hiking.
In reality, layering thin clothes help to insulate the body. It keeps your body cool while the weather is hot and vice versa. The mechanism works by trapping small air pockets within the garments. This does not let either the heat or the cold penetrates through the layers.
There are three layers of clothing:
The Base Layer

:

It's the clothing in direct contact with your skin. It helps you manage moisture. These are usually thin, lightweight synthetic base shirts and bottoms, so shorts, leggings, or pants that are fast-drying, sweat-wicking, and stretchy.
The Mid Layer:

It offers breathability. It traps the heat and wicks away all the sweat the base layer might have accumulated on your skin. These clothes are usually made from fleece because the material is water-resistant and fast-drying.

The Outer Layer:

It's usually a waterproof jacket and pants that keep the rain and wind out. It also allows the sweat vapors to evaporate from your body, so you remain dry and cool. While you might not need to wear it over your mid-layer, make sure to pack these in your bag just in case. There have been more than enough incidents where hikers go up a mountain, and it starts raining, so make sure you're prepared.
However, the number of layers or the type of clothing you wear is totally your choice. You need to assess the area and duration of your trip and dress accordingly.
8. Carry essential accessories for heat/sun protection
There are a few things that you should not forget while on a hike. Here are some of the most important ones:
Sunscreen:

Make sure to lather a generous amount of sunscreen on not only your face but also the rest of the body as well, especially the parts exposed to the sun. Sunburns are a severe problem, and you can get them immediately if you don't use sunscreen. You should also keep applying it after every few hours.

Anti-chafing Powder/ Sweat Absorbing Product:

Chafing is a pretty painful problem. Those familiar with it know how painful and difficult it is even to walk the smallest of distance. If chafing is a recurring problem when you exercise, make sure you carry a product that can absorb the moisture and keep the issue away, even if you sweat profusely.

Sun Hat:

If you hike in an area that doesn't have any shade, take a sun hat with you. Sun hats protect your head from directly absorbing the heat from the sun and help keep it cool.
There are many other accessories that you can bring, like a neck fan, neck gaiter, or a cooling towel. You can always bring additional items, but keep in mind that this means you have to carry more stuff, which will add to the weight.
9. Know when to stop
You should know your limits and the signs of heat exhaustion. Exercising in hot weather can push your body beyond its comfort zone. While it can be an invigorating experience to unleash your true potential, it can also be detrimental to your body if you don't keep your health in check.
Some of the warning signs and symptoms of heat-related illness are:
Muscle cramps

Dizziness

Faintness

Heavy sweating and breathing

Pale and clammy skin

Nausea/ Vomiting

Fatigue

Headache
You need to stop your hike the moment you start to notice any of these symptoms. Take a break if you're far away from the endpoint or try to find a shortcut to end the hike earlier. Make sure to loosen any tight clothes you wear.
Hydrate yourself with electrolytes or a salty drink and eat a snack. Only continue the hike when you feel completely fine again. If you don't rest, it can lead to severe problems.
Even if you don't have any symptoms and the hike is long, make sure to take regular breaks. Drink water frequently and give your body the chance to cool down and relax for a bit before you keep going.
Hiking Travel Insurance: Top 4 International Insurance for Extreme Sports and Extreme Activities
If you are thinking of venturing on your next trip hiking and trekking, be aware that some precautions are necessary. One of the issues to consider is your international travel insurance with coverage for outdoor activities.
Depending on the region where you are located, the costs of emergency assistance in the event of an accident are exorbitant. Imagine the amount needed to cover the expenses of a rescue in the middle of a mountain far from civilization! Surely this can become a big problem.
Therefore, I strongly recommend that you research and purchase some insurance that covers extreme activities if you are planning some adventures during your trip.
Some of the companies I recommend are World Nomads, SafetyWing, IMG Global e o HCC Medical Insurances.
If you would like more information about these insurances, see my article 7 Best Travel Insurance for Extreme Sports and Adventure Activities.
In short
Our essential tips for hiking and hiking in the heat are:
Check the weather before your walk

Fill water bottles… lots of them!

Bring some snacks with you to keep your minerals high

Walk near a body of water

Check the location and have a map

Do not wear black or use cotton material.

Wear layered clothes

Take essential accessories for protection from heat/sun

Know when to stop
Bio: Mark Evans is a camp outdoors guide and consultant. He takes groups on outdoor trips for hiking and camping. He also helps parents find the right summer camp for their kids.
Planning your next trip?
Then don't forget travel insurance! You don't want to get stuck paying a ton of money and ruining your trip if you get sick or have an accident without travel insurance. WorldNomads is ideal for adventurous travelers, backpackers, or anyone looking to be protected during their trip. They cover almost every single activity you can image!
Already reserved your hotel or hostel? If not, we recommend Booking.com. They have a huge selection of hotels and hostels all over the world. Plus, in most cases, you can cancel your reservation without any costs up to a few days before the check-in date!
Still haven't booked your plane ticket and want to save big? Take a look at Kayak and Momondo. They are flight aggregators that combine several other ticket search websites to make it easier for you to compare prices and make sure you are getting the best deal.
And finally, will you need to rent a car during your trip? Then check out Rentalcar.com to search and compare car rental companies from all over the world on a single website. Then, you can find the cheapest price for the best car!