Last Updated on by Lohanna Reis
Live in Europe and looking for a European digital bank that is easy, has no fees, and does what you need it to? Then read on to learn all about N26 Bank (my favorite European bank!) and open a free account in minutes! 
Whether you're European or not….if you live in Europe, you probably need a bank account to receive your salary or payments, pay your rent, make deposits, transfer money to friends and family, or even send money back home (whether that's the United States, Australia, New Zealand, Turkey, Canada, India, or just about anywhere else)! 
Especially if you've just arrived in a new country as an immigrant or expat, you'll likely need to deal with your finances. The problem is that you probably don't yet have all the required documents to tackle the bureaucracy of opening up an account with a normal bank. 
Thanks to technology, there are now many online banks (called "Fintechs") that solve this problem for you! These banks are 100% digital (meaning they are completely online and don't have branches that you ever need to go in person to) and are often 100% free. 
So…what is the best bank for online banking in Europe with no fees? 
After years of living in Europe in multiple countries and dealing with money between them, I've found N26 to be the best option out there. 
And I want to put this out there up front: N26 is NOT sponsoring this post. I'm just a big fan of N26 and have found it to be a huge help as someone living in Europe. So, I wanted to take some time to share why.

(But to be fully transparent, both you and I will earn a small free credit when you sign up with my link here – more on that below) 
So today, I'll talk about why I'm such a fan of this bank and why I think it's the best choice for anyone who has moved to a European country. 
Or even if you've lived in Europe for a long time, this may be a good choice to change banks and save on banking fees. After all, citizens and residents from nearly all the countries in Europe (beyond just the European Union) can open a bank account with N26. 
Obs: Unfortunately, the N26 does not operate in the UK. So if you live or are visiting England, Scotland, Wales or Northern Ireland take a look at Monese, I'll tell you more about it at the end of the article.
Also be sure to check out Wise's borderless account option below, perfect for digital nomads or world travelers from almost any country in the world!
Ready to learn a bit more? Then let's get to it!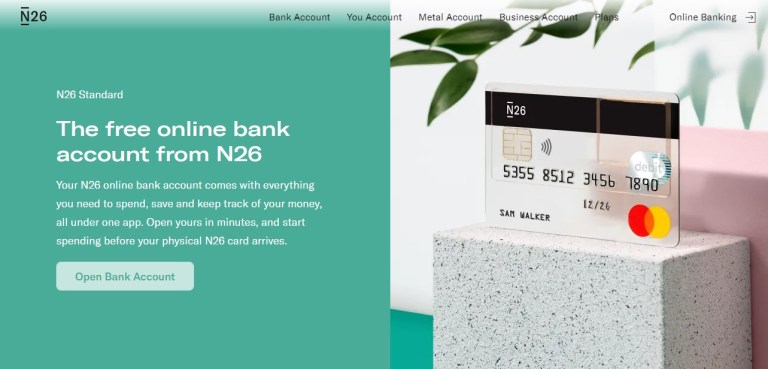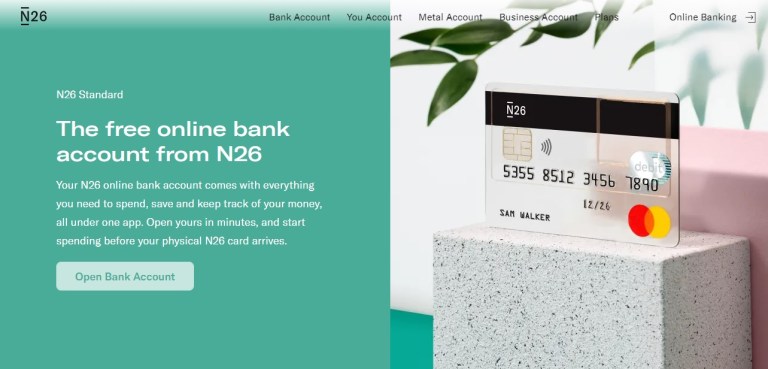 What is N26 bank?
N26 is a German bank, with headquarters in Berlin, that is currently one of the largest online banks in all of Europe. It works in all 27 countries of the European Union (whether they use the Euro or not) as well as the countries of the EFTA (European Free Trade Association) like Norway, Switzerland, Lichtenstein, and Iceland. 
But not just in Europe. N26 also accepts residents from the United States…and has plans to expand! 
N26 was operating in the UK from its launch until the beginning of 2020, but it left the island after Brexit. If you need a free digital bank operating in the UK, Monese may be right for you. Read more about it at the end of the article!
What does it mean for a bank to be "fully digital" or "fully online"? 
N26 has been fully online since it began in 2016. But what does this actually mean?  
Well, it means that you create your bank checking account and do all your bank operations (transfers, withdrawals, etc.), directly through the app or the bank's website. All customer service is also found completely online. There are no physical branches for N26. 
For example, even though the bank is German…I opened an account while I was physically in Brazil using my Portuguese documents. Before coming to Europe, I received an N26 ATM/debit card in the mail, and then I used the bank account while I was living in Belgium since I never had to worry about going to a branch in-person. 
I know there are still some people out there who are hesitant to use these types of banks since they are still fairly new. 
That said, at least in my experience, I've felt fully comfortable while using N26. To give you an idea, the company is currently valued at 2.7 BILLION dollars. And is considered the most valuable mobile bank in Europe. So if this isn't a trustworthy bank, I'm not sure what is. 
Who can open up an account with N26? 
N26 offers accounts (meaning you have to be a citizen or a resident) of the following European countries: 
Austria

Belgium

Iceland

Ireland

Liechtenstein

Luxembourg

Slovakia

Slovenia

Switzerland 

And now the United States! (not in Europe obviously, but this is an exception) 
If you're not a citizen of one of the countries on the list, as long as you can prove you have an address in one of them, you can open up an account with N26. 
If you are a citizen, simply present your passport or other local document…no need to prove your address. Which is great for Europeans (or Americans!) who have just moved and don't yet have a fixed address. Or for those who haven't moved yet. 
Unfortunately, N26 isn't yet operating beyond this list yet. However, there are discussions about them offering bank accounts elsewhere in the future (such as in Brazil). 
How to get a free €5 bonus when you open up your N26 account 
Just use my invitation link right here. 
To earn the 5 Euros, you'll just need to open up an account, activate your N26 card, and make a qualifying purchase before 30 June 2021  
Pros of using N26 Bank 
If you're still unsure about whether or not you should open up an account with N26, here are some of the pros I've found with using N26: 
It's a free bank account

with no fees 

It's easy & practical to get help when you need it 

It works in practically any country in Europe 

It's 100% online… so there's

very little bureaucratic

headaches (or paperwork!)

 
I've included a bit more about each of these benefits below.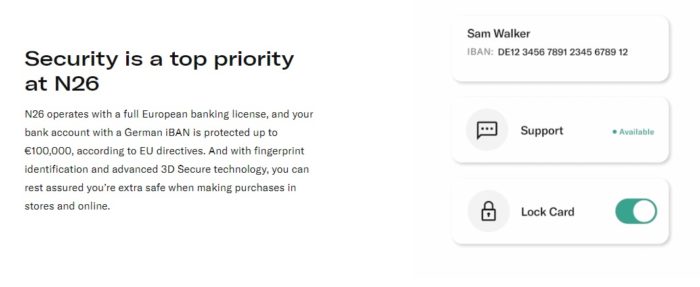 N26 is a free digital bank that you can use in Europe…and even around the world 
Perhaps the biggest benefit of N26 is that it's a 100% free, 100% online bank. (Though there are options for paid accounts if you need a bit more features). 
But their free checking accounts will likely do all the basic bank transactions or operations that you need them to: transfer money, withdraw from an ATM up to 5 times a day with no fees, and receive a Mastercard debit card that's accepted all over the continent. 
It's worth pointing out again that N26's paid bank operations, like money transfers overseas, have lower fees than traditional banks do. The bank is even a partner of Wise (formerly Transferwise), which makes your life much easier if you want to send or receive money from the United States, India, Australia, Ireland, or wherever else your home country may be.  
If you want to know a bit more about saving money on international money transfers, take a look at my article with the 5 cheapest ways to send and receive money overseas. 
It's easy & practical to solve common bank-related problems with N26  
Anyone who's gone to a traditional bank before knows the headache and wasted time involved in having to go to a branch physically, stand in line, and wait to be helped. For obvious reasons, this is one thing I never have to complain about with N26! 
All of their customer service, whether done through email or live chat on their website, is quick and attentive. The bank has really invested in their relationship with clients, and you feel it when you reach out to contact them about something. 
At least that's what I've found in my experience. And seems to be true if you search out other reviews for N26 online. 
N26 is available for citizens or residents in nearly every country in Europe…and now in the United States as well! 
Living in Europe has plenty of benefits, one of which is the currency, the Euro, which is used by the majority of European countries (25 countries use the Euro today). This of course extends to online bank accounts, as is the case for N26. 
However, even if a country doesn't use the Euro (like Sweden or Denmark), it's still possible to use N26 to complete bank transactions and send money to other countries with the SEPA (Single Euro Payments Area) system. 
With the SEPA system (which 36 countries are a part of), all you need is the account number (called an IBAN) of the person that you want to transfer to. And if you have an account with any European bank within the SEPA system, you'll have your own IBAN number as well. 
In other words… while living in Belgium and using Euros, I could transfer money to a friend in Sweden who used Swedish Crowns through German bank N26 without any extra fees! 🙂 
As you can see, N26 is open to a large part of Europe (you'll find a full list of the countries where accounts are available above). Which means that almost no matter which countries you live in (or even if you move between countries!), N26 is a great choice. 
And keep in mind…you might have to be a citizen or resident of the list above to open an account, but like a normal bank you can use your ATM card and their online banking system for your bank operations no matter where you are. 
N26 is 100% online…meaning no bureaucracy, paperwork, or waiting in line 
Dealing with banks can be quite a headache. Lots of documents, lots of verifications, and lots of time spent waiting. With N26, all of this is much easier. 
The process to open up an account is not only completely online, it's also quite simple. (Below, I'll give you a step-by-step breakdown of how exactly you can do this.)  
You don't even need to show any proof of income to open an account. Which is great, especially if you're just starting out in a new country.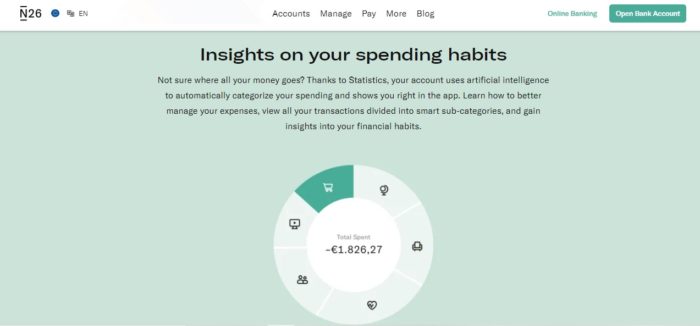 Cons of using N26 Bank
Although I think N26 is the best free online bank in Europe, of course it has some weak points. I'll discuss a bit more about them below. 
N26 doesn't operate everywhere 
If you're not a citizen of one of the countries on the list above and you haven't yet moved to Europe, then it may be a challenge to open up an account here since you have to give a European address or show a residence card. 
That said, hopefully N26 will continue expanding! 
You can't physically deposit cash at an N26 branch 
If you regularly have cash that you need to deposit, then using N26 can be a bit more complicated. In this case, the best method would be to deposit this cash into an account with another bank (whether yours or a friend/family member's). Then from there transfer it to your N26 checking account. 
However, N26 does work great with direct deposit payments (I used N26 to receive my salary from my European Union traineeship program)!
N26 doesn't have credit cards
This might not be a big deal for some, but if you're looking for a European credit card, then unfortunately you'll have to get another account with another bank.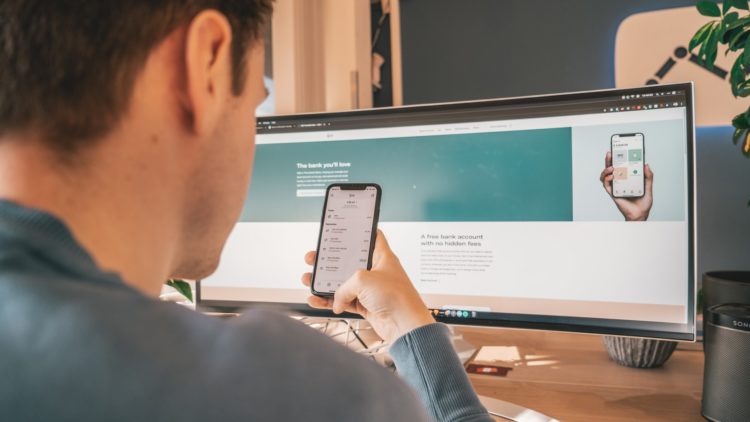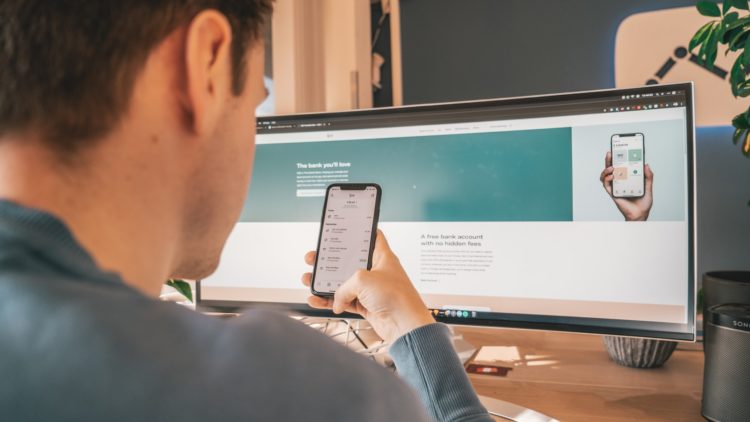 How to open up a free checking account with N26  
Here's a quick overview with more details (and screenshots!) down below: 
Make sure you meet the requirements for an account 

Download the app 

Fill out your info 

Confirm your info with a short video call 

Choose the type of account you want

Activate your account 
    1. Make sure you meet the requirements for an account
First things first, you need to make sure that you meet the minimum requirements for opening up an account with N26. 
This means meeting one of the following items: 
Have proof of an address within the European Union 

Have a European passport

(from a country that the N26 operates in)

 

Have a European residence card with at least a year of validity 
    2. Download the app 
This step is easy. Simply download and install the N26 app on your smartphone via the App Store or Google Play. 
    3. Fill out your info 
Once you've opened up the N26 application for the first time, you'll need to fill out some info so you can create an account. Here's what you'll need to fill out: 
Full name

Address

Passport 

European Residence Card with 1 year of validity left

Email 

Phone number

Country of birth

Nationality 
    4. Confirm your info with a short video call 
Directly from the app, you'll be able to have a quick video call with a bank employee who will check to make sure you are who you say you are and that your documents are valid. 
The call (it's in English) is quick and easy. 
But one thing you should know: if you're proving your identity with your passport, you'll need to take a photo of it alongside a selfie, and confirm the location of your device. 
So if you can, I recommend using a residence card as your ID which makes things much easier.  
    5. Choose the type of bank account you want
Once your identity is all confirmed, then you can choose the type of N26 checking account that you want to use. I recommend just getting the free standard option, which has no fees and should completely cover whatever you need. This is the one I use and it has served me well. 🙂 
If you'd like a paid option, you can choose between N26 You (€ 9.90 per month) or N26 Metal (€ 16.90 per month). There is also the option for N26 business accounts (including paid and free options) for anyone who has their own business. 
The main reasons to get a paid N26 account would have to do with their travel insurance, the number of free ATM withdrawals, and specialized customer service. But in my opinion, the price just isn't worth it because the free accounts are great. 
    6. Activate your account & wait for your ATM/debit card to arrive 
From there, you'll receive an SMS with a code. Just type this code into the space telling you to on the app…and that's it. Your N26 BANK account will be all ready to go! 
You can start transferring money in or out of your account ASAP, but remember that you will need to wait 7-10 days for your physical ATM/debit card to arrive in the mail.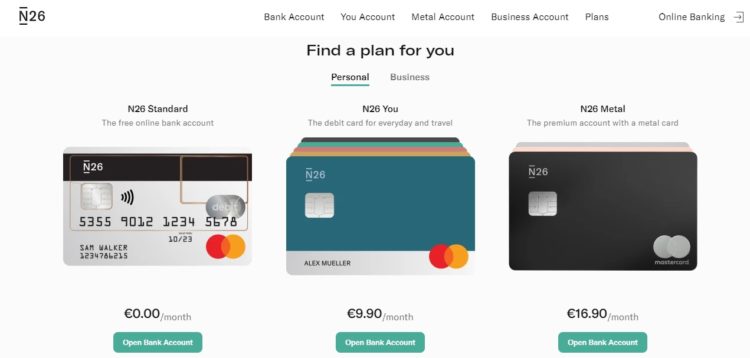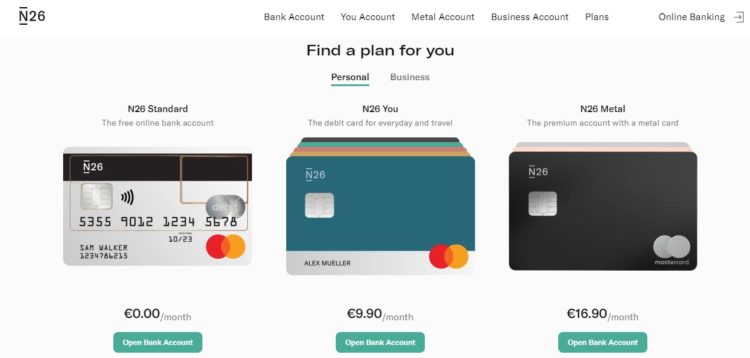 Is it worth opening up a BANK account with N26?
In general, I don't think any of the cons listed above for N26 are enough to deter someone from opening up an account…especially since most of them are small things that only affect specific cases and won't really get in the way of your life in Europe. 
So, I really do think it's worth opening up a checking account with N26. I've been very happy with mine! 
And keep in mind…you can even earn a 5 euro bonus from opening up an N26 account by using my invitation link right here. 
(To earn the 5 Euros, you have to open up your account, activate your N26 card, and make a qualifying purchase). 
Best Borderless Account For Any Resident in the Word
Depending on your needs, another great option is Wise's borderless account. This is a multi-currency account for international people or digital nomads that can be a huge facility if you constantly move from country to country, travel regularly, or simply handle payments and transfers in different currencies frequently.
And since I already suggest Wise as the best company for international transfers in my article 7best online companies to send money abroad, you can tell I really trust Wise's services. 
Wise's borderless account is an economical and practical way to handle sending and receiving money abroad, buying and converting foreign currencies, paying for international purchases and bills remotely.
Another advantage of using this Wise service is that there is no subscription fee or account maintenance. The amounts charged will refer to the services performed and always with respectful exchange rates, with no hidden fees.
Some benefits of Wise's borderless account:
You can use your card in more than 200 countries and withdraw money from more than 2.3 million ATMs around the world

It is possible to receive payments as a local person in more than 10 countries

You can convert and save more than 54 different foreign currencies at the same time.

International transfers with low fees and easily charged

You can use the card in different regions with debit function to pay for your purchases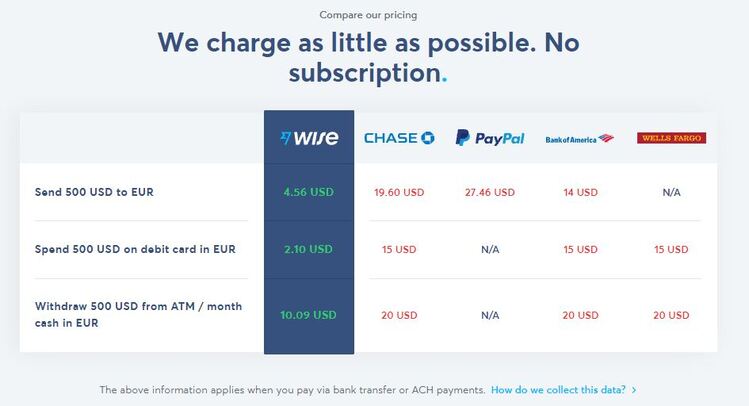 Best Free Digital Bank for UK Residents (England, Scotland, Wales and Northern Ireland)
Monese, like the N26, is a free digital bank and very simple to use. With it, it is possible to open an account totally online and without paying anything. Monese also has a well-structured application for users to carry out their transactions without worry. Below you can see the plans available in Monese, and the free plan would be a good substitute for the N26 in the UK. 
Some Monese online account benefits for UK residents (especially if you are traveling):
a dual GBP/EUR account

no card fees depending on your type of account

spending notifications

card locking/unblocking

monthly plans from £0 /month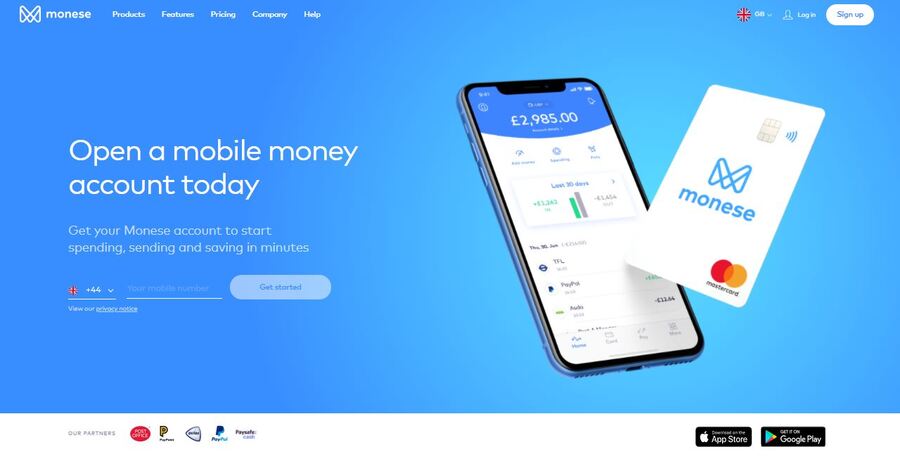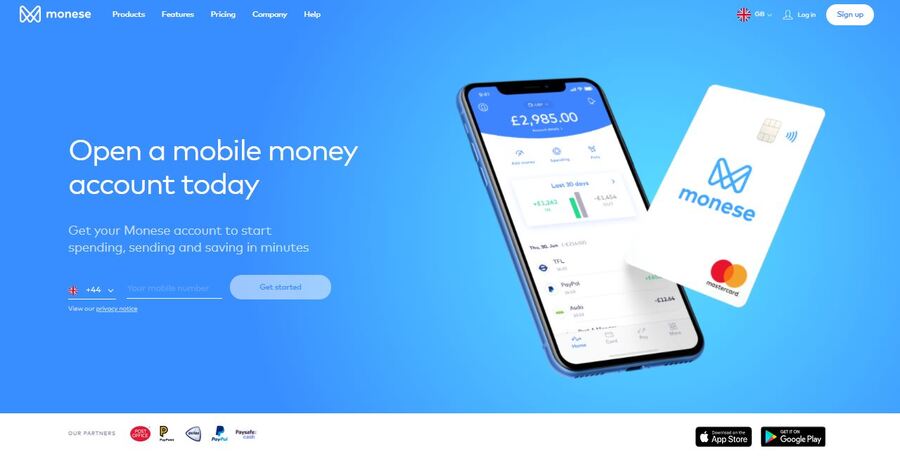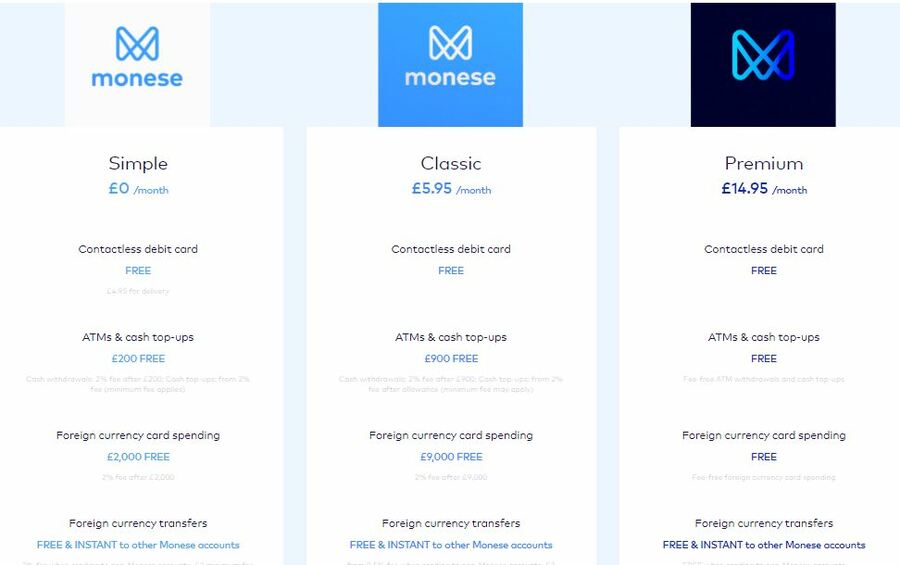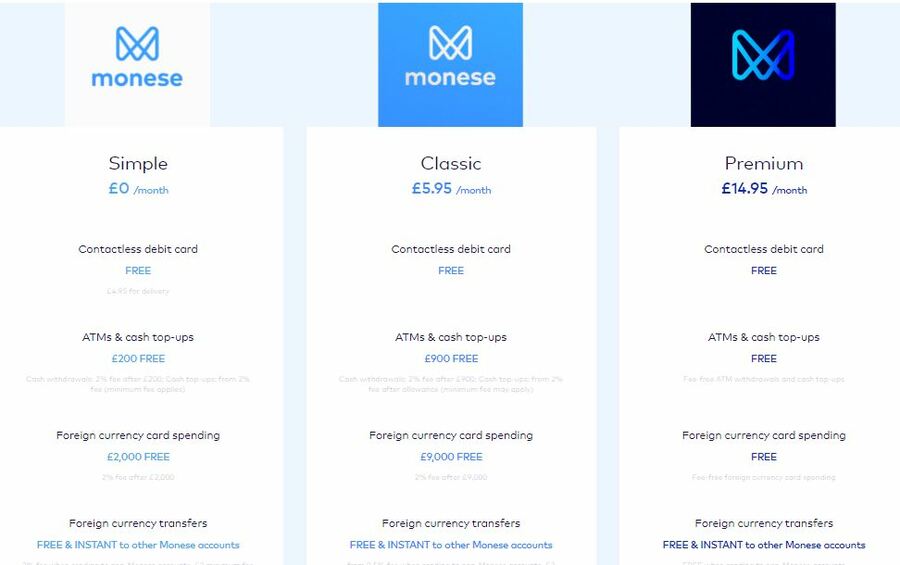 In sum…

 
Here are a few topics we covered today about the best free digital bank for individuals who live in Europe: 
What is N26? 

What is a "fully digital" or "fully online" bank? 

Who can open up an account with N26? 

How to earn a 5 euro bonus by opening up an account 

Pros of using N26 

Cons of using N26 

How to open up a checking account with N26 

Is it worth opening up an account with N26? 

Best free digital bank for UK residents (England, Scotland, Wales and Northern Ireland)
Are you moving to or do you already live in Europe? Then don't forget an international health insurance policy that makes sure you're covered there! 
If you're living (or soon-to-be) living in Europe and in search of an international health insurance plan that protects you there, my article with the 5 best international health insurance plans for expats and immigrants can help.

In conclusion…
When you move somewhere new, it's important to figure out what you're going to do with your finances. And finding a bank that you trust is a big part of that. 
The growth of banks like N26 reflects a revolution in the way that we manage our financial lives. Because of this, it's good to have an idea of how tools like N26 work so we can make the most of them before you sign up. 
Ultimately, N26 works not only for those who are moving to Europe (or now the United States). But also works great for anyone who has lived in Europe for some time and is in search of an online bank with no fees. In other words, I highly recommend it! 
So, what do you think about N26? Do you have any questions or concerns about this bank? Or any about living in Europe (or moving overseas) more generally? Just let me know in the comments area below and I'll get back to you!
Planning your next trip?
Then don't forget travel insurance! You don't want to get stuck paying a ton of money and ruining your trip if you get sick or have an accident without travel insurance. WorldNomads is ideal for adventurous travelers, backpackers, or anyone looking to be protected during their trip. They cover almost every single activity you can image!
Already reserved your hotel or hostel? If not, we recommend Booking.com. They have a huge selection of hotels and hostels all over the world. Plus, in most cases, you can cancel your reservation without any costs up to a few days before the check-in date!
Still haven't booked your plane ticket and want to save big? Take a look at Kayak and Momondo. They are flight aggregators that combine several other ticket search websites to make it easier for you to compare prices and make sure you are getting the best deal. 
And finally, will you need to rent a car during your trip? Then check out Rentalcar.com to search and compare car rental companies from all over the world on a single website. Then, you can find the cheapest price for the best car!