Last Updated on by Lohanna Reis
In the last few years, the number of platforms you can use to transfer money overseas has exploded. So which should you choose? Take a look below for the 7 cheapest ways to send money to/from Europe, the UK, and the rest of the world (including fees, transfer timelines, exchange rates & more).
No matter the reason, it's always important to know what your options are to send money from one country to another. Not only to make sure you're using a platform that can be trusted, but also that you're not losing money on fees and exchange rates.
In this article, we'll be talking specifically about how you can send/receive money in Europe and the United Kingdom. That said, much of this information will work for the rest of the world as well.
So, whether you're living on the European continent or need to send a payment there, the first thing you'll need to know is about an IBAN. But if you don't know what it is, hold tight because we'll explain below!
What is an IBAN and why is it important when transferring money to/from Europe?
An IBAN, or an International Bank Account Number, is the international identification number for your bank account. In other words, it's the number that you'll use to identify that bank account that will transfer or receive money.
IBAN has been used for transfers between European countries since the 90s, but some countries have only adopted it more recently and others use entirely different systems (the United States, Canada, Australia, and New Zealand all use some version of SWIFT codes instead).
So, it's quite normal for you to be new to what these are or be unsure what yours is!
These IBAN numbers are created from the country code (PT, BR, US, DE, ES, etc.), the control code, the identification number of your bank, and the numbers of your bank account.
It's best to check directly with your bank if you're unsure what yours is, whether you have an IBAN or a Swift code, or if you can't find it in your online account.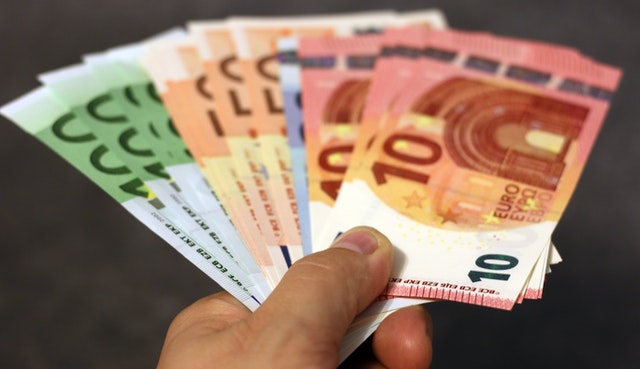 3 things to consider before sending money to/from Europe from overseas
With all the platform options out there for international money transfers to Europe and other countries, it can be hard to know which is the cheapest and most efficient option.
To help out, I've put together a list of the 3 things I recommend considering before choosing the platform to make your transfer. They are:
The frequency that you need to send/receive money from Europe

The daily exchange rate

The ease of the platform and the length of time it takes for the transfer to arrive
1. The frequency that you need to send/receive money from Europe
If you're only going to be making sporadic transfers to/from Europe, then the most important things to focus on will be the exchange rate, the transfer fees, and the timeline for each company.
However, if you'll be making frequent exchanges from Euros to other currencies, then you may want to look at a platform that offers a few other benefits – such as the ability to create an online account.
This way, you'll pay even fewer fees and can manage everything you need directly through an app. Platforms like Wise also offer debit cards for individuals who live in Europe. So if you often are sending money to Europe (from your currency to Euros, British pounds, etc.), Wise may be the best decision.
2. The daily exchange rate
Throughout the website, we talked a lot about the importance of paying attention to exchange rates. Because at the end of the day, the value of the Euro and other European currencies have varied a lot over the last few months.
So to make sure you're not losing money, you want to make sure you send your money at the right time. And again, if you make a lot of transfers, you'll want to always check out the exchange rate first.
You can check exchange rates directly on Google or something like XE's currency calculator.
3. The ease of the platform and the length of time it takes for your transfer to arrive
Out of everything, the most important thing is that the process is as simple and straightforward as possible. No one should need to send over a thousand documents just to create an account and then have to wait days just to get approved.
Another point to keep in mind is the delivery timeline for the transfers. Some companies promise same-day transfers to/from Europe…though this can change based on the form of payment you choose.
I'll talk more about the timelines for each platform below.
What are the 7 cheapest ways to send/receive money from Europe and the United Kingdom?
And now we've finally arrived at the cheapest ways to send and receive money from Europe to the rest of the world. Below, you'll find more info about each company and its timelines, fees, and transfer limits.
As always, I suggest you to get an instant quote with all companies below. It won't take long and you can save a good amount of money by finding the cheapest one for your specific case.
Wise is one of the most well-known platforms for transferring money between countries, and is often the first choice for anyone making transfers to/from Europe.
What makes Wise stand out is its low fees and simple transfer process. Creating an account doesn't take long, which is a big advantage.
Another benefit of Wise is that you can open up a digital multi-currency account without much bureaucracy. With this account, you can receive and send money even more quickly and with fewer fees.
You can even receive a debit card that you can use normally in shops, restaurants, and ATMs.
The only downside is that the debit card isn't available to residents of all countries (though it is available to residents in most of Europe, Canada, the United States, Australia, New Zealand, Singapore, and Japan). That said, the digital account is available to far more!
Timeline, fees, and transfer limits when using Wise to transfer money to/from Europe
You can choose from 3 types of transfers: Low Cost, Fast & Easy, and Advanced.

The Low Cost option can take up to 2 business days to transfer, but the last two options can be completed in just 6 hours.

Wise guarantees the exchange rate for up to 102 hours, which can be great in times of market fluctuation.

Depending on where you're from, taxes may be included.

The transfer fees vary based on the amount sent

(though they are usually still lower than anywhere else!)

.

Additional documents may be required for large transfers.

Transfer limits vary based on the currency you send to and from and how you pay (though they are generally quite high…such as 165,000 for euros).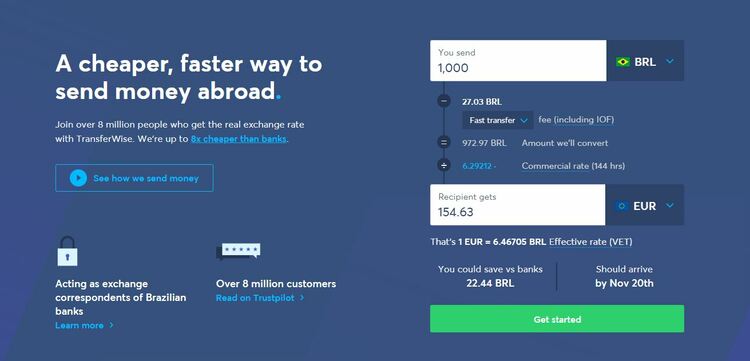 Xe is one of the largest international money transfer platforms, working very similarly to Wise. In addition to all countries that use the euro, it is possible to make transfers to more than 26 countries.
Their differential is that, in addition to sending money abroad, they are also one of the largest companies in the world for researching exchange rates.
So if you're planning to transact across different countries, Wise is a great place to see if a currency has been strengthening or weakening lately.
To simulate a transfer it is necessary to create a free account via the Xe portal.
Timeline, fees, and transfer limits when using Xe to transfer money to/from Europe
There is no maximum or minimum value for international transfers.

Fees depend on the amount of money you intend to transfer but remain relatively low (if you transfer USD 500 the fee charged would be around USD 3).

They use exchange rates close to the official one, which is more advantageous than the tourist exchange rate.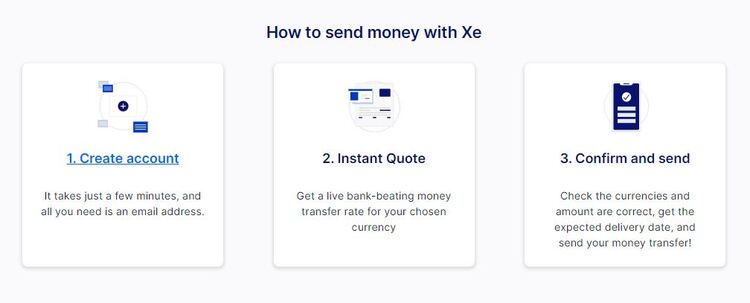 The second platform on our list today is Sendvalu, a company headquartered in Switzerland, which also offers low transfer rates for sending money overseas.
To start us off, one of the major advantages of Sendvalu is that they guarantee all transfers will be completed in 48 hours. For certain currencies, this can be 24 hours or less.
If you don't yet have an account, it could be time to get one since your first transfer will be free (no transfer fees)…making it a good way to test the company's service and delivery timeline.
It's also worth mentioning that Sendvalu supports a different social project each month, which it will then donate 10 cents of every transfer too. Not bad, eh?
Timeline, fees, and transfer limits when using Sendvalu to transfer money to/from Europe
As I said above, Sendvalu guarantees a transfer delivery time of 48 hours or less.

The more money you send, the higher the fee. That said, when compared to Wise, the fees are (very slightly) cheaper.

The maximum that can be transferred at once is 2,500 euros.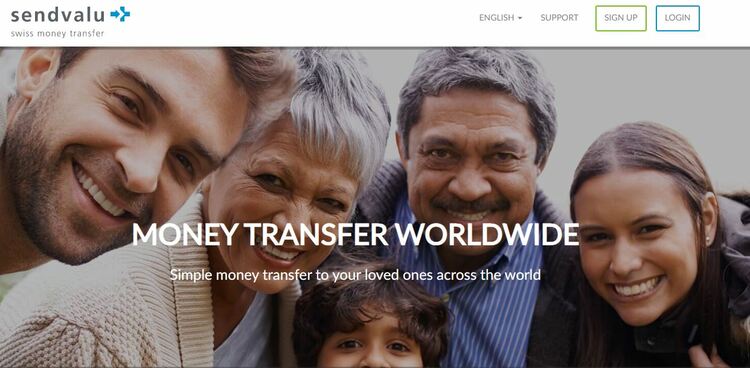 There are a few things that make Remitly stand out from the other choices on today's list.
Normally, transfers are always done from one bank account to another. But with Remitly, you can receive money in cash…which you can withdraw from an authorized point.
Another way to receive your money from Remitly is by delivery. Yes, they'll bring the cash to your house!
And if you don't already have an account, you can take advantage of making one to get a discount on your first transfer.
All that said, Remitly won't work for everyone since it's not available in all countries in Europe, such as Portugal. Plus, you can only get a quote for your exact transfer if you already have an account, which is a little annoying.
Timeline, fees, and transfer limits when using Remitly to transfer money to/from Europe
You can choose from 2 types of transfers: Economic (3-5 days for the transfer to arrive at its destination) or Express (just minutes to arrive).

Transfer fees vary based on how much you send and the type of transfer.

The transfer limit is $2,999 per day or $10,000 per month. If you need to send more, you'll have to send over some extra documents.

4. Azimo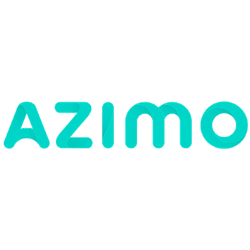 Azimo is another good option to look into if you need to send money cheaply from Europe/the UK to another country.
The first benefit of using Azimo is its promotions and discounts. The first of this is that, when you create your account, you won't be charged any fees on your first two transfers.
The second is that you can earn an up to 10 euro discount if your first transfer is above 100 euros. So keep your eyes out!
To give you a bit more info about the platform…they already have more than 1 million users around the world and offer transfers that take just hours for more than 80 countries!
Timeline, fees, and transfer limits when using Azimo to transfer money to/from Europe
The transfer delivery timeline for sending money from Europe is usually just 24 hours.
After your first two transfers (which you can send without fees), the fees will vary based on the amount you send and if you pay by bank transfer, debit card, or credit card.
The daily transfer limit is 3,000 euros.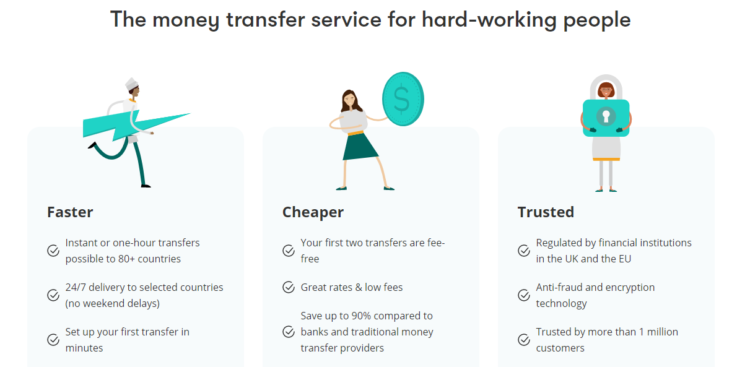 For more than 10 years, TransferGo has been offering a service that's worth mentioning for the speed of its transfers…which can be received in 30 minutes or less!
Beyond the types of transfers and payment options available on the platform, you can also send and receive money from more than 60 countries.
Unfortunately, you can only send money from European countries with TransferGo. That said, if you're going to be receiving money….you have a lot more options (both within Europe and on the other continents).
Timeline, fees, and transfer limits when using TransferGo to transfer money to/from Europe
The transfer delivery timelines vary from 3 minutes to 3 business days depending on the type of transfer you choose.

The fees are fixed and change based on the type of transfer and form of payment.

There are no daily transfer limits, but do be aware that your own bank may have one.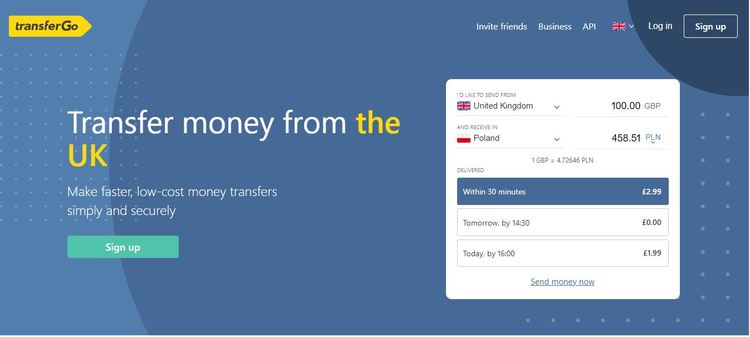 If you're in search of a large company to make your international transfers with, then WorldRemit could be a good option.
With services available in 150+ countries and 90+ currencies, WorldRemit has more than 4 million clients around the world.
WorldeRemit's headquarters are in Brussels, Belgium, and they are authorized by and follow the protocols of the National Bank of Belgium.
Timeline, fees, and transfer limits when using WorldRemit to transfer money to/from Europe
Fees are usually USD 3.99 per transaction, but you can simulate a transfer to get an exact quote.

Although it may take up to 2 business days to receive the transfer, the company claims 90% of its transactions are made the same day.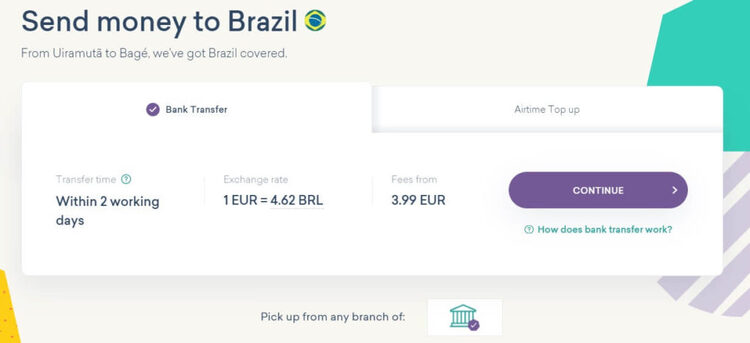 In sum…
Here are the 7 best ways to send and receive money from Europe and the United Kingdom:
Wise

Xe

Sendvalu

Remitly

Azimo

TransferGo

WorldRemit
In conclusion…
There's a lot of options out there for international money transfers in Europe, so it's important that you know what your best and cheapest options are.
On the list above, I've searched for the companies that I believe offer the best service for the best price. Now you've just got to choose the one that matches what you're looking for.
If you've tried any of these companies before, share your thoughts in the comments area below. And, of course, if you have any questions about transferring money overseas, let me and I'll get back to you.
I've spent a lot of time living overseas in Europe and dealing with transferring money between countries, so I know what a pain it can be. That's why I'm happy to help!
Planning your next trip?
Then don't forget travel insurance! You don't want to get stuck paying a ton of money and ruining your trip if you get sick or have an accident without travel insurance. WorldNomads is ideal for adventurous travelers, backpackers, or anyone looking to be protected during their trip. They cover almost every single activity you can image!
Already reserved your hotel or hostel? If not, we recommend Booking.com. They have a huge selection of hotels and hostels all over the world. Plus, in most cases, you can cancel your reservation without any costs up to a few days before the check-in date!
Still haven't booked your plane ticket and want to save big? Take a look at Kayak and Momondo. They are flight aggregators that combine several other ticket search websites to make it easier for you to compare prices and make sure you are getting the best deal.
And finally, will you need to rent a car during your trip? Then check out Rentalcar.com to search and compare car rental companies from all over the world on a single website. Then, you can find the cheapest price for the best car!