Last Updated on by Talita
13 excellent and different guided tours around Australia. Tours with a variety of prices, days, destinations, themes, age, level of luxury, and adventure.
Australia is one of the world's most fascinating and diverse tourism destinations, offering a unique mix of stunning landscapes, exotic wildlife, modern cities and a rich cultural heritage. With its vastness and variety, the country attracts visitors from all over the world in search of memorable adventures.
The first thing that comes to mind when thinking about Australia is, without a doubt, its unique fauna. The country is home to a variety of iconic animals such as kangaroos, koalas, wombats and the platypus. Wildlife enthusiasts can explore national parks and nature sanctuaries where they have the chance to observe these incredible creatures in their natural habitat.
The Australian landscapes are equally spectacular. From the golden sand beaches of the East Coast to the stunning coral reefs of the Great Barrier Reef in the northeast, to the vast red plains of the Outback in the center of the country, Australia offers an impressive variety of natural environments. For outdoor lovers, there are endless opportunities for hiking, diving, surfing and other extreme sports.
Furthermore, Australian cities are vibrant and modern. Sydney, Melbourne, Brisbane and Perth are dynamic urban centers offering a multitude of cultural attractions, restaurants, nightlife and shopping. The iconic architecture of the Sydney Opera House and the famous Sydney Harbor Bridge are just some of the urban attractions that delight visitors.
Australian culture is also unique, with an Aboriginal heritage dating back millennia and a multicultural population that has enriched society with diverse traditions and cuisines.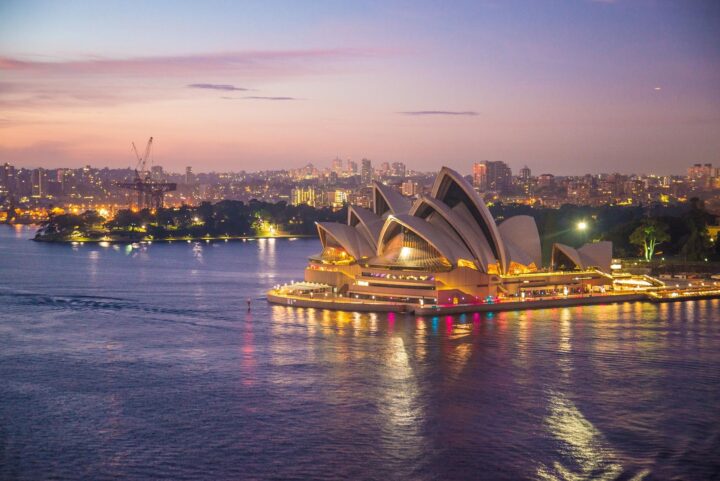 Top 10 Tourist Attractions in Australia
Before we delve into the central topic of this article, it is relevant to highlight some of the most popular tourist destinations in Australia to facilitate your search for tours, itineraries, and excursions that cater to your preferences.
As mentioned earlier, Australia is a fascinating country. Below, we present a list of the top 10 attractions and tourist cities that deserve to be visited in Australia:
Sydney Opera House:

This architectural icon is one of the most recognizable structures in the world, famous for its unique design. Besides being an architectural marvel, it is a world-class entertainment venue.

Great Barrier Reef:

Located off the northeast coast of Australia, the Great Barrier Reef is the world's largest coral reef system and a paradise for diving and snorkeling enthusiasts.

Uluru (Ayers Rock):

Located in the heart of the Australian Outback, Uluru is a massive red rock formation with significant cultural importance to Aboriginal Australians.

Great Ocean Road:

This coastal road offers spectacular views of the shoreline, including the famous rock formations known as the "Twelve Apostles."

Melbourne:

Known for its vibrant culture, cafes, street art, and renowned sports events, Melbourne is a city that captivates its visitors.

Kakadu National Park:

This park in the Northern Territory features stunning landscapes, canyons, waterfalls, exotic wildlife, and Aboriginal rock art.

Tasmania:

The island of Tasmania is known for its pristine nature, stunning hiking trails, and unique wildlife, including the famous Tasmanian devil.

Cairns and the Daintree Rainforest:

Cairns is a popular starting point for exploring the Daintree Rainforest, one of the world's oldest rainforests and home to rich biodiversity.

Brisbane:

The capital of Queensland is a sunny and welcoming city with a growing art scene, urban parks, and family-friendly attractions.

Fraser Island:

The world's largest sand island, located off the coast of Queensland, is known for its white sandy beaches, rainforests, and freshwater lakes.
Is it better to travel independently or in group tours in Australia?
Regardless of the option you choose for traveling in Australia, whether independently or on a group tour, each has its advantages and disadvantages.
Opting for independent travel, for example, offers greater flexibility to plan your own itinerary and choose activities according to your preferences. This grants you the freedom to decide when and how to engage in activities, allowing you to explore Australia at your own pace. Moreover, this option can be more economical as you can control expenses based on your choices.
However, independent travel requires detailed planning, including research on accommodation, transportation, and activities. You need to be prepared to handle potential challenges, such as cultural and language differences, and take extra precautions related to safety, especially in more remote areas.
On the other hand, a group tour with a guide offers the companionship of fellow travelers and the opportunity to meet people with similar interests. Additionally, traveling in a group can provide a sense of security, especially if you are accompanied by an experienced guide familiar with Australia.
However, this option may somewhat limit your freedom to explore Australia independently since you will be following a predetermined itinerary and schedules set by the group.
In summary, the choice between traveling independently or in a group in Australia depends on your personal preferences. Evaluate your interests, time availability, budget, and comfort level when making your decision. Both options offer enriching experiences, and it's up to you to decide which better suits your travel needs and desires.
| | |
| --- | --- |
| Pros of traveling on a group tour | Pros of traveling on your own |
| Company and opportunity to meet people with similar interests | Flexibility to create your own itinerary and choose activities |
| Peaceful and fun group experience | Autonomy to follow your own schedule |
| More safety when riding in a group, especially with an experienced local guide | Freedom to explore Iceland without having to stick to a schedule |
| Less need for planning and research as the tour already provides accommodation, transport and activities | Potential savings, since depending on the choices it can be cheaper |
| Possibility of access to places or activities that may be difficult or impossible to reach alone | Greater challenge and opportunity to learn and grow with the experience of planning and conducting your own trip |
13 Best Tours and Itineraries to Explore Australia
Best Australia Tours and Itineraries for Guided Small Group Adventures
1. G Adventures – Best of Australia (14 Days)
If you haven't noticed, Australia is an immensely vast country. So vast, in fact, that it would be necessary to return several times to see it all. Don't have that time available? So embark on this exciting 14-day journey along the east coast of Australia and make the most of the time you have.
This trip offers a great combination of unmissable experiences and unique adventures, including a surf lesson in Byron Bay, a boat trip through the Whitsundays and a hike through Mossman Gorge in the Daintree Rainforest.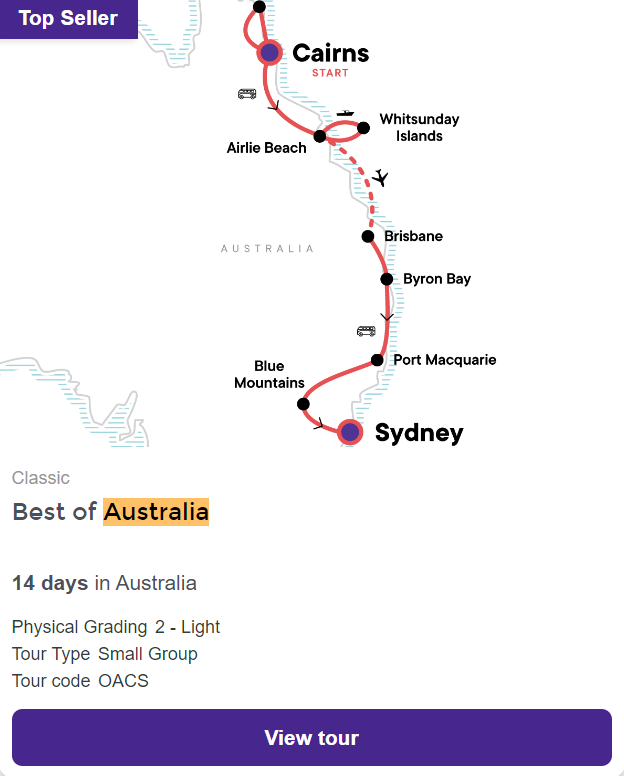 2. G Adventures – South Australia & the East Coast (23 Days)
This 23-day adventure comes close to exploring all the great things Australia has to offer. Start in Adelaide, the capital of South Australia, where you can discover the city's famous churches and gardens.
Then head to Grampians National Park in Halls Gap to explore this ancient landscape. Travel the stunning Great Ocean Road on your way to the Mornington Peninsula and Melbourne.
Then, discover the Great Barrier Reef at Cape Tribulation, cruise the stunning Whitsundays, learn to surf and explore Sydney. And if you think you're exhausted just listening, wait until you're actually here!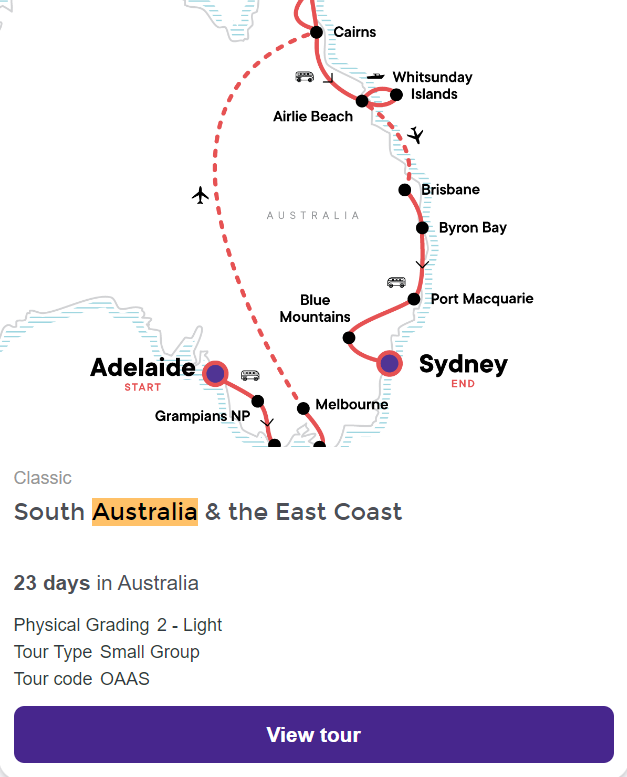 3. Intrepid – Highlights of Tasmania (6 Days)
Explore the ethereal beauty and remote wonders of an island that thrives in its isolation during this exhilarating natural adventure through Tasmania.
Discover unspoilt UNESCO national parks, from the coastal heathland and sand dunes that meet rainforest at Tarkine to the glacier-carved landscapes around Cradle Mountain.
Walk along stunning Hazards Beach under the shadow of Freycinet's pink peaks and marvel at the incredible combination of snow-white sands, turquoise waters and orange-hued granite in the famous Bay of Fires.
Immersed in native wildlife, from Tasmanian devils to fairy penguins, enjoy free evenings feasting on high-quality seafood in picturesque beach towns.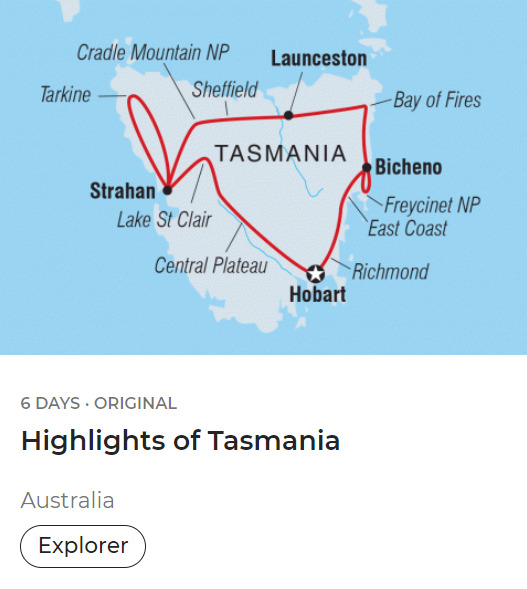 4. Intrepid – Best of Uluru & Kings Canyon (4 Days)
Dedicate four days in Australia's incredible Outback to marvel at some of the country's most stunning natural wonders, explore rich First Nations culture, and witness rust-colored landscapes at sunrise and sunset.
Starting in the quaint Australian town of Alice Springs, you'll explore the iconic Western MacDonnell Ranges (Tjoritja) National Park, Kings Canyon, Uluru, Kata Tjuta and more.
Prepare your hiking shoes, swimwear and that special adventure shirt (you know the one), because this journey is packed with outdoor activities that will reveal the true essence of Outback living.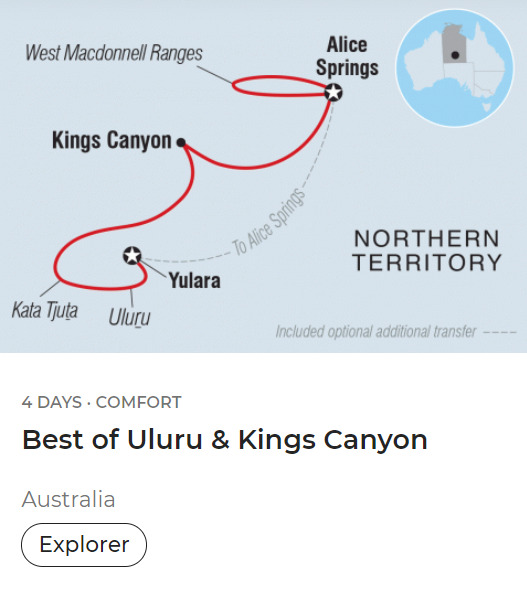 Best Australia Tours and Itineraries for Young Single Groups (Ages 18-35)
5. Contiki – South Australia: Wineries & Wilderness (5 Days)
This exciting journey begins in Adelaide, where you'll have the chance to discover the restaurants of Peel Street and visit the wineries of the Barossa Valley.
Afterwards, you'll board a ferry to Kangaroo Island, where wildlife viewing, kayaking, ATV riding and, of course, more wineries are on the agenda. Although short, this trip offers something special for everyone.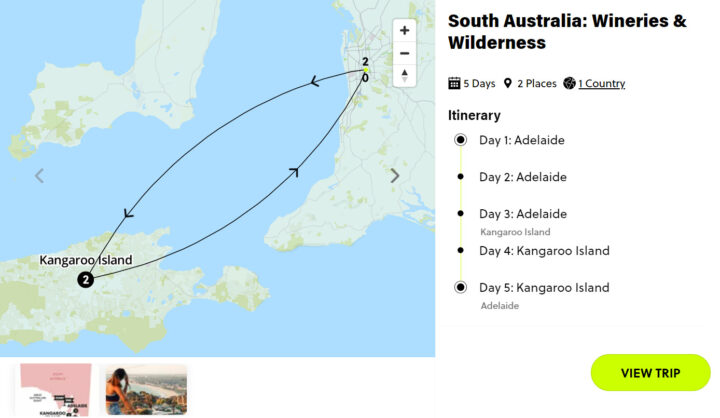 6. Contiki – Ultimate Australia (25 Days)
Explore the fascinating combination of landscapes and activities that make Australia so special.
Start in Sydney and the East Coast, enjoying plenty of time on the beaches of Bondi, Byron Bay and the Whitsundays, before heading to the Northern Territory, where endless landscapes and iconic sights, including 3 unforgettable nights at Uluru, await.
One moment you're in the city enjoying kaffir lime cocktails, and the next you're stargazing in outback solitude. In no time, you'll feel like a real Australian.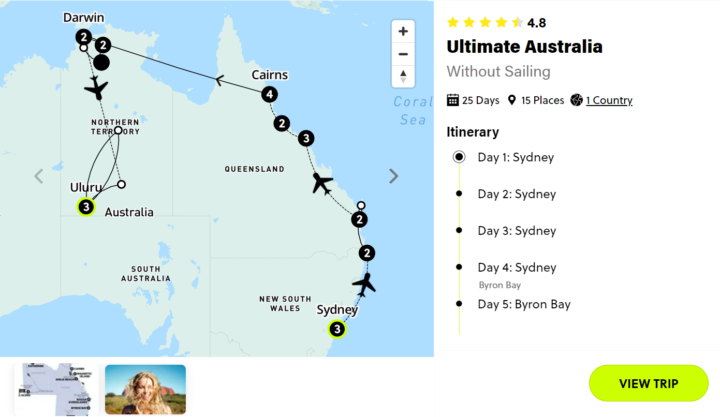 7. Topdeck – Beaches and Reefs (16 Days)
The renowned East Coast, where you can enjoy wildlife tours and picturesque beach walks and sunsets.
Starting in Sydney, you'll have the opportunity to spend the night at an Eco Camp in the Noosa Everglades, have breakfast with koalas on Magnetic Island, learn to surf in Byron Bay and enjoy views of the Whitsundays from Airlie Beach.
This is a one-way ticket to falling in love with the Australian lifestyle permanently.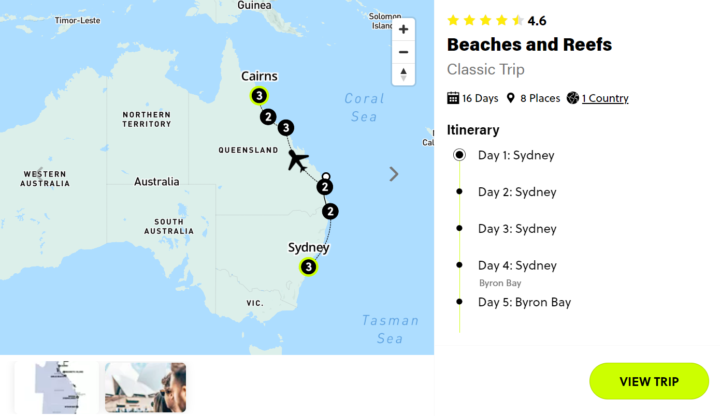 Best Luxury and Comfort Tours and Itineraries in Australia for Small Groups with Guides
8. Trafalgar – Contrasts of Australia (9 Days)
Exploring the most popular destinations along the East Coast, this Australia sightseeing tour lets you discover vibrant cities, sunny beaches and stunning landscapes. Enjoy a cruise to the Great Barrier Reef, an adventure through the rainforest treetops, and compare the similarities and differences between Sydney and Melbourne.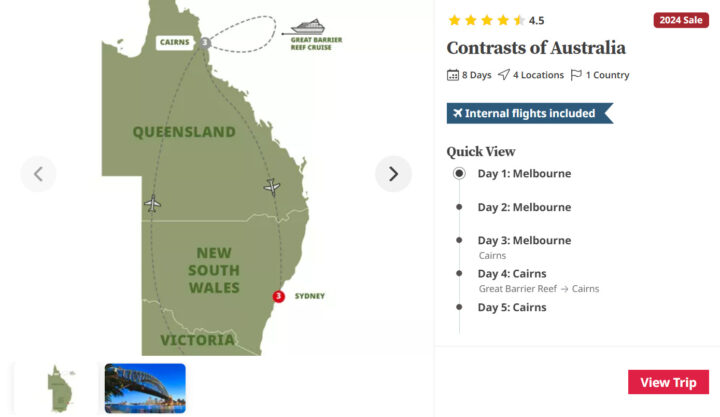 9. Trafalgar – Wonders of Australia (9 Days)
9 days and 4 cities in wonderful Australia. Explore this stunning country with this tour that includes breakfast, supports the local community and is environmentally sustainable. Brisbane, Hamilton Island, Great Barrier Reef and Sydney, be impressed by the natural beauty of these places.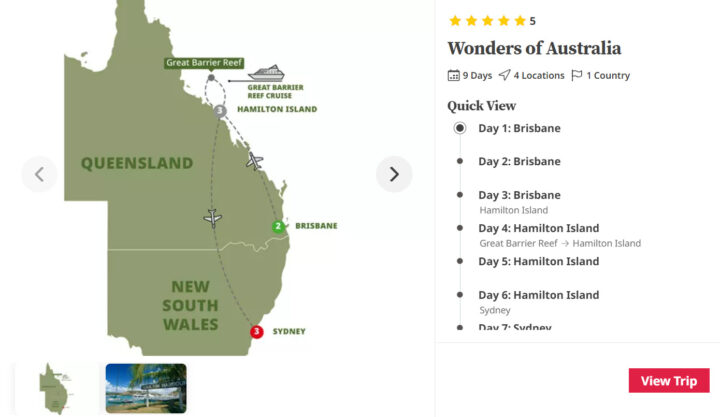 10. Insight Vacations (13 Days)
Explore Australia on a 13-day expert-guided journey. Near Cairns, delve into the rainforest of Daintree National Park with a local expert who will share knowledge about the indigenous Kuku Yalanji people who inhabit the area.
Then fly to Uluru, where a guide will lead you through Walpa Gorge and its distinctive red rock formations. Later, witness artist Bruce Munro's Field of Light spectacle, which illuminates the desert with 50,000 solar-powered lights.
In Alice Springs, choose the experience that suits you best: visit the Air School to learn about the technology used to teach children or explore the Royal Flying Doctor's Tourist Service, which plays a vital role in saving lives in the Outback.
Take a cruise around Sydney Harbor, then enjoy a VIP tour of the famous Opera House. End your incredible journey with dinner at the Bennelong Restaurant, located in the iconic sails of the Opera House.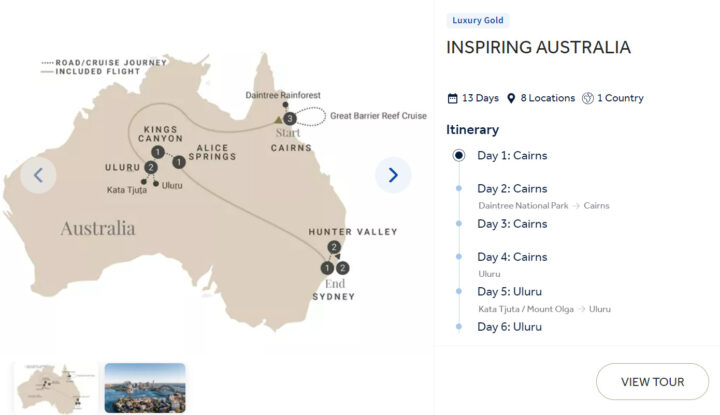 Best tours to Australia from Tourradar (best site to search and compare tours in Australia of different durations, styles, prices, and operators)
11. Tourradar – Perth to Exmouth Explorer (7 Days)
Start and end your journey in Perth! With the tour you will have a 7-day tour package that will take you from Perth, Australia and 7 other destinations in the country. This tour includes hotel accommodation, a specialized guide, meals, transportation and much more.

12. Tourradar – OZ Perth (10 Days)
Start your journey in Sydney and finish it in Brisbane! With the tour package you will have 10 days of exploration that will take you to Sydney, Australia, and 3 other locations. The tour offers accommodation in hostels, guidance from an expert guide, meals, transportation and much more.

13. Tourradar – Esperance & Margaret River Adventure Tour (6 Days)
Start and end your journey in Perth! With the 6-day Active Adventure tour package called "6-Day Esperance & Margaret River Adventure Tour", you will explore Perth, Australia and visit 6 other destinations in Australia. This tour includes accommodation, guidance from an expert guide, meals, transportation and more.

Concluding
Australia is a fascinating destination for those seeking cultural, historical and adventure experiences.
With a wide variety of tour and excursion options available, it is crucial to carry out thorough research before choosing the company that best meets your needs and expectations.
Checking reviews from other travelers and details of the accommodations offered is essential to ensure a smooth and safe trip.
However, regardless of the company chosen, one thing is absolute: visiting Australia is a truly once-in-a-lifetime experience! So, get ready for an unforgettable journey and embark on this adventure across the country!
Planning your next trip?

Then don't forget travel insurance! You don't want to get stuck paying a ton of money and ruining your trip if you get sick or have an accident without travel insurance. WorldNomads is ideal for adventurous travelers, backpackers, or anyone looking to be protected during their trip. They cover almost every single activity you can image! Plus, you can have a 5% discount with the coupon code comfort5.

Already reserved your hotel or hostel? If not, we recommend Booking.com. They have a huge selection of hotels and hostels all over the world. Plus, in most cases, you can cancel your reservation without any costs up to a few days before the check-in date!

Still haven't booked your plane ticket and want to save big? Take a look at Momondo. It's a flight aggregator that combines several other ticket search websites to make it easier for you to compare prices and make sure you are getting the best deal.

And finally, will you need to rent a car during your trip? Then check out Rentalcar.com to search and compare car rental companies from all over the world in a single website. Then, you can find the cheapest price for the best car!