Last Updated on by Lohanna Reis
The best rated tour companies specialized in small group travel (with tips to save on your bookings). Tour companies for all types of travelers: solo traveler, adventure, exotic/hard-to-reach destinations, luxury, young, singles, party, family, etc. Plus, pros and cons so you can compare organized group trips with independent traveling.

Table of Contents
To travel independently? Or to travel as part of the group? That is the (cheesy) question!
Okay, if you know this website/blog, you'll know that it focuses on tips for independent world travel (without an excursion or tour) that let you travel long-term even if you are on a tight budget. It's just that you need the time and planning to be able to prepare an entire trip yourself.
But I know that some people either don't like or don't have the time to prepare all that they need for a trip by themselves (flights, accommodation, itinerary, transportation, travel insurance, etc….).
In this case, my suggestion is to travel as part of a group tour. Then, basically all the most important parts of your trip will already be taken care of and organized and all you'll have to do is relax and enjoy.
And there's nothing wrong with traveling as part of a tour group (even if that's not something we usually focus on here). You still can have a travel experience that is incredible, all-encompassing, and authentic whether you go on your own or with a tour.
The problem is knowing which company and type of tour to do.
I say this because there are "TOUR GROUPS," and there are "tour groups." In other words, not all tour companies around the world are created equally. And that's why below we selected some of the best-known and highest-rated tour companies on the market. In other words, they are great travel alternatives if backpacking during your holidays isn't really your thing.
(But if you want to save money or travel on a tight budget, just keep in mind that it will almost always be a lot cheaper to travel independently. If that's more your aim, then just follow the sequence on this page to begin planning your next trip yourself.)
P.S.: Remember that you can combine independent travel with group travel! When I was in Australia, I did a large part of my trip independently (backpacking-style) but when I went to see the central area (Alice Springs and Uluru), I went with a tour. It worked out perfectly to mix tours and travels!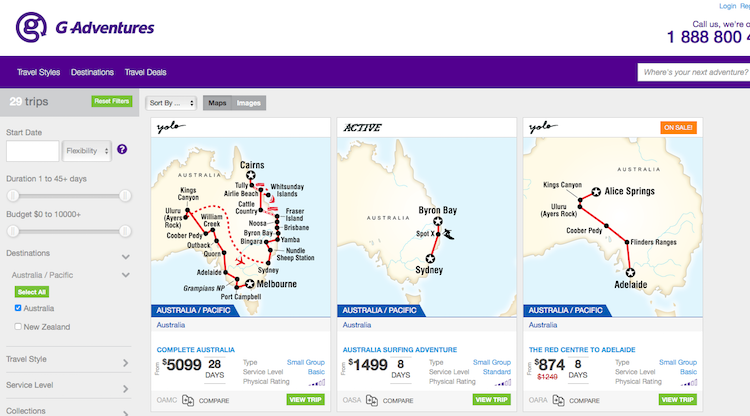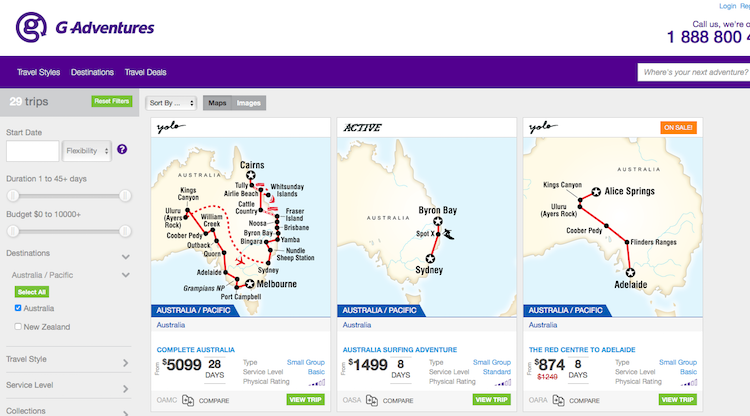 The 5 Best Tour Companies for International Travel Around the World

G Adventures type of tours: Fun, relaxed or adventure trips
G Adventures is one of the biggest tour companies for small group travel in the world. They focus on adventure travel at a relatively low cost compared to other companies. They have more than 650 different excursions/adventure tours on all 7 continents! Yes, even to Antarctica (just in case anyone forgot this was a continent ?) and the Arctic (though this doesn't get to be a continent because it's basically just a block of ice ☹).
And they have guided tours of all kinds: Active, YOLO (for young people aged 18-39), Family, Classic, etc…in other words, you'll definitely find a tour that's right for you!
And I, personally, really like the way they give the search results – with maps and tour itineraries – that show you exactly what you're going to do. This makes it easy to compare different tours.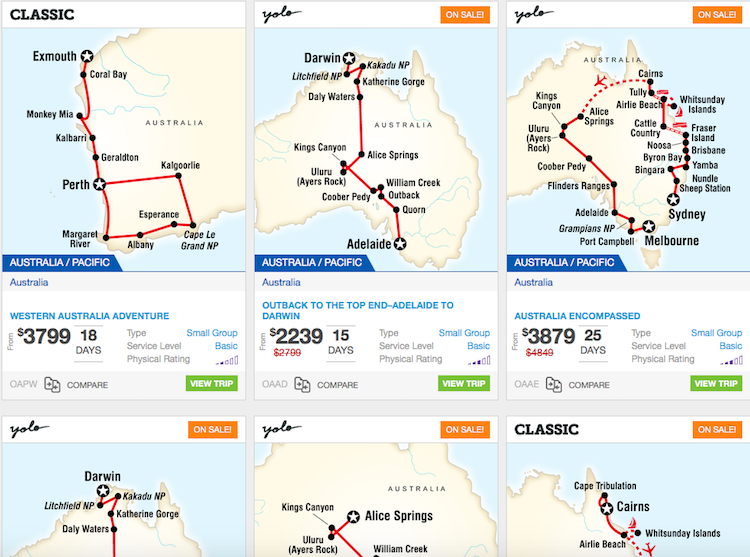 Intrepid type of tours: Fun, relaxed or adventure trips
Along with G Adventures, Intrepid is another one of the biggest international tour operators for adventure travel on the market, offering more than 800 itineraries around the planet. With them, you'll travel in small groups of lots of adventure and minimal frills. In some cases, depending on the type of excursion (such as a camping excursion), it's expected that you'll help prepare dinner together with the other travelers. Don't worry, all will be explained and led by your guide!
I did a tour similar to this in the middle of the desert in Australia and it was awesome! It helps you build a connection with your group which makes the tour that much better.
And like G Adventures, Intrepid also has tours of all kinds such as Family, Biking, Wildlife, etc…it's hard not to find something you like.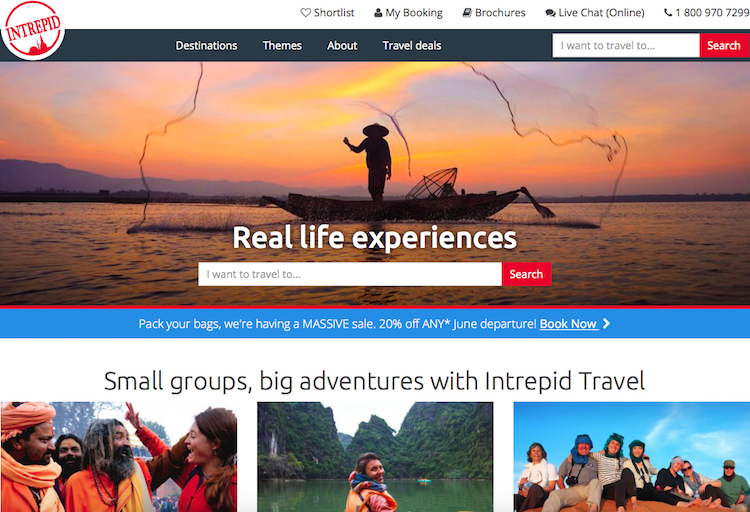 Contiki type of tours: trips with a focus on partying, having fun and relaxing
Contiki is famous for organizing guided trips for young people aged 18-35 (they are actually one of the tour companies that don't allow people outside this range). And they are well-known by one thing: the parties!
With Contiki, a day of visiting tourist attractions in Europe or Australia will usually end in partying, booze and uh…..well, there's a reason some people call it Sextiki. I'm not saying this based on my opinion, but just google around and you'll find the same thoughts.
So, Contiki may not be for everyone…but if you're are traveling alone and beyond tourism also want to meet people from around the world and party, Contiki is the tour company for you! There's a reason why their catchphrase is #NOREGRETS.
But this doesn't mean that you can't still enjoy Contiki if traveling as a couple or if you aren't a big partier, but you should know upfront kind of what to expect.
They have tour groups going to the United States, Canada, Europe, Australia, New Zealand, Asia, and Latin America, etc…but they are especially awesome for European tours. 
Special Promotional Coupon Code for Contiki: PPASIALMD526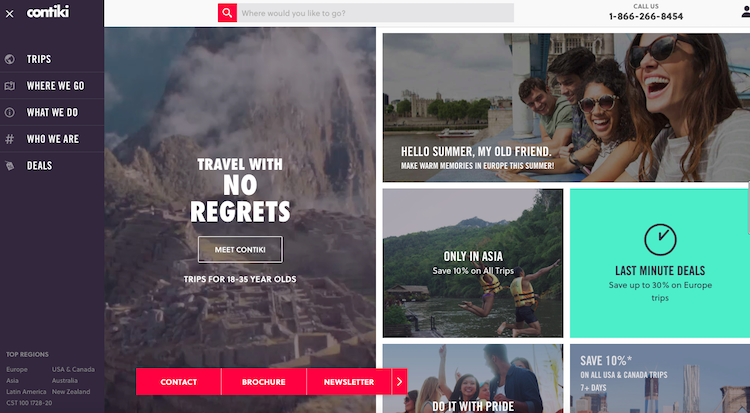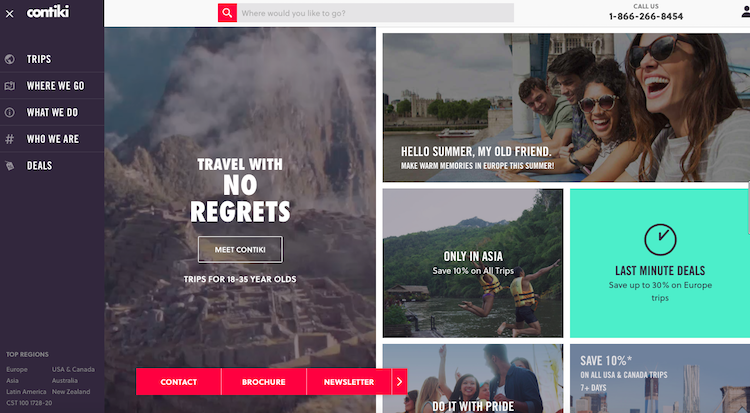 (mention code DPRKOUT)
YPT type of tours: low-key trips to exotic and hard to reach places
If you've read our article about How to Visit North Korea on a Budget, you'll see that we visited one of the world's most closed-off countries with Young Pioneer Tours.
This is because YPT is a tour company that specializes in, according to them, "budget tours to destinations your mother would rather you not go to." Places like Turkmenistan, Eritrea, Iran, Transnistria (actually, I visited this last one by myself in one of my Europe trips and wrote about it here), and other infamous places that are difficult for tourists to get to.
So if you are on the lookout for adventure and uncommon destinations, I'd recommend taking a look at their website.
When booking with Young Pioneer Tours, mention the code DPRKOUT while making your booking to get a free t-shirt and an exclusive North Korea travel guide. Also valid for trips to destinations beyond North Korea.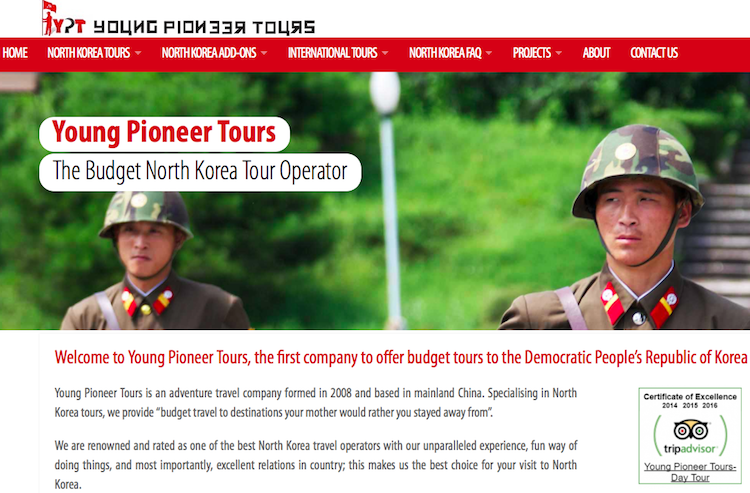 Tourradar type of tours: tour search engine with all kinds of excursions and travel packages
Unlike the options above, Tourradar doesn't actually offer their own tours. Instead, they are a big aggregator (or online marketplace) that lists guided tours from companies around the world.
On the website, you can search for and book group tours/packages from more than 500 different operators.
So, if you want to make things easy, just put in the destination you'd like to visit, the month, and the year and Tourradar will give you a gigantic list of guided tour options of all kinds. 
During your search, you can also filter by price, duration, age range, style, etc…which makes finding affordable tours pretty easy. 
Something that I think is really cool about Tourradar is that they have a section with the best festival tours around the world – like the Tomatina in Spain, Exit in Serbia, Oktoberfest in Germany, and even tours to Carnival in Rio de Janeiro!!
Win a free trip with Tourradar!
Another great thing about them is that they are always giving away free trips. To enter in one of the contests, just click this link here or the picture below, put in your name and email….and that's it! Good luck!!

Encounters Travel Type of Tours: Innovative tours to open-minded people
Encounters Travel is an English company with more than 50 years of experience. The company's focus is saving money combined with the enjoyment of its customers, considering the cultural aspects of each country.
So to not exclude anyone, the groups have a maximum of 20 travelers, in addition to offering a private tour service, where prices can be a little more expensive, but ideal for those who prefer to travel alone.
With Encounters Travel, it is also possible to customize excursions, in case you are in a group of friends who want to deviate a little from the itinerary planned by the company. They are great for college, school, clubs or association outings.
The company's website is super intuitive, divided into several categories that make it easier to decide the perfect trip for you. There's also a section of the site dedicated to booking last-minute trips, in case you're one of those people who doesn't like to plan too far in advance!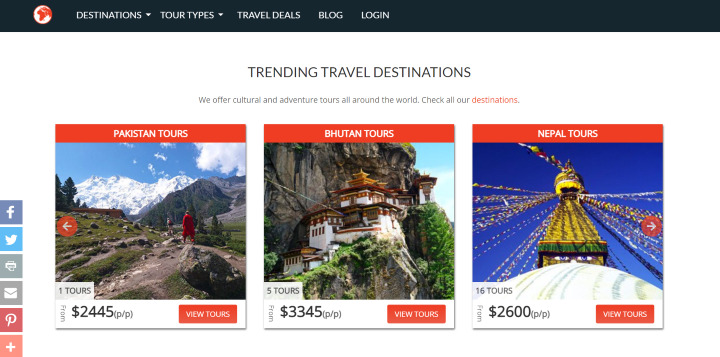 Trafalgar type of tours: exclusive travel focused on luxury, convenience, and comfort for selective travelers
Well, as you probably already know, this website/blog isn't exactly focused on guided trips of luxury and comfort. But, although the tour companies listed above will already be a lot more comfortable than an independent trip weighed down with your own backpack, they tend to attract travelers that are a bit more adventurous and low-key.
But if your travel style is more about relaxing, luxury, and comfort, I recommend you check out Trafalgar.
Trafalgar is one of the oldest, most renowned, and exclusive tour operators in the world. They offer more than 230 different itineraries around the world that can also be tailor-made for even the most selective of travelers.
If this sounds like you, take a look at their site and get a tour quote to see if the options are to your taste and style.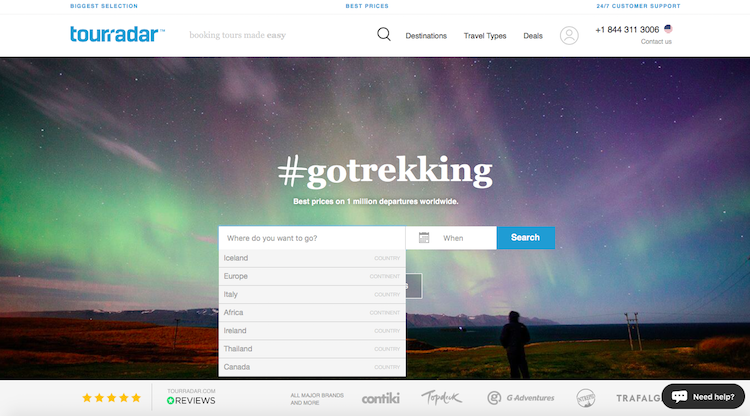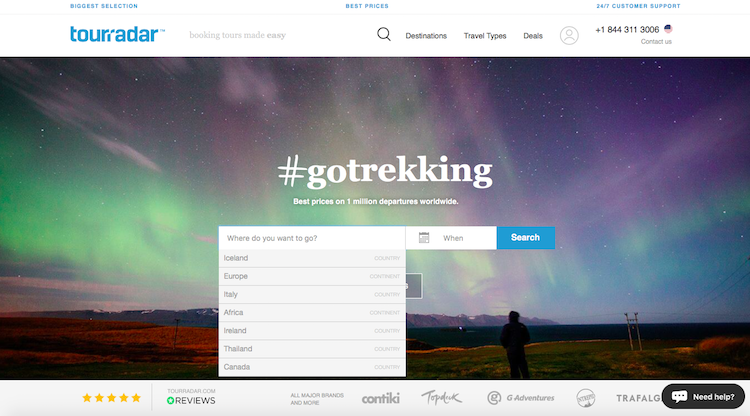 SFT Tours type of tours: excursions around the world in small groups for women only
Solo Female Travelers Tours is a women's company that caters exclusively to the female audience. The intent of this is to create comfortable, safe, and reliable adventures for their clients in places that would not normally be very accessible to solo travelers.
SFT Tours has small group tours to Iceland, Tuscany, Tanzania, Sudan, Mongolia, and Antarctica. Their trips are quite varied, ranging from luxury tours in the Italian countryside to extreme adventures like climbing Kilimanjaro and motorcycle expeditions through Mongolia (see here 25 Interesting Things I Learned While Traveling in Mongolia).
By booking an expedition with them you will be connected with other women traveling solo, which is a great opportunity to create new friendships. All Solo Female Travelers Tours prioritize companies created and led by women with a mission to help empower women around the world.

So, should I travel with a tour group or by myself?
Pros of Traveling with a Group Tour
As mentioned above, almost everything will be organized for you. So, just relax and enjoy!
If you don't want to travel alone but don't have a friend or family member to go with you, going with a pre-arranged group will take care of that.
You can feel safer because you'll always be with a guide. In other words, you won't find yourself lost in the middle of the city or getting cheated by that taxi driver in Santiago del Chile while in an escorted tour.
You can access places that are almost "closed" to independent tourists. As an example, we had to visit North Korea with a tour – we explain it here if you want to do the same. The same thing is true of Iran for American and British citizens.
It's easier to get a visa for certain countries. In other words, it'll often be easier to apply for a visa and have it approved if you already have a tour booked and paid for.
Most of the recommended tour companies here give you some "me time" that'll let you have some time to explore on your own during the tour. But in some places, like North Korea, this won't be true as you must always be with a guide. Remember that there's also the possibility of doing extra travel tours during those "me time" periods if you prefer.
It's guaranteed that you'll stay in quality and pre-reserved accommodations (so you don't have to worry about sleeping on a bench in that park in Banff, Canada because it was Easter and everything was full….which I totally don't know from experience or anything).
You'll have help and support in the case of sickness, theft, loss, accident or any other unexpected problem that can happen during your trip.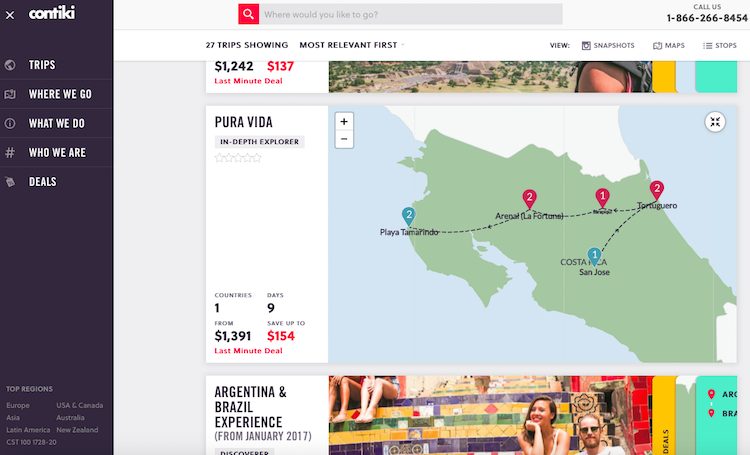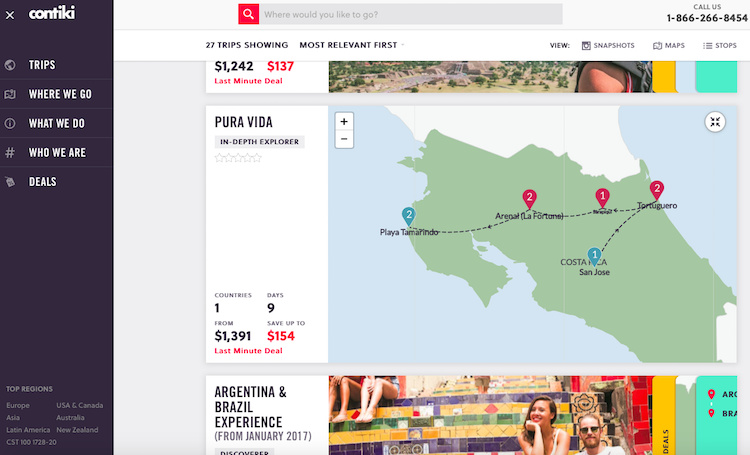 Cons of Traveling with a Group Tour
Traveling in a group can be frustrating. Not everyone always gets along and sometimes they'll be disagreements or little cliques. But in general, the type of people who decide to travel with a lot of the tour companies below are open-minded and easy to deal with.
If you like having your space, being in a tour group isn't ideal. Even if the tours suggested below do give you some time to relax and explore by yourself, the "me time" isn't unlimited.
Going with a group tour is almost guaranteed to be more expensive than traveling, planning, and reserving everything yourself.
If you end up in a group with an average age different from your own, it can be a bit irritating. Heterogeneous groups with different ages are common on many tours and it's interesting to hear about different life experiences. But if you're 21 and the average age of your group is 60, it's not so interesting.
You have to be patient with that couple that is always late to breakfast in the morning or nearly misses the bus after each stop. But this is all part of traveling in a group tour….so, don't be "THAT couple!!"
On that note, remember that you have responsibilities of being a part of the group and you can't just "do what you want" like you could if you were traveling alone.
You are stuck with your group's schedule. Outside of the "me time" allotted, if you want to catch the bus and stick with the group, you have to follow the schedule. Think the current museum is boring? You have to stay there until the set time is finished. Want to spend more time at the beach? You'll be cut short when your group starts leaving you behind.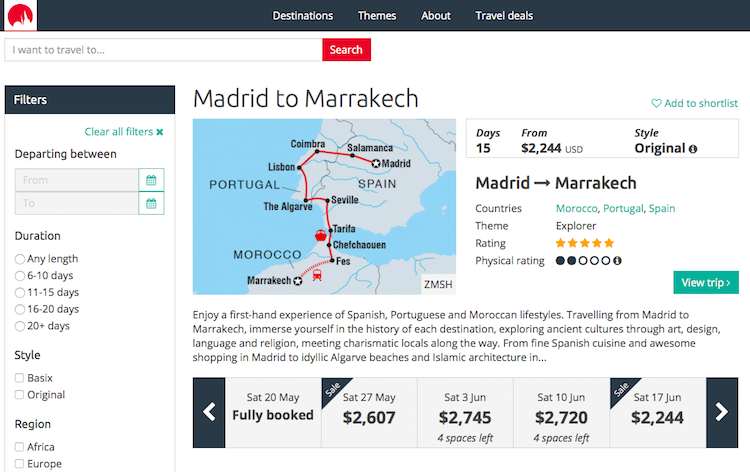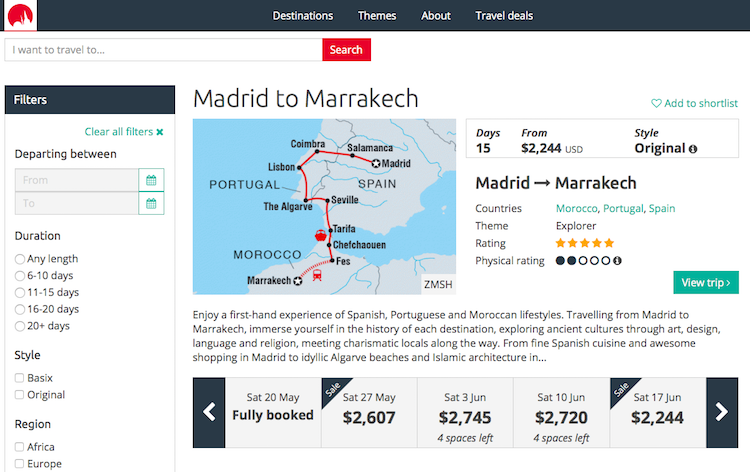 How Do I Choose the Best Tour and Group Travel Company for Myself?
There's a bunch of factors you need to consider:
Type of tour: Since you'll find tours of all types offered by the companies below, choose the one you're most interested in: city, train, adventure, cycling, festivals, camping, beach, historical, etc…
The age range of tours: If you are 24, you probably don't want to be part of a tour with the average age of 62! Same idea the other way. Being the oldest person in a tour with a bunch of 23-year-olds that are out late partying every night isn't that great.
Cost of additional activities: In general, the tour packages mentioned below will cover all accommodation and transportation and some of the food and attractions. However, there are almost always additional costs that could be added on during the trip. Things like riding a camel, diving, learning to surf, etc… and if everyone else on the tour is doing it, you probably don't want to be the only one watching from the sidelines. So, see what the possible extra costs could be (beyond the price of the tour) to make sure they fit into your trip's budget.
Amount of free time: Some people like to do activities with the group all day long (to make the most of what they paid for). But others like some time to head out a bit on their own to explore the city or just relax without their guide at their side. You can usually see how much "me time" or free days you'll have by looking at a tour's itinerary.
Atmosphere: This is similar to the idea of age above. Some tours are completely focused on young people and partying (I'm talking about you, Contiki!), and others revolve more around history, museums, and cities like a European tour. Then, there are others still with more adventure and less fuss. Research well before deciding!
Reviews: As with everything online, you can also find reviews for tours and tour companies. Some reviews are on the company website itself, others you'll have to search online for. It's always good to hear what other travelers who've actually been on the tours thought of the company, the destination, and the itinerary.
Level of physical activity: In almost all of the tours you might check out, there'll be a level of physical activity number from 1 to 5 (with 1 being the lowest level, and 5 being the highest level). In other words, if you aren't super active, I wouldn't try to travel during your vacations with a tour that's going to climb Mount Kilimanjaro (likely a level 5 on that scale). On the other hand, if you are someone who's in good shape and likes to exercise, a level 5 tour might be ideal for you. Personally, I love combining travel with exercise!
Group size: On average, the companies below work with groups sizes that average 10 people. But there are sometimes bigger groups…though usually not bigger than the number needed to fill up a bus. Check the info about each tour if group size is important to you.
Length & dates: This should seem obvious, but worth mentioning! If you can only have very specific days off work, you'll have to make sure that the tour you want fits into this timeframe. Otherwise, if you have a big enough group, you may be able to arrange your own group tour with the dates of your choice.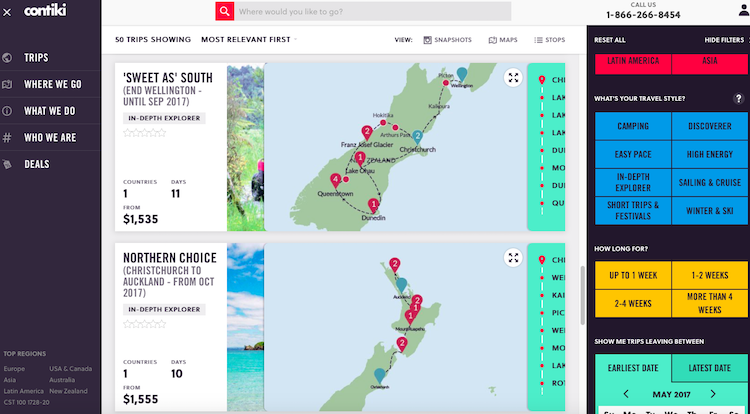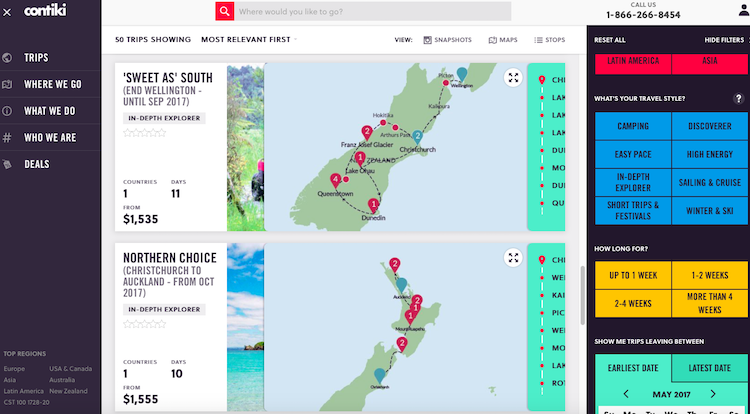 How Should I Prepare for my Group Tour (and Save Some Extra Money While I'm at it)?
Research and compare the cost of plane tickets yourself. Sometimes, you can buy your plane ticket with the company that you're doing your tour with (like a tour package), but it's also worth checking to see if you can find something better yourself. Research and compare what you find with the price the tour company is quoting you to see the best option. If you search yourself online, our article with 16 tips to save on flights can help.
Explore different options for travel insurance before purchasing. Just like with flights, usually, you can either buy travel insurance directly with the same company you are buying the tour with, or buy it yourself. To do some research yourself, be sure to check out our article with the 3 best and cheapest travel insurance companies on the market! And just remember: it's obligatory to have travel insurance to participate in a tour and you'll be asked to show proof of the insurance before your trip begins.
Try to arrive a few days early in the place where your tour will start. Maybe consider staying around few extra days afterward to relax, as well. This makes sure you aren't late, can have some time to prepare….and see a new place!
If you arrive early or stay late after your tour, book accommodation in advance! The majority of tour companies will offer some options for hostels/hotels to stay in before or after your trip. Obviously, they'll earn some extra commission by making a reservation in your name. So, if you want to save in this aspect, consider booking something yourself. Then, you'll be able to see all of the possible options (and not just the ones the company will push on you). Check out our article with the 6 best websites to find and reserve your hotel or hostel to help.
Decide between a shared room or a private room. In most cases, if you are traveling alone, you'll be put in a room with another solo traveler of the same gender. But if you want to stay in a room alone, you'll have to pay a bit extra for a "single room supplement."
Be careful with the size of your bag or backpack. Just as with aircrafts, buses, boats, or trains, you'll probably have a weight limit (about 20 kg) for the bag you bring on the tour.
Plan ahead for your passport or visas. The entire process of getting a passport or visa is normally done by the travelers themselves and not by the company that organizes the tour. But as I mentioned, one benefit of going with a tour is that it's easier to get a visa than if you were going alone.
P.S.2: In case the country you want to visit is difficult to access, the tour companies often help you get the necessary visas. This is especially true for countries like North Korea, Iran, Afghanistan, Turkmenistan, Eritrea, China, Somalia (Somaliland), Uzbekistan, Kyrgyzstan, Russia (if you don't have Brazilian passport…

), and others…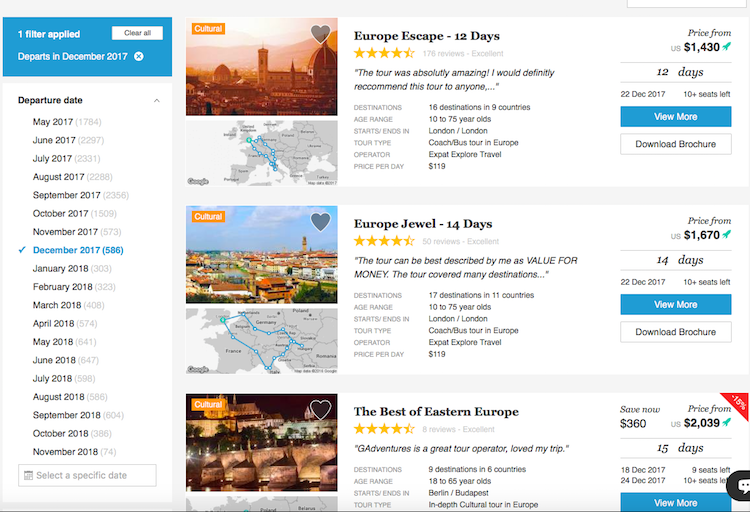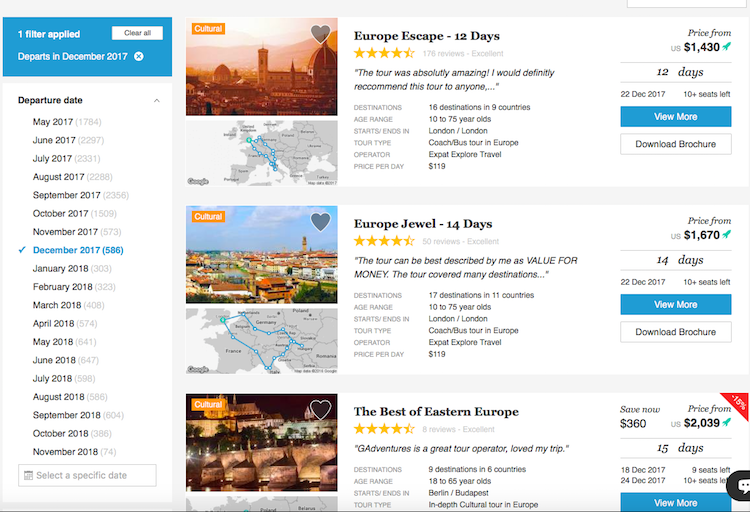 A super quick summary:
The best rated tour companies for adventurous, low-maintenance travelers: G Adventures and Intrepid
The top rated tour company for single or solo travelers that want to party and meet people from around the world: Contiki
The best tour company for people looking for trips to uncommon, off-the-beaten-path destinations: Young Pioneer Tours
The best tours website for travelers who want to see all the tour packages and excursions options in a single place: TourRadar
The best tour company for travelers that prioritize luxury and comfort: Trafalgar
Well, that's it. You can have a great trip as part of a tour group or on your own. Really, the important thing is TO TRAVEL!!!
Also check out:
3 Best International Tour Companies for Adventure Travel
5 Best Group Tour Companies for Young Solo Single Travelers
5 Best Websites to Book Tours, Tickets & Attractions Around the World
Planning your next trip?

Then don't forget travel insurance! You don't want to get stuck paying a ton of money and ruining your trip if you get sick or have an accident without travel insurance. WorldNomads is ideal for adventurous travelers, backpackers, or anyone looking to be protected during their trip. They cover almost every single activity you can image! Plus, you can have a 5% discount with the coupon code comfort5.

Already reserved your hotel or hostel? If not, we recommend Booking.com. They have a huge selection of hotels and hostels all over the world. Plus, in most cases, you can cancel your reservation without any costs up to a few days before the check-in date! 

Still haven't booked your plane ticket and want to save big? Take a look at Momondo. It's a flight aggregator that combines several other ticket search websites to make it easier for you to compare prices and make sure you are getting the best deal. 

And finally, will you need to rent a car during your trip? Then check out Rentalcar.com to search and compare car rental companies from all over the world in a single website. Then, you can find the cheapest price for the best car!

If you want to hear about new articles, check out our latest pictures, and read our newest updates, be sure to follow us here….
…..and subscribe to our newsletter below!