Last Updated on by Talita
13 great and different guided tours around Japan. Tours with a variety of prices, days, destinations, themes, age, luxury level, and adventure.
Japan is a fascinating country that attracts millions of tourists every year. With a rich history, vibrant culture, stunning landscapes and impressive technological advances, the country offers a unique experience for visitors.
One of Japan's main tourist attractions is its capital, Tokyo. The metropolis is a mix of tradition and modernity, with gleaming skyscrapers and ancient temples side by side. Another must-see city is Kyoto, which is home to numerous temples, shrines and traditional gardens. Furthermore, Kyoto is known for its geisha and tea ceremony, offering tourists a unique insight into Japanese culture.
For nature lovers, Japan offers breathtaking landscapes such as Mount Fuji, the highest peak in the country. During spring, the fields of cherry blossoms enchant visitors with their soft colors.
Japanese cuisine is also an attraction in itself. From fresh sushi and sashimi to delicious ramen dishes and crispy tempuras, visitors have a wide variety of options to try. Japan is also famous for its teahouses, where tourists can taste authentic Japanese green tea and try traditional sweets.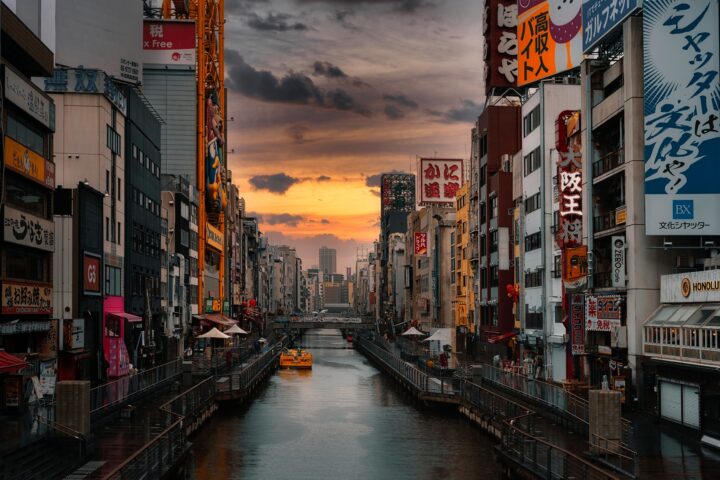 Top 10 Tourist Attractions in Japan
Before we dive into the main topic of this article, let's highlight some of the most popular tourist destinations in Japan to facilitate your search for tours, itineraries, and excursions that match your preferences.
As mentioned earlier, Japan is a fascinating country. Here is a list of the top ten attractions and tourist cities that definitely deserve a visit:
Tokyo: The Japanese capital is a vibrant metropolis that combines modernity and tradition. Visitors can explore famous neighborhoods such as Shibuya, Akihabara, and Shinjuku, and enjoy local cuisine at its diverse restaurants.
Kyoto: Considered the cultural capital of Japan, Kyoto is known for its temples, shrines, and traditional gardens. Highlights include the Kinkaku-ji Temple, Fushimi Inari-taisha, and Kiyomizu-dera Temple.
Nara: Nara is famous for its Nara Park, where sacred deer roam freely. Additionally, the Todaiji Temple with its Great Buddha Statue is a must-visit attraction.
Mount Fuji: The national symbol of Japan, Mount Fuji is an iconic mountain and a popular destination for climbing. Visitors can enjoy the breathtaking view and the surrounding natural landscape.
Osaka: Known as the "Kitchen of Japan," Osaka is famous for its delicious street food. Osaka Castle and Universal Studios Japan are also popular attractions in the city.
Miyajima: Located near Hiroshima, Miyajima is famous for its Floating Torii Gate at the Itsukushima Shrine, which appears to float on water during high tide.
Hiroshima: The site of the first atomic bomb in the world, Hiroshima is now a peaceful city with a strong message of peace. The Hiroshima Peace Memorial Park and the Peace Memorial Museum are must-visit sites.
Hakone: Situated near Mount Fuji, Hakone is a hot spring town known for its natural hot springs, panoramic views of Mount Fuji, and art museums.
Kamakura: Located near Tokyo, Kamakura is known for its numerous temples and the Great Buddha Statue of Kamakura, an imposing bronze statue.
Nikko: Nikko is a sacred and tranquil place, filled with impressive temples and shrines. Notable among them is the Toshogu Shrine, a UNESCO World Heritage site.
Is it better to travel independently or in group tours in Japan?
Regardless of the option you choose for traveling in Japan, whether independently or on a group tour, each has its advantages and disadvantages.
Opting for independent travel offers greater flexibility to plan your own itinerary and choose activities according to your preferences. This allows you to explore Japan at your own pace, deciding when and how to engage in activities. Additionally, this option can be more cost-effective as you have control over expenses based on your choices.
However, independent travel requires detailed planning, including research on accommodation, transportation, and activities. You need to be prepared to deal with potential challenges, such as the language barrier, and take extra precautions regarding safety, especially in more remote areas.
On the other hand, a group tour with a guide provides the company of fellow travelers and the opportunity to meet people with similar interests. Additionally, traveling in a group can provide a sense of security, especially if you are accompanied by an experienced guide who is familiar with Japan.
However, this option may slightly limit your freedom to explore the country independently, as you will be following a predetermined itinerary and schedule set by the group.
In summary, the choice between traveling independently or in a group depends on your personal preferences. It's important to evaluate your interests, time availability, budget, and comfort level when making your decision.
If you choose to travel independently, we recommend our article with The 2 Most Important Things To Know Before Traveling To Japan!
| | |
| --- | --- |
| Pros of traveling on a group tour | Pros of traveling on your own |
| Company and opportunity to meet people with similar interests | Flexibility to create your own itinerary and choose activities |
| Peaceful and fun group experience | Autonomy to follow your own schedule |
| More safety when riding in a group, especially with an experienced local guide | Freedom to explore Iceland without having to stick to a schedule |
| Less need for planning and research as the tour already provides accommodation, transport and activities | Potential savings, since depending on the choices it can be cheaper |
| Possibility of access to places or activities that may be difficult or impossible to reach alone | Greater challenge and opportunity to learn and grow with the experience of planning and conducting your own trip |
13 Best Tours and Itineraries to Explore Japan
Best Japan Tours and Itineraries for Guided Small Group Adventures
1. G Adventures – Japan Express: Osaka to Tokyo (9 Days)
From the Buddhist monks of Kōyasan to the top players of Tokyo, experience the many faces of Japan on this comprehensive tour starting in Osaka.
Indulge in the region's culinary delicacies and enjoy the beautiful views of Mount Fuji. You'll stay at a temple in the mountains and immerse yourself in local culture at the onsen hot springs. A great blend of the traditional and the contemporary, this adventure provides a taste of Japan's rich culture.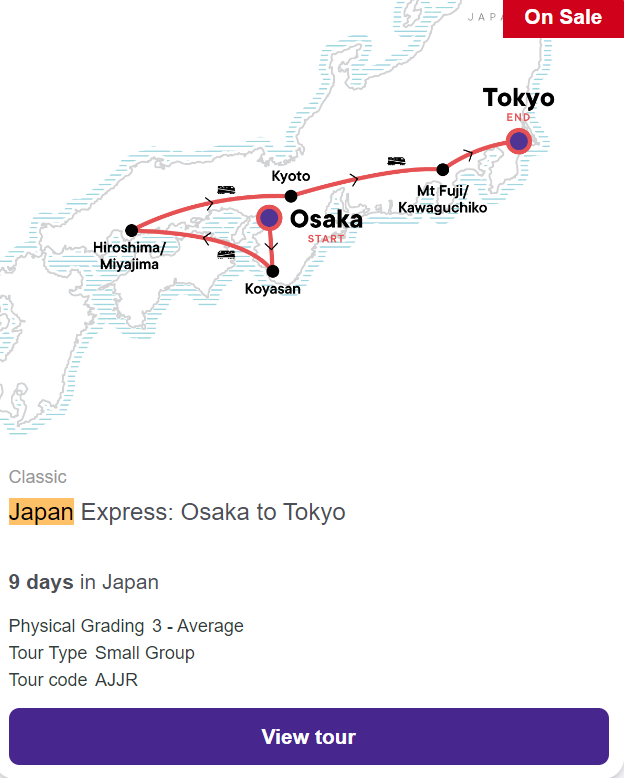 2. G Adventures – Iconic Japan (12 Days)
In Japan, tradition and modernity are celebrated side by side in ways that often seem contradictory. Immerse yourself in this intriguing culture, starting in vast Tokyo, one of the most innovative cities in the world.
Then take the train inland to visit traditional villages and peaceful shrines. Explore charming geisha districts and awe-inspiring gardens; indulge in the fresh flavors of Japanese cuisine; and get a glimpse into the ancient soul of this fascinating and futuristic country.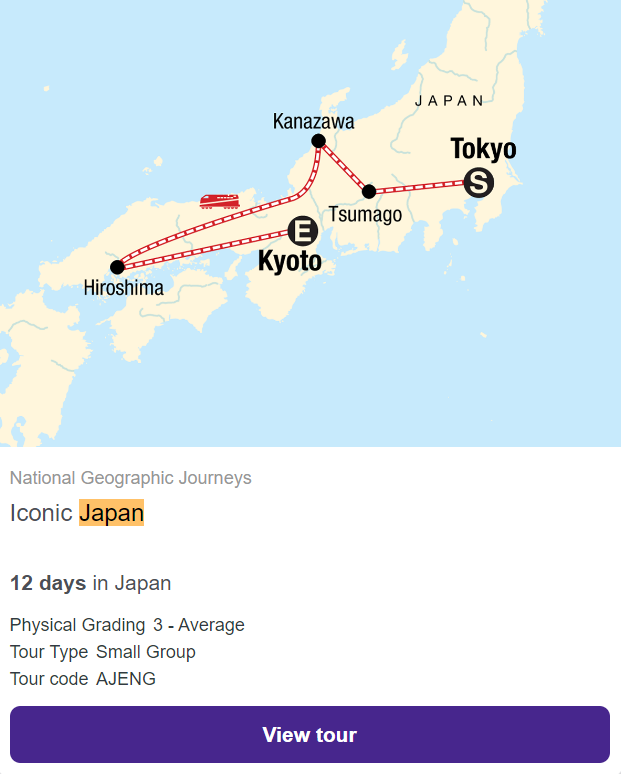 3. Intrepid – Japan: The Land of the Rising Sun (13 Days)
This 13-day tour of Japan will introduce you to the cultures – ancient and modern – that define this small but influential archipelago. Starting in the tech mecca of Tokyo and ending with three nights in Kyoto, this immersive tour will also take you to lesser-known cities across central and southern Japan.
Discover the scenic beauty on the Hakone Ropeway, enjoy the best sake in Takayama, experience the Hiroshima of today and admire Miyajima's floating torii gate. You'll have a local guide to accompany you to these lesser-known destinations and reveal layers of culture and history, plus an included Japan Rail Pass to move stylishly and comfortably from A to B.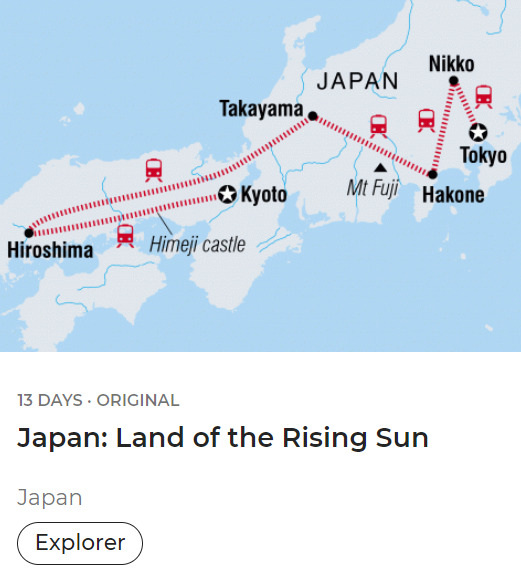 4. Intrepid – Japan Highlights (8 Days)
Land of sumo, geisha, sake, karaoke, onsen and izakaya – Japan is a veritable feast for all your senses. This 8-day journey hits all the right spots, providing a true appreciation for the land of the rising sun.
Soak up the hustle and bustle of Tokyo before heading inland for a stay at a farm with local tea pickers and a leisurely hike with spectacular views of Mount Fuji. Travel by futuristic bullet train to Kyoto and delve into history before ending your adventure in the foodie paradise of Osaka.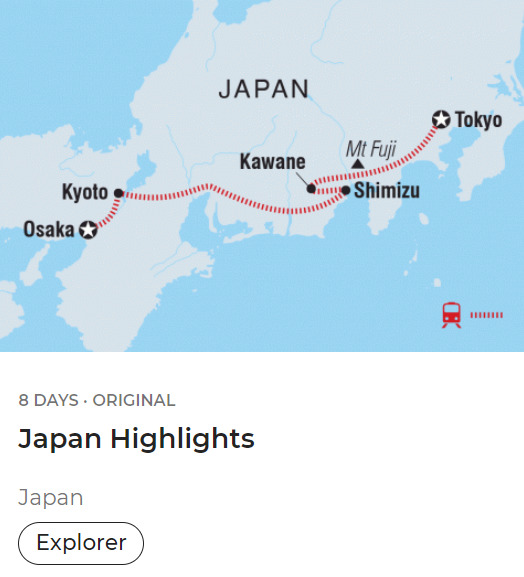 Best Japan Tours and Itineraries for Groups of Young Singles (18-35 Years Old)
5. Contiki – Japan Unrivalled (13 Days)
Experience traditional Japanese hot springs in Hakone, explore Kyoto, the cultural hub of Japan by visiting Fushimi Inari Shrine, and wander through Tokyo soaking up all the bright lights and quirks, as well as enjoying as much sushi as possible.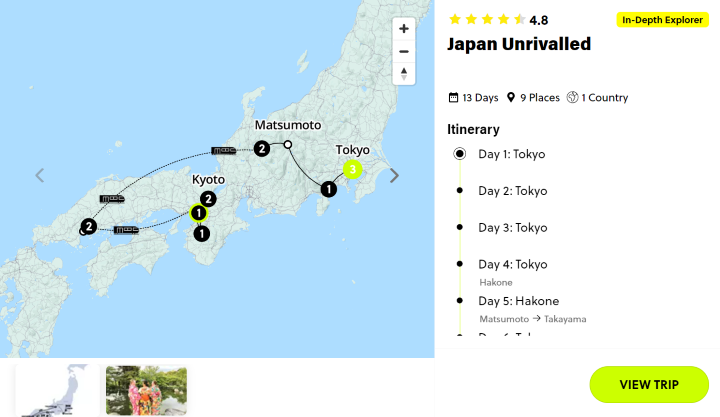 6. Contiki – Japan in One Week (8 Days)
Beginning in the orchestra of light, sound and history that is Tokyo, with guided tours of temples and palaces, before taking the bullet train to Kyoto. There, the tour walks through Zen gardens, explores mystical temples and sees geishas, before taking the short journey to Osaka, where you'll stop by Universal Studios or simply enjoy the local street food.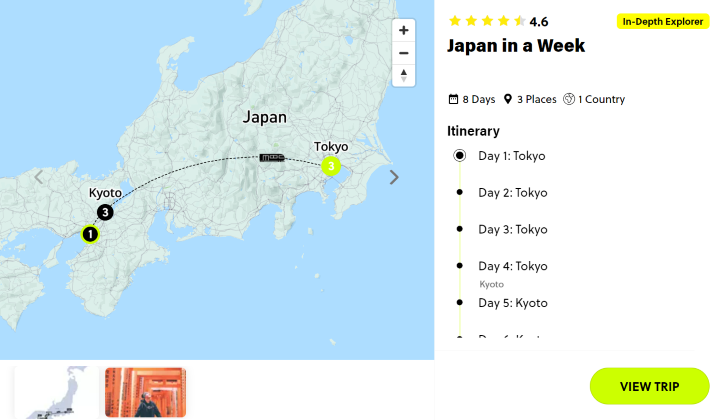 7. Topdeck – Delve Deep: Japan (12 Days)
In less than two weeks, the tour offers Japan's highlights and hidden gems. Culture and madness. The ultra-modern and the historic. Landscape and cities. And all the ramen, okonomiyaki, udon, katsu, yakitori and sake your baggy pants can handle.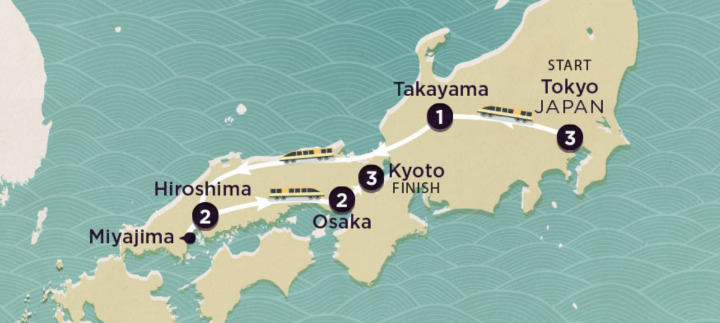 Best Luxury and Comfort Japan Tours and Itineraries for Small Groups with Guides
8. Trafalgar – Splendours of Japan (9 Days)
At Fushimi Inari Shrine in Kyoto, climb the extraordinary path surrounded by hundreds of orange torii gates that wind through the forest to the mountains above the city. Feast on a delicious kaiseki lunch at a traditional ryokan and gain insight into Japanese traditions.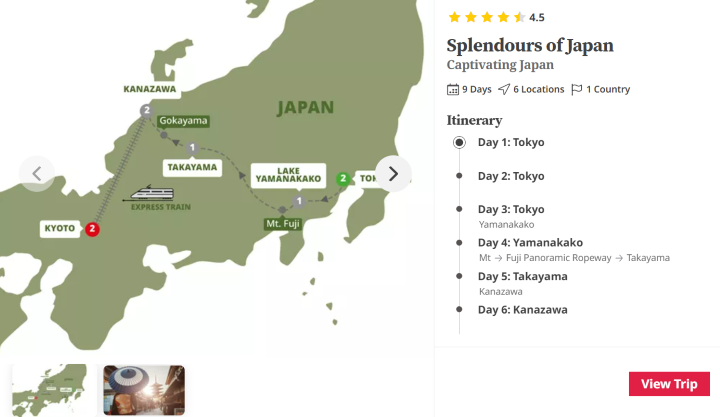 9. Trafalgar – Classic Japan (11 Days)
A tale of four iconic cities and two ancient capitals – your epic journey through Japan blends old and new, with exciting visits to historic centers and modern cities.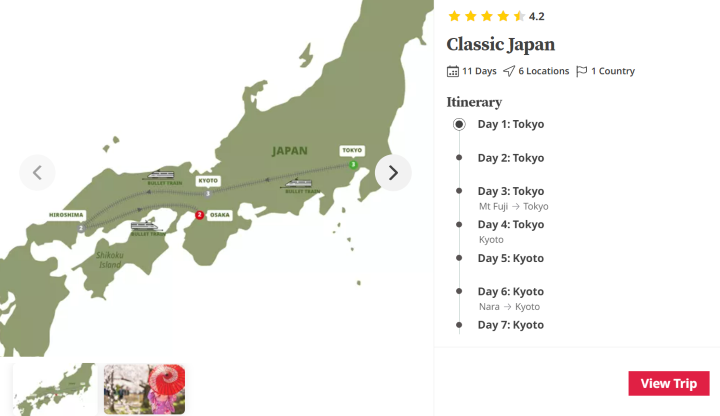 10. Insight Vacations – Majestic Japan (11 Days)
Be enchanted by Japan's beauty and traditions during this 11-day guided tour.
Travel to Kyoto, the country's cultural hub, where you can marvel at the serenity that surrounds the iconic Golden Pavilion. Visit Giouji Temple – a Buddhist place of worship nestled in a moss-covered forest – and enjoy a traditional Kyo-Kaiseki lunch while watching an apprentice geisha perform alongside you.
In Tokyo, you can choose to make decadent sushi rolls using the highest quality fish during a private cooking class, or join a local expert to explore the trendy neighborhoods of Omotesando and Harajuku before enjoying a local lunch.
Then, discover the Oirase Gorge river valley, walking along its crystalline waters while admiring the amber leaves around you. Later, visit a local brewery for a private sake tasting and behind-the-scenes tour led by a master sake brewer.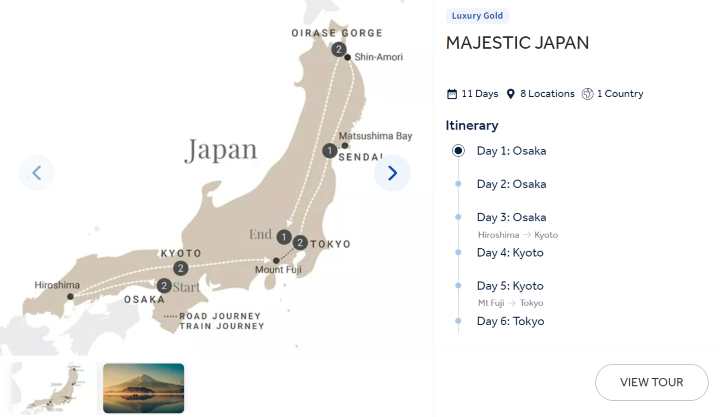 Tourradar's Best Japan Tours (Best site to search and compare Japan tours of different lengths, styles, prices, and operators)
11. Tourradar – Japan Discovered (14 Days)
Start and end in Tokyo! With this tour you will have a 14-day package that will take you to Tokyo, and 9 other destinations in Japan. The tour includes hotel accommodation, plus an expert guide, meals, transport, and more.

12. Tourradar – West Japan (9 Days)
Start in Fukuoka and end in Osaka! On this tour you will have a 9 days package that will take you to Fukuoka and 9 other destinations in Japan. Includes hotel accommodation, plus an expert guide, insurance, meals, transportation and more.

13. Tourradar – Budget Japan Tour (13 Days)
Start and end in Tokyo! With this tour you will have a 13-day package that will take you to Tokyo and 6 other destinations in Japan. The tour includes hotel and hostel accommodation, plus an expert guide, transportation, and more.

Concluding…
Japan is an absolutely incredible destination for those looking to experience cultural, historical and adventure-filled experiences. With a wide range of tour and excursion options available, it is imperative to conduct thorough research before choosing the company that best fits your needs and expectations.
Check the reviews of other travelers and the details of the accommodations offered. These aspects are crucial to ensure a smooth and safe trip.
Regardless of the company selected, one thing is certain: visiting Japan is a truly once-in-a-lifetime experience! So be prepared to embark on an unforgettable journey and allow yourself to immerse yourself in this adventure across the country.
Planning your next trip?

Then don't forget travel insurance! You don't want to get stuck paying a ton of money and ruining your trip if you get sick or have an accident without travel insurance. WorldNomads is ideal for adventurous travelers, backpackers, or anyone looking to be protected during their trip. They cover almost every single activity you can image! Plus, you can have a 5% discount with the coupon code comfort5.

Already reserved your hotel or hostel? If not, we recommend Booking.com. They have a huge selection of hotels and hostels all over the world. Plus, in most cases, you can cancel your reservation without any costs up to a few days before the check-in date!

Still haven't booked your plane ticket and want to save big? Take a look at Momondo. It's a flight aggregator that combines several other ticket search websites to make it easier for you to compare prices and make sure you are getting the best deal.

And finally, will you need to rent a car during your trip? Then check out Rentalcar.com to search and compare car rental companies from all over the world in a single website. Then, you can find the cheapest price for the best car!