Last Updated on by Talita
13 great and different guided tours around New Zealand. Tours with a variety of prices, days, destinations, themes, age, luxury level, and adventure.
New Zealand is a breathtaking tourist destination, filled with breathtaking scenery, unique culture and exciting activities. Located in the southwest Pacific Ocean, New Zealand is made up of two main islands: the North Island and the South Island, each with its own beauty and attractions.
The North Island is known for its vibrant capital city, Auckland, which offers a mix of bustling city life and natural beauty. The city is surrounded by picturesque beaches, dormant volcanoes and stunning hiking trails.
In addition, the Rotorua region is famous for its geothermal activities, with geysers, hot springs and volcanic mud. Visitors can enjoy relaxing spas, experience Maori culture and take part in adventures such as rafting, bungee jumping and skydiving.
The South Island is a paradise for nature lovers. The city of Queenstown is a popular destination, famous for its outdoor activities. Surrounded by the Southern Alps, Queenstown offers opportunities for skiing, snowboarding, hiking and water sports.
The Fiordland region is another must-see attraction, with its majestic fjords, such as the famous Milford Sound. Travelers can also explore the pristine beaches of Abel Tasman, cruise the Marlborough Sounds or go whale watching in Kaikoura.
In addition to the spectacular scenery, New Zealand has a rich and diverse culture. Maori culture plays an important role in the country's identity, and visitors have the opportunity to learn about their traditions, arts and cuisine. Maori villages offer authentic experiences such as dance and music performances, hangi (method of cooking in a hole in the ground) and the chance to meet the locals.
New Zealand is also famous for its wine production. The Marlborough, Hawke's Bay and Central Otago wine regions are internationally known for producing sauvignon blanc, pinot noir and other award-winning wines. Tourists can take winery tours, wine tasting and enjoy gourmet meals at local restaurants.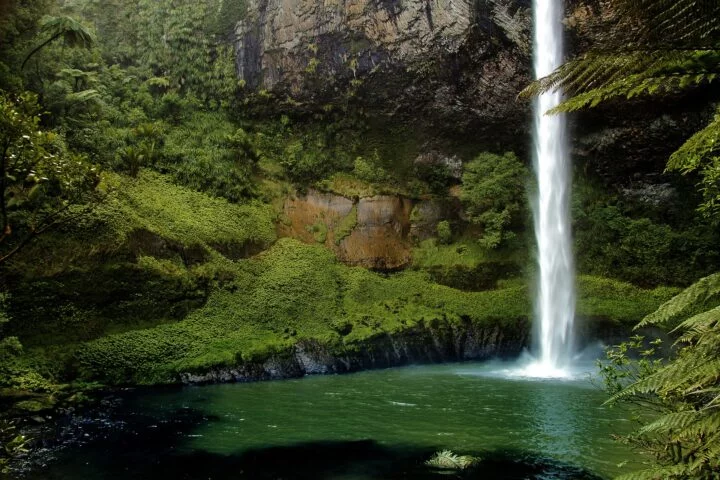 Top 10 Tourist Attractions in New Zealand
Before we explore the tourist wonders of New Zealand, it's interesting to highlight some of the country's must-see points, making it easier to search for itineraries and activities that suit your preferences.
New Zealand is a truly enchanting destination, brimming with natural treasures and captivating cities. Below, we present a list of the top 10 destinations and tourist attractions that you cannot miss in New Zealand:
Milford Sound:

Located on the South Island, Milford Sound is one of the world's most famous fjords, surrounded by majestic mountains, imposing waterfalls, and rich marine life. Take a boat cruise to appreciate its unique beauty.

Queenstown:

Considered the adventure capital of New Zealand, Queenstown is surrounded by the Southern Alps and the beautiful Lake Wakatipu. Enjoy extreme sports like bungee jumping, paragliding, skiing, and snowboarding.

Tongariro National Park:

Situated on the North Island, this park is home to the famous Tongariro Alpine Crossing, a one-day trail that passes through volcanic landscapes, including the iconic Mount Ngauruhoe (also known as Mount Doom in "The Lord of the Rings" trilogy).

Bay of Islands:

Located in the northern part of the North Island, the Bay of Islands is a tropical paradise with turquoise waters, secluded beaches, and abundant marine life. Take a cruise around the islands, engage in water sports, or relax on the beach.

Rotorua:

Situated on the North Island, Rotorua is known for its geothermal activities. Explore geysers, bubbling mud pools, and thermal springs. Additionally, immerse yourself in Māori culture and participate in traditional ceremonies.

Waitomo Glowworm Caves:

Explore the fascinating Waitomo caves, where thousands of tiny luminescent larvae illuminate the cave ceiling, creating a magical spectacle. Take a boat tour to admire the shimmering lights.

Aoraki/Mount Cook National Park:

Aoraki/Mount Cook National Park is home to New Zealand's highest peak, Mount Cook. Explore hiking trails, admire snow-covered peaks, and enjoy breathtaking panoramic views.

Abel Tasman National Park:

Located on the South Island, this national park is known for its stunning beaches, crystal-clear waters, and coastal trails. Take a kayak tour or hike the trails to appreciate the lush nature.

Te Papa Tongarewa:

Located in Wellington, Te Papa is New Zealand's national museum, offering a comprehensive view of the country's history, culture, and biodiversity. Explore ineractive exhibitions and learn more about New Zealand's rich heritage.

Franz Josef Glacier:

Encounter the majestic Franz Josef Glacier, located in the Westland region of the South Island. Take a guided hike or a scenic flight to appreciate the beauty of the brilliant blue ice and the imposing surrounding mountains.
Is it better to travel independently or in group tours in New Zealand?
Regardless of the option you choose to travel to New Zealand—whether independently or on a group tour—each has its advantages and disadvantages.
Opting for independent travel offers greater flexibility to plan your own itinerary and choose activities according to your preferences. You'll have the freedom to decide when and how to engage in activities, allowing you to explore New Zealand at your own pace. Moreover, this option might be more economical as you can control expenses based on your choices.
However, independent travel requires detailed planning, including research on accommodation, transportation, and activities. You need to be prepared to handle potential challenges like language barriers and take extra precautions regarding safety, especially in more remote areas.
On the other hand, a group tour with a guide provides the companionship of fellow travelers and the opportunity to meet people with similar interests. Additionally, traveling in a group can offer a sense of security, especially if you're accompanied by an experienced guide who knows New Zealand well.
However, this option might somewhat limit your freedom to independently explore New Zealand, as you'll be following a predetermined itinerary and schedules set by the group.
In summary, the choice between traveling independently or in a group in New Zealand depends on your personal preferences. Evaluate your interests, time availability, budget, and comfort level when making your decision. Both options offer unique and memorable experiences in a diverse and stunning country like New Zealand.
| | |
| --- | --- |
| Pros of traveling on a group tour | Pros of traveling on your own |
| Company and opportunity to meet people with similar interests | Flexibility to create your own itinerary and choose activities |
| Peaceful and fun group experience | Autonomy to follow your own schedule |
| More safety when riding in a group, especially with an experienced local guide | Freedom to explore Iceland without having to stick to a schedule |
| Less need for planning and research as the tour already provides accommodation, transport and activities | Potential savings, since depending on the choices it can be cheaper |
| Possibility of access to places or activities that may be difficult or impossible to reach alone | Greater challenge and opportunity to learn and grow with the experience of planning and conducting your own trip |
13 Best Tours and Itineraries to Explore New Zealand
Best New Zealand Tours and Itineraries for Guided Small Group Adventures
1. G Adventures – New Zealand: South Island Encompassed (16 Days)
It's time to explore New Zealand your way with this affordable tour for young travellers. If you prefer to combine your travel experiences with adrenaline-fuelled activities, then look no further than the South Island of New Zealand.
Action is the common thread of this journey through a variety of landscapes. Think rainforests, glaciers and some of the most stunning coastlines you'll ever see. This trip is an adventure even when you're not moving.
Accommodations include a wild lodge in the heart of the rainforest itself.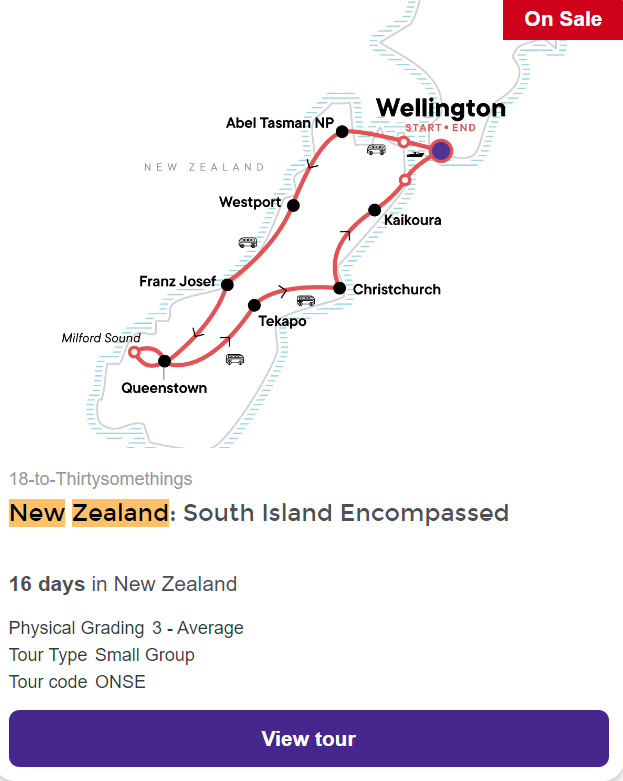 2. G Adventures – New Zealand: Best of the North Island (7 Days)
Now is the time to explore New Zealand your way with this affordable tour for young travellers.
New Zealand's North Island may be the smaller of the two, but what it lacks in size, it makes up for in adventure.
During this seven-day tour, you'll paddle out in a sea kayak to explore a secluded harbor, learn about the Maori culture of your roots, and experience the mighty Haka. There's no better way to live, breathe and paddle the New Zealand experience.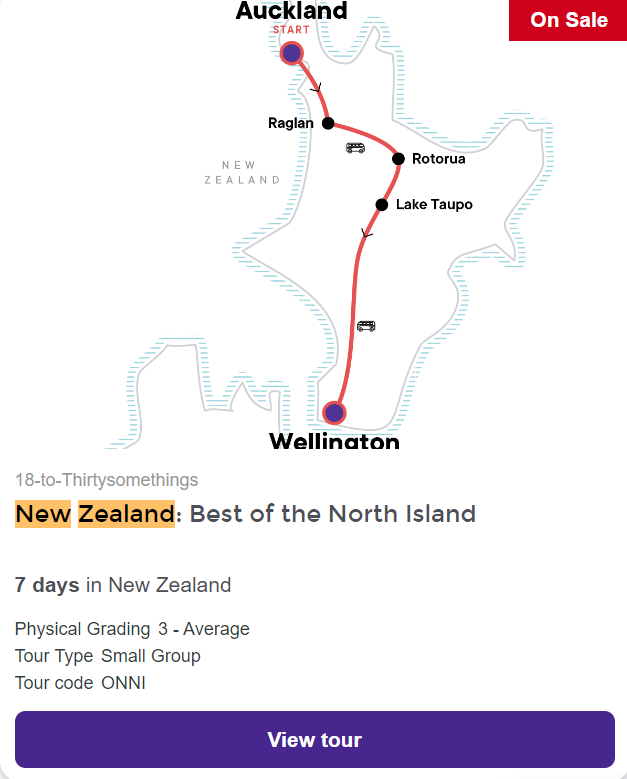 3. Intrepid – Queenstown Southern Loop (6 Days)
Explore the rugged areas of the South Island on this six-day trip with Intrepid, which starts and ends in Queenstown.
Head to the shores of the South Island's largest lake and cruise the serene waters of the glacier-carved Fiordland National Park on an unforgettable Milford Sound cruise.
Cross over to the sometimes overlooked corner of Otago – the rugged cliffs of the Catlins, for a hike to coastal caves, then head to pristine Stewart Island to explore the wild, listening to the call of the kiwi.
Designed to offer just the right amount of active adventure and time to relax, this is the perfect southern getaway.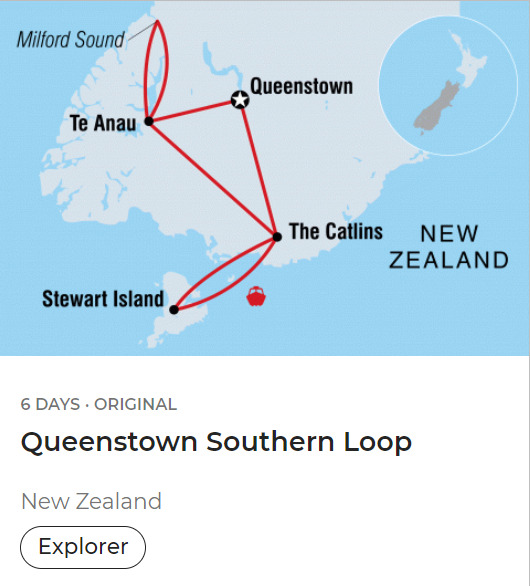 4. Intrepid – New Zealand Amplified (Northbound) (17 Days)
Spend 17 days discovering the South Island and North Island with the guidance of a passionate local leader. See the innovative ways Christchurch rebuilt after the earthquake, experience the adventure capital of the world in Queenstown and experience the natural beauty of Franz Josef.
Cross the Cook Strait and experience charming and vibrant Wellington, visit the beaches of the Coromandel Peninsula, experience local culture in a Maori village and marvel at the geothermal wonders of Rotorua.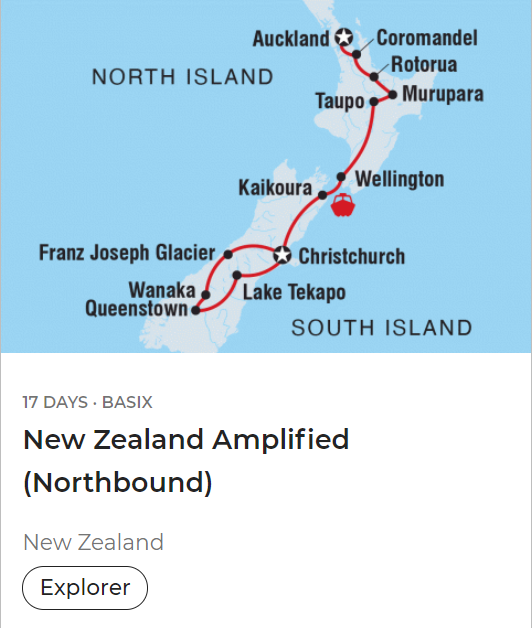 Best New Zealand Tours and Itineraries for Groups of Young Singles (18-35 Years Old)
5. Contiki – Ultimate NZ Ski (7 Days)
Venture to the slopes of the awe-inspiring Southern Alps on the South Island, home to New Zealand's premier ski areas.
While each ski area has its own unique character, they are all framed by New Zealand's stunning landscapes: lakes, rivers, green and golden plains, dense forests and the blue ocean.
The air is fresh and pure, the landscapes are incredible and the snow is wonderful!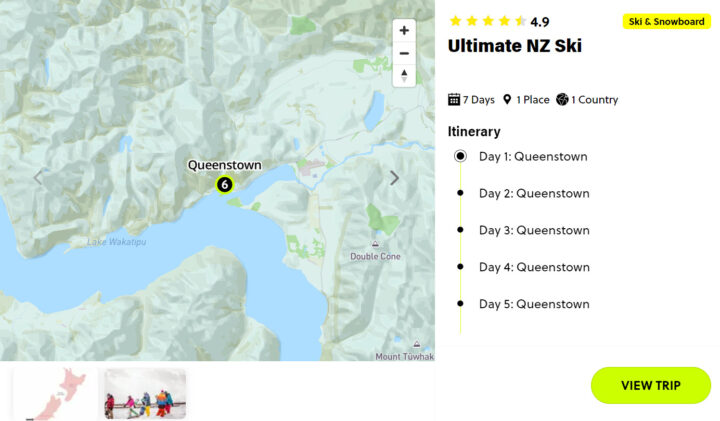 6. Contiki – Active New Zealand (9 Days)
On this trip, you will explore magical valleys, gigantic glaciers and truly enchanting lakes.
You'll also have four days in Queenstown, the adventure capital of the world. With plenty of hiking, biking and skydiving to channel your energy, enough stunning views to fill your camera roll and a generous selection of stops to enjoy some authentic food, this is adventure done right.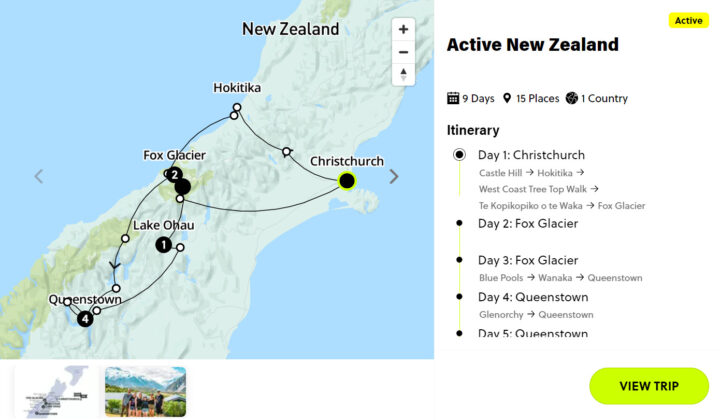 7. Topdeck – Delve Deep: New Zealand North Island (9 Days)
Breathtaking landscapes. Jaw dropping activities. And local knowledge galore.
This trip is not just about seeing the North Island, it's about experiencing it. In all its spectacular and quirky historic glory.
Expect: towering volcanoes, thundering waterfalls, magical caves and otherworldly views.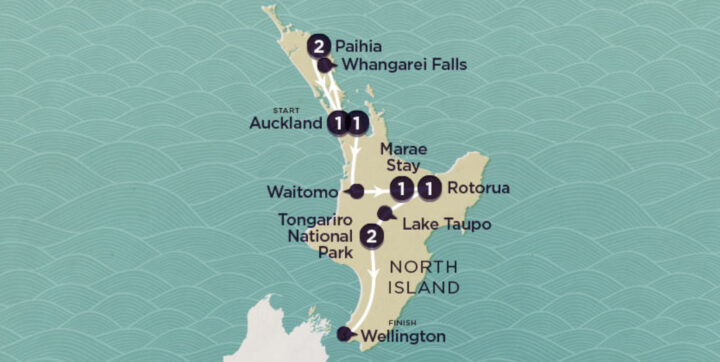 Best Luxury and Comfort New Zealand Tours and Itineraries for Small Groups with Guides
8. Trafalgar – New Zealand Uncovered (17 Days)
The perfect New Zealand tour to bring the North and South Islands to life, exploring both towns and small towns.
You'll traverse epic landscapes, feast on fresh food and delicious wine, experience farming and Maori culture firsthand, and meet welcoming locals with stories to share.
9. Trafalgar – Contrasts of New Zealand (10 Days)
Marking cities, country life, wildlife, Maori culture in motion and the dramatic landscapes that put the country on the map, this tour of New Zealand covers it all.
Experience a dose of Kiwi hospitality as you explore must-see spots and savor must-try flavors on both islands in just 10 days.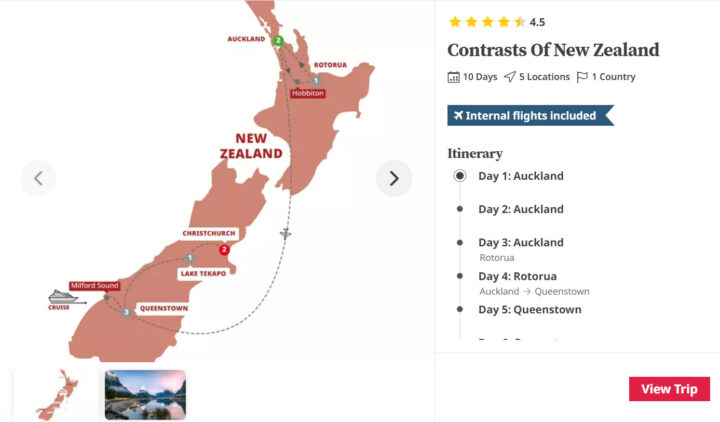 10. Insight Vacations – The Endless Shores (8 Days)
Fall in love with New Zealand on this 8-day guided tour.
See Wellington your way, choosing between a city tour with a local expert or a guided walk through Otari Wilton's Bush, the only botanical garden in the country dedicated entirely to native plants.
Travel through the dairy country of Manawatu to Hawke's Bay, where you'll enjoy an exclusive wine tasting at one of the country's world-famous wineries. In Rotorua, walk the Redwoods Treewalk, a maze of suspension bridges in the forest, and visit a working kiwi nursery and hatchery, where you can learn more about the flightless bird.
Savor a tasty Māori Hāngī feast made from food cooked in the ground with geothermal steam. Descend into Waitomo Cave to see fireflies light up the caves, then toast your journey over a celebratory dinner in Auckland.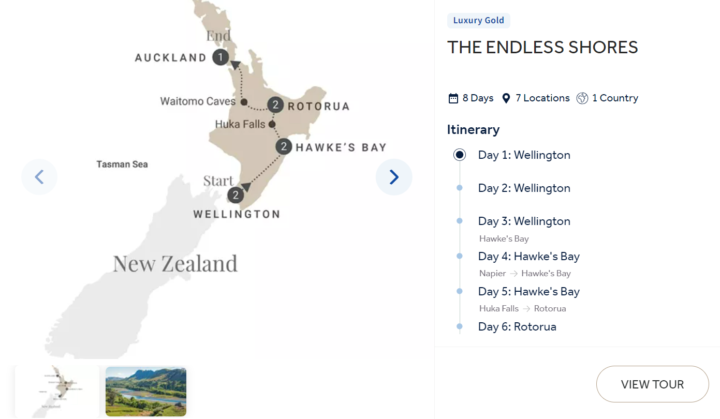 Tourradar's Best New Zealand Tours (Best site to search and compare New Zealand tours of different lengths, styles, prices, and operators)
11. Tourradar – Southern Voyager (7 Days)
Start and finish in Christchurch! On this tour you will have a 7 day package that will take you to Christchurch, New Zealand and 4 other destinations in the country. It includes accommodation, an expert guide, meals, transport and much more.

12. Tourradar – Sun and Steam (6 Days)
Start and end in Auckland! With this tour you have a 6 day package that takes you through Auckland and 4 other destinations in New Zealand. The tour includes accommodation in a hotel and hostel, as well as an expert guide, food, transportation and much more.

13. Tourradar – 5 Day Southern Circuit Experience (5 Days)
Start and finish in Christchurch! On this tour you will go to Christchurch and 5 other destinations in New Zealand. The tour includes accommodation in a hotel, plus an expert guide, meals, transportation and more.
Concluding…
New Zealand, with its natural beauty and rich culture, is a perfect travel destination for those who love to venture out for something new.
With so many tours and options available, I recommend that you carefully research each one, analyzing what your travel desires are and making sure that the tour you choose fits those needs. Plus, check out reviews from other travelers, details about accommodations and things included, so you don't have any headaches.
Finally, I am sure that regardless of the company and tour you choose, your experience in the country will be incredible and unique!
Planning your next trip?

Then don't forget travel insurance! You don't want to get stuck paying a ton of money and ruining your trip if you get sick or have an accident without travel insurance. WorldNomads is ideal for adventurous travelers, backpackers, or anyone looking to be protected during their trip. They cover almost every single activity you can image! Plus, you can have a 5% discount with the coupon code comfort5.

Already reserved your hotel or hostel? If not, we recommend Booking.com. They have a huge selection of hotels and hostels all over the world. Plus, in most cases, you can cancel your reservation without any costs up to a few days before the check-in date!

Still haven't booked your plane ticket and want to save big? Take a look at Momondo. It's a flight aggregator that combines several other ticket search websites to make it easier for you to compare prices and make sure you are getting the best deal.

And finally, will you need to rent a car during your trip? Then check out Rentalcar.com to search and compare car rental companies from all over the world in a single website. Then, you can find the cheapest price for the best car!