Last Updated on by Rodrigo @ OutofYourComfortZone
Traveling alone is wonderful, but it can also be intimidating. Especially if your destination has a language or a culture completely different from your own.
And sometimes, making friends while traveling can be difficult and many worry about getting lonely. So, a good option for anyone who wants to begin adventuring around the world on their own is to use a tour excursion company that specializes in trips for young adults.
Of course, traveling is always about visiting a place and seeing new things, but one of the highlights is often meeting new people along the way. This is what is called social traveling.
And to be honest, the companies below with tours for young solo (and often single!) travelers aren't just for those who are afraid about traveling alone. The purpose of these types of group trips is truly to meet other people, make connections, party a bit (or a lot!), and perhaps even find your future travel partner! 

Is it worth going on a group tour as a young solo/single traveler?
As with all types of travel, there are pros and cons to going with a tour company, especially with companies specialized in tours for young travelers since many include lots of partying and going out and daily bonding with the same group. So, it's possible that this isn't the right choice for you.
(PS: still a young adult traveler who is interested in group tours but not the party aspect of them? See tour companies # 3 & #4 below or see my article with the 5 Best Small Group Tour Companies for International Travel for  some more options) 
So it's important to know some things beforehand about this type of trip so you can decide for yourself if it's your style or not.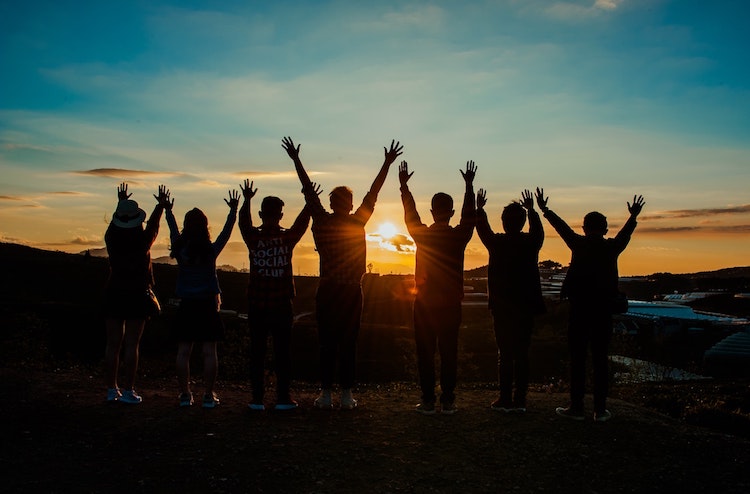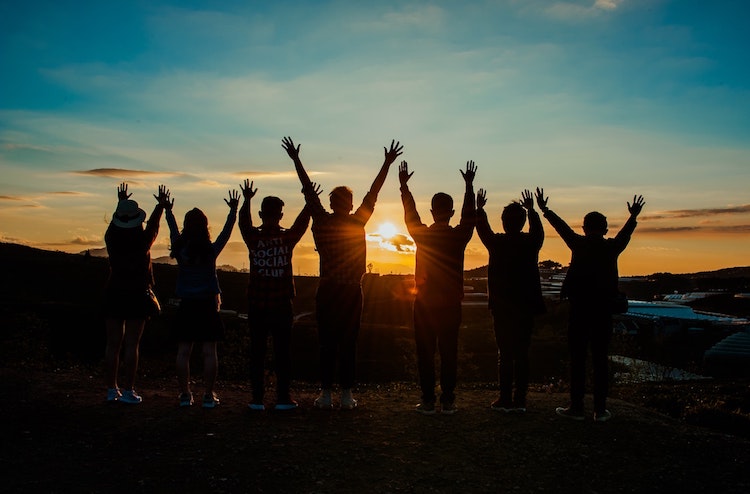 What are travel groups for young solo/single travelers like?
| | |
| --- | --- |
| PROS OF GROUP TOURS FOR YOUNG SOLO TRAVELERS | CONS OF GROUP TOURS FOR YOUNG SOLO TRAVELERS |
| The tours are completely guided, so you'll feel much safer knowing that you'll be accompanied by someone who knows the area. | You won't have as much independence as you might traveling on your own. |
| It's really easy to make friends on these trips since you'll be with the same people day in, day out. | Being surrounded by the same people each day can be kind of overwhelming, particularly if you don't like someone since you won't have much choice (but in general, smaller social groups tend to form within the bigger group so this isn't a problem) |
| Everything (food, transportation, accommodation, activities, etc.) will be included and planned out for you. | It's most likely cheaper to travel on your own than with an organized tour. |
| The groups are usually made up of very friendly young solo/single travelers who are excited to explore the world on their own, party & meet new people. This can be a lot of fun if you're prepared for nearly 24/7 party Beverly Hills 90210 style. | If constant wild parties, hangovers, and hookup drama isn't your style, perhaps these type of trips aren't for you (with the exception of companies #3 & #4 below, or some of the tour companies in this article here). |
How to choose a tour company for young single/solo travelers
To help you choose an excursion that works for you and fits your travel type, we'll separate out the companies that specialize in guided trips for young single/solo travelers with the best reputations (and prices) on the market here, including a comparison table.
It's also worth remembering that some of these companies offer guided tours beyond those just for young adults. So no matter what, you should be able to find one a tour that works best with your personality, your wallet, and your patience.
Note: And if you are a woman and want to take a solo female small group tour, take a look at our bonus option after the comparison table: Solo Female Travelers Tours
5 Best Tour Companies for Young Solo/Single Travelers
Contiki is the most well-known tour company for young travelers worldwide. It's been around since 1962, so its name carries quite a lot of weight.
Their trips are offered exclusively to young adults aged 18-35 and live by the motto "nights that you won't remember with people you'll never forget." Informally, Contiki is known as "Sextiki" to give you an idea of what to expect

But don't worry if this sounds a bit intense for you…the options below are a bit more "calm."
So, as you can imagine,  most of Contiki's excursions involve lots of partying and going out with "pub crawl" kind of nights. And since there's plenty of cool stories online of young travelers who traveled and would travel again with Contiki, it must be one of the best companies available if this is the type of travel you're looking for.
Contiki has more than 328 distinct tours for many destinations across the 6 continents. According to their website, 55% of travelers who chose Contiki are single and are traveling alone, but the trips can also accommodate groups of friends and couples.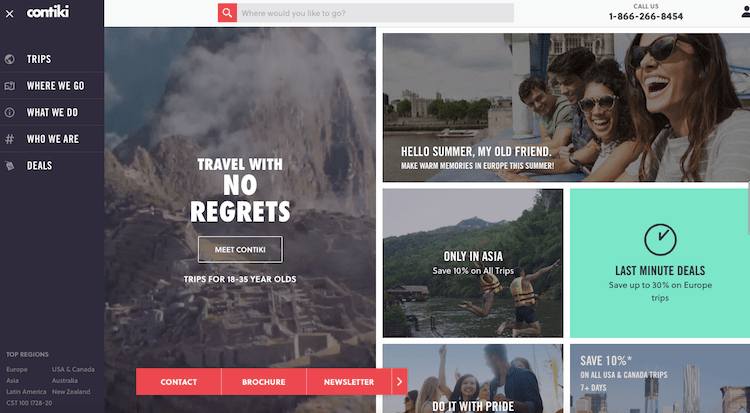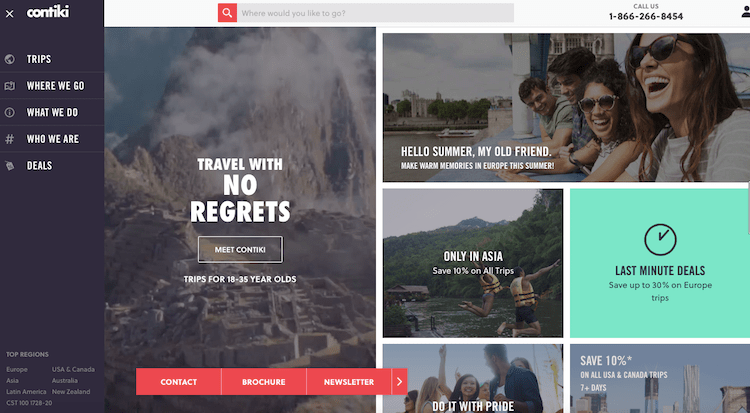 One thing to keep in mind is that the groups are usually quite big, around 30 people, and the main form of travel is the company's coach bus.
Finally, their tours have a bit of everything: physical activities, exploration of local culture and food, and visits to ethical and sustainable organizations and projects in your destination. In other words, you are capable of a journey full of different attractions, sounds, and experiences!
Topdeck Travel
Topdeck is a company that offers"epic trips and tours for young adventurers aged 18-39."With 40 years of experience, alongside Contiki, Topdeck is one of the most well-known companies in terms of group travel for young solo/single travelers.
Their trips are divided into several categories:
Hotel tours: designed for couples or singles who want to travel a bit more comfortably through Europe, the U.S., Canada, or Asia. All hotels have, at least, 3 stars and the excursions give you a lot of free time to relax or explore on your own.
Explorer trips: these are shorter trips, between 6 days and 3 weeks, with just one country for those who want to explore local culture more deeply. The groups are small and accommodation is in shared or private hotel rooms.
Hostel plus trip: low-cost tours with accommodation in hostels, cabins, or vans and with itineraries with multiple destinations/countries.
Camping trips: these trips are the cheapest way to travel through Europe with Topdeck. The accommodation is camping with private chefs cooking meals daily. The bunks are for two people and include mattresses.
Sailing trips: these trips are an awesome option for anyone who dreams of sailing the world but doesn't have an idea of where to start. Accommodation is within a sailboat in double, triple, or quadruple rooms with meals included.
Festivals and events: these tours are specifically for events like Oktoberfest or the Sziget festival (in Hungary) and other festivals in the United States, Canada, and Europe.
Ski trips: these trips are perfect for anyone who loves snow and skiing. With destinations in Canada, New Zealand, Bulgaria, and Japan. Accommodation is in private or shared hotel rooms.
Gap year: this trip is made for young travelers 17-18 who want to travel in Europe after graduating high school. It's a great idea for anyone who wants to travel on their own without freaking their parents out. Accommodation is in hostels and the destinations usually include 8-10 countries.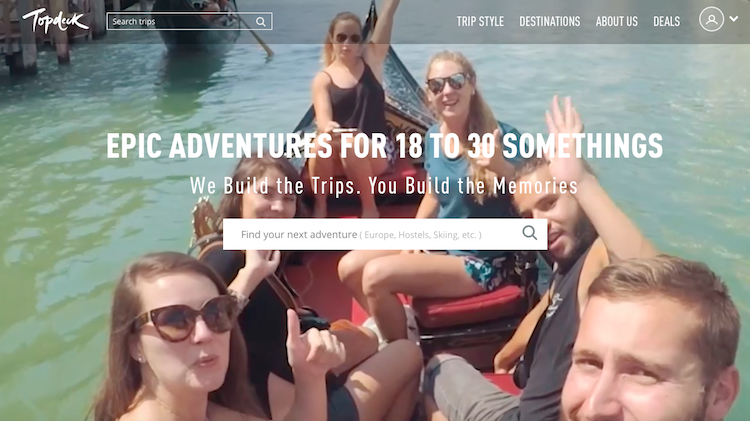 Created in 1990, G Adventures was born with the idea of offering authentic adventures responsibly and sustainably. Their excursions have reasonable prices and cover all the continents, including Antarctica!
The groups are small and the itineraries are designed so you have time to explore on your own. The trips are themed and have different options for all ages, including a category for young travelers aged 18-39.
The trips in this category are faster-paced and designed for young travelers. In other words, you explore during the day and stay up at night. Their motto for these excursions is "live fast now." So, their trips are usually longer than the others and offer more activities.
Plus, this category of travel groups is a bit more affordable with accommodation in hostels and a few meals included to guarantee a cheaper price. You can read more about these trips here. 
Or, just click in the link above, go to G Adventures main page, click "Travel Styles" and select "18-to-Thirtysomethings!"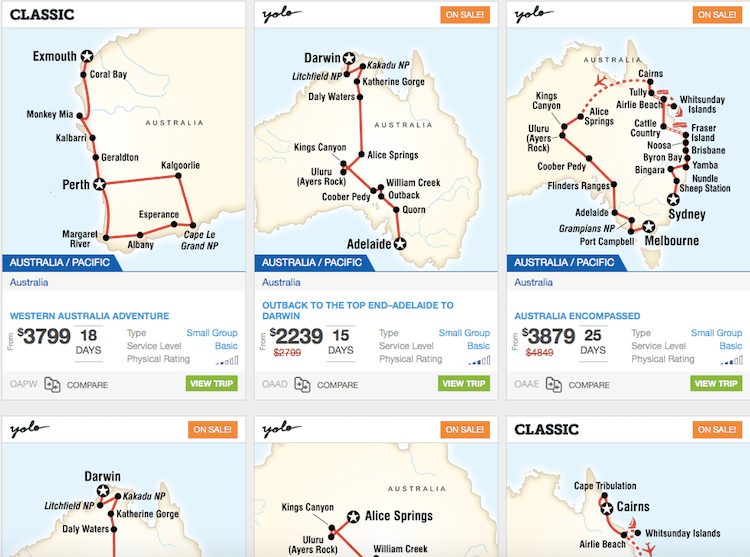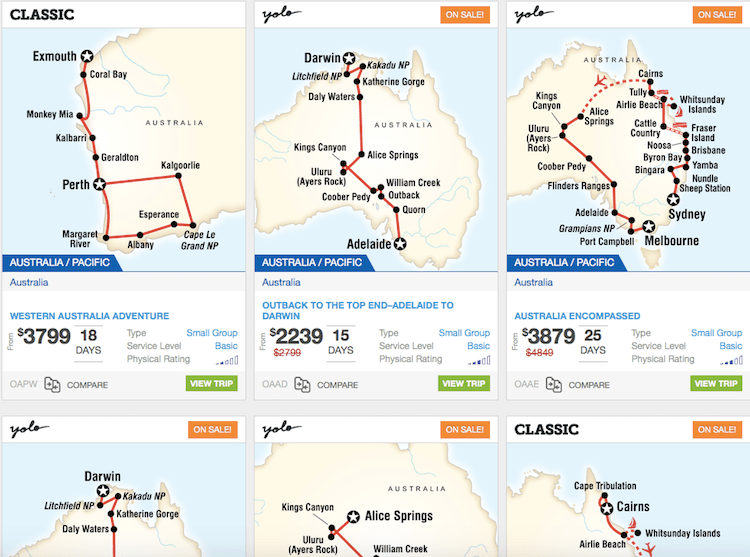 It's worth remembering that these trips follow the basic principles of G Adventures: small groups and free time. Plus, the trips are done in a responsible and sustainable way, prioritizing small businesses and the welfare of animals, children, and indigenous communities.
And finally, like Intrepid, G Adventures is a partner of Planeterra, an NGO dedicated to ensuring that communities touched by tourism benefit from it, rather than be exploited by it. The organization helps to empower local populations, preserve their cultures, and create support systems by managing 50 organizations across the 7 continents with the aim of benefiting women, at-risk youth, and indigenous and rural communities. You can read more about Planeterra here.
Intrepid is considered by many to be one of the best options for those who want to travel as part of an excursion with small, adventure-focused groups.
Intrepid began in Australia and has been around since 1988. They have 800 itineraries covering ALL the continents. Yes, even Antarctica!! And the Arctic (yeah, I know, it's not a continent

)
All trips offered by Intrepid are sustainable, and because of this Intrepid is known and respected as the global leader in sustainable travel.
The company has zeroed its carbon footprint and supports the Intrepid Foundation, a foundation that finances the planting of trees worldwide creates jobs and local education, and helps the world achieve 8 of the 17 Sustainable Development Goals of the United Nations. You can read more about the foundation here.
Intrepid has many types of trips for all budgets and personalities. That said, the company prides itself in organizing small groups of up to 10 people. This is because Intrepid believes that this is the maximum number of people that still allows a true connection with locals without you simply feeling like just a face in the group. The trips are also always designed to give you some time to explore on your own.
The trips made for young travelers aged 18-29 (called their "18 to 29s" trips) are designed specifically for the new generation of socially-conscious explorers. In other words, they were created for travelers who want to discover new places and cultures, make new friends, and also make a difference in the world.
There are many destinations and the cost of the trips are relatively low given that they are designed for young travelers. You can see all of Intrepid's tour options here.
Unlike the other companies mentioned above, Trek American only offers excursions for North and Central America. And in general their tours are quite small, just 13 people, with the exception of their "plus" tours of up to 30 people.
Trek America is also quite well-known and has been running since 1972. Like Contiki, the tours are exclusively for young travelers aged 18-38 and include itineraries of 3 days to 3 months.
The reputation of Trek America is that they offer experiences which change your life with a balance between visiting big cities, national parks, and other activities that explore the most incredible places in North and Central America.
And, unlike Contiki, Trek America trips don't include the "pub crawl" culture. So if you are a young traveler who is more interested in exploring and making new experiences instead of partying, Trek America might be good for you.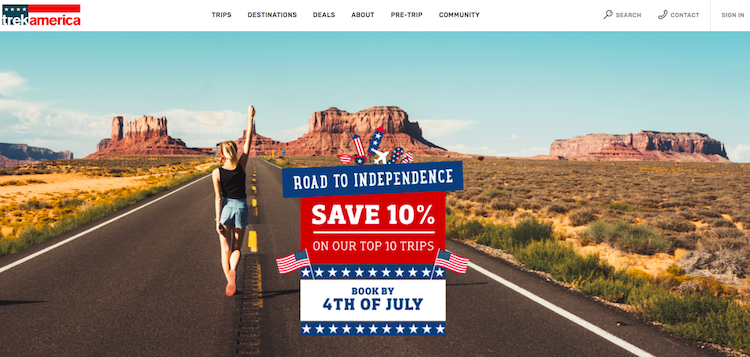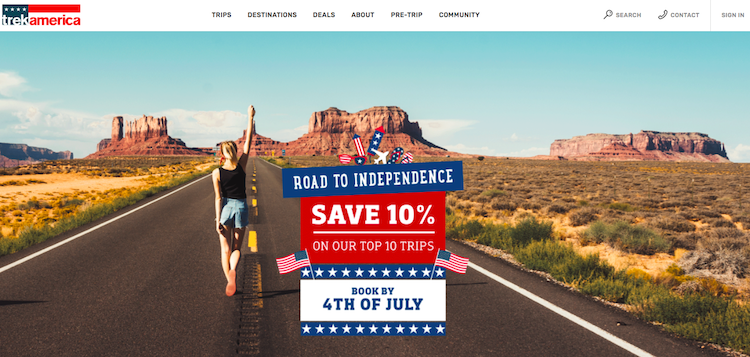 They have 3 types of tours:
Original tours: small group tours with the aim of having an authentic "road trip," with cheap accommodation that includes hostels, camping, and budget hotels. The groups have 10-13 people, which gives you a bit more flexibility in the itinerary.
Plus tours: offered just to explore North America, these tours offer more comfort, primarily when it comes to accommodation, and you'll stay in hotels, eco resorts, and apartments. Plus, breakfast is included as is more activities than the original tours. The only "con" is that the groups are usually bigger (up to 30 people).
BOLT tours: offered exclusively for Central America with a combination of private transportation and local transportation. The groups are 12-18 people with accommodation in hotels and with a bit more flexibility, meaning the most famous tourist spots will be included, but you'll still have lots of free time to explore on your own.
Comparison table of the best group tour companies for young solo/single travelers:
Intrepid

G Adventures

Contiki

Trek America

TopDeck Travel

Age of group

18-29

18-39

18-35

18-38

18-39

Size of group

Up to 10 people

10-15 people

Europe, North America & New Zealand: 35-52 people

Other areas: 12-30 people

 

13 people (up to 30 for their "plus" tours)

30-50 people

Specialized in young travelers

No

No

Yes

Yes

Yes

Offers tours beyond those for young travelers

Yes

Yes

No

Yes

No

Lots of partying expected?

Few parties organized by the tour company, a more conscious form of travel

Yes

Yes (a lot)

Moderate

Yes

Tour destinations

Entire world

Entire world

6 continents

North and Central America

5 continents
Bonus: World Tours for Women Only
Solo Female Travelers Tours is a company that serves women travelers from all over the world. It is focused on facilitating women's adventures around the world with all the confidence, safety, and comfort needed by its clients.
Some of the destinations served by SFT Tours are Mongolia, Antarctica, Sudan, Tanzania, Tuscany, and Iceland. There are tours for all tastes, from luxury tours in Tuscany to extreme adventures like climbing Kilimanjaro (with a female guide!).
In addition to empowering diverse women to embark on journeys around the world, all trips taken by Solo Female Travelers Tours are supported by women-owned businesses and partnered with entrepreneurs whose mission is to empower female figures.

In conclusion…
Traveling is always an enriching experience. And for anyone who just likes to travel solo, group tours can be a fun and safe opportunity to explore a new country.
And the truth is, by traveling in a group with a guide, you'll have an incredible experience and return filled with stories, friends, and memories. What matters is that you get out and explore the world, whether solo or with a group, because the world is big and waiting for you!
Planning your next trip?
Then don't forget travel insurance! You don't want to get stuck paying a ton of money and ruining your trip if you get sick or have an accident without travel insurance. WorldNomads is ideal for adventurous travelers, backpackers, or anyone looking to be protected during their trip. They cover almost every single activity you can image! Plus, you can have a 5% discount with the coupon code comfort5.
Already reserved your hotel or hostel? If not, we recommend Booking.com. They have a huge selection of hotels and hostels all over the world. Plus, in most cases, you can cancel your reservation up to a few days before the check-in date without any costs! 
Still haven't booked your plane ticket and want to save big? Take a look at Kayak and Momondo. They are flight aggregator that combine several other ticket search websites to make it easier for you to compare prices and make sure you are getting the best deal. 
And finally, will you need to rent a car during your trip? Then check out Rentalcar.com to search and compare car rental companies from all over the world in a single website. Then, you can find the cheapest price for the best car!