Last Updated on by Talita
13 great and different guided tours around Norway. Tours with a variety of prices, days, destinations, themes, age, luxury level, and adventure.
Norway is a Scandinavian country known for its stunning natural beauty, and tourism in Norway is an unforgettable experience for visitors. With breathtaking scenery, majestic fjords, towering mountains and mesmerizing northern lights, Norway offers a variety of attractions for nature and adventure lovers.
Norway's immense expanses of water surrounded by steep mountains create a breathtaking backdrop. The Geirangerfjord and Nærøyfjord are both UNESCO World Heritage Sites and popular destinations for boat trips and cruises, allowing visitors to take in the unique beauty.
In addition, the country offers a variety of outdoor activities. Hikers can explore challenging trails and winter sports enthusiasts can enjoy the many ski resorts in the country, with well-maintained slopes and a high-quality infrastructure. Norway is also a great destination for culture lovers.
Another highlight of tourism is the opportunity to experience the incredible beauty of the Northern Lights. In the northern regions of the country, visitors have the chance to witness this stunning natural phenomenon during the winter months.
Sustainability is a major concern in Norway, and tourists can explore the country's efforts to preserve the environment. From electric boat rides to eco-friendly hotels, there is an emphasis on conservation and responsible tourism.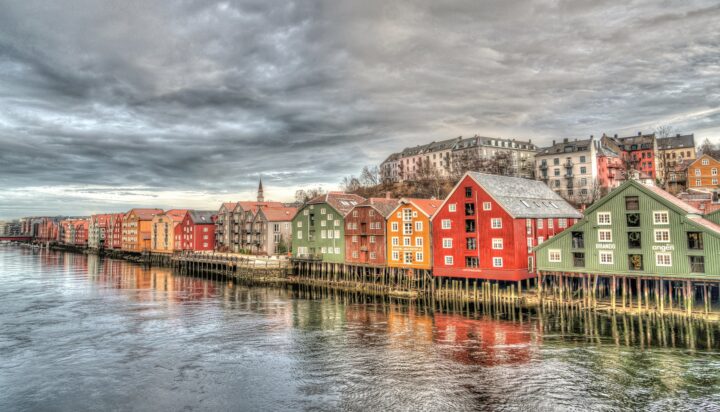 Top 10 tourist attractions in Norway
Before we delve into the main theme of this article, it is relevant to highlight some of the most sought-after tourist attractions in Norway to facilitate the search for excursions, itineraries, and tours that cater to your preferences.
Norway is a charming country with a rich diversity of attractions to offer visitors. Below, we present a list of the top 10 attractions and tourist cities that are worth visiting:
Tromsø:

Known as the "Capital of the Arctic," Tromsø offers the opportunity to experience the magical Northern Lights during winter and enjoy outdoor activities such as hiking, reindeer safaris, and dog sledding.

Oslo:

The Norwegian capital is a mix of modernity and history. Visit the Munch Museum to appreciate the iconic art of Edvard Munch and the Viking Ship Museum to immerse yourself in the country's history and culture.

Norwegian Fjords:

Explore the stunning landscape of the fjords, such as the Geirangerfjord and the Nærøyfjord, by sailing through their calm waters surrounded by imposing mountains.

Stavanger:

Explore the city of Stavanger and discover a street filled with colorful houses. Take the opportunity to visit the Preikestolen (Pulpit Rock), an impressive rock formation with panoramic views.

Lofoten:

Be enchanted by the Lofoten archipelago, with its picturesque fishing villages, majestic mountains, and white sandy beaches. It is a paradise for nature lovers and photographers.

Bergen:

Explore the charming city of Bergen, with its colorful 18th-century houses, the famous Fish Market, and the UNESCO-listed Bryggen district.

Jotunheimen National Park:

If you are a hiking and mountaineering enthusiast, don't miss the opportunity to explore Jotunheimen National Park, home to Norway's tallest mountains, including the famous peak Galdhøpiggen.

Trondheim:

Visit the historic city of Trondheim, with its impressive Nidaros Cathedral, built in the 11th century, and its charming cobblestone streets.

Briksdalsbreen Glacier:

Take an exciting hike to the Briksdalsbreen Glacier, one of Norway's most accessible glaciers, and marvel at its frozen beauty and the sound of melting rivers.

Vesteralen Islands:

Venture to the Vesteralen Islands, less known than the Lofoten Islands but equally stunning. Explore the local wildlife, including whales and seabirds.
Is it better to travel independently or in group tours in Norway?
Regardless of the option you choose to travel in Norway, whether independently or on a group tour, each has its positive and negative aspects.
Opting for independent travel, for example, offers greater flexibility to plan your own itinerary and choose activities according to your preferences. You will have the freedom to decide when and how to do activities, allowing you to explore Norway at your own pace. Additionally, this option can be more economical as you can control expenses based on your choices.
However, independent travel requires detailed planning, with research on accommodation, transportation, and activities. You need to be prepared to deal with potential challenges such as the language barrier and take extra precautions regarding safety, especially in more remote areas.
On the other hand, a group tour with a guide offers the company of other travelers and the opportunity to meet people with similar interests. Additionally, traveling in a group can provide a sense of security, especially if accompanied by an experienced guide who knows Norway well.
However, this option may somewhat limit your freedom to independently explore Norway as you will be following a predetermined itinerary and schedule set by the group.
Pros of traveling on a group tour

Pros of traveling on your own

C

ompany and opportunity to meet people with similar interests

Flexibility to create your own itinerary and choose activities

Peaceful and fun group experience

Autonomy to follow your own schedule

More safety when riding in a group, especially with an experienced local guide

Freedom to explore Iceland without having to stick to a schedule

Less need for planning and research as the tour already provides accommodation, transport and activities

Potential savings, since depending on the choices it can be cheaper

Possibility of access to places or activities that may be difficult or impossible to reach alone

Greater challenge and opportunity to learn and grow with the experience of planning and conducting your own trip
13 Best Tours and Itineraries to Explore Norway
Best Norway Tours and Itineraries for Guided Small Group Adventures
1. G Adventures – Norway Fjord Trekking (7 Days)
The Vikings were some of the people to walk the Earth, and looking back at the land that saw them born, it's not hard to see why. Carved by the unforgiving North Atlantic Ocean for eons, Norwegian fjords are a challenge that attracts hikers and climbers of all ages and abilities.
This trip will bring you up close and personal with the great green hills, monstrous peaks, huge glaciers and simply breathtaking landscapes of this isolated corner of Scandinavia.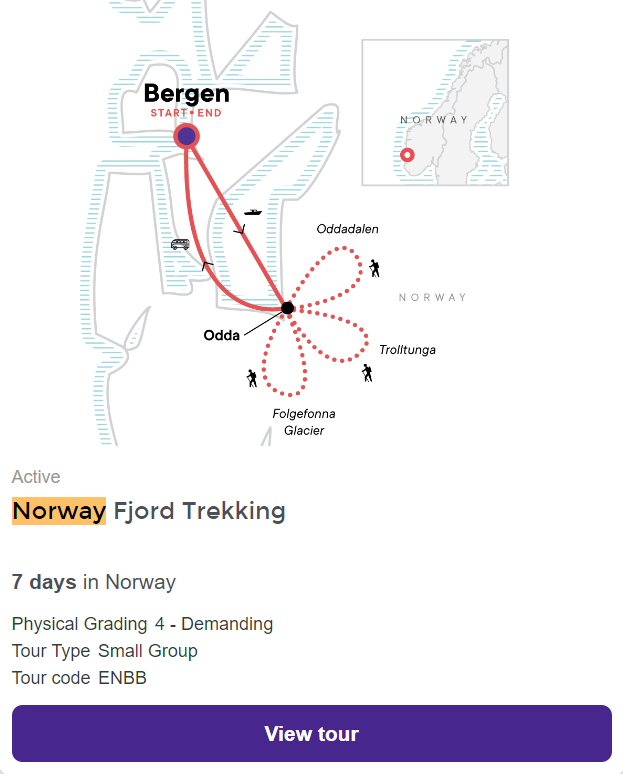 2. Intrepid – Scandinavia Explorer (15 Days)
Explore Scandinavia on a tour and discover its charms and delights on this two-week adventure through Norway, Sweden and Finland. Travel through some of Europe's most elegant capitals and discover the largest fjords in the world.
Visit amazing Oslo, Norway, travel to vibrant Stockholm, Sweden and explore trendy Helsinki, Finland. Along the way, discover the Viking past, learn about the maritime heritage and let yourself be carried away by the Olympic fever.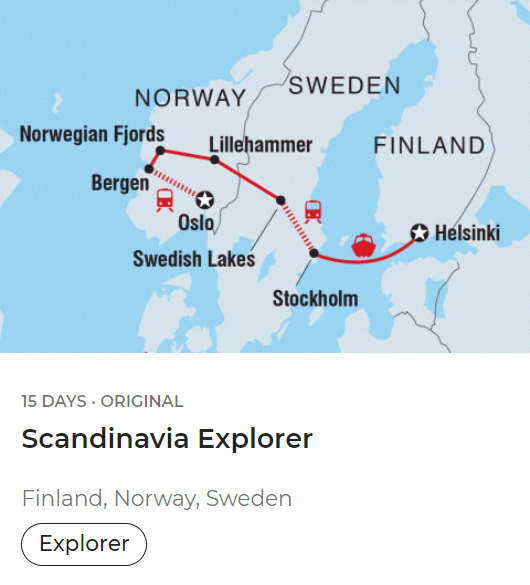 3. Intrepid – Northern Norway Explorer (8 Days)
Between a world of extremes, where night looks like day, day looks like night and, regardless of the season, the landscape is beyond incredible.
Leave the Arctic Circle behind and discover the captivating sights and long legendary history of northern Norway. Start in the capital Oslo and head to Trondheim, the Viking city home to Nidaros Cathedral and the remains of St Olav, the patron saint of Norway.
Explore the picturesque and rugged islands of Lofoten by land and water, before ending up in Tromso, a vibrant city renowned for its cultural offerings despite its relative isolation.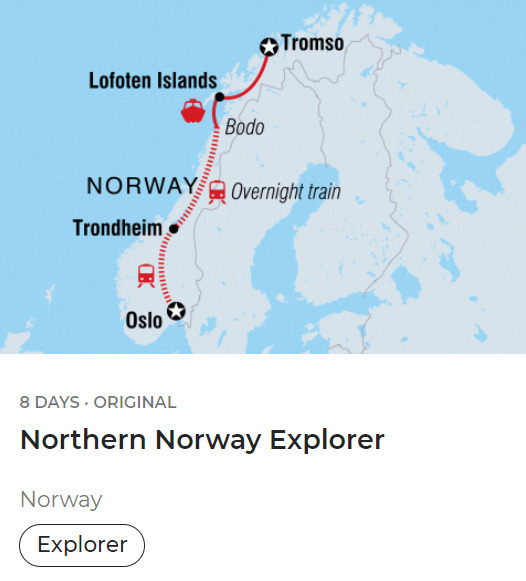 4. Intrepid – Introduction to Spitsbergen (10 Days)
Discover the chilling essence of the Arctic as you explore Spitsbergen and its surrounding islands. Look for wildlife around every corner and be prepared for close encounters with towering polar bears, squawking walruses and huge colonies of seabirds.
This is the largest island in Svalbard and has an impressive variety of wild natural landscapes. Walk through the flowery tundra at the foot of the 14th of July Glacier, wander along the rocky beaches and cliffs of Alkefjellet or hop on your snowshoes for an inland tour of the abandoned whaling grounds in Smeerenburg.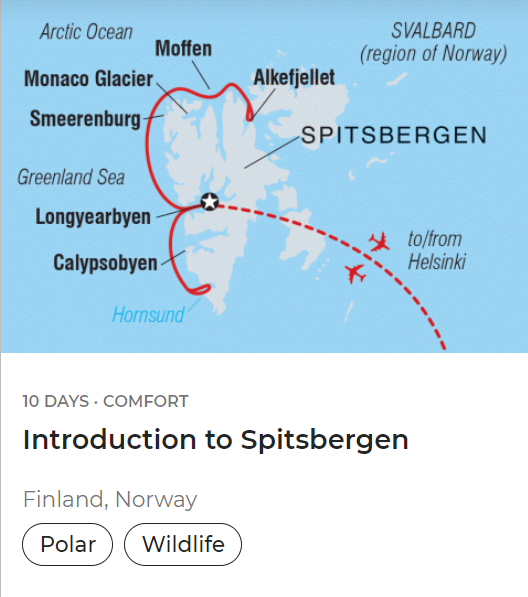 Best Norway Tours and Itineraries for Groups of Young Singles (18-35 Years Old)
5. Contiki – Norway Fjords & Northern Lights (8 Days)
Live arctic adventures in a beautiful country steeped in a rich culture. Expect fresh air, fairytale forests, fresh seafood, breathtaking fjords and enough natural beauty to leave you speechless.
Fly north from the cold Norwegian capital to the Arctic Circle to discover ancient Sami culture and adrenaline-fuelled activities. Then board a Norwegian cruise and marvel as you float gently between mountains, valleys, glaciers and dramatic coastal landscapes in search of the Northern Lights.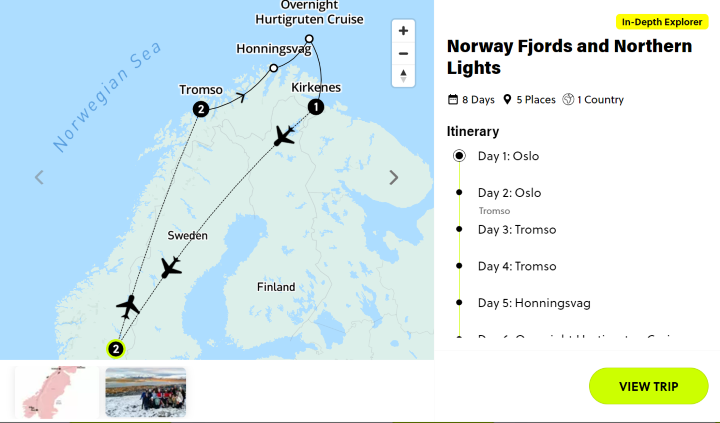 6. Contiki – Scandinavia (12 Days)
From colorful Copenhagen to sophisticated Stockholm, this trip offers 12 days of pure Scandinavian magic. Expect fresh air, fairytale forests, fresh seafood, hot saunas, breathtaking fjords and enough natural beauty and cultural heritage to leave you speechless.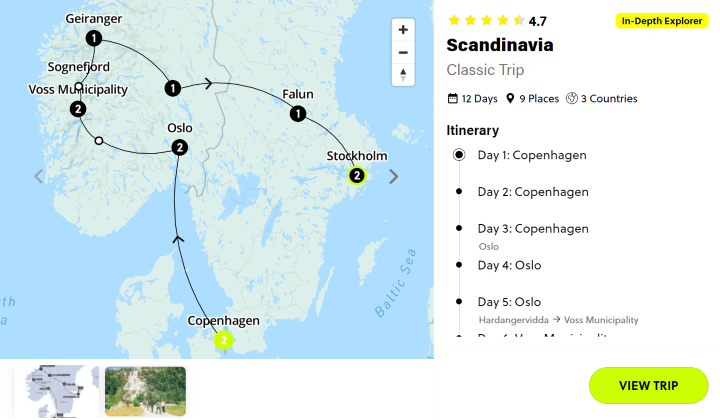 7. Topdeck – Scandi Express Winter (8 Days)
This 8-day adventure is packed with modern cities, incredible landscapes, quirky culture and all sorts of hidden treasures that only a place like Scandinavia can offer.
Skiing? For sure. Saunas? Undoubtedly. Salted herring? Well yes… From Copenhagen to Oslo to Stockholm and back to the Danish capital, get ready for all the icy fun and cozy vibes with a legendary group of fellow travelers.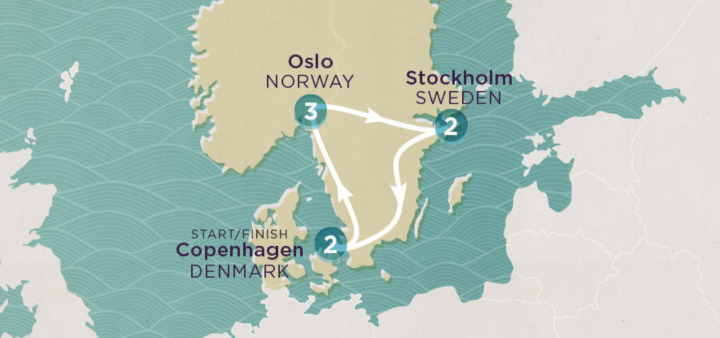 Best Luxury and Comfort Norway Tours and Itineraries for Small Groups with Guides
8. Trafalgar – Best of Norway (9 Days)
Relax in the simplicity of life along the King and Queen of the fjords. Soak up the Norwegian capital's cosmopolitan vibe, Bergen's Hanseatic heritage and look out for mythical trolls in some of the most spectacular scenery on Earth, including views of continental Europe's largest glacier. Add plenty of Viking tales and a visit to a Winter Olympics center to complete this epic journey through Norway.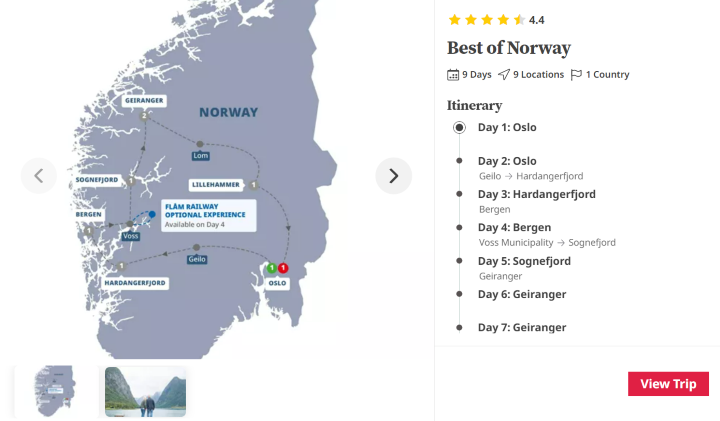 9. Trafalgar – Nordic Adventure (20 Days)
Don't miss a thing on this exciting Scandinavian journey. Your travels will feature fjords, glaciers and breathtaking scenery. Meet Santa Claus in Lapland, experience the friluftsliv of your Norwegian hosts and venture beyond the Arctic Circle into the land of the Midnight Sun.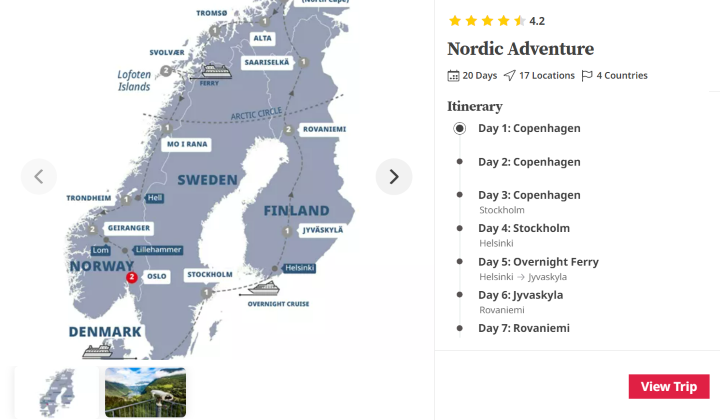 10. Insight Vacations – Scandinavian Heritage (28 Days)
Embark on a journey to Europe's most northerly point, where the summer sun never sets on the North Cape, see Stockholm Cathedral, where Sweden's kings are crowned, and admire Christian Frederik Hansen's Little Mermaid statue in Copenhagen harbor on this 28-day Scandinavian adventure.
See Oslo through the eyes of your Local Expert before stepping back in time at the Viking Ship Museum. Receive an Arctic Circle crossing certificate in Lapland's capital, Rovaniemi, and choose to meet Santa himself or join a Local Expert for a nature walk in the forest.
In Norway, discover indigenous culture at the Sami National Museum, meet Alta's sled racing puppies.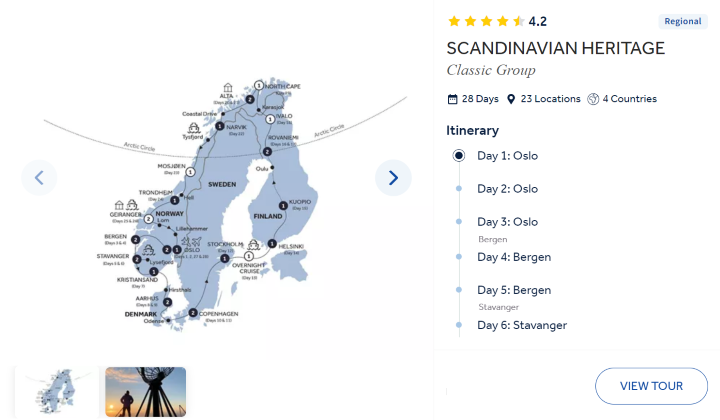 Tourradar's Best Norway Tours (Best website to search and compare Norway tours of different lengths, styles, prices, and operators)
11. Tourradar – Cross-country Skiing: Kvitavatn (8 Days)
Start and end in Oslo! With this tour, you have an 8-day tour that passes through Oslo. The tour includes accommodation, an expert guide, meals, transport and more.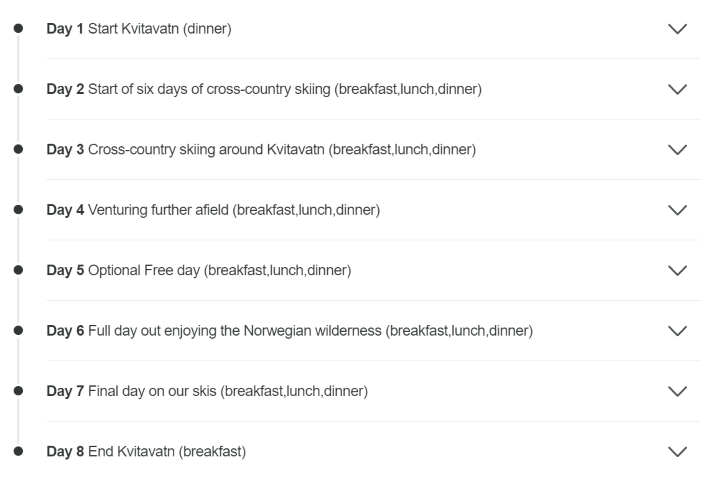 12. Tourradar – Polar Nights in Tromsø & Sommarøy Island (5 Days)
Start and end in Tromsø! On this tour you have a 5-day tour package that passes through Tromsø and Sommarøy, Norway. Includes accommodation in a hotel, plus an expert guide, transportation and more.

13. Tourradar – Arctic Experience (7 Days)
Start and end in Tromsø! On this tour you have a 7-day tour package that passes through Tromsø and 4 other destinations in Norway.

Concluding…
Norway is a fascinating destination for those looking for cultural, historical and adventure experiences.
With a wide variety of tour and excursion options available, it is essential to do some careful research before choosing the company that best suits your needs and expectations.
Check the reviews of other travelers and the details of the accommodations offered. This is essential to ensure a smooth and safe journey.
However, whichever company you choose, get ready for an unforgettable journey and embark on this adventure through the country of natural wonders, stunning fjords and rich traditions. Norway awaits you, ready to provide you with extraordinary moments and memories to last a lifetime.
Planning your next trip?

Then don't forget travel insurance! You don't want to get stuck paying a ton of money and ruining your trip if you get sick or have an accident without travel insurance. WorldNomads is ideal for adventurous travelers, backpackers, or anyone looking to be protected during their trip. They cover almost every single activity you can image! Plus, you can have a 5% discount with the coupon code comfort5.

Already reserved your hotel or hostel? If not, we recommend Booking.com. They have a huge selection of hotels and hostels all over the world. Plus, in most cases, you can cancel your reservation without any costs up to a few days before the check-in date!

Still haven't booked your plane ticket and want to save big? Take a look at Momondo. It's a flight aggregator that combines several other ticket search websites to make it easier for you to compare prices and make sure you are getting the best deal.

And finally, will you need to rent a car during your trip? Then check out Rentalcar.com to search and compare car rental companies from all over the world in a single website. Then, you can find the cheapest price for the best car!