Last Updated on by Talita
13 great and different guided tours around Thailand. Tours with a variety of prices, days, destinations, themes, age, luxury level, and adventure.
Thailand is an exotic and fascinating tourist destination known for its stunning landscapes, vibrant culture, ancient temples and idyllic beaches. Located in Southeast Asia, Thailand has a lot to offer travelers looking for unique experiences.
Bangkok, the capital, is a popular starting point for tourists. The city is a maze of colorful markets, impressive temples and modern skyscrapers. The Grand Royal Palace is one of the main attractions, with its majestic buildings and the famous Temple of the Emerald Buddha.
In addition to Bangkok, Thailand has many other must-see destinations. Chiang Mai, in the north of the country, is known for its traditional Thai culture and ancient temples. It is a perfect location to explore the local culture, learn about Thai cuisine and attend spiritual retreats in Buddhist monasteries.
Thailand's beaches are famous all over the world. Phuket, Krabi and the Phi Phi islands are some of the most popular destinations, with crystal clear waters, white sands and a relaxing atmosphere. Divers and snorkelers can explore the coral reefs of Koh Tao and Koh Lipe, while nature lovers can delight in the islands of Koh Samui and Koh Chang.
Thailand is also known for its rich culinary tradition. Thai food is an explosion of flavors, with dishes like the famous Pad Thai, coconut curry and green papaya salad. Street markets are a great way to experience authentic Thai cuisine and interact with locals.
In short, Thailand is a fascinating tourist destination, offering a unique blend of culture, lush nature and warm hospitality. With its stunning beaches, impressive temples and delicious cuisine, Thailand continues to delight travelers the world over.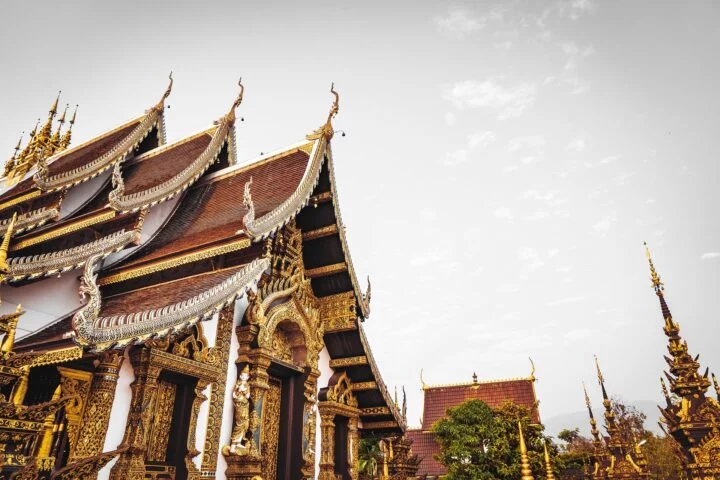 Top 10 Tourist Attractions in Thailand
Before we delve into the central theme of this article, it's worth highlighting some of Thailand's most popular tourist destinations to facilitate your search for tours, itineraries, and excursions that suit your preferences.
As mentioned earlier, Thailand is a charming country. Here's a list of the top 10 attractions and tourist cities worth visiting in Thailand:
Bangkok:

The capital known for its stunning temples, bustling markets, and modern skyscrapers.

Phuket:

One of Thailand's most popular islands, famous for its stunning beaches, lively nightlife, and thrilling water activities.

Chiang Mai:

Located in the north of the country, renowned for its traditional Thai culture, ancient temples, and colorful festivals.

Phi Phi Islands:

An archipelago famous for its crystal-clear waters, white sandy beaches, and breathtaking scenery, known for being the filming location of the movie "The Beach."

Ayutthaya:

An ancient historic city declared a UNESCO World Heritage site, featuring impressive temple and palace ruins.

Koh Samui:

A tropical island with beautiful beaches, luxurious resorts, vibrant nightlife, and wildlife sanctuaries.

Krabi:

Another stunning coastal region with breathtaking landscapes, paradise islands, and rock climbing opportunities.

Pattaya:

A popular seaside city known for its lively beaches, exciting theme parks, and vibrant nightlife.

Pai:

A small mountain town surrounded by stunning landscapes, waterfalls, and natural hot springs, perfect for nature lovers and those seeking tranquility.

Sukhothai:

Another historic city known for its well-preserved ruins and being the birthplace of Thai civilization.
Is it better to travel independently or in group tours in Thailand?
Regardless of the option you choose to travel in Thailand, whether independently or on a group tour, each has its pros and cons.
Opting for independent travel, for example, offers greater flexibility to plan your own itinerary and choose activities according to your preferences. You'll have the freedom to decide when and how to carry out activities, allowing you to explore Thailand at your own pace. Additionally, this option can be more cost-effective as you can control expenses based on your choices.
However, independent travel requires detailed planning, including research on accommodation, transportation, and activities. You need to be prepared to deal with potential challenges, such as the language barrier, and take extra precautions regarding safety, especially in more remote areas.
On the other hand, a group tour with a guide provides the company of other travelers and the opportunity to meet like-minded people. Furthermore, traveling in a group can provide a sense of security, especially if accompanied by an experienced guide who is well acquainted with Thailand.
However, this option may somewhat limit your freedom to explore Thailand independently as you'll be following a pre-determined itinerary and set schedules by the group.
In summary, the choice between traveling independently or in a group in Thailand depends on your personal preferences. Evaluate your interests, time availability, budget, and comfort level when making your decision.
| | |
| --- | --- |
| Pros of traveling on a group tour | Pros of traveling on your own |
| Company and opportunity to meet people with similar interests | Flexibility to create your own itinerary and choose activities |
| Peaceful and fun group experience | Autonomy to follow your own schedule |
| More safety when riding in a group, especially with an experienced local guide | Freedom to explore Iceland without having to stick to a schedule |
| Less need for planning and research as the tour already provides accommodation, transport and activities | Potential savings, since depending on the choices it can be cheaper |
| Possibility of access to places or activities that may be difficult or impossible to reach alone | Greater challenge and opportunity to learn and grow with the experience of planning and conducting your own trip |
13 Best Tours and Itineraries to Explore India
Best India Tours and Itineraries for Guided Small Group Adventures
1. G Adventures – Thailand Island Hopping (8 Days)
Thailand is known for its unparalleled beaches, so forget about visiting just one. This eight-day tour allows you to hop from beach to beach along the Andaman Sea, discover the hues of the Emerald Cave in Ko Mook and enjoy delicious barbecue on the beaches of Ko Lanta.
Find the perfect spot for you, whether you're enjoying optional activities like white-water rafting or just choosing a quiet spot to relax and watch the waves.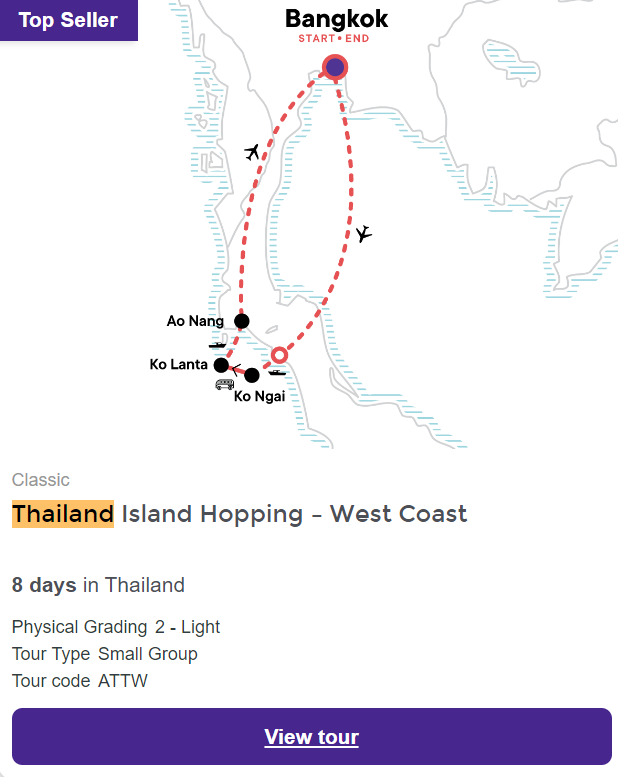 2. G Adventures – Thailand: Night Markets & Blue Waters (15 Days)
Agora é a hora de explorar a Tailândia do seu jeito com este tour acessível para jovens viajantes.
Faça uma caminhada até as aldeias de montanha da região para vivenciar a vida local, desfrute das areias macias do sul para mergulhar com snorkel, nadar ou simplesmente relaxar, e encerre sua jornada em Bangkok, onde as cores, sons e sabores irão redefinir o significado de incrível.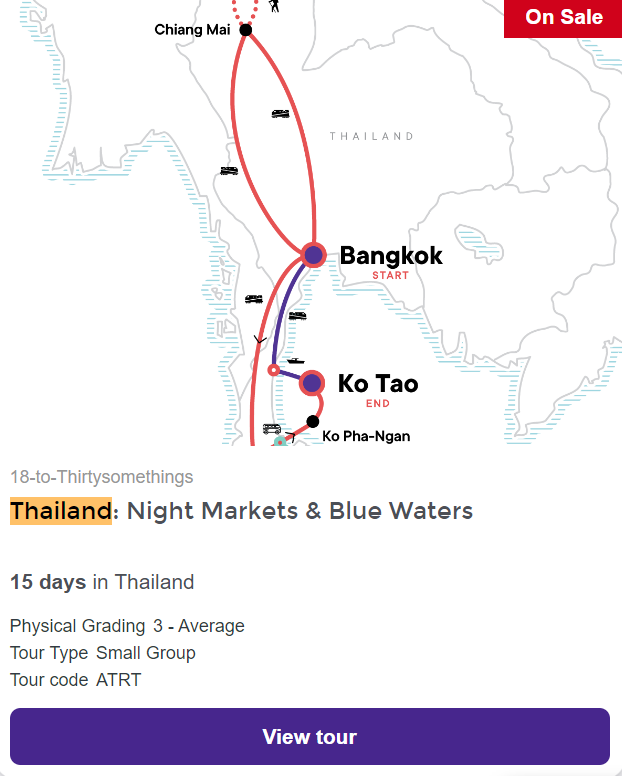 3. Encounters Travel – Wet and Wild in Thailand (13 Days)
This family adventure tour features a wide range of activities and destinations to provide your family with a fun and fulfilling Thailand vacation.
I spent some time exploring Bangkok, including a bike and boat tour, before heading to Khao Sok National Park for jungle wildlife safaris and boat trips across the lake.
Then spend time on the beach in Krabi, including kayaking and snorkelling, plus plenty of free time, before returning to Bangkok.
As a private tour for your family, we can customize the itinerary and accommodation levels and styles as much or as little as you like.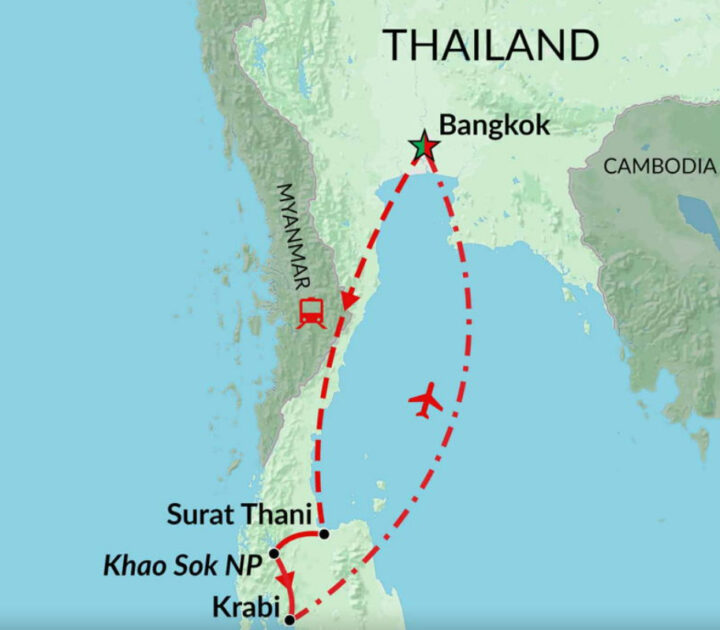 4. Intrepid – Thailand Beaches: Bangkok to Phuket (9 Days)
Explore Thailand's capital, relax in the sun and sample some of the culinary delights this region is renowned for.
As you explore the capital, Bangkok, Ao Nang, Khao Lak and Phuket, you'll be visiting the best of the best of Thailand, having all the time you need to explore the bustling streets and frenetic markets, or just relax on the stunning beaches considered to be some of the best of the world.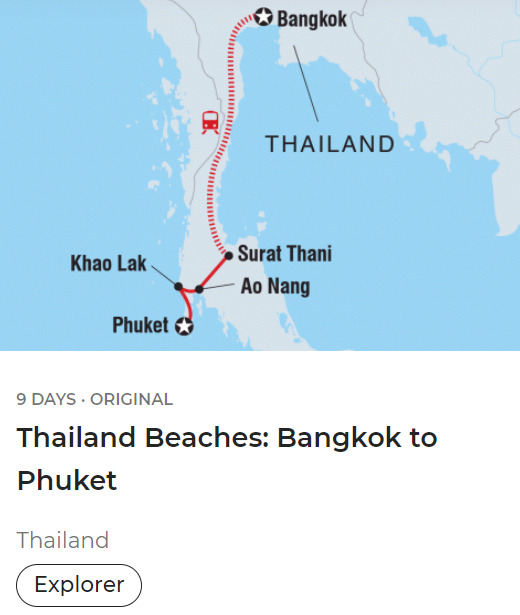 Best India Tours and Itineraries for Groups of Young Singles (18-35 Years Old)
5. Contiki – Total Thailand (14 Dias)
Bringing together the best of both North and South, this trip lets you explore lush jungles, world-famous cities, picturesque villages and coconut-fringed beaches.
From iconic places like Bangkok's Khao San Road and the night markets in Chiang Mai, to the less traveled roads of the mountain town of Pai and the tropical byways of Krabi, this adventure lets you explore Thailand without compromise.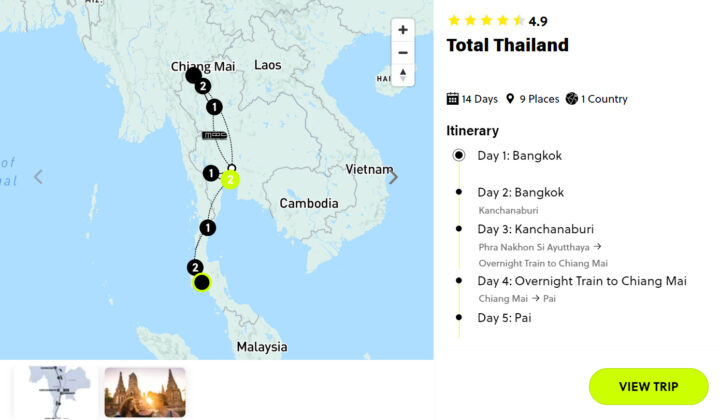 6. Contiki – Southern Thai Highlights (7 Days)
This journey begins in Bangkok before exploring the coconut-fringed beach paradise that is southwest Thailand. Experience riverside cottages and boat trips in the lush jungle of Khao Sok, before venturing to Krabi on the coast for swimming, snorkeling and sunbathing.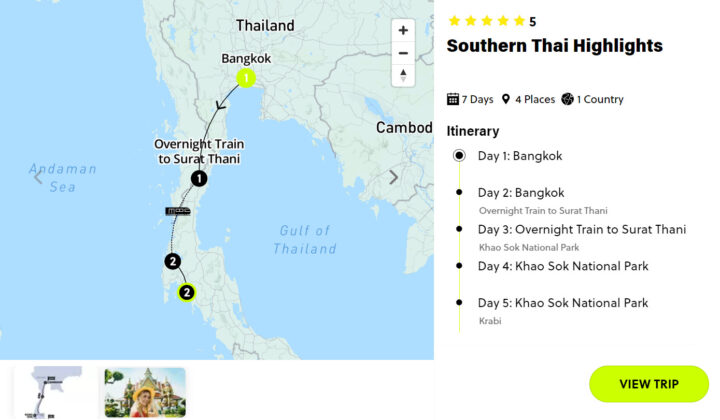 7. Topdeck – Delve Deep: Thailand (10 Days)
Looking for a trip that is different? You have found.
This is your inner guide to the Land of Smiles. The vibrant city of Bangkok and the paradise of Phuket. Breathtaking beaches, fairytale lakes and intertwined rainforests. Delicious finger-licking street food.
And more tradition, temples and tropical vibes than you can shake a satay skewer.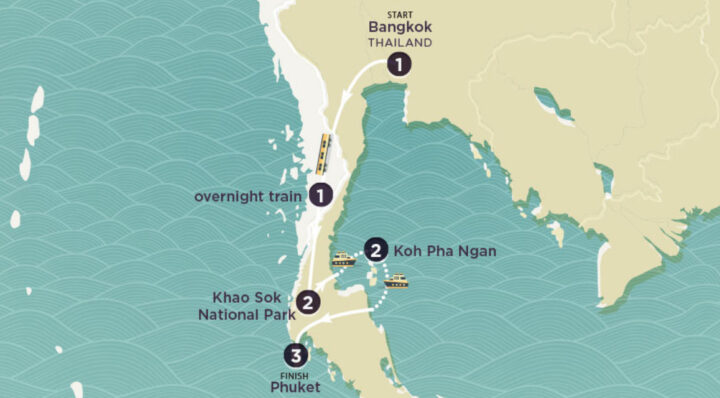 Best India luxury and comfort tours and itineraries for small groups with guides
8. Trafalgar – Thailand and the Temples of Angkor (15 Days)
The heritage of two ancient kingdoms is traced along this pilgrimage through Thailand and Cambodia. Visit the spiritual center of Sukhothai and explore the ruins of Angkor Wat.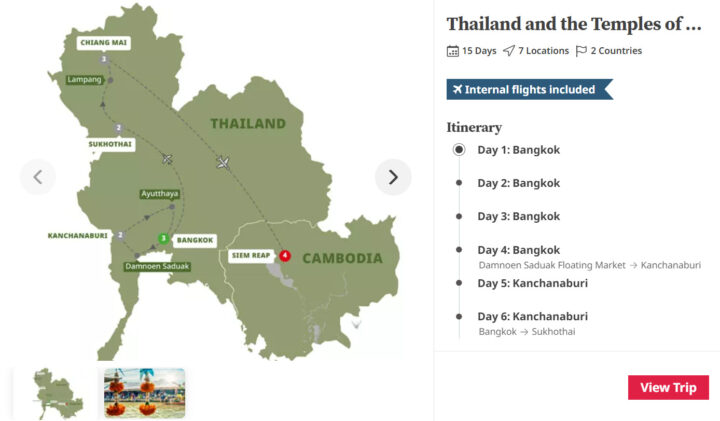 9. Trafalgar – Saigon and Bangkok Explorer (9 Days)
Peer past and present in this comprehensive encounter with the dazzling city skylines, youthful energy and centuries of culture, heritage and traditions of vibrant Ho Chi Minh City and Bangkok.
Tourradar's Best Thailand Tours (Best site to search and compare Thailand tours of different lengths, styles, prices, and operators)
10. Tourradar – Treasures of Thailand (8 Days)
Start in Chiang Mai and end in Bangkok! With the tour you have an 8-day travel package that will take you through Chiang Mai, Thailand, and 7 more destinations in the country. Tour includes hotel accommodation, an expert guide, meals, transport and more.

11. Tourradar – Bangkok and Golden Triangle (7 Days)
Start in Bangkok and end in Chiang Rai! On this cultural tour you have a 7 day travel package that will take you through Bangkok and 2 other destinations in Thailand. The tour includes hotel accommodation, an expert guide, meals, transport, and more.

12. Tourradar – Andaman to Gulf (6 Days)
Start in Phuket and end in Surat Thani! With the tour you have a 6 day travel package that will take you to Phuket, Thailand and 5 other destinations. Includes hotel accommodation, an expert guide, meals, transport and more.

13. Tourradar – North Thailand Highlights (5 Days)
Start in Chiang Rai and end in Chiang Mai! With this tour you have a 5 day travel package that will take you to Chiang Rai and 3 other destinations in Thailand. It includes hotel accommodation, an expert guide, meals, transport and more.

Concluding…
Thailand is a fascinating destination for those seeking cultural, historical and adventure experiences.
With a wide variety of tour and excursion options available, it is essential to do some careful research before choosing the company that best suits your needs and expectations.
Check the reviews of other travelers and the details of the accommodations offered. This is essential to ensure a smooth and safe journey.
However, regardless of which company you choose, one thing is certain: visiting Thailand is a truly once-in-a-lifetime experience! So get ready for an unforgettable journey and embark on this adventure across the country!
Planning your next trip?

Then don't forget travel insurance! You don't want to get stuck paying a ton of money and ruining your trip if you get sick or have an accident without travel insurance. WorldNomads is ideal for adventurous travelers, backpackers, or anyone looking to be protected during their trip. They cover almost every single activity you can image! Plus, you can have a 5% discount with the coupon code comfort5.

Already reserved your hotel or hostel? If not, we recommend Booking.com. They have a huge selection of hotels and hostels all over the world. Plus, in most cases, you can cancel your reservation without any costs up to a few days before the check-in date!

Still haven't booked your plane ticket and want to save big? Take a look at Momondo. It's a flight aggregator that combines several other ticket search websites to make it easier for you to compare prices and make sure you are getting the best deal.

And finally, will you need to rent a car during your trip? Then check out Rentalcar.com to search and compare car rental companies from all over the world in a single website. Then, you can find the cheapest price for the best car!