Last Updated on by Talita
Do you dream of experiencing the rich local culture of a student studying abroad in Australia? Did you know that your Australian student visa can be denied on account of your health insurance? Are you unsure about the best insurance options for a long or short course or degree completed overseas? Take a look at the article below for all the answers!
When you're planning a trip to study overseas, getting a health international plan often ends up at the end of your very long to-do list. 
But this step is essential to make sure you have a safe and enjoyable experience during your exchange program. Plus, having a good insurance plan also happens to be a requirement to get your student visa! 
With this thought, I made this list of the best insurance options for students in Australia, alongside some other info that I think is important for all students studying in Australia to know.   
Let's get reading!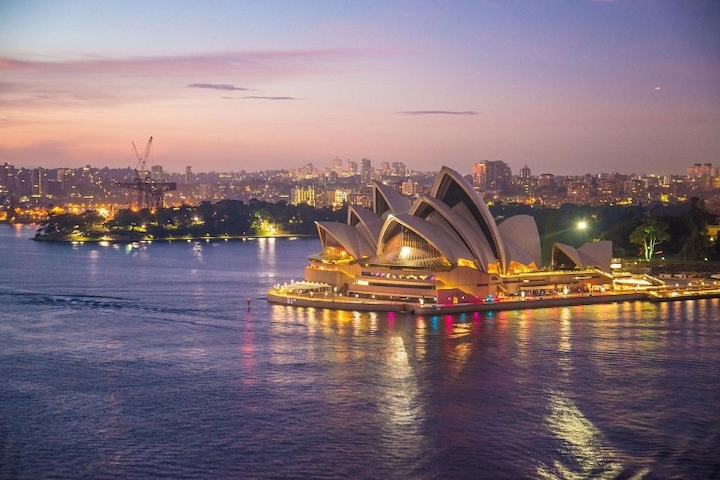 Why should international students in Australia have health insurance?
Health insurance abroad is essential to guarantee coverage if you need medical care in the new country where you will live.
In the case of Australia, it is necessary for international students to have a private health insurance, as the public system does not provide assistance to foreign students.
Australia's healthcare system
In Australia there is a public health system, but approximately half of Australians have private health insurance as well. Despite the public system providing essential hospital treatment, such as medical consultations and free medication, at low prices, as it is financed by part of the taxes paid.
Although the Australian health system is considered one of the best in the world by the WHO (World Health Organization), there is a lot of bureaucracy for foreigners to have non-emergency care by the public structure, so it is mandatory for students to have a private plan, such as Overseas Student Health Cover (OSHC) which is an option made by the Australian government itself in a paid and private way.
In other words, taking out international health insurance is necessary to bring you more security in case medical assistance is needed, as you will have coverage and a good service by the agreement already contracted before traveling.
Australian schools require proof of medical coverage (also known as insurance) in order for you to meet enrollment requirements.
Under Australian law, every international student needs proof of OSHC medical insurance. But, in addition, it is important to have the coverage of another plan to have the guarantee of assistance.
Overseas Student Health Cover is the insurance that guarantees that students have access to the Australian public health structure, as only citizens are covered by the national health insurance, Medicare. Australian educational institutions require proof of OSHC approval for enrollment.
What are the 7 best health insurance plans for exchange students in Australia? 
The search for the right international health insurance can be stressful. To make this process a bit easier, I created a detailed list of the top insurance companies that I recommend. After the list, you'll find a table with some additional information that you can use to compare all the plans.  
As always, I recommend that you get a quick quote online with all of the companies listed below. Although this might take you a bit of time, at the end of the day it can save you a lot of money. 
Note: the companies that I list below are all international companies. If you are a Brazilian and would rather work with a Brazilian company, make sure to read my Portuguese article here and look at options 6 and 7. 
   1. Student Health Advantage from IMG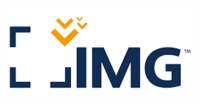 IMG is a company with a wide range of insurance plans for international students and expats. 
They have 3 plans made to meet the needs of students living in another country. However, one of them is made exclusively for students that plan to study in the United States. So I'll just talk about the two that you could use while studying in Australia below.

Plan 1# Student Health Advantage
This plan was made especially for international students. Because of this, it'll likely meet the requirements of your educational institution (though I still always recommend you confirm this directly with your school anyway!). 
One thing that makes this plan stand out is that it offers some types of coverage that many other plans don't. Like coverage for maternity care, mental health, and pre-existing conditions. 
This particular IMG plan also has coverage for Covid-19 treatments. Though like any other illness, this is subject to the specific terms of the policy.
Plan 2# Student Health Advantage Platinum  
This plan is very similar to the one above, but with one major difference. The Platinum plan has double the maximum coverage, with up to $1,000,000 USD guaranteed in coverage. 
Pros of student insurance from IMG: 
Their plans are made especially to meet the needs of students 

They have customer support available 24 hours a day 

They cover Covid-19 and telehealth appointments 

They offer their services to students of all nationalities 
Cons of student insurance from IMG: 
For some of their plans, there is a 1-year waiting period for pre-existing condition coverage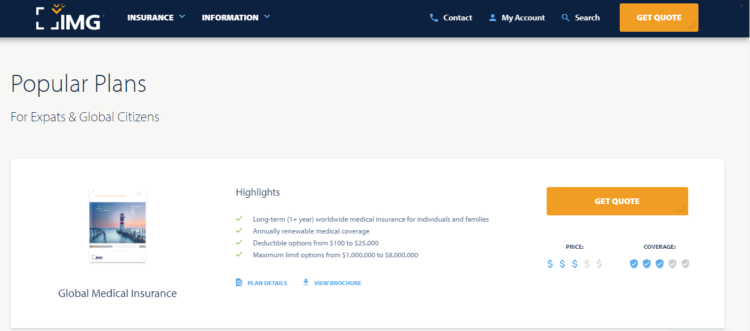 2. Cigna Global – International Student Health Insurance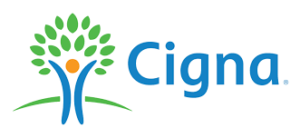 One of the largest health insurance companies on the market is Cigna Global. They have a variety of plans for travelers, expats, and international students. 
Although they don't have plans made specifically for students, most of their plans will still cover you anyway. There are 3 main plan options: Silver, Gold, and Platinum. All 3 of these plans are valid in Australia as well as in the rest of the world (though if you want coverage in the United States, you'll need to pay for a more expensive policy). 
Take a look at the comparative table below for more info about each plan: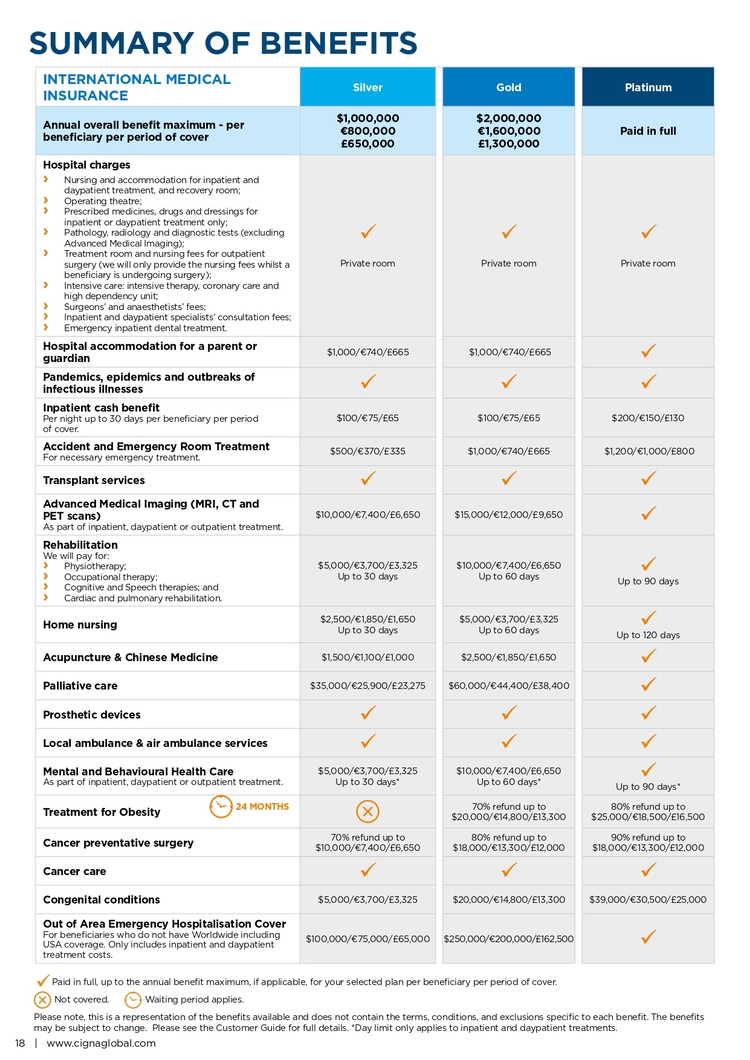 Cigna's plans are very flexible. So if you want to add additional coverage to your plan (like ophthalmologist or dental care), it's very simple to do so. 
Another advantage of Cigna is that they have flexible payment options that let you choose from monthly, trimesterly, or annual payments. 
Pros of international student insurance from IMG: 
They have quick support – according to their website, 95% of reimbursement requests are processed in 10 days 

They have 24/7 customer support 

They have an online help center with a list of more than 3,000 hospitals 

They have a partnership with more than 1.65 million hospitals, clinics, specialists, and doctors all around the world 
Cons of international student insurance from IMG:  
Their most basic plan doesn't offer pre- or post-natal coverage 

They don't have coverage for outpatient consultations with specialists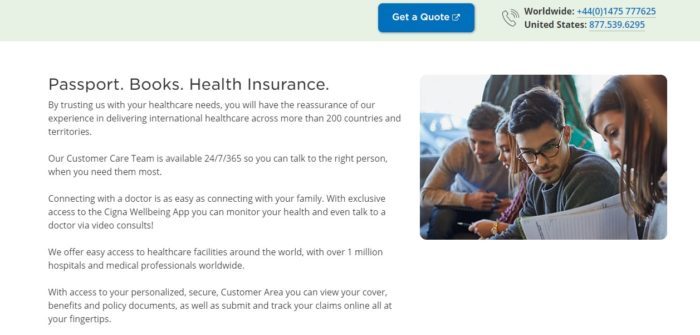 3. Now Health International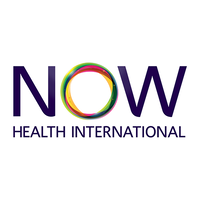 Now Health International is an excellent choice as it is a world leader in international insurance. Its primary objective is to offer a convenient, accessible, and efficient service to its customers.
One of the key benefits of choosing Now Health International is its outstanding customer service, delivering all the essential information promptly and clearly.
Recognizing the unique daily life of every international student, Now Health offers customizable plans that cater to their specific challenges and requirements.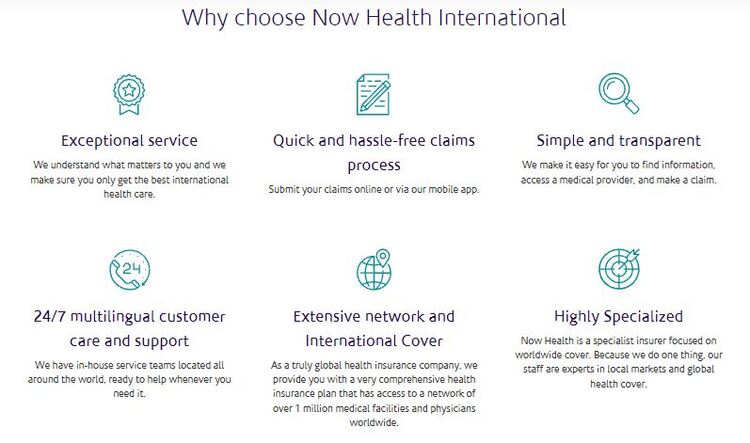 The top features of student health insurance with Now Health that appealed to me were:
Emphasis on customer service and clear communication

Coverage extended to more than 194 countries and territories worldwide

Availability of certain plans with maternity coverage

A range of plan options to choose from, including customized plans
However, there were some aspects that I didn't like about student health insurance with Now Health, such as:
Some services covered by Now Health plans operate on a reimbursement system

In case of maternity coverage, the plan mandates a waiting period of 12 months
   4. StudentSecure Insurance from HCCMIS

HCCMIS is another great insurance company for students. Besides their great travel insurance options, they also have plenty of great international health insurance options for overseas students. 
Below, you'll find more details about the 4 levels of coverage for student health insurance that HCCMIS has on offer. 

HCCMIS Plan #1: StudentSecure Elite  
The lowest deductibles and the highest coverage on offer 

6-month waiting period for pre-existing conditions to be covered

Includes coverage for club or intercollegiate sports 

Includes personal responsibility coverage 
HCCMIS Plan #2: StudentSecure Select 
Lower maximum coverage (and lower monthly cost, too) 

6-month waiting period for pre-existing conditions to be covered

Option to add on Crisis Response Rider for rescue coverage 
HCCMIS Plan #3: StudentSecure Budget
12-month waiting period for pre-existing conditions to be covered

Medium coverage with a higher deductible 
HCCMIS Plan #4: StudentSecure Smart   
The cheapest plan available (with the lowest benefits as well) 

Highest deductibles of all the plans 

Only covers pre-existing conditions at their acute onset 

Does not cover club sports 
Take a look at the comparison below of HCC's 4 StudentSecure plans (click to see the chart in more detail):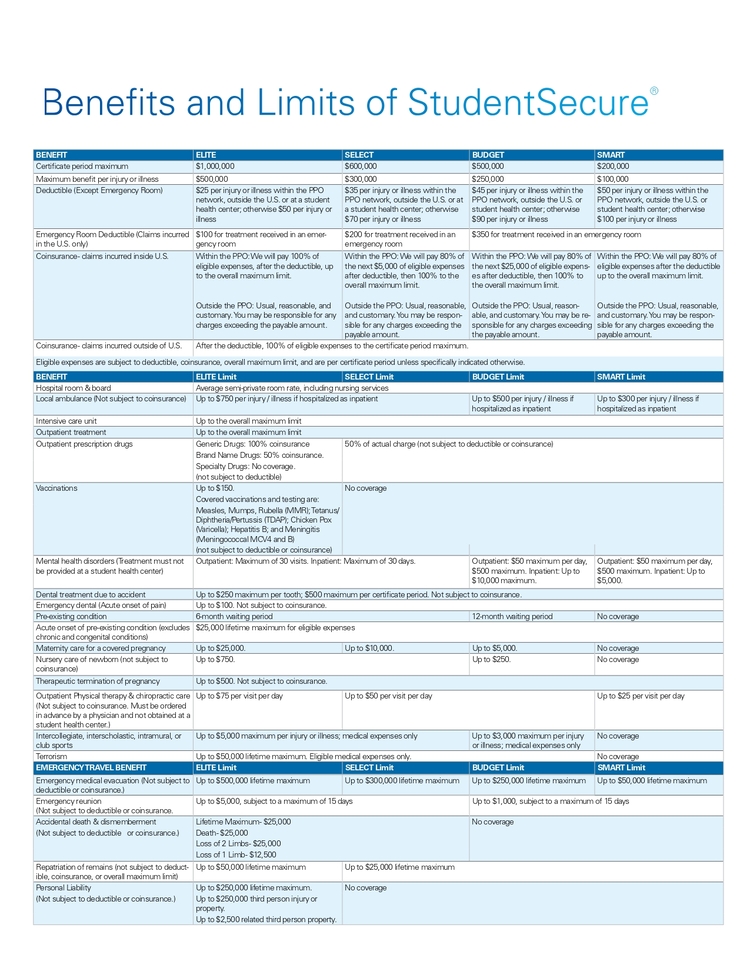 Pros of StudentSecure insurance from HCCMIS: 
They have some of the cheapest plans on this entire list 

You have 4 plans to choose from (and they are all made especially for students) 

They offer a discount if you pay the full plan amount upfront 

Their plans include coverage for dental emergencies in case of accidents (up to $250 USD per tooth or $500 USD in total) 
Cons of StudentSecure insurance from HCCMIS:  
The Smart plan doesn't have any pre-existing condition coverage 

In other plans,

there is a 6-month waiting period for pre-existing conditions 

With the exception of the Elite plan, their plans don't cover vaccines 

The Smart plan doesn't have maternity or nursery coverage 

The low-cost plans have very high deductibles 
   5. Foyer Global Health

In search of basic or more extensive coverage? Have plans to stay in Australia short- or long-term? Moving alone or with your family? 
No matter what your answers to these questions are, I'm sure that Foyer Global Health has a plan that fits your exact situation. 
Basically, Foyer has 3 plans to choose from. Here are some more details about the coverage included in each. 
Foyer Global Health Plan #1: ESSENTIAL  
Appointments, surgeries, and anesthetics 

Congenital diseases up to 100,000 euros 

Devices like cardiac pacemakers when needed as a rescue measure 

No coverage for maternity or childbirth 
Foyer Global Health Plan #2: SPECIAL
Appointments, surgeries, and anesthetics 

Congenital diseases up to 150,000 euros 

Devices and aids like artificial limbs and prostheses up to 2,000 euros

Up to 5,000 euros for maternity and childbirth (with a 10-month waiting period)
Foyer Global Health Plan #3: EXCLUSIVE 
Appointments, surgeries, and anesthetics 

Congenital diseases up to 200,000 euros 

Unlimited devices and aids 

Up to 20,000 euros for maternity, childbirth, midwife services, or hospital nursing care (with a 10-month waiting period)
Pros of international student insurance from Foyer Global Health: 
All of their plans include coverage for basic dental treatments, appointments, and surgery 

They have 24/7 customer support with consultants, doctors, and specialists

They have repatriation and evacuation services 

They offer medical support and pre-trip advice (on things like necessary vaccines and the preparation of a first aid kit) 
Cons of international student insurance from Foyer Global Health:  
Their basic plan doesn't include pre- or post-natal care 

Their plans can be a bit more expensive than some of the others on this list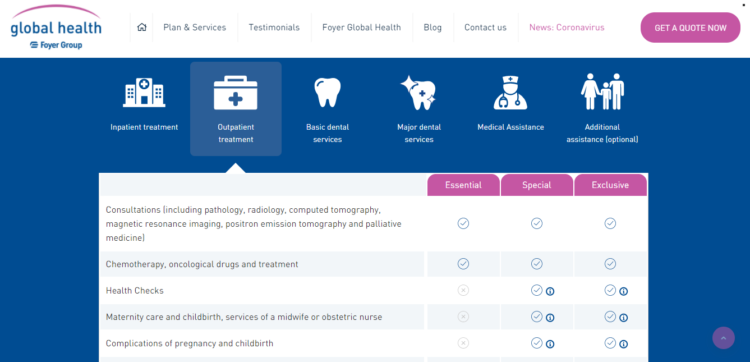 Comparison table between the best health insurance for students/exchangers in Australia
CIGNA
IMGLOBAL
AETNA
GEOBLUE
SAFETY WING
GLOBAL HEALTH FOYER

Silver – $1 million                          

BRONZE – $1 million

The values of the limits increase depending on the length of the insurance contract

The coverage amounts may change according to your choices

Annual benefit maximum of US $1,000,000

Personalized plans for you or your family 

Gold – $2 million                          
SILVER – $5 million

Aetna's plans may cover cancer treatments when the patient is part of a clinical trial.

Full reimbursement for hospital & cancers treatments, ambulance, and reconstructive surgeries

Value of total coverage is something you can customize per item

Platinum – Unlimited 
GOLD – FOR COVERAGE UP TO 36 MONTHS

 – 

$5 million
 

 

GOLD – FOR COVERAGE AFTER 36 MONTHS

 – 

$5 million
GOLD PLUS

 – 

$5 million
PLATINUM

 – 

$8 million
Worldwide Medical Insurance / Comparison Chart*
Part of the table courtesy of Tokio Marine HCC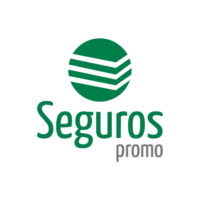 If you prefer Brazilian companies, Seguros Promo is a great option for you!
It is a company that brings together different types of insurance from different providers, which helps you compare prices and choose the one that best suits your needs.
The service, clarification of doubts and payment is done directly with the companies, and there is no need to worry about international payments or service in other languages, which makes it easier in occasional emergencies.
Just be sure to confirm with your school that they accept the student health insurance you choose on that platform. That way, you can avoid any inconvenience.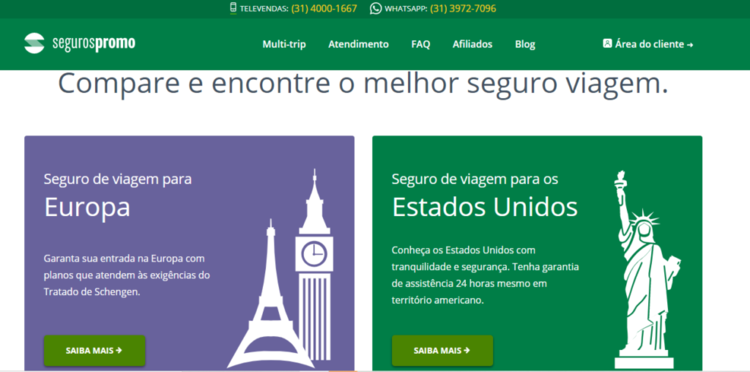 Pros of international student insurance from Seguros Promo:
24-hour national service

The platform has filters that make it easier to choose the plan

Intuitive website with plan comparisons

Different types of international health insurance for students
Cons of international student insurance from Seguros Promo:
Some of the plans vary the price due to the current exchange rate

The wide variety of options can confuse you and complicate your choice.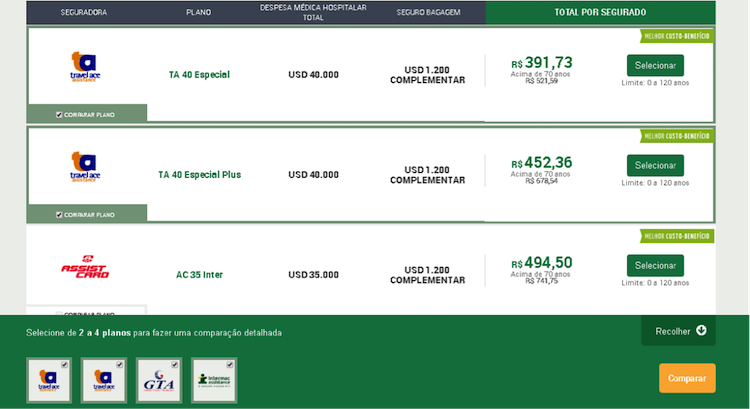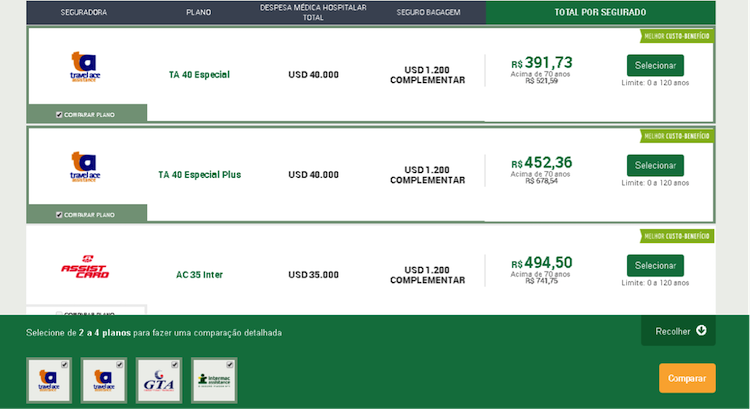 7. Real Seguros

Real Seguros is very similar to Seguros Promo, being a platform that allows you to compare numerous insurances from different companies until you find the perfect one for your profile and for your trip.
Being Brazilian, all service platforms are in Portuguese, which can help many people who do not speak English.
Despite the similarity with Seguros Promo, there are some important differences: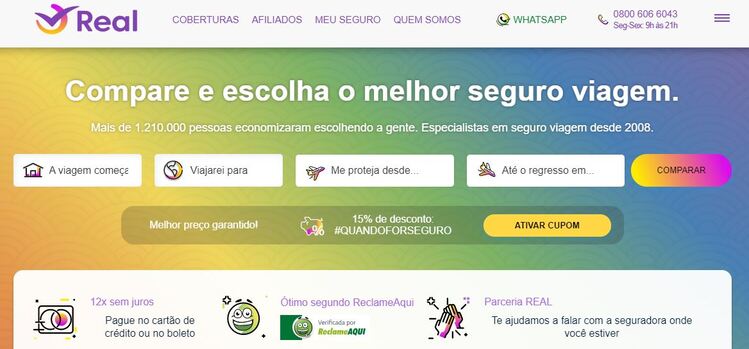 Pros of international student insurance from Real Seguros:
It has a wide range of insurance options at fair prices

Have dental care coverage in emergencies

If there are no physical conditions to continue in Australia, they have coverage for the transfer to Brazil

Cover pharmaceutical expenses, as long as they have a prescription and medical support
Cons of international student insurance from Real Seguros:
Não oferecem cobertura para gravidez e nem assistência maternidade

Certas opções não cobrem doenças pré-existentes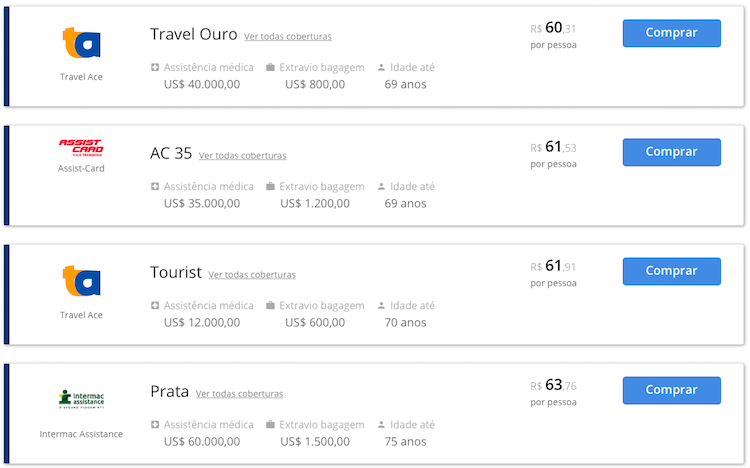 2 "Bonus" international health insurance companies that can also be used by students in Australia 
The two final companies listed below don't have health insurance plans specifically made for international students. However, both offer international health insurance plans with wide-ranging coverage that will, most likely, also be accepted by your educational institution. 
So here's my advice: get a quote with these two companies below and compare it with what you get from the options listed above. If one of them offers better coverage or a lower price than the others, check in with your education institution to see if the plan will be accepted as proof of coverage. 
If they confirm it'll be accepted, this can be a great way to save some extra money before your new adventure! 
GeoBlue is an excellent choice of insurance for expatriates, and if you are a resident of or visitor to the United States it is the perfect choice. This company meets the highest quality standards and is among the leaders in its category.
Pros of StudentSecure insurance from GeoBlue:
Service that meets the highest quality standards

Flexible plan designed especially for expatriates and foreign nationals living in the US or US citizens living in other countries

With the Xplorer plan, you have no deductible for standard services and an unlimited medical cap

The Xplorer plan covers extreme sports and has no cancellation fees

Optional dental and vision options

Several plans to choose from

24 hour service 7 days a week

Plans with full coverage, from evacuation, health consultations to maternity care
Cons of StudentSecure insurance from GeoBlue: 
Not available to residents of New York and Washington

For pricing, you must contact a broker
GeoBlue offers unlimited telemedicine consultations completely free of charge for members of its plans with Covid-19 questions. If requested by a physician, the company also covers clinical testing and treatment for Covid-19
 – Aetna (acquired by Allianz)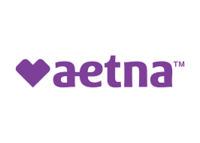 Aetna is one of the largest and most well-known health insurance providers out there. 
The biggest benefit of Aetna is that their plans are totally flexible, giving you many options to personalize each plan based on exactly what you need. Plus, they are known for great customer service that has good reviews overall. 

Pros of international insurance from Aetna:  
Aetna has 50 years of experience with insurance and has won multiple awards (like "Health Insurance of the Year" and more) 

They have customer service 24 hours a day, 7 days a week 

Their plans have flexible and personalized coverage 

They have an interactive, point-based app to help incentivize health habits 

A large number of their plans offer coverage for cancer treatments, repatriation, hospitalizations, and emergency evacuation 
Cons of international student insurance from Aetna: 
The coverage limits for their plans aren't very clear on their website (so you have to reach out to the company for more details) 

They don't have travel insurance, only international insurance  

Types of courses for those who want to study in Australia
Now you have more knowledge about how health works in Australia and the best health insurance for students, you need to know which course to apply. But no stress! Below I have listed the most common courses for those who will study in the country. Who knows, that might not help you decide.
Australia has a large investment incentive for research and international exchange students, so it is worth researching the types of scholarships the country offers.
Language courses
Australia is a country that has been growing in its influence, so studying English can bring a lot of advantage to your professional paths.
There are private companies that offer this type of course. But Australian universities themselves also offer language exchanges and all foreign students must attend English classes.
Enrollment can be done in two ways: by applying directly through the university's platforms, or through mediating agencies, such as exchange companies that help in this learning process.
University education
For those who want to do higher education abroad, Australia can be a great option. The study period lasts from 1 to 5 years and, depending on the case, it is possible to work and also take the family (spouses and children, for example).
National universities, such as the University of Sydney, have their own research and study grant initiatives and notices, so be aware of the possibilities that institutions offer. As well as several Australian and New Zealand government technical education programs.
A bachelor's, master's or doctoral option is available for those interested. If you're looking for professional development, you can study abroad and take a course in another language, which adds a lot to your CV and specialization.
Visa to study in Australia
Anyone thinking about going abroad to study needs to certify the type of visa they can and plan to get and what to do to apply.
All non-Australian passport holders wishing to visit Australia are required to obtain a visa or other form of travel authorization to enter the country, such as ETA Australia which is an online travel authorization.
The ETA is for a short-term stay, being allowed 3 consecutive months and valid for a total of 12 months.
But the specific visa for students in Australia is valid for 5 years, as long as you maintain a link with an educational institution. It allows you to participate in a course of study, bring family members to Australia, travel in and out of the country and do paid work for up to 40 hours per fortnight after the course starts.
To get a student visa, you will need:
Genuine Temporary Entrant (GTE), a declaration of genuine intent to remain in Australia for a temporary period of time for the sole purpose of study, or to accompany a student as a dependent.
Financial needs, as of February 2018, the minimum amount to demonstrate is fixed at 15,600 USD per year. It is also possible to show evidence that the spouse or parents will assist the student during the stay and that they earn at least more than USD 46,000 per year.
English proficiency requirements (such as Cambridge and TOEFL).
Health and character requirements (medical exams such as x-rays)
All international students must have proof of OSCH coverage.
In sum…
Here are the 5 best and cheapest health insurance policy for international students in Australia: 
Student Health Advantage from IMG

International health insurance for students from Cigna Global 

Now Health International

GeoBlue

StudentSecure insurance from HCCMIS 

Foyer Global Health

Seguros Promo 

Real Seguros 
In conclusion… 
I hope this list has helped you as you prepare for your adventure overseas. Or that it has, at the very least, convinced you to get a health insurance policy before you embark on your trip and to check the exact insurance requirements from your education institution. 
Because at the end of the day, you won't be able to enroll in your school/university without proof of an insurance policy. And you certainly don't want to find yourself facing a medical emergency that you have to pay out of pocket! 
All that said…if you have any final doubts about the different insurance options for students in Australia or about living overseas in general, just let me know in the comments area below and I'll get back to you! 
Planning your next trip?