Last Updated on by Rodrigo @ OutofYourComfortZone
Considering a trip to Portugal? Don't forget to prioritize travel insurance! Keep reading to explore ideal travel insurance choices catering to budget travelers, backpackers, active adventurers, and more. Moreover, we'll reveal two potential options for complimentary travel insurance that might have eluded your attention!
Embarking on a journey to Portugal can be an incredible experience, but it's natural to feel a bit overwhelmed by the multitude of tasks involved. From booking flights and accommodations to planning activities and coping with potential jet lag, one essential aspect that often gets overlooked is obtaining travel insurance.
If you find yourself in this situation, worry not! Keep reading to explore all the essential information about getting the right travel insurance for your trip to Portugal. We'll provide you with a comprehensive list of the best and most cost-effective options available!
But first…
Do I really need travel insurance for a trip to the Portugal?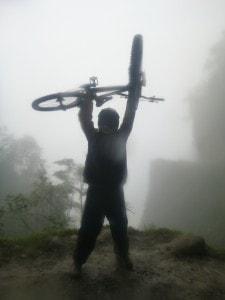 Absolutely, without a doubt!
Having comprehensive travel insurance is absolutely crucial, especially for adventurous travelers like myself, who often participate in activities with higher risks of injury and potential medical expenses.
Throughout my journeys, I'm always indulging in thrilling pursuits like mountain hiking, climbing, jumping, diving, and exploring everything that defines a perfect adventure!
Just picture this scenario: you're snowboarding in Switzerland without travel insurance, and unfortunately, you sustain an injury on the mountain, requiring a helicopter evacuation. The resulting medical bill, lying in your hospital bed, would likely be enough to induce a panic attack just by glancing at the number of zeros!
But the reality is, acquiring travel insurance is a wise decision, regardless of your travel destination.
During my travels, I've come across numerous backpackers sporting the infamous "Thai Tattoo" – sizable scars on their legs caused by burns from scooter exhaust pipes in Thailand!
And honestly, do you really want to find yourself in a public hospital in the heart of Bangkok?!?! With travel insurance, you have the option to choose a private hospital where you'll undoubtedly receive superior care. So, why take unnecessary risks? Ensure you're covered and relish your trip to the fullest!
But do I

actually

need travel insurance? I don't usually do any extreme activities or sports!
Pay attention: whether you're planning a shopping spree in Miami or any other trip, travel insurance is an absolute necessity!
While health insurance might not be mandatory in Portugal, as it is in some other countries, there's always a certain level of risk when traveling. From simple mishaps like tripping on the street to more serious incidents like injuries or illnesses, unforeseen circumstances can occur.
Relying solely on Portugal's health system (or that of many other countries) without any insurance coverage is like inviting a personal financial disaster.
Furthermore, remember that several countries, including Portugal, may require you to have some form of health or travel insurance as a condition for entry.
And let's not forget, travel insurance isn't limited to just medical emergencies. Depending on your plan, it can also cover compensation for lost luggage, flight delays, adverse weather conditions, and even organizing your evacuation from a country in case of civil unrest.
So, before you embark on your journey, ensure you're protected with the right travel insurance plan! It's a wise decision that guarantees peace of mind throughout your adventures.
While Covid-19 hasn't been completely eradicated yet, you might be curious about whether your travel insurance will offer coverage in case you fall sick.
Thankfully, at this point, almost every travel insurance plan available does include coverage for sickness caused by Covid-19. However, I highly recommend you to carefully review the details of your policy before finalizing the purchase. Being well-informed about the exact coverage will provide you with the peace of mind you require throughout your travels.
(Or for more details, you can also take a look at our article here: Does International Health and Travel Insurance cover Coronavirus (COVID-19)?)
Observation:These travel insurance options are customized for tourists. However, if you are traveling to Portugal for the purpose of studying, it's essential to consider an international health insurance plan specially designed for international students. On the other hand, if you are heading to the US for work or as an immigrant, you will need a health insurance policy designed for expatriates. You can find some suitable options for these types of coverage at the end of the article linked here. Make sure to explore the available choices that align perfectly with your travel and residency requirements.
How does the health system in the Portugal work?
The healthcare system in Portugal operates under a two-tiered structure, consisting of both a public and a private sector. The public healthcare system, known as Serviço Nacional de Saúde (SNS), provides medical services to Portuguese citizens and legal residents. It is funded through taxation, ensuring that healthcare services are accessible and affordable for all who contribute to the system. Let's take a closer look at how the healthcare system in Portugal works:
Public Healthcare System (SNS):
The SNS is the backbone of the Portuguese healthcare system, providing comprehensive medical care to the population. It offers a wide range of services, including general medical consultations, hospital treatments, surgeries, preventive care, and emergency services. The SNS is known for its strong primary healthcare services, which are the first point of contact for most individuals seeking medical assistance.
Primary Healthcare: Primary healthcare services are provided through health centers and clinics located across the country. General practitioners (family doctors) manage routine medical care, vaccinations, screenings, and referrals to specialists if necessary. These services are readily accessible to the population, promoting preventive care and early intervention.
Hospitals: The SNS operates public hospitals that offer specialized medical treatments and surgeries. Emergency medical services are also available in public hospitals to attend to critical situations. Public hospitals are known for their high-quality medical care and adherence to international standards.
Private Healthcare System:
In addition to the public healthcare system, Portugal has a robust private healthcare network. Private healthcare facilities offer faster access to medical services, shorter waiting times for appointments, and often provide a more personalized experience. Many Portuguese residents, as well as expats and tourists, choose private healthcare for its convenience and additional amenities.
Private hospitals and clinics in Portugal offer a wide range of medical services, including specialized treatments and consultations with renowned medical professionals. Private healthcare services are generally more expensive compared to the public sector, and individuals opting for private care often have private health insurance to cover the costs.
Health insurance is an essential consideration for individuals traveling to Portugal or planning to reside there long-term. While citizens and legal residents have access to the public healthcare system, having health insurance can provide added benefits, such as quicker access to medical care, choice of private healthcare providers, and coverage for certain medical services not fully covered by the SNS.
For travelers and expats from non-EU/EEA countries, health insurance is often a requirement for obtaining a visa or residence permit. It is essential to have comprehensive health insurance coverage that includes medical emergencies, hospitalization, and repatriation in case of serious medical issues.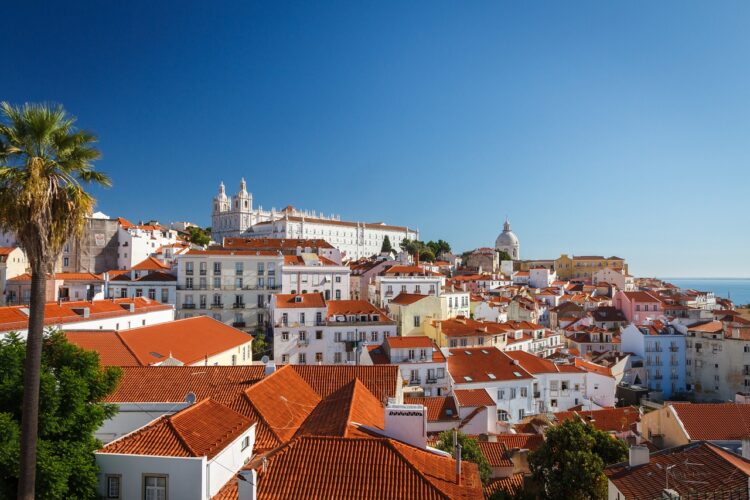 What are the best travel insurance options for a trip to Portugal

?
If you're venturing into online research for travel insurance, you'll come across a plethora of options.
However, over the years, I've extensively researched various travel insurance companies and personally tried many of them. The list below comprises the travel insurance options I consistently find myself coming back to.
Please keep in mind that the available options will vary based on your country of origin and the extent and type of coverage you desire for your trip.
I highly recommend dedicating some time to obtain quotes from each of these companies for your specific trip. Although it might require a little effort, the money you can save in the long run makes it truly worthwhile!
Furthermore, there are travel insurance aggregator websites that allow you to compare and purchase different plans, making the process more efficient and convenient. Wishing you happy travels, and may you find the ideal insurance coverage for your journey!
1. The well-known, mid-priced travel insurance company:
IMG Global

(accepts citizens from most countries!)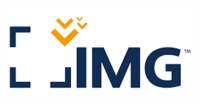 Absolutely, IMG (International Medical Group) is a reputable American insurance company that offers travel insurance to travelers from more than 190 countries.
This makes IMG an excellent choice to consider for obtaining travel insurance for your trip to Portugal, regardless of your country of origin!
With their comprehensive coverage and global presence, IMG is a reliable option for travelers who seek peace of mind during their journeys. Take the time to explore their offerings and find the perfect travel insurance plan that suits your needs for a worry-free adventure in Portugal!
They have one travel insurance plan available for Americans only (Patriot Travel Medical Insurance) and one available for non-American travelers (Patriot America Plus).
You have the freedom to select your preferred level of coverage, ranging from US$50,000 to US$500,000, with deductible options varying from US$0 to US$2,500.
Regarding pricing, IMG's rates are generally competitive. However, like some other options mentioned here, certain activities may not be covered under their policies.
To ensure that you have all the essential coverage for your specific needs, I strongly advise carefully reviewing the policy details before making a final purchase. This way, you can travel with confidence and assurance, knowing that your chosen policy offers the comprehensive protection you require. Happy travels!
Travel insurance for seniors (65+): one thing that makes IMG unique is that they offer a travel insurance plan specifically tailored to travelers aged 65 and over, called GlobeHopper Senior.
IMGlobal travel insurance and COVID-19 coverage
In most cases, all IMG plans will include coverage for any medical needs related to Covid-19, such as treatment, hospitalizations, and even medical evacuations.
However, it is crucial to thoroughly review your policy before making a purchase to ensure there have been no modifications. By doing so, you can be certain about the extent of Covid-19 coverage offered by your selected plan. Travel with confidence and peace of mind, knowing that you have the necessary protection during these uncertain times!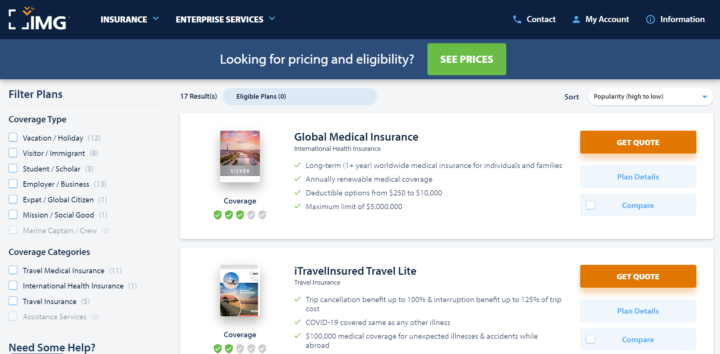 2. The best, most comprehensive travel insurance company for backpackers and adventurous travelers:

(5% discount coupon

comfort5

)
I wholeheartedly believe that World Nomads stands out as the top-notch backpacker travel insurance company.
Every time I embark on a journey that involves adventurous or "risky" activities like snowboarding, canyoning, hiking, glacier walking, skydiving, deep-water diving, skiing, climbing, and more, I always choose a policy with World Nomads.
Their coverage is truly comprehensive, encompassing a wide range of activities. I have yet to come across another insurance company that offers a better deal for ALL the activities covered under World Nomads' policies. (But if you've discovered an alternative, please feel free to share your insights in the comments section below!) With World Nomads, I have the peace of mind that I'm fully protected during my daring expeditions and thrilling adventures.
If you have a particular activity in mind and want to know if it'll be covered by World Nomads or not, you can take a look at this page here.
In essence, World Nomads provides two types of policies for you to consider. The first is the "Standard" policy, which may be sufficient even if you have adventurous activities planned. It offers emergency medical coverage for activities like downhill skiing or hiking up to 6,000 meters (nearly 20,000 feet)!
On the other hand, the "Explorer" plan is ideal for more extreme travelers. It covers a wide range of activities, but it's essential to double-check your plan before purchasing to ensure your specific activities are covered.
Moreover, World Nomads gives you the option to add coverage for high-value specified items, such as iPhones and digital cameras. If you're traveling with expensive electronic gear or visiting regions prone to theft, like Brazil (my native country), this can be a valuable add-on.
Based on my personal experience, I can vouch for their attentive and user-friendly customer service team, especially when I sought reimbursement after falling sick in Thailand.
Lastly, one significant advantage with World Nomads is that you can purchase or extend your travel insurance even if you've already begun your trip. You are not restricted to buying it solely from your home country of residence. This flexibility makes it convenient for travelers on the go.
You can get a 5% discount code on your World Nomads travel insurance policy by using the coupon code "comfort5″.
(P.S. If you're anything like me and are also addicted to sports and adventure activities and want to make sure you have good travel insurance that covers them, here are two other articles you might like: 3 Best International Travel Insurance for Extreme Sports and Adventure Activities and 9 Tips to Stay in Shape During Your Travels.)
WorldNomads travel insurance and coronavirus coverage
As of writing this article, World Nomads doesn't explicitly address whether or not their insurance plans cover Covid-19 treatment. However, you can find their most up-to-date position on the coronavirus on their website here.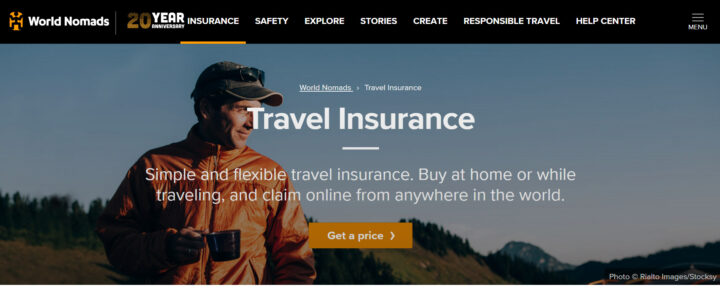 3. One of the cheapest travel insurance companies you'll find anywhere:
WorldTrips (formerly Atlas Travel)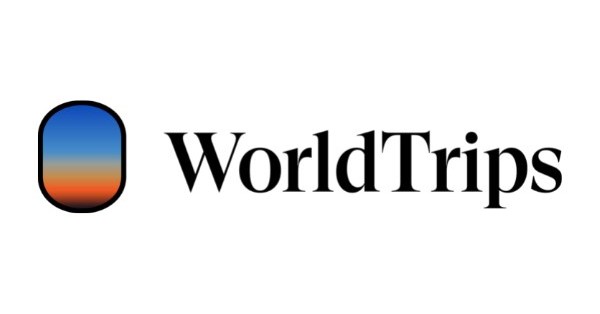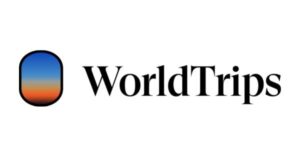 From my experience, travel insurance plans offered by WorldTrips have been among the most budget-friendly options available. However, it's important to consider that the lower price might come with some limitations on coverage compared to companies like World Nomads.
For my trips to "safe" destinations, where I plan to mainly visit cities, such as the United States or Europe, I prefer using WorldTrips.
While I have purchased travel insurance plans from WorldTrips before, I've been fortunate enough not to require reimbursement, so I cannot personally vouch for their reimbursement process. Nevertheless, I found reviews from other travelers who did need reimbursement, and they reported positive experiences with WorldTrips.
Overall, WorldTrips is an excellent choice for budget-conscious travelers seeking affordable travel insurance. They offer plans of various durations and types, accommodating anything from year-long round-the-world backpacking trips to short study abroad programs for university students.
A standout feature of WorldTrips is their flexibility in allowing you to buy or extend your policy even if you've already started your trip. So, if you find yourself overseas and in need of coverage, it's not a problem with WorldTrips.
Moreover, unlike many other insurance companies, WorldTrips has no age limit. Although the price of the plan increases with age, they do offer coverage for seniors, making them a dependable option for senior travel insurance when few other companies provide this service.
WorldTrips travel insurance and Covid-19 coverage
In the majority of instances, any medical expenses resulting from Covid-19 sickness will be covered by your WorldTrips policy. Nevertheless, it's essential to double-check the policy details before making a purchase to ensure you have the most up-to-date coverage.

4. The new international travel insurance company for digital nomads and adventure/extreme sports: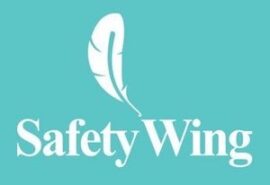 Safety Wing has established an outstanding reputation in the insurance industry, providing a wide array of travel insurance options tailored to students, digital nomads, expats, and all types of travelers. Their comprehensive coverage choices have made them a preferred option for many individuals seeking trustworthy and adaptable insurance solutions for their journeys.
One thing that makes Safety Wing stand out is its focus on insurance plans that cover adventure sports and extreme activities. (Like WorldNomads!)
Plus, their website is fun and allows you to easily and quickly get a quote.
Safety Wing travel insurance and Covid-19 coverage
In most cases, your Safety Wing policy will cover any medical expenses resulting from Covid-19 sickness. However, it is crucial to carefully review the specific details of your policy before making a purchase to ensure you have the most up-to-date coverage. Staying informed about your insurance coverage will provide you with peace of mind as you embark on your travels.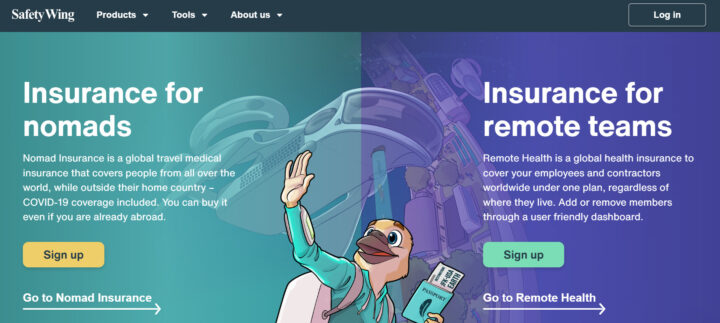 5. The best place to find & compare cheap travel insurance policies:

Unlike the other options listed here, VisitorsCoverage operates as a platform that provides a unique service. Instead of being an insurance company on its own, it allows you to access and compare travel insurance plans from various different companies, all in one place. This convenient feature enables you to efficiently view multiple options and make well-informed decisions about the travel insurance plan that best suits your specific needs. With VisitorsCoverage, you can easily explore a wide range of choices and select the ideal coverage for your journey.
It's a bit like Momondo, which lets you compare plane tickets from different companies. Or Rentalcar.com, which does the same rental cars.
In other words, it makes it much easier to see all your options for travel insurance plans. And then ultimately compare, choose, and buy the best option for your trip.
VisitorsCoverage presents a comprehensive selection of insurance plans, encompassing everything from business travel insurance to student insurance options.
With a decade of experience, this website caters to citizens from over 175 countries. Additionally, based on reviews, VisitorsCoverage prides itself on maintaining a robust and reliable customer service team available online seven days a week. This ensures that travelers can receive timely assistance and support whenever needed. Whether you are traveling for business or studying abroad, VisitorsCoverage stands as a reputable platform to explore and discover suitable insurance plans tailored to your specific travel requirements.
VisitorsCoverage travel insurance and COVID-19 coverage
On the VisitorsCoverage platform, you can effortlessly review the details of each specific plan to understand its Covid-19 coverage. However, it's important to note that, like the companies mentioned earlier, most travel insurance plans nowadays include some form of Covid-19 coverage.
Travel insurance providers have adapted to the current situation, recognizing the significance of offering protection for travelers in the context of the pandemic. While exploring your options on VisitorsCoverage, you can expect to find plans that address Covid-19-related medical needs, providing you with added reassurance during your travels.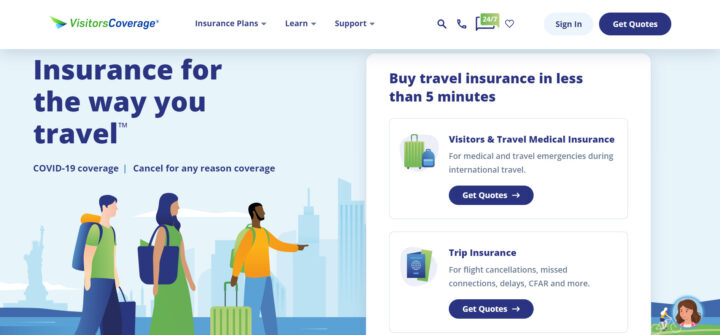 6. Another great website to search for and compare cheap travel insurance policies:

Like VisitorsCoverage, TravelInsurance.com operates as a travel insurance "portal" that provides the convenience of viewing and comparing various travel insurance plans from multiple companies all at once.
To begin your search, simply provide your personal information and some details about your trip. The platform will then present you with a comprehensive comparison of the available plans, allowing you to filter the options based on ratings and prices. This user-friendly process enables you to easily find the most suitable and competitive travel insurance plan for your specific travel needs, all in one place. With TravelInsurance.com, securing the right coverage for your journey becomes effortless and efficient.
One nice feature of TravelInsurance.com is that, beyond travel insurance, they also offer insurance plans for immigrants, international students, and expatriates.
TravelInsurance.com and coronavirus coverage
While using TravelInsurance.com, you can take the opportunity to review the details of each partner insurer's Covid-19 coverage. However, it's important to note that, like the companies mentioned earlier, the majority of travel insurance plans nowadays include some level of Covid-19 coverage.
Travel insurance providers have adapted to the current situation, recognizing the significance of addressing the needs of travelers during the pandemic. As you explore your options on TravelInsurance.com, you can expect to find plans that offer Covid-19-related protection, providing you with the necessary peace of mind for your travels.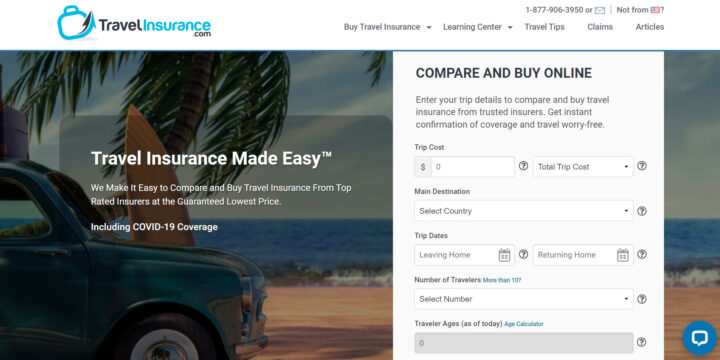 7. A final "travel insurance portal" option to search for and compare policies to find the best deal:

AARDY proves to be an invaluable travel insurance "aggregator" that allows you to explore multiple travel insurance plan options from various companies all at once. Describing themselves as the "Amazon" of travel insurance, AARDY offers a user-friendly platform for easy plan comparison.
What truly distinguishes AARDY is its exceptional customer service, as evidenced by their high scores on TrustPilot. In addition to their straightforward search portal that facilitates quick plan comparison, you can also reach out to them at any time through email, support, or live chat. This feature ensures that all your inquiries and concerns are thoroughly addressed before you finalize your insurance policy purchase.
Furthermore, it's worth noting that AARDY is dedicated to giving back to the community. They donate 10% of their annual income to The Special Operations Warrior Foundation, an organization that provides financial assistance to the children of military personnel who lost their lives in combat. By choosing AARDY, you not only obtain reliable travel insurance coverage but also contribute to a meaningful cause that supports those in need.
AARDY travel insurance and COVID-19 coverage
Since AARDY itself isn't a travel insurance provider and is only a portal that lets you compare insurance from many companies, you'll have to look into the individual insurance company before you buy your plan to see what their position is on Covid-19 coverage.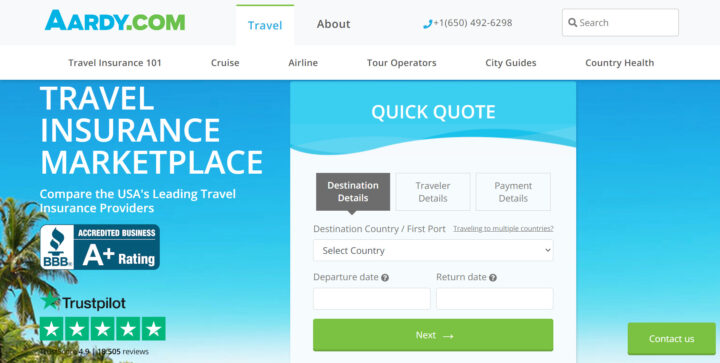 Bonus option to find and compare many different travel insurance plans at once:

In line with the other travel insurance "portals" or "aggregators" mentioned previously, InsureMyTrip provides a convenient and efficient method to compare travel insurance plans from multiple companies all in one place.
Their platform streamlines the process, enabling you to effortlessly access and review a wide range of options, making it easier to find the perfect travel insurance coverage for your specific needs. With InsureMyTrip, securing the right protection for your journey becomes a seamless and straightforward task.
It's a lot like Momondo, which is an aggregator for airline tickets, or Rentalcar.com, which is an aggregator for car rentals.
InsureMyTrip distinguishes itself with its unwavering commitment to quality. They maintain a strict policy of removing any plan or insurance company from their website if it receives less than 4 stars, guaranteeing that only top-notch options are showcased to users.
Unlike some other options listed here, InsureMyTrip is solely dedicated to travel insurance. Consequently, you won't find insurance plans tailored for expats, immigrants, or international students on their platform. This specialization allows them to provide a focused and comprehensive service, catering specifically to travelers' needs and ensuring they receive the best available travel insurance options.
But if you're looking for a plan like this to complement your travel insurance, check out my article on the 5 Best & Cheapest Health Insurances for International Students or 5 Best International Health Insurances for Expats & Immigrants.
InsureMyTrip travel insurance and Covid-19 coverage
Since InsureMyTrip itself isn't a travel insurance provider and is only an aggregator that lets you compare insurance from many companies, you'll have to look into the individual insurance company before you buy your plan to see what their position is on Covid-19 coverage.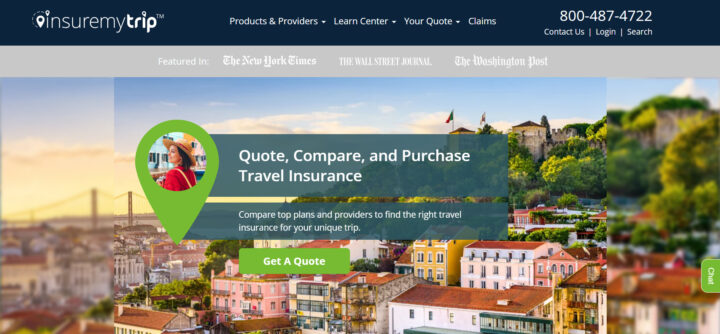 But wait….you might not even need to buy travel insurance!
Here are two sneaky ways you might be able to get "free" travel insurance 🙂
1. Buy your return flight ticket with a credit card to (maybe) get free insurance for your trip.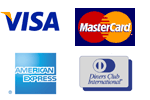 Depending on the type of credit card you possess, there is a possibility that purchasing your roundtrip flight with that card might entitle you to a complimentary basic travel insurance plan included in the purchase.
Cards from Visa, Mastercard, American Express, and Diners often offer this benefit. However, it is essential to contact your card provider or visit their website to determine whether your card includes this feature and how it functions.
If you are traveling to Europe, this free basic insurance plan can suffice to meet the mandatory Schengen insurance requirements.
However, it is crucial to understand that the plan offered by your credit card is more of an international health insurance plan, rather than a comprehensive travel insurance plan.
This implies two important things. Firstly, the coverage will likely be limited to emergency medical care only, and it may not extend to treatments necessitated by sports or "risky" activities.
Secondly, unlike standard travel insurance, you won't be covered for travel delays, lost baggage, canceled flights, or any other trip-related issues, nor will you be eligible to receive compensation for such incidents. It's important to be aware of these limitations and consider supplemental travel insurance if you require broader coverage for your journey.
Also keep in mind that this won't work if you're using miles to buy your plane ticket.* And that the maximum time limit on insurance from these types of credit cards is only 31 days. So if you're still traveling, you'll have to buy a regular travel insurance policy to keep yourself covered.
*CORRECTION: As per the valuable comment from blog reader Alex on the Portuguese version of this article, if you possess a Visa Platinum credit card and use the accumulated miles to pay for ticket taxes and fees, you may be eligible for their worldwide travel insurance.
However, I recommend personally verifying this information with your credit card provider since the benefits offered by the same credit cards can vary based on the countries they are issued in. Thank you, Alex, for sharing this insightful tip!
Additionally, thanks to a comment from reader Ana Luisa, I've learned that the Visa Platinum insurance typically provides coverage for 60 days, which is longer than the usual 30-day coverage offered by most other credit cards.
Nonetheless, if your trip exceeds this duration, it is advisable to supplement the remaining portion of your journey with a regular travel insurance policy. With the Visa Platinum insurance, you can save some money during the first two months of your trip. Always ensure you have the appropriate coverage for the entire duration of your travels to ensure a worry-free journey.
2. Use your health insurance policy from your home country or country of residence.
Before we conclude, here's one more potential option for you to consider. It involves checking with your health insurance plan provider in your home country to see if they offer any international travel insurance options.
Since you are already insured with them, you may have the opportunity to obtain cost-effective or even complimentary coverage for your travels abroad. However, it is essential to verify that their insurance will cover the specific destinations you'll be visiting and all the activities you plan to engage in during your trip.
By exploring this option, you might find a convenient and budget-friendly way to secure the necessary travel insurance for your journey. Remember to review the terms and coverage thoroughly to ensure you have the appropriate protection for your travel needs. Safe and enjoyable travels!
A quick note about travel insurance for cruising:
Someone recently reached out asking if any of these travel insurance plans could be used for cruise trips, so I did some research.
And based on what I could find, both WorldNomads and WorldTrips will cover you on a cruise.
WorldTrips has confirmed via email that their Atlas plan provides coverage for medical evacuation from a cruise ship if required, depending on the circumstances.
It appears that all travel insurance plans offered by WorldNomads also extend coverage to cruisers. However, please bear in mind that there is an age limit of 66 for their plans. On the other hand, WorldTrips has the advantage of not having any age limit for their coverage, making it an appealing option for older travelers.
As for the other companies mentioned, I am still awaiting confirmation from them regarding their coverage for cruisers. It's always prudent to obtain clear and detailed information about your travel insurance options before making a decision. Safe travels, and I hope you find the perfect plan for your journey!
Fraud Warning! As mentioned earlier, both WorldNomads and WorldTrips offer the flexibility of purchasing travel insurance even after you've begun your trip. However, it's crucial to be cautious about potential fraudulent practices.
It's important to understand that buying travel insurance after you've fallen ill or experienced an accident, in the hope of obtaining coverage for that specific incident, is not permissible. Insurance companies are aware of this possibility, and most policies contain an "anti-fraud" clause to prevent such actions. According to this clause, you can only utilize your insurance policy 48 hours after its purchase.
For instance, if you become seriously ill during your trip and decide to buy travel insurance then to cover your medical treatment, you'll have to wait for 48 hours before your policy becomes valid for reimbursement. Furthermore, you'll need to provide evidence to your insurance provider that the illness occurred after you purchased the policy.
However, in the case of an accident, you can use your insurance within the 48-hour window. Nevertheless, you must be able to demonstrate that the accident took place after you acquired your travel insurance plan.
To reiterate, attempting to deceive insurance companies by purchasing a policy and then swiftly seeking reimbursement for a pre-existing condition or recent incident is not a viable strategy. Insurance companies employ measures to investigate such situations and ensure they are not being deceived. So, it's imperative to adhere to the guidelines and use travel insurance responsibly and honestly to guarantee appropriate coverage for your travels.
Can I use traveling insurance while living abroad as an expat or an immigrant?
If you're living overseas or traveling in a country for a short period, you might be okay with just travel insurance.
But you're looking for more complete coverage (travel insurance usually just covers medical emergencies), if you're going to be living abroad long-term, or if you need proof of health insurance for immigration purposes, then what you actually need is an international health insurance plan for expats or immigrants.
If you'd like to learn more about the differences between travel insurance and international health insurance, then you can take a look at our article about the 3 Best International Health Insurance for Expats & Immigrants.
Or, you can quote directly with some of these expat insurance companies here:
Can I use travel insurance during my international exchange or while studying abroad?
In summary, the answer to whether you need a separate insurance plan for your study abroad depends on your specific circumstances. My advice is to first verify with your school or university. Generally, if your course or program lasts for less than 3 months, and you'll be studying on a tourist visa, a travel insurance policy should be sufficient for your needs. However, it's essential to confirm this information with your educational institution to ensure you have the appropriate insurance coverage during your study period.
However, if you'll be needing a student visa, then you're going to need a health insurance plan that's designed just for international students or exchanges.
This is especially important if you're traveling to the United States with a J1, J2, or F1 visa, or to Europe with a Schengen student visa. In such cases, having the appropriate insurance coverage is crucial to meet the specific requirements of these visas and ensure a smooth and hassle-free study abroad experience.
If you're an international student and think you might need one of these special medical insurance plans, then take a look at my page with The 3 Best and Cheapest Health Insurances for International Students & Exchanges to learn more.
Again, you can check out directly some of these international student insurance companies here:
Cigna for International Students
International travel insurance coverage for terrorism
I've had a few comments in both the English and the Portuguese article asking if travel insurance covers acts of terrorism.
I did a bit of research, and here's what I found out:
Although WorldTrip's basic travel insurance plan doesn't cover terrorism, their Atlas Premium plan DOES cover "treatment of injuries and illnesses relating from an act of terrorism, up to the limit set forth in the schedule of benefits and limits." So yes, they do appear to have terrorism coverage.
If you ever find yourself in the unfortunate situation of being injured in a terrorist event while traveling, having WorldTrip's Atlas Premium plan can provide essential coverage. This plan is designed to offer protection during unforeseen circumstances, providing you with a crucial safety net during challenging times.
Additionally, many of WorldTrip's plans include a valuable "Crisis Response Cover," which extends protection in the event of civil or political unrest, natural disasters, or other crises that travelers may encounter abroad. This comprehensive coverage even includes scenarios of "express kidnapping," covering response expenses, ransom, and personal belongings surrendered.
It's worth noting that while the "Crisis Response" feature is highly beneficial, it may not be available in certain countries. These countries include Iraq, Afghanistan, Pakistan, Nigeria, Somalia, Venezuela, Iran, Cuba, Sudan, and North Korea. However, in most of these countries, your regular travel insurance coverage will still remain valid, minus the specific "crisis" aspect of the coverage.
As always, carefully review the terms and conditions of your insurance policy to fully comprehend the extent of coverage and any limitations concerning your travel destination. Travel insurance serves as a vital safeguard, offering peace of mind and security throughout your journeys.
General tips to help you get back your travel insurance reimbursement
All the travel insurance companies I recommended above boast extensive provider networks comprising hospitals, clinics, and doctors. The ideal scenario is to seek treatment at one of these in-network facilities.
By doing so, you won't be required to pay anything out of pocket, as the treatment bill will be directly submitted to the insurer for payment (unless the treatment surpasses the maximum coverage amount).
For this reason, in the event of any unforeseen circumstances such as illness or an accident, it is crucial to promptly contact your travel insurance provider. They will guide you on which in-network doctor or hospital to visit for seeking treatment.
In situations where accessing an in-network medical provider is not feasible, you'll have to pay for the treatment upfront and then apply for reimbursement from the insurance company later on.
As you might know, dealing with insurance companies, whether for cars, homes, health, or travel, can be a bit challenging, and they often require precise documentation before releasing payments.
To aid you in the process, here's a list of the documents that travel insurance companies typically request when you file a claim to seek reimbursement for medical expenses incurred during your trip: [List of required documents]. Providing the necessary documentation in a well-organized manner can expedite the reimbursement process and ensure a smoother experience with the insurance company.
But first, a few insurance terms to cover:
*make a claim: ask an insurance company for reimbursement for medical expenses
*insurer: the travel insurance company
*beneficiary = claimant = the insured: the person (you) who is asking the insurance company for money/reimbursement
List of documents usually requested by travel insurance policies when you seek reimbursement for medical expenses (if you were treated by an out-of-network provider):
Copy of the claimant's national ID (driver's license or other state-issued ID)

Copy of Proof of Residency (any current proof – from the last 3 months – with the name of the claimant). If you don't have this, send a declaration of residence that is completed, signed, and notarized by the insurer.

For minors, a declaration of residence must be completed, signed, and notarized by the respective legal guardian (form provided by the insurer)

Copy of the claimant's voucher

Original registration information form, signed by the beneficiary (form provided by the insurer)

Copy of passport (ID page + page with entrance and exit stamps from the country where the accident happened) or other documentation that shows beneficiary was outside of habitual domicile when an accident happened (aka your home country) – for example: airplane tickets (by the way, you should always keep your boarding pass until the end of your trip, not only for filing a possible claim but also

request your miles

!)

Presentation of the original medical report with descriptions of the procedures, provided by the health professional or medical center with a clear indication of the diagnosis, clinical history, and admission form, in the case of hospitalization

Original prescription (if the pharmacy still has the prescription, send your x-ray or a document showing you picked up your medicine in exchange for the prescription)

Invoice of the medical procedures or the pharmacy receipt with medications prescribed, which should match the quality and quantity of the provided prescription

Report of medical care (explaining the reason, what happened and how the treatment went – both from the travel insurance staff as well the health providers), written by the beneficiary

A completed list of expenses (form provided by the insurer)

Your contact phone number, address, and e-mail

Proof of bank info (copy of bank statement header, check, or debit card)
And here's the worst part – you'll likely have to send all of these documents physically by mail!
I understand; it's an enormous hassle. That's why it's so much simpler if you can receive treatment from a medical provider within your insurance company's network. This way, you can avoid the wasted time and headaches of preparing all the paperwork.
However, if you find yourself with no other option, going through the reimbursement process isn't the end of the world. With a bit of organization and ensuring that you have all the required documents in order, your chances of successfully filing your claim and receiving a prompt reimbursement are quite promising!
If you've had to make a claim before, please share your experience and any helpful tips in the comments section below to assist other readers. Your insights can be valuable in navigating the claims process and ensuring a smoother experience for others.
To summarize, these as the best travel insurance companies for the Portugal:
IMGlobal

World Nomads Travel Insurance

WorldTrips

Safety Wing

VisitorsCoverage

TravelInsurance

.com

AARDY

InsureMyTrip
My final advice: Seriously, don't forget to purchase travel insurance before your trip! If you're already traveling and haven't bought insurance, do it as soon as possible. And if you've already bought a policy but need to extend it (which WorldNomads and WorldTrips allow), make sure to do so before it expires.
This way, you'll have the peace of mind of knowing you're covered for the entirety of your trip to Portugal.
Now, it's your turn. Have you had any experiences with travel insurance? Have you ever needed to use your policy? If so, which company did you use, and how was the reimbursement process? Or do you still have any questions about travel insurance in general?
Let me know in the comments section below, and I'll be sure to get back to you!
Wishing you safe and happy travels! (And let's hope you never have to use that travel insurance plan you just purchased!)
Planning your next trip?

Then don't forget travel insurance! You don't want to get stuck paying a ton of money and ruining your trip if you get sick or have an accident without travel insurance. WorldNomads is ideal for adventurous travelers, backpackers, or anyone looking to be protected during their trip. They cover almost every single activity you can image! Plus, you can have a 5% discount with the coupon code comfort5.

Already reserved your hotel or hostel? If not, we recommend Booking.com. They have a huge selection of hotels and hostels all over the world. Plus, in most cases, you can cancel your reservation without any costs up to a few days before the check-in date!

Still haven't booked your plane ticket and want to save big? Take a look at Momondo. It's a flight aggregator that combines several other ticket search websites to make it easier for you to compare prices and make sure you are getting the best deal.

And finally, will you need to rent a car during your trip? Then check out Rentalcar.com to search and compare car rental companies from all over the world in a single website. Then, you can find the cheapest price for the best car!