Last Updated on by Editor
"Silicon Valley," near San Francisco in the United States, is where the headquarters for the biggest tech companies in the world are located. Google, Apple, Facebook, Oracle, Intel, Cisco, Netflix, etc…all of them have headquarters in this area.
The "Valley" isn't exactly a city, but it's made up of various small cities located between San Francisco and San Jose, California. In fact, the region is quite famous for its easy day trips from San Francisco.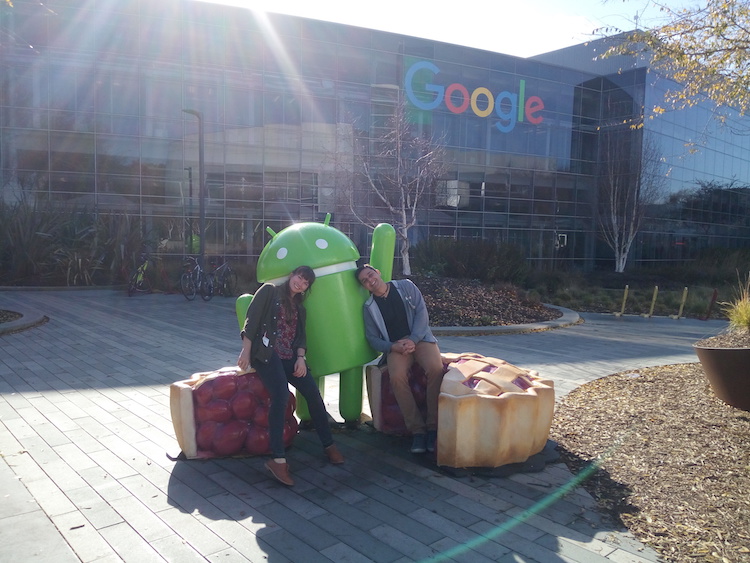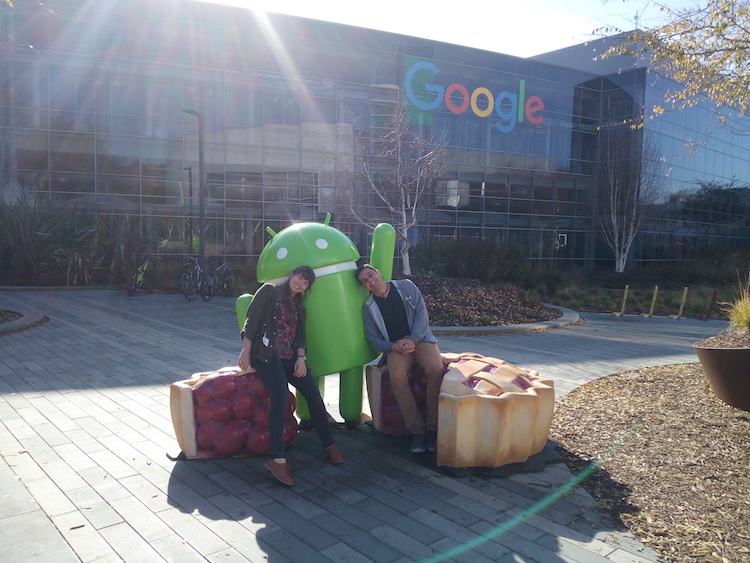 Some of these small, famous cities in Silicon Valley include:
Palo Alto

Cupertino

Mountain View

Menlo Park

Sunnyvale

Redwood City

Santa Clara

Los Gatos

San Jose itself

….and even the city of Stanford (where the famous Stanford University is located)!
If you need to get to any of these cities by plane, you'll probably fly into one of the following airports: San Jose International Airport (SJC) or San Francisco International Airport (SFO).
The San Jose airport is a bit closer to these cities and is basically in the center of Silicon Valley. However, the amount of flights it has is significantly lower than at San Francisco's airport.
Plus, the San Francisco airport is a big international hub for flights from Asia. In other words, if you're coming from Japan, South Korea, China, Hong Kong, Singapore, or even India, you'll probably arrive in the United States through the San Francisco airport if your final destination is Silicon Valley. Besides, San Francisco airport to downtown SF is pretty straight forward if you eventually need to visit it.
So, you'll probably need public transportation to get from the streets of San Francisco to one of the cities mentioned above.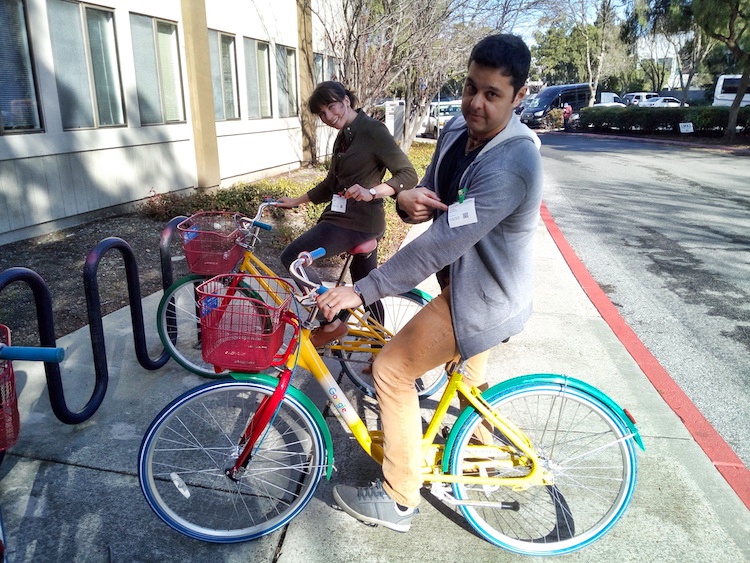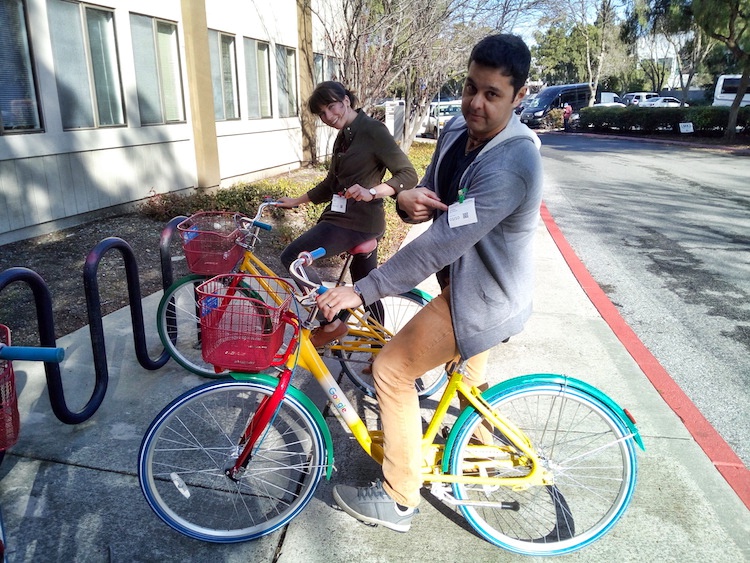 So, now the question is….how to get from the San Francisco airport to Silicon Valley?
Of course, there are a lot of transportation options from the San Francisco airport like taxi, Uber, metro (BART), rental car, train, etc….
But what's the cheapest way to get from the San Francisco airport to Silicon Valley?
If you want to know how to get from the San Francisco airport to Mountain View, Palo Alto, Cupertino, Sunnyvale, or even Stanford University and want to save some money, this route is perfect for you!
San Francisco Airport – Millbrae train (Caltrain) station = $2.25

Millbrae Caltrain station – whatever train stop is closest to your final destination = $6.00 / $8.25

Your train station – a short Uber/Lyft trip or public transportation to your final destination ≈ $5.00
Total cost ≈ $13.25
Total time ≈ 1:20 hours
See below for more details about each step.
How to get from the San Francisco airport to the Millbrae train station
At the San Francisco airport, you'll get the "Route SFO" bus. It costs $2.25 per person and will leave you at Millbrae Station (also called "Millbrae Transit Center"). You should pay the bus driver with cash in the exact amounts since they don't give change.
Where to get the "Route SFO" bus at the San Francisco airport
This bus stops in front of several airport terminals. I'll add in a map of where it stops here.
To get between terminals, you can use the AirTain. The AirTrain circles between the different terminals and it is free.
Note: you can also do this same route with the BART, which is a metro that covers San Francisco and its surroundings. This option is good if you need to travel outside the "Route SFO" bus schedule, however to board the metro you will have to go to the San Bruno station which is in the opposite direction to Millbrae (see map below). Therefore, give preference to bus route if you are short of time.
You can find "Route SFO" bus schedule here.
Total time: 7 minutes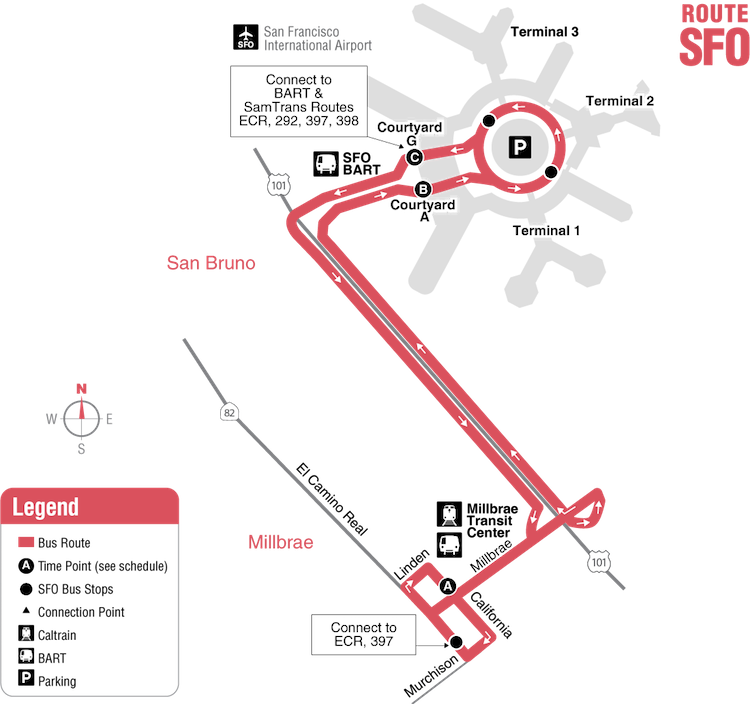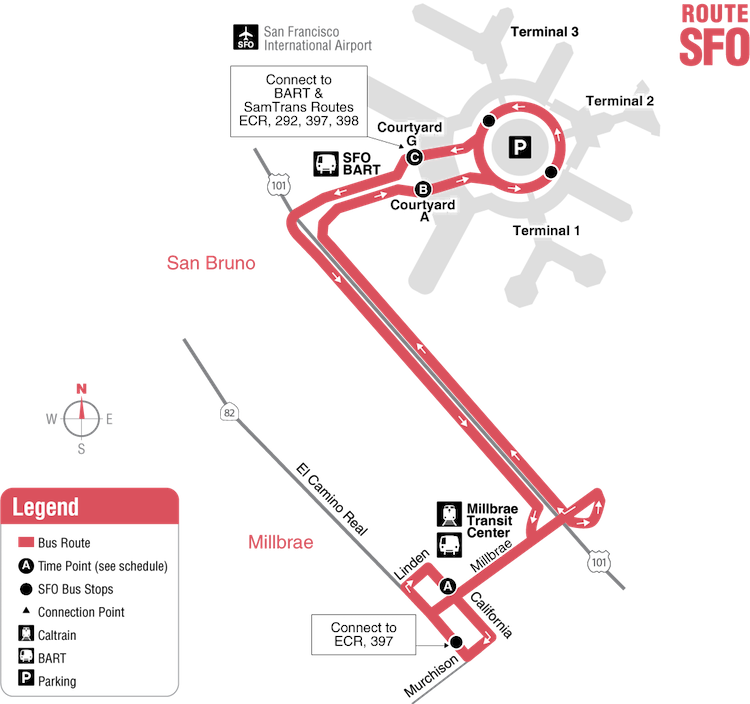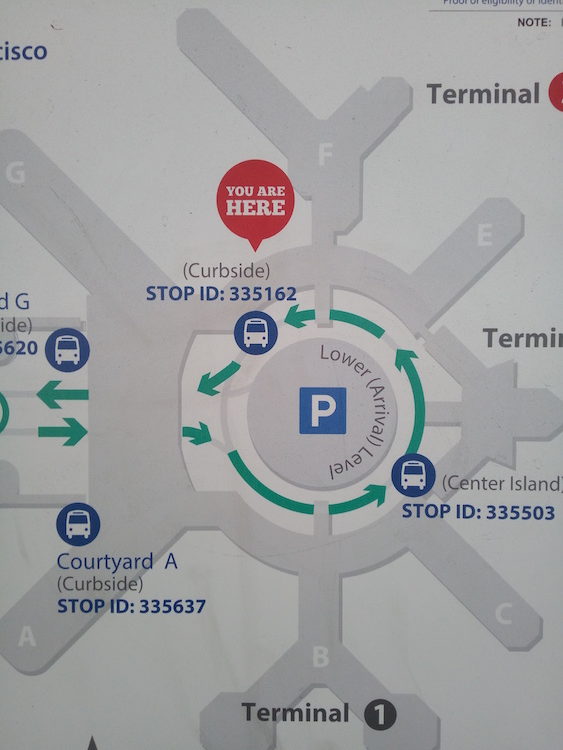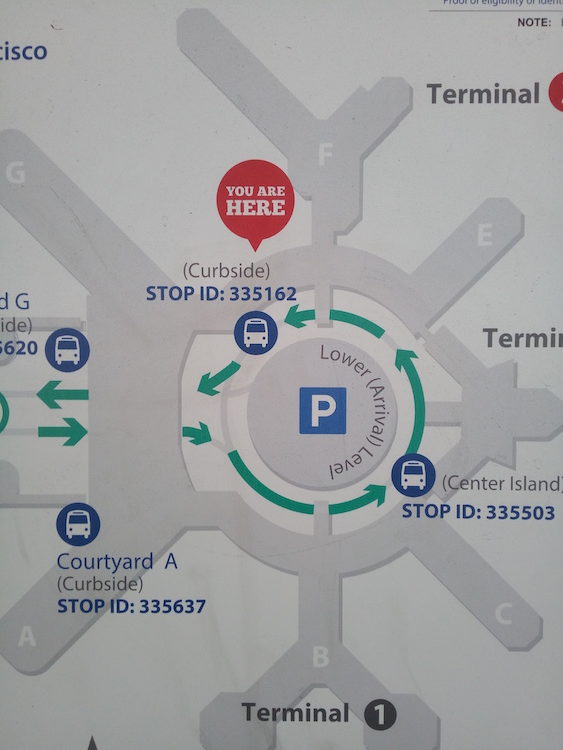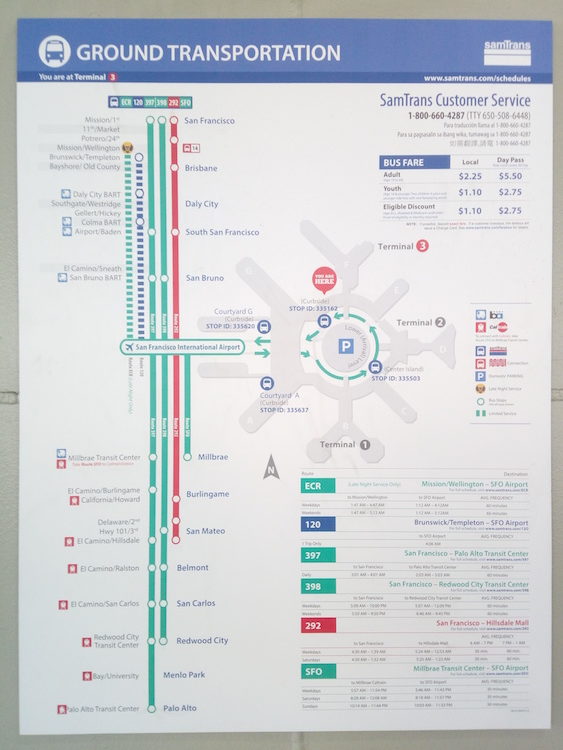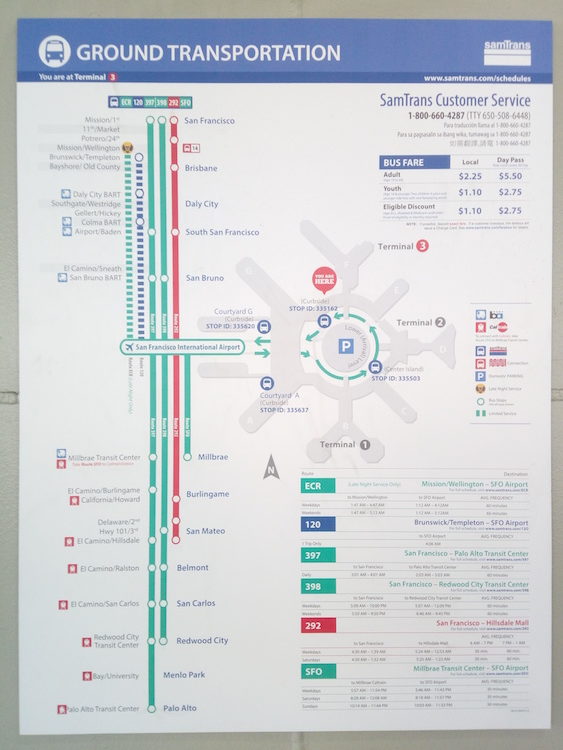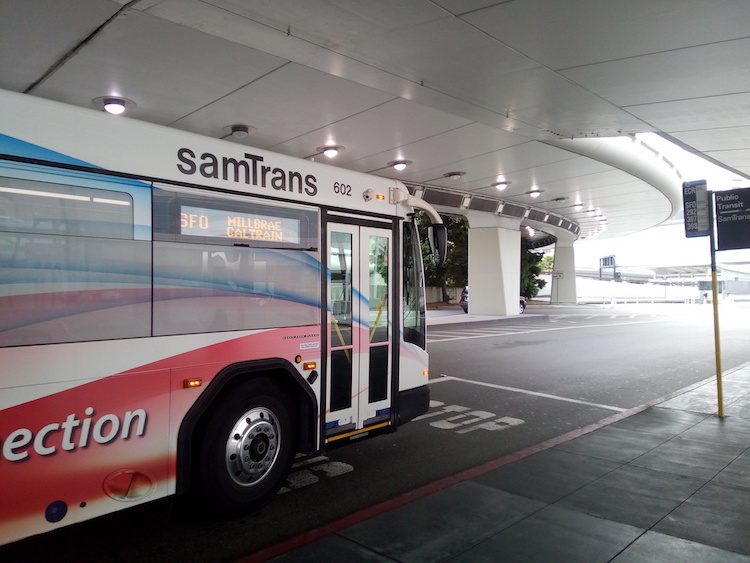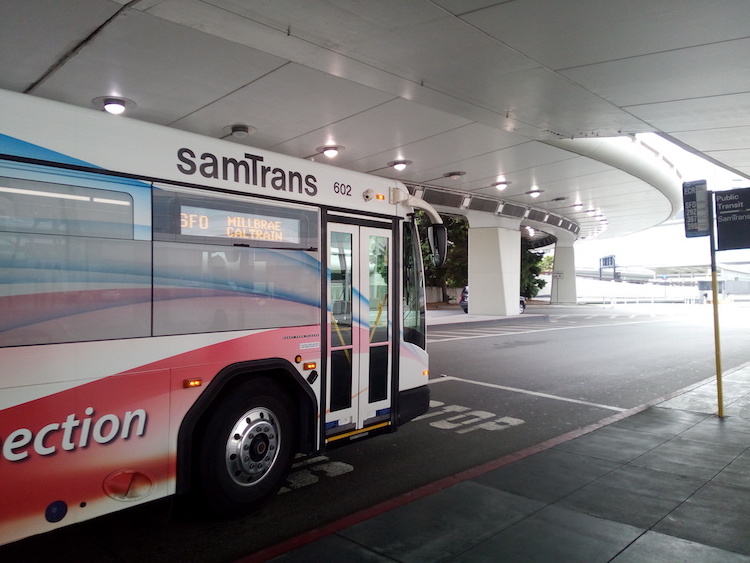 How to get from Millbrae (Caltrain) station to Silicon Valley
It's very simple. At Millbrae station, just buy a Caltrain train ticket at one of the machines with a credit card, or at the ticket office with cash. Since the main cities of Silicon Valley are in Zone 3 and you'll be in Zone 2, just buy a ticket for Zone 2 to Zone 3 for $6.00 per person.
Here's a map with the main Caltrain train stops in Silicon Valley.
Here's a list of the train stops in Silicon Valley for the main tech companies and attractions:
Menlo Park (Facebook)

Palo Alto (Stanford University)

Mountain View (Google)

Sunnyvale (other Google buildings and Apple)
If you need to get somewhere else in Silicon Valley, take a look at Google Maps to see what the closest Caltrain station is.
Once you go past Sunnyvale, you'll be in Zone 4. In this case, since you're going from Zone 2 to Zone 4, your train ticket will be $8.25. This is what you'll have to pay if you catch the train to San Jose station.
Total time: 40-55 minutes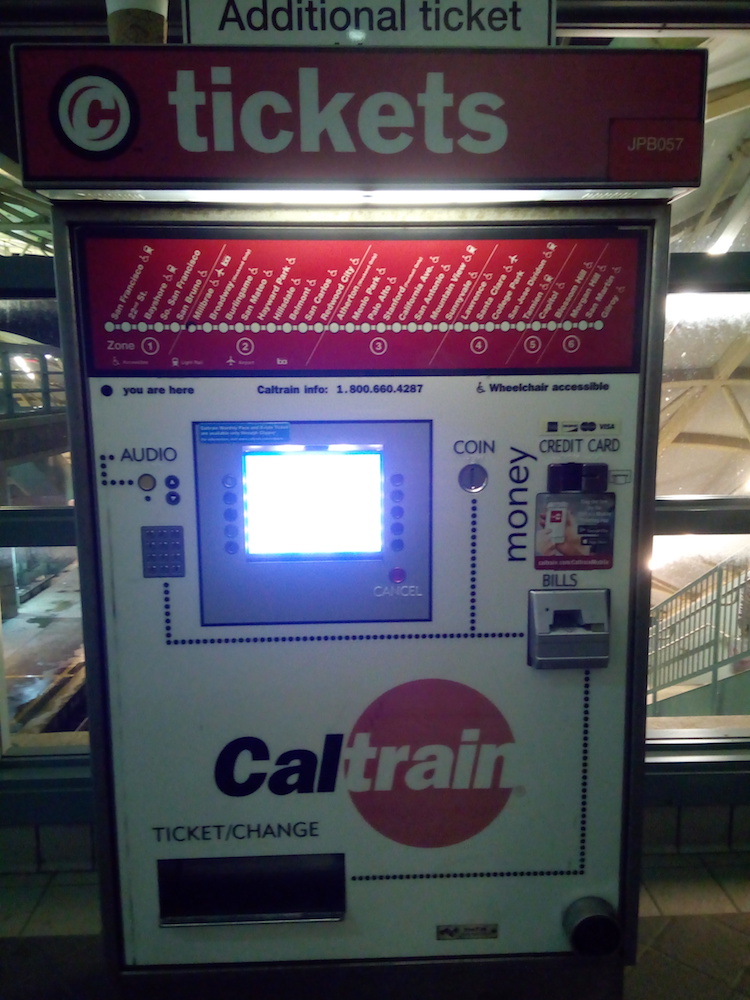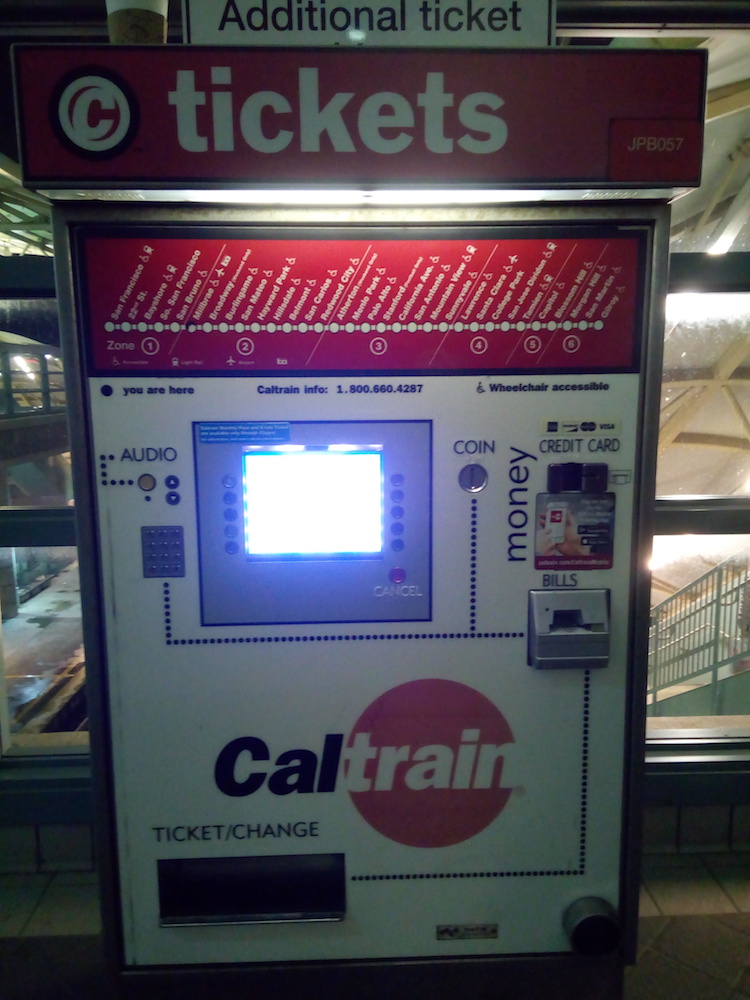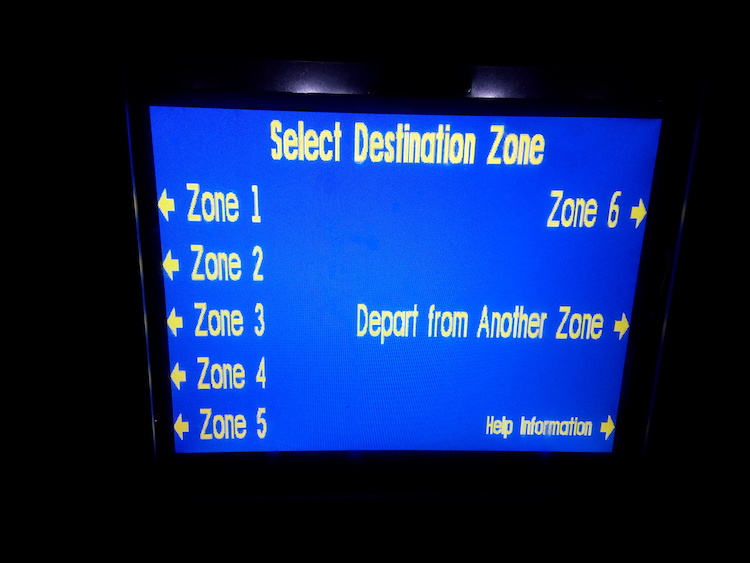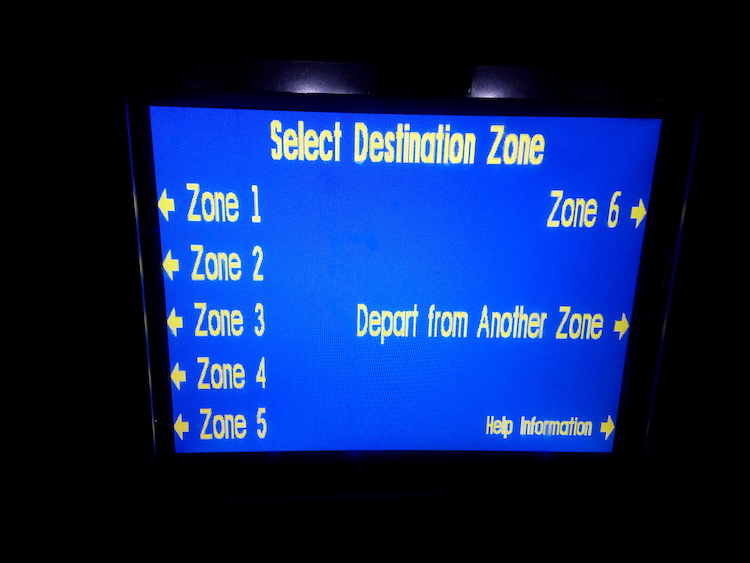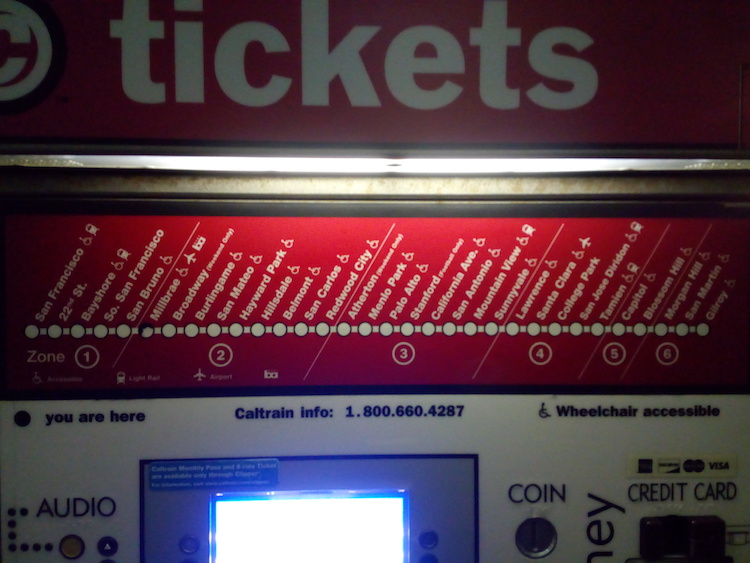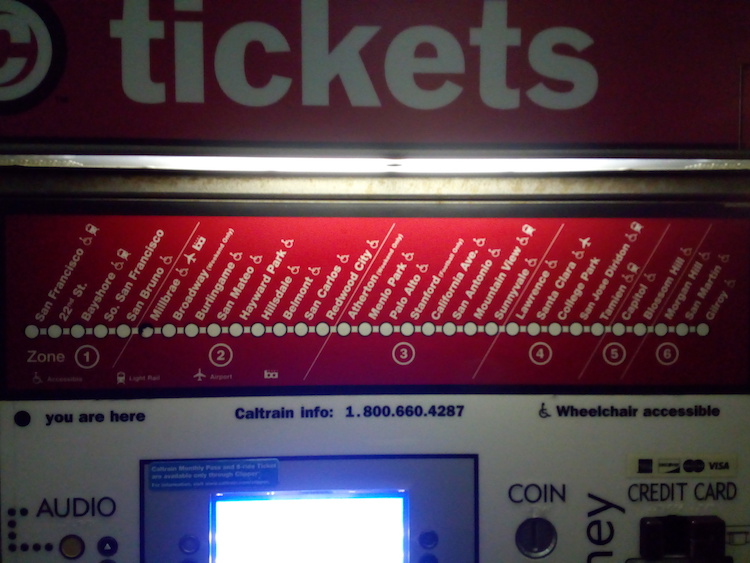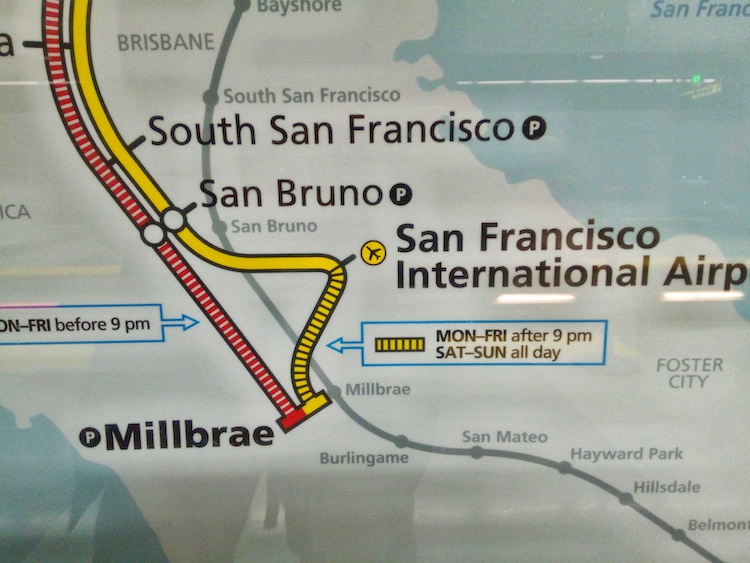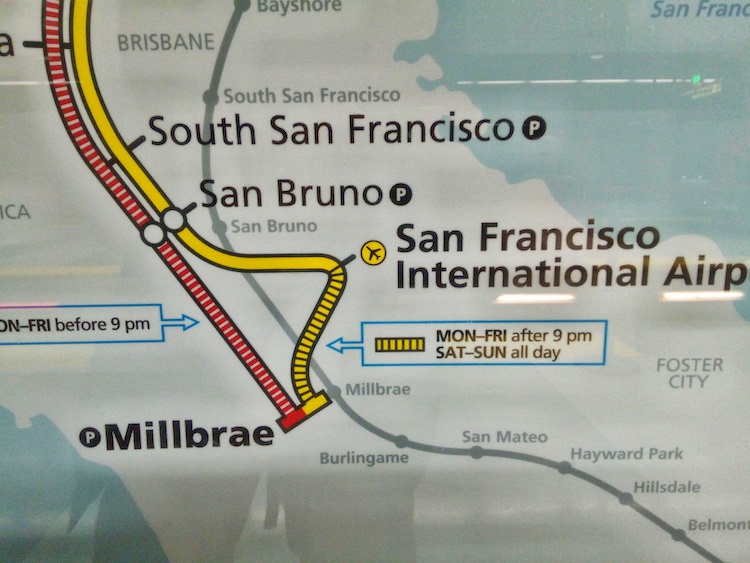 How to get from the San Francisco airport to the San Jose airport by public transportation
Just follow the directions above and catch the same train (Caltrain) from Millbrae station to Santa Clara station, which is right next to the San Jose Airport. In this case, you'll also be paying for two zones for a total of $8.25.
How to get from the train (Caltrain) station in Silicon Valley to my final destination
Well, you'll have two options. Either you use the public transportation that all the Caltrain stations have nearby, or take an Uber/Lyft.
To know which bus you should take once you get to Silicon Valley, just use Google Maps to put in the train station you'll be arriving in and then your final destination….and you're good to go

Another option is to use Uber or Lyft (if you're from outside the United States, Lyft is just an alternative to Uber). Normally, the distances are so short around here that if you take a shared Uber, you'll only pay about $5.00 to get to your final destination.
And of course, it's also possible to walk to your final destination if it's not too far or to get a ride from a friend who'll pick you up from the train station you arrive at.
To use Lyft, you can sign up using this link here and get $5 credit towards your first ride.
To use Uber, you can sign up using this link here and get $2 off in your first 3 rides.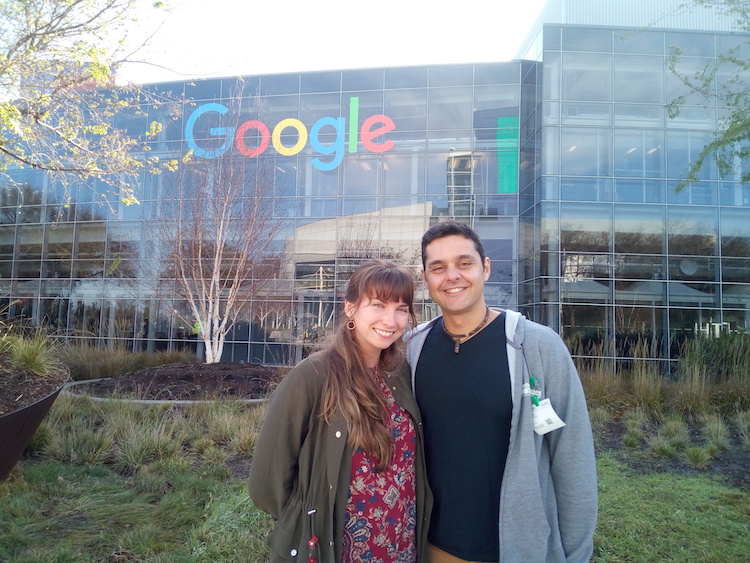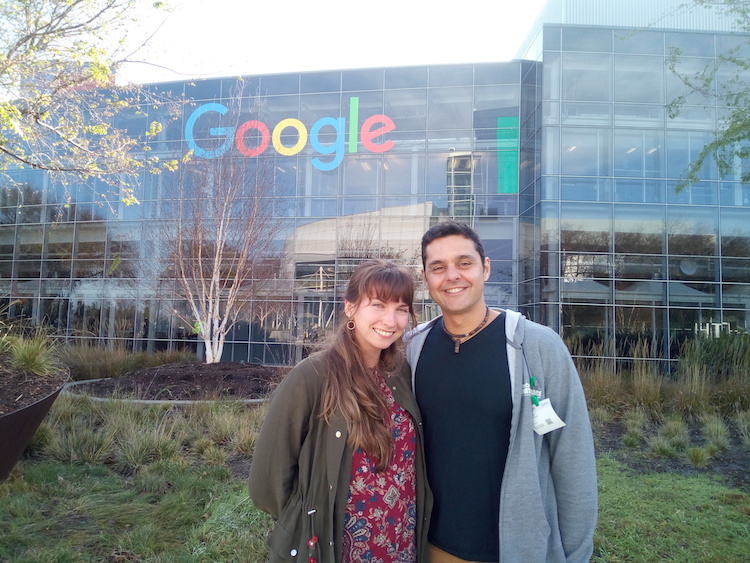 What is the total price of the trip from the San Francisco airport to Silicon Valley?
The total value for the cheapest public transportation from the San Francisco airport to Silicon Valley comes to about $13.25 for a single person if you use the route I showed above.
If it's more than 1 person, then other options like Uber/Lyft (taking it all the way), taxi, private van, or even car rental might be cheaper.
And if you do have plans to rent a car at the San Francisco airport, then don't miss my article with the 5 Best Website to Rent Cars Cheaply in California. You can definitely save a good chunk of your travel budget if you spend 10 minutes researching rental cars on the 5 websites I recommend.
What is the cheapest way to get from Silicon Valley to the San Francisco Airport?
Just do the opposite of the route I gave above

And you can find cheap flights to San Francisco using this Kayak link here.
ONE FINAL TIP!
How to visit the new Apple headquarters (the "spaceship") in Silicon Valley (Cupertino)
Apple just inaugurated a new Silicon Valley headquarters in Cupertino, California. And it's impressive – it looks like a spaceship covered in solar panels! The official name of the headquarters is "Apple Park."
Unfortunately, you can't visit the headquarters itself as a tourist. But you can visit the Apple Park visitors center right next to it. Beyond a view of the "spaceship" from the second floor, the visitor center has a really cool model of the new Apple headquarters.
To visualize the model in "real life," they give you an iPad that you look at the model through to see all of the most interesting aspects of the new headquarters digitally.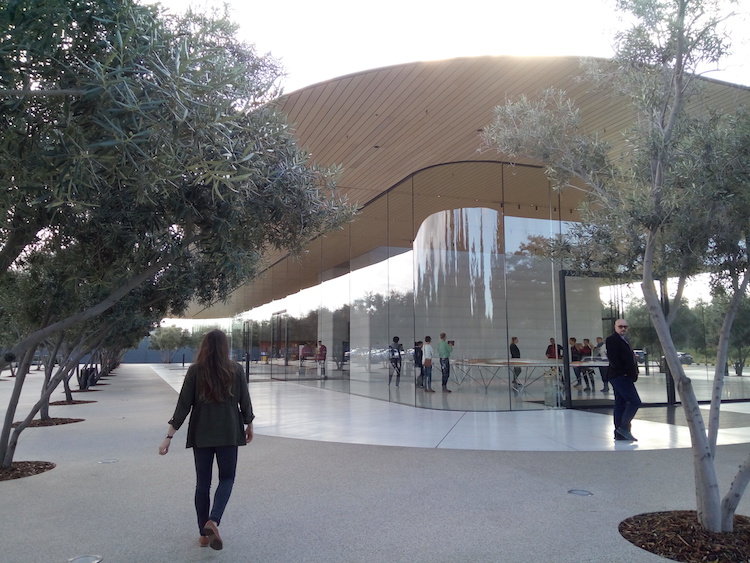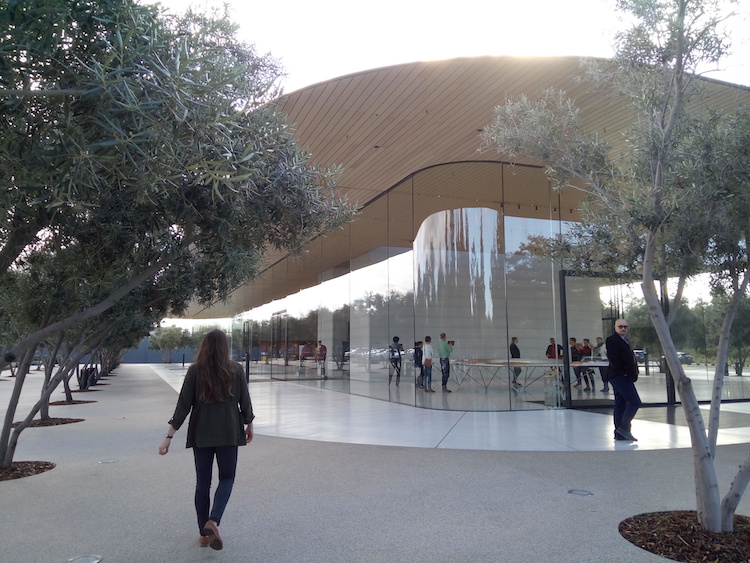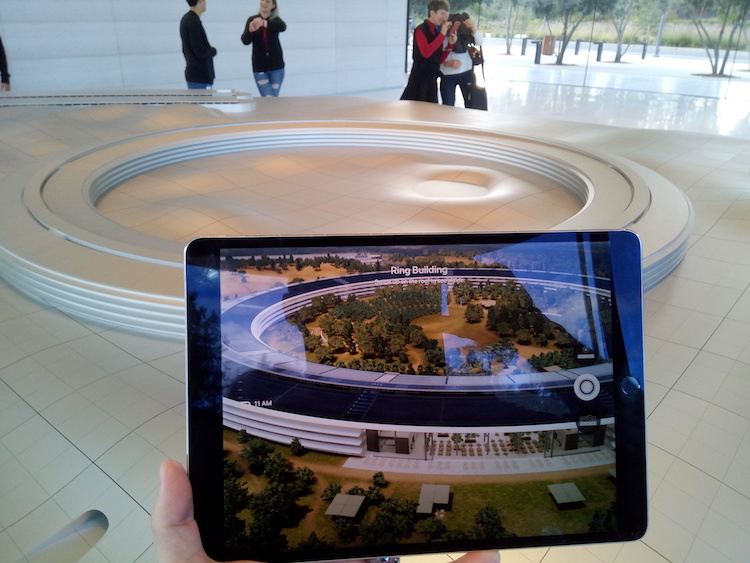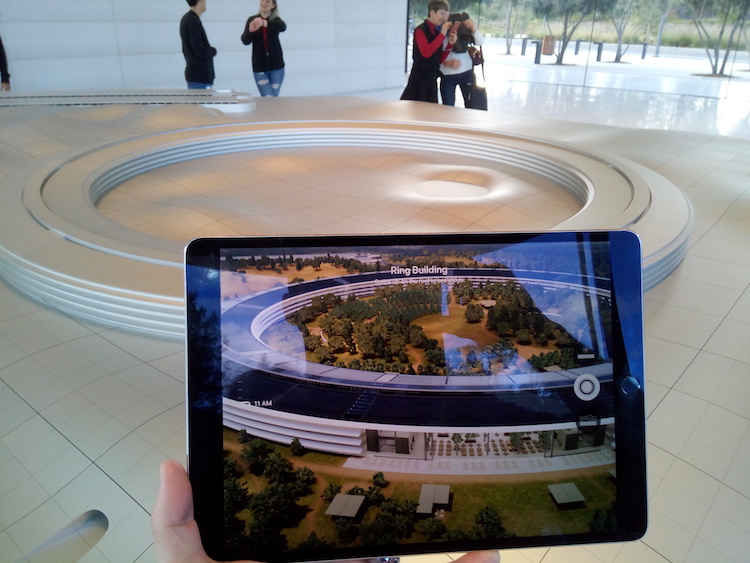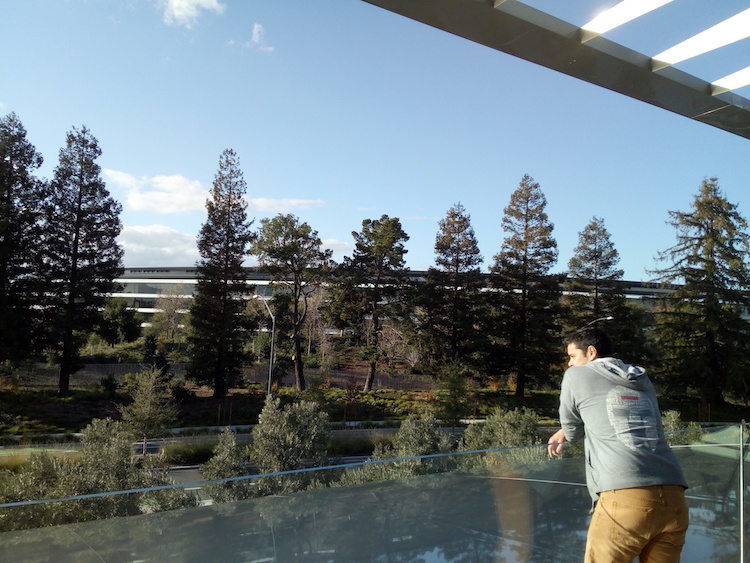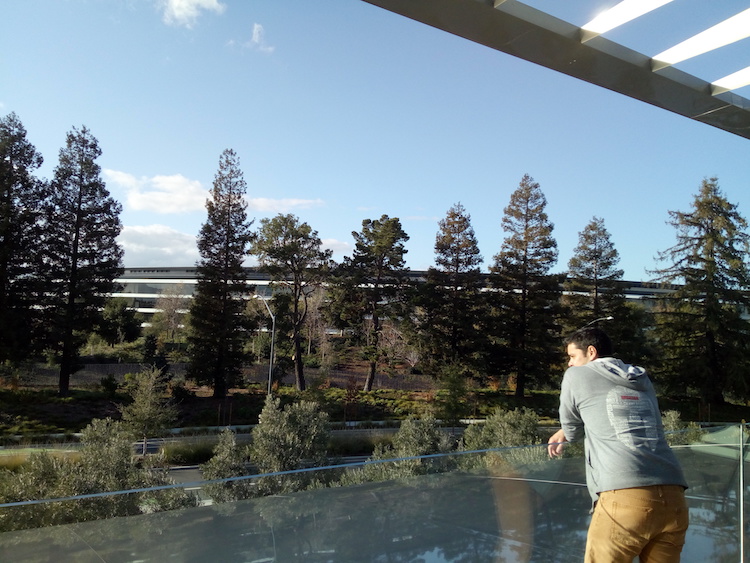 It's really unique and it's all free! Plus, they also have showings of Apple products and have free courses to teach people how to best use the functions of their iPhones, Macs, iPads, etc…
Apple's new headquarters in Cupertino is relatively close to the old, yet still active, headquarters (the famed "Infinite Loop"). Make sure you don't mix these up when you try to visit. I'll add a map in here to help: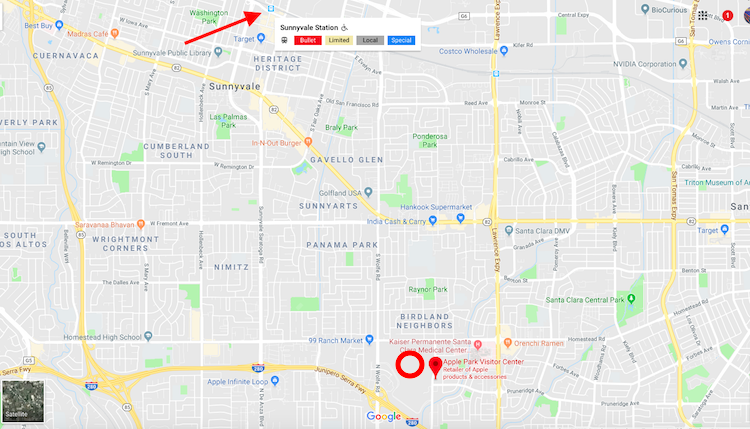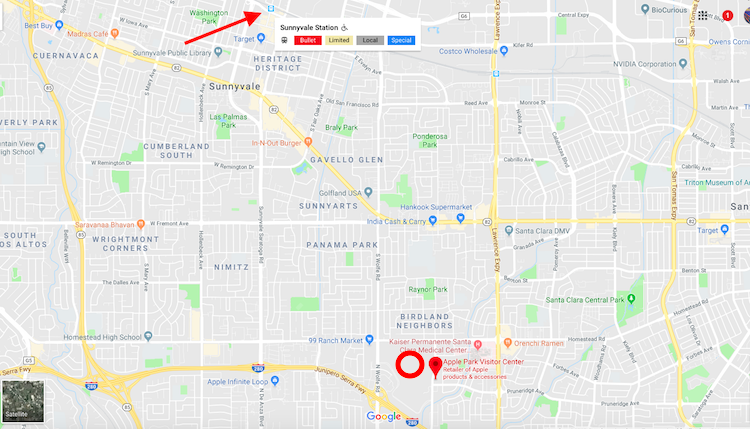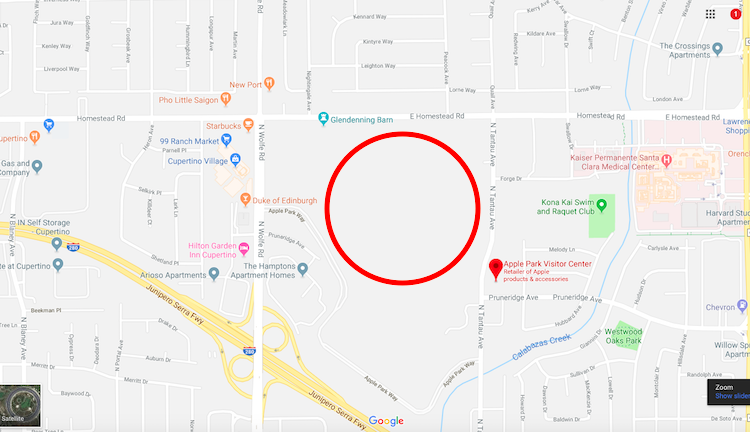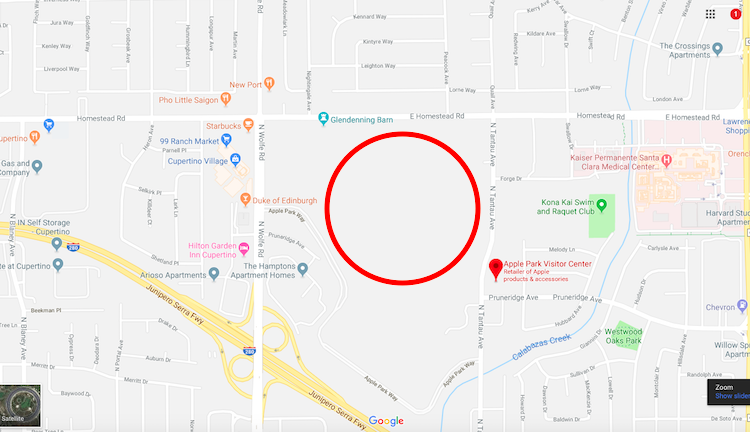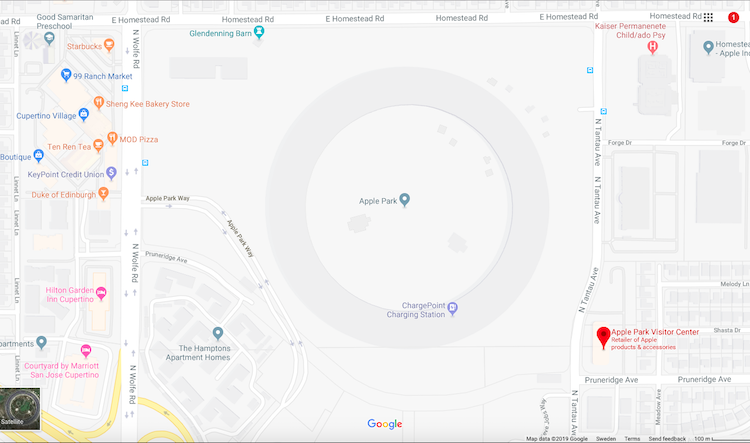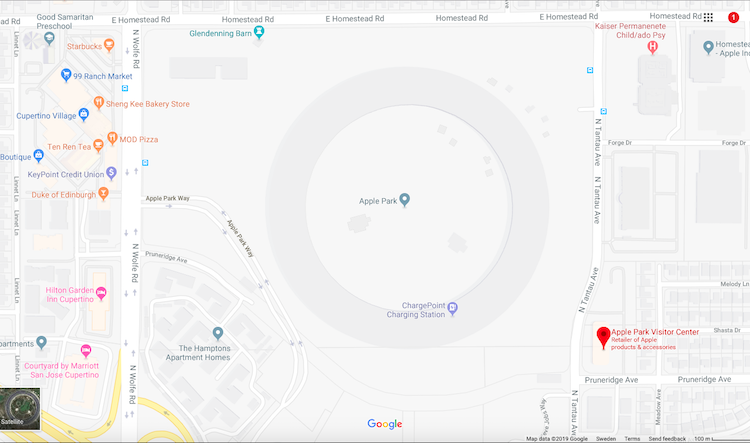 You can get to the new Apple headquarter by car and park there for free. Or, as I mentioned above, you can take the train to Sunnyvale station and then take public transportation or Uber / Lyft to Apple Park.
Visiting Silicon Valley during your trip to San Francisco is definitely worth doing…I'd highly recommend it!
Other tours, attractions and activities in Silicon Valley
If you are looking for other tours to take in Silicon Valley, I recommend looking at Viator or GetYouGuide. These sites offer several tours, safely and with very cool prices. Check out: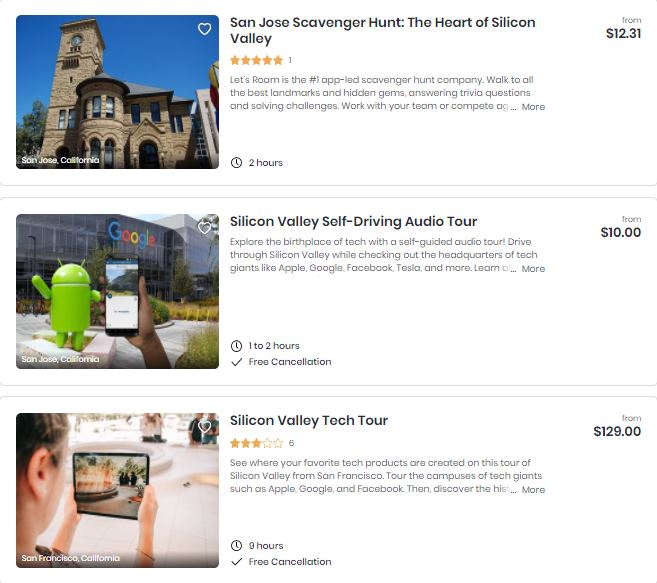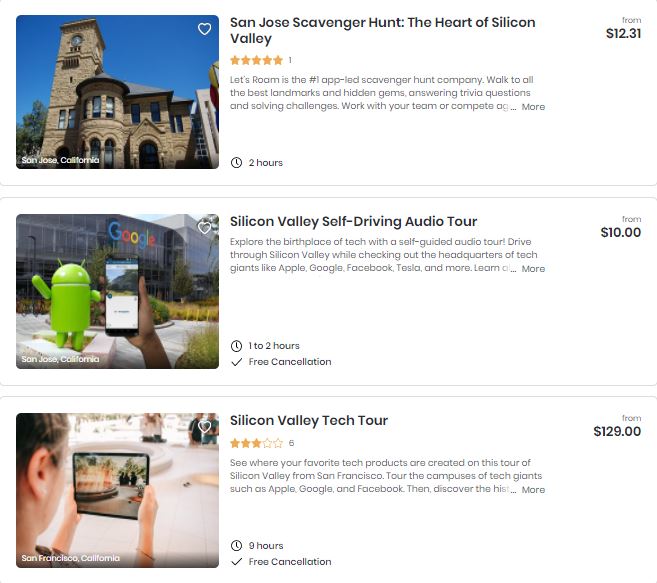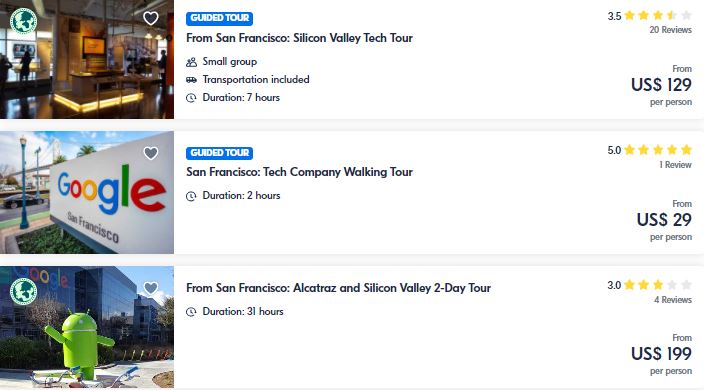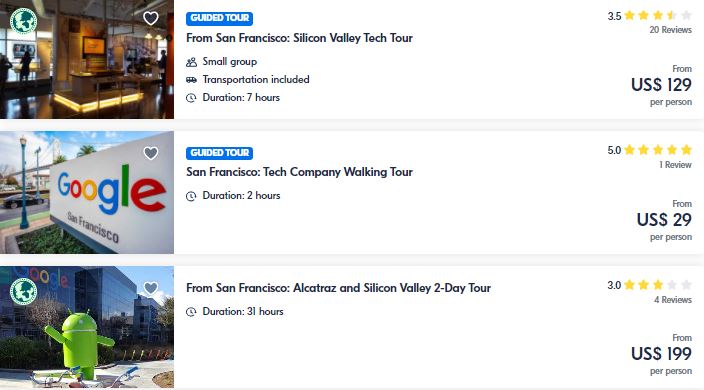 —
And that's it! If you have any other questions, just comment below and I'll get back to you!
Planning your next trip?
Then don't forget travel insurance! You don't want to get stuck paying a ton of money and ruining your trip if you get sick or have an accident without travel insurance. WorldNomads is ideal for adventurous travelers, backpackers, or anyone looking to be protected during their trip. They cover almost every single activity you can image! Plus, you can have a 5% discount with the coupon code comfort5.
Already reserved your hotel or hostel? If not, we recommend Booking.com. They have a huge selection of hotels and hostels all over the world. Plus, in most cases, you can cancel your reservation up to a few days before the check-in date without any costs!
Still haven't booked your plane ticket and want to save big? Take a look at Kayak and Momondo. They are flight aggregator that combine several other ticket search websites to make it easier for you to compare prices and make sure you are getting the best deal.
And finally, will you need to rent a car during your trip? Then check out Rentalcar.com to search and compare car rental companies from all over the world in a single website. Then, you can find the cheapest price for the best car!