Last Updated on by Editor
The idea of hitting up all the nearly-empty tourist hotspots across the world before the crowds return is tempting, isn't it? 
But with this pandemic, how will we know when it's okay to travel again? Or can and should we travel now?
No!! Or probably not. But how will we know when we can?
Perhaps when the experts say so. But the experts aren't even in agreement about using masks or staying at home, so it's hard to say.
Even if you have been vaccinated, are will be able to travel or backpack during the pandemic? 
So, what are the "milestones" we can look for to know that it's safe to fly, head to the beach, or plan your next big roadtrip? Here's a list of some potential "milestones" letting us know its time to travel again below.
When the government authorizes international tourism or business travel… 
As I write this article, countries around the world all have varying levels of international travel restrictions.
Some countries, like Australia and Qatar, have banned their citizens from traveling overseas at all except in very specific circumstances.
But even if your country doesn't explicitly forbid you from traveling overseas, the great majority of countries around the world are restricting foreigners from entering. In other words, even if your problem isn't leaving, you'll definitely have problems getting into anywhere else. 
The United States, for example, isn't allowing any visitors coming from the European Union or China. The European Union has completely closed its borders to foreigners coming from outside the union that aren't part of the Schengen agreement (Norway and Switzerland). And Argentina has closed its borders to all non-residents for at least two weeks and has canceled all flights from the United States and Europe.
Essentially, each country in the world currently has some sort of restriction on the entrance of travelers who aren't citizens or residents…and some who won't let anyone in at all!
And even if you're a resident or citizen (like you have dual citizenship) in one of these countries and decide to go visit, after your arrival, you'll have to follow a minimum 14-day quarantine before you can wander out onto the streets….if being outside is even permitted!
UPDATE: A lot of countries in the European Union are opening for tourism already in mid-June. Check out the list here.
How can I know which countries have closed borders during the Coronavirus pandemic?
First, you'll want to check your own government website to see if your country has a ban on its citizens leaving (you can likely find this information on the website for your country's department of foreign affairs or state department). 
But beyond that, frankly these restrictions on foreign travel and how long they'll vary will depend on each country. And this information is constantly changing.
But there are a few websites I recommend you check to verify and stay up-to-date on the latest information about global travel restrictions caused by the COVID-19 pandemic.
CDC Travel Notices: https://wwwnc.cdc.gov/travel/notices
The CDC, or the Centers for Disease Control and Prevention, is the United State's health protection agency. However, even if you're not from the United States, it's still worth looking at their travel notices.
In particular, you'll want to look out for (and avoid) places that are categorized as "Warning – Level 3, Avoid Nonessential Travel."
Currently, the CDC has put this warning for the entire world and recommends "that travelers avoid all nonessential international travel," no matter where you go because of the "ongoing, global transmission of COVID-19."
You may also want to look at the U.S. Department of State travel warnings, particularly if you're American. Currently, there is a global "level 4 – do not travel" health advisory.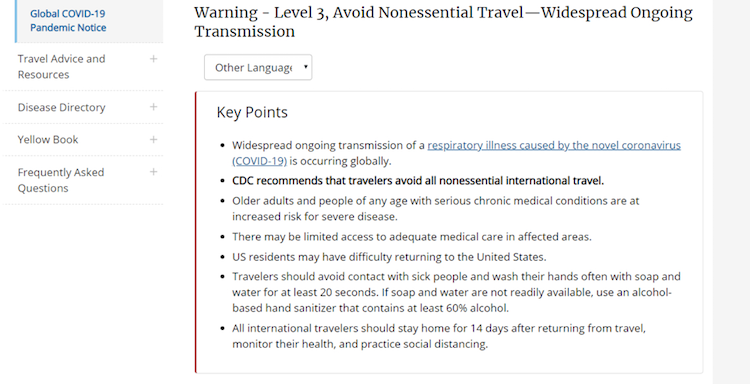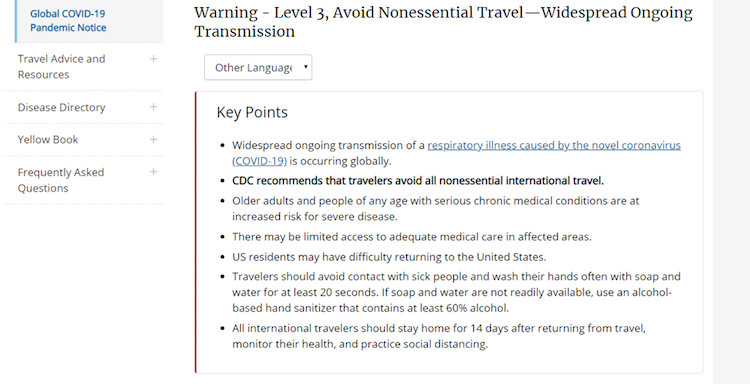 International Air Transport Association (IATA): https://www.iatatravelcentre.com/international-travel-document-news/1580226297.htm
The IATA, or the International Air Transport Association, is a trade association of the world's airlines. It's basically the core regulations that airlines around the world use to operate each day. It's a good resource to look at when it comes to making sure you have the right visas to get on your flight.
But with Coronavirus, the IATA's TIMATIC database also has a full breakdown of flights that are suspended, closed airports, regulations for passengers, and more for each country in the world in alphabetical order. In other words, it'll help you identify whether you can visit another country or not.
Essentially, TIMATIC, or "Travel Information Manual Automatic" is a database of the document requirements for trans-border passengers traveling by air. This database is used by airlines to determine if a particular passenger can be transported. It's also used by airlines and travel agents to supply this information to travelers at the time of reservation.  
In other words, if TIMATIC says that Germans can't visit country X, a German won't be able to get on the plane….nor enter into country X even if they arrive by boat!
But as I said, to see the most up-to-date information about the Coronavirus outbreak and travel restrictions across the nearly 200 countries in the world, just go to the TIMATIC database on the IATA website here:  https://www.iatatravelcentre.com/international-travel-document-news/1580226297.htm
IATA also has this cool interactive map with countries and their restrictions on foreigners' entry due to the COVID-19 pandemic.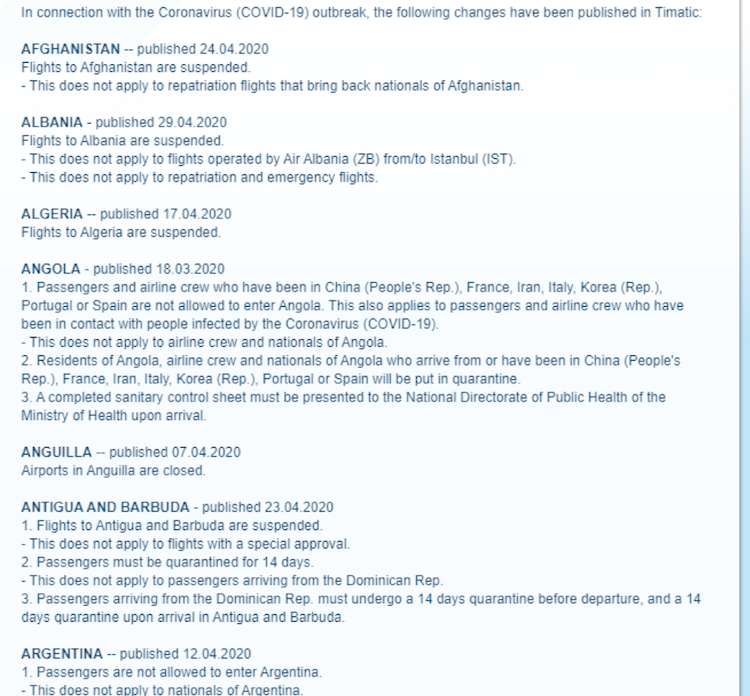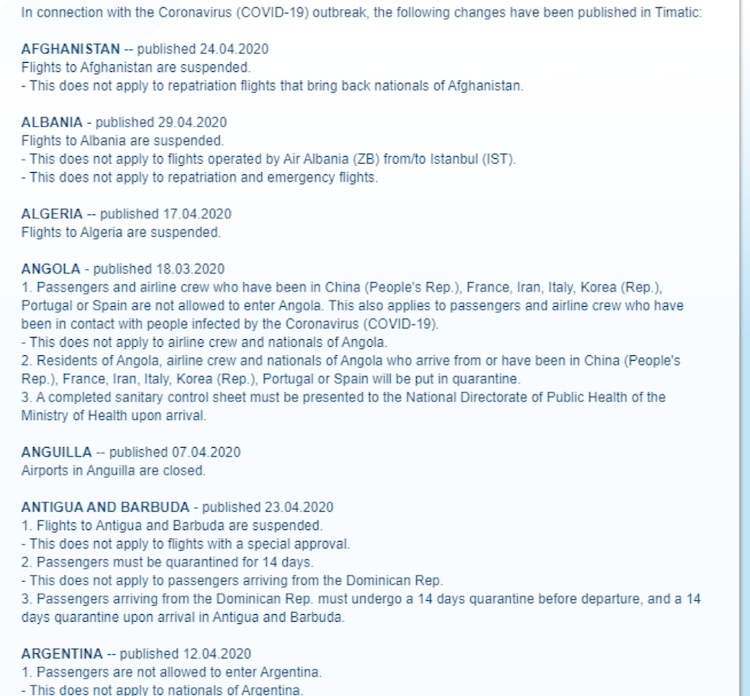 Wikipedia page with a complete list of travel restrictions caused by the Coronavirus pandemic: https://en.wikipedia.org/wiki/Travel_restrictions_related_to_the_2019%E2%80%9320_coronavirus_pandemic
Compared to the other sources above, this Wikipedia page is a bit easier to read and visualize all the restrictions for countries by region, including the European Union and even overseas territories. 
However, keep in mind that this is NOT official information. Just use it to help you get an idea and to visualize the information better.
To have the most updated information for each country, go to the links within the Wikipedia page of the actual sources for the information. To do this, just click the little blue number at the end of each sentence.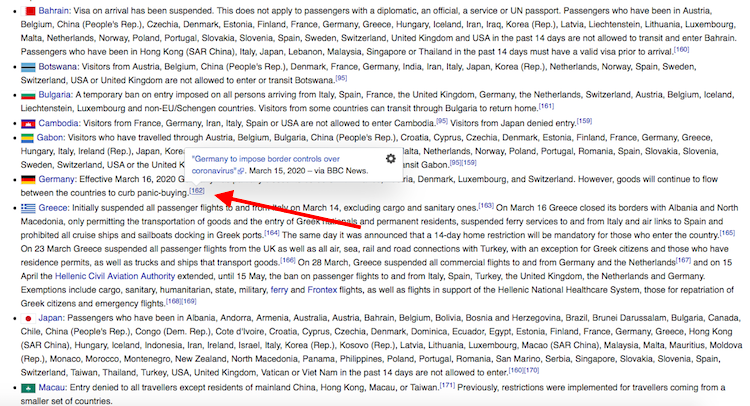 When health professionals give the go-ahead to travel abroad…
The government recommendations during the Coronavirus pandemic are based on recommendations for health professionals. But these recommendations vary from country to country since each country has its own particular circumstances that doctors need to adjust for.
Interestingly enough, the World Health Organization (WHO) said in a statement dated February 29, 2020 that the "WHO continues to advise against the application of travel or trade restrictions to countries experiencing COVID-19 outbreaks. In general, evidence shows that restricting the movement of people and goods during public health emergencies is ineffective in most situations and may divert resources from other interventions."
Ineffective??!? Not sure where the WHO got this idea! After all, the whole world is restricting the movement of people…and it's helping!!
So perhaps, given that most of the world is in lockdown right now and travel restrictions are one of the best tools we have to fight against the spread of Coronavirus infection, the WHO may not be the best source to look to for travel advisory.
But generally, the WHO is a very well-respected institution that did an excellent job alongside the United States and President Obama to fight Ebola in West Africa in 2015.
When travel insurance companies offer coverage for COVID-19…
Most travel insurance policies purchased after the Coronavirus became "known" at the end of January and was classified as a pandemic in March won't cover delays, travel interruptions, or the cancellation of flights or travel plans that happened as a result of the virus.
That said, there are still some international travel insurance policies that will cover if you get COVID-19.
My article here has a summary of your options for travel insurance companies that do and don't cover Coronavirus: Does International Travel Cover Cover Coronavirus (COVID-19)?
So it's your risk with you want to travel with a travel insurance policy that only covers medical expenses, but doesn't cover canceled trips or travel delays (since they are likely to be very common over the coming months).
When other travelers are returning healthy from overseas trips…
If travelers are coming home healthy and tanned, then it's a good sign that everything is okay at a location to visit and it may be time to pack your bags.
After all, who doesn't want a "headstart" on visiting some of the most packed destinations in Europe (and elsewhere in the world) before things go back to normal and the crowds return?
However, you also need to be sure there isn't another wave of infections that bring another batch of travel restrictions to your destination – leaving you stuck overseas in a hostel or hotel and forced to quarantine for several weeks upon your arrival back home.
Countries where you can go if vaccinated…
Even though we are still in the early days in the vaccine roll out process, there are few countries that have announced they will soon accept travelers/backpackers who were vaccinated without restrictions such as mandatory quarantine or negative Covid test.
Some of the countries that are already accepting (or soon to accept) Covid vaccinated travelers are Cyprus, Estonia, Georgia, Iceland, Lebanon, Poland, Romania, Seychelles, and Thailand. 
Just check the latest information on their national tourism websites to be sure rules haven't changed 
When will it be safe to travel domestically?  
As with the cross-country travel restrictions discussed above, domestic travel also varies from country to country.
I know that traveling or backpacking in your own country might not feel the same, especially if you leave in a small country. But it's better than nothing. At least, if you are part of the European Union, you have 27 countries to explore!

In some countries, like where we live in Belgium, we're absolutely not allowed to stray far from home (and even going to a neighboring town without good reason is strictly not allowed). In France, things are even more restrictive with residents being required to stay within 1 kilometer from their homes. Then you have other countries, like Spain, where you're not allowed to be out and about at all.
But let's say you live in a country, like the United States, where domestic travel isn't restricted (or if it is, it's on a state-by-state basis). In this case, you could technically travel domestically to another state if you wanted to.
But keep in mind that #1) it really isn't a great idea from a health and safety standpoint to be on the move if it's not essential and #2) even if you do go, you may find yourself in a place where everything is shut down (and thus not that interesting to visit) anyways.
All that said, it's very likely that individual countries will open up and allow domestic travel before they international travel. So your next trip will likely have to be within your own country rather than overseas.
In other words, you can probably expect quite a boost in domestic travel in the next few months, no matter where in the world you are! 
Where will we go once we're free to travel the world again? 
Will we begin with a quick trip to a place we already know? Or perhaps a backpacking trip in Mongolia? Or even a Caribbean cruise? 
No matter where you're from, I think we'll probably start with destinations relatively close to home. So for those in my native Brazil, that might be Argentina, Chile, or Uruguay. For Nikki & I and others here in Belgium, this'll likely be within European borders.
After a while, perhaps we'll start to venture to more isolated destinations across Africa, New Zealand, Central Asia, or northern Norway to "run away" from the busier destinations (like the United States and Western Europe) that are currently pandemic epicenters. Adventure travel in small groups may also be something a lot of people look at.
To give us an idea of what the future of travel might look like, let's look to Intrepid Travel, the largest tour operator for adventure travel in the world. Currently, Intrepid is still taking bookings for 2020, and, according to them, the most popular destinations right now Morocco, Peru, and Australia.
Antarctica, the Arctic, and Ecuador/the Galapagos have fewer bookings than usual, but are still doing quite well. Perhaps suggesting that more "exotic" destinations will be in store for global tourism after COVID-19. That is, as long as the Coronavirus epicenter doesn't move from Europe and the United States to other locations.
Speaking of Arctic, if you want to go to one of the most isolated places in the world, be sure to check out my Definitive Guide to Save while Visiting Svalbard in the Norwegian Arctic. Look at Svalbard on Google Maps and you'll see what I'm talking about!
It may also be worth looking to countries that are currently dealing quite well with the COVID-19 pandemic like South Korea, Taiwan, the Nordics, and New Zealand. Although, just because these countries are doing well internally doesn't mean they'd want to increase the risk of the disease coming back by accepting tourists from places with lots of infections. Or perhaps they will still be some of the first to accept tourists, but only if tourists stick to a strict 14-day quarantine, or even get tested, on arrival.
Either way, unfortunately, we probably won't have a new normal for travel that looks like it did before the pandemic for a very, very long time
COVID-19 pandemic travel tip!
I recently discovered a very cool device that is helping me a lot during this period of the COVID-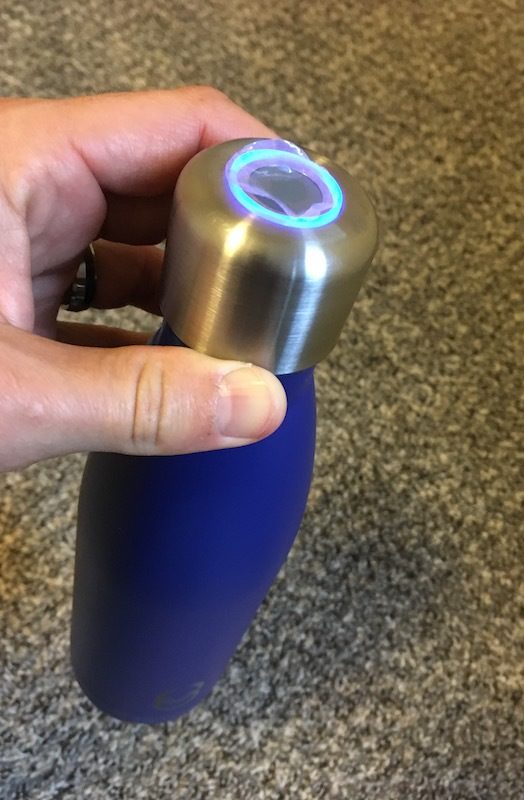 19 pandemic. It's the Crazy Cap, a purifying bottle that in addition to eliminating viruses and bacteria from the water can also be used to sterilize objects such as tables, cutlery, cell phones… According to the company, it eliminates 99.9% of the COVID-19! The ease of drinking water without worrying about where it comes from in addition to sterilizing any object I want is great. Lately, no matter where I am, I take my Crazy Cap with me. You can buy this bottle through this link… They deliver worldwide!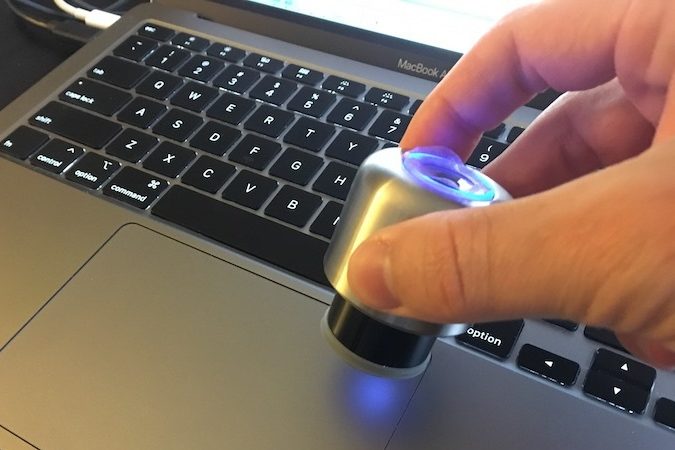 Remember, if you are traveling during this period, always be very careful. Whenever possible, use a mask, avoid crowding and sterilize your hands and objects.
—
And that's it. What are your thoughts? Do you think we'll be able to travel shortly? Or do you think it'll still take some time until we can travel overseas? Have any other questions or something to add? Let me know in the comments area below and I'll get back to you!
Planning your next trip?
Then don't forget travel insurance! You don't want to get stuck paying a ton of money and ruining your trip if you get sick or have an accident without travel insurance. WorldNomads is ideal for adventurous travelers, backpackers, or anyone looking to be protected during their trip. They cover almost every single activity you can imagine! Plus, you can have a 5% discount with the coupon code comfort5.
Already reserved your hotel or hostel? If not, we recommend Booking.com. They have a huge selection of hotels and hostels all over the world. Plus, in most cases, you can cancel your reservation up to a few days before the check-in date without any costs! 
Still haven't booked your plane ticket and want to save big? Take a look at Kayak and Momondo. They are flight aggregators that combine several other ticket search websites to make it easier for you to compare prices and make sure you are getting the best deal. 
And finally, will you need to rent a car during your trip? Then check out Rentalcar.com to search and compare car rental companies from all over the world on a single website. Then, you can find the cheapest price for the best car!