Last Updated on by Rodrigo @ OutofYourComfortZone
Traveling is a transformative experience that exposes us to diverse cultures, breathtaking landscapes and new horizons. Who doesn't like getting to know a new country, a new culture and new people, cast the first stone!
However, traveling does not only present the good sides of the emotion of embarking and having fun. It also involves a huge headache arising from a series of planning that need to be well thought out so that everything goes well and your trip is unforgettable.
Furthermore, even with as much planning as possible, something can always go wrong and, when it comes to health, it is essential that travelers have insurance to ensure they are always safe.
Have you ever imagined being in a completely unknown place and without medical support if you need it? Not to mention that, in most countries, it is mandatory for the traveler to present a health insurance contract to obtain a visa or board.
In this article we will explore a little about EKTA Travel Insurance and carry out a complete evaluation to help you decide if this is the health insurance company that suits you, highlighting the pros and cons, benefits, coverage, customer service, claims and prices.
In short, EKTA Travel Insurance is a Ukrainian company founded in 2018, but even after just a few years of operation, it has already built a name in health insurance, with more than 2 million customers around the world. Knowing this, let's move on to the evaluation…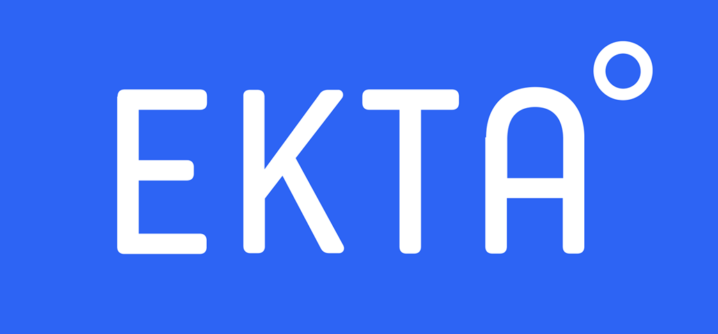 EKTA Travel Plans and Coverage Options
EKTA Travel offers three types of health insurance, with options that cover different types of travelers, with basic and more comprehensive plans, for domestic or international travel.
The packages are:
Start:

The Start plan is the most basic of all, for those travelers who do not need a more detailed plan, normally those who do active rest.
It offers coverage of US$50,000 that includes medical assistance, with COVID coverage and treatment, medication support, outpatient treatment for injuries, consultation with a doctor and hospital treatment.
In addition, Start also allows the insured to call an ambulance in case of emergency, repatriation if necessary. If the patient needs medical care, the plan reduces costs by 25%.
Its value is US$0.99 per day. Which, at the end of the month, would amount to US$29.70.
Gold:

The Gold plan has coverage of US$150 thousand and reduces treatment costs to zero. In addition to everything that the Smart plan already covers, the Gold includes obstetric care and covers chronic illnesses.
This package also includes, in addition to active rest, trips that include extreme recreation and sports, for those who prefer to travel in a more hectic or radical way.
The cost is US$1.75 per day. At the end of the month, the insured would pay around US$52.50.
Max+:

The third and final plan is Max+, being the most complete of all, for those travelers who want to feel 100% safe for any unforeseen events.
Its coverage covers US$500,000 and, in addition to everything already included in the Smart and Gold plans, Max+ includes urgent dental care, which can be extremely expensive depending on the country the traveler intends to visit.
Regarding transportation, Max+ covers calling a taxi to the hospital, transport by medical aviation and medical evacuation to the home country. It also covers activities related to water, repatriation or local burial.
This plan can even be compared to basic travel insurance, as it pays telephone costs, assists with lost or delayed luggage and documents, provides legal assistance to the traveler, if necessary, covers a return ticket to the home country traveler and cover flight delays.
In addition, the Max+ package covers the traveler for a few more days after the end of the insurance for 15 days, with hospital treatment, transport and some accommodation expenses.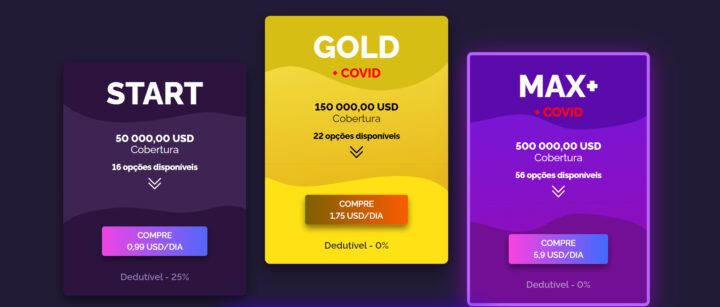 While EKTA's existing coverage options are comprehensive, you can always expand your plan's coverage to allow your trip to be more tailored to your individual needs.
How to Know if EKTA Travel Plans are Right for You
One of the biggest things to consider when hiring a health insurance service is the plan options, how they fit into your traveler and individual profile, as well as analyzing your personal needs, such as a chronic illness, for example.
EKTA Travel guarantees that its insurance is ideal for the following people:
Those who want to obtain a visa

, as the policy guarantees obtaining a visa, even those who require COVID coverage, which is highly requested by most countries;

For any type of traveler

, as the company has plans that cover rest and extreme sports;

For those who want speed and convenience

, considering that policies are sent within five minutes and are suitable for various traveler profiles.
To summarize this topic, EKTA Travel offers plans that will definitely fit your profile, you just need to check all the details of each of them.
EKTA Travel Claims Process and Policy
The claims process is somewhat complicated in most insurance policies. Because of this, EKTA Travel Insurance is committed to making this process as simplified as possible.
Many claims can be made online, reducing the need for travel and excessive paperwork, facilitating faster claims processing. Quick and efficient claims processing is crucial, especially during emergencies when travelers may need immediate financial assistance.
Furthermore, another thing that can be complicated in insurance companies is the issue of policy transparency and clarity. Travel insurance policies can be complex, making it difficult for many to understand. This is a point where EKTA could improve even further, bringing a more simplified language to its users.
However, EKTA reinforces on its website that it does not have hidden clauses in its contract, a very important point for the insured.
EKTA Travel Values and Cost-Benefit
When evaluating the value of any type of insurance, including travel insurance, value for money is one of the things customers value most.
EKTA prices vary based on factors such as: the plan chosen, coverage limits, duration of the trip and age of the traveler. Its prices are considerably cheap depending on the market and EKTA has a good value for money, which could be attractive for you.
The cost-benefit ratio goes beyond money. It encompasses the level of coverage, the quality of customer service and the peace of mind of knowing that you are protected against unexpected events. EKTA offers a balance between coverage and affordability, making it an attractive option for those seeking comprehensive protection during their travels.
In other words, even though values are important, it is even more important to worry about whether the plan and company chosen matches your needs and will really support you in the event of an emergency.
EKTA Travel Customer Service and User Feedback
EKTA provides 24/7 assistance to its customers, which can be a helping hand for emergency situations in a foreign country.
Customer service is the pillar of any insurance company's reputation, which is why EKTA Travel Insurance seems to put a significant amount of effort into responsive customer support. The website offers clear information about its plans, making it easier for potential customers to understand the coverage options available and choose the plan that best aligns with their needs.
Customer feedback about EKTA's customer service is generally positive, highlighting its responsiveness and willingness to respond to queries promptly. The availability of multi-channel communication options such as phone, email, and online chat increases the accessibility of customer support.
Below, you can check some feedback provided by EKTA Travel on its website. However, we emphasize that, if you still don't feel confident making a decision based on this, you can always look for reports and experiences from other travelers with the company on other reliable websites.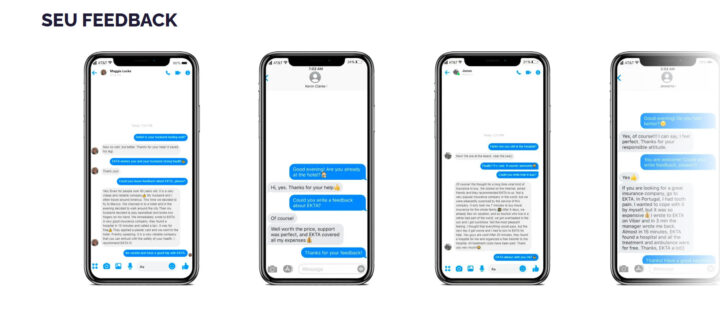 How to Buy EKTA Travel Insurance
Purchasing EKTA insurance is super simple, it can be done online and in just three steps. First, just add information about your trip, such as departure and arrival, the country of destination, the type of trip (rest or extreme sports), the package you want and a promotional code, if you have one.
Then your personal information, such as name, telephone number, email, passport and date of birth. And finally, check that everything is correct.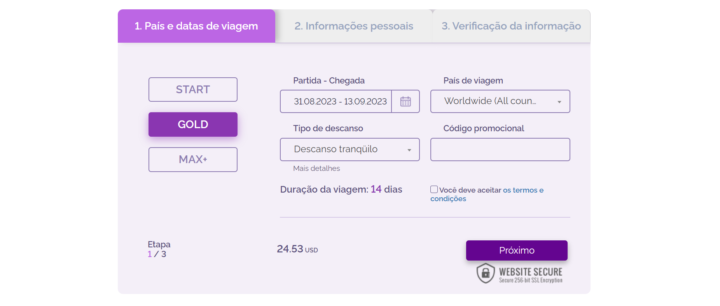 EKTA Travel Insurance covers Russians and Ukrainians abroad and travelers in Russia or Ukraine
With the war in Ukraine, it is difficult to find international travel insurance that covers you on a trip to Russia or Ukraine. However, EKTA travel insurance claims that it covers international travelers visiting both Russia and Ukraine.
At the same time, there are many Ukrainians and Russians who left their countries to avoid the conflict. And some international travel insurance is not covering citizens of these two countries when traveling abroad. However, apparently, if you are a Ukrainian or Russian citizen and are traveling through Turkey, Dubai, Georgia, Armenia, Kazakhstan, Germany, Poland and many other countries that have become common destinations for these citizens, you may be able to get health coverage with the insurance EKTA. Worth trying!
Pros and Cons of Taking out EKTA Travel Insurance
To summarize, we made a small list of pros and cons of EKTA Travel to make your choice easier:
Pros of taking out insurance from EKTA Travel
Varied plans for different types of travelers;

It works as health insurance necessary to apply for a visa;

24-hour customer service;

There are no hidden clauses in the contract;

Works worldwide;

Covers COVID cases;

Quick and practical online registration.
Cons of taking out EKTA Travel insurance
In the cheapest plan, insurance does not cover 100% of medical expenses;

In the cheapest plan, services are only provided if the traveler does not have

alcohol in their blood, in the other two plans this is not specified;

The official contract available on the website is in Ukrainian, making it difficult to

understand;

On the cheapest plan, there is no sports coverage;

Does not cover: chronic diseases, complications and treatment in pregnancy after 27 weeks.
Concluding…
EKTA Travel Insurance emerges as a strong competitor in the health insurance market, addressing a range of traveler concerns with its comprehensive coverage options. In this article, I brought the main characteristics of this company, to help you discover if it is ideal for your trip!
As with any product, especially insurance, you need to carefully evaluate your individual needs and preferences before choosing a plan or deciding to close with the company.
If you still have any questions about this company, feel free to comment and we will respond as quickly as possible!
Planning your next trip?

Then don't forget travel insurance! You don't want to get stuck paying a ton of money and ruining your trip if you get sick or have an accident without travel insurance. WorldNomads is ideal for adventurous travelers, backpackers, or anyone looking to be protected during their trip. They cover almost every single activity you can image! Plus, you can have a 5% discount with the coupon code comfort5.

Already reserved your hotel or hostel? If not, we recommend Booking.com. They have a huge selection of hotels and hostels all over the world. Plus, in most cases, you can cancel your reservation without any costs up to a few days before the check-in date!

Still haven't booked your plane ticket and want to save big? Take a look at Momondo. It's a flight aggregator that combines several other ticket search websites to make it easier for you to compare prices and make sure you are getting the best deal.

And finally, will you need to rent a car during your trip? Then check out Rentalcar.com to search and compare car rental companies from all over the world in a single website. Then, you can find the cheapest price for the best car!