Last Updated on by Editor
First, why climb Mount Fuji?
Well, I'd say just because it is there. All mountains deserve to be climbed and appreciated…. you just never know what you might find at the top!
But also because Mount Fuji is the highest mountain on the Japanese archipelago and happens to look really impressive. Its image is probably the best postcard in Japan. As it is a partially active volcano (the last eruption was in 1707), Mount Fuji is shaped like a perfect cone…. or the shape that you tried to make during your elementary school science class.
Since it is a partially active volcano with a "recent" eruption, there's very little vegetation so that, during the climb, you'll have an unrestricted and perfect view of your surroundings (although hopefully not just full of clouds like it was for me).
Besides this, it's an easy mountain to climb and you don't need any special equipment. Truthfully, it's not so much climbing as it is walking up the mountain with a few times when you'll have to get over rocks with your hands.
Finally, although it is 3.776 meters (12.388 feet) high, it's relatively easy in terms of physical preparation necessary. Honestly, from a distance, the mountain definitely looks more intimidating to climb than it really is. That's because, to hike the most popular trail, a bus will take you to 2.300 meters (7.546 feet), so you will already be starting quite high and just need to complete the rest. And to complete it, as it is extremely popular to climb with both the Japanese and foreign visitors, there is a LOT of infrastructure on the mountain along the way with various stations where you can find food, drink, clothing, and oxygen masks (which you hopefully won't need). So, in reality, it's unlikely that anything bad will happen between the abundance of stations and people so you can always find help if you need it. Plus, it sounds pretty cool to show someone a picture of Mount Fuji and say "hey, I climbed that."
What is the best season to climb Mount Fuji?
The official season to climb Mount Fuji is from the beginning of July until mid-September, during the Japanese summer. During this time, you can climb the mountain without special permission. Just arrive and keep putting one foot in front of the other.
Outside of this period, you will have to go with a tour, guide or special permission. Depending on the time of the year, it's just forbidden to climb Mount Fuji.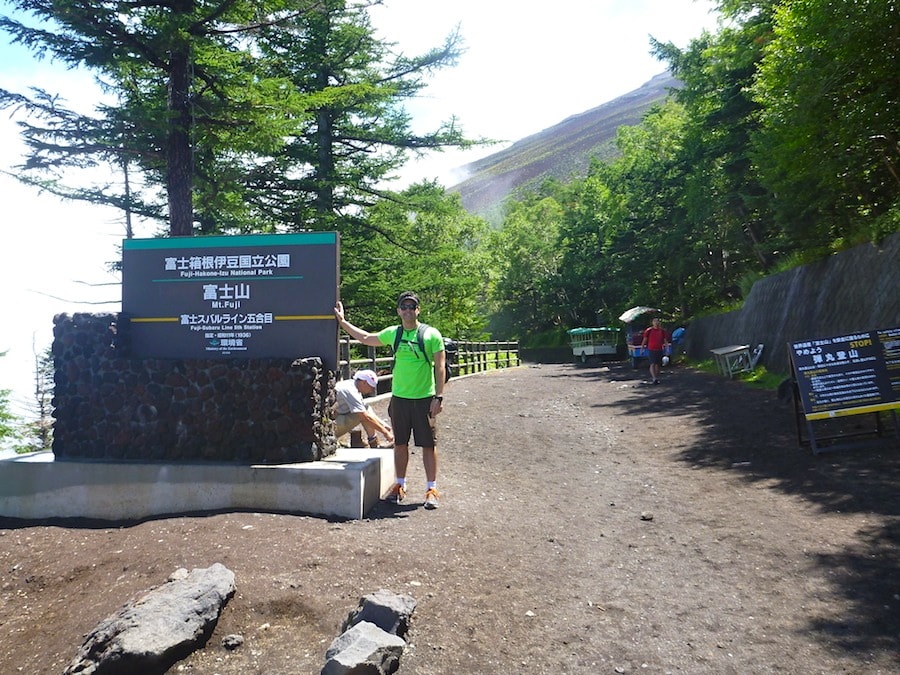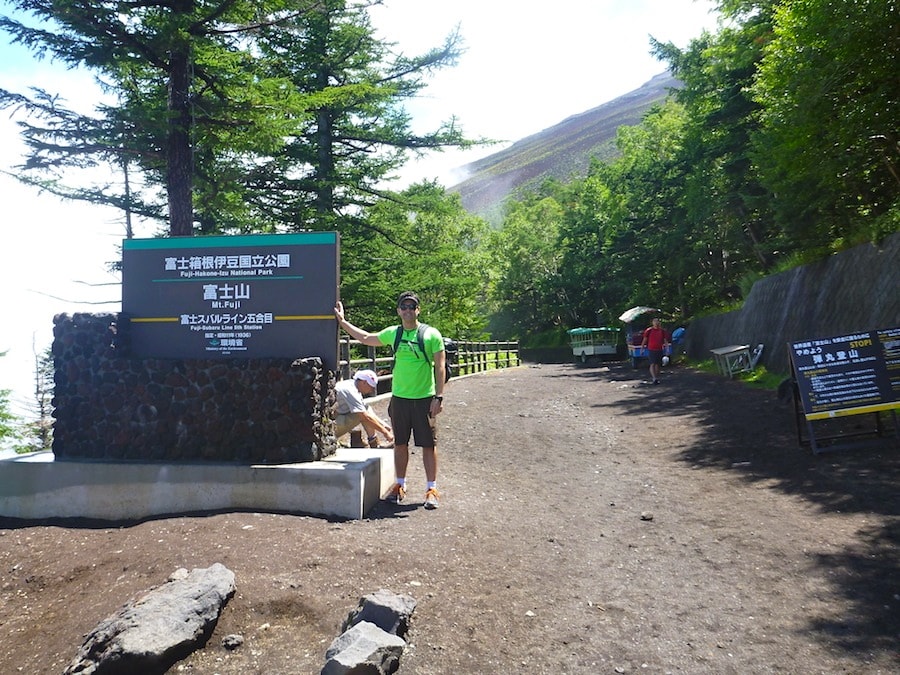 How to arrive at Mount Fuji from Tokyo (the cheapest and most practical transport)
Of course, this will depend on where you are in Tokyo. To begin, I'll give you two starting points that go to the same station and from there, the path is the same.
If you choose to travel by train in Japan, take a look at the Japan Rail Pass. With it, you can buy a ticket for a single price and have unlimited travel throughout Japan. What's more, with the JR Pass you can book your ticket in advance which avoids a lot of headaches if Japanese is not one of the languages you speak.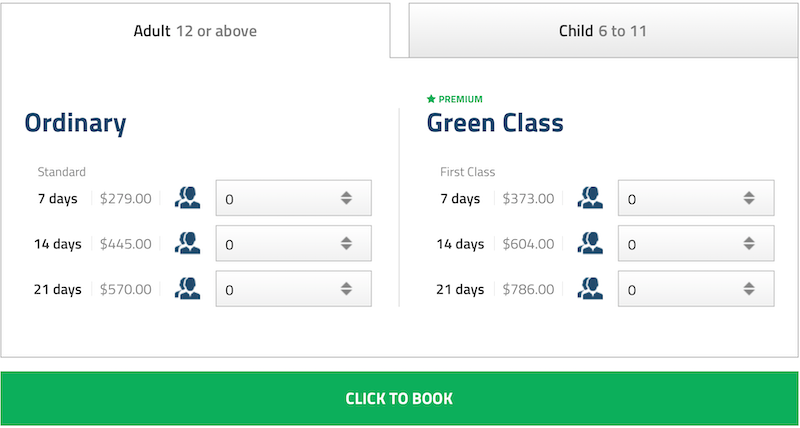 1a) From Tokyo Central Station to Shinjuku Station
Simple. Take the JR Yamanote train (this is the main train line and does a circle around Tokyo) until Shinjuku Station. You can buy the tickets from a machine at the station.
Cost: 200 Yen
Time: about 25 minutes
1b) From Haneda Airport to Shinjuku Station
This way is a little bit more complicated. You will have to do a train connection. The route looks like this:
Haneda Station (the airport) to Shinagawa Station via Keykiu Line

Shinagawa Station to Shinjuku Station via JR Yamanote Line
Cost: 1050 Yen
Time: about 40 minutes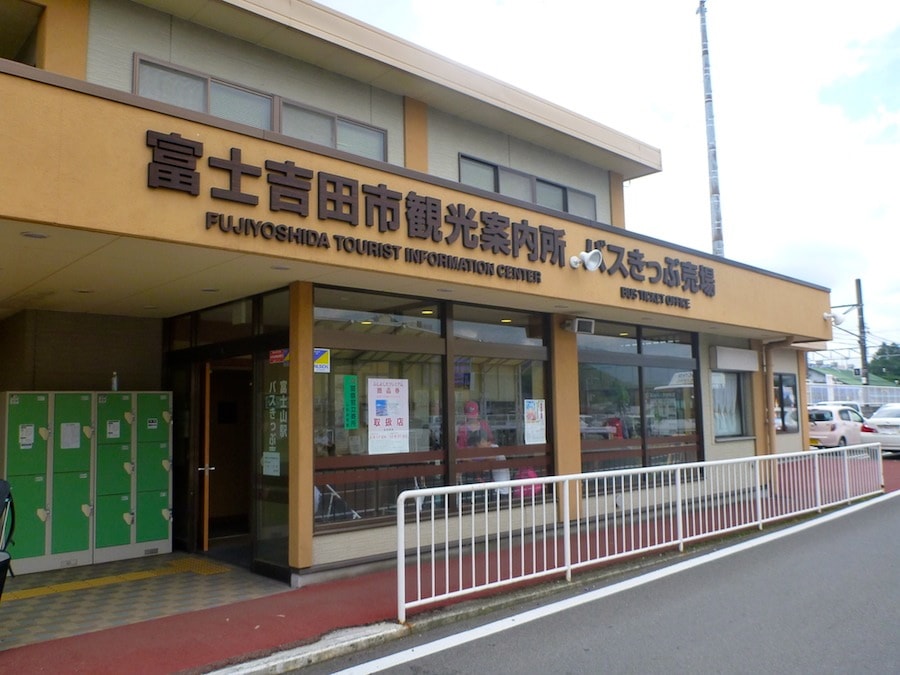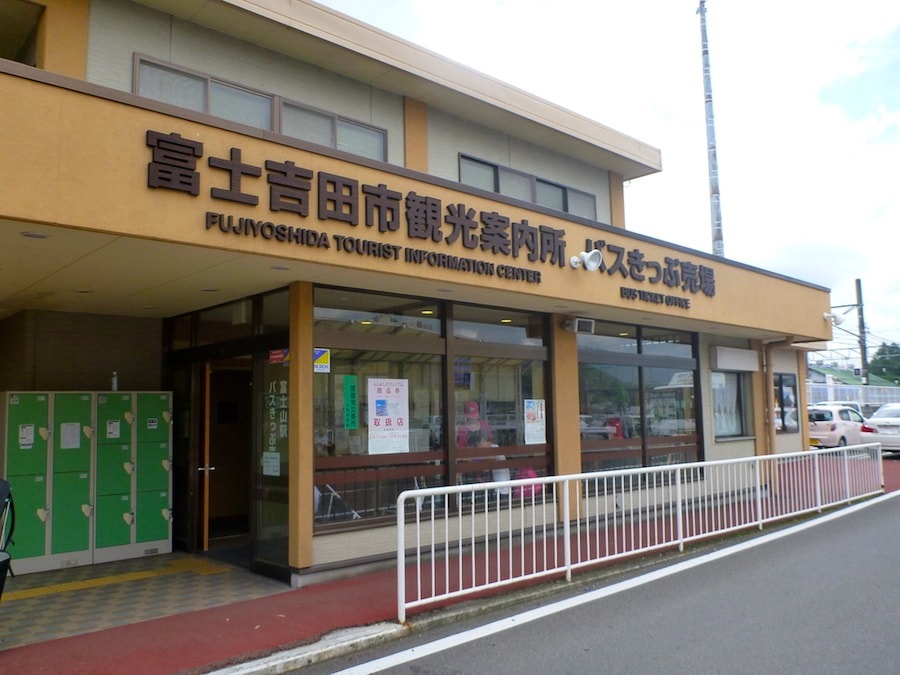 2) From Shinjuku Station to Fujisan Station
Fujisan Station is in the city of Fujiyoshida. It's from this station that you will you take the bus to the "5th Station," from where you will begin your trek to Mount Fuji's peak. So if you are going straight to climb without sleeping somewhere in the area, you'll pass by this station. If you are instead sleeping one day before or one day after (or both) your climb, you'll probably be staying in a hotel or hostel somewhere close to Fujisan Station. So, this would most naturally be your first destination after Shinjuku Station.
By Bus
This is the most practical and cheapest way to get from Shinjuku Station to Fujisan Station. To take this bus, you just need to make a reservation on this website https://highway-buses.jp/fuji/. The site is in English. You should click on the "Reservation" button on the left. From there, you will be directed to another website where you should select the option Tokyo ⇒ Fujikyu Highland and ask the driver to get off at the Fujisan Station which is just before it.
You don't pay to reserve it over the Internet. You pay only at the departing place at Shinjuku Station, where there will be staff at the ticket counter to receive your payment.
Cost: 1750 Yen
Time: The trip takes about two hours (depending on traffic)
You could also take the train, which could have more options for times although it is more expensive and has some connections.
3) From Station Fujisan in Fujiyoshida to "5th Station" on Mount Fuji at 2.300 meters (7.546 feet) high (where the most popular, fastest, and easiest trail begins)
To take the bus to the "5th Station" is very easy. You just have to go to Fujisan Station, go to the Tourist Information Center up front, and buy a ticket. You'll catch the bus on the other side of the street at stop 5.
The hours for the bus are here. Make sure to pay attention to the return times because if there are no buses left after you descend the mountain, you'll have to sleep somewhere there until the next day or pay an expensive taxi ride to get back.
Cost: 2.100 Yen round trip (be careful not to lose your return ticket like this idiot here!)
Time: 1 hour and 5 minutes
4) From Mount Fuji to Tokyo
The return is exactly the same, just like this:
"5th Station" – Fujisan Station – Shinjuku Station – whatever station you like in Tokyo or the airport
Other useful information to know to climb Mount Fuji
Should I ascend during the day to see the sunset or during the night to see the sunrise?
These are the two most popular ways to hike Mount Fuji along with their pros and cons:
Ascend during the night to watch the sunrise from the top of Mount Fuji and go down during the day
Pros:
The sunrise will happen on the side of the mountain that you'll be on so it's easier to see than the sunset (which happens on the "back" of the mountain and can be difficult to see)

It's also much easier to descend when there's light

There are a lot of buses available for these times

Lots of people do it this way so you may feel safer knowing you won't be alone if anything happens

It's very difficult to get lost… just follow the crowd
Cons:
Hiking up at night kind of sucks without having any views in the dark

There are a lot of people hiking during the high season so you run the risk of ending up in a line of people without being able to pass

There will be a lot of people on top of the mountain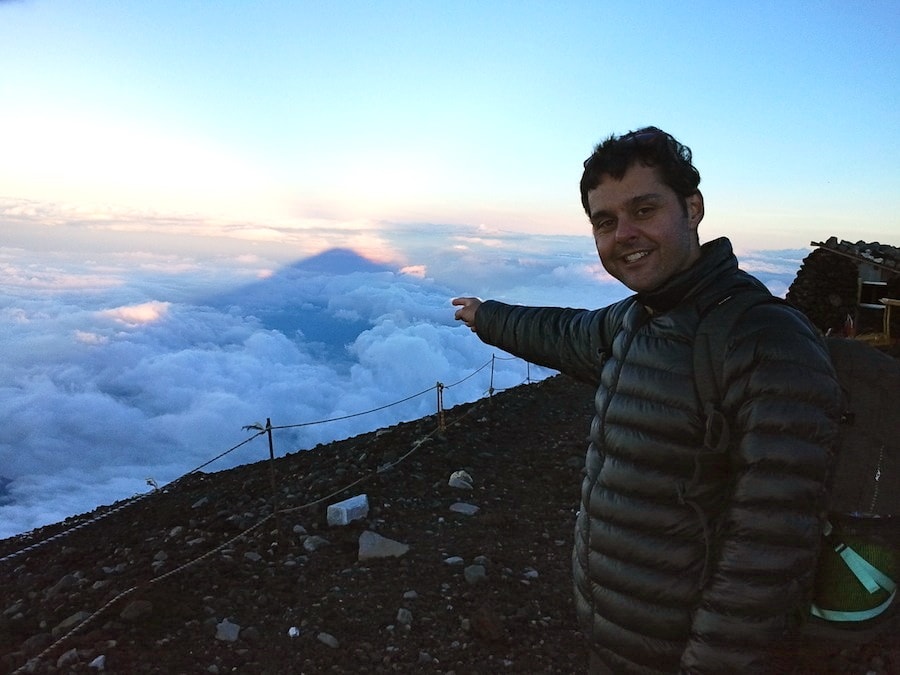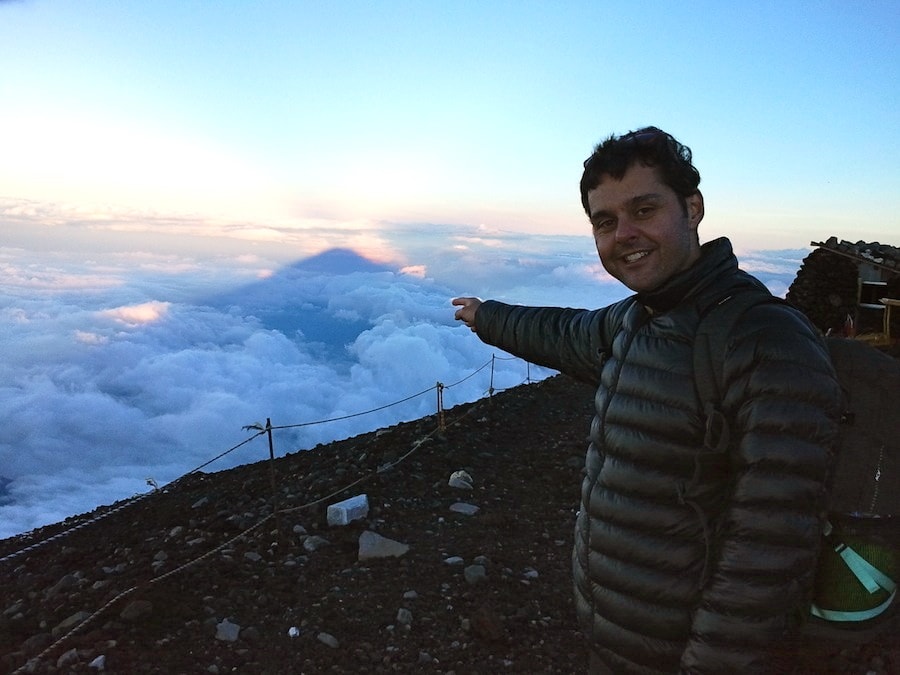 Ascend during the day to watch the sunset and come down during the night
Pros:
Since you are climbing during the day you'll be able to see the views

There are fewer people climbing during this time so you can go more quickly and without getting stuck in a line of people

The top of the mountain could be quite empty (like it was when I went)

You can see the "second Mount Fuji," which is the impressive shadow the mountain makes during the sunset
Cons:
If you want to see the sunset (which truthfully you may not be able to see all that well), you will have to run back down the mountain to catch the last bus which leaves at 21:10

While descending quickly during the night, even with a lantern, you can get lost and end up on the other side of the mountain, like this guy here.

There are fewer people descending at night so it can be a bit riskier if something were to happen
TIP: Depending on when you climb, don't forget to explore around the crater if you have time and the weather is okay. There are a lot of cool views and several small temples.
How long does it take to climb (up and down) Mount Fuji?
People say the average time is 6 hours for the ascent and 3 hours for the descent. If you walk around the crater without stopping, add another 1.5 hours.
Personally, I climbed up in 3:40 hours (I wanted to train a bit) and spent 2:30 around the crater exploring and taking photos. I climbed back down in 1:20 running a LOT to try not to miss my bus. As I missed it anyways, the suffering was for nothing…. oh, things that happen while traveling…
Saying this, the time you will start your climb depends on a few factors:
how long you think it will take you to climb Mount Fuji

how much time you want to spend on the top of the mountain

what time the sunset or sunrise is
By calculating all of this, you can have an idea about what time is best to start your climb.
How much does it cost to climb Mount Fuji?
Taking out the cost of transportation and accommodation, the truth is that the climb itself is free. However, there is a recommendation to donate 1,000 Yen during you hike to help with the maintenance of the structures on the mountain. I recommend….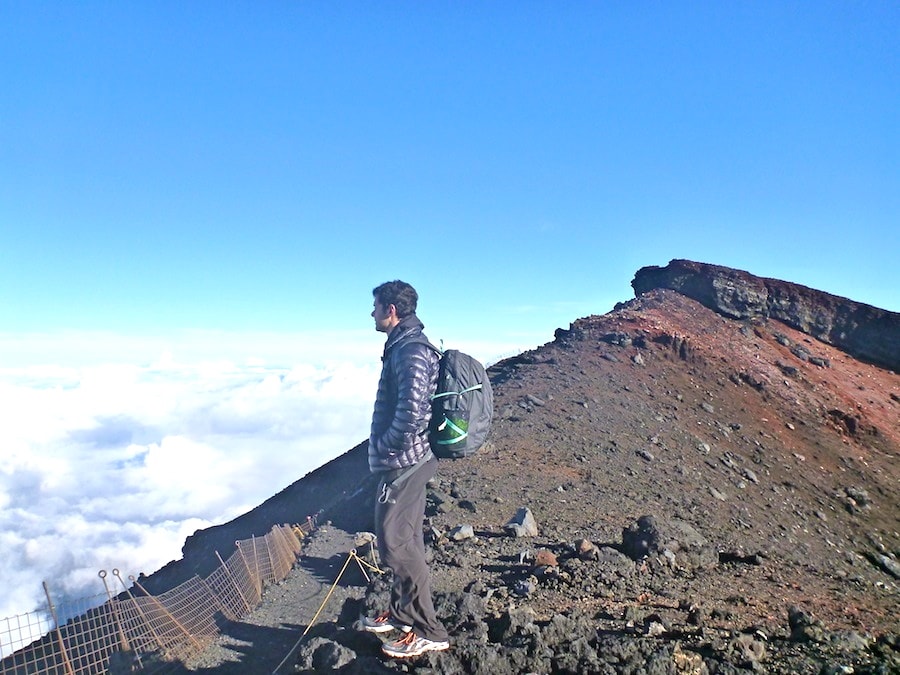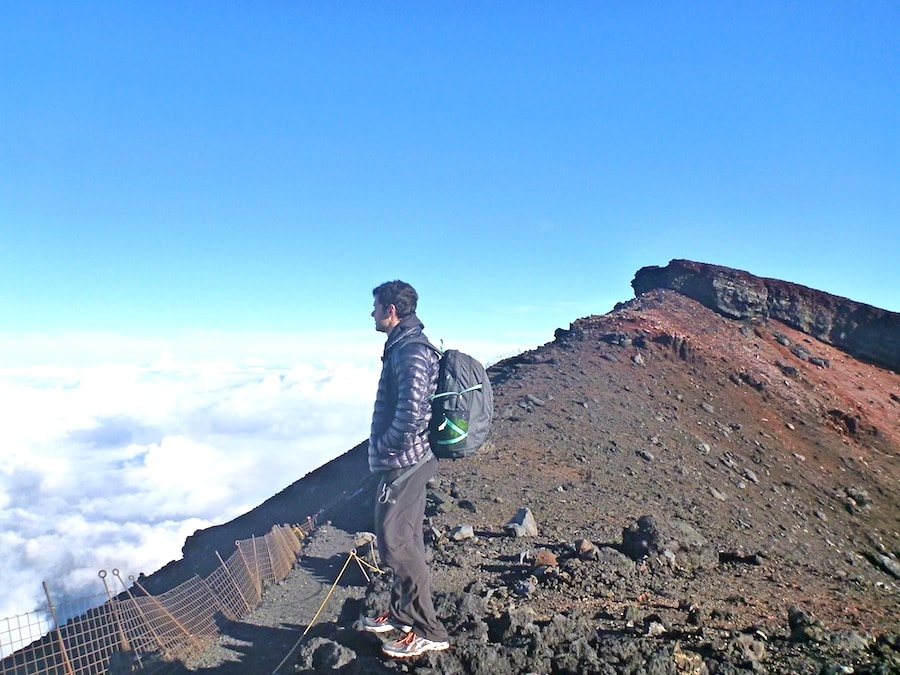 Climb the mountain in a day and return to Tokyo or stay the night close to the mountain?
My suggestion: stay close to the mountain! Specifically, stay in the region of Fujiyoshida where there are several good quality hotels as well as low-cost hostels. To read about the 6 cheapest and best sites to find your hotel, hostel, and info about Airbnb, take a look at this article.
You can probably get to your accommodation from Fujisan Station walking or taking a local bus or train.
By sleeping in the area, you can take your time resting before and after the climb, making the whole process more leisurely.
In case you just want to do a day trip to save the most you can, just pay attention to the trains from Tokyo to Fujisan in Fujiyoshida and the bus from there to "5th Station" on Mount Fuji.
One possibility of a schedule to climb Mount Fuji and return to Tokyo the same day would be as follows:
Departure: Shinjuku Station- 06:40 AM – Arrival: "5th Station" – 09:05 AM (you can buy these tickets on the same site that I mentioned above – https://highway-buses.jp/fuji/)
Departure: "5th Station" – 09:05 AM – Arrival: The ascent, time at the top, and descent (10 horas) – 19:05
Departure: "5th Station" – 19:18 – Arrival: Shinjuku Station – 20:55
Personally, I wouldn't recommend this particular journey…it's extremely rushed, tiring, and you won't have a lot of time to appreciate the climb. Although, if this is your only option… it's better than nothing.
The Total Cost to Climb Mount Fuji starting from Tokyo and returning to Tokyo the cheapest way possible:
Tokyo Central Station to Shinjuku Station = 400 yen roundtrip
Shinjuku Station to Fujisan Station = 2.500 yen roundtrip
Fujisan Station to "5th Station" = 2.100 roundtrip
Total for transportation: 5.000 Yen (US$ 42) to climb Mount Fuji from Tokyo and return to Tokyo the cheapest way possible. Exchange rate for 04/09/2015
Other possible costs:
Suggested donation of 1,000 yen (which I recommend)
Accommodation (one night before or afterwards) = starting at 3,000 yen
Grand Total: ≈ 10.500 (US$ 88) to climb Mount Fuji from Tokyo cheaply yet more comfortably. Exchange rate for 04/09/2015
TIP 2: Don't forget to have a travel insurance that covers risky activities such as climbing a mountain up to 3.776 meters (12.388 feet) high. I give the 3 best and cheapest travel insurance options in this article. I know the insurances number 1 and 3 would cover you if something happened during your climb of Mount Fuji.
What do I need to bring to climb Mount Fuji?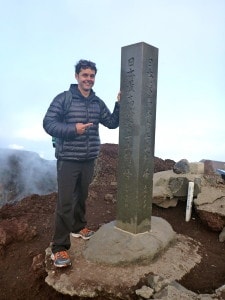 Here, I'll just mention what you need for the hike itself, not for the trip in total.
As I said before, the ascent is relatively easy if you have basic physical preparation. Besides this, there are various "stations" along the way to the top that sell everything. But I'll recommend the basics in case you don't want to buy anything on the mountain:
Enough food for 10 hours of intense exercise
Also, enough water for 10 hours of intense exercise unless you want to buy on the mountain (I bought almost 4 liters of water because I like to stay hydrated… it was heavy, though)
Torch, best if it's in the form of a headlamp

Money

Sunglasses

Sunscreen

Hiking boots; I recommend them although I used running shoes with minimal problems (besides some sore ankles). There is a lot of sand on the descent so I had to stop and clean them every once in a while. So, no matter what, if you have boots to use it's definitely better.
Hiking clothing; the bottom part of the mountain was fairly warm and the top, even though it was summer, was cold (around 6 C / 42.8 F). So I climbed up wearing half as much in shorts and a t-shirt and after I put on pants (I'd avoid jeans) and a jacket. There were also people who started the hike already wearing a bunch of clothing.
Gloves; I didn't bring them, but my hands were a little cold at the top… I think they'd be very important to have during other parts of the year)
An extra t-shirt or pair of socks if you'd like to change partway through
Rain jacket or clothing; you can get a disposable one if you want. On the mountains, the weather can change quickly
If you think you'll have problems with the lack of oxygen, you can buy cans of oxygen near the mountain for you to use just in case. A girl at my hostel gave me one that she bought but didn't use. I brought it with me but I didn't need to use it. They are super light and relatively cheap.
Cell phone if you have it in case of emergencies
A hat if you'd like one
Tape for your foot in case you get a blister that might bother you
A backpack to carry everything

And, finally, will, energy, and a big smile because, at the end, it's an incredible place!
Finally, since you are traveling to Japan, don't forget to check my article about the 2 most important things you need to know before going to Japan.
Japan tours, activities and excursions
If you are looking for activities and tours in Japan, I recommend that you take a look at GetYourGuide, Tiqets and Viator. There you can find and buy amazing tickets, tours and excursions in Japan and using the promotional coupon: RBBV5OFF you get a 5% discount on the entire site.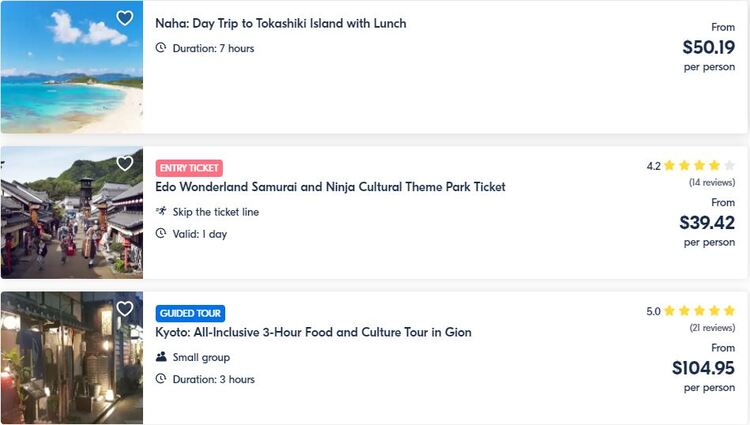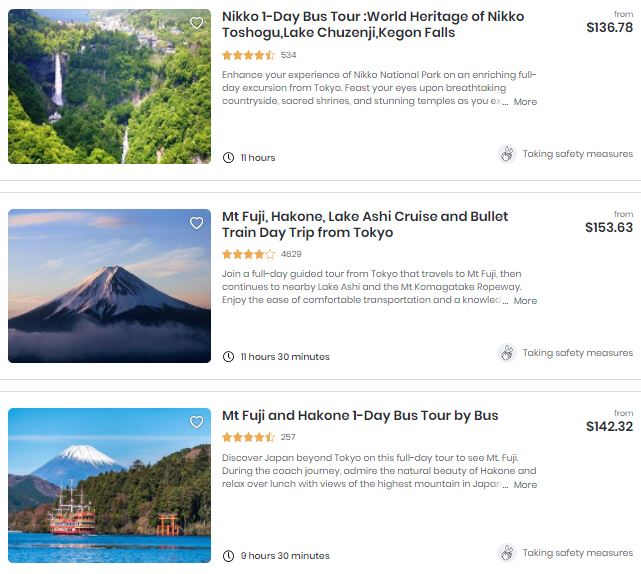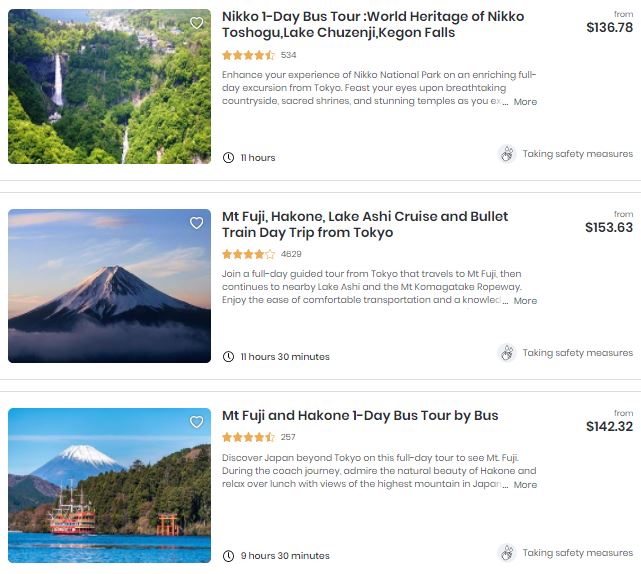 Well, that's it. I hope that you will also one day have the opportunity to visit Japan and climb this stunning mountain. If you have any more questions about how to arrive at Mount Fuji that is not clear above, please ask me in the comments area below.
And as always… happy travels!
Planning your next trip?

Then don't forget travel insurance! You don't want to get stuck paying a ton of money and ruining your trip if you get sick or have an accident without travel insurance. WorldNomads is ideal for adventurous travelers, backpackers, or anyone looking to be protected during their trip. They cover almost every single activity you can image!

Already reserved your hotel or hostel? If not, we recommend Booking.com. They have a huge selection of hotels and hostels all over the world. Plus, in most cases, you can cancel your reservation without any costs up to a few days before the check-in date!

Still haven't booked your plane ticket and want to save big? Take a look at Momondo. It's a flight aggregator that combines several other ticket search websites to make it easier for you to compare prices and make sure you are getting the best deal.

And finally, will you need to rent a car during your trip? Then check out Rentalcar.com to search and compare car rental companies from all over the world in a single website. Then, you can find the cheapest price for the best car!
If you want to hear about new articles, check out our latest pictures, and read our newest updates, be sure to follow us here….
…..and subscribe to our newsletter below!