Last Updated on by Editor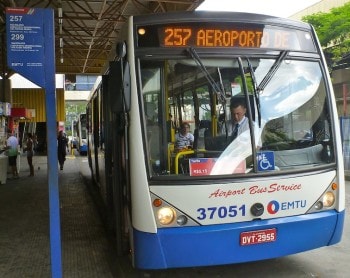 For those who don't know, São Paulo's international airport is actually located in Guarulhos, a neighboring city. This is fairly normal as international airports for large cities are often located in smaller towns. The problem, then, is how to get from there to where you want to go (usually the main big city).
We'll use Paulista Avenue in São Paulo for this post because it is one of the main areas for business and tourism in São Paulo, with a lot of hotels and it's not too far from the center. From there, you can then take the metro or bus to get anywhere else in São Paulo.
­­­­­­­­­­­This time, we won't even consider the car as an option because, during rush hours, it can take 2 hours…. possibly longer than the domestic flight you just took within Brazil.
What I'll focus on for this post is the cost of each of the options that I'll give. The comfort is up to you.
(to use the new train and subway to go from Cumbica airport to Sao Paulo, see all the information updated in the last option below).
Taxi!
For those here for business that don't want to lose time and are putting your travel expenses on your company's tab… or for those who are traveling with many people and can split the cost or just want comfort, this option is for you.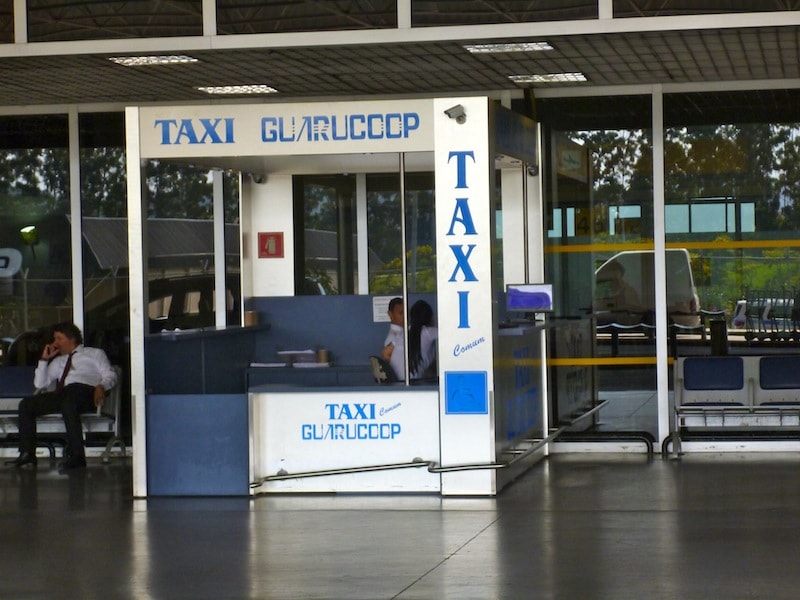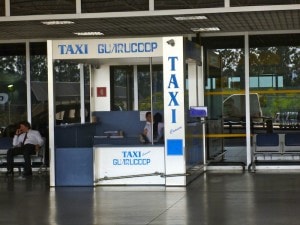 Unfortunately, outside of limousine, helicopter, or private jet, this is one of the most expensive options of transportation around the world. If you want to learn how I feel about taxis, take a look at my page about how to save on ground transportation.
Although I do have to agree that this way is extremely convenient, it's rather out of the question for backpackers. To get from Guarulhos Airport to Paulista Avenue, you'll pay around US$ 23,42. Plus, there's no room for negotiation because there's a bit of a monopoly within the Guarulhos airport. If you are coming from the opposite direction (from the city to the airport), and take a cab on the street, you might be able to negotiate a bit more.
No matter what, US$23.00 is absurd. To put this into perspective, you can sleep in a hostel dorm room in São Paulo for less than $10.00. So, the cost of your taxi will be the cost of accommodation in São Paulo for almost 4 days!! Sometimes, you can even find domestic flights within Brazil for less than that, too.
If you still want to use a taxi, go to this site: Guarucoop
Remember that you can pay with a credit card too.


Addendum: Uber!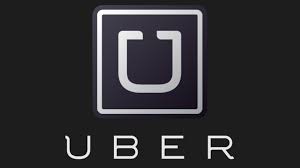 This is the big fad around the world when it comes to urban transportation. Uber is an application that provides a service similar to the traditional taxi, but the drivers are locals who own cars and have registered to offer paid "rides" to passengers who have the application. It's something of a paid lift.
How to register and use the service:
You must sign up and download the application Uber, available on Android, iOS and Windows Phone. You need to have an international credit card to sign up.
By signing up with here, Uber you get a free ride worth up to US$ 15.00!

With the application open, select your starting address. It will then make an estimate of how long the driver will take to arrive.

You can see the price of the ride before asking for the car.

Having made the request, enter your final destination. The app then shows what should be the fastest route, the name, model, license plate number, and the driver's phone number.

At the end of the ride, an e-mail with the price, duration and the route is sent to the user.
Right now, a ride with Uber from Paulista to Guarulhos Airport is coming out around 25 to 30 USD… so, just under the cost of a taxi.
The Airport Bus Service
For those who have a little bit more time, are traveling alone, and want to save a bit more without losing comfort:
This is a bus service from the Government of São Paulo that, in my opinion, is very cozy since it is clean, has air conditioning, a bathroom, and even free water!! They have several lines that go to different places in São Paulo. To get to Paulista Avenue, specifically, it costs around $7,64 and you can pay with credit card. The bus runs 4 different times during the day.
Just ask Airport Information to find out where to catch the Airport Bus Service. It leaves near arrivals.
For specific schedules, prices, and current information about the different bus lines, you can check this site: Airportbusservice.
Guarulhos bus line
For broke backpackers and budget travelers: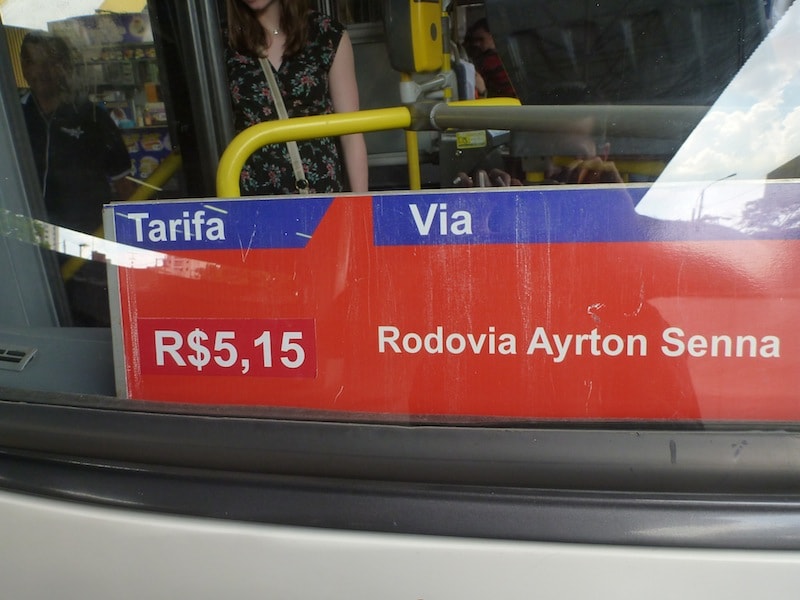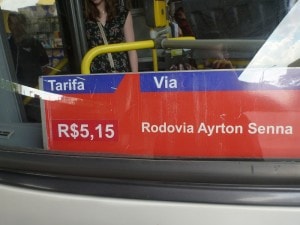 As I already explained on my page about saving on transportation, those who work at the airport definitely don't take taxi or shuttle bus every day… they take public transportation! So, if you want to find the cheapest way to get to the city center, just ask the airport workers how do they get to work each day. At the very least, this tactic works for me in 90% of the airports around the world.
This is by far the best options in terms of price. Catch bus number 257 (which is more direct and quicker than the 299) and go to Tatuapé metro station for less than US$1.37. From there, you can take the metro for about US$ 0.94 to get to anywhere in São Paulo, including Paulista Avenue.
The total will be about US$3.25…voila!
Here are some useful sites for this option:
Bus schedules and prices-
Schedule for the bus Guarulhos-metro (257):
Website for São Paulo's metro system: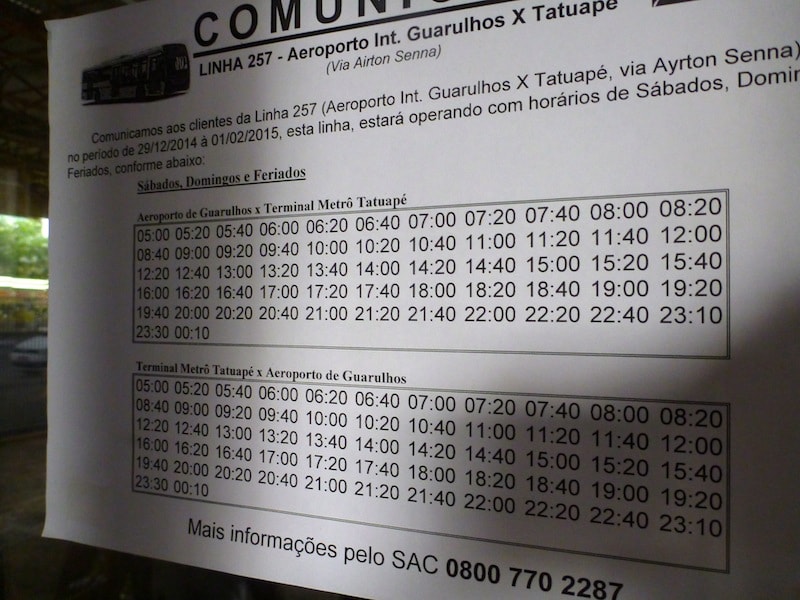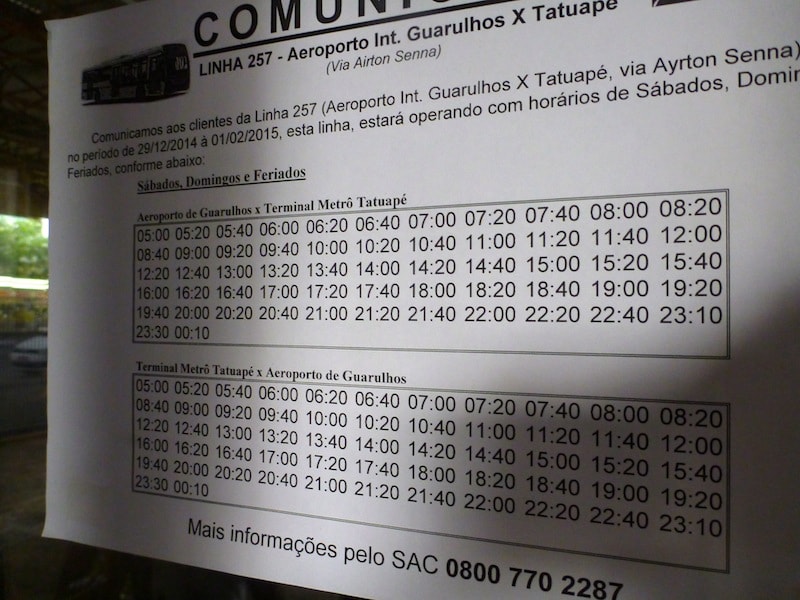 Free alternative if you are Flying with TAM or GOL
You can take the free shuttle bus from these airlines that go from the Guarulhos airport to the Congonhas airport, which is nearer to the city center. Just show your flight ticket to the bus driver. The buses are near the exit for arrivals and you can ask the information center where to find them if you need to.
When you arrive at Congonhas, you can get to Paulista Avenue in two different ways:
By taxi: costs about $13.00

By direct bus to Paulista: costs about US$1.20. This is without the doubt the cheapest option of all… US$0.94 to get from Guarulhos to Paulista!! To find out what bus to take, ask at the information center at the Congonhas airport. The only detail, as mentioned before, is that you have to be flying with TAM or Gol. You can also use this method to get from Congonhas to Guarulhos if needed.
You can see the exact schedules for the TAM shuttle bus here:
And for the GOL shuttle bus: Voegol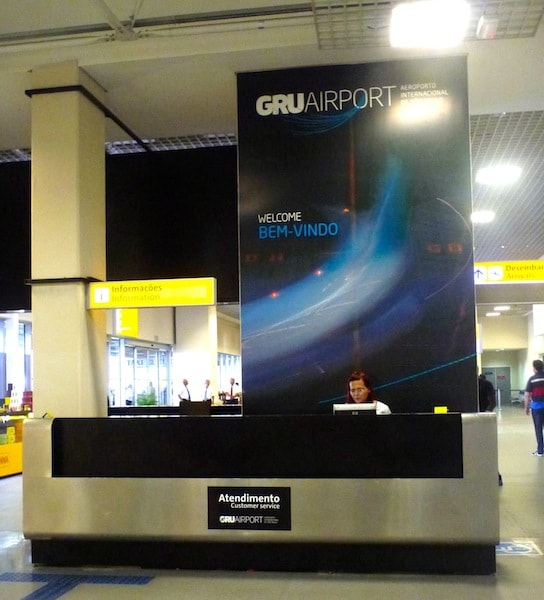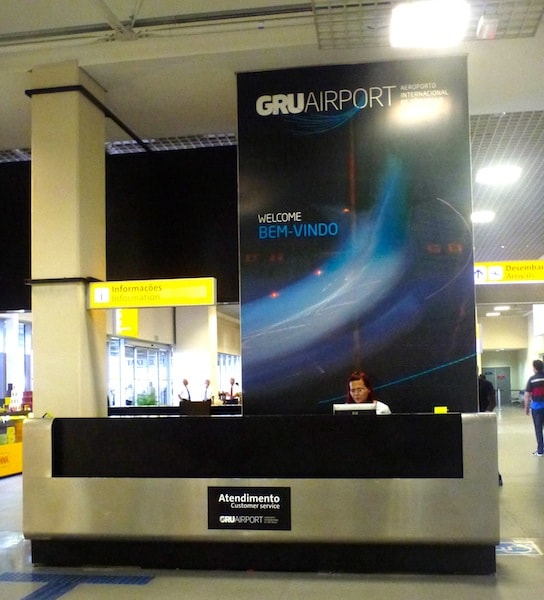 Rent a car
Obviously, you can also rent a car at the airport and use it during your time in São Paulo. To know more about it, just check out our article with The 5 Best and Cheapest Websites to Compare and Rent Cars Around the World to find the best car rental prices in São Paulo!
About our last option
Sorry, the free shuttle from Diners card was discontinued….
New option!
How to get from Guarulhos Airport to the center of São Paulo by train and subway
Finally!! After much delay, we now have a rail link between Guarulhos Airport and São Paulo. Well, almost that because the train that leaves the Luz or Brás stations do not go directly to the airport's embarkation terminals. It goes to the Airport Station next to the cargo terminal and from there you have to pick up a free bus to terminals 1, 2, or 3.
Here is a summary of the rail transportation options between Sao Paulo and Guarulhos Airport with everything you need to know.

Express Train Airport-Express
Route: Luz and Airport station (without stops)
Travel time: 35 minutes
Price: R$ 8 (about $1,70 USD)
Hours of operation: Airport-Luz (9h, 11h, 13h, 15h, 21h) and Luz-Airport (10h, 12h, 14h, 16h, 22h). Only during the week. It does not run on weekends.
To get to Paulista Avenue: from Luz subway station you take the Yellow line and go to Paulista station.
When to use: It is the fastest option for those who go downtown or Paulista Avenue. But more expensive and with fewer schedule options.

Express Train Connect
Route: Brás and Aeroporto stations (with stops)
Travel time: 35 min
Price: R$ 4,40 (about $0,94 USD)
Hours of operation: During the week (6:20, 7:00, 7:40, 19:00, 18:40 and 19:20) and Saturday (6:25, 7:05 and 7:45). Does not run on Sundays.
To get to Paulista Avenue: from the subway station Brás you take the Red line to the República station and from there, you will go to the Yellow line and go to Paulista station.
When to use: It is also fast for those who go to Brás or Downtown and a little more time to Paulista, but it is cheaper. Also with fewer schedules but works on Saturdays.

Train Line 13-Jade
Route: Eng. Goulart, Guarulhos-Cecap and Aeroporto Guarulhos stations
Travel time: 15 minutes
Time between trains: 30 minutes
Rate: R$ 4,40 (about $0,94 USD)
Hours of operation: every day from 4 a.m. to Midnight.
To get to Avenida Paulista: This option is more for those going to Guarulhos. But it's also good if you need to take the train from Guarulhos Airport outside of the other working hours of the two other options. In this case, to get to Paulista Avenue, you will have to get off at Goulart Engineer Station, take the Blue line by train to Brás. At Brás, take the Red metro line to the República station and from there, you can go to the Yellow line and go to Paulista station.
When to use: Also cheap and with the best schedules since it works every day from 4 a.m. to Midnight. However, you have to make several transfers until you reach the Center or Avenida Paulista which takes much longer.

Bus from the Airport Station to Terminals 1, 2, and 3
Operation schedule: same as line 13-Jade
Route: Guarulhos Airport terminals 1, 2, and 3
Time of travel:
• To terminal 1: 2 minutes
• To terminal 2: 9 minutes
• To terminal 3: 14 minutes
Time between buses: 15 min
Price: free
Obviously, to go from Avenida Paulista to Guarulhos Airport, just do everything backwards! These schedules and prices are valid for 14/04/2022.

Airlines at each Terminal in Guarulhos Airport
Terminal 1 (gates 101 to 109):
Azul and Passaredo
Terminal 2 (gates 201 to 246):
Aerolineas Argentinas, Aeroméxico, Air Europa, Austral Líneas Aéreas, Avianca, de Aviación, Copa Airlines, Cubana de Aviación, Delta Airlines, Ethiopian Airlines, Gol, Latam (domestic flights), Royal Air Maroc, Sky Airline, TAAG, Taca and Tame.
Terminal 3 (gates 301 to 326):
Air Canada, Air China, Air France, Alitalia, American Airlines, British Airways, Emirates, Etihad, Iberia, Korean Air, Latam (international flights), Lufthansa, Qatar, Singapore, South African, Swiss, TAP.
Speaking of flights, if you want to save money on airfares, be sure to check out our article with the 3 Best International Sites to Buy Cheap Flights and Find Deals in 2018.
Activity ideas for your visit to São Paulo
If you are passing through São Paulo and do not have anything organized yet or want to know about possible activities and excursions, I recommend taking a look at GetYourGuide or Viator. These two sites sell tickets for activities, museums, activities, and attractions. Here are some examples …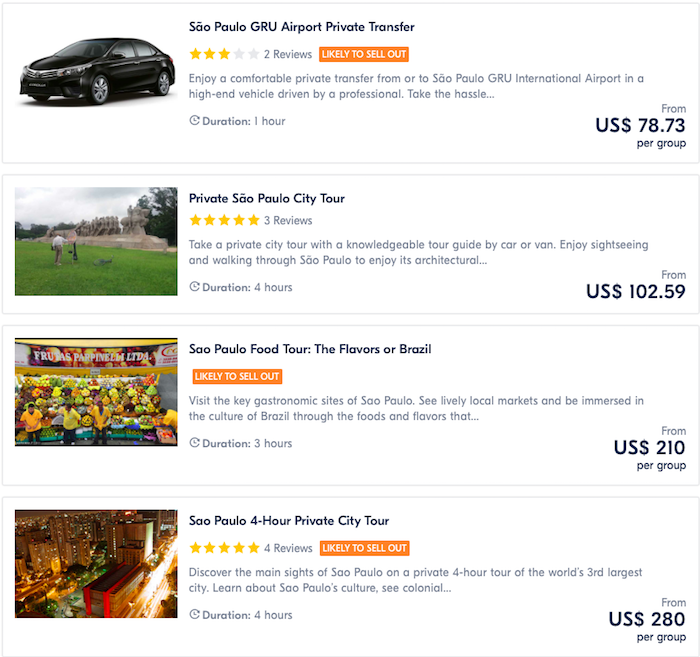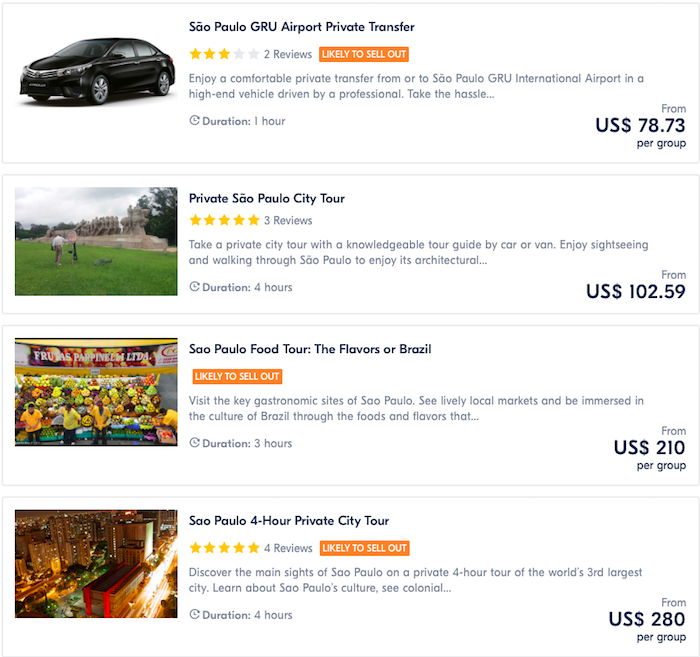 VIATOR (just search for São Paulo in the search box)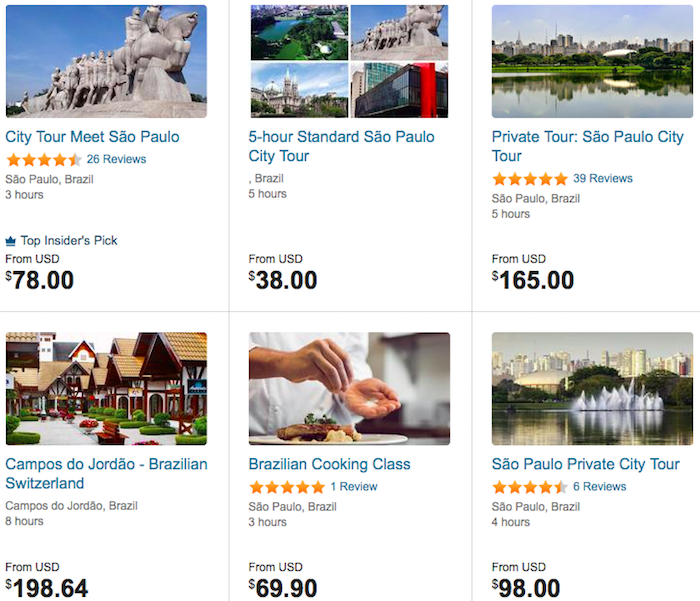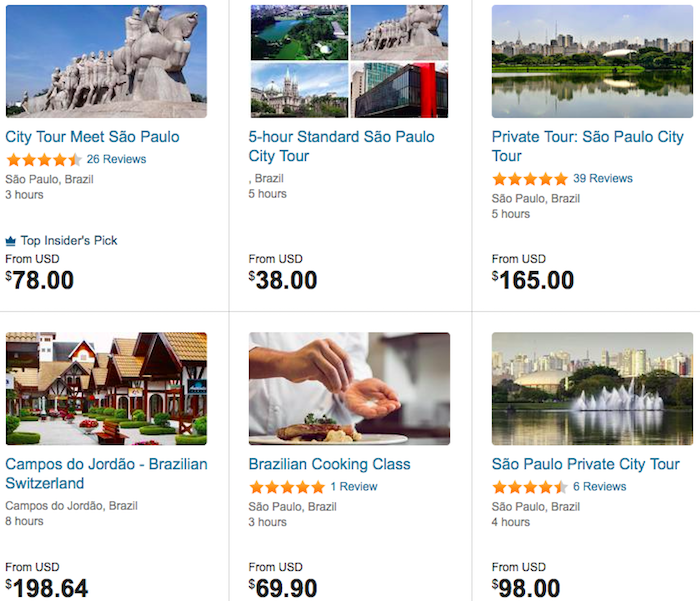 Well, as this blog focuses on budget travel, I guess I don't need to say what my preferred options would be. However, all of the options are there if you want them. If you have more tips about this trip or you have a different information from what was given in the article, please, use the comments area below.
Oh! And don't forget that the above prices and schedules are current as of 06/23/2015.
Happy travels!
Planning your next trip?

Then don't forget travel insurance! You don't want to get stuck paying a ton of money and ruining your trip if you get sick or have an accident without travel insurance. WorldNomads is ideal for adventurous travelers, backpackers, or anyone looking to be protected during their trip. They cover almost every single activity you can image!
Already reserved your hotel or hostel? If not, we recommend Booking.com. They have a huge selection of hotels and hostels all over the world. Plus, in most cases, you can cancel your reservation without any costs up to a few days before the check-in date!

Still haven't booked your plane ticket and want to save big? Take a look at Kayak and Momondo. It's a flight aggregator that combines several other ticket search websites to make it easier for you to compare prices and make sure you are getting the best deal.

And finally, will you need to rent a car during your trip? Then check out Rentalcar.com to search and compare car rental companies from all over the world in a single website. Then, you can find the cheapest price for the best car!
If you want to hear about new articles, check out our latest pictures, and read our newest updates, be sure to follow us here….
…..and subscribe to our newsletter below!