Last Updated on by Lohanna Reis
Discover the main points that should be considered when choosing a temporary stay in São Paulo, Brazil.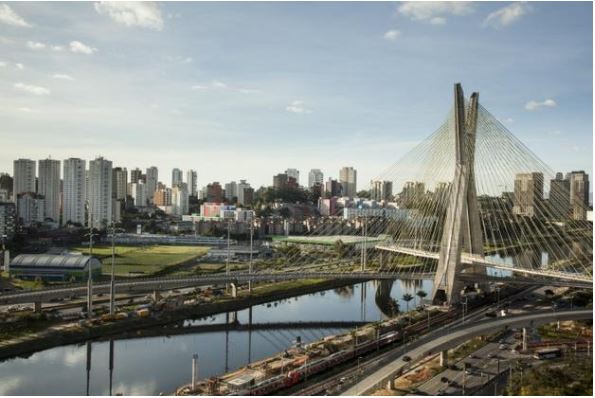 Without a doubt, the metropolis of São Paulo, regarded as the largest city in Brazil, is an excellent destination for those seeking to get to know new cultures, travel for business or spend their vacations. After all, there are plenty of job opportunities, leisure and entertainment options there.
It is no wonder that São Paulo is known as a place where you can find everything. However, it is necessary to consider that, just like any capital or large city, São Paulo also offers risks, and it is necessary to prepare to minimize them. For this reason, I have prepared a basic guide of the main points that should be taken into account when choosing a temporary stay in São Paulo. 
Check out the list below and then tell me what you think, but first:
What to do in São Paulo?
There is a plethora of things to do in São Paulo, although it doesn't have the tranquility of the interior or the charm of the coast, this is one of the most amazing regions in Brazil. No wonder that the state of São Paulo has more than 44 million inhabitants! 
If you are a curious traveler and want to explore the main sights of the city of São Paulo during your temporary stay, here are some must-see places.
Visit the top of the Itália Building and get one of the most impressive panoramic views of the city. While you are in the area, stop by the Mercado Municipal and enjoy a codfish pastry, a mortadella snack, or the exotic fruits that are commercialized there. 
Stop by the Municipal Theater and the São Paulo Cathedral and appreciate the detailed architecture of these sights seen in many postcards of the city. 
And of course, don't leave out Paulista Avenue – the city's main street. There you will find stores, restaurants, cafes, commercial buildings, museums, and even the famous Trianon Park, a green space in the middle of the "stone jungle". 
Another well known park in the city, but this one is much bigger, is the Ibirapuera Park. The classic Sunday morning program for Paulistanos is to go for a walk, exercise, or ride a bicycle among the trees and green spaces of this grand park. 
But beware, if you are not familiar with the city, you may want to hire a local guide or purchase city tours at the beginning of your stay. Although vibrant and charming, São Paulo is a place of huge social inequality and because of this it is not the safest destination. 
Therefore, depending on the region, it is not recommended to explore like a curious traveler before adapting to the hectic pace of "Sampa". This could easily turn you into a target of scams or robberies. 
Take a look at my article with the 5 Best Websites to Book Tours, Tickets & Attractions Around the World, the companies listed offer many affordable programs in São Paulo and this way you can guarantee the safety of your trip. 
5 Things to Consider When Choosing the Ideal Property for your Stay in SP
 

 1. Choose a region/neighborhood in São Paulo that suits your needs
The first step in choosing the ideal temporary housing is to analyze the regions that best suit your needs. After all, avoiding traffic and crowded public transportation is fundamental for those who want to have a good experience in São Paulo.
Therefore, if you are a university student, the best thing to do is to look for a studio apartment for rent in SP close to the university.
If the purpose of your trip is leisure, look for apartments or apartments near the desired tourist attractions. The same goes for those who are looking to expand their business in the city. In this case, the Paulista or Faria Lima regions would be ideal. 
In São Paulo, practicality is the key.
   2. Choose neighborhoods with easy access to public transportation in São Paulo
In fact, choosing an easily accessible location in São Paulo is essential to save time and avoid frustration. So, regardless of the purpose of your trip, look for neighborhoods that contain subway stations or bus lines, such as, for example, those located in the South Zone of the city.
   3. Analyze the entire commerce and leisure infrastructure in the São Paulo neighborhood of your choice
The more complete is the infrastructure of the chosen neighborhood, the better will be your stay in the city. In São Paulo, it is not difficult to find a furnished apartment for rent in developed regions, ready to offer a multitude of pharmacies, supermarkets, bakeries, shopping malls and popular commerce.
However, it is also interesting to prioritize neighborhoods that have parks, squares, and places that aspire to culture and entertainment.
Itaim Bibi, for example, considered one of the city's best neighborhoods, besides offering an excellent commercial network, is also home to nothing less than Ibirapuera Park, the Afro Museum, and Iguatemi Shopping Mall – ideal options to serve and entertain the whole family.
   

4. Consider your preferences when finding temporary accommodation in São Paulo
In the multifaceted metropolis, no one can complain about a lack of options to choose from. Therefore, to find the ideal region for your stay, consider your preferences. 
Do you like to have bars nearby to go out at night, or do you prefer a quieter, more familiar neighborhood?
Are horn sounds tolerable or unbearable for you?
These and many other factors should be previously analyzed when defining the location where you want to stay in São Paulo.
   5. Security in São Paulo: an essential factor
Last but not least, security is fundamental when traveling to São Paulo. Therefore, besides researching the violence index of the regions, it is necessary to choose a busy neighborhood that has a great flow of people and cars and that is not surrounded by other dangerous areas.
In addition, another relevant tip is to analyze the lighting of the regions, since this factor also contributes to greater security. After all, even though some buildings and condominiums have doormen and 24-hour monitoring, one cannot deny that dark and deserted streets can increase the number of robberies, especially when travelers need to walk late at night.
Anyway, did you like to discover the main points to choose the ideal property for your stay in São Paulo? Tell me in the comments and keep an eye on the blog, soon we will have lots of news here.
Planning your next trip?