Last Updated on by Rodrigo @ OutofYourComfortZone
Moving to the USA can be a daunting experience, but buying property in Florida for expats can provide a sense of stability and security. Buying property in the USA can be daunting, especially if you need to become more familiar with the local real estate market. However, with proper preparation and research, you can set realistic expectations and make an informed decision.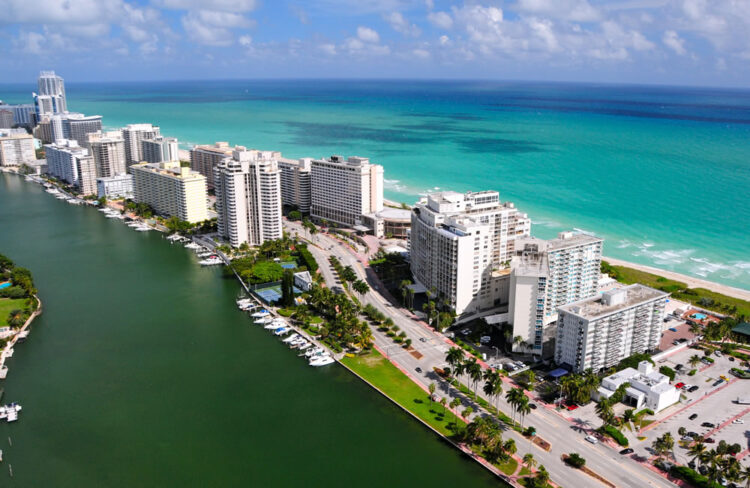 What type of property you are interested in?
Firstly, it is imperative to determine what type of property you are interested in, whether it be a townhouse, vacation home, or luxury home. Each property type has pros and cons, so it is imperative to consider your budget, lifestyle, and preferences before making a decision. With affordable prices and a variety of options, you can find the perfect home for you and your family. Visit Florida.Realestate to start your search today!
Buying property in the USA requires careful consideration and preparation. You can make an informed decision by setting realistic expectations, conducting research, and seeking professional advice. You can also find the most suitable property for your needs.
Townhouses
According to the National Association of Home Builders, townhouses accounted for 12% of all residential home construction in 2019. Townhouse popularity varies by region, with the Northeast and Midwest having a higher concentration of townhouse developments.
Townhouses offer an excellent blend of affordability, community, and convenience that appeals to many homebuyers. Invest in your future by purchasing property in sunny Florida!
Vacation homes
Vacation homes are popular in the United States, particularly in warm weather destinations such as Florida, California, and Hawaii. While they require more maintenance and can be more expensive than primary residences, they can also be a valuable investment and a source of rental income.
Is Florida unique?
Florida is an exceptional state in many ways, but one of the most extraordinary things about it is the presence of flamingos. These scarce birds are not found in other states, making Florida memorable. The pink flamingo is an iconic symbol of Florida, and it's easy to understand why. With their vibrant colours and graceful movements, flamingos are genuinely stunning.
They can often be seen wading in the shallow waters of Florida's beaches and wetlands. A trip to Florida to see flamingos is mandatory for nature lovers, and it's just one of many reasons why this state is so unique and beloved by so many.
Can Florida's location attract people to live there permanently because of its starry skies?
From an astronomical perspective, Florida's location significantly impacts night sky observation. Due to its southern latitude, Florida provides an excellent opportunity to observe celestial objects not visible from northern areas, and it includes the southern hemisphere stars, as well as objects in the eastern part of the Milky Way galaxy. Additionally, Florida's warm and precise weather conditions make it an ideal location for stargazing throughout the year.
This unique astronomical perspective could be a significant draw for people considering moving to Florida. The state already has a thriving tourism industry, and promoting its astronomical advantages could attract even more visitors and residents.
Astronomy enthusiasts may be particularly interested in relocating to Florida to enjoy its dark skies and unique celestial views. Furthermore, the state's proximity to several space centres, such as NASA's Kennedy Space Center, could be a significant draw for those interested in space exploration and astronomy.
Is it possible to prepare psychologically for buying property in the USA?
Research
When choosing a location, consider proximity to work, schools, and public transportation. Determine your price range. It will depend on your income, savings, and the financing you can secure. To research:
1. Use online real estate listings and resources like Zillow or Redfin.
2. Attend open houses and schedule tours of properties that interest you.
3. Talk to real estate agents and mortgage lenders to better understand the local market and financing options.
4. You can confidently approach the home-buying process by understanding the location, property type, and price range that suits your needs. You can also make an informed decision that meets your needs and budget.
7 Main Places to Buy Property in Florida, USA
Florida, known as the "Sunshine State," is not only a popular tourist destination but also a sought-after location for real estate investment. With its stunning beaches, vibrant culture, and favorable climate, Florida offers a diverse range of options for those looking to purchase property. Whether you're seeking a vacation home, a rental property, or a permanent residence, here are some of the best places to consider when investing in property in the Sunshine State.
1. Miami: The Urban Oasis
Miami is undoubtedly one of Florida's most iconic cities. It boasts a unique blend of cultures, a vibrant nightlife, and a thriving arts scene. The real estate market in Miami offers a mix of high-rise condos, luxury waterfront properties, and historic neighborhoods. South Beach, with its famous Art Deco architecture and stunning oceanfront views, is a prime location for both investors and vacationers. Downtown Miami's skyline has been continuously evolving, making it a hotspot for contemporary urban living.
However, it's important to note that Miami's real estate market can be competitive and pricing can be on the higher side. If you're looking for prime urban living with a touch of glamour, Miami might be the perfect choice for you.
2. Orlando: More Than Just Theme Parks
Known primarily for its world-famous theme parks, Orlando has more to offer than meets the eye. With a growing job market and a relatively affordable cost of living compared to other major Florida cities, Orlando is becoming an attractive destination for families and young professionals.
The city's real estate market includes a mix of single-family homes, townhouses, and condos. The suburbs surrounding Orlando offer quieter living options, while the downtown area provides a more energetic urban atmosphere. As Orlando continues to diversify its economy beyond tourism, investing in property here could offer long-term benefits.
3. Tampa Bay: Gulf Coast Gem
Tampa Bay, located on Florida's Gulf Coast, is another top contender for property investment. The region is known for its stunning waterfront views, cultural attractions, and booming job market. Tampa's historic neighborhoods, such as Ybor City, offer a unique blend of history and modern amenities.
St. Petersburg, just across the bay from Tampa, is also a popular destination for property investment. Its downtown area has experienced revitalization, attracting both residents and businesses. The real estate options in Tampa Bay range from waterfront condos to suburban family homes, making it a versatile choice for various investment preferences.
4. Fort Lauderdale: The Venice of America
Fort Lauderdale's extensive canal system has earned it the nickname "The Venice of America." This coastal city is known for its picturesque waterways, stunning beaches, and upscale dining and shopping options. Fort Lauderdale offers a more relaxed atmosphere compared to the bustling energy of Miami.
The real estate market in Fort Lauderdale includes a mix of luxury waterfront properties, upscale condos, and charming neighborhoods. With its growing reputation as a cultural hub and a focus on community development, Fort Lauderdale presents an enticing opportunity for property investment, especially for those seeking a more tranquil yet sophisticated lifestyle.
5. Naples: Luxury and Leisure
Naples, located on Florida's southwestern coast, is synonymous with luxury and leisure. This upscale city offers pristine beaches, high-end shopping, and world-class golf courses. Naples is particularly attractive for retirees and individuals seeking a more exclusive living experience.
The real estate market in Naples mainly consists of luxury homes, condos, and gated communities. Properties here often come with premium amenities and breathtaking views. While the cost of living and property prices in Naples tend to be higher, the city's quality of life and potential for appreciation make it a strong contender for property investment.
6. Jacksonville: The Bold New Frontier
As Florida's largest city by area, Jacksonville offers a diverse range of neighborhoods and lifestyles. With a growing economy and a relatively lower cost of living compared to other major Florida cities, Jacksonville has become an appealing destination for those seeking affordability without compromising on quality.
Jacksonville's real estate market includes a variety of options, from suburban family homes to urban condos. The city's ongoing development projects and commitment to fostering a vibrant cultural scene make it a city to watch in terms of property investment potential.
7. Sarasota: Arts and Beaches
Sarasota, situated on Florida's Gulf Coast, is a haven for art enthusiasts and beach lovers alike. The city boasts a thriving arts and cultural scene, including the renowned Ringling Museum of Art. Along with its artistic offerings, Sarasota features stunning beaches and a relaxed yet upscale atmosphere.
The real estate market in Sarasota includes a mix of waterfront properties, historic homes, and modern condos. The city's emphasis on cultural enrichment, combined with its beautiful surroundings, makes Sarasota an attractive option for those looking to invest in property with a touch of sophistication.
Concluding….
Florida's diverse landscapes, vibrant cities, and appealing lifestyles make it a prime destination for property investment. Whether you're drawn to the glitz and glamour of Miami, the family-friendly atmosphere of Orlando, or the upscale leisure of Naples, the Sunshine State offers a variety of options to suit different preferences and investment goals.
Before making a decision, it's crucial to conduct thorough research, consider local market trends, and consult with real estate professionals who are familiar with the specific area you're interested in. While each of the mentioned cities has its unique charm, potential investors should carefully weigh factors such as property appreciation potential, rental demand, and lifestyle amenities.
Investing in Florida real estate can provide not only a potential financial return but also a chance to immerse yourself in the state's diverse culture, natural beauty, and year-round pleasant climate. Whether you're looking for a primary residence, a vacation home, or a rental property, the best place to buy property in Florida ultimately depends on your personal preferences, investment goals, and vision for the future.
Last thoughts: Set realistic expectations
Understand market conditions and your budget to avoid disappointment. First, identify and acknowledge any fears, doubts, or anxieties associated with the purchase. Then, one can research and gather information about the market, the property, and the buying process to increase their knowledge and understanding. Don't miss out on this incredible investment opportunity – visit the website to find your dream home.
Planning your next trip?

Then don't forget travel insurance! You don't want to get stuck paying a ton of money and ruining your trip if you get sick or have an accident without travel insurance. WorldNomads is ideal for adventurous travelers, backpackers, or anyone looking to be protected during their trip. They cover almost every single activity you can image! Plus, you can have a 5% discount with the coupon code comfort5.

Already reserved your hotel or hostel? If not, we recommend Booking.com. They have a huge selection of hotels and hostels all over the world. Plus, in most cases, you can cancel your reservation without any costs up to a few days before the check-in date!

Still haven't booked your plane ticket and want to save big? Take a look at Momondo. It's a flight aggregator that combines several other ticket search websites to make it easier for you to compare prices and make sure you are getting the best deal.

And finally, will you need to rent a car during your trip? Then check out Rentalcar.com to search and compare car rental companies from all over the world in a single website. Then, you can find the cheapest price for the best car!