Whether on a dream vacation in Hawaii, an English course lasting several months at a language school in New York or a backpacking trip along the American coast. Regardless of why your trip to the United States is booked – in many cases, not only is the appropriate visa required to enter the United States. International health insurance can also be requested!
Whether you are staying in the USA for a week, a month or even a year: adequate international health insurance coverage should not be lacking during this period. A thorough health check should also be at the top of the list for preparing for the next trip.
But why do I really need additional health insurance for my stay abroad? And under what conditions should I pay special attention? What is the best international health insurance for the United States?
Keep reading to know more….
Why do I need international health insurance in the United States?
What is the use of additional health insurance if I already have a health plan in my country? Well, first of all, there is no way to avoid foreign health insurance in some cases, as it is mandatory. Besides that:
It is an obligation to stay in the United States
If you want to vacation in the USA, you don't just need a suitable visa to enter. Foreign health insurance is also an essential requirement for staying on American soil. And that is a good thing, because otherwise the personal travel budget would decrease very quickly due to the high costs of medical interventions and medicines in the event of an accident.
But in the case of vacations, a simple cheap travel insurance would be enough. This article here is more aimed at people who are going to spend more time in the USA, or studying, or working, and need medical assistance in the United States.
Your home country health insurance does not operate in the USA
Health insurance coverage is no less important during time in the US than at home: Since the vast majority of foreigners health insurance does not cover hospitalizations or medical appointments in the USA, you need additional insurance for your stay abroad to cover you in case of illness. This is especially important in a healthcare system as expensive as the United States.
That is why (long-term) health insurance is so important: In case of illness, you can avoid spending fortunes on unforeseen health treatments.
Additional protection against financial difficulties.
International health insurance initially cannot mean just additional costs that add to the already high costs of staying in the USA. In the event of an accident or illness, having this financial protection can avoid compromising your assets and assets.
Because, once you find yourself in a medical emergency and have not taken out international health insurance, you will notice how deeply you really have to dig your own pockets for rescue and treatment. Medical costs in the United States do not rarely exceed the costs that would be paid in your country for the same services.
Anyone who is regularly dependent on drugs should find out how they can be obtained in the USA and how much they cost.
The risk of accidents on sidewalks must also be considered
Accidents can happen much faster than some people think of all the activities and adventures you face while staying abroad. Whether sailing, climbing, riding a quad or diving – on vacation or on a longer stay for work or study in the United States, you are often exposed to unknown and dangerous situations that can quickly end with a broken leg or a deep injury.
Attention should also be paid to unknown plants and animals, whose substances (poisonous) our bodies can react strongly to, as well as the intense ultraviolet radiation in the southern regions of the United States.
What to look for in international health insurance for the United States
Health insurance is not taken out randomly from one second to the next, because first you have to find the one that offers the most relevant benefits in your case, among all the different providers, special rates and combined packages. So, we've put together some tips on how to take health insurance in the USA and what to watch next.
Find out which health insurance coverage you need specifically for your type of stay in the United States and what evidence you will need to provide upon entering. You should not only take out the first insurance that catches your eye, but find out from your current health insurer what additional insurance you need, in addition to your current protection.
Many insurers offer insurance tailored for specific stays abroad.
For example, there are specific rates for tourists, business travelers, students, interns, language students or travelers, for which family members or companions may have insurance. For students and interns, it is generally worthwhile to hire a combined package that includes not only international student health insurance, but also accident and liability insurance for your stay in the USA.
Don't be ashamed of wasting time comparing international health insurance! Since not only the costs incurred, but also the level of benefits under the individual rates differs considerably, you should definitely compare all options that are suitable for you based on the term, payments and any deductibles before taking out insurance.
The standard services that must be included in all insurance are outpatient and outpatient treatments, visits to the doctor, medications prescribed by the doctor and medically necessary repatriation.
With regard to other services, such as dental treatment, free choice of doctor and hospital, as well as medically appropriate return transportation to the country of origin, the services provided by individual insurers may be different.
How is the American healthcare system?
The United States offers extremely good medical care in many cases, but the American health care system is the most expensive in the world and is still far from complete. In 2014, however, mandatory insurance for all Americans came into effect.
Much of the population uses private health insurance; those who cannot afford it receive a state subsidy with which they can pay for insurance. Many employees also take out insurance through their employer.
However, hospitals and doctors are often not bound by predetermined cost rates, which means that many treatments are charged individually. From this, it can be concluded that the costs with medical appointments, treatments and also medications can be very high.
If you are going to live long-term in the United States as a resident, you will have access to health insurance for Americans. In this case, take a look at my article here with the 3 Best Sites to Search and Buy Health Insurance in the United States.
Tips: precautionary health measures in the United States…
Health check before going to the United States: Anyone planning a longer stay in the USA and doing an internship or semester abroad, for example, should definitely visit their family doctor before leaving for the big trip. A medical checkup and a general health check are useful to make sure that nothing is wrong in advance and to avoid an expensive doctor visit in the United States.
Vaccinations to travel to the United States: Each country has specific vaccination regulations, and the United States also has tropical regions, toxic and exotic animals and polluted water that can transmit harmful bacteria. If you want to learn more about possible infectious diseases and preventive measures before your trip, you can do so at a research institute in tropical medicine. You can also contact the Ministry of Foreign Affairs regarding vaccination and preventive medical care regulations.
Special entry regulations: The Ministry of Foreign Affairs also provides information on certain entry regulations for the United States. Exchange students, in particular, should inquire at their universities whether special preventive medical measures are necessary.
5 Cheapest International Health Insurance for Expatriates in the United States
  1) Cigna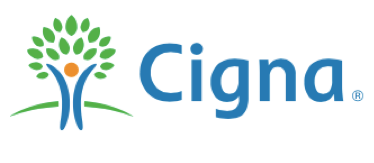 One of the most sought after international health insurance plans is Cigna. When choosing the plan, the customer has the option of three modalities: Silver, Gold and Platinum. In all of them, hospital accommodation and treatment fees, intensive care, surgeons and consultants' fees, transplants, diagnostic tests, local and air ambulance services, cancer treatment and some other services are offered, such as expatriation of the body to the country of birth. source.
It is important to mention that in the case of pregnancy, the basic plan does not support this special moment in life.
One of the great advantages of the international health insurer Cigna is the ease of adapting new benefits in the plan already contracted, which can be very useful during a treatment that does not appear to be sufficient in certain countries. Thus, if the neighboring country, for example, offers a new treatment option, transport and the start of this new method become much faster.
In addition, they have a prepaid payment option, where the customer uses the credits paid in advance.
Cigna also offers plans to postpone coverage for up to 90 days, which is very useful during the visit to the country of origin. In addition, it has one of the best structured support centers in the world, with a multilingual online service that operates 24 hours a day, 7 days a week.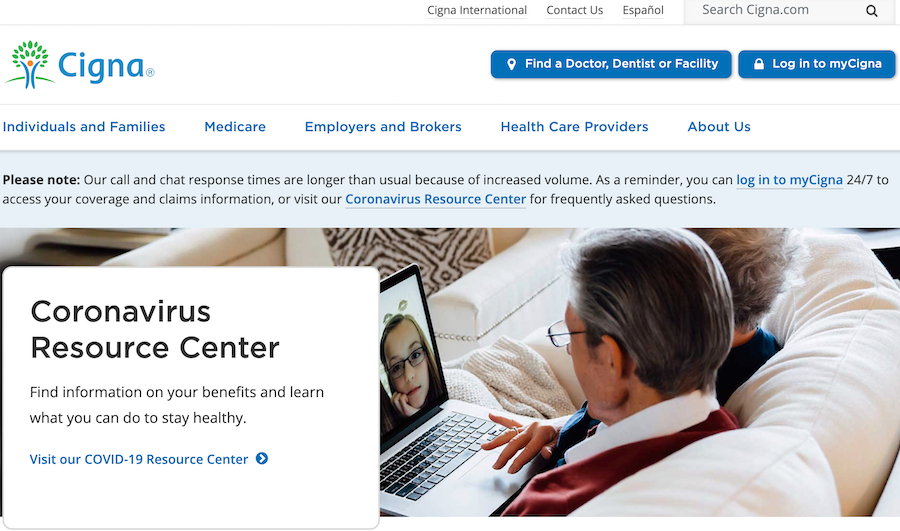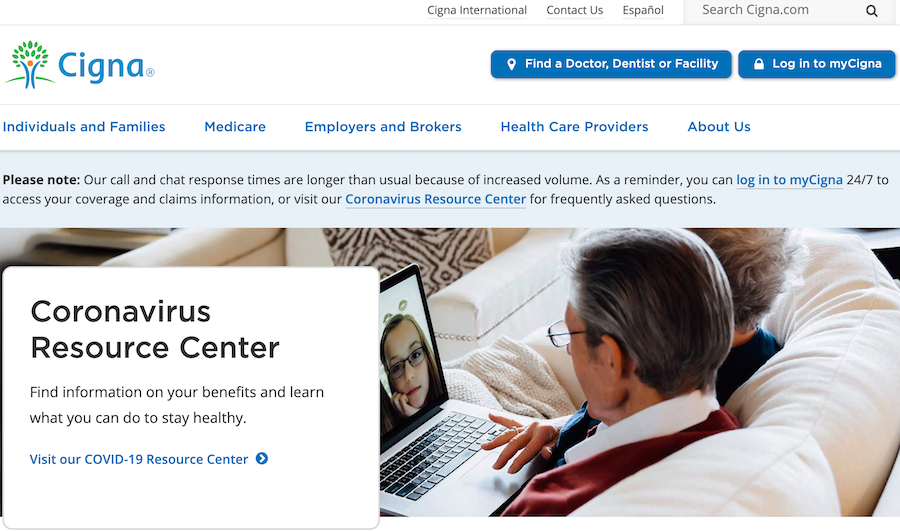 Regarding payment, Cigna offers monthly, quarterly or annual payment options. And for the doctor responsible for the consultation, the insurance company itself pays directly, which makes its coverage one of the largest in the American territory.
One of the great differentials of Cigna's international insurance plan is the coverage also in Middle Eastern countries, which can be very useful for professionals, such as journalists and participants of Non-Governmental Organizations (NGOs).
Using one of the largest coverage networks in the American territory, Cigna also has the possibility of organ transplantation in a complete way, which can help save lives in cases of accidents, for example.
In addition to medical care, one of the highlights offered by the Cigna platform is an area of ​​knowledge, where topics such as the financial system, culture and schools of the host country are clarified, so that customers can make the most of their trip.
  2) IMG

Another great international health insurance option for the United States is the one offered by IMG. Operating in various types of health plans, IMG has international health plans also aimed at students, interns and also for foreigns who will have a permanent residence on American soil.
Unlike the only 3 plans of the company Cigna, IMG offers 5 options for choosing international health plans, where customers can choose the one that best suits their health condition, lifestyle and financial status.
And yet, looking for new ways to lower their prices, this major health care provider also offers a discount of up to 50% in monthly fees, if the customer agrees to receive certain health treatments in countries neighboring the United States. This alternative may seem a little confusing at first, but it is important to mention that IMG is a solid company, with more than 30 years providing international health services in the United States.
In order to avoid problems with coverage and hasty medical care, IMG counts on a 24-hour online support, which aims to answer all questions regarding certain doctors and hospital health centers. There, even before going to the medical establishment, it is possible to schedule and choose which doctors and health specialists the client will receive the treatment for.
Together with Cigna, IMG has a wide network of medical professionals, with more than 17,000 doctors spread across the world, including in all major American cities.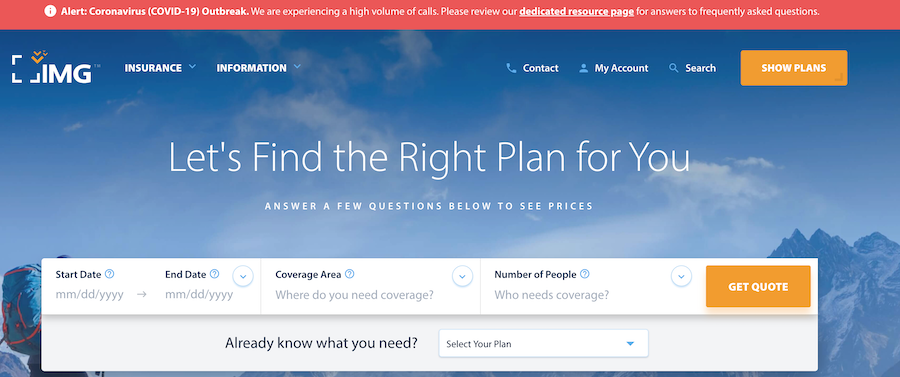 To further increase its network of doctors who are accepted by the plan, IMG, like Cigna, offers a payment for consultations to its customers directly in the doctors' account, without the participation of third parties. Thus, both parties are able to lower their costs, thus bringing savings to customers as well.
In cases where the whole family will be insured, the IMG company also indicates some special family plans, which bring a safe economy compared to the vast majority of insurers in the American territory. Regardless of the country of origin, a family health plan is also essential for financial security.
However, when purchasing international health insurance for the whole family, adults over 75 years old cannot be included. In such cases, the IMG insurer offers a separate plan, which can be used for life, with special prices.
And like the Cigna company, the most basic plan does not cover maternity expenses, so it is important to carry out some tests before signing the most economical plan.
  3) Aetna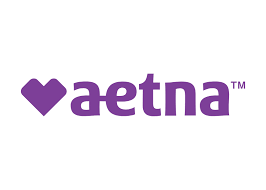 Another good option for international health insurance for expatriates from the United States is Aetna. This insurer has been in business for over 50 years and its main goal is to provide the best service within the needs of its customers.
Aetna covers foreign nationals living abroad and expatriates in more than 15 countries and territories around the world and offers a wide selection of customized plans designed especially for this audience, all with the aim of fitting perfectly into the demands of its customers.
Most of the company's plans include full coverage for hospitalization, cancer treatment, repatriation, and emergency evacuation. In addition, Aetna provides 24-hour customer service every day of the week for all your questions and emergencies.

If you are not familiar with this company, you should know that it has an exemplary TrustPilot score and has received awards for "Best International Private Health Insurance Provider" and "Health Insurer of the Year".
A great differentiator for Aetna, is that it has developed a free app that can monitor the health of its policyholders. Besides benefiting the company by keeping it updated on your habits, you also get a points system and benefits by practicing healthy habits. By accumulating points in the application, you can redeem various prizes such as gift cards at popular stores.
4) GeoBlue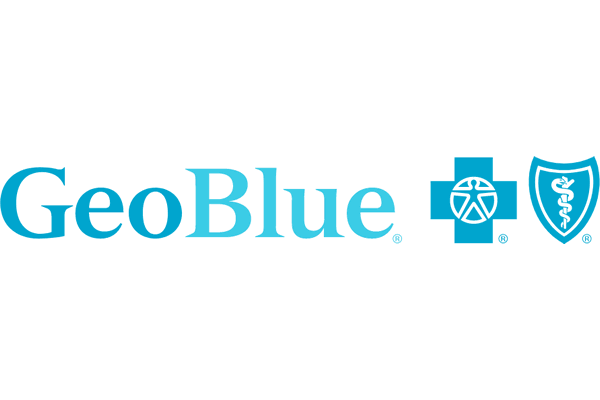 Geoblue is an insurance company that serves expatriates with one of the highest quality standards in the industry.
This company is among the most preferred for expatriates living in the United States because they offer a fully flexible plan exclusively for foreign residents in the US or US citizens living in other countries.
One of Geoblue's most popular plans is Xplorer, with which you can use standard services and receive unlimited medical care without paying additional deductibles. In addition, this plan covers extreme sports and has no cancellation fees.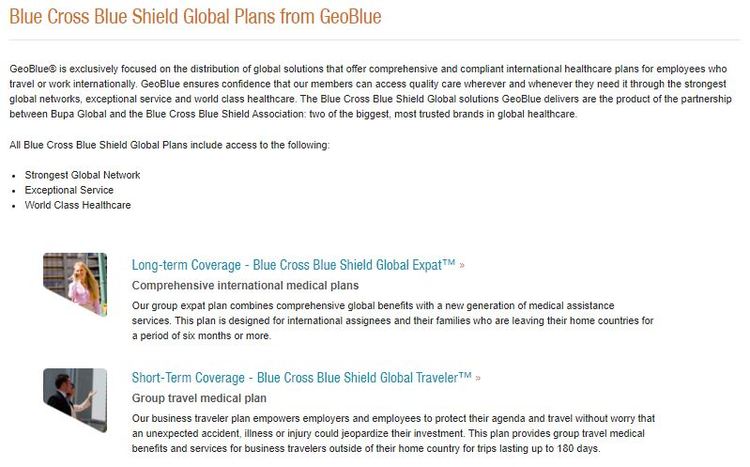 With a multitude of plans to choose from, Geoblue contains additional dental and eye care if that is of interest to you. One of the key differentiators of this company is the possibility of very comprehensive coverages with the possibility of evacuation plans, health appointments, and maternity care included.
In cases of Covid-19, Geoblue provides unlimited and totally free telemedicine care to its insureds with Coronavirus-related questions. Should your doctor order examinations, tests, and clinical treatment for Covid-19, Geoblue covers these costs.
  5) Safety Wing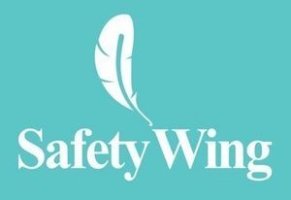 An option that is worth considering is the Safety Wing insurance company, which also has health plans aimed at new American residents, students and also for travelers, and business.
For the presentation of values, the length of stay in American territory is considered beyond your age, which can bring savings in some cases because you pay proportionately less per month the longer your health plan is.
Safety Wing has gained prominence lately, as it is one of the first international health insurers to cover COVID-19 tests for all its customers in the United States. Thus, it gained positive recognition from all the specialized press.
In addition, your online portal has multilingual attendants who can resolve the most common questions about your coverage network in minutes.
The Safety Wing company also stands out for its customers' ease of adding new treatments to their already contracted plans. Among these additional services, health plans, childbirth plans and prenatal care stand out, as well as physiotherapy consultations for specific treatments.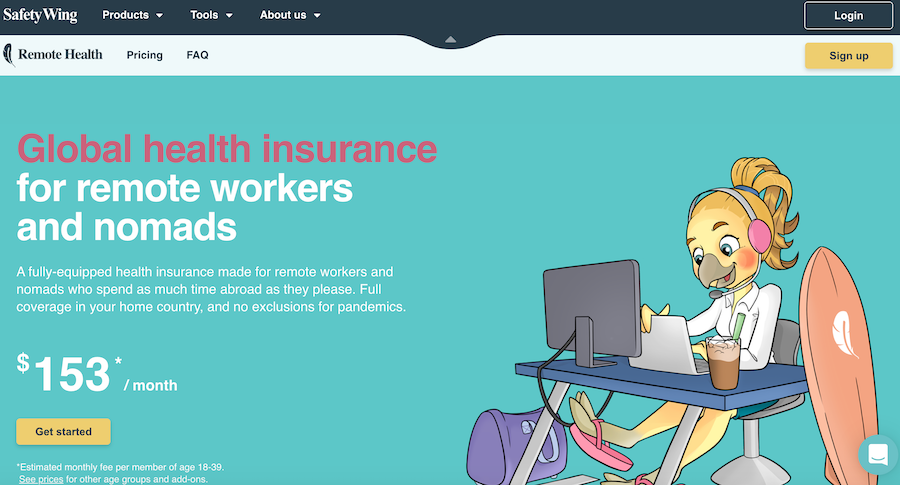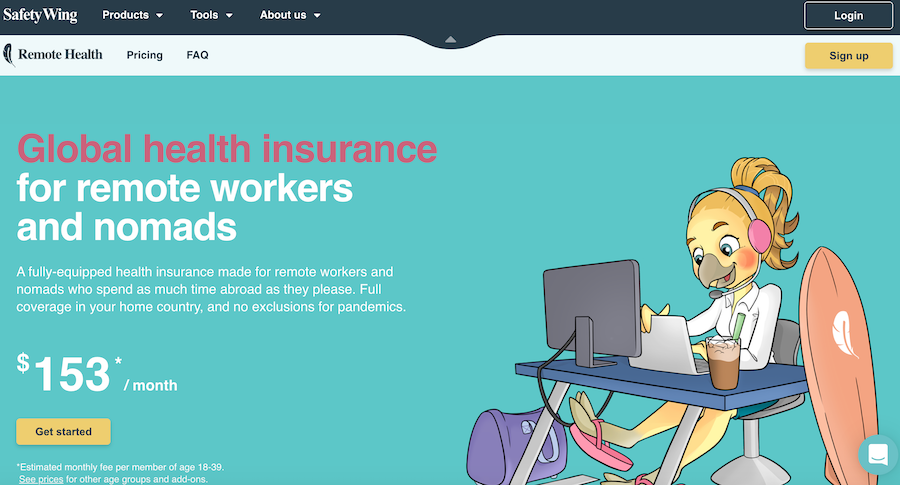 In addition to this facility, the company Safety Wing also offers full reimbursement if the best option for comprehensive treatments is in hospitals covered by the health plans provided by ObamaCare, which can bring a lot of savings to its customers.
For some special health treatments, such as cancer treatments and reconstructive surgery, Safety Wing even offers reimbursement in some special cases, where the patient's life may be at risk if any additional treatment is not possible due to lack of financial resources .
Like other operators, Safety Wing offers plans for the whole family. In this case, it stands out for not charging monthly fees for children under 10 years old, which can bring financial relief to many parents. And, like Cigna, it offers a suspension of coverage of up to 30 days every 90 days, for professionals and students who are always visiting families in their countries of origin.
Conclusion
Living, working or studying in a foreign country can be an exciting experience, but it still needs to be very well planned. And you will join thousands of people like you, who have the chance to explore the world outside their countries of origin, whether for work or study.
But as you make plans to get a visa and schedule that doctor's appointment for that late vaccine, don't forget to take a few hours to compare which of these international health plans for the United States are best for your needs.
Planning your next trip?
Then don't forget travel insurance! You don't want to get stuck paying a ton of money and ruining your trip if you get sick or have an accident without travel insurance. WorldNomads is ideal for adventurous travelers, backpackers, or anyone looking to be protected during their trip. They cover almost every single activity you can image! Plus, you can have a 5% discount with the coupon code comfort5.
Already reserved your hotel or hostel? If not, we recommend Booking.com. They have a huge selection of hotels and hostels all over the world. Plus, in most cases, you can cancel your reservation without any costs up to a few days before the check-in date! 
Still haven't booked your plane ticket and want to save big? Take a look at Momondo and Kayak. They are flight aggregators that combine several other ticket search websites to make it easier for you to compare prices and make sure you are getting the best deal. 
And finally, will you need to rent a car during your trip? Then check out Rentalcar.com to search and compare car rental companies from all over the world in a single website. Then, you can find the cheapest price for the best car!