Last Updated on by Lohanna Reis
Planning a trip is always exciting. Your mind is abuzz with dreams of adventures and new cultural experiences. What food will you eat on your travels? Who will you meet while exploring a new city's nightlife? How will you feel when you get to your final destination? You can hardly contain your excitement and are overjoyed when the big day finally arrives.
Then you look at your itinerary and suddenly realize you've got a long day of traveling ahead of you.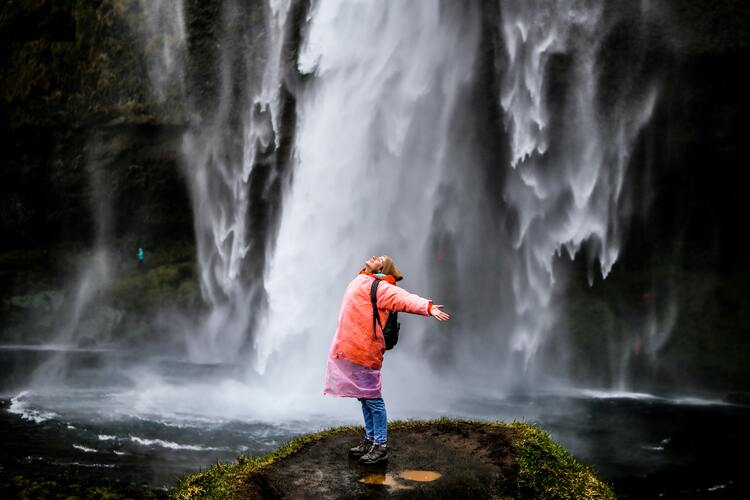 You may even find the idea of traveling all day overwhelming and could be tempted to cancel your travel plans altogether to avoid the drained feeling that comes with layovers, long flights, and expensive cab rides.
But it is possible to enjoy time spent traveling. You just have to take steps to reduce your stress and maintain a positive mental outlook. So, here's a quick guide to help you maintain your energy levels so you can enjoy your vacation and get the most from your travels.
1. Sleep
A good day of travel starts the night before you set off. Without 8-10 hours of sleep the night before traveling, you're almost guaranteed to start feeling cranky and suffer from a lack of energy. It's also worth checking out the time zone that you're planning on traveling to so you can adjust your sleep schedule to overcome jet lag quicker.
But you may find it difficult to drift off if you're excited or nervous about your upcoming trip. If this is the case, you must resist the temptation to go over your itinerary again or watch travel vloggers' content online.
That's because blue light mimics daylight and can wreak havoc with your circadian rhythm. Instead, find a guided meditation online and take a warm, relaxing bath before you head to bed. This will prepare your body for sleep and help you drift off sooner.
Once you get to your destination, jump right into your activities. Perhaps take a shower to wash off the airplane dirt and grime, but no sleeping on the job, especially if there's a significant time difference between your home and your destination. Sleeping during the day will only make your jet lag worse. Instead, start moving right away so that you will be tired when night actually rolls around.
When it does, do your best to maintain the sleep hygiene you keep at home. Your sleep routine exists for a reason. If you use a sleep mask and white noise, be sure to bring those tools with you on your trip to Crete. This will help ward off the jet lag and help you fall asleep that much quicker as you get used to the sounds of your new surroundings.
2. Eating Well While Flying
Plane food is notorious for its poor taste and stunning lack of nutrition. Of course, if you elect to upgrade to first class while flying, you should expect to get a tasty, 3-course meal that satisfies your palate and your body. However, most of us can't afford these upgrades, so you should plan on bringing your own food instead.
Start your travels off right by making a great breakfast the night before. There are plenty of delicious and healthy breakfast ideas to choose from like overnight oats, make-ahead muffins, and breakfast burritos.
These breakfast meals are energy-dense and don't require any prep when you're on the flight, which is important as not all airlines will help you prep your own food on the flight.
Packing your own food is also a thrifty way to travel. Airports ramp up the prices of food dramatically, as you're a captive audience while waiting for your flight. So, if you're planning to country-hop for a while, try to make the most of your hotels' breakfasts, and don't be ashamed to bust out the Tupperware before a flight.
3. Breaks on the Road
Not all travel plans involve taking to the sky. Some of the best travel can be found domestically by packing up your car and hitting the highways. But driving for hours on end can wear you down and take the joy out of traveling altogether.
So, you simply must plan ahead and take regular breaks if you want to avoid hopping from motel to motel in a state of exhaustion.
The best breaks on the road are often spontaneous, so don't be afraid to pull over for a scenic overlook if it's been a while since you last got out of the car.
You can also plan breaks by using historical highway marker guides that point out the most interesting facts about the state you are driving through. Including these kinds of stops make the journey part feel like part of your overall travel experience and can reignite your passion and energy for travel.
If you are a planner, you probably have a hard time sharing the load. While this might work in your day-to-day life, bearing 100% of the responsibility for travel is a sure way to get burnt out. Instead, find ways to delegate tasks to other folks in your group, and don't be ashamed to take a nap and let someone else take the wheel for a while.
Sharing the load is a little trickier if you are traveling with a family. Travel is stressful for children, and even the calmest of toddlers or teens can get stressed out while you are traveling. But, try to give your child limited responsibilities while you are traveling together.
This might include things like handing out snacks for younger children or reading the map for teenagers. By involving your children, you preempt the "are-we-there-yets" and lighten your load.
If you're flying with kids, be sure to not only bring their snacks but bring fun and games you all can share so there are no tantrums mid-flight. This might be one time tablets are okay for littles or when you finally get your teen a phone.
Bring tic-tac-toe so you all can play, or card games like go fish for the elementary kids and gin rummy for the older ones. This will keep their brains engaged and mentally wear them out.
5. Natural Energy Boost
No matter how many breaks you take, you will probably experience moments when you are low on energy and feel fatigued. You can overcome this by leaning on some natural energy-boosting strategies.
According to Harvard Health, some of the best ways to naturally boost your energy include reducing stress, exercising, and eating a healthy diet. However, these steps are hard to take while traveling.
Traveling is innately stressful, and you can't exactly bring a set of dumbbells with you. Instead, try to use flights or roadside breaks effectively by downloading a few guided meditations, and ensure that you stretch your body every few hours — yes, plane yoga is a thing.
If you exercise regularly when you're at home, don't let that habit lapse while you're traveling. There are plenty of ways to get in your exercise while you're on vacation. If you're on a walking tour, it will happen naturally.
If not, you can go for runs on the streets of London or hit the hotel gym to run on the treadmill. Buddy up with a fellow traveler so you feel safer. Are you a swimmer? Hit the hotel pool or the lake or river nearby.
Exercise not only energizes you, it helps you sleep better. There are myriad ways to fulfill your exercise regimen while traveling.
6. Health and Wellness
When you are traveling, it's easy to hyperfocus on your itinerary and fail to take care of your overall health and wellness. This can cause you to accidentally skip meals or forget to drink water for hours on end. This can lead to a major caloric deficit and dehydration — two things that are sure to zap your energy.
There's no perfect solution to maintaining your health and wellness while traveling, but you can set alarms throughout the day that remind you to hydrate and eat when you need to.
You can also make a game of health and wellness if you're driving, by taking a swig of water every time you see a landmark or eating a snack whenever you pass by 10-mile markers.
Maintaining your health and wellness is even more difficult if you suffer from a preexisting condition and need to take medicine. But, you can get better at taking medication while traveling by planning medication breaks way ahead of time and ensuring that you store your medication in a safe, easy-to-reach container.
If you forget to take your medication, stay calm and call your doctor so they can walk you through the next steps.
Another, and perhaps the most relaxing way, to jazz up your energy levels is to simply hit the pause button and enjoy your surroundings. If you're visiting a tiny Italian village, take advantage of all the small shops in the town square. Find a cafe that sells cappuccino and pastries and buy one of each. Sit out on the piazza and just watch the world go by.
While you're visiting Hampton Court Palace in London, sit on one of the benches outside the maze and observe the tourists. Try to guess the nationalities of each group based on their clothing. It's a fun game. Just don't guess aloud.
Stopping to smell the roses, as it were, may seem like a no-brainer, but when we're traveling, we tend to want to go, go, go. Instead, pause, pause, pause to take a look around. Or don't. Close your eyes if you wish and just listen to the hustle and bustle around you and take deep breaths that will restore your energy.
Conclusion
Everyone gets tired while traveling. It's a strange, limbo-like state where you can easily forget to eat or drink enough water, and might find your mind drifting off when you should be focused on the road ahead.
However, you can maintain your energy levels during a long day of travel by getting enough sleep the night before, and by bringing healthy, tasty food to enjoy. Don't forget to take regular breaks, too, as stopping to see the sights is an integral part of travel and can help you rekindle your energy during a long day of travel.
Planning your next trip?
Then don't forget travel insurance! You don't want to get stuck paying a ton of money and ruining your trip if you get sick or have an accident without travel insurance. WorldNomads is ideal for adventurous travelers, backpackers, or anyone looking to be protected during their trip. They cover almost every single activity you can image!
Already reserved your hotel or hostel? If not, we recommend Booking.com. They have a huge selection of hotels and hostels all over the world. Plus, in most cases, you can cancel your reservation without any costs up to a few days before the check-in date!
Still haven't booked your plane ticket and want to save big? Take a look at Kayak and Momondo. They are flight aggregators that combine several other ticket search websites to make it easier for you to compare prices and make sure you are getting the best deal.
And finally, will you need to rent a car during your trip? Then check out Rentalcar.com to search and compare car rental companies from all over the world on a single website. Then, you can find the cheapest price for the best car!