Last Updated on by Rodrigo @ OutofYourComfortZone
When you travel in a group, it's normal for costs to be divided between everyone. However, it's equally normal to get lost while doing all the bills and calculations and remembering who did or didn't pay for what.
And the more people involved, the more complicated it gets…and it gets more complicated still when some people pay by card, others in cash, one pays at the restaurant, another pays at the supermarket, another pays for someone else…it's chaos and what seems to happen every time.
But hey, it's okay. We're not walking calculators, after all! And luckily, there's a great app that can help us do the bills when we travel in a group.
And that app is called Tricount. So, say goodbye to the problems with splitting travel costs after you read today's article! Tricount is super easy to use and, most importantly, is free!
What is Tricount & how does Tricount work?
https://www.tricount.com/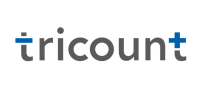 Tricount is, essentially, an application that helps you organize expenses. While it wasn't necessarily created to be used for travel, it's the best resource I've found for calculating how much everyone owes (who paid whom, who owes whom) when traveling in a group.
And it's very easy to use. Just add your costs for a specific trip, who paid for what for whom, and the number of people that this balance should be divided into the app. From there, all the expenses and balances will be very transparent – everyone that's been added into the app for a certain trip can see the actions of everyone else.
This means that nothing will be a secret within the app and everything will be passed through the group's approval. It's a very efficient way of avoiding getting lost in all the costs and getting confused when it comes time to pay everyone back or receive payment yourself.
And, as you've probably gathered already, this app is collaborative. This means that everyone added to a particular trip can make changes to the costs.
How to use Tricount beyond traveling with a group of friends
The Tricount app has some well-defined target audiences, although it can be used in many situations beyond the ones suggested on their website.
So, we'll talk a bit more about how 2 particular groups can use Tricount in their normal lives beyond just traveling!
How couples can use Tricount
Tricount can be a great option for anyone not yet accustomed to life in a pair (especially when it comes to managing expenses!).
You can add all of your day-to-day expenses and who paid for each into the app so you have better control of your home's finances. And you can put in all types of expenses from essentials like water and electricity to restaurants and excursions that you do together.
Bu Tricount doesn't just work for couples who live together. I personally know one couple who put all of their expenses together into the app: who paid for what restaurant, the ice cream, the cinema, etc…. So that way, they always know who owes whom and whose turn it is to pay for lunch

Beyond making the relationship fairer financially speaking, the app also helps you have better awareness of your day-to-day expenses without the stress of always having to calculate everything!
How roommates/flatmates can use Tricount
Normally, when we share a room or a home with other people, many costs will be shared as well. Whether that means the basic costs like water, electricity, rent, and internet or one-off expenses like fixing a broken appliance or groceries for dinner.
Tricount helps you avoid conflict and make the lives much easier for those who aren't good at controlling expenses and remembering who has paid what or who owes whom.
Benefits of using Tricount to split travel expenses during a trip with a group or with friends
Since this is the main focus of the article, this is the part of Tricount we'll be focusing on! I've personally used Tricount on a number of trips with friends.
Here's why I like to use Tricount while traveling with friends:
1. It helps me avoid confusion since everyone going on the trip has access to a breakdown of everything they've spent and how much they need to receive back from others. And if you have a trip where you'll have to convert money, Tricount will calculate costs in the local currency as well as the currency that you expect payment in from everyone.
2. It's practical and saves a lot of time. During the trip, the last thing that you want to do is spend part of your day just sorting through the bills. With the app, this necessary task will be made much simpler so you can spend your time on the "fun" parts of your trip!
3. You can save money since your bills will be organized and you'll know exactly how much you owe and how much you can spend. This'll help you avoid unnecessary costs and help you maintain financial control over your trip.
As I mentioned previously, these are just some of the situations that Tricount was made for. However, it can also be used in plenty of other situations, like in dividing the costs for an event or other one-time costs, like a football team dividing the field rental or a BBQ dinner, or a group that organizes their own excursion.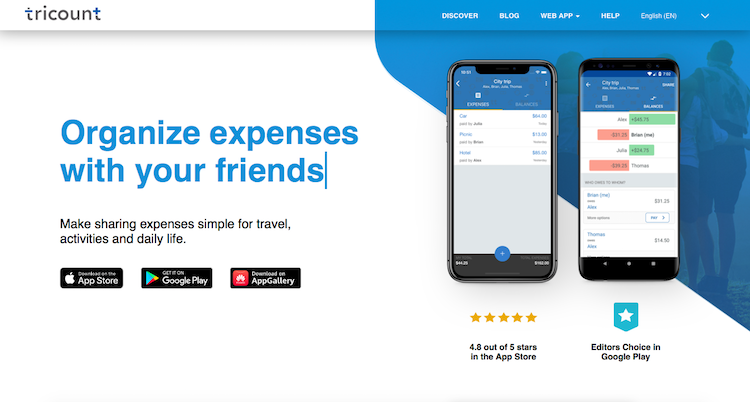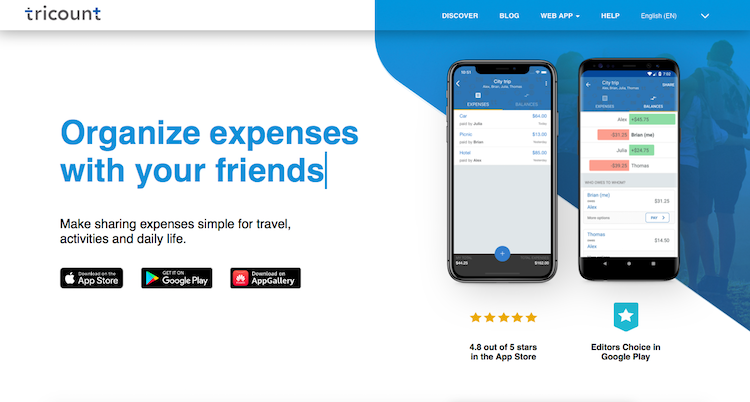 Once you have a general idea of the capabilities of the app, I'm sure you'll find even more situations in which you can use it in its life!
But personally, while I think the app is great overall, I like to use it while traveling above all else. So, below we'll go into exactly how you can use it on your trips.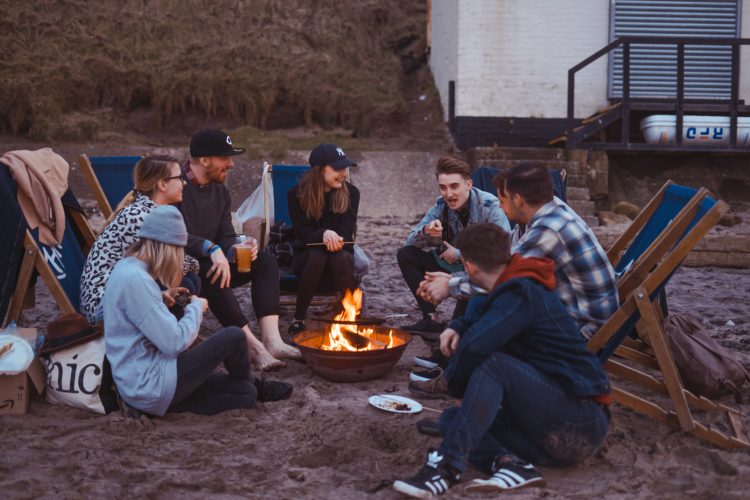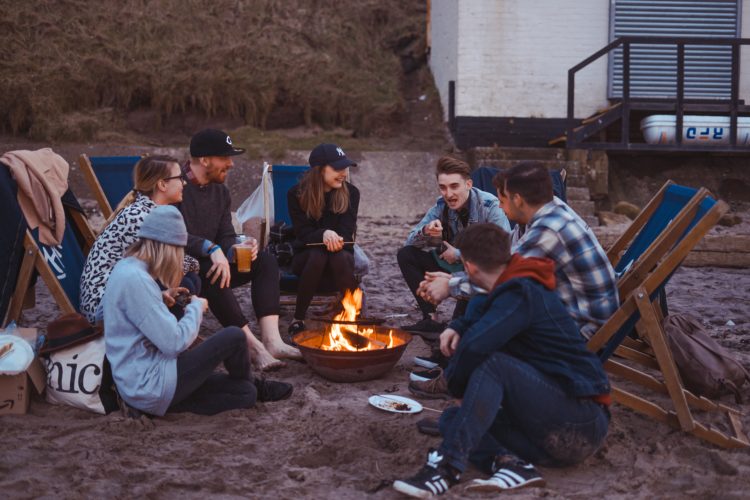 How to use Tricount to split & divide trip costs while traveling with a group: step-by-step instructions
Although Tricount is quite simple to use, I'll give you the 3 main steps to follow to use it below.
As an example, I'll show how I used Tricount for a trip I did to Bosnia and Herzegovina with 11 friends where we had to add in expenses for the group (or part of the group) often.
Here are the 3 steps to follow:
Add in all expenses

Check the balance

Do the bills
1. Add in all expenses
The first thing you need to do after opening Tricount is add in all the expenses for a certain event. You can name your event after basically anything – a trip, a night out, or even certain month if you're dividing with roommates or a partner back home.
In my case, our event name was "Bosnia."
After adding the title, you can add in the people participating in said event, a date, and the amount paid by individuals. At this stage, you can invite other participants to the event so that they can also add in shared expenses and be able to clearly see how much each person has paid.
For example, you can see in the image below that Lucia paid 6 BAM (Bosnian currency) for a taxi for the group. However, she paid this taxi ride for just a few of the 11 people that she was traveling with, and she was able to link this particular purchase to the individuals she paid for right in the app.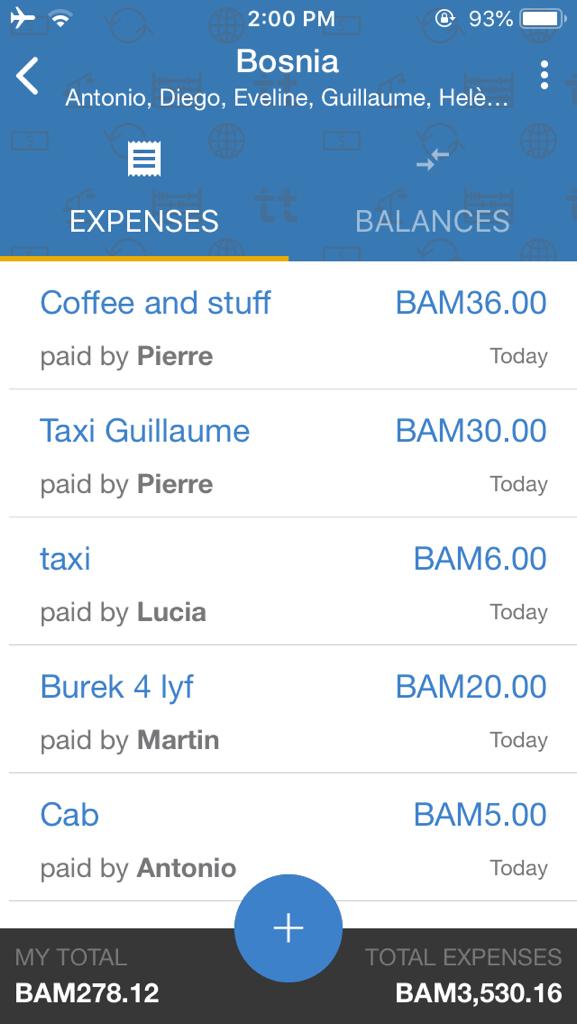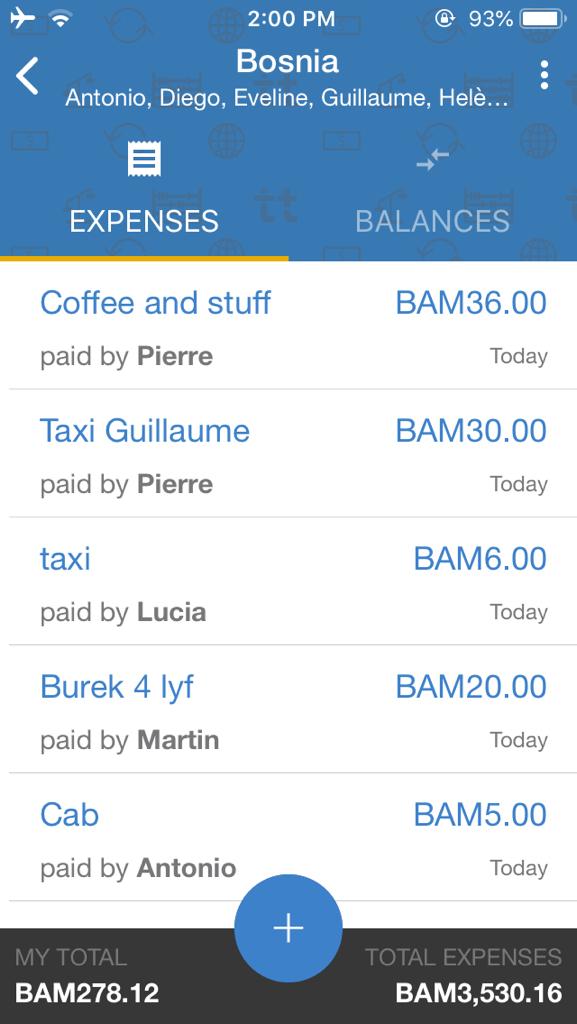 2. Check the balances
After everything is added up, the application will automatically calculate who still has a balance to pay and who has paid the most. It's really easy to see everything within the app and it shows, member by member, who owes you and how much they owe….as well as how much you owe. Each time that a member edits, adds, or removes an expense, everyone else will receive a notification.
For example, if I pay $10 for Pedro's dinner and Pedro pays $8 for Maria's movie ticket, Maria will still end up owing me $2 even if I never paid anything directly to her. Now imagine how complicated this gets with way more people involved! Luckily, Tricount counts everything on its own, calculating all the balances to minimize the final bills at the end of it all.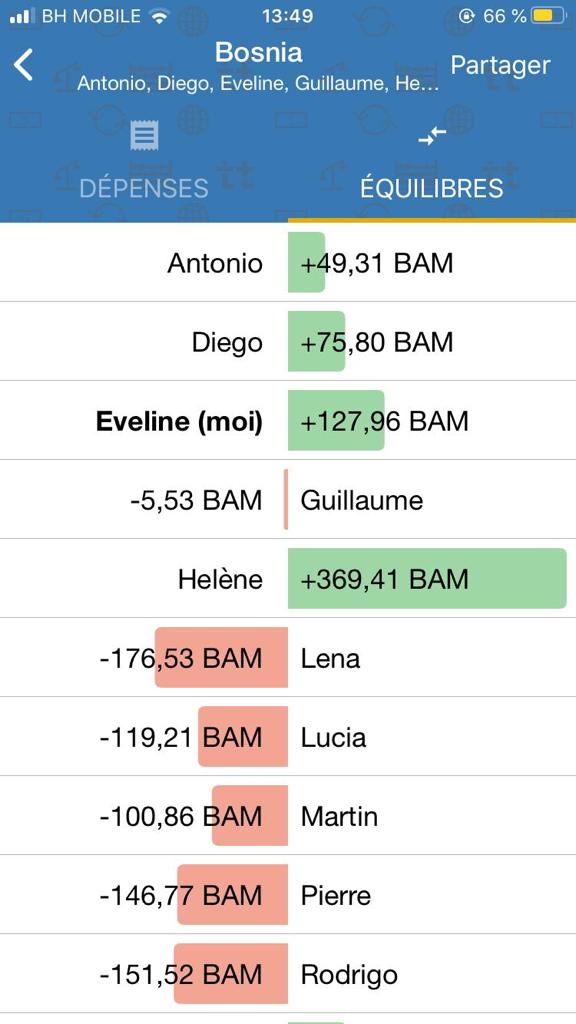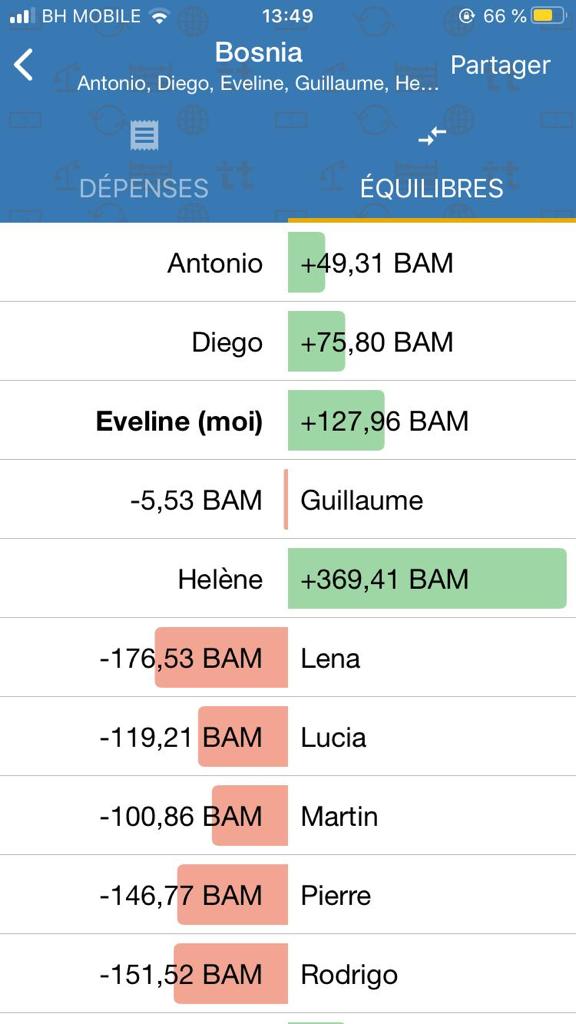 3. Finalize the bills
Within the application itself, you can edit balances for each person and mark them as paid. Each time one of these is marked as paid, you'll receive a notification.
This way, everyone knows how much each person owes and it's much easier for each person to pay what they owe and receive what they are owed, whether from a trip or in day-to-day life.
And at the end of the trip, as you'll see in the image below, the app will tell you who owes what to whom. In other words, even if I've paid for a bunch of things for other people in our group of 11 during the trip and have also had them pay some things for me, at the end the app will show who still owes me money (or if I owe anything myself).
I ended up with a high balance to receive because I paid for some of the flights and also paid for the hostel for everyone. But at the end of the day, I was still paid back!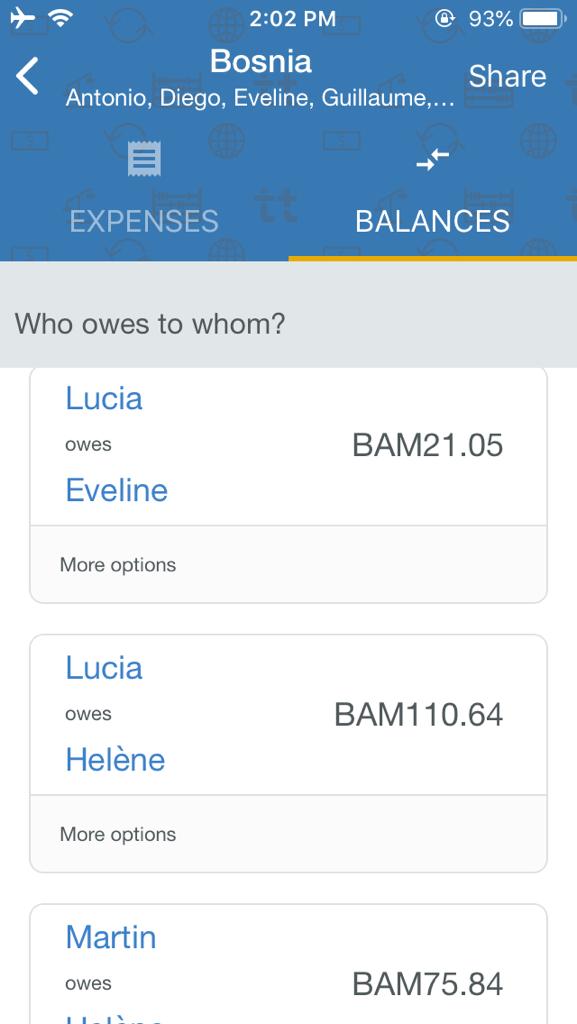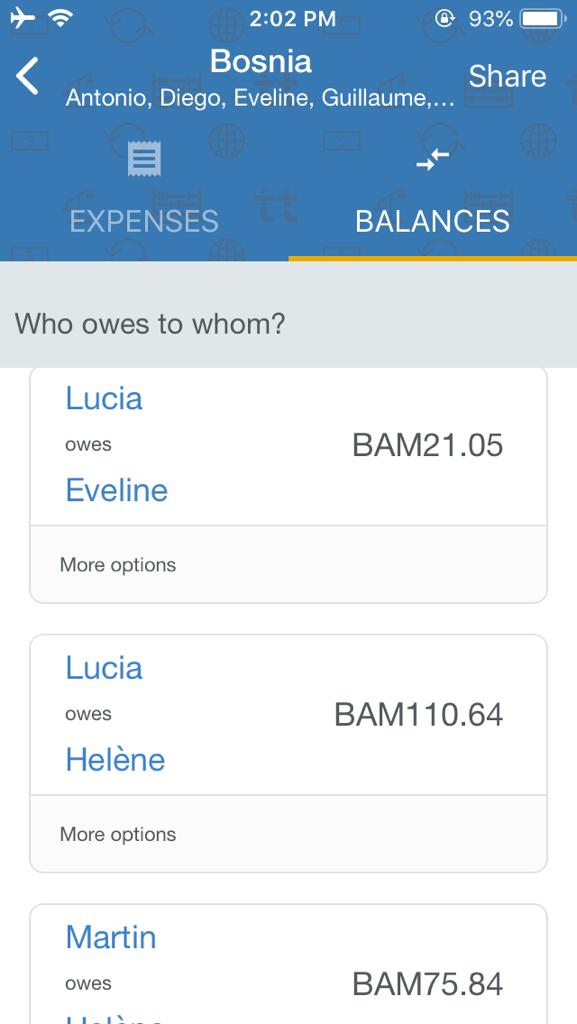 Main Tricount app features
What I gave above was just a straightforward account of how to use Tricount. But with time, you'll find the app has even more tools that will certainly make your group trip finances even easier.
So, I'll get you started by giving a few extra Tricount features:
Adding images to prove a purchase

Sharing expenses evenly

Using

multiple currencies

Participating

collectively

Using Tricount offline
How to add images to prove purchases in Tricount
This is one of Tricount's most useful features. With each expense that you have, you can add a photo to prove it – whether that's a receipt from a purchase, a restaurant, or a bill you've paid. This is a really efficient way to prove expenses paid and avoid any confusion between trip participants.
When people first hear about Tricount, they treat it as a calculator and nothing more. And partially, this is true. But besides saving you all the work, it has tools that a normal calculator won't have.
When I talk about sharing expenses fairly, I mean in the amount that each individual should pay for something. For example, let's say that 5 people eat in a restaurant and the final bill is $50.00.
The most obvious option is for each person to pay $10.00, right? But what if not everyone paid the same amount (for example, some people got drinks, others just had an appetizer, etc.). These situations can always get a bit complicated, but with Tricount, they can be solved easily and divided fairly since you're able to set the level of reimbursement for each individual.
How to use multiple currencies in Tricount
Another great feature of Tricount is that you can convert the currency that you purchased something with into the currency that you're most accustomed to using so you don't get lost when thinking of the exchange rates.
I used this feature a lot during my trip to Bosnia and Herzegovina when I needed to convert the local currency (BAM) into the currency my travel mates and I used most in our normal lives (euros). It was really straightforward and practical.
In other words, this is great if you're traveling in a group through various countries and thus have to keep track of expenses in multiple currencies. At the end of your trip, Tricount will simply calculate the balance in the currency of your choice even if you've been marking expenses in different currencies throughout your trip.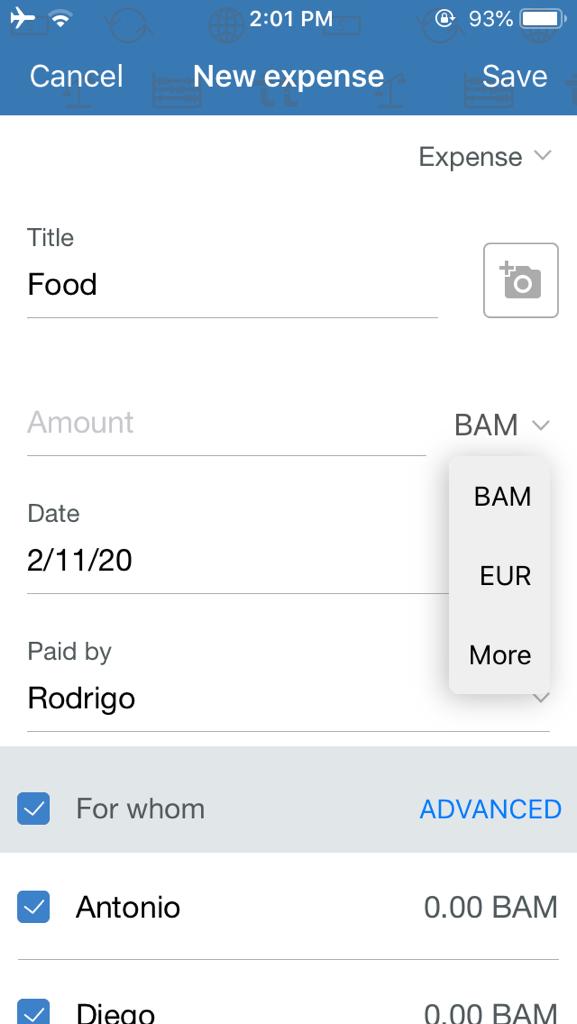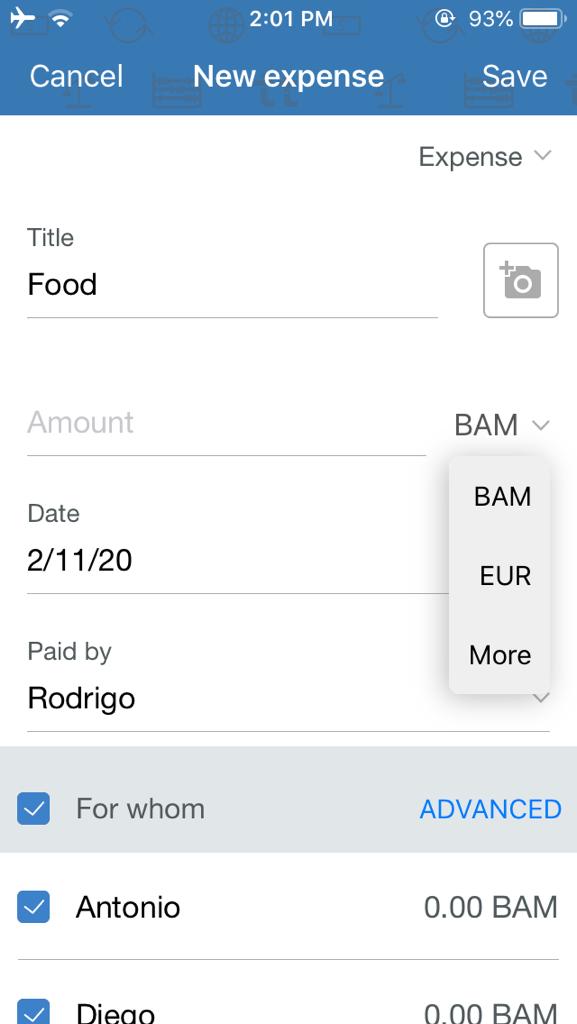 How to participate collectively in Tricount
As I've mentioned above, you'll get a link to your event that you can send to other individuals participating who have Tricount installed on their phones.
This way, everyone is able to operate under the same shared event. In my case, all 11 people on our trip could include expenses and see balances under the "Bosnia" event on their phones.
How to use Tricount offline
If you're traveling, this is a great feature since there are a lot of places where the network simply won't work or you don't have a SIM card with data to use abroad but you still need to monitor your costs.
With or without internet, you and your friends can still add expenses into Tricount. Then, once everyone is back online, Tricount will update the purchases and balances.
For me, this is a great benefit because, if Tricount only worked with internet, you would have to wait to note down all your expenses later. And as we all know, it's just too easy to not forget to do things like this, especially as we don't always have access to the internet or data while traveling.





Data safety & privacy with Tricount
The developers of the Tricount app mention that they guarantee the security and privacy of all data. Your account will always be connected to your email or the social media profile of your choice.
The app is also available in several languages. Beyond this, you can do a "test" to see how it works. So if you have any questions, it's worth playing around with it a bit before downloading it and creating your account.
In conclusion…
These days, the Tricount app is indispensable when I travel with friends, family, or even as a couple. It's a really easy way to divide and add up travel costs as well as an efficient way to guarantee nobody gets left unpaid or misses out on paying what they owe.
Of course, this is what I use the application for, but there are plenty of other applications of it throughout your life like days out, events, excursions, or day-to-day expenses with the people who live with you.
And don't forget….Tricount is free to use!!

So, what do you think about the app? Could you use it on your next trip? Or in your day-to-day? Or do you have any other questions about how it works? Let me know your thoughts in the comments area below and I'll get back to you!
Planning your next trip?
Then don't forget travel insurance! You don't want to get stuck paying a ton of money and ruining your trip if you get sick or have an accident without travel insurance. WorldNomads is ideal for adventurous travelers, backpackers, or anyone looking to be protected during their trip. They cover almost every single activity you can imagine! Plus, you can have a 5% discount with the coupon code comfort5.
Already reserved your hotel or hostel? If not, we recommend Booking.com. They have a huge selection of hotels and hostels all over the world. Plus, in most cases, you can cancel your reservation up to a few days before the check-in date without any costs!
Still haven't booked your plane ticket and want to save big? Take a look at Kayak and Momondo. They are flight aggregators that combine several other ticket search websites to make it easier for you to compare prices and make sure you are getting the best deal.
And finally, will you need to rent a car during your trip? Then check out Rentalcar.com to search and compare car rental companies from all over the world on a single website. Then, you can find the cheapest price for the best car!