Last Updated on by Rodrigo @ OutofYourComfortZone
Did you know Brazil is the 5th biggest country by area in the world? Not only this, but it also has the world's 5th biggest population with more than 200,000 people.
The problem with this is that, whoever travels in a country as large and populous as Brazil, will come across a transportation system that falls short of supporting such numbers.
In other words, generally, the transportation system in Brazil is a clusterf*#k!
Okay, maybe I exaggerated a little bit. I've been in countries that are much worse…. but also in others much better.
But for those of us who like to travel, what matters is that to explore Brazil, you can really only count on one form of transportation: long-distance buses.
The best websites to search for and book your bus ticket in Brazil
Today, there are a lot of websites where you can buy your bus ticket.
After testing many of them out, I've found Clickbus to be my favorite website.
Here is some information about ClickBus, Quero Passagem, Plataforma 10, Bookaway, and also about Busbud:
I like ClickBus because, besides being an international company (with equivalent websites in Mexico, Turkey, and Colombia), they also cover more than 3,000 destinations in Brazil with more than 100 bus companies.
It also lets you use filters to choose exactly the type of seat/bus you want and its schedule. Strangely enough, it's also one of the only websites that let you sort the options by price… something pretty basic that for some reasons other websites don't let you do.
Better yet, with ClickBus you can also buy international bus tickets between Brazil and Argentina, Chile, Paraguay, and Uruguay! A great option for those who are traveling around South America!
Unfortunately, their website is only in Portuguese. However, you can easily use ClickBus website in Portuguese if you use Google Chrome as your navigator. You just ask Chrome to translate ClickBus to your local language (whether English, French, Spanish, and so one) and you can buy your bus ticket with no worries.
Coupons and discount codes for ClickBus:
ABUS5 5% OFF for all site purchases
ABUS8 8% OFF for all site purchases over R$ 100
ABUS10 10% OFF for all site purchases over R$ 250
ABUS50 R$ 25 OFF for all purchases over R$ 400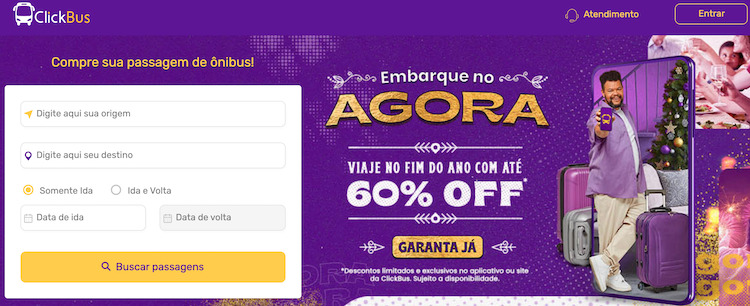 Quero Passagem (you can easily use Google Chrome to translate and see the page in your own language!)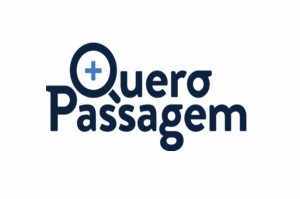 Quero Passagem has sold more than 1 million intercity road tickets across the country. This is one of the largest portals for selling online road tickets in Brazil and is also one of the fastest-growing companies in the industry.
In addition, it provides tickets to 90% of the country. And when we talk about a gigantic country like Brazil this is really impressive! All of this is only possible since the company is a partner of more than 150 bus companies, so offering tickets to 5,000 destinations throughout the Brazilian territory is possible.
One of the priorities of this portal is to sell tickets in a simple and practical way, so it is very quick to buy your ticket on your computer or cell phone. No worries! Quero Passagem also offers several ticket options, from the cheapest to the most luxurious.
Another facility offered is that the site has a version in Spanish, English, and Portuguese. Designed for foreign travelers, on these sites, it is possible to buy your ticket securely, quickly, and without using the CPF, as this is normally required to purchase tickets online and can be a problem for foreigners.
If you are planning for your next trip in Brazil, be sure to check the Quero Passagem prices and fees.
Another good option is Plataforma 10, a company specialized in buying bus, plane, transfers and hotel reservations online. With it you can book tickets to more than 7000 destinations in Latin America, in addition to finding accommodations anywhere in the world.
One of the differentials of Plataforma 10 is that it contains unique routes, formed by combinations, such as São Paulo to Buenos Aires and Mendonza to Santiago de Chile. Thus, it is possible to completely customize your trip to the most different destinations, whether national or international.
This site is perfect for travelers who will travel unconventional routes, or those looking to save on the ticket, as Plataforma 10 always has several discounts.
In addition to conventional payments, Platform 10 accepts payments through Mercado Pago and PayPal.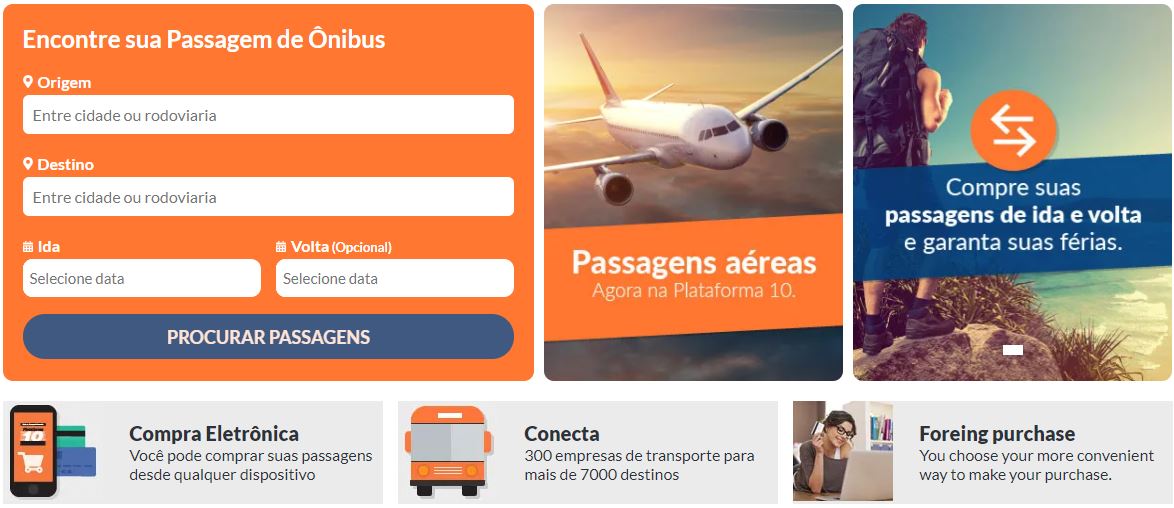 Bookaway is a great online land transport reservations portal, with an intuitive website, one of the biggest positive points of using this company is its ease.
It is possible to book your ticket in an instant to anywhere in the world with local operators from more than 20 countries, in Brazil there are 982 routes spread over more than 8 million km2 of the territory.
In addition to the website, Bookaway also offers applications for Android and IOS, has a 24/7 chat, has great recommendations on Trustpilot and accepts different currencies as payment on its website.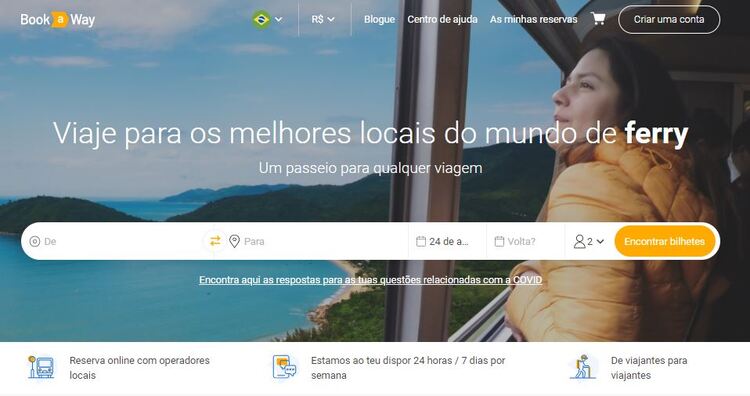 5.Busbud

Busbud is another international ticket site. On it, you can buy tickets for more than 70 countries around the world, including tickets in Brazil.
So, if you feel more comfortable buying your tickets with an international company instead of a Brazilian one, this is your best bet.
Plus, obviously, you can use Busbud to buy bus tickets while traveling around the world!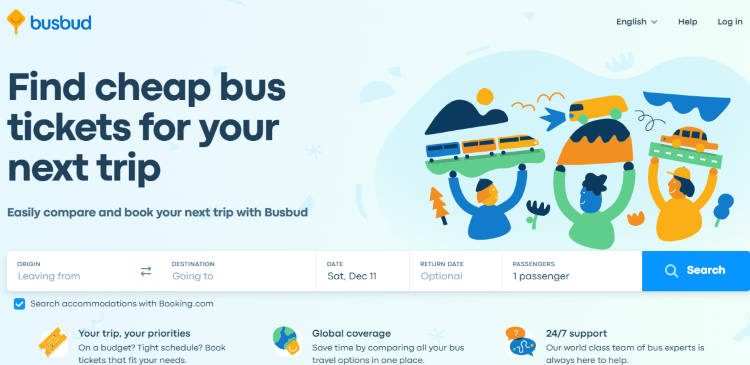 6. Buser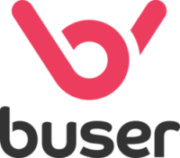 Buser is a platform accessible by both the computer and the mobile device, with tickets ranging from R$15.90 to R$149.90. With the possibility of travel between the main cities of the country, the transport structure is of high quality and comfort, with high safety since it has insurance, trained drivers, vehicles inspected and monitored by GPS, camera, and others.
The company has great recognition in the media, mainly for having great affordability compared to the national roads, and has shown great growth.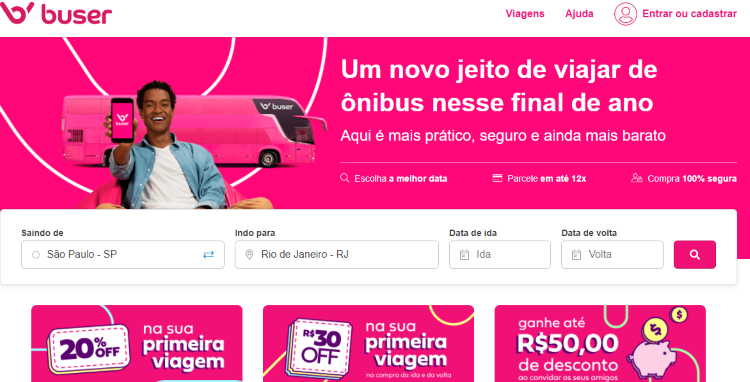 – Other companies
As mentioned, there are other bus ticket companies, but I don't recommend them for a few reasons (see below). I'll leave them here though just in case you want to check:
I don't like this company that much as they often don't list the type of seat (conventional, sleeper, etc.). So, you won't know exactly what you are buying.
Besides this, I'm not sure why, but it doesn't let you sort the results by price (from least to most). A little inconvenient….
I'm also not a big fan of Decolar. Weird, but sometimes the search results show that nothing is available although other website show availabilities. Besides this, the taxes and fees are slightly higher than ClickBus.
Same problems as the others. You can't sort by price and the prices are a little more. The good thing is that they have a page in English and in Spanish for foreigners.
General tips for traveling by bus in Brazil
Know what type of bus seat you'll choose
Unlike bus trips with Greyhound in the US or MegaBus in Europe where all bus seats are equal, here in Brazil there's a large variety of buses and possible seats – from the cheapest and most simple "conventional" to the luxurious "1st Class" with beds and food.
So, to help you decide what ticket you buy, here's a list of the different bus and seat options:
Convencional (conventional): a very simple bus with normal seats, like coach on a plane
Executivo (executive): a better bus with more comforts and seats that incline more
Semi-Leito (half-sleeper): a good bus with seats incline partway (though not a complete 180 degrees) so you can sleep pretty well
Leito-Cama (sleeper): like the above, but with seats that incline back 180 degrees so you can sleep like a baby!
1 º Classe (1st Class): the best type of bus, seats, and service possible. Often has food.
Besides paying attention to the category you are buying tickets for, here are a few more tips:
Some buses might serve a snack or stop at a place that you can buy something. But so you don't get hungry, it's good to have something to munch on.
Arrive early to the bus station.
You know how it is. Traffic in Brazil's big cities sucks, so to be safe (as I mentioned above) try to arrive at least 30 minutes early to check-in at the counter and give yourself time to get to your bus.
Don't assume there'll be a bathroom on the bus.
Unlike long-distance buses in many other countries that don't have bathrooms, actually, many buses in Brazil do have them (which is very useful for long trips). But not all of them have bathrooms, so don't count on this.
In other words, don't drink 1 liter of water (or get drunk!) before your trip to avoid any potential….. difficulties 

Bring something to pass the time.
You definitely won't always have movies on the bus. So bringing something to read, watch, listen to, or play is a good idea to pass the time.
If you get nauseous easily, bring something to help.
It could be something like Dramamine for example (although it'll make you pass out and sleep the whole trip), or something more natural like ginger pills – which work for motion sickness or seasickness!
Be careful with your bags at the bus station!
As I already mentioned above, this is Brazil. So, you should always be on the lookout for theft and robbery. I also recommend checking at your bags below the bus through the window at every stop to make sure your bags aren't "walking off on their own."
Buy two seats if you are really concerned with theft.
This is one tip I've read about traveling by buses in Latin America, so it could work for Brazil as well. If you have a lot of valuable things with you and you don't feel safe checking your bag under the bus during the trip, buy two seats right next to each other: one for you and one for your backpack or big bag. Then, you'll have all of your things right next to you throughout your trip!
Even if you check your big bag under the bus, always keep all your valuables (electronics, wallet, etc.) in a small bag with you….. but if you are going to Brazil, hopefully, we don't have to remind you about that, right?
But what's wrong with using other forms of transportation in Brazil: planes, trains, or car?
There are two problems with exploring Brazil by plane:
    1)  Brazil only has about 100 airports with regular flights.
This might seem like a lot, but for such a large country, it's really not. Basically, there are many interesting places that you just can't access by plane.
     2)  Flying around Brazil can be expensive.
If you are flying between smaller cities that don't have many flights, it can be very expensive!
Besides this, many of these airports don't have a decent connection to the public transportation of the closest city. So, be prepared to spend a bunch for a taxi going to and from the airport!
However, if you are going between main cities – like Rio and São Paulo – you can find decently priced flights. Check our article on 16 Tips to Save on Flights to learn more.
Well, although exploring Brazil by car can be pretty cool, there are two main problems with this (ESPECIALLY if you are a foreigner).
     1)  Renting a car isn't possible everywhere.
The first problem is that the options for renting cars aren't widespread.
In São Paulo's Guarulhos airport, for example, there are 10 car rental companies…great! But in Recife in the northeast, they are 7. In Cascavel no Sul, there are only 4 in the airport. And in Santarém in the north…. None!
In other words, it can be difficult to rent a car depending on where you are in Brazil.
But, if you do prefer to rent a car, you can check out our article with The 5 Best and Cheapest Websites to Compare and Rent Cars Around the World. There you can find some car rental websites and companies that are exclusive to the Brazilian market.  
     2)  If you are not from Brazil, don't speak Portuguese, or don't know the area, driving can be very dangerous!
Unfortunately, I have to be realistic here. Many places in Brazil can be dangerous for foreign tourists.
It's not unsafe everywhere, but there are certain areas – especially on the outskirts of large cities – that can be dangerous to get lost in.
This is whether you are renting a car or have your own.
Imagine that you are following your GPS, Google Maps, or Waze and it brings you to the entrance of a slum (favela) in Rio de Janeiro, São Paulo, or Belo Horizonte where there is a problem with violence. If this happens, you can expect the worst… and it happens more than you would think!
Just search on Google. Here's a very sad example from a couple in Rio who ended up in a favela using Waze: https://www.cnn.com/2015/10/05/americas/brazil-wrong-directions-death/
Even though I'm Brazilian and speak Portuguese, I'd still be nervous driving in large Brazilian cities that I don't know.
If you'd still like to try a road trip in Brazil, I give a bunch of tips to help in this article here: The 13 Most Incredible Road Trips in the World! In the article, you'll also find the best websites to search for and book rental cars.
Well, the problem with using trains in Brazil is simple: there's basically no passenger trains in Brazil.
Okay, there are a few. But the majority are tourist trains and expensive or from mining companies.
There were some plans to create a high-speed train (bullet train) connecting Campinas to São Paulo to Rio de Janeiro, but the plans never left the paper.
It's a shame because, if you've read my article about The 10 Most Incredible Train Trips in the World and know about the incredible nature Brazil has, you can see what we're missing out on…. plus, trains are one of the most efficient forms of transportation in terms of energy consumption per passenger! (I really like train travel, in case you couldn't tell

)
Basically, whether you like it or not, if you want to explore Brazil beyond just the big cities, you'll end up using long-distance buses to get around.
Why is bus the best intercity transportation option for travelers in Brazil?
Well, just look at the number of bus terminals in Brazil. There are more than 3,000!
Basically, it's more likely the city you want to visit has a bus terminal than an airport. Remember, like we said above, there are only around 100 airports with regular flights in the country.
Without a doubt, traveling by bus in Brazil is the cheapest way to get from one city to another.
Even knowing that there is a difference in price between normal seats and sleeper seats, normally the price is still cheaper than a flight ticket for the same destinations.
A few comparisons:
From São Paulo to Rio de Janeiro:
Plane: R$ 146.80 (US$ 47.00)
Bus: R$ 90.85 (US$ 29.09)
From Vitória to Belo Horizonte:
Plane: R$ 218.64 (US$ 70.00)
Bus: R$ 99.60 (US$ 31.98)
Plane: R$ 13.19 (US$ 42.00)
Bus: R$ 71.32 (US$ 22.83)
From Florianópolis to Iguazu Falls:
Plane: R$ 27.,99 (US$ 89.00)
Bus: R$ 201.84 (US$ 64.62)
Also, keep in mind that domestic flights have a limit of 23 kg for checked bags while buses have a limit of 30 kg (although some bus companies will let you bring more if you can win over the driver

 ). Plus, from March 14th, 2017 on, airlines in Brazil can start charging for checked bags, so be prepared!
Another benefit of using buses to travel in Brazil is the practicality they have compared to all other forms of transportation.
Unlike airports which are often kilometers from the city center, the bus terminal is often much closer to the center of the city. Besides this, in general, they are much better connected to the urban transportation of the city (whether bus, metro, or Uber / Lyft) than airports are.
Another benefit of traveling by bus in Brazil is that you can have various stops along the way, making it much easier if your final destination isn't a large city.
I know that for many foreign travelers (especially those from developed countries), traveling by bus doesn't seem as glamorous as going by plane or train. But this is basically how the majority of the Brazilian people travel around their country…. and you'll be doing the same.
Basically, traveling by bus in Brazil will give you the chance to meet locals and see the countryside. What could be more authentic than this?
The negative side of traveling by bus in Brazil (or when it's worth it to just fly)
Obviously, traveling by bus takes a long time so this will depend on you – whether you have extra time or extra money. (Also remember that you can take an overnight bus to save on accommodation.)
However, it still might not be worth it to travel from Curitiba (in the south) to Manaus (in the Amazon) by bus. You'd lose both in the time and money spent. It's definitely worth going by plane.
It's the same thing going from Porto Alegre (in the south) to Salvador (in the northeast). They are too far away and there aren't direct buses between the two. So, instead of continuing to change buses and lose days traveling, it's better to go by plane.
Also, as you can see in the price comparisons above, sometimes the difference between big cities is only $20 or less. For many people, it may be worth it to pay this small amount extra in exchange for saving a lot of time.
Although, keep in mind, that sometimes even a short flight can end up taking just as long as a long-distance bus. For example, the bus between Rio and São Paulo is about 6-7 hours whereas the plane is only about 45 minutes. However, to take the plane you'll also have to get to the airport (which could take up to an hour or more depending on where you are), spend time waiting at the airport (minimum 1 hour before your flight), take the flight, then get from the airport to your destination (once again, could be 1+ hour).
Combine the use of plane and bus on the same trip
I've done this myself when I was in São Paulo and wanted to visit a famous small town near Paraguay called Bonito.
Instead of taking an expensive flight from São Paulo directly to Bonito, I flew to Campo Grande (a big city), visited the city a bit, and then caught a local bus to Bonito.
It was worth it to save money and get to know the capital of another Brazilian state.
So, if you are planning to fly in Brazil, I recommend you take a look at our page with 16 Tips to Save on Flights (you can find a list of the main Brazilian airlines at the end).
How to travel by bus in Brazil?
Not long ago, it was difficult to know how much a bus ticket cost between two cities in Brazil. Unlike airlines in Brazilian where you can count their number on one hand, there are more than 100 long-distance bus companies spread throughout Brazil.
It was very difficult to first know which company did the route you were looking for and how much it cost. Basically, you had to go to the bus terminal and ask counter-by-counter for the cost and the schedule.
However, now there are many search websites that have completely transformed the experience of searching and buying bus tickets in Brazil.
They work like any normal booking website for flights or trains. Just that the trip is actually for buses.
Basically, you choose a departure city (be careful because some cities have more than one station), your destination, and your date. You'll see a list of results and prices (which you can sort by).
Just choose your option, choose your seat, put in your info and ID number, and pay.
Usually, you can pay with a credit card, debit card, or PayPal.
IMPORTANT: Theoretically, you don't need to print anything. On the day of your trip, you just need to arrive about 45 minutes early at the bus terminal, go to the counter of your chosen company, show the ID (passport for foreigners) given when you made your reservation, and pick up your final ticket.
To ease your conscience, after purchasing your ticket online, I like to take a picture of the computer screen or bring my phone to show a summary of my purchase. Just in case someone at the counter doesn't find my name…. although that's never actually happened.
Summing up…
The 5 best websites to buy intercity bus tickets online in Brazil are:
ClickBus;

Quero Passagem;

Plataforma 10;

Bookaway
Busbud.
Concluding
Well, that's it! Any questions? Have you taken lots of buses in Brazil and have anything to add? Use the comments area below and we'll get back to you.
*Prices and exchange rates current as of 02/02/2017
Planning your next trip?

Then don't forget travel insurance! You don't want to get stuck paying a ton of money and ruining your trip if you get sick or have an accident without travel insurance. WorldNomads is ideal for adventurous travelers, backpackers, or anyone looking to be protected during their trip. They cover almost every single activity you can image! Plus, you can have a 5% discount with the coupon code comfort5.

Already reserved your hotel or hostel? If not, we recommend Booking.com. They have a huge selection of hotels and hostels all over the world. Plus, in most cases, you can cancel your reservation without any costs up to a few days before the check-in date! 

Still haven't booked your plane ticket and want to save big? Take a look at Kayak and Momondo. They are flight aggregator that combine several other ticket search websites to make it easier for you to compare prices and make sure you are getting the best deal. 

And finally, will you need to rent a car during your trip? Then check out Rentalcar.com to search and compare car rental companies from all over the world in a single website. Then, you can find the cheapest price for the best car!
If you want to hear about new articles, check out our latest pictures, and read our newest updates, be sure to follow us here….
…..and subscribe to our newsletter below!