Last Updated on by Editor
If you've already read my article with the 6 Best and Cheapest Websites to Find Travel Accommodation, you'll already know that the sites that I usually recommend for hotels are Booking.com and Hotels.com.
However, after many trips to the US and a lot of time spent looking for hotels while there, I've found one website that always gives me even better deals on American hotels than Booking.com or Hotels.com: OneTravel!
Today, after years of visiting the United States, I've consistently found that OneTravel is the best website to search for, compare, and reserve hotels in the United States. I say this because, beyond showing quite a bit more hotels per city than Booking.com, its prices are comparable to (or sometimes even a little cheaper than) most other hotel search websites.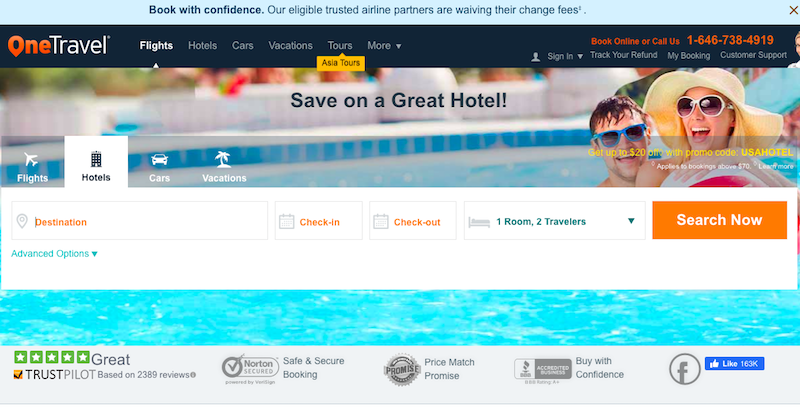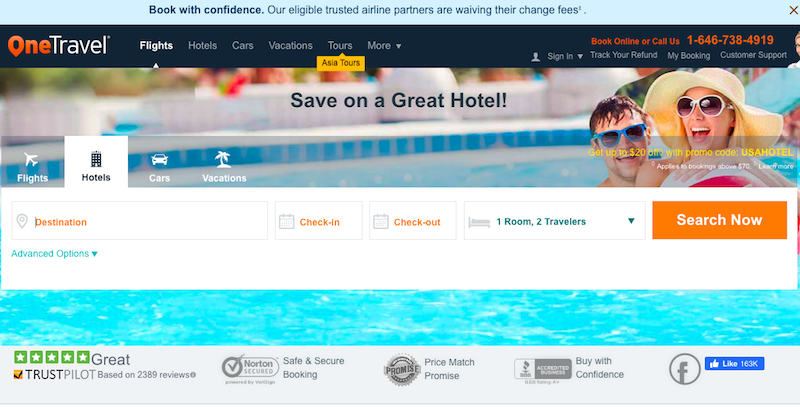 In other words, if you use OneTravel to search for American hotels, you'll be able to see a larger number of accommodation options for the same price as traditional hotel websites.
Note: although OneTravel does have some listings in other countries, it's offering is much, much larger for the US. So I really only use it in the USA.
Be careful with the final prices when comparing OneTravel and Booking.com
The only thing you need to watch out for is that, although Booking.com will give you the final price right away, the OneTravel will show you a price without the final taxes and fees included.
So you'll have to go through and click onto the next page to get the final price.
That said, even with the taxes and fees included, the hotel rates on OneTravel are generally cheaper than on Booking.
To get up to 20% off your booking, use the OneTravel discount code here: USAHOTEL
OneTravel to book hostels in the United States
If you're looking to stay in a hostel in the United States, then I wouldn't recommend OneTravel. The options for hostels that turn up on OneTravel are significantly less than on Hostelworld.com….and even less than on Booking.com.
OneTravel to buy flights and rent cars in the United States
Honestly, I've never used OneTravel to buy plane tickets or rent a car. So, I can't confirm if OneTravel has cheaper flights and rental cars compared to Momondo or Rentcars, for example.
But what I can say with certainty is that OneTravel's prices for American hotels are unbeatable.
If you're more looking to save flights in general, I recommend taking a look at my article with the 3 Best Websites to Search for and Buy International Flights.
And to get a good deal on a rental car in the United States, I recommend taking a looking at my article with the 5 Best and Cheapest Websites to Search for, Compare, and Rent Cars Around the World.
And that's it! Just a short n' sweet article to pass along a bit of useful travel info to save on accommodation during your next trip to the USA.
If you have any questions, just let me know in the comments area below and I'll get back to you!
Planning your next trip?
Then don't forget travel insurance! You don't want to get stuck paying a ton of money and ruining your trip if you get sick or have an accident without travel insurance. WorldNomads is ideal for adventurous travelers, backpackers, or anyone looking to be protected during their trip. They cover almost every single activity you can image! Plus, you can have a 5% discount with the coupon code comfort5.
Still haven't booked your plane ticket and want to save big? Take a look at Momondo and Kayak. They are flight aggregators that combine several other ticket search websites to make it easier for you to compare prices and make sure you are getting the best deal. 
And finally, will you need to rent a car during your trip? Then check out Rentalcar.com to search and compare car rental companies from all over the world in a single website. Then, you can find the cheapest price for the best car!