Last Updated on by Rodrigo @ OutofYourComfortZone
Traveling is grand fun. You run from one destination to another every year, admire amazing views, stand in awe of landscapes you previously saw only on photos or in movies, and meet new, exciting people.
There's also the matter of accommodation, and choosing the right hotels is one of the most important things on a traveler's list. The thing is, though, finding that ideal hotel can be quite a challenge, as there are a lot of matters we all think are inconvenient, annoying, or even true deal-breakers.
In this article, thanks to a study made by Passport Photo Online, we'll take a look at the biggest hotel pet peeves that annoy hotel guests. From disappointing cleanliness to too much noise, we'll cover all the things Americans can't stand the most at hotels.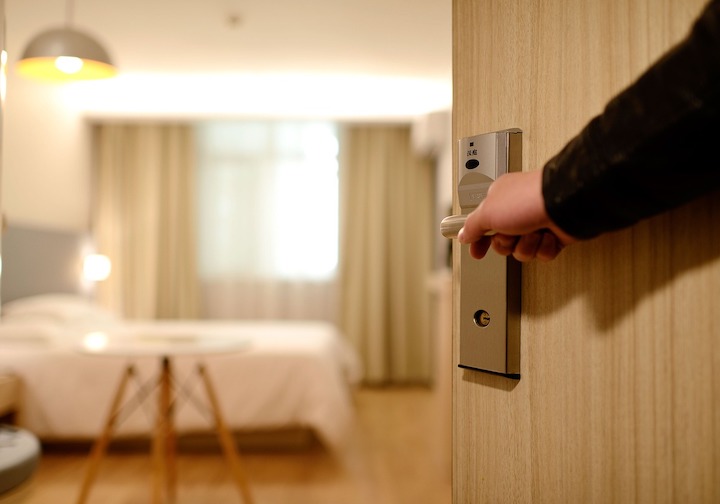 The infamous top 3 pet peeves
There are certain standards that most people consider unnegotiable. Regardless of how big the hotel is or how many stars it has, it has to follow at least some rules that are crucial to essentially every traveler.
1. Room cleanliness
According to the study, the biggest pet peeve travelers admit to is unsatisfactory cleanliness in the room. It comes as no surprise since that's the standard everyone is expecting nowadays. Almost half of the respondents (48,85%) claimed that this particular pet peeve is second to none and a major red flag in their eyes.
You pay for a stay in a hotel and the expectations are that you'll come across a welcoming, clean room. After all, guest rooms are what makes travelers come back, so it is in the hotel's best interests to deliver in this area.
2. Bad smell
Even if the room is clean, though, we pay as much attention to the smell we encounter. As it turns out, what we subject our noses to is also a crucial detail and one of the most significant pet peeves. Sitting just behind the previously mentioned hotel annoyance, a bad smell was 48,65% of travelers' biggest issue with hotels.
It is hard to argue with that point, as a bad smell can definitely be one of the main things that make us never go back to a place.
3. Guests not respecting COVID-19 safety measures
Following recent years' struggles with a worldwide pandemic, it comes as no surprise that plenty of hotel guests would prefer to see their fellow travelers stick to the rules. We all want to be healthy and more often than not, actively try to prevent the spread of disease.
As much as 48,29% of respondents pointed to anti-COVID safety measures being one of the most annoying hotel pet peeves. The good news is that you can argue such impressions only show seriously travelers have started to treat similar policies and that health and safety are serious concerns for most. It is most certainly good news.
Hotel guests are very vocal
Think back to the last time you were looking for a hotel and came across countless reviews that helped steer you toward the best choice. You will no doubt realize that dissatisfied hotel guests aren't shy about voicing their concerns and warning others to think twice before booking a room.
Complaining about all the ways in which a hotel didn't deliver seems to be perceived as a duty of some kind, considering how much more detailed these reviews are. The study supports this by saying that more than half of hotel guests leave bad reviews when they experienced some of the bigger annoyances. To be precise, 53% feel the urge to voice their concerns.
Not much less, 46%, admit to mentioning their problems encountered during their stay in an online form after checking out, while almost 4 in 10 guests mention issues they've encountered to the staff, such as room service.
Only a small percentage of just 9% choose not to do anything about the problems they've come across. The conclusion, then, is rather straightforward. If you're a hotel manager and your guests encounter some problems during their stay, chances are they will tell others about it and they themselves will never come back.
That's because as much as 59% admitted that having to deal with some of their worst hotel pet peeves successfully ensures you won't see them again.
More greatest offenders among hotel pet peeves
We've already covered the podium of the greatest hotel room annoyances but there are way more problems that can either cause minor discomfort or even make the guests' blood boil.
After all, there are plenty of factors that affect our overall opinion of a hotel, and unless everything checks out and we're content with what we've found in our guest room, a 10/10 rating looks unlikely. Other hotel pet peeves that the respondents point out are:
4. One-ply toilet paper
This one goes without saying. It's frustrating to see instances where you clearly see a hotel is trying to save money at the cost of the guests' comfort, and leaving poor-quality toilet paper in our hotel rooms is a big red flag.
It comes as little surprise that American travelers name this specific pet peeve as the most annoying right after what we've previously called the infamous three.
5. Unexpected fees
This one's personal, as it certainly is one of my own biggest pet peeves. Unfortunately, hotels tend to sometimes have a few aces up their sleeves to increase the total sum you have to pay for your stay. It's not unheard of to come across parking fees, as well as gym fees giving the guests access to gym facilities that often are mediocre anyway.
That's why it is always prudent to cautiously go through hotels' pamphlets or websites and make sure there are no surprises that will make your wallet just a bit lighter.
6. Faulty hotel room key cards
It may seem like more and more hotels decide to ditch the old-fashioned method of having literal keys to rooms, and instead opt for key cards. Sure, they look nice and are quite convenient and easy to hide in our wallets, but when don't work properly, it really is frustrating.
Perhaps one day these problems will go away completely, but from what we're seeing nowadays, we might have to wait a few more years.
7. Clogged shower, sink, or toilet
Unclogging drain pipes is stressful and frustrating enough in our own homes. When we go on vacation, we usually think that we'll be able to escape from such problems for a while and just relax. We want to leave such troubles behind and when we encounter them again, it's a painful reminder we definitely didn't need.
8. Slow internet / Paid Wi-Fi
Now, we've finally arrived at a pet peeve that probably speaks to all of us. Free access to fast internet has become one of the most desirable traits of a good hotel.
Some of us might need a good internet connection because of FOMO (fear of missing out), or maybe for work as we try to practice what's called "workcation", and the lack of satisfactory Wi-Fi may end up being a true deal-breaker.
9. Insufficient / hard-to-reach electrical outlets
If you like traveling with a bunch of gadgets that need charging, you will no doubt sympathize with those surveyed who mentioned issues with electrical outlets as their biggest pet peeve.
It might certainly be more than just a slight inconvenience when you're traveling in a group and you're short on outlets. Having to keep your smartphones and all the other devices on a rotation can no doubt be considered a serious annoyance.
10. Uncomfortable pillow, bed, or blanket
Last but not least, we need to talk about beds in hotel rooms. If they're comfortable, our stay is ruined. It's as simple as that, and one of the most obvious pet peeves everyone will no doubt agree on.
If the bed is comfortable, on the other hand, and the pillows and blankets are clean and warm, all the other problems might even be forgiven on the spot. After all, that's what matters the most.
To wrap up…
A lot of factors go into deciding whether a hotel has met our expectations or not, and there's no shortage of things travelers find annoying. From one-ply toilet paper, or other guests not respecting COVID-19 safety measures, to unexpected fees and slow internet connection, travelers have plenty of hotel pet peeves that ruin a hotel's reputation in their eyes. If a hotel commits even one of those sins we've covered, chances are they've just lost a future client.
Bio
Michal Laszuk is a writer at Passport Photo Online, and a massive travel nut. Having seen most of what Europe has to offer, he now looks to the east. A big fan of culinary experiments and adventure, he loves visiting less popular, often regarded as underrated places.
Planning your next trip?