Last Updated on by Talita
One of the first means of overland transportation invented by humans with the arrival of steam engine technology, the train continues to be the top in many places of the world as popular transport and as a touristic option.
Saying this, traveling by train is something special. It's different from any other form of travel. It's something that you go on not because you need the transportation, but simply for the trip itself. The train is romantic, elegant, relaxing, comfortable (most of the time), and passes through beautiful scenery that are inaccessible to those who go by roads.
Because of this, the focus of this article is on touristic train trips. In these cases, the transportation itself is a part of the touristic appeal of the area.
However, I do have to confess that I have not had the chance to do all of these incredible trips… though I have had the chance to do a few like the Glacier Express, The Ghan, and some others. The others are, of course, added to my "bucket list." Based on my research and on general opinion, though, I can confirm that all of them here are completely worth it and often are not as expensive as you think they are.
The Best 10 train rides around the world
Where: Mostly Russia with Mongolia and China
This is one of the longest train routes in the world, extending for more than 9,000 kilometers (5,600 miles) and passing through 7 different time zones! It takes 8 days to complete, depending on how many stops you do. The classic route is from Moscow to Vladivostok, going from West to East and crossing almost all of Russia in a transition from Eastern Europe to the Far East. There are also alternative routes that pass through Mongolia and China as well.
I have met people that did the Trans-Siberian. Based on what they said, going to Russia and trying to buy the ticket alone is quite complicated due to the lack of local information in English.
Because of this, some people have recommended that the best option is to buy ahead of time through an agent so you don't have any surprises because, even on the internet, it can be hard to find detailed information for planning this trip. There are also different levels of cabins that you can choose based on the comfort you'd like.
More Information and Reservations: https://www.realrussia.co.uk/
Most citizens of the world need a visa for Russia. RealRussia Visa can help you, if you need it.
For Train Tickets Within China: https://www.chinahighlights.com
Where: Europe
This is perhaps one of the most classic train rides in the world with its inaugural trip in 1883. It's an extremely luxurious train with the primary route of Paris – Venice. One time per year, in September, the route extends to Istanbul. The focus here is luxury, but the landscape certainly isn't lacking either. It is on the expensive side, but never hurts to dream.
More information and Reservations: https://www.orient-expresshotels.com.br/web/orex_pt/home.jsp?hll=1
Where: India
Considered to be one of the most luxurious train trips in the world, it passes through various cities like Deli and Mumbai. Depending on package you buy, various luxury tours and activities will be included for the stops along the way.
More information and reservations: https://www.themaharajasexpressindia.com/
Where: The Swiss Alps
This is one trip that I had the incredible opportunity to do. It crosses the Swiss Alps from West to East, beginning and ending in two of the most famous ski resorts in the world, St. Moritz and Zermatt. It's a trip of almost 7 hours, including 91 tunnels and 291 bridges!
With its huge windows that extend all the way to ceiling, the views from the heart of the Alps are spectacular!
More information and reservations: https://www.glacierexpress.ch/en/Pages/default.aspx
Where: Canada
The Rocky Mountaineer goes from Vancouver, the main city in West Canada, to the region of Banff, Jasper, and Lake Louise (one of the most beautiful places I've ever seen in my life) through three different routes within the Rocky Mountains. Just like the Glacier Express, the huge windows in the train cars increase the visual impact of the incredible Rocky Mountains.
More information and reservations: https://www.rockymountaineer.com/en/
Where: Australia
This is another train trip that I had the chance to go on. This legendary Australian train trip crosses the middle of the country through the desert from the north (Darwin) to the south (Adelaide), giving an excellent opportunity to get to know the famous Australian Outback as well as visit Alice Springs right in the center.
The name of the train comes from the Afghanis and their camels that explored the region 150 years ago…. and the camels are even still there!
More information and reservations: https://www.railaustralia.com.au/theGhan.php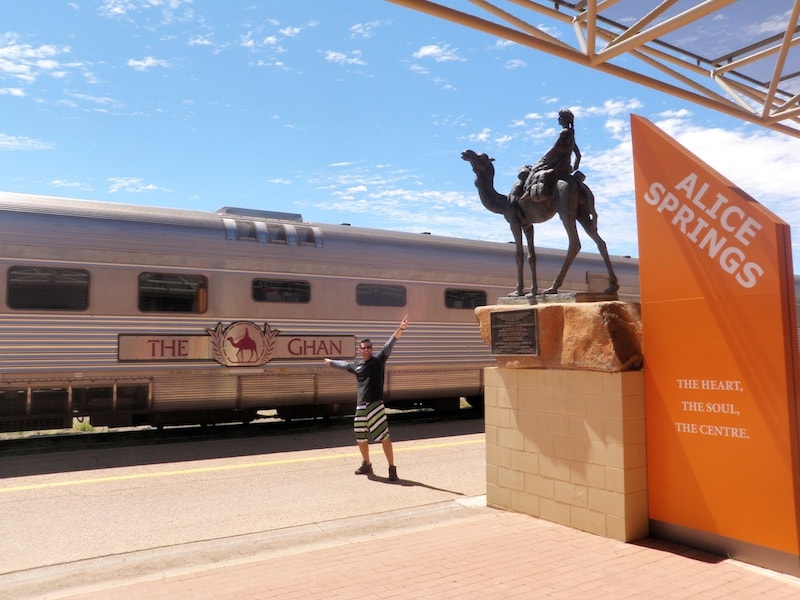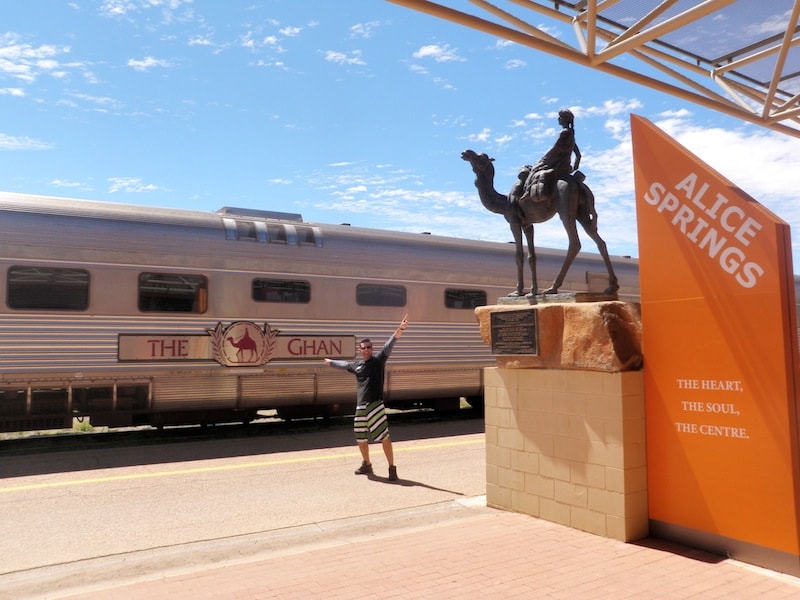 Where: South Africa
This South African train goes from the capital of the country, Pretoria, to Cape Town, one of my favorite cities in the world…with plenty of things to do around it!
More information and reservations: www.bluetrain.co.za
Where: Namibia
If you want to head off the tourist track and try something a bit more authentic, this is the train for you. Beyond this, you'll also have the opportunity to witness some of the landscape where the last Mad Max movie (2015) was filmed! The luxurious version is sold at the link below but you can also complete the same route (Windhoek – Swakopmund) on the Starline train for about $6.00! You have to buy the ticket for this route once you are in the country. For schedules, you can check it here.
More information and reservations: https://www.expertafrica.com
Where: Alaska
This train goes from Anchorage, the largest city in Alaska, to Fairbanks, the second largest city. The route cuts through Denali National Park where you can see (weather permitting) Mount McKinley, the tallest mountain in North America.
More information and reservations: https://www.alaskatrain.com/routes/denali-star.html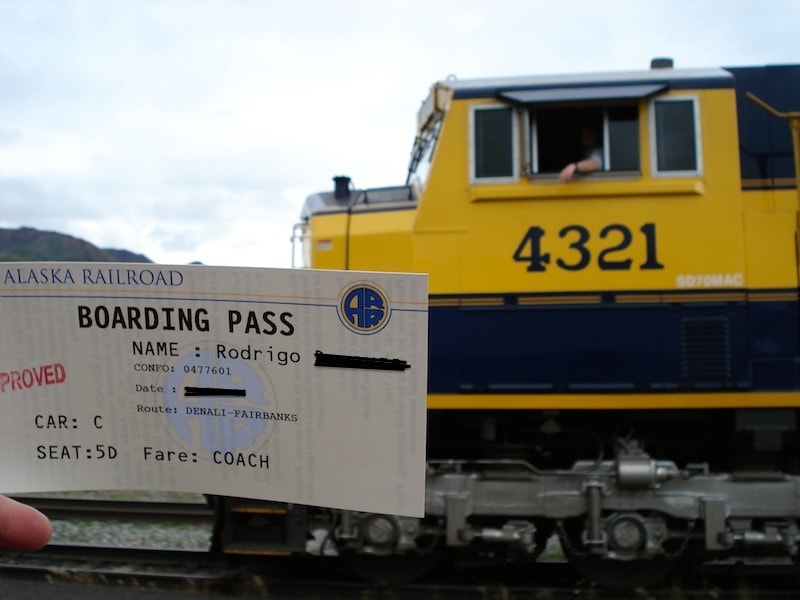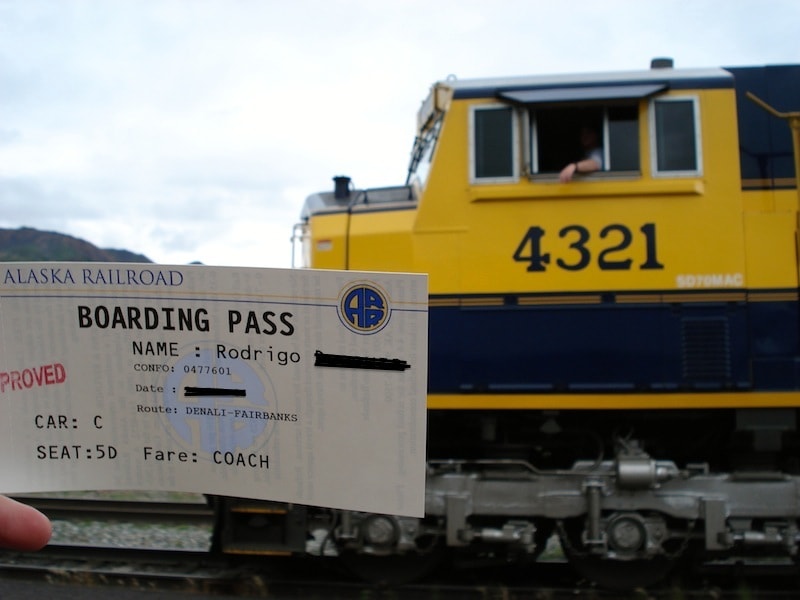 Where: France and Switzerland
I ended up doing this wonderful trip unintentionally. I was visiting Chamonix, where the Mont Blanc ski resort is (and the tallest mountain in Europe!) and I needed to "descend" down the Alps. The trip was stunning between the mountains and an average declivity of 20%… which is a LOT for a train. In addition, it passes through Switzerland which is full of unique places to visit.
More information and reservations: https://www.sbb.ch/en/home.html
European Train Passes
But if there is one place in the world where almost every train trip is guaranteed to be amazing…it's EUROPE.
What's the best way to take advantage of the vast train network of this continent? Use train passes! (Commonly called Eurail or Europass.) If you want to know more about how they work and how to buy them, don't miss our article The 5 Best European Train Pass Companies.
And for overland transportation in general, you can check our page on How to Save on Overland Transportation While Traveling.
Happy (train) travels!!
Planning your next trip?

Then don't forget travel insurance! You don't want to get stuck paying a ton of money and ruining your trip if you get sick or have an accident without travel insurance. WorldNomads is ideal for adventurous travelers, backpackers, or anyone looking to be protected during their trip. They cover almost every single activity you can image!

Already reserved your hotel or hostel? If not, we recommend Booking.com. They have a huge selection of hotels and hostels all over the world. Plus, in most cases, you can cancel your reservation without any costs up to a few days before the check-in date!

Still haven't booked your plane ticket and want to save big? Take a look at Momondo. It's a flight aggregator that combines several other ticket search websites to make it easier for you to compare prices and make sure you are getting the best deal.

And finally, will you need to rent a car during your trip? Then check out Rentalcar.com to search and compare car rental companies from all over the world in a single website. Then, you can find the cheapest price for the best car!
If you want to hear about new articles, check out our latest pictures, and read our newest updates, be sure to follow us here….
…..and subscribe to our newsletter below!