Last Updated on by Talita
Chicago is a city filled with history, culture, and architecture. From the iconic Willis Tower (formerly known as Sears Tower) to the Navy Pier and the Art Institute of Chicago, there is something for everyone in this vibrant city. However, visiting Chicago can be expensive, especially during peak tourist season.
But a trip to the Windy City doesn't have to break the bank! Use a few of these budget travel tips for Chicago to save some cash.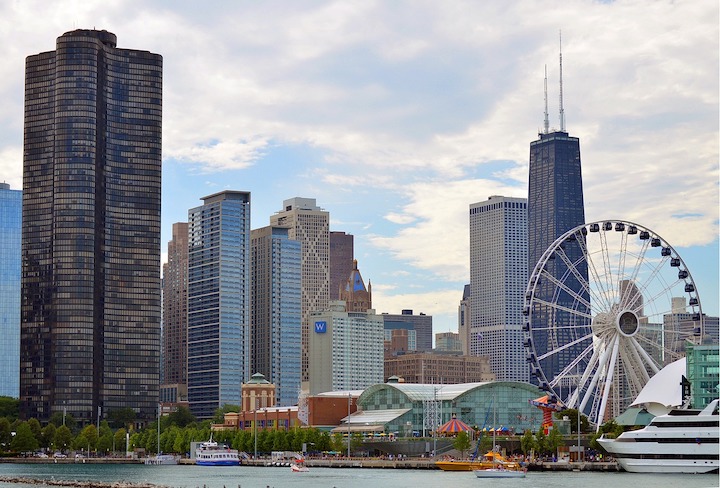 1. Travel during the off-season
The best time to visit Chicago on a budget is during the off-season, typically from November to March. During this time, flight and hotel prices are much lower, and you can also enjoy fewer crowds and shorter lines at popular attractions. If you're willing to brave the cold weather, you can save a lot of money on your trip and have a more peaceful experience.
And there's still plenty to do in the colder months. Take a spin on the ice rink at the famous Millennium Park, surrounded by the iconic "Bean" sculpture and the city's towering skyscrapers, or visit the Museum of Science and Industry for interactive exhibits, live demonstrations, and a wide range of permanent and temporary exhibitions
2. Use ground transportation
The Chicago Transit Authority (CTA) operates an extensive network of buses and trains, known as the "L" trains, that cover most of the city. A single ride on the "L" costs $2.50, and the CTA also offers one-day, three-day, and seven-day passes for unlimited rides. The CTA also offers a Ventra app that allows you to purchase fares, track your balance, and manage your account, making it easy to navigate the city's public transportation system.
You can even start saving money before you even arrive. Taking a train to Chicago is a convenient and affordable way to travel to the city with plenty of options. Several carriers, like Amtrak, offer various routes to Chicago. These trains offer a range of seating options, from standard coach seats to private sleeping rooms, and many trains have onboard dining options and Wi-Fi. A step above air travel for a fraction of the cost!
3. Take advantage of free activities
Chicago is a city that offers plenty of free activities and experiences for visitors. One of the top free things to do is to walk along the lakefront, which provides stunning views of Lake Michigan and the city's skyline.
Another must-visit location is Grant Park, which is a beautiful green space in the heart of the city that is home to several famous landmarks, including the Buckingham Fountain and the Art Institute of Chicago. The Lincoln Park Zoo is the perfect place for animal lovers, as this free zoo is one of the oldest in the country and is home to a wide range of exotic species, including lions, monkeys, and penguins.
And be sure to check for events in the city when planning your trip – there are all kinds of free events, such as music festivals and street fairs, throughout the year.
4. Book tickets in advance
Booking tickets in advance is a smart way to save money and ensure that you get to experience the best attractions and events in Chicago. Many popular attractions, such as the Willis Tower and the Shedd Aquarium, offer discounts for online ticket purchases, and booking in advance can also help you avoid long lines and wait times. Additionally, many cultural events, such as theater performances and concerts, also offer discounted tickets for early bookers.
To book tickets in advance, you can visit the websites of the attractions and events you're interested in, or use a ticketing service such as Ticketmaster or Groupon. When booking, it's important to compare prices and read reviews to ensure that you're getting the best deal and that the tickets are legitimate.
5. Consider budget-friendly accommodations
Chicago is a large city with a wide range of accommodations, including many options for budget-conscious travelers.
One of the best budget hotels in the city is the Freehand Chicago, which offers a variety of private and shared rooms at a reasonable price. The hotel's unique design and central location make it a popular choice among young travelers.
Another great option is the HI Chicago Hostel, which offers clean and comfortable dorm rooms and private rooms at a budget-friendly price. The hostel also offers a range of activities and events, making it a great choice for solo travelers or those looking to meet new people.
For a more traditional hotel experience, the Inn of Chicago offers affordable rates and a central location just steps away from the Magnificent Mile. With its comfortable rooms and convenient amenities, the Inn of Chicago is a great choice for travelers on a budget who still want to be in the heart of the action.
There are also several chain hotels in the city that offer affordable rates, as well as vacation rental properties such as apartments and condos that can be rented at a lower cost than traditional hotels. To find the best deals on accommodations, it's a good idea to compare prices and book in advance, especially during peak travel seasons.
Additionally, staying outside of the city center, like in Wicker Park or Pilsen, can result in cheaper rates. Vacation rentals in these areas can be a particularly good option if you're traveling with a group and want to save money on lodging costs.
6. Eat street food and explore local markets
Chicago is a food lover's paradise, with a rich culinary history and a thriving dining scene that has something to offer for every taste and budget. While the city is known for its Michelin-starred restaurants and upscale eateries, there are also plenty of affordable options available for those looking to save some money.
Exploring ethnic neighborhoods like Chinatown, Pilsen, and Little Italy can be a great way to discover affordable and delicious food from around the world. From dim sum to tacos to pasta, these neighborhoods offer a wealth of culinary options that won't break the bank.
Local markets in Chicago are also a great way to experience the city's food culture, and offer a wide range of food options, from fresh produce and baked goods to specialty foods and artisanal goods. One of the most famous markets is the Green City Market, which is held in Lincoln Park and offers a wide range of seasonal produce, baked goods, and specialty foods. Another popular option is the Maxwell Street Market, which is held on Sundays and is known for its street food and street vendors, as well as its live music and street performers
And of course, no visit to the city would be complete without tasting what the city is known for. For pizza lovers, places like Pequod's, Burt's Place, and Lou Malnati's offer affordable and delicious pies. And for a classic Chicago-style hot dog, head to one of the city's many hot dog stands, such as Superdawg, Portillo's, or The Wiener's Circle.
7. Take advantage of free events and festivals
Chicago is a bustling city with a wide variety of free events and activities that take place throughout the year. One of the best ways to find these events is to check out local event listings and calendars, such as Time Out Chicago and Choose Chicago. These resources offer comprehensive guides to free events in the city, from outdoor concerts and festivals to art exhibits and cultural events.
Another great option is to explore the city's many parks and public spaces, which often host free events and activities, such as yoga classes, movie screenings, and live music performances. Many of the city's museums and cultural institutions offer free admission on certain days or during specific times, so be sure to check their websites and schedules.
Don't be afraid to ask locals and your hotel concierge for recommendations, as they may know of hidden gems and lesser-known events that aren't widely advertised. With a little research and some insider tips, it's easy to find plenty of free events and activities to enjoy in Chicago.
In Brief…
By following some of these simple budget travel tips, you can stretch your budget and make the most of your trip to Chicago. So pack your bags and head to the Windy City!
Travel during the off-season

Use ground transportation

Take advantage of free activities

Book tickets on advance

Consider budget-friendly accommodations

Eat street food and explore local markets

Take advantage of free events and festivals
Conclusion…
All in all, Chicago is a city that truly has something for everyone, from its iconic architecture and stunning skyline to its vibrant arts scene and diverse food culture. With its rich history, diverse neighborhoods, and bustling cultural scene, Chicago has many instagrammable places that will leave you in awe and wonder.
Planning your next trip?