Last Updated on by Talita
Japan is one of the most unique countries in the world. And the contrast between ancient, traditional temples and modern skyscraper hotels manned by robots (yes, they actually exist in Japan!) is even more prominent in Japan's capital city, Tokyo.
Tokyo is my favourite travel destination in the world. Even after having visited it multiple times, I can never wait to return and explore more. Since Tokyo is one of the biggest cities in the world, there will always be something new to discover. So, if you're visiting Tokyo for the first time and only have a few days, it may be overwhelming to plan an itinerary.
To help you out, I've put together an efficient and easy-to-follow three-day Tokyo itinerary. It takes you to the best parts of town and ensures you'll get a great first impression of this magical city. Don't be surprised if it leaves you wanting more though – Tokyo is easy to fall in love with!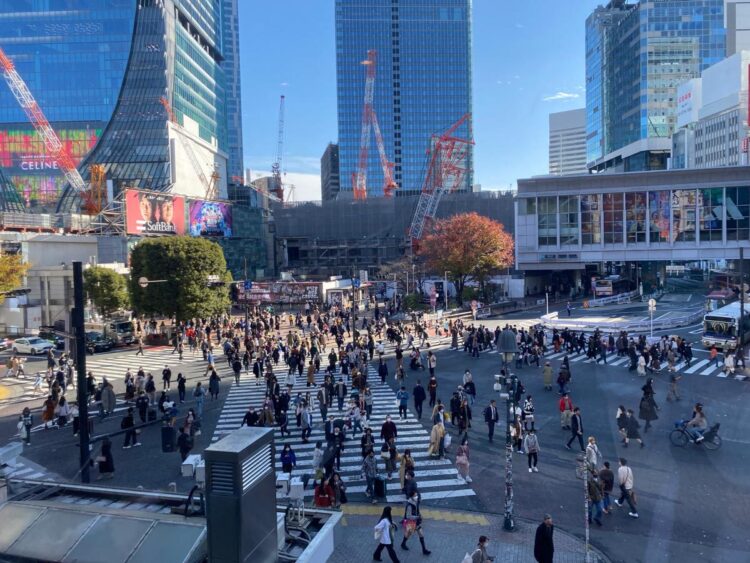 Day 1 – Shibuya & Shinjuku
Tokyo is a big city, with 23 individual wards that make up the city as a whole. As you only have three days to explore the city, it's best to stick with the most famous areas. On the first day, start by exploring Shibuya and Shinjuku.
Walk across Shibuya Crossing
Shibuya Crossing is one of the most famous places in Tokyo. It's also known as the busiest intersection in the world, as up to 3,000 people can cross the street here at the same time.
The famous crossing is located just outside of Shibuya Station, so you really can't miss it after getting off the train or metro. No visit to Tokyo is complete without crossing Shibuya Crossing as least once!
There are some great viewing points nearby too, so you can watch the thousands of people cross the street. One of my personal favourites is the Starbucks in Tsutaya, right across the street from the crossing. As seating is located on the first floor, you can sit near the window and have a great view. Plus, a great chance to get your morning coffee in before heading to our next stop.
View Tokyo from above at Shibuya Sky
Opened in 2019, Shibuya Sky is a fairly new tourist hotspot in Tokyo, but one of my personal favourites. It's part of the Shibuya Scramble Square building which is located right outside of the train station.
The 230-meter tall building offers a 360 degrees viewing platform on the 46th floor. It is by far the most beautiful view I've seen of Tokyo, no matter what time of day you visit. While it's best to pre-book a ticket, you only need to pay attention to the entree time. As soon as you're in, you can stay as long as you like.
There is even a bar at the top, so if you want to soak up the views for a bit longer, you can sit down here. However, since we've got a pretty packed itinerary planned, you may want to move on to the next part.
Go shopping in Shibuya & Harajuku
Shibuya is also a great place to do some shopping as it's home to many popular stores, including the following:
Tokyo Nintendo Store

Shibuya 109, which is filled with smaller boutiques

UNIQLO

Shibuya MODI

Pokemon Centre Shibuya
But for an even more unique shopping experience, you'll have to walk a little bit further towards Harajuku. Harajuku is the area near Harajuku Station, nestled between Shibuya and Shinjuku. From Shibuya, it only takes about 10 to 15 minutes to walk there – or you can get on the metro.
Since Shinjuku is the next part of our itinerary, I highly recommend stopping by Harajuku on the way there. Harajuku is such a unique part of Tokyo, famous for its quirky street fashion. Make sure to walk through Takeshita Street and have a quick look at Omotesando Avenue – there are tons of unique boutiques to explore.
Have dinner in the Golden Gai
Once you're done (window)shopping, continue moving up towards Shinjuku. This is one of Tokyo's most popular entertainment districts – the perfect place to end your first day in Tokyo.
When it's time for dinner, head to the Golden Gai. This part of Shinjuku is filled with small alleyways lined with eateries and bars. You can book several popular food tours in this area, but it's also fun to explore it on your own.
Try sake in Omoide Yokocho
A 10-minute walk from Golden Gai, you can find Omoide Yokocho. This famous but narrow alleyway is a great place for a quick drink before heading back to your hotel. The older, more traditional atmosphere in this alleyway is unmatched by other parts of Tokyo. While the bars here are very small (usually only seating six to eight people), having a drink here is one of the best things to do in Tokyo at night.
Day 2 – Asakusa & Akihabara
After seeing the very modern side of Tokyo on our first day, it's now time to look at a more traditional part of the city in Asakusa. In the afternoon, we head back into the hyper-modern world of Japan in Akihabara.
Explore Nakamise Street
In the morning, get on the metro to Asakusa Station. You'll immediately see the difference when stepping out of the station – this is the traditional side of the city.
Start by wandering down Nakamise Street. This 200-meter street in front of Sensoji Temple (the next stop on this itinerary) is filled with small shops. From souvenirs to local treats, it's a great place to shop around for some things to try or take home.
Visit Sensoji Temple
At the end of Nakamise Street, you'll find Sensoji Temple. Dating back to the year 645, this is the oldest temple in Tokyo. Because it's such a famous temple, you can expect big crows here, but it's still 100% worth a visit.
The temple grounds have multiple temples on them, so you can easily spend a couple of hours here. They're free to visit and are open 24/7.
While at Sensoji, you can also take part in a traditional Japanese way of fortune telling. It's called "o-mikuji". You pay 100 yen to take part. The way it works is pretty simple: you shake the wooden box filled with sticks. These sticks have numbers on them. By shaking the box, you'll be able to shake one stick out of the box. The number written on this stick will correspond with a number on the drawers and you'll receive your fortune inside.
Luckily, there's normally an English translation on the fortune. It can fall anywhere between "very fortunate" to "a great curse". If you happen to get bad fortune, you can tie the note to one of the poles or trees near the temple. This way, you leave the bad fortune behind.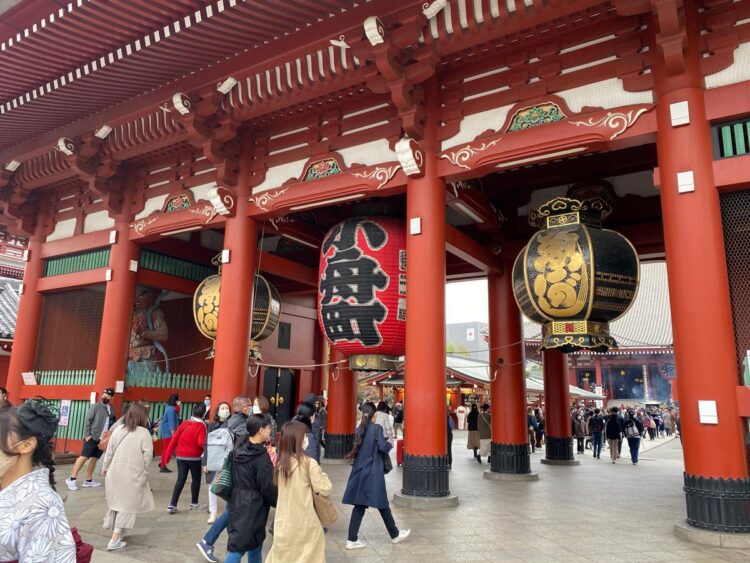 Shop in Akihabara
From Asakusa, you can get a metro to Akihabara in just a few stops. Where Asakusa is the traditional part of Tokyo, Akihabara is the complete opposite. This area in Tokyo is also known as "Electric Town" – it's the place to go if you like Japanese pop culture and electronics.
From hundreds of shops that sell the latest (and retro) gadgets to stores that specialise in anime figurines, Akihabara is filled with places to check out. If you're after any retro video games you liked playing as a kid, Akihabara has a ton of retro video game stores that may have them for sale. Some of the best ones include:
Super Potato

Retro Game Camp

Traders Headquarters

BEEP

Book Off.
Play in the video game arcades
As you probably already noticed after having spent some time in Akihabara, Japan is big on video games. You can find video game arcades across the entire country, and if you want to give some of them a go, Akihabara is a great place to do so.
When going to an arcade, make sure to check out more than just the first floor. On the first floor, you usually find a lot of crane machines, but there are a lot of other games on the floors above it. From rhythm games to coin machines, there is a lot to explore!
Day 3 – Imperial Palace & teamLab Planets
On our last day in Tokyo, we're visiting the famous Imperial Palace and the popular immersive art experience teamLab Planets. Since there are some other great sights nearby, we've added them below:
Tokyo Imperial Palace
Located near Tokyo Station, you can find the current Imperial Palace of Japan. The site used to house Edo Castle, and the park is surrounded by moats and stone walls.
The place is filled with history. As mentioned before, this is the place Edo Castle used to stand. At the time, Kyoto was the capital of Japan, but this changed to Tokyo (named Edo at the time) in 1868 when the Emperor moved to this city.
There are daily tours at the imperial palace, which I highly recommend you to take. There is so much to learn in this place! The imperial palace gardens are another spot to check out whilst spending some time here – they're stunning! If you happen to visit Tokyo during the spring, this is also a great place to watch the famous cherry blossoms. It's hard to believe you're in the middle of one of the biggest cities on the planet whilst you're in these gardens!
Tsukiji Outer Market
Before heading to next point of interest, make sure to stop by Tsukiji Market. For a long time, it used to be one of the biggest fish markets in the world. However, in 2018, the inner market has changed it's location – but that doesn't mean you shouldn't still visit!
Visiting the outer market is still a great thing to do in Japan's capital city – it has some of the best seafood in Japan! You'll find over 100 stalls and restaurants, making it a perfect place to stop for lunch before your final afternoon in Tokyo.
TeamLab Planets
Last on our Tokyo itinerary is teamLab Planets. This interactive art exhibition has been an increasingly popular place for tourists and locals to visit. After having been twice myself, I still recommend it to everybody who has time in their itinerary.
teamLab Planets has seven rooms, each with a different multi-sensory art exhibition. You're part of the art, you're barefoot and you slowly make your way through all the rooms. If you want to visit, make sure you book tickets in advance because they do sell out pretty quickly.
Depending on how much time you have left after visiting teamLab Planets, you can take the metro to the Gundam Base – it's only a couple of stops from teamLab Planets. Here, you can see a life-sized Gundam robot, one that moves every hour (on the hour).
Even if you're not familiar with Gundam, it's really awesome to see! The shopping mall behind the Gundam has one of the biggest Gundam stores in the country, along with tons of other shops (including the Hello Kitty store). If you're still after any souvenirs to bring back, this mall is a great place to shop. It also has a big food hall where you can get some cheap but tasty ramen.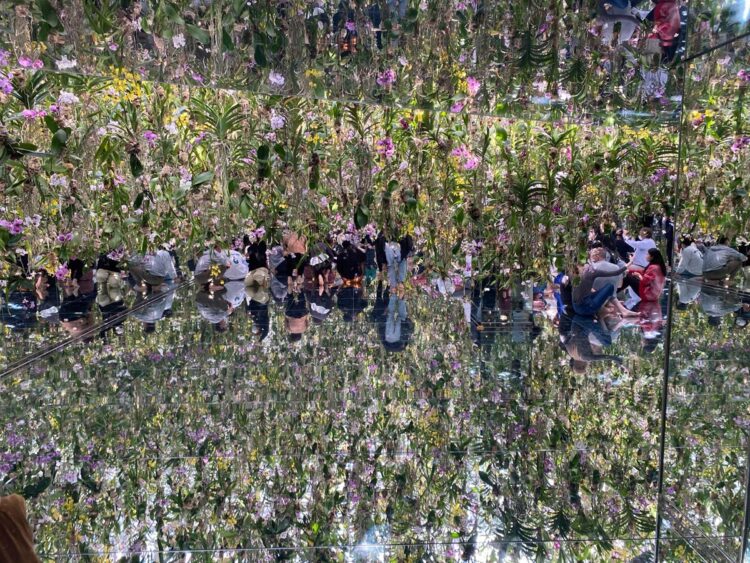 3 Days in Tokyo Conclusion…
And that takes us to the end of our Tokyo itinerary. While you could easily spend a month in Tokyo and still discover new places to explore, three days gives you a great opportunity to get a first impression of this fantastic city.
If possible, I recommend to stay in Japan for two weeks. Doing so will give you a chance to see more than just Tokyo and visit places such as Kyoto, Osaka and Nara.
Japan will always have a special place in my heart, and I hope you can fall in love with it as much as I have! Happy travelling!
Tokyo is definitely an amazing city, full of life and things to do. That way, you won't run out of options. If you are a fan of Japanese animation, for example, you can check out the Ghibli Museum article from PreTraveller, as the museum is also a great tourist spot!
Bio
Nele van Hout has had an interest in Japan and its culture for as long as she can remember. Since her first trip surpassed all her expectations, she's continued to return to Japan to explore more of all the country has got to offer. On her website, The Navigatio, she shares free travel guides and information to plan your own dream trip to Japan.
Planning your next trip?

Then don't forget travel insurance! You don't want to get stuck paying a ton of money and ruining your trip if you get sick or have an accident without travel insurance. WorldNomads is ideal for adventurous travelers, backpackers, or anyone looking to be protected during their trip. They cover almost every single activity you can image! Plus, you can have a 5% discount with the coupon code comfort5.

Already reserved your hotel or hostel? If not, we recommend Booking.com. They have a huge selection of hotels and hostels all over the world. Plus, in most cases, you can cancel your reservation without any costs up to a few days before the check-in date!

Still haven't booked your plane ticket and want to save big? Take a look at Momondo. It's a flight aggregator that combines several other ticket search websites to make it easier for you to compare prices and make sure you are getting the best deal.

And finally, will you need to rent a car during your trip? Then check out Rentalcar.com to search and compare car rental companies from all over the world in a single website. Then, you can find the cheapest price for the best car!