Last Updated on by Talita
Planning a trip to the Kiribati or Tarawa? Wondering what to do, where to stay, what you should know, how to see the Tarawa WWII sites, and more? Then read on for all you need to know!
As the third least visited country in the world, there are few places more "off-the-beaten-path" than the island nation of Kiribati.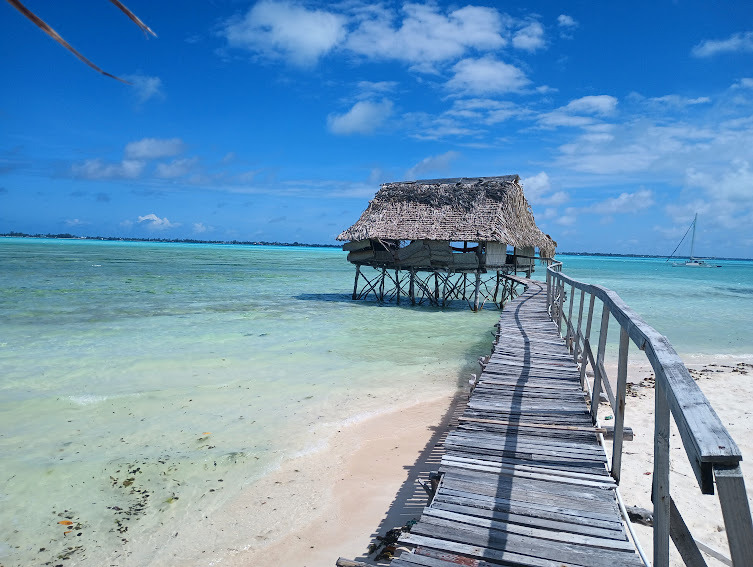 Although the country may not have many of the "usual" attractions that draw tourists in…
It IS rich in history, geopolitical intrigue (it's at the crossroads of American, Chinese, and Australian foreign interests), and friendly, curious people who will wonder why the heck you are there (and will just about always offer you a ride if you need one).
But as you can probably imagine, Kiribati's remoteness and general unknownness makes it a bit tricky to plan a trip to. In fact, I didn't find a *single* blog talking about Kiribati when I searched before our trip!
With that in mind, I wanted to put together this article to give you the Kiribati info I wished I had before my trip.
So let's get to it!
Kiribati Fast Facts
1.1 How do you say Kiribati? (Hint: it's probably not how you think!)
It's "Kiri-bas." 🙂
1.2 Where is Kiribati located?
Kiribati is a Micronesian island nation located in the central Pacific Ocean.
In general, Kiribati is quite isolated. Its nearest neighbor, the tiny island nation of Nauru, is about 300 miles away. The next closest neighbor is Tuvalu, coming in at 600+ miles away.
1.3 How many islands make up Kiribati?
Kiribati is composed of 33 atolls and reef islands. Due to the large distances between these islands, Kiribati has claims to a vast area of Pacific maritime territory.
Normally, Kiribati's islands are divided into 3 groups:
Gilbert Islands: the northernmost group of islands, known as the Kiribati capital region and home to the main population centers, including Tarawa

Phoenix Islands: the southeastern group of islands (there are no passenger ferries or scheduled flights to this region, so you're unlikely to visit as a tourist)

Line Islands: the easternmost group of islands, includes Kiritimati (also known as Christmas Island), which is the largest atoll in the world by land area and famous for sport/fly fishing
1.4 What islands to visit in Kiribati?
As a tourist, the only islands people really go to are Tarawa (the capital, and the island we'll be talking about in this article) and Kiritmati/Christmas Island, which attracts primarily those interested in sport and fly fishing.
Note that the distance between Tarawa and Christmas Island is some 2,000 miles apart, and there are no direct flights or passenger ferries available. So, you'll probably just want to focus on one island for your trip.
In which case, unless you happen to really like fishing, I'd recommend Tarawa to get the "full" Kiribati experience.
1.5 Who makes up the population of Kiribati?
Kiribati's population is primarily composed of Micronesian people, with a number of different ethnic groups present in the country. The citizens of Kiribati are called I-Kiribati and, due to the remote island setting, have a unique culture and heritage.
Most of the population is concentrated in South Tarawa, making overpopulation a serious issue on the island. Due to the limited land area and economic challenges, many I-Kiribati have migrated to larger neighboring countries, such as New Zealand and Fiji.
Other than the I-Kiribati, you'll also find a handful of foreigners – primarily aid workers from New Zealand, Australia, or with the UN – who have made Kiribati a temporary or permanent home.
1.6 What's the weather like in Kiribati?
Kiribati has a tropical climate, making it very hot and humid for most of the year.
1.7 What language do they speak in Kiribati?
The official languages of Kiribati are Gilbertese (also known as Kiribati) and English.
Gilbertese, an Austronesian language, is the mother tongue of the majority of the population and the primary language for everyday communication.
English is used in official government matters, education, and business. However, at least in our experience, not everyone speaks the language comfortably.
1.8 Is Kiribati safe?
As a whole, Kiribati is a very safe destination. While it may be characterized as poor and underdeveloped, the country has a strong sense of community, and citizens generally have a high degree of trust in one another.
With this in mind, it's unlikely you'll have any problems as a tourist. But of course, use common sense and take basic precautions like avoiding walking around with fancy jewelry or flashing wads of cash in public.
1.9 "The name 'Kiribati' sounds familiar. Aren't they one of those island countries that are sinking/will be underwater with rising sea levels and climate change?"
Given its remoteness and size, it should come as no surprise that most people haven't even heard of Kiribati.
But if they've heard anything, it's either A) that it was the site of WWII's bloody Battle of Tarawa, or B) that this small atoll is going to be one of the first to end up underwater and uninhabitable due to climate change.
However, we talked to locals on the ground in Kiribati, and they told us that, although Kiribati may feel the effects of climate change in other ways, the country is not actually in any danger of disappearing.
Sea levels may be rising, but, interestingly enough, many low-lying islands in the Pacific are actually increasing their land area and growing. This growth is attributed to the natural process of coral accretion in atolls. (However, I'm not an expert here, so please don't quote me on the specifics!)
How to plan a trip to Kiribati
2.1 How to get to Kiribati
You won't find passenger ferries or cruise ships that make their way to Kiribati, so you'll have to fly in.
Given that the country has just one international airport, Bonriki International Airport located in south Tarawa, this will most likely be your entry point to the country.
Few countries fly direct to Kiribati, so expect a layover or two (or three).
If you're having trouble finding a reasonably-priced flight, it might be worth looking into buying one ticket from your home country to Fiji, and then a separate ticket from Fiji to Tarawa.
Note that flights to Kiribati, no matter how you do it, are expensive. If you can, we recommend flying with miles.
2.2 How to get around Kiribati
Once you're in Tarawa, getting around is fairly straightforward. Given the narrowness of the island, there's really just one main road that can conveniently take you anywhere.
Along this road, you'll find regular buses. Since there's just one bus line, you don't have to worry about catching the wrong one.
Other than that, we had pretty good luck hitchhiking. (In fact, people were so friendly that, even when we were waiting for the bus, they stopped and offered to give us a ride!)
Finally, we were surprised to see that Tarawa is quite bike-friendly, with a bike lane stretching the entire length of the main road. So if you're able to get your hands on a bike (see section 2.3 below for more on this), it could be a fantastic way to explore the island at your own pace.
2.2 Where to stay in Kiribati
As mentioned in section 1.4, there are really only two islands in Kiribati that you might consider visiting as a tourist: Tarawa or Christmas Island.
Since our visit was limited to Tarawa, this article will primarily focus on info about this particular island.
2.3 Where to stay in Tarawa
There are a few budget-y guesthouse options in Tarawa.
The cheapest option in Kiribati is Mary's Motel, a fan favorite that's located at the beginning of the causeway that connects Bairiki to Betio.
Mary's Motel is one of the few, if not the only, option in Kiribati that you can book directly online from their website here.
However, we chose to pay a bit more and stay at Dreamer's Guesthouse. With just 3 rooms, availability may be limited. But it's worth staying at, if you can.
Personally, we loved staying with the British-Kiribati family that runs Dreamer's (Richard, in particular, was a wealth of knowledge and fascinating to talk to…and his wife and "better half," Beto, was incredibly kind as well).
Plus, the views overlooking the lagoon were nothing short of spectacular.
Accommodations include self-contained units with a bedroom, a small kitchen, and a bathroom, along with free airport transfers and a tasty breakfast.
Generally, Richard also has free kayaks that you can borrow to take out on the lagoon and bikes to traverse the island. If you'd like to use the bikes, just make sure you email him before your trip so he can have them ready for you.
One downfall: Dreamer's doesn't have A/C. But in our experience, the breeze coming from the lagoon is strong enough most nights that you don't really need it.
As a final option, you could also consider staying at one of the rustic, open-air "eco-lodges" in North Tarawa. Do be aware that this will require a bit more planning and coordination, particularly in terms of transportation.
Here is a list from the Kiribati tourism board of some of the eco-lodges to look into.
2.4 How long to stay in Kiribati/Tarawa
Due to flight schedules, you'll have to have a 3-day minimum stay in Kiribati. But to be honest, unless you plan to spend some time at any of the North Tarawa eco-resorts I mentioned above, 3 days should be plenty.
What to do in Kiribati (Tarawa 3-day itinerary)
Truthfully, there's *not* a ton to do in Tarawa as a tourist.
In fact, the highlight of our time in Kiribati was far less about what we actually did, and far more about all the interesting people we met.
For example, we had the chance to learn from Richard and his family at Dreamers, befriend a fellow Brazilian who moved to Kiribati for love, connect with Australian aid workers involved in essential projects like building desalination plants and waste management, and engage with UN staff on the island to promote vaccines.
Because of this, as I said in section 2.4, a 3-day itinerary in Tarawa is likely plenty.
Day 1: Settle in and scope things out
Depending on your arrival, you might not have much time to explore on day 1.
In our case, we settled into our guesthouse, went to the supermarket to stock up on supplies, and spent the evening chatting with our host and the other guest (a UNICEF worker in the country for a vaccine initiative) about Kiribati and life.
If you're staying at Dreamers, you could also use your first day to take out Richard's kayak, paddleboard, or simply walk out in the flats at low tide.
Day 2: Day trip to North Tarawa
While South Tarawa bustles as the country's administrative and commercial center, North Tarawa, a car-free series of islands north of the airport, offers a peaceful contrast with small settlements and villages.
Separated by water, there are no bridges connecting North Tarawa and South Tarawa. However, at low tide, it becomes shallow enough to walk across.
Alternatively, you hitch a boat ride across for a few cents during high tide.
North Tarawa doesn't have specific "must-do" attractions. Rather, its charm lies in going for a stroll and seeing what you find.
During our visit, we came across a clam farm, a boat factory, a local school (where enthusiastic students wanted to take a pic with us!), and several small villages.
You can find the clam farm and boat factory on the shore to the right, just after you've crossed into North Tarawa.
Getting to the crossing point from South Tarawa to North Tarawa may require a bit of creativity as there are no buses that go this far. We were lucky that Richard from our guesthouse was kind enough to drive us one way, and hitchhiking back was relatively easy.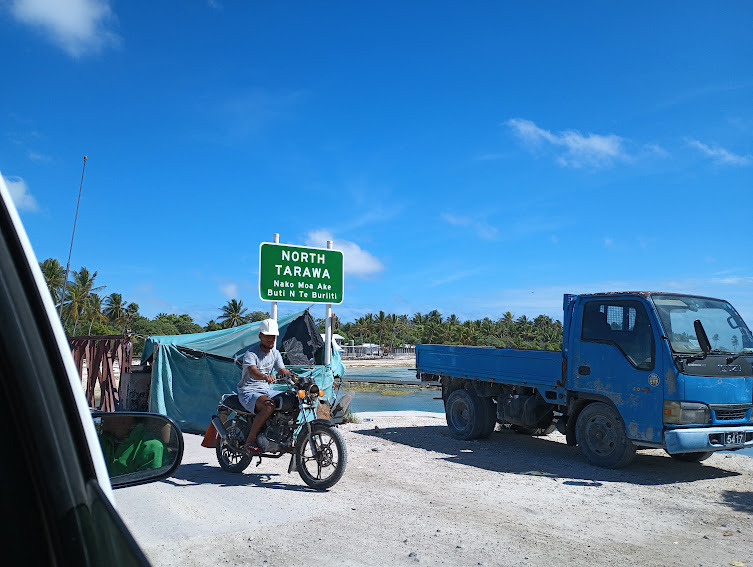 There's also a ferry that connects South Tarawa and North Tarawa. We were told it comes once per day from North Tarawa to South Tarawa in the morning, and once per day from South Tarawa to North Tarawa in the afternoon/evening.
In other words, you won't be able to take the ferry unless you do an overnight in North Tarawa. (In which case, check out section 2.3 for eco-lodge recommendations.)
One crucial tip: you won't find any facilities, food, or drinks in North Tarawa unless pre-arranged with one of the eco-lodges. So make sure you bring what you need for the day.
Day 3: Visit WWII sites in Betio
Like many islands in the Pacific, Kiribati (and Tarawa, specifically) saw intense fighting between the Americans and the Japanese during WWII.
Betio, a small islet on the southwestern tip of South Tarawa, was the main target of the American landing during the Battle of Tarawa in November 1943.
The island was heavily fortified by the Japanese before this landing, and the remnants of this, including bunkers, anti-ship guns pointing to the sea, a Japanese command center, and other relics, can still be seen in the area today.
While some of the bunkers and fortifications are located right off the main island road and thus easy to find, others are more hidden.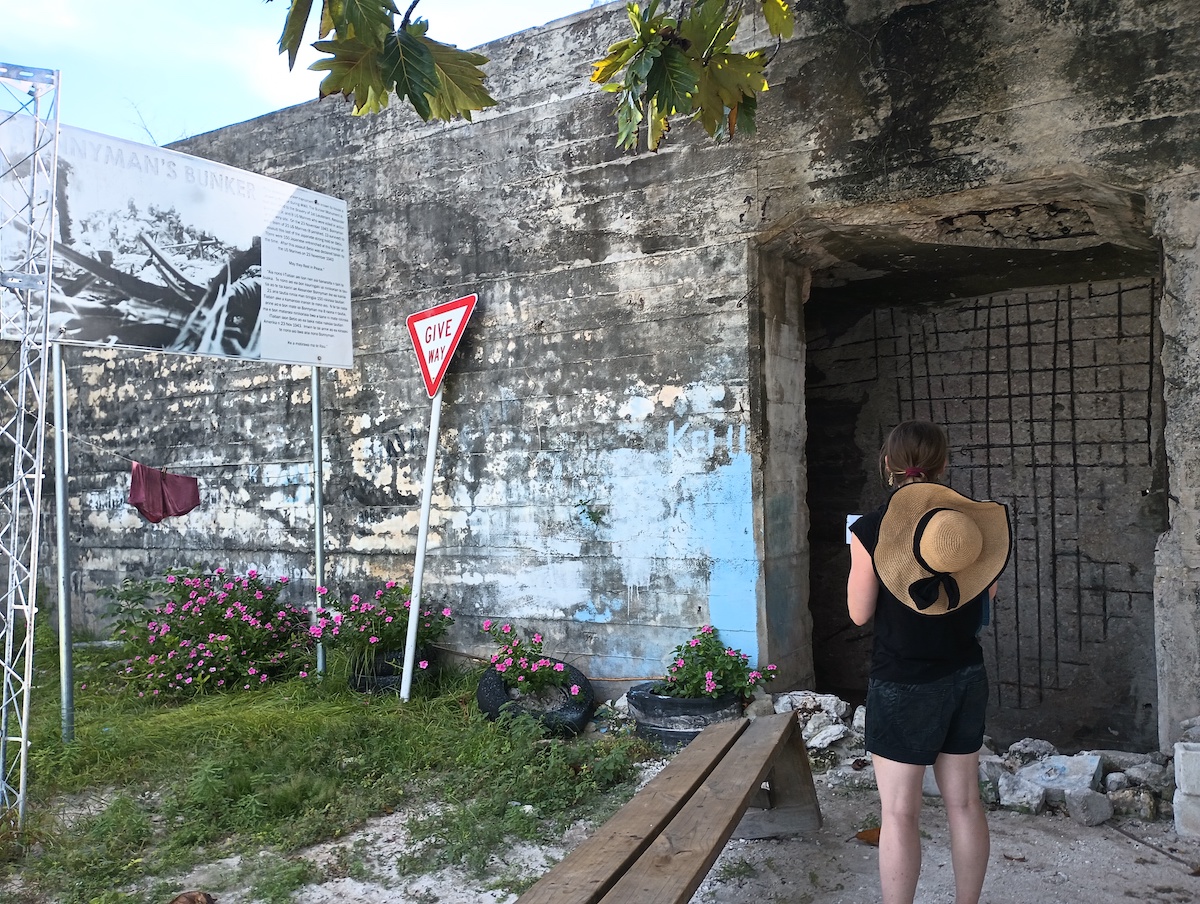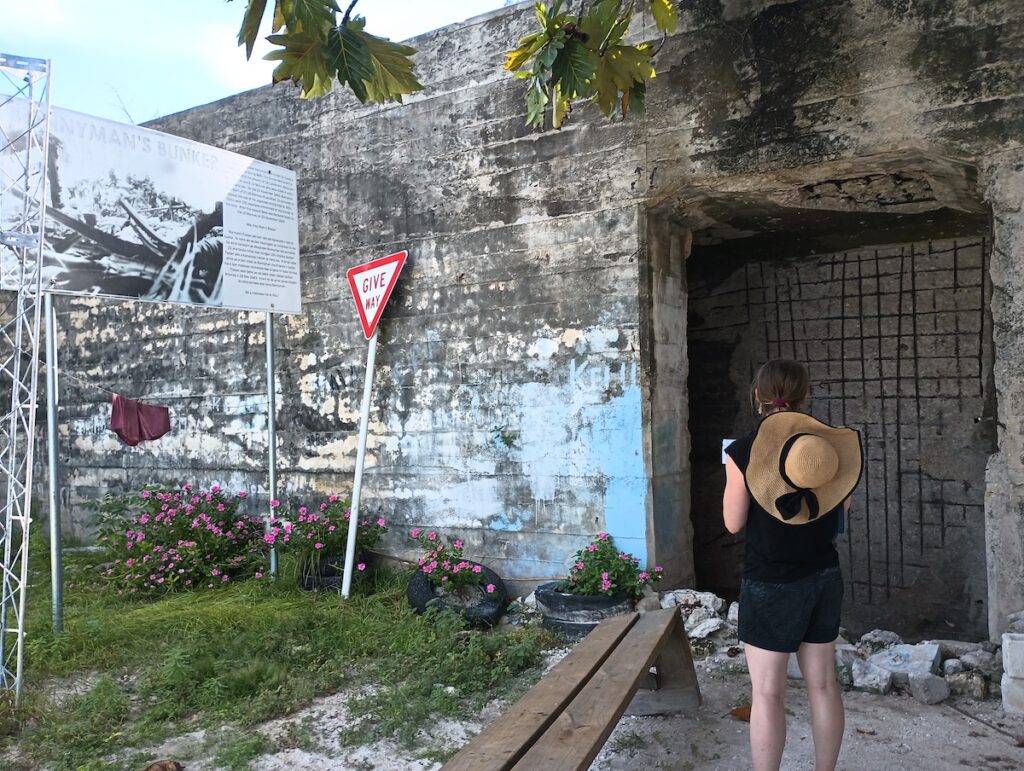 Here's a map that can help you find some of the other WWII sites and relics in Tarawa: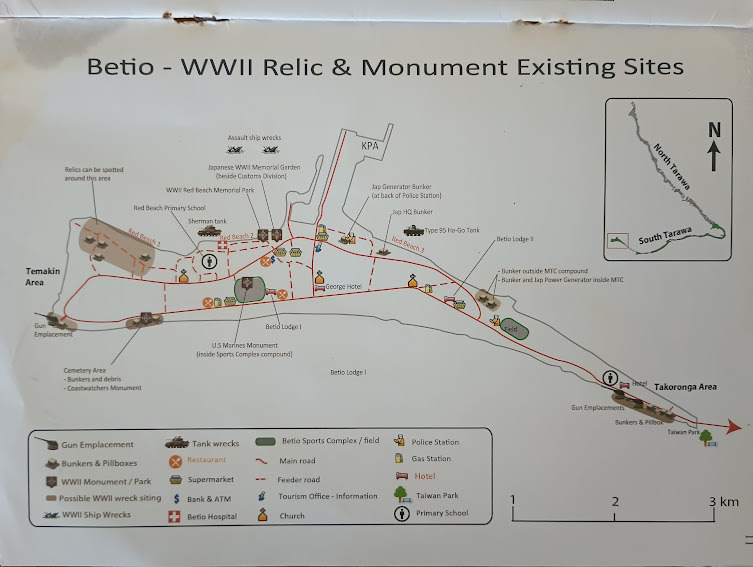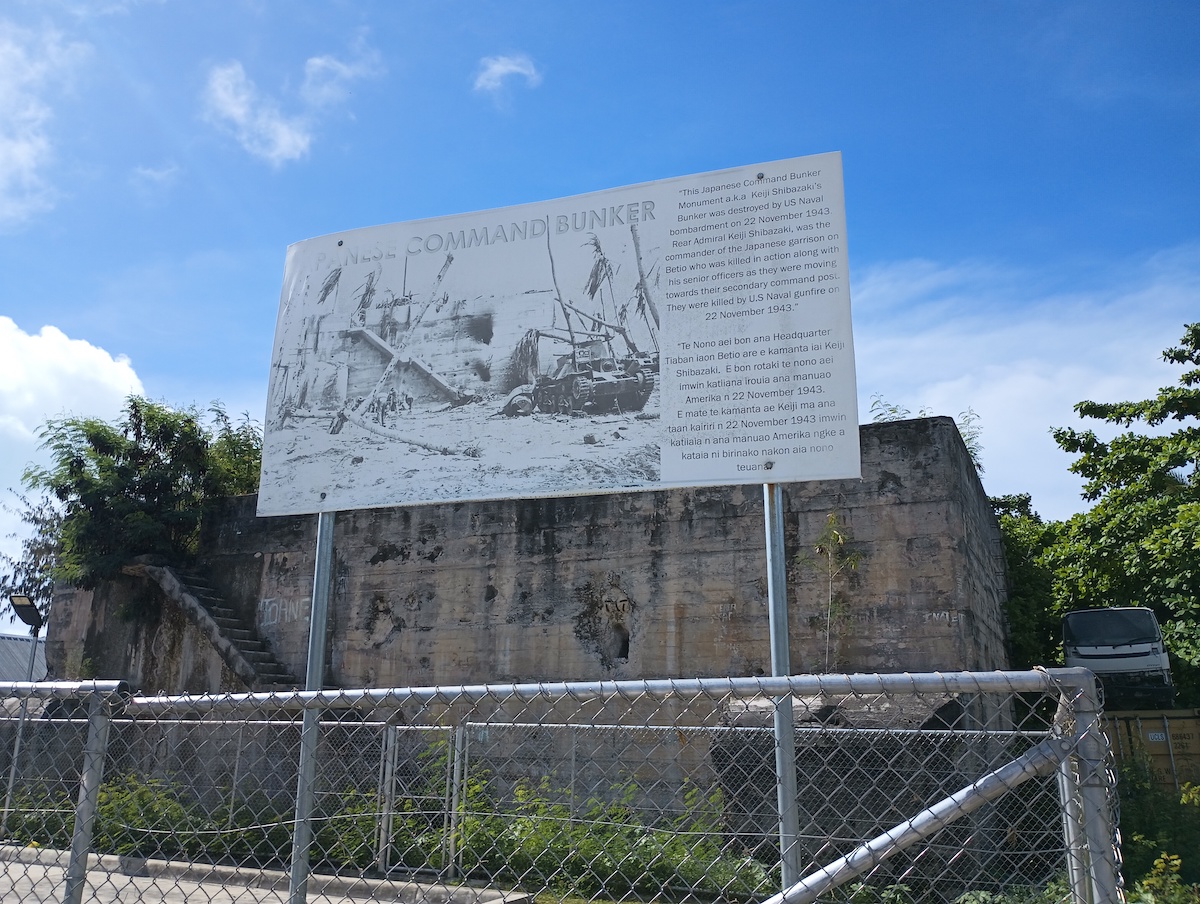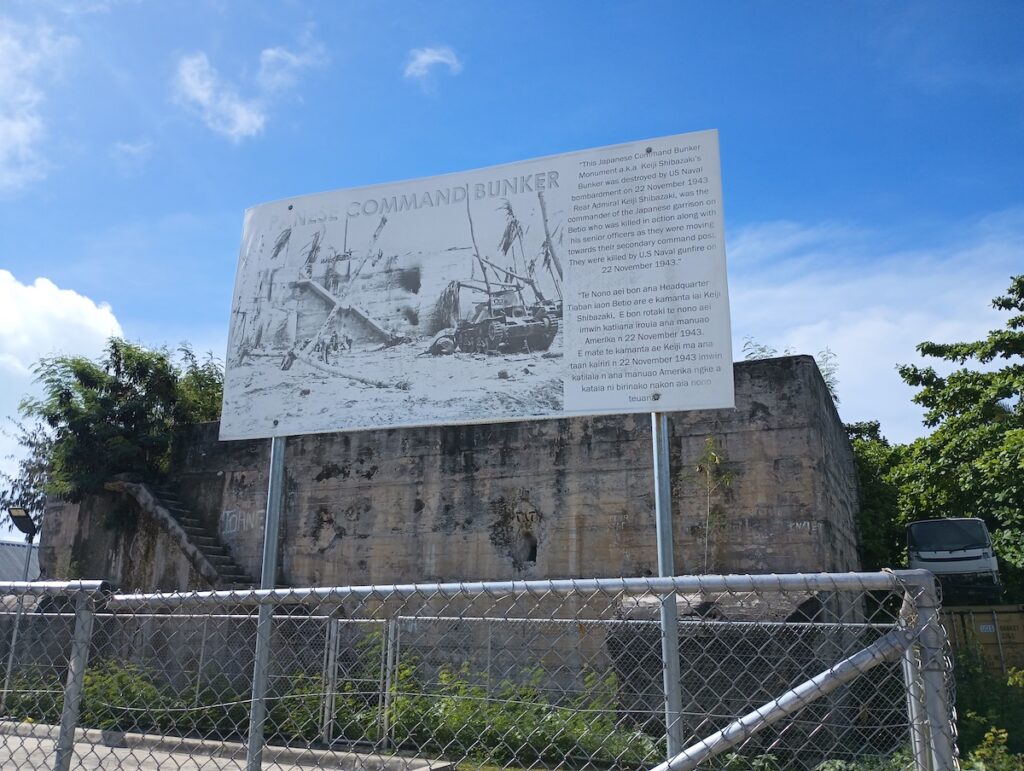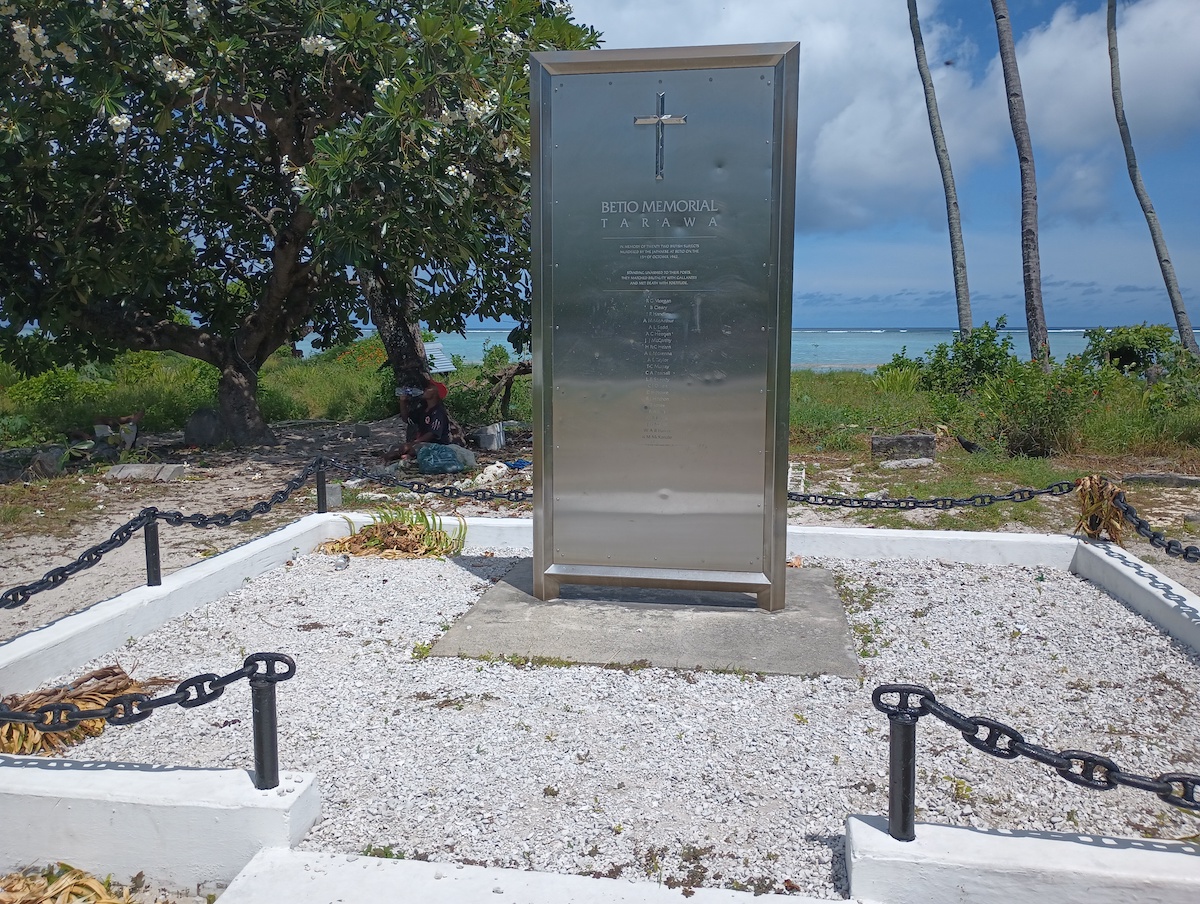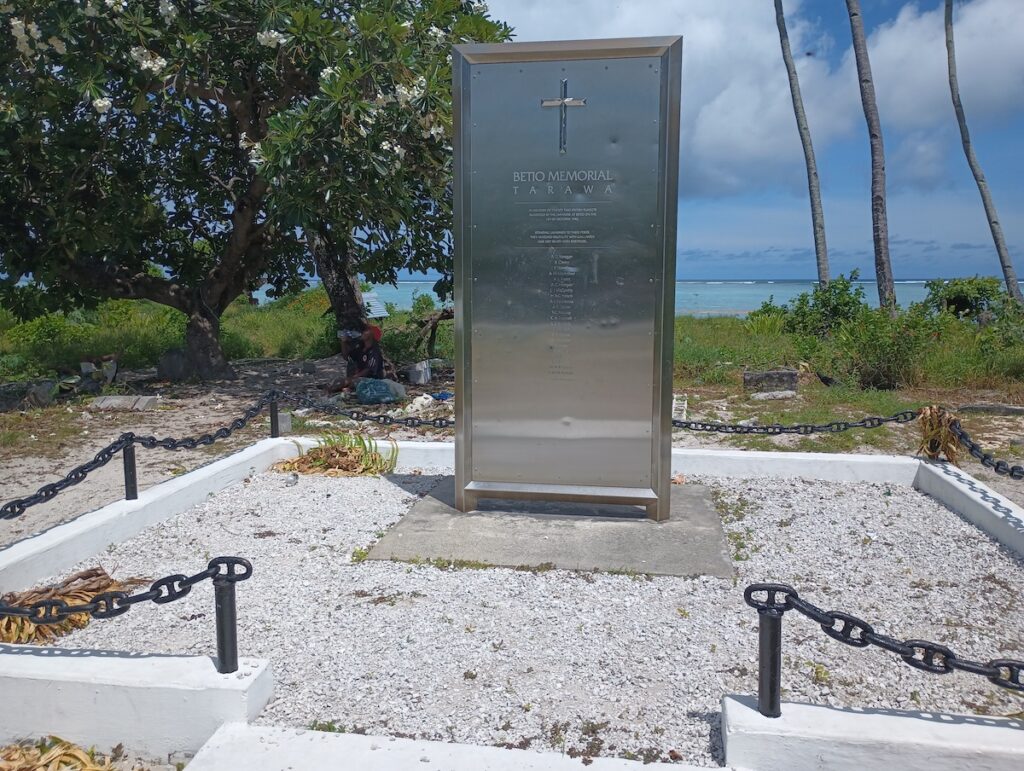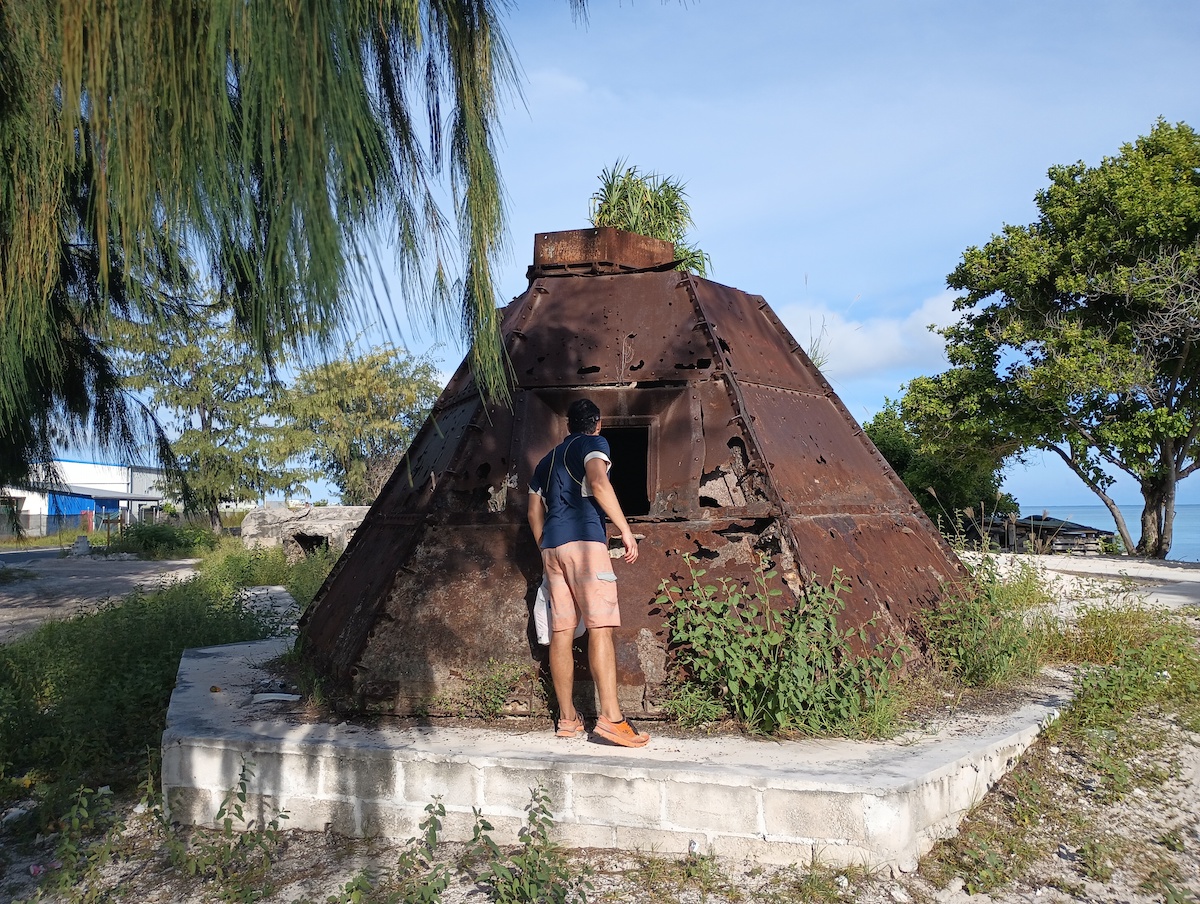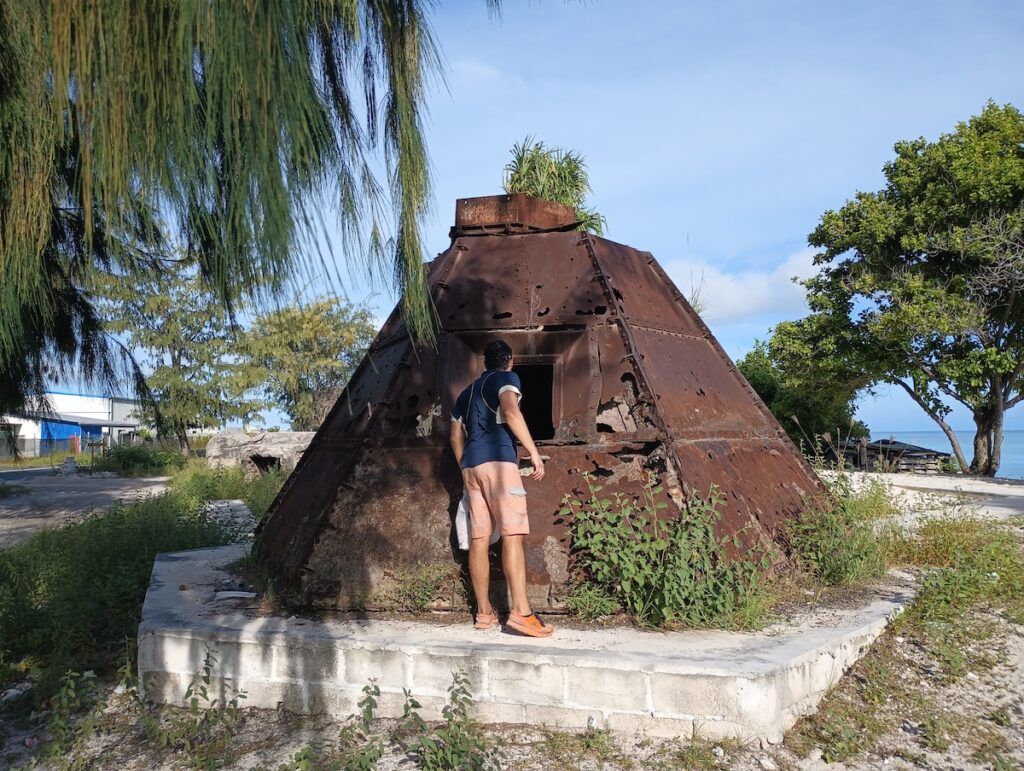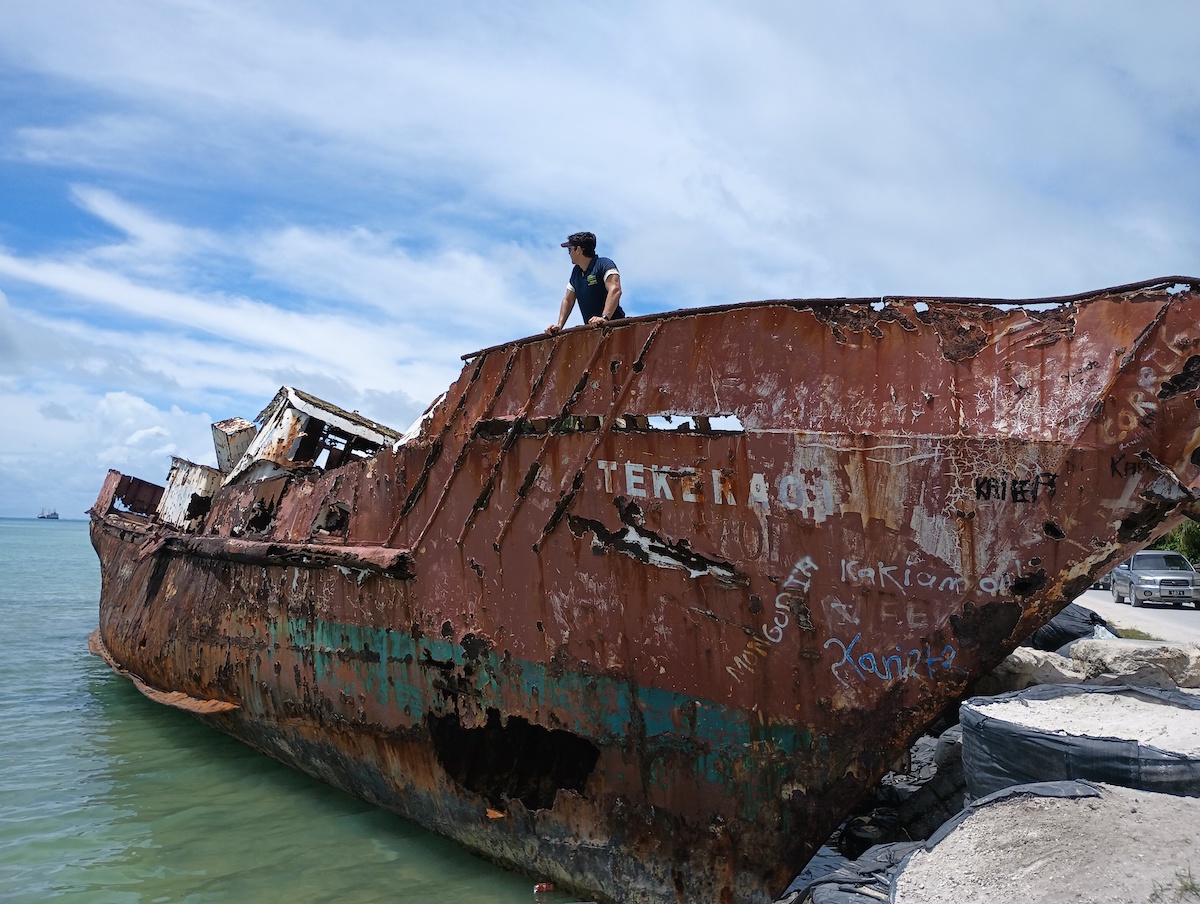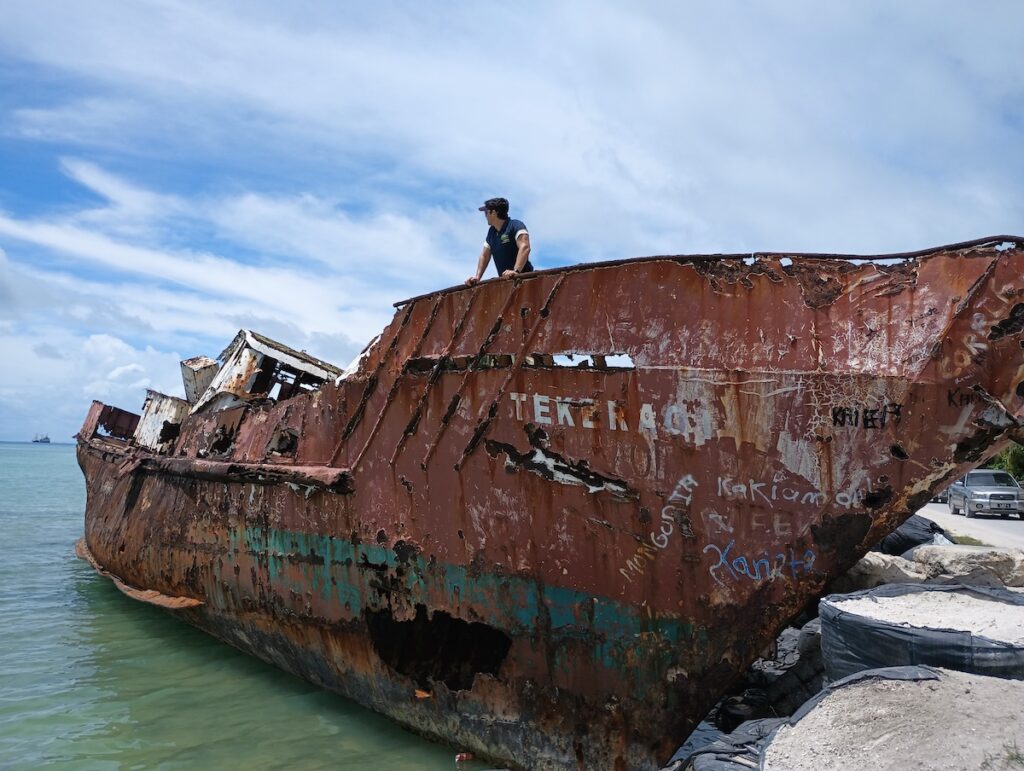 Final tips and things to know before visiting Kiribati
4.1 That beautiful turquoise lagoon might not be as clean as you think (AKA proceed with caution if you choose to swim!)
Open defecation is still practiced in the lagoons that surround Kiribati.
So unless you're in North Tarawa and far from the city, it's advisable to consider skipping that swim, no matter how inviting the water looks (or how badly you want to cool off from the heat!)
If you *really* want to go in the water, at the very least make sure you keep your head above it.
4.2 Keep cash on hand.
Like many developing countries, cash is king in Kiribati. Thankfully, there are a handful of ATMs.

Though we didn't see it, we were told there was one at the airport. Otherwise, you'll find one near the parliament building (the guards will let them through if you tell them you are there for the ATM), one in Bairiki, and one in Betio.
4.3 Be prepared for a bit of an adventure. (This isn't Tahiti or Fiji, after all!)
Unlike many other Pacific island nations, Kiribati isn't exactly a place you go for luxury, comfort, or even a relaxing beach holiday.
On Tarawa, overcrowding, lack of sufficient waste management, and things like clean water access are daily issues for much of the population. And as a visitor, you'll find infrastructure and tourism services to be limited.
It's a unique experience, to be sure. And as long as you arrive with an open mind and with some knowledge of what to expect…
I'm sure you'll have a great (or at least interesting!) time 🙂
In conclusion…
And that's it! Still have questions about your trip to Kiribati? Or have you already been and have something to add?
Let us know in the comments area below and we'll get back to you!
(P.S. If you're going to the Solomon Islands before or after your trip to Kiribati, then make sure to check out our Ultimate Guide to Visiting the Solomon Islands as well!)
Planning your next trip?

Then don't forget travel insurance! You don't want to get stuck paying a ton of money and ruining your trip if you get sick or have an accident without travel insurance. WorldNomads is ideal for adventurous travelers, backpackers, or anyone looking to be protected during their trip. They cover almost every single activity you can image! Plus, you can have a 5% discount with the coupon code comfort5.

Already reserved your hotel or hostel? If not, we recommend Booking.com. They have a huge selection of hotels and hostels all over the world. Plus, in most cases, you can cancel your reservation without any costs up to a few days before the check-in date!

Still haven't booked your plane ticket and want to save big? Take a look at Momondo. It's a flight aggregator that combines several other ticket search websites to make it easier for you to compare prices and make sure you are getting the best deal.

And finally, will you need to rent a car during your trip? Then check out Rentalcar.com to search and compare car rental companies from all over the world in a single website. Then, you can find the cheapest price for the best car!