Last Updated on by Editor
How to visit Svalbard, the northernmost place in the world that can actually be visited by tourists. Although a fairly expensive place, we give tips to save on accommodation, flights, transportation, excursions, and food. If you want to visit the Arctic the cheapest way possible, then this is as close as you can get!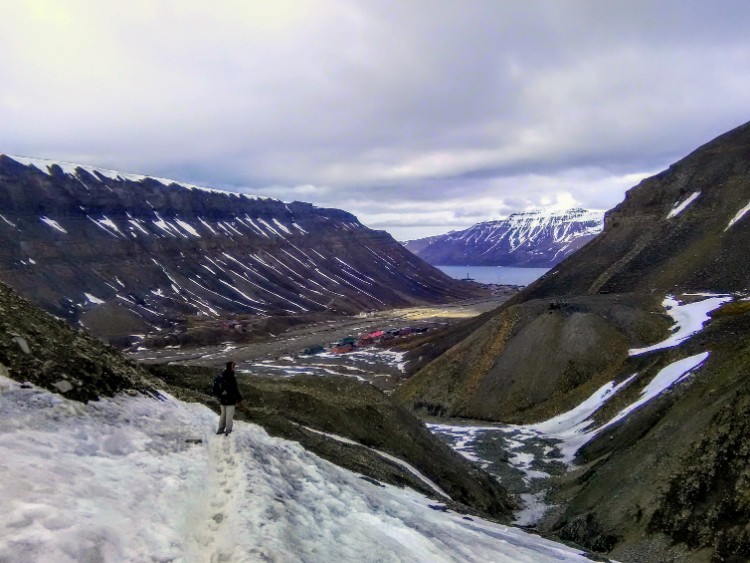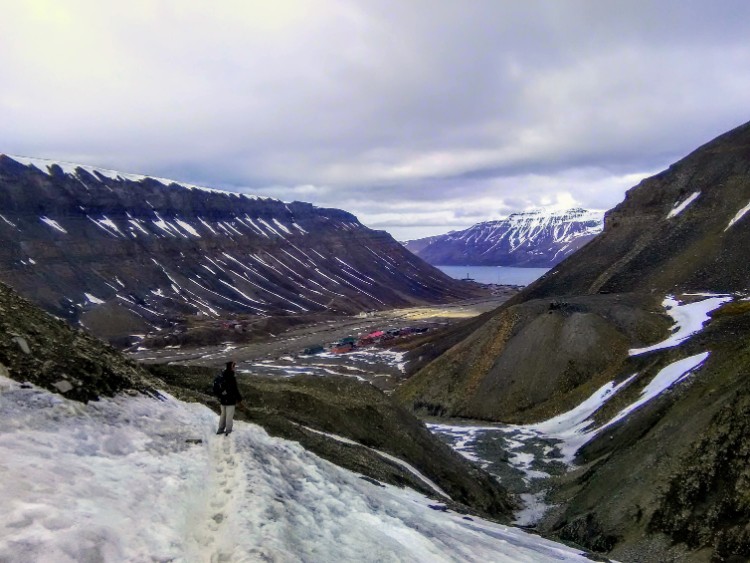 Picture a place that's quite literally as far north as you can go (unless you somehow make it the North Pole)….
To a place that's home to….
….more polar bears (& snowmobiles) than people.
….bizarre, semi-abandoned Russian mining towns (featuring the world's northernmost Lenin Statue).
….glaciers, ice caves, fjords, and pristine Arctic landscapes.
….the famed "Doomsday Seed Vault."
If this list hasn't given you a hint, Svalbard is an incredible (though strange) place to visit.
After our trip there, we can easily say it's one of the most unique, stunning places we've ever visited.
And, though you might not expect it, it's surprisingly easy to get to! (All it takes is a 3-hour flight from Oslo, the capital of Norway)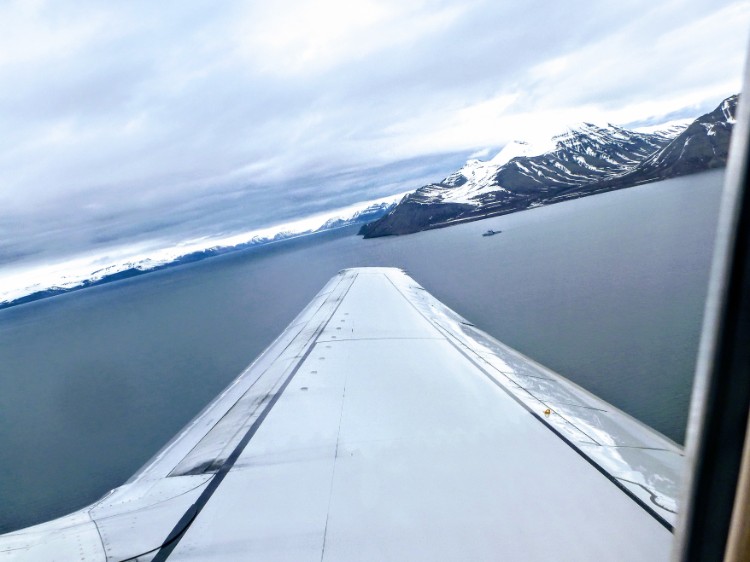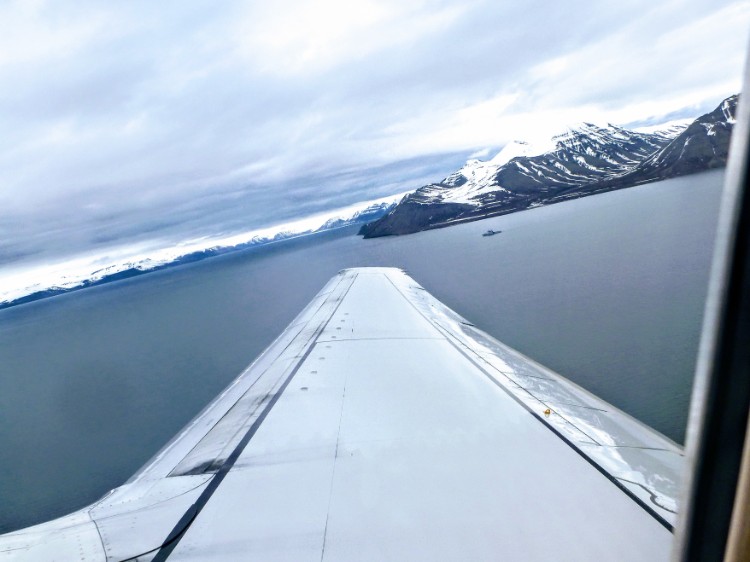 So, we decided to put together this detailed, "ultimate" guide — covering everything from accommodation to itineraries to traveling Svalbard on a budget — to help you get there yourself 

Enjoy!
Table of Contents
Svalbard Fast Facts
Planning a Trip to Svalbard

Do I need a visa?

When/how long to visit Svalbard?

Is Svalbard expensive/is it possible to visit on a budget?

What about the polar bears? Are there problems with polar bears in Svalbard?

Svalbard Accommodation

Where to stay in Svalbard

The best place to stay in Longyearbyen (our recommendation)

The cheapest place to stay in Longyearbyen

Other budget options for Svalbard accommodation

Svalbard Transportation

How to get to Svalbard

How to get from the Svalbard Airport to Longyearbyen city center

How to get around Svalbard

Svalbard Food & Drink
What to do in Svalbard/Svalbard Itineraries

Svalbard 5-day itinerary for June/summer

Svalbard winter itinerary & activities

How to visit the Svalbard Global Seed Vault (the "Doomsday Vault")

How to visit Barentsburg

How to visit Pyramiden

How to explore Svalbard without a tour/by yourself

Exploring Svalbard on your own: How to rent a rifle in Svalbard

Exploring Svalbard on your own: Ask about the weather and environment conditions

How to work or study in Svalbard
Final tips for visiting Svalbard
Svalbard Fast Facts
Where is Svalbard?
In quick terms, Svalbard is waaaaay the heck up there. It's farther north than Iceland than the Arctic Circle, and than most of Russia and Greenland.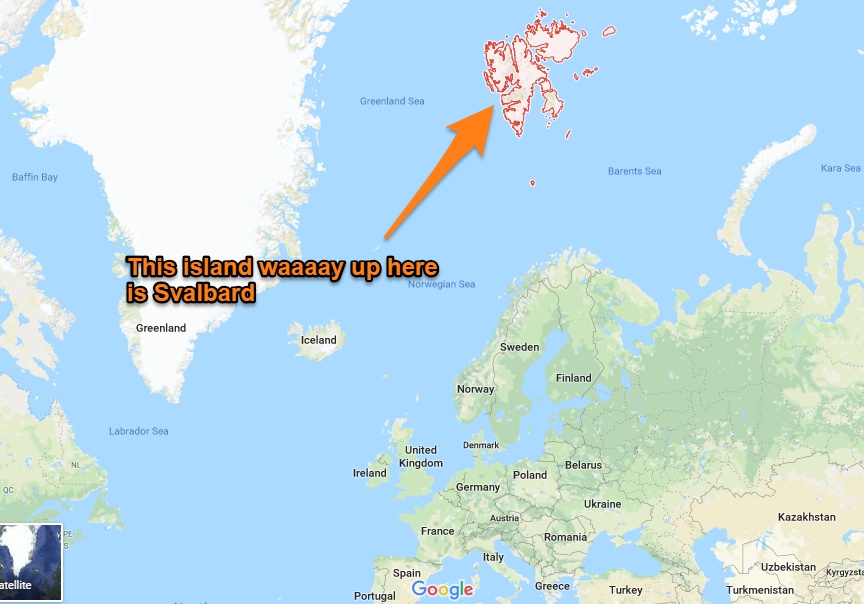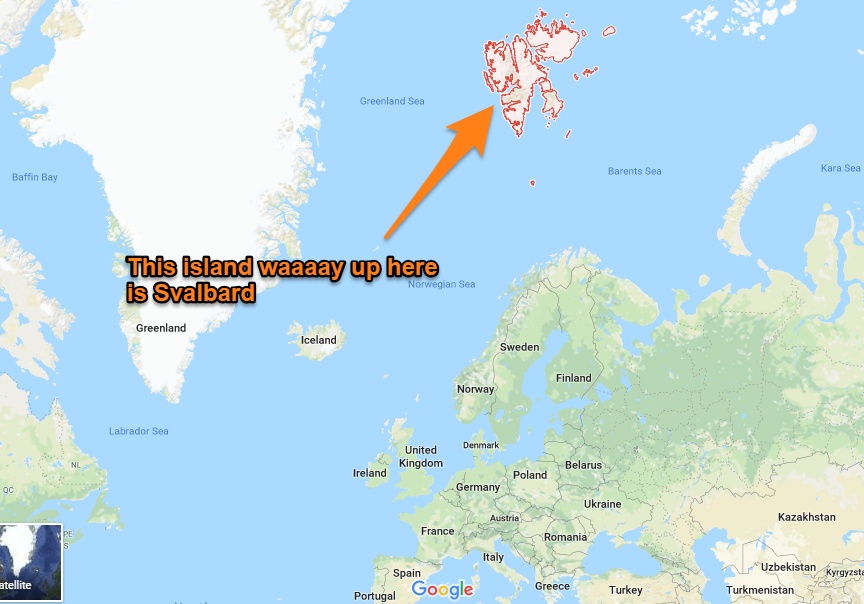 In other words, short of visiting the North Pole, you really can't visit a place farther north. Especially if you want to visit a place where real humans (not just scientists and researchers) live.
In fact, Svalbard is the northernmost human settlement on our planet!
What is Svalbard?
Svalbard is a group of islands technically owned by Norway. Yet, they don't operate as a traditional territory since people from any nation of the world can come here to live and work visa-free.
The islands are fairly large (23,561 square meters) but are mostly uninhabited. The biggest city, the capital Longyearbyen, has just over 2,000 people.
Spitsbergen is the biggest island on Svalbard and is likely where you'll be spending your visit (since the rest of the islands are so hard to get to).
What is Svalbard's currency?
Since Svalbard is a part of Norway, they use the same Norwegian Krone as the mainland.
Who lives in Svalbard?
Since anyone can live and work in Svalbard visa-free, this isolated island is surprisingly diverse and is a place people from 50+ countries call home. Naturally, there are many Norwegians but there are also large groups of Russian, Ukrainian, Thai, Swedish, and German people.
What language do people in speak in Svalbard?
Officially, Norwegian. But as with the Norwegian mainland, everyone speaks English.
How to Plan a Trip to Svalbard / Svalbard Trip Planning
2.1) Do I need a visa to visit Svalbard?
Technically, anyone can visit, live, and work in Svalbard visa-free. The problem is that you'll have to fly through mainland Norway to get there. And since the flight from mainland Norway to Svalbard isn't considered an international flight, you'll need to pass through Norwegian immigration control.
This means that, if you need a visa to get to Norway (or the Schengen zone), then you'll also need one to cross into Svalbard.
Here is a list of countries that need a visa to enter Norway and thus Svalbard.
2.2) When to visit Svalbard?
This depends 100% on what you want to do while in Svalbard and how well you tolerate cold & the darkness.
We personally went at the beginning of June and found it to be a perfect time of year. It was warmish by Svalbard standards (around 30 degrees Fahrenheit or 0 degrees Celsius), yet we were lucky and still had some snow.
There was also 24 hours of daylight when we were there, and there weren't too many tourists since it was still a few weeks before the high season began (meaning it was fairly easy for us to get into the tours we wanted too….and they also weren't too full).
Note about going during summer high season: from about mid-June to August, there are now going to be a fair number of cruise ships docking in Svalbard. It might be worth confirming with the Svalbard tourist office what dates cruise ships are docking and then do your best to avoid them
There are pros and cons to visiting each part of the year.
If you're really hardcore and can handle the cold and 24 hours of darkness, then going in the winter would give you a true Arctic experience. For example, we weren't able to go snowmobiling because we visited Svalbard too late in the season.
However, we were able to take boat rides and see places where the water is too frozen to get to in the winter.
My recommendation is to check the Svalbard Activity Planner on the Svalbard Tourism website to get an idea of what activities you can do during each season and then decide based on that.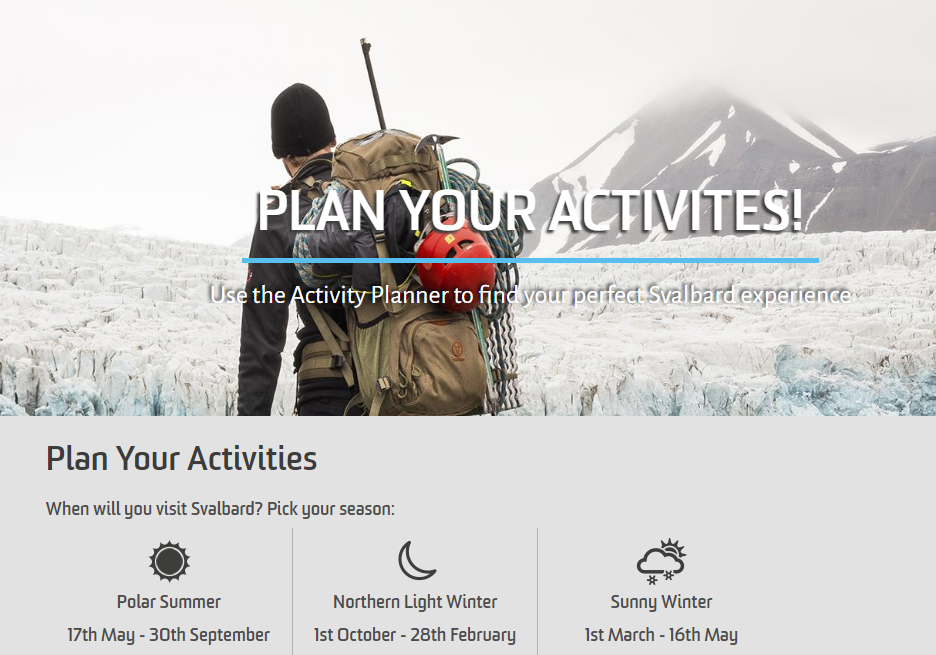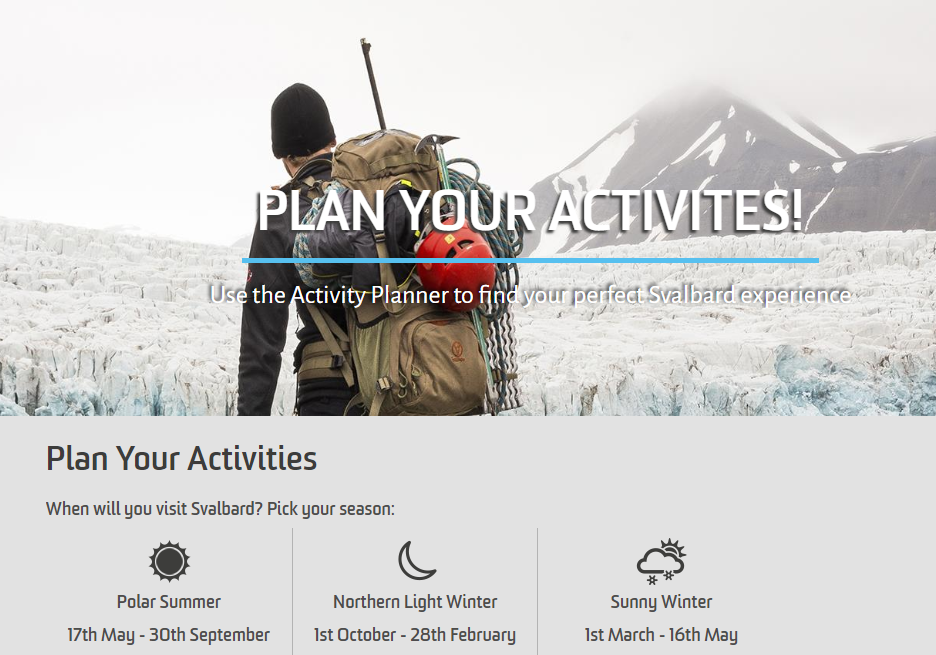 2.3) How long to stay in Svalbard?
We had 4 full days + the entire afternoon of the day our flight arrived. This was just about the right amount of time for us to visit/see/do what we wanted.
If we had stayed longer, we probably would have done an overnight trip that took us farther from Longyearbyen.
2.4) Is Svalbard expensive? Is it possible to visit Svalbard on a budget?
Yes and no.
Unfortunately, no matter what you do, Svalbard will never be a budget destination. Even if you choose the cheapest options for accommodation, transportation, and food (all of which we'll talk about below), the costs of the excursions are what's going to get you.
Basically, you'll have to do an excursion almost every day you're in Svalbard. This is because you can't leave the town limits without a rifle due to the polar bear threat.
If you're comfortable renting using a rifle in case of emergency, then you may be able to venture off a bit on your own (which we did for one day and talk about in day #3 of our 5-day itinerary below).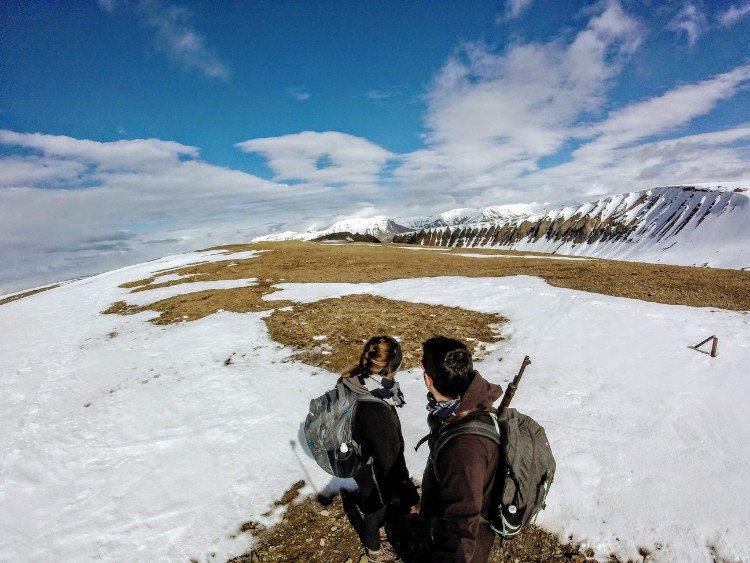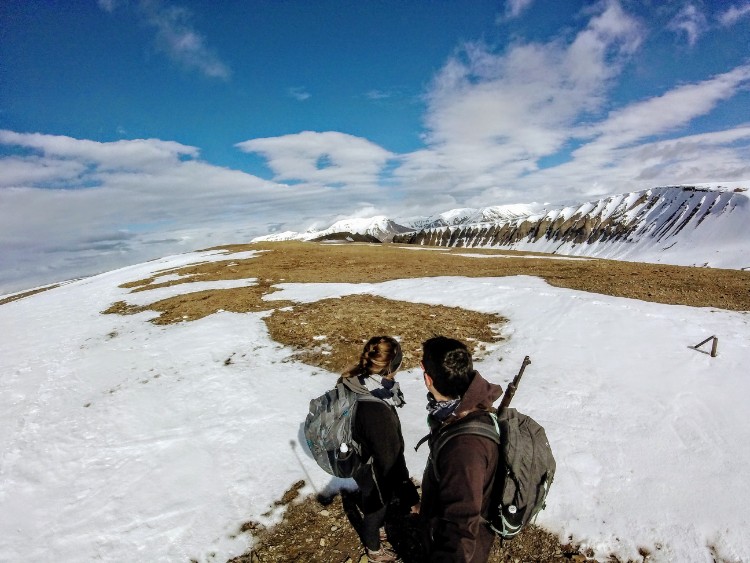 But even if you rent a rifle, you won't be able to get very far on your own since Svalbard is so big.
In other words, it would be a bit silly for you to come all the way to Svalbard and skip the excursions (and thus miss out on the most incredible parts of the island) because of the cost.
2.5) What about the polar bears?
If there's one thing people know about Svalbard, it's the polar bears. And truly, this is something to take seriously.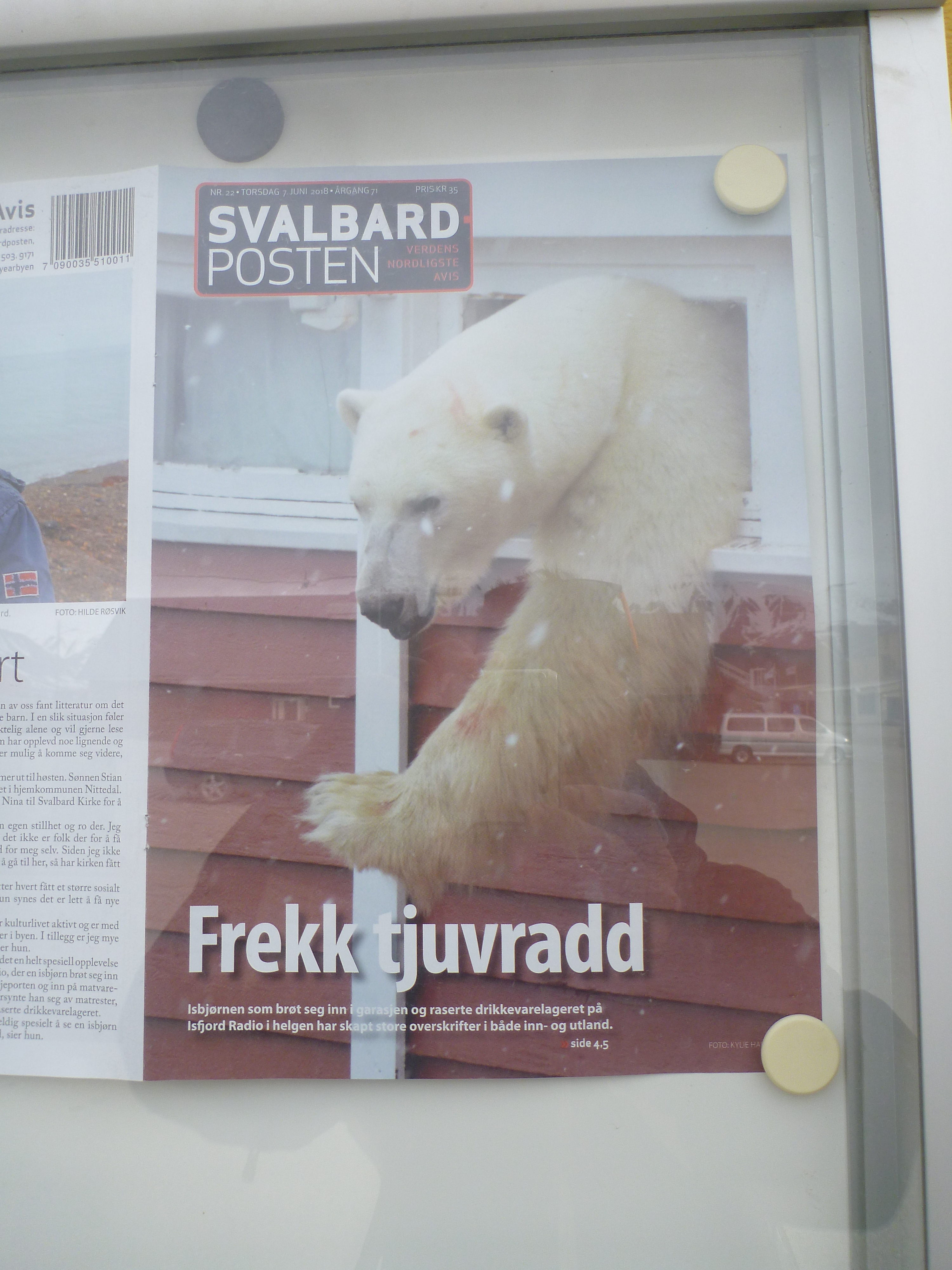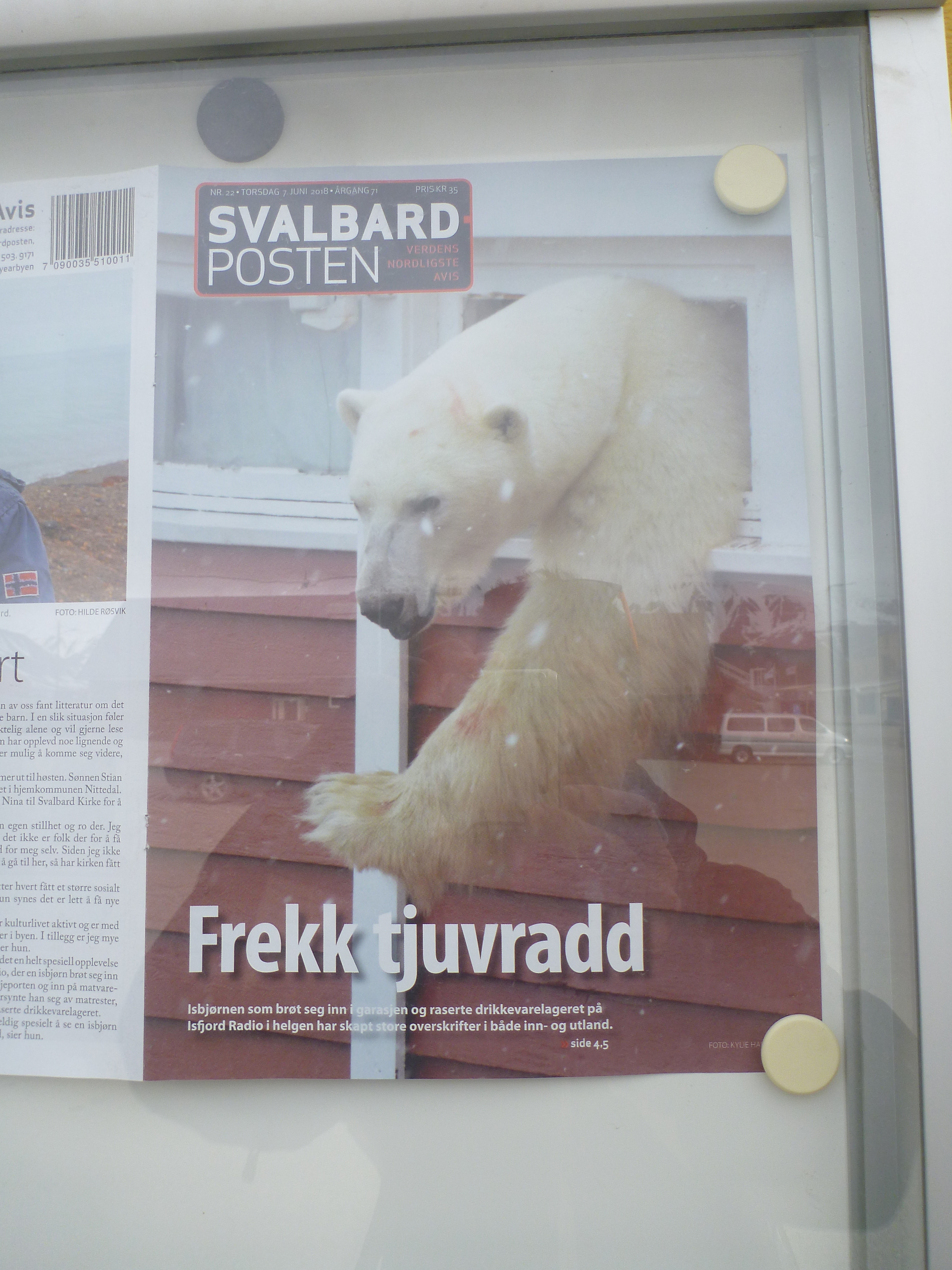 In town and on an excursion, you're fine (there are maps that show which areas are safe and if you're on an excursion, at least one of your guides will have a rifle).
But you don't have to go very far out of town to be in a polar bear risk zone. In the past, there's been attacks and deaths of people who left the town and went to these zones without a rifle. So please, do be careful.
I talk more about how to rent a rifle in Svalbard below. 
Svalbard Accommodation
3.1) Where to stay in Svalbard
Likely, you'll be staying somewhere in the capital city Longyearbyen. That's where we stayed, so we'll talk about options for staying there.
On the off chance you want to spend a night somewhere else, both Barentsburg and Pyramiden have a single hotel. Here is the link to the hotel in Barentsburg, and here is the link to the hotel in Pyramiden.
3.2) The best place to stay in Longyearbyen: our top recommendation
We had the privilege of being invited (by Mary Ann herself!) to stay at Mary Ann's Polarrigg. And we'd highly recommend it to anyone else coming to Svalbard!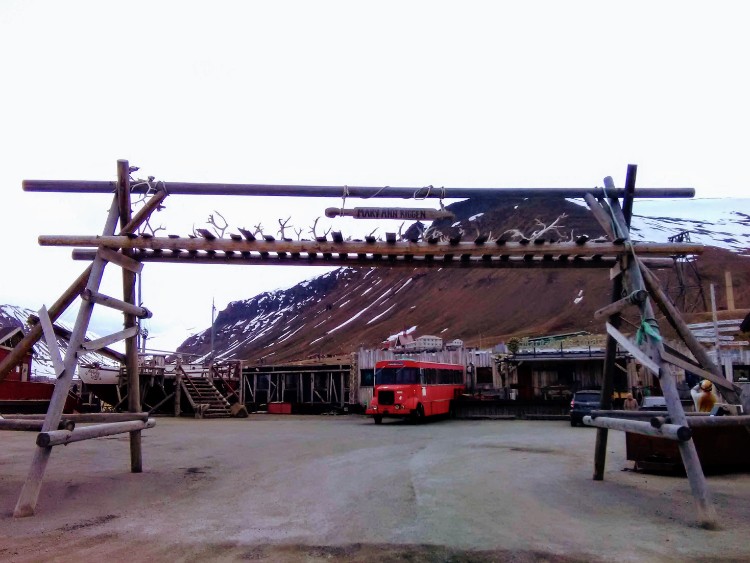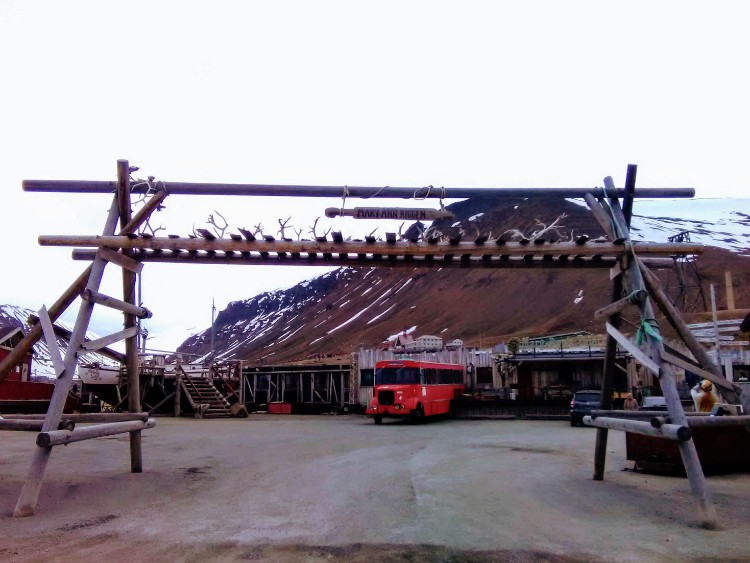 The Polarrigg, which was originally barracks for coal miners, is a place brimming with personality— from its cozy wooden interiors to its quirky arctic decor.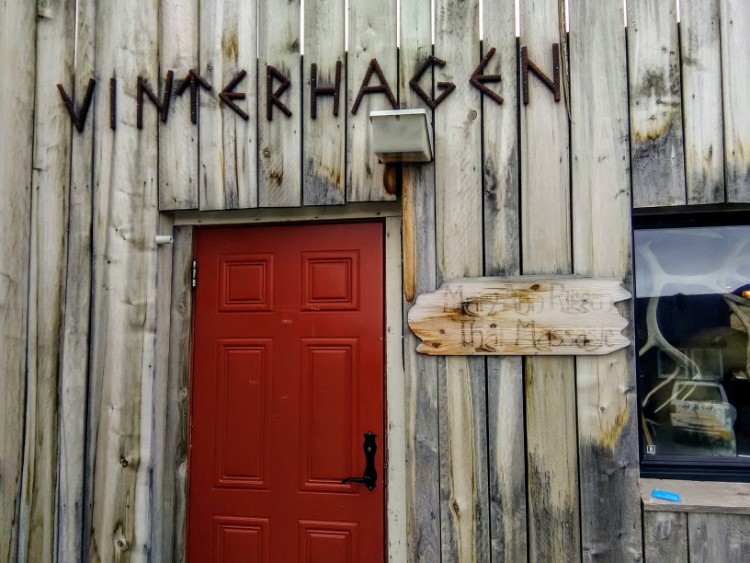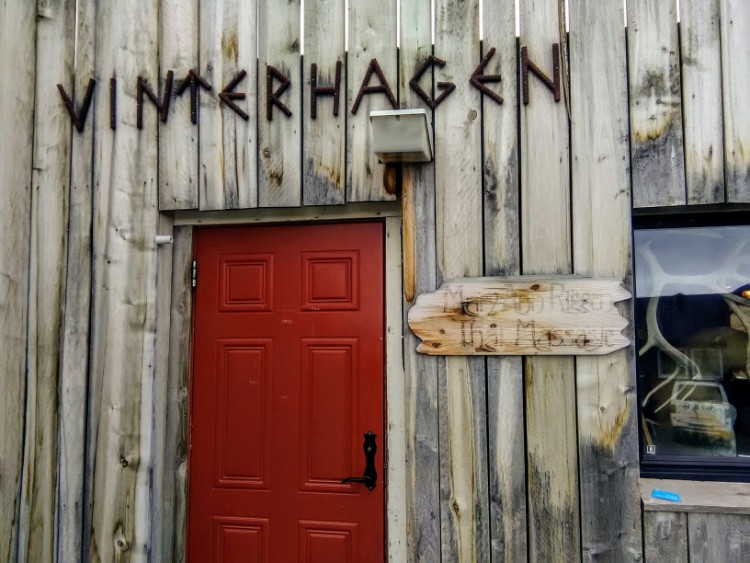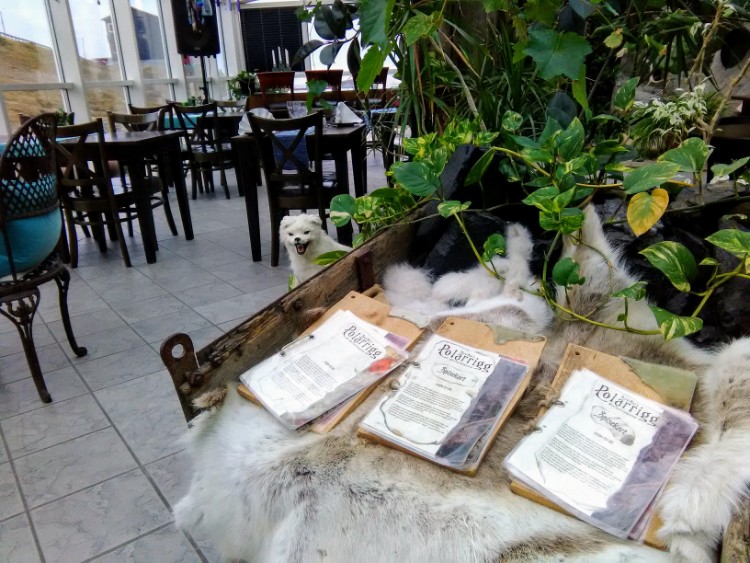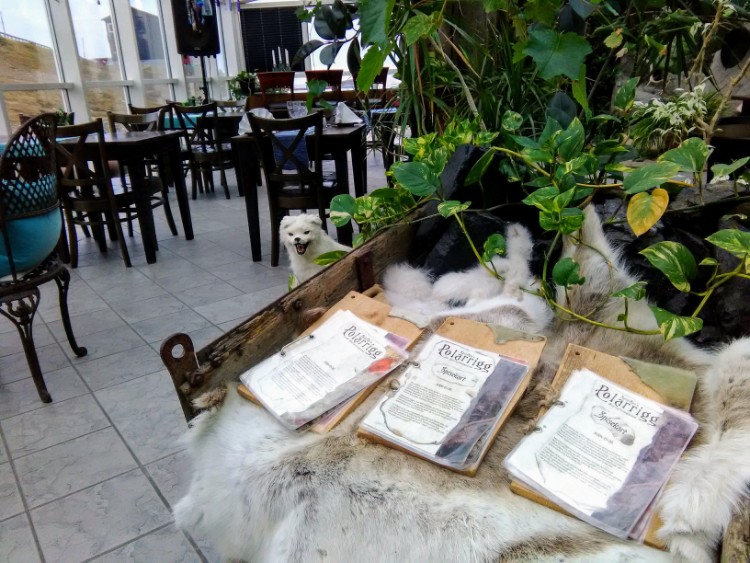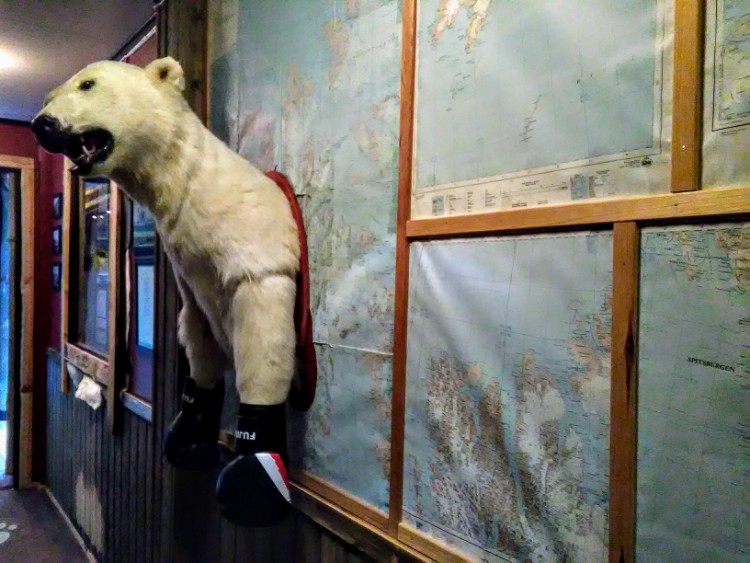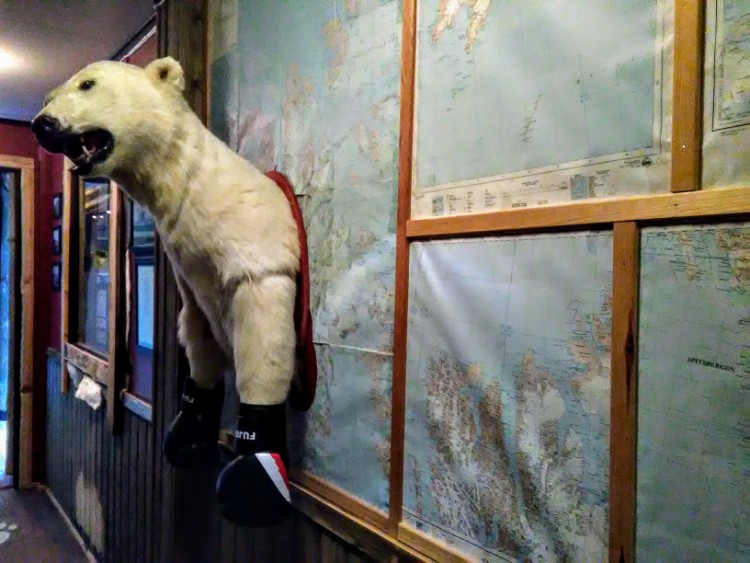 They have a variety of rooms (or even complete, furnished apartments) for you to choose from.
There's an inviting common area with WiFi (although the WiFi was sometimes a bit too slow to use) in the main rig, and a shared kitchen you can use for a fee. Since we stayed in the apartment and had our own kitchen, we didn't use this shared one.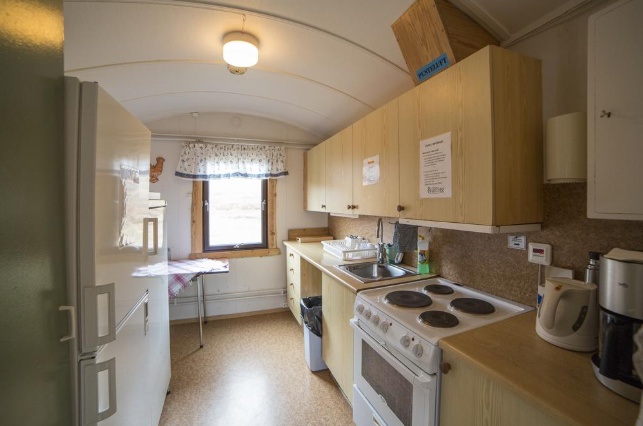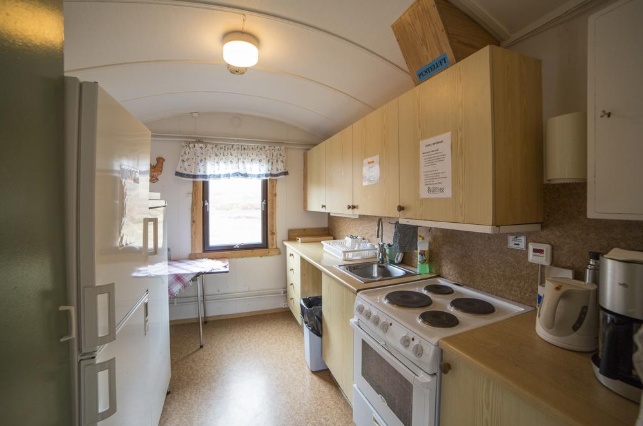 They also have a restaurant on-site which serves meals all day (including a buffet-style breakfast). There's a spa, as well. We didn't try either of these things personally since we were trying spending most of our budget on excursions….but they both look nice and are highly-reviewed!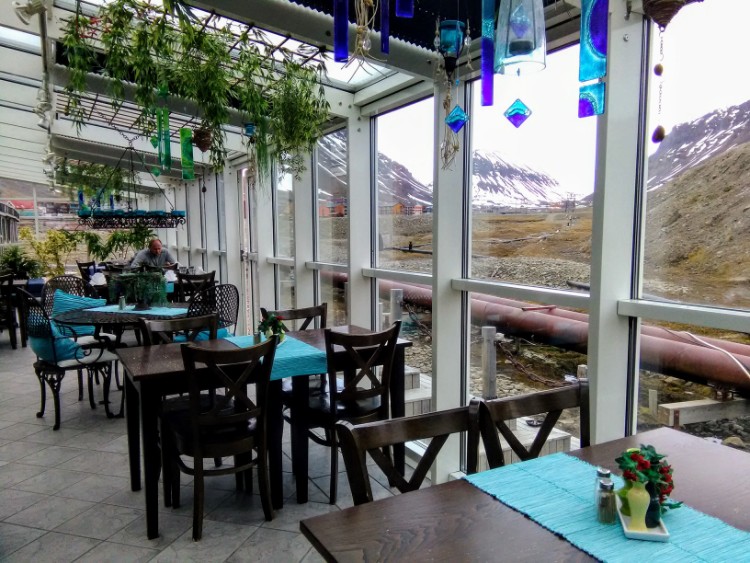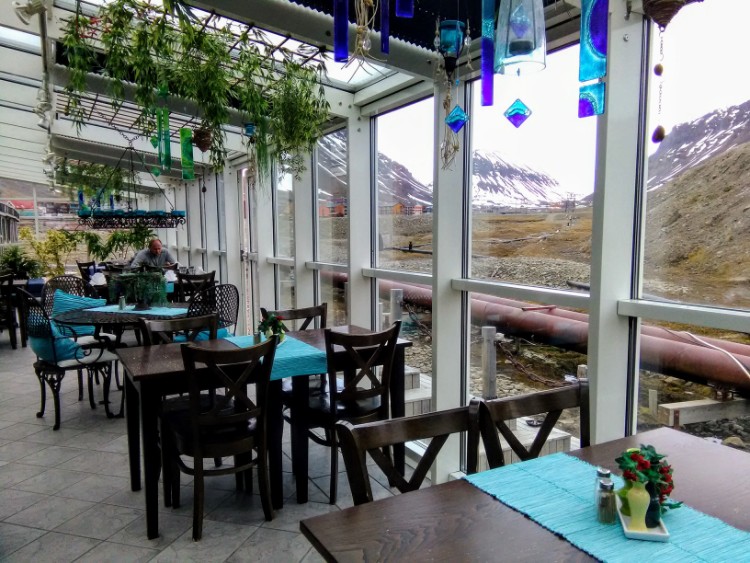 The Polarrigg is about a 5 minutes walk to the town center.
We do have to admit that staying here isn't the cheapest option. But between the comfy, cabin-y atmosphere of the Polarrigg and the charm and energy of Mary Ann, we know you'll have a great time if you do!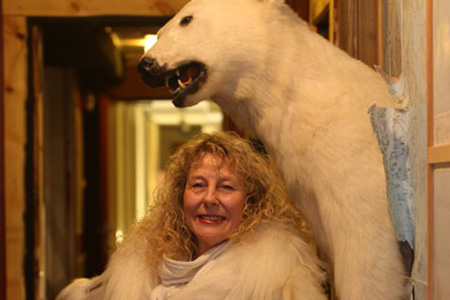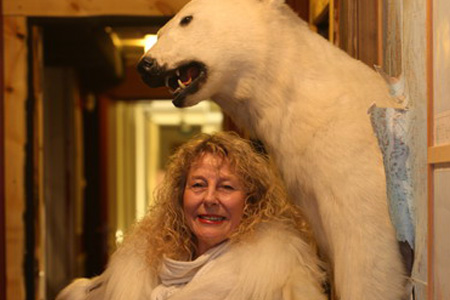 3.3) The cheapest place to stay in Longyearbyen, Svalbard
If you're really on a budget, then it looks like the cheapest place to stay in Svalbard is the campground.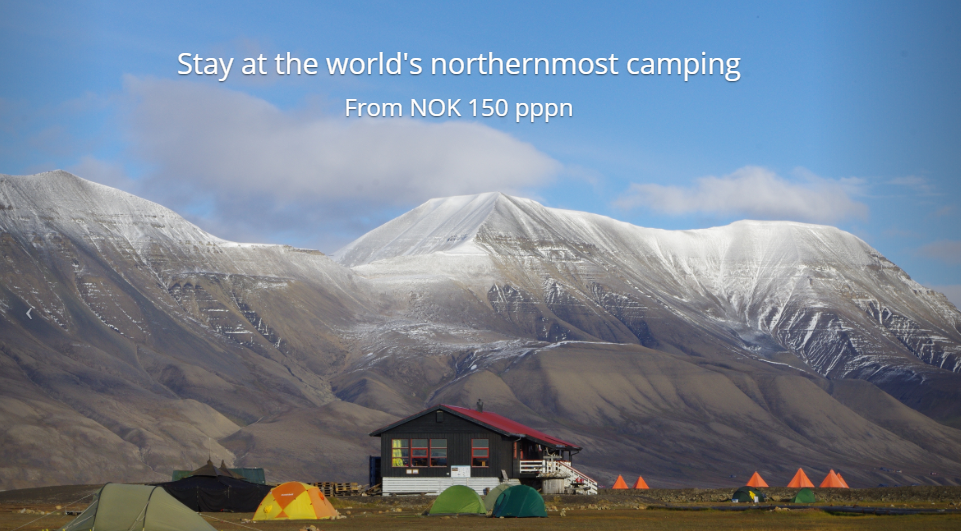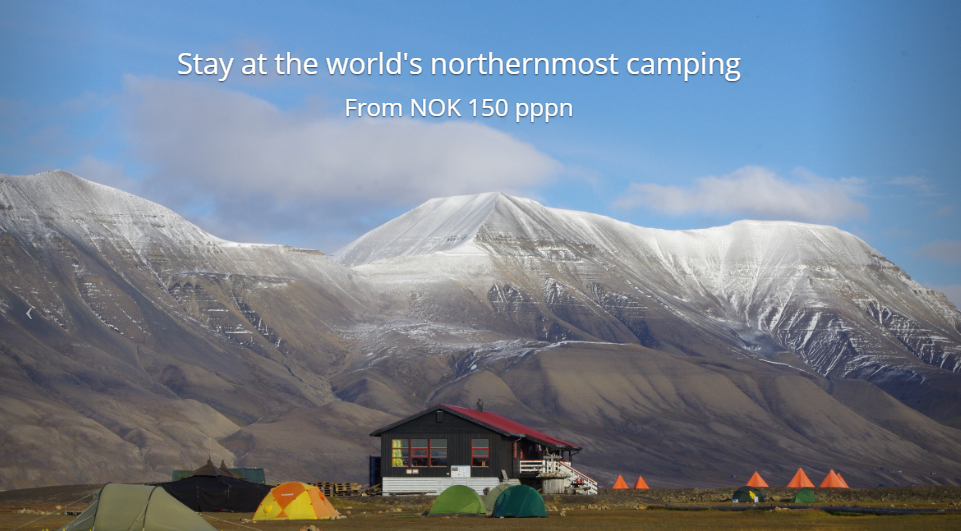 They have tents and arctic-grade sleeping bags for you to rent (for an extra fee), hot showers, and a shared indoor kitchen.
The biggest downfall is that it's actually right next to the airport and thus quite far away from Longyearbyen center (it's maybe an hour walk or so from the town center).
Luckily, if you take tours or excursions they can pick you up at the campsite. But if you need to buy groceries to use the kitchen or want to explore Longyearbyen, you'll either have to walk or take the airport shuttle bus (approximately 120 NOK round trip with a schedule that revolves around flight times).
3.4) Other budget options for Svalbard accommodation
If the campground isn't really your style (and hey, it's not mine either

) then it might be worth looking into Airbnb options. (Pssst – if you sign up for Airbnb on our link here, you'll get USD $25 off your first stay!).

As a last resort, you might be able to find a host on Couchsurfing to stay in Svalbard for free.  
Svalbard Transportation
4.1) How to get to Svalbard
Any flight you take to Svalbard will have a connection on mainland Norway (usually Oslo, but sometimes Tromsø).
If flights from your departure city to Svalbard seem expensive, here's something you can try: see if it's cheaper for you first to buy a flight from your departure city to Oslo, and then a separate flight from Oslo to Svalbard.
See our article with 16 tips to find cheap flights before you start searching for your flight to Svalbard.
4.2) How to get from the Svalbard Airport to Longyearbyen Town Center
You have two options.
#1) Walk from the airport into town (about an hour — it's just one straight road there so it's impossible to get lost)
#2) Take the Svalbard airport bus. The bus costs 75 NOK (or 120 NOK roundtrip). The bus runs around the flight schedule, so no need to book in advance. The bus should be there when your flight arrives. You can buy your bus ticket directly on the bus with cash or credit card.
Here's Svalbard airport bus timetable (this can change, so always check an updated schedule before your trip):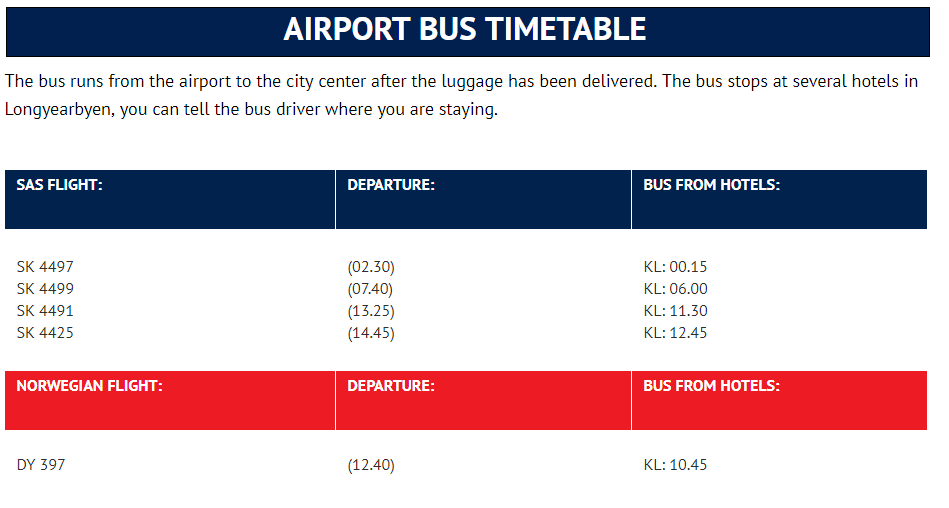 The bus stops at most accommodation options in Longyearbyen, so just tell the driver where you need to go. You can see a map of bus stops and read more info here.
4.3) How to get around Svalbard
The city of Longyearbyen is small (2,000 ish people). And since you won't be walking beyond the city because of the polar bear risk, you can easily walk anywhere you need within the city.
Any excursions you schedule will pick you up from your accommodation directly so there's no need to arrange transportation to a pickup point.
Renting a car isn't really worth it because weather conditions aren't great for much of the year, and there are very few roads (snowmobiles in the winter and boats in the summer are much better ways to get around).
In other words, between walking and transportation provided by excursions, you won't really have to organize anything else.
Svalbard food & drink
As expected, eating out in Svalbard is expensive (a little more expensive than eating out in mainland Norway).
So, we can't actually recommend any good restaurants since we didn't eat out personally.
If you're looking to visit Svalbard on a budget, then you'll likely be buying most of your food at the local grocery store (there's only one and it's downtown – you can't miss it).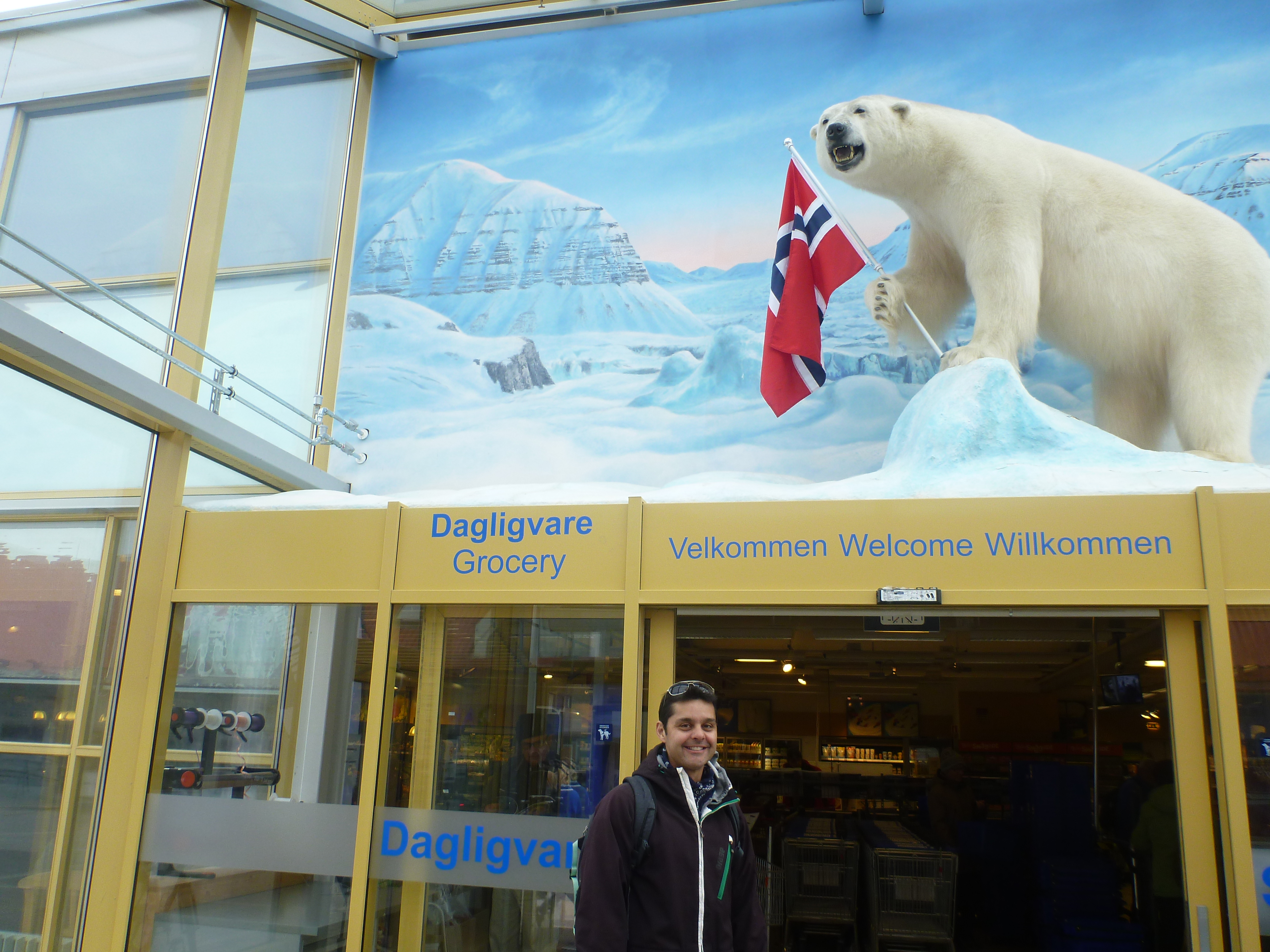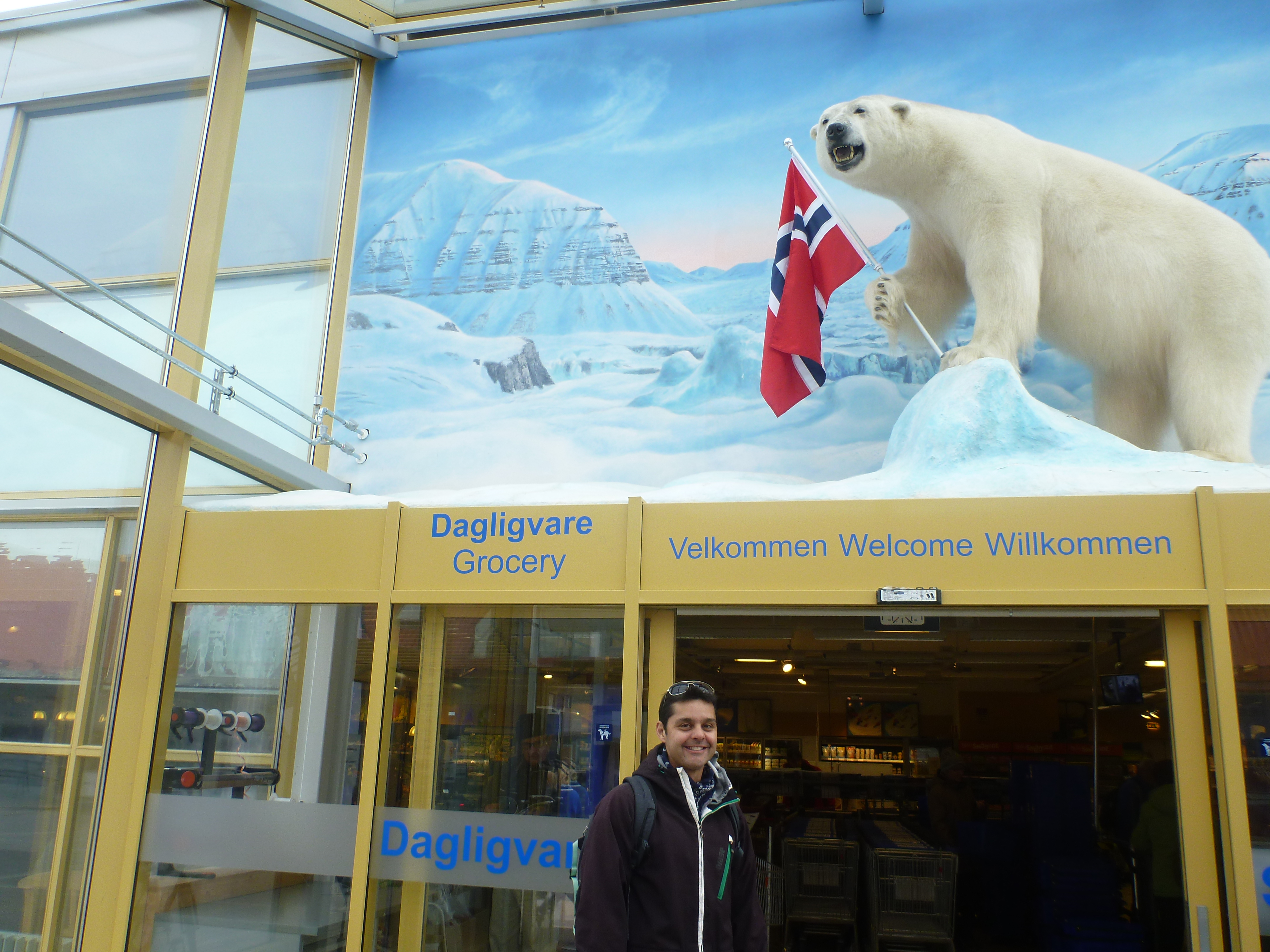 We had a kitchen in our apartment at Mary Ann's Polarrigg, so we likely saved a lot of money by cooking our own food. Many of the accommodation options in Svalbard have kitchens as well, but you'll want to ask to be sure.
During full-day excursions, your lunch is covered (although you may want to bring snacks).
What to do in Svalbard/Svalbard Itineraries
What you do in Svalbard will depend on the time of the year you're going since certain activities are only available during certain parts of the year (ex. snowmobiling in the winter, fjord boat rides in the summer, etc.).
So while we maybe can't help you with an itinerary that works year-round, we can tell you what we did during our visit in June and the tour companies we went with (all of which we'd highly recommend based on our experience).
On that note…
6.1) Our Svalbard 5-day itinerary (for summer/June)
Day 1: Arrival in Longyearbyen and city/area tour with SvalbardBuss
Our flight landed in Svalbard around noon and, since we had 24 hours of daylight, we wanted to get the most from our first day.
So, we booked a city & area tour with SvalbardBuss.
As you'll probably know if you've read other articles on our website, we usually prefer to do things by ourselves and opt out of tours. But since it's so hard to get around in Svalbard (between the polar bears and unwalkable distances between things), we decided our best option was this tour.
Here's just a few of the things we visited on the tour around Longyearbyen: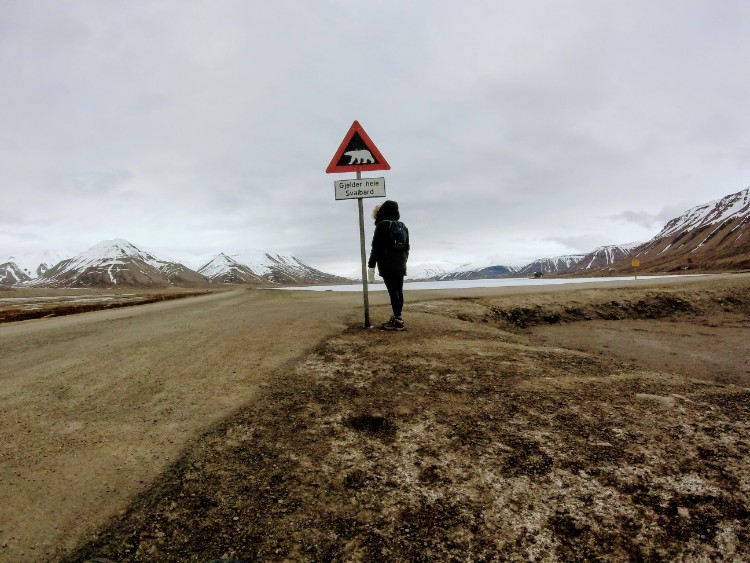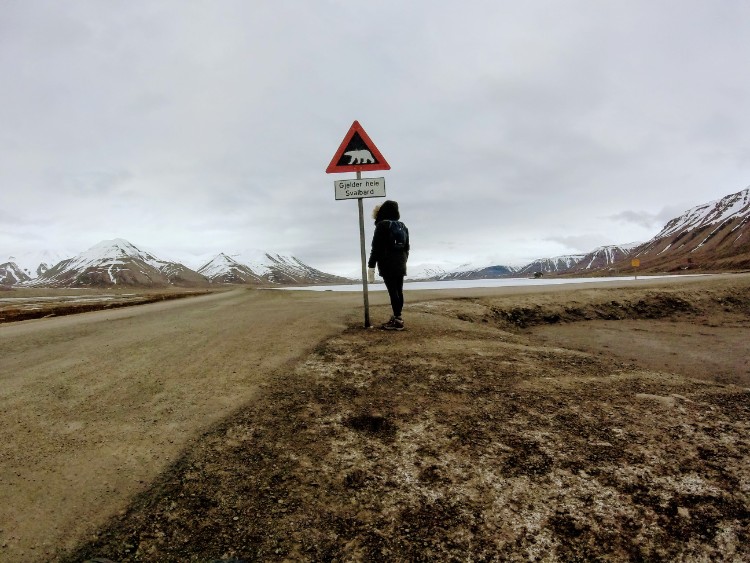 Most of these places (like the satellite station and the Global Seed Vault) were things that we would never have been able to get to ourselves. So, even if the tour might seem a bit expensive (they're 345 NOK or a little over $40 USD), it really is a great option.
The tours are 2 hours long, will pick you up directly from your hotel or accommodation, and run twice a day at 10 AM and 4 PM. You can book online here.
Once you finish your tour, don't forget to spend a bit of time wandering around the strange, though surprisingly charming town of Longyear!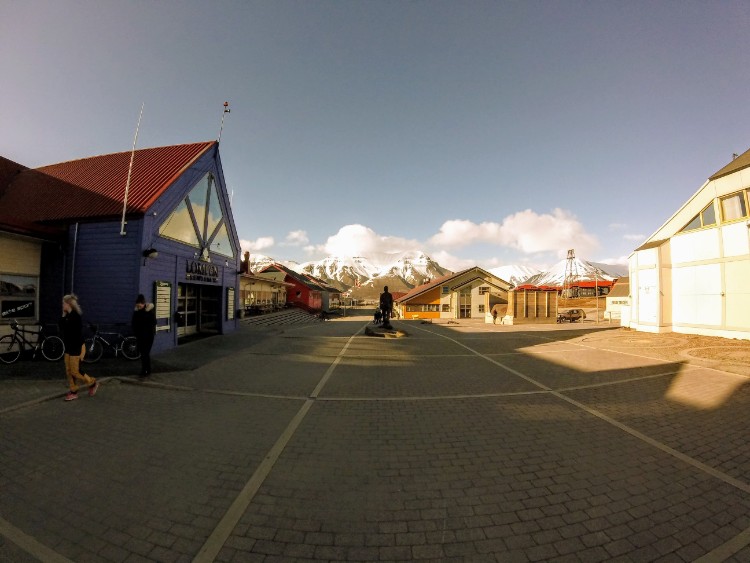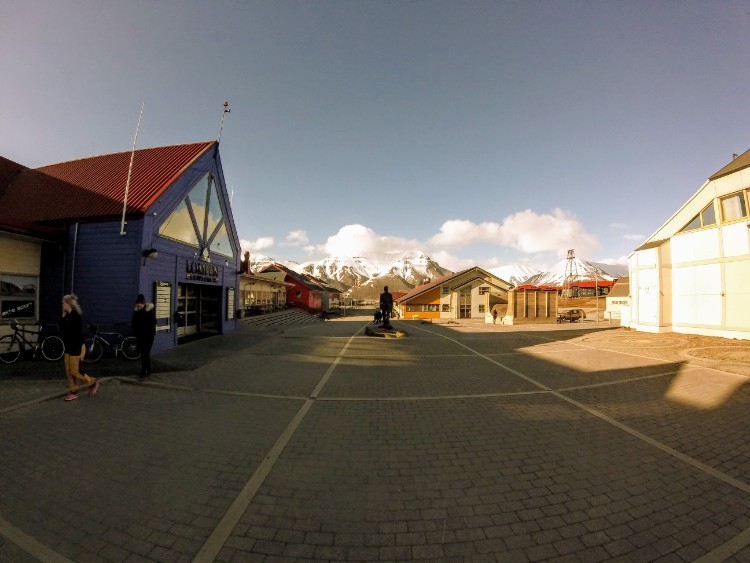 If you like, you can pick up a map from your accommodation or the tourist office of Longyearbyen (although Longyearbyen is so small you likely won't need one).
And although we didn't have time to visit, the Svalbard Museum is also supposed to be quite nice.
Day #2: Fjord Cruise to Esmark Glacier & Barentsburg with Henningsen
Clocking in at just under 600 residents, Barentsburg is Svalbard's 2nd biggest 'city' and its last remaining Russian settlement.
Between the brightly colored canteen and dorms where Barentsburg residents (primarily miners and their families) eat and live….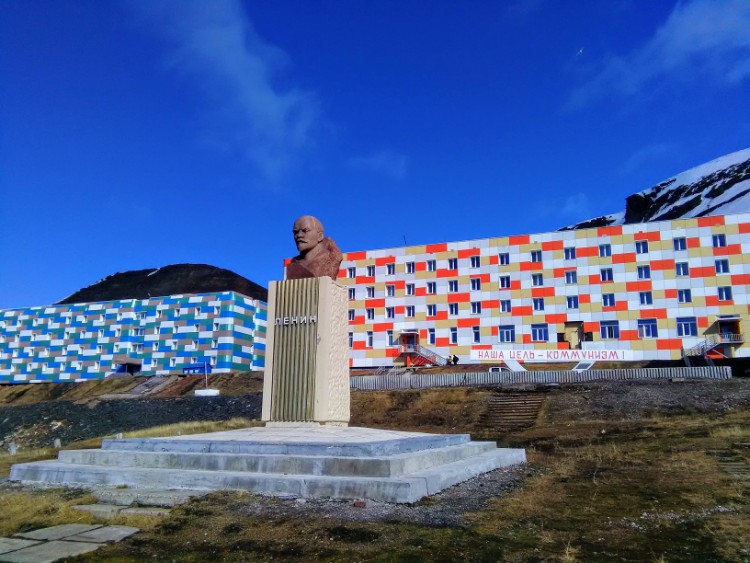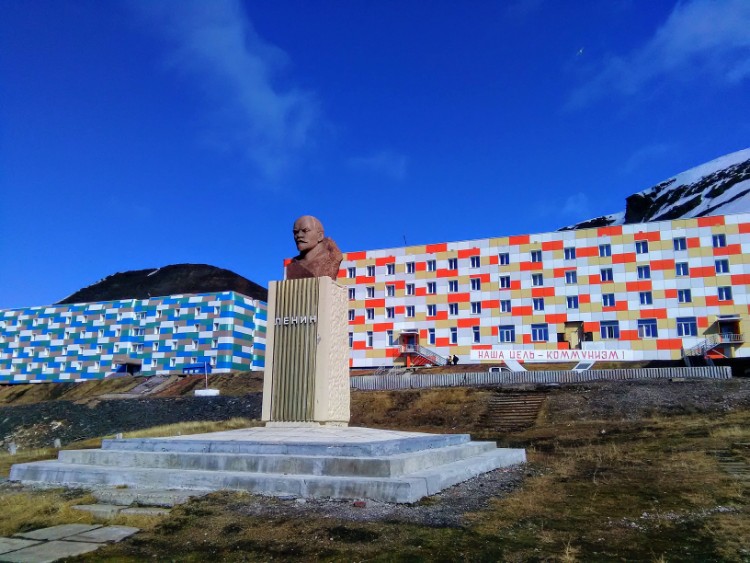 The leftover communist propaganda (which the residents do seem to enjoy making fun of)….
And the Lenin Statue….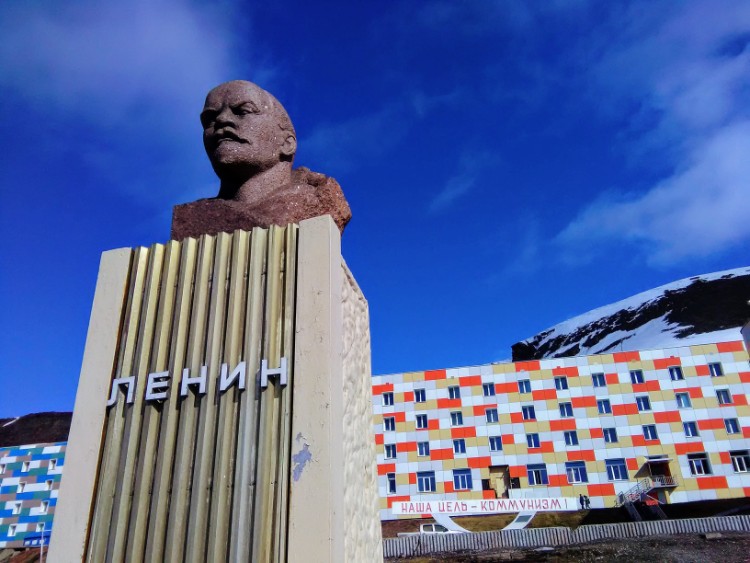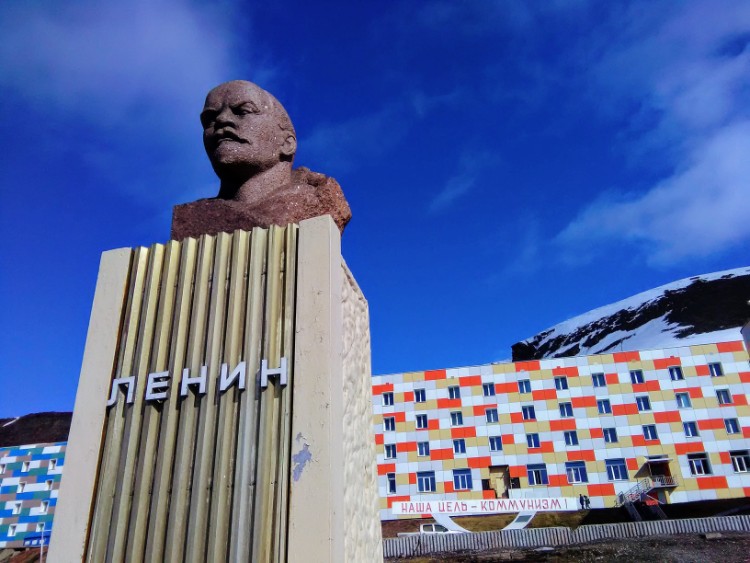 ….stepping into Barentsburg will make you feel like you've been transported straight back to Soviet times.
Although there's a few companies that do tours to Barentsburg, we went with Henningsen and we go with them again in a heartbeat.
Beyond your tour in Barentsburg, you'll also have a lovely cruise through the fjords….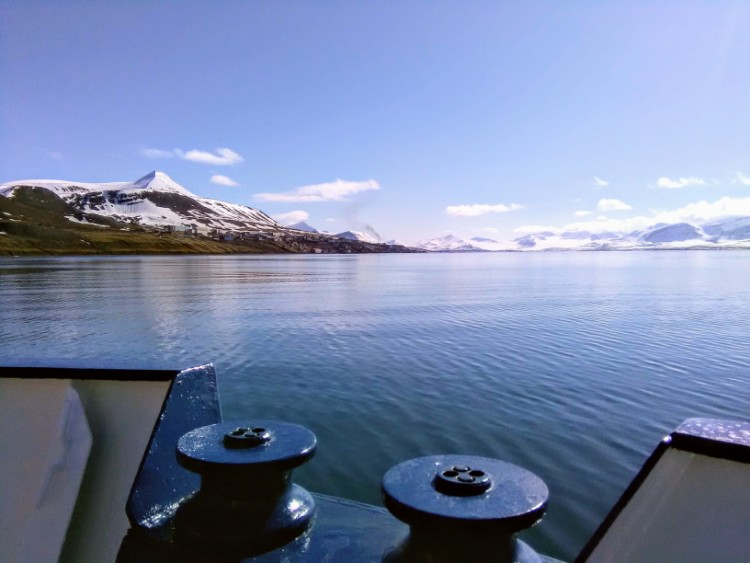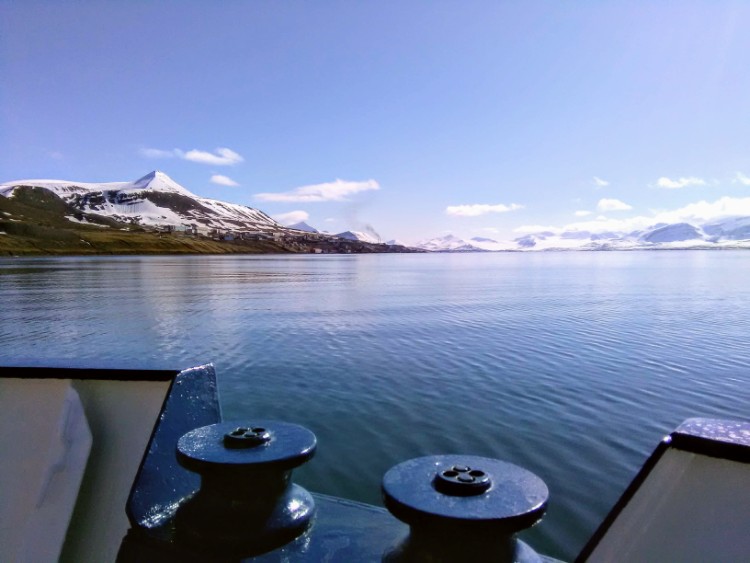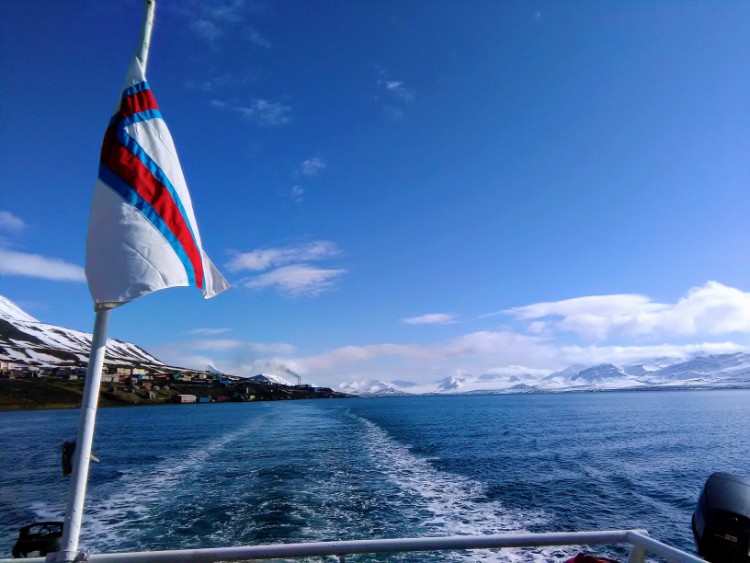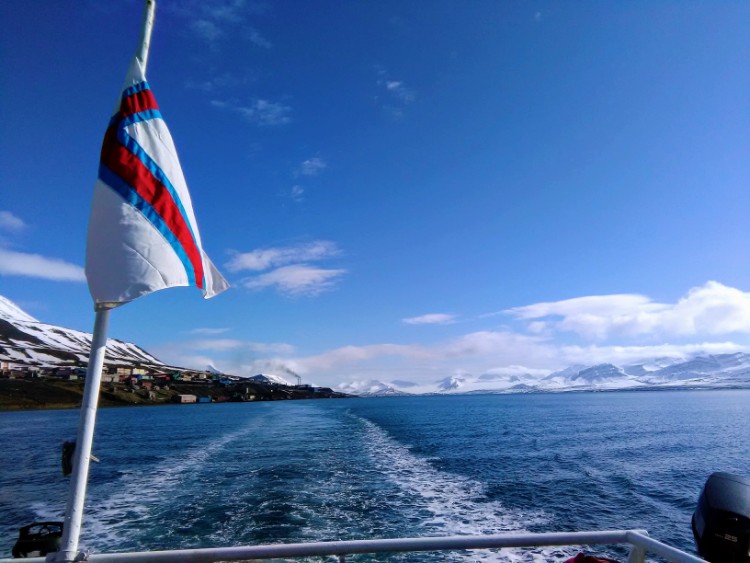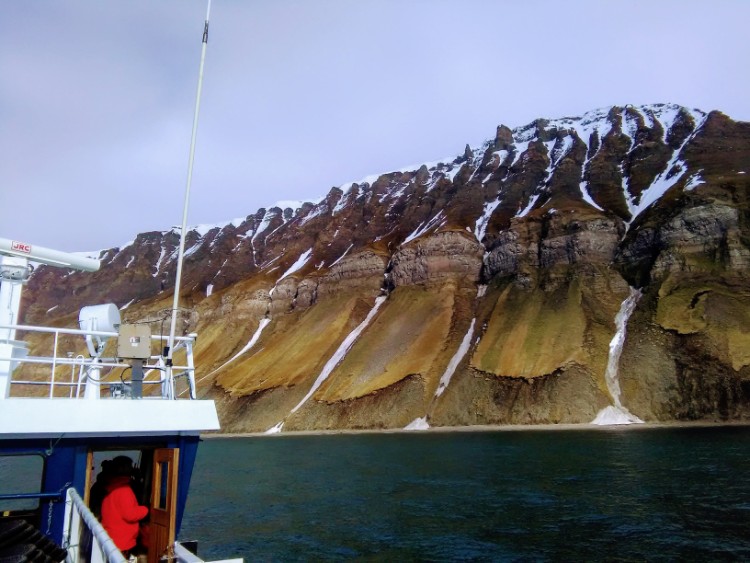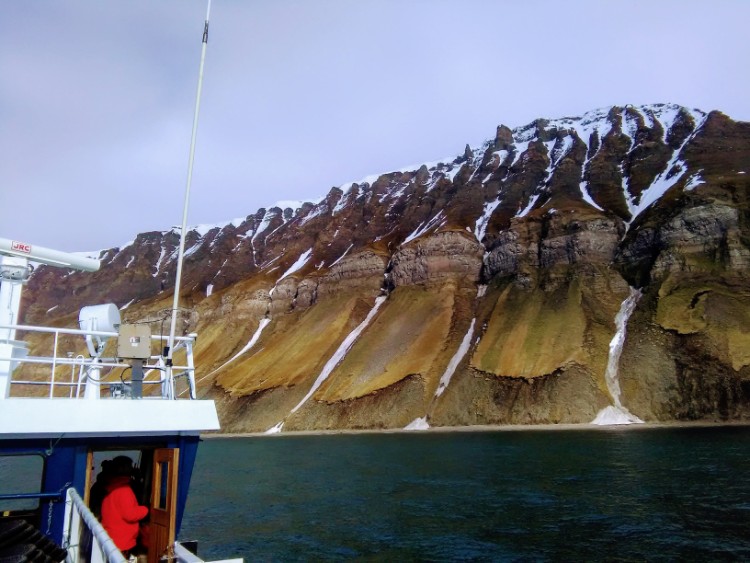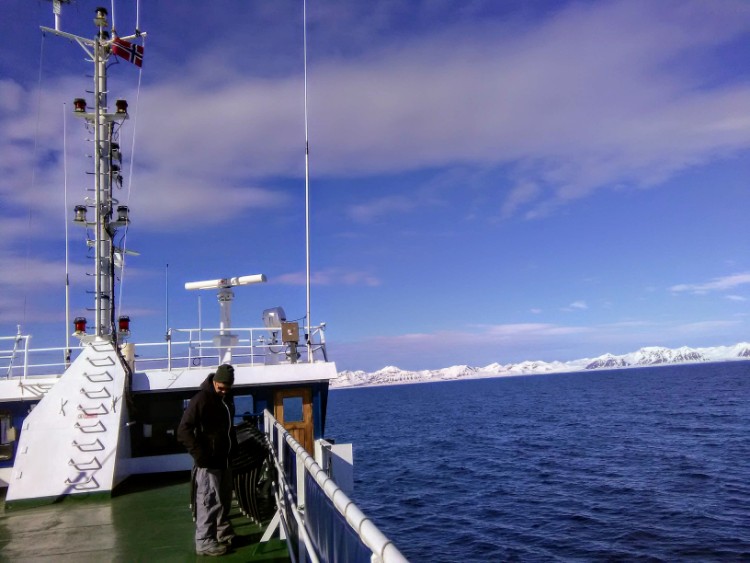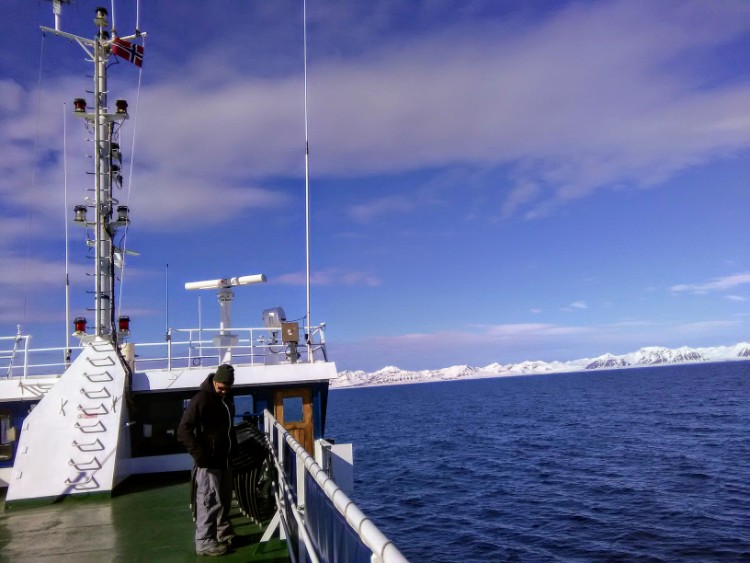 …. and pass by a glacier (where we saw 3 polar bears!).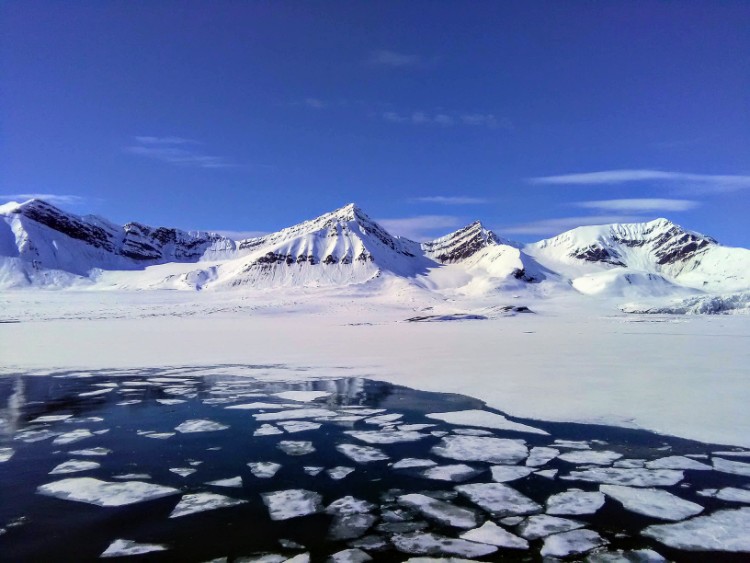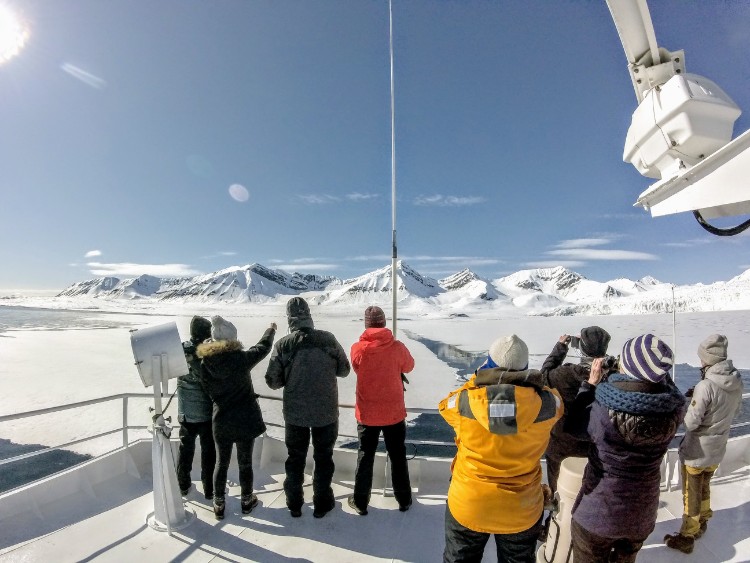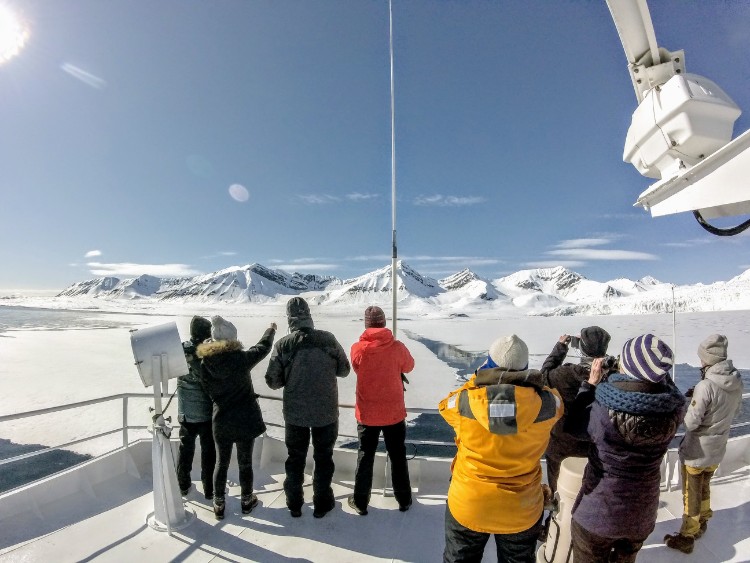 Plus get a tasty BBQ lunch!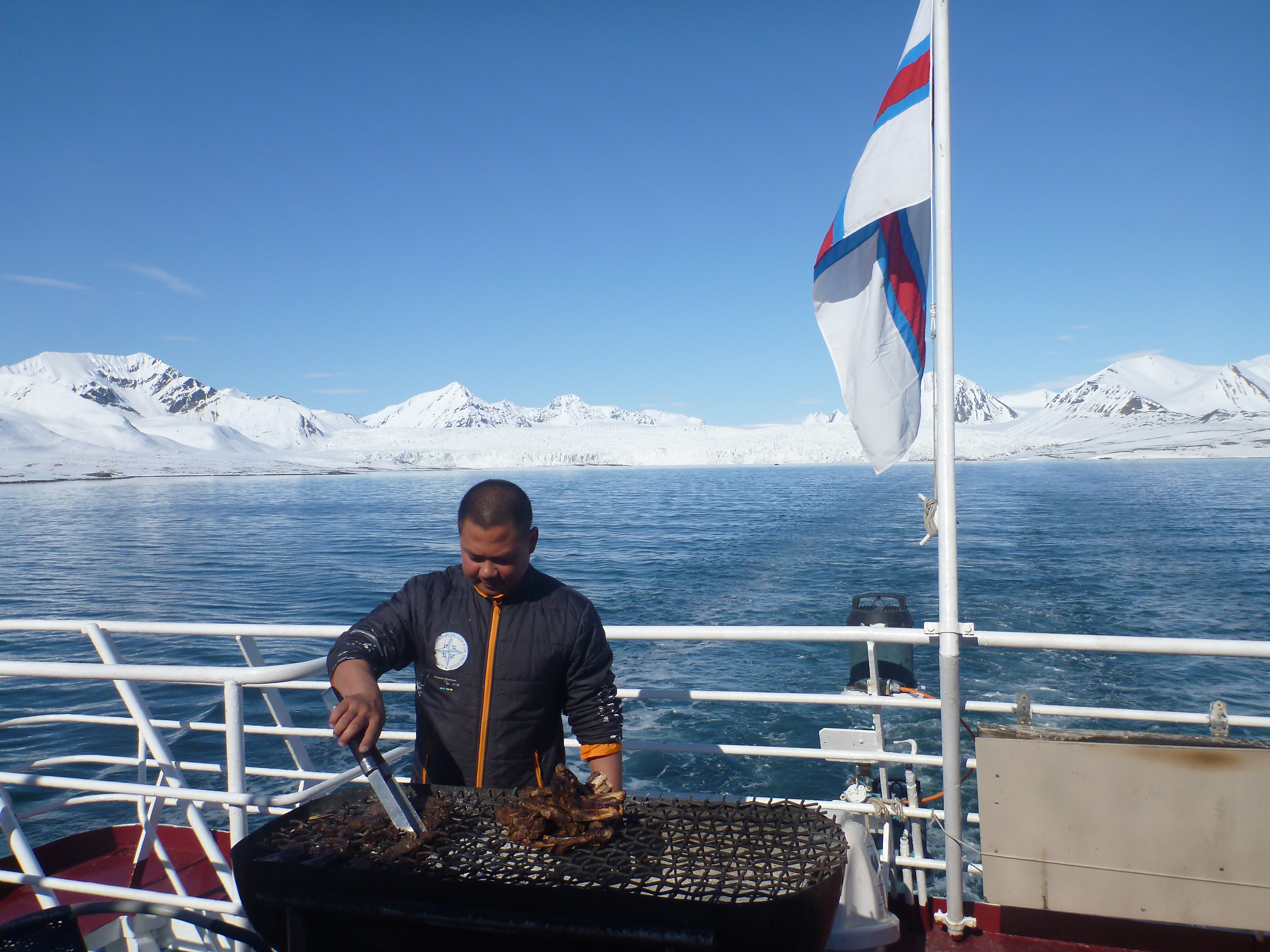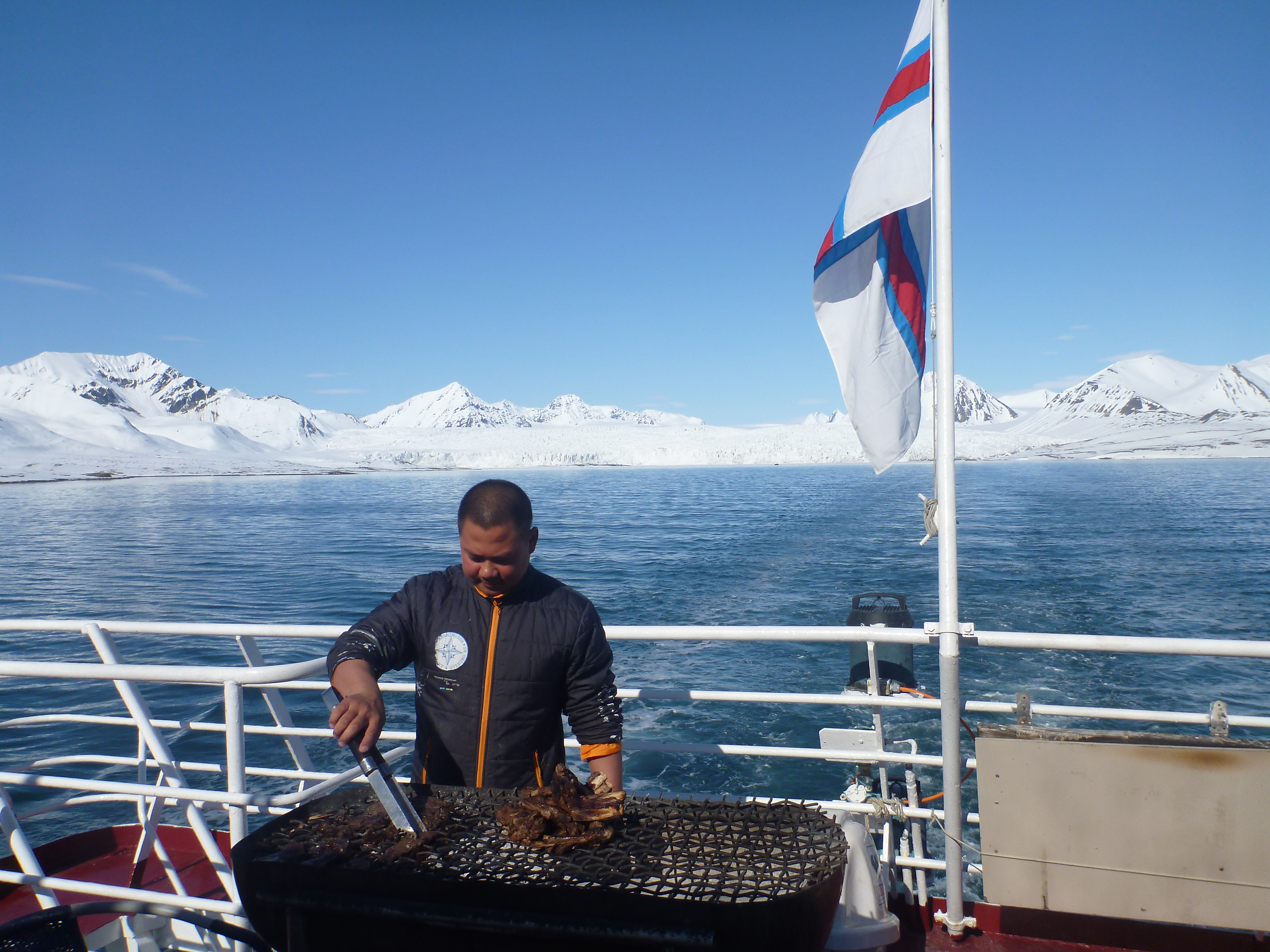 Henningsen runs tours to Barentsburg every day March 1st to October 24th.   
Make sure you dress warmly so you can sit either inside or outside the boat and enjoy the view.
And if your extra lucky, you'll even have our favorite guide, Marcus! (Honestly, he was the best. I'd even ask Henningsen beforehand what days he's working to see if you can join his tour).
You can read more and book your boat tour to Barentsburg with Henningsen here.
In the winter, tours to Barentsburg are done by snowmobile.
Day #3: Independent hike up Sarkofagan Mountain (without a tour/excursion)
If you are not 110% comfortable renting a rifle and using it in the case of a polar bear attack, then you should absolutely not even consider this as an option (instead, you should schedule an excursion/tour with a guide for each day of your trip).
But if you feel comfortable with a rifle, then there are quite a few mountains surrounding Longyearbyen that you can easily hike in a day.
In our case, since Rodrigo has a few years of military experience (including weapon training) and we are both strong hikers, he decided to rent a rifle one day so we could head out hiking on our own.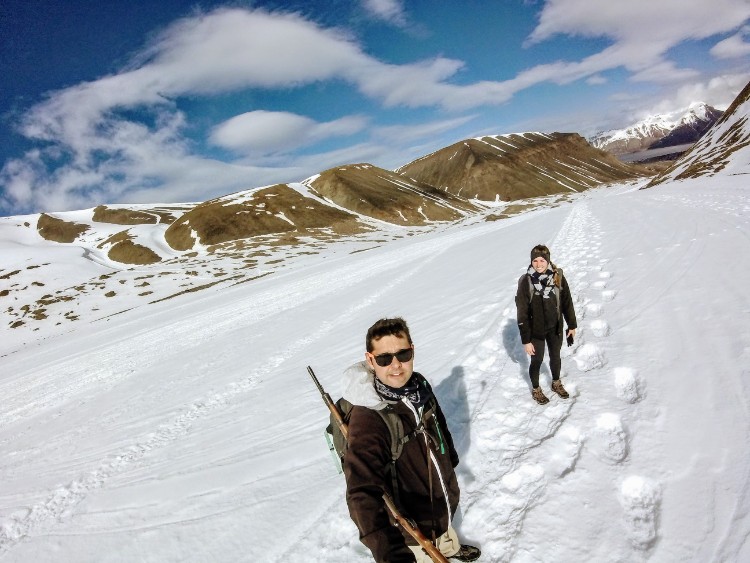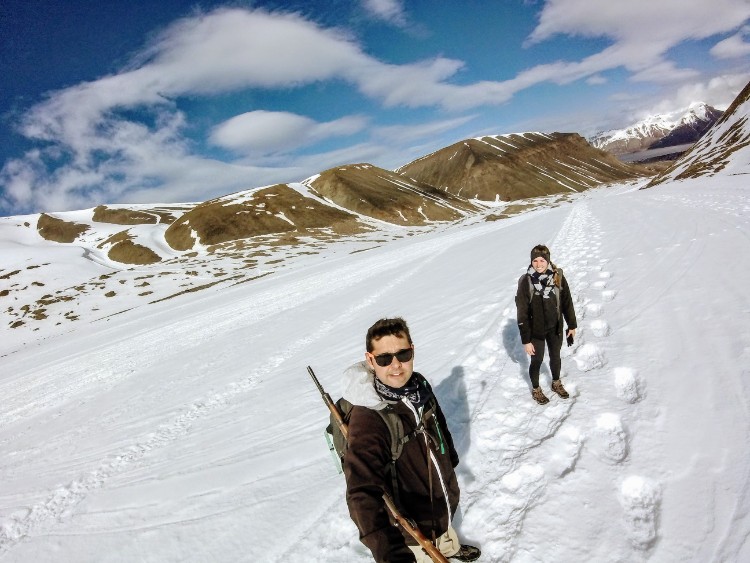 We asked locals, tour guides, and the tourist office for recommendations (which you should do as well), and settled on Sarkofagen mountain because 1) it wasn't too far away, 2) it was almost impossible to get lost, and 3) conditions seemed to be good (as in, the river wasn't too high to cross and the glaciers were safe to walk on).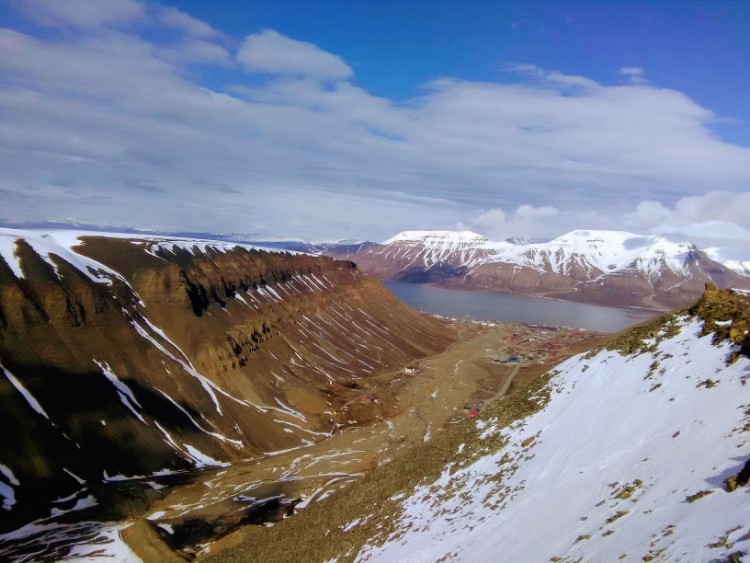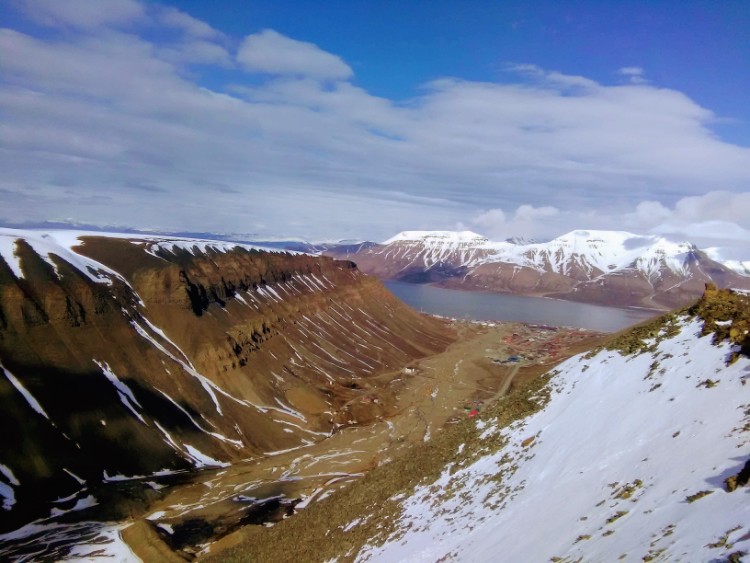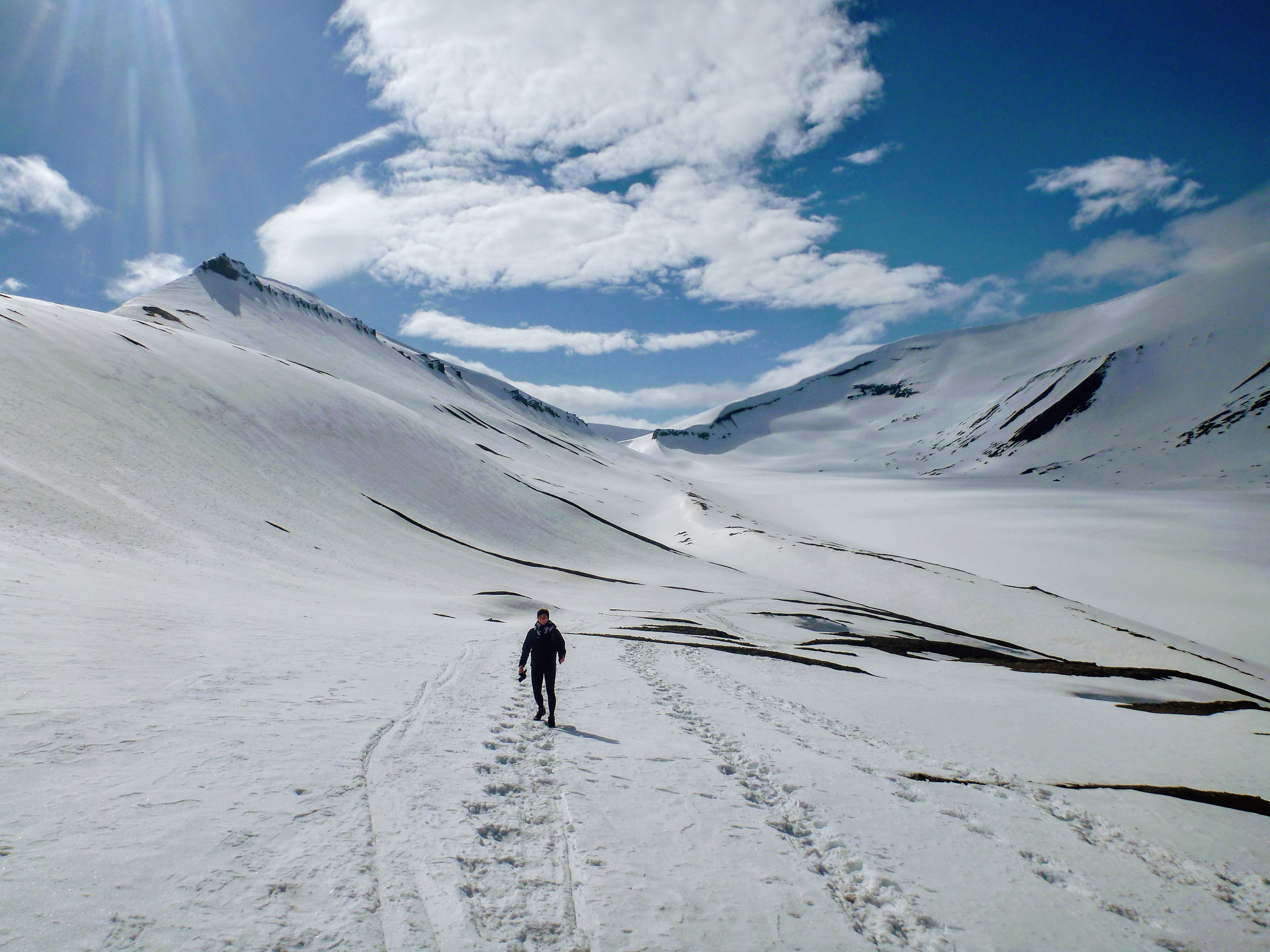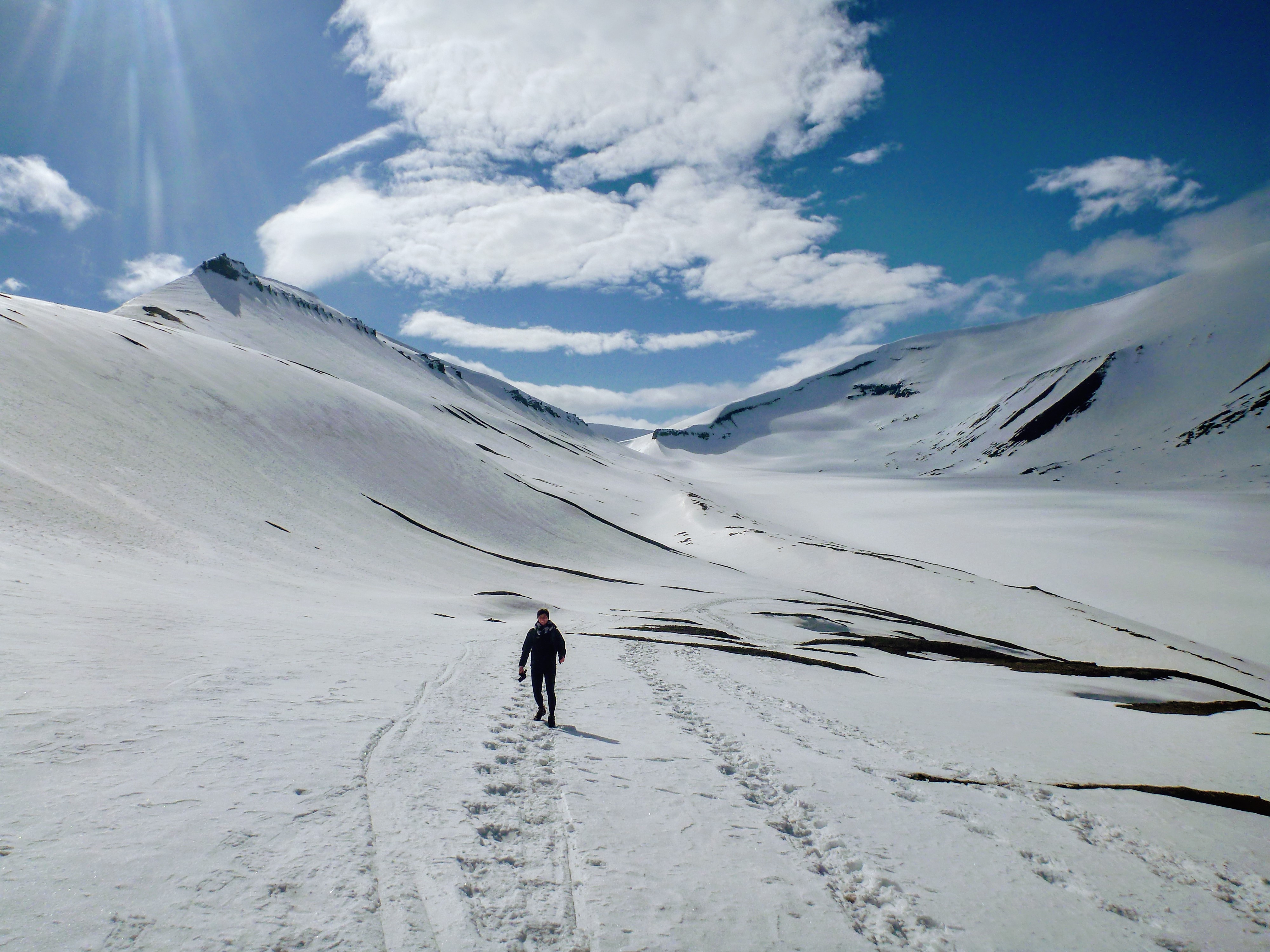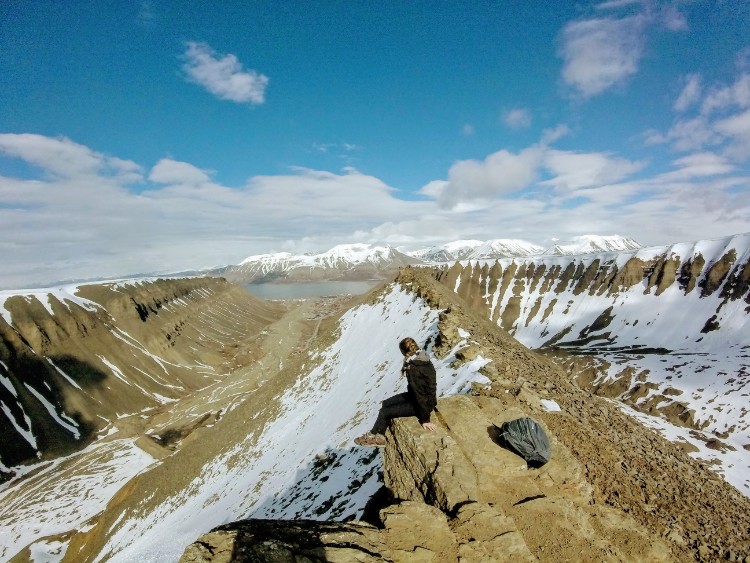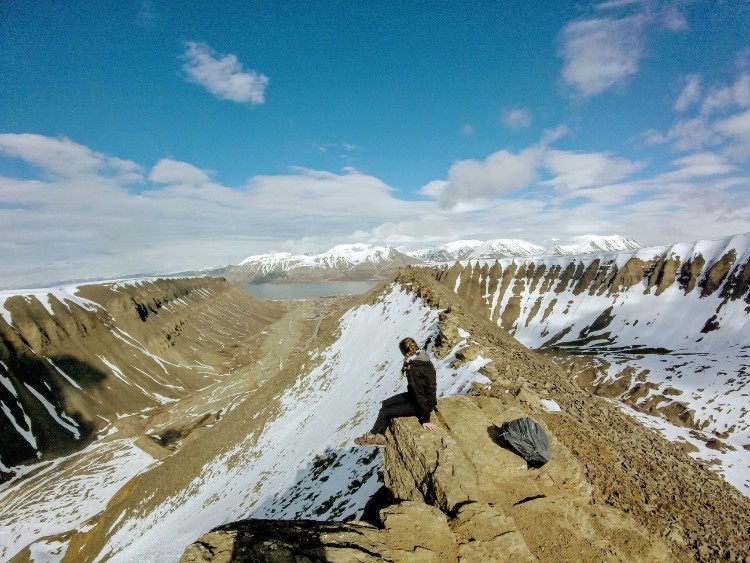 If you think you feel comfortable doing an independent day yourself, scroll down to our "exploring Svalbard without a tour" section below for more info.
On last warning: do NOT attempt an independent hike like this without renting a rifle because you don't think it's necessary. There have been polar bear attacks very close to Longyearbyen and taking the chance isn't worth it.

Day #4: Arctic Challenge (Hiking & Kayaking) with Svalbard Wildlife
This particular tour, considered to be the most physically challenging day tour you can do around Longyearbyen, is great for adventurous travelers!  
The tour begins by kayaking from Longyearbyen to the other side of the fjord, hiking to the top of the mountain there (called Hiorthfjellet) for a view of the city, then hiking down and kayaking back to Longyearbyen.
One reason we chose this tour was for the physical challenge. But also because we knew that even if Rodrigo rented a rifle again, we wouldn't have been able to get all the way to this particular mountain on our own.
Unfortunately, we weren't able to hike Hiorthfjellet because there was a polar bear sighting on that side of the fjord, and authorities weren't able to scare it away with the helicopter nor track where it went.  
So instead, we did the originally planned kayak route, then returned to our side of the fjord to hike Trollsteinen (a mountain behind Sarkofagen, the mountain we'd climbed the day before).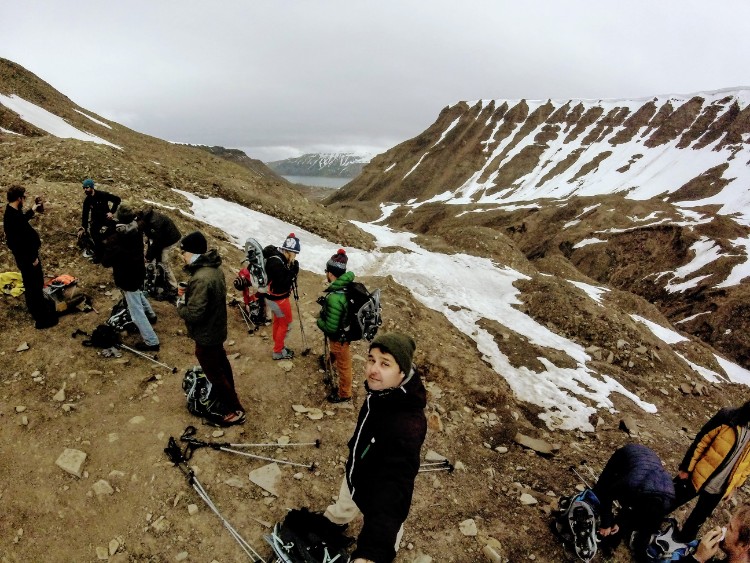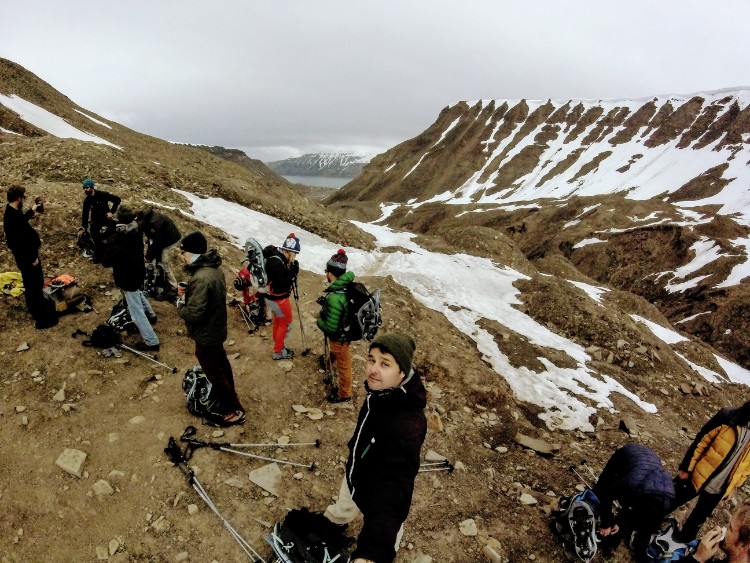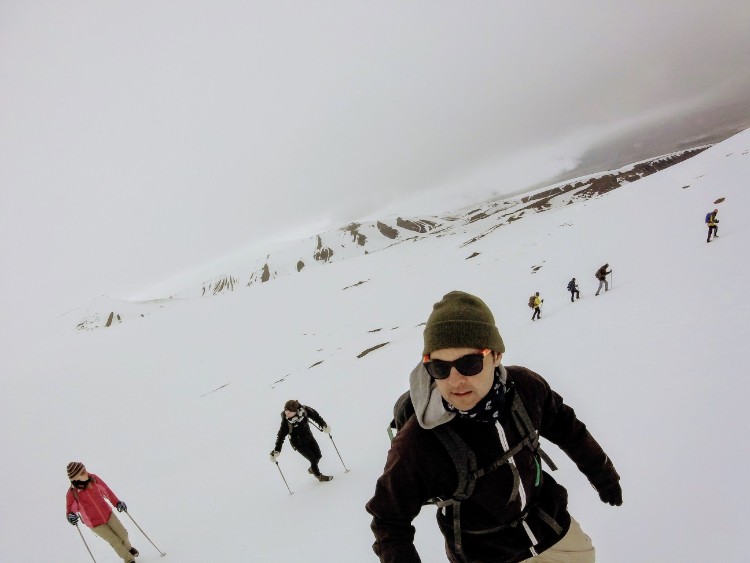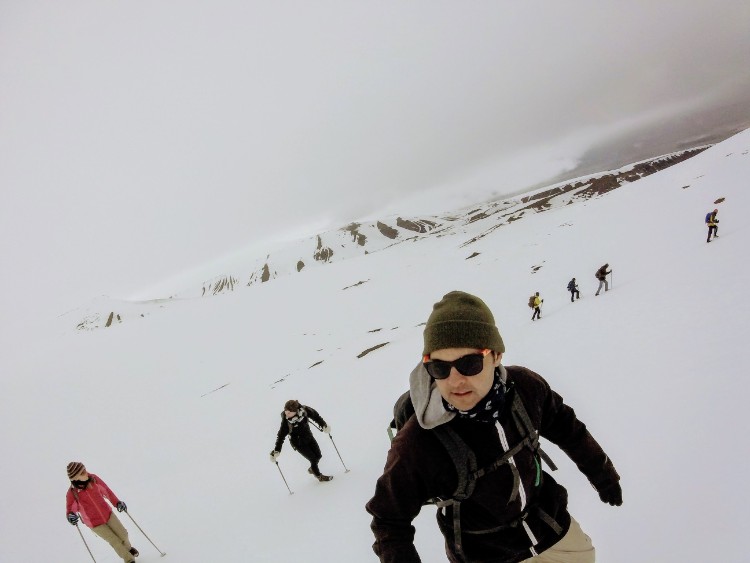 It was a bit disappointing to have to change the route since we really wanted to hike on the other side of the fjord…but hey, it's the polar bear's home, not ours 

Honestly, this trip was maybe a bit expensive for what it offered (or maybe we just felt that way because we ended up hiking a similar route to what we did the day before on our own). But it was still a great physical challenge, and being able to go with a group was a lot less stressful than just the two of us and a rifle.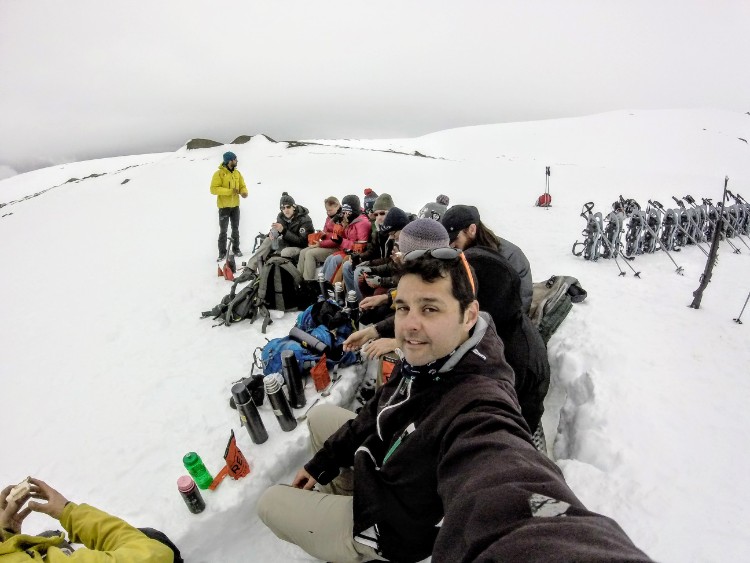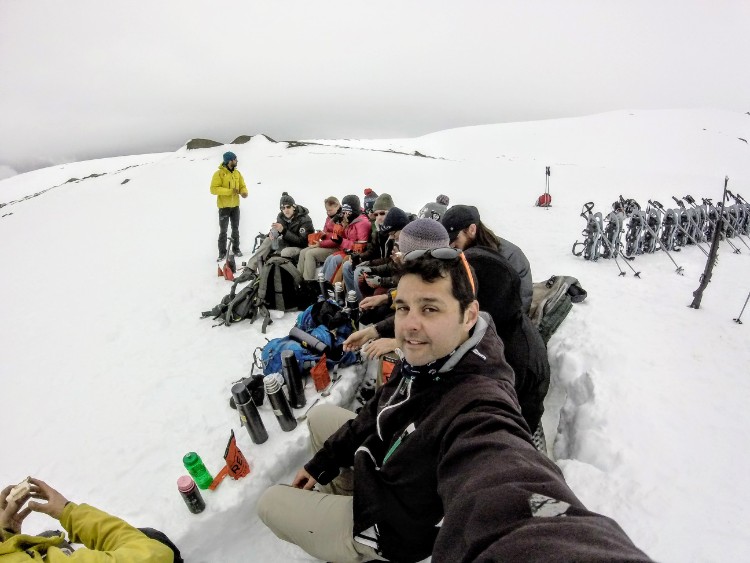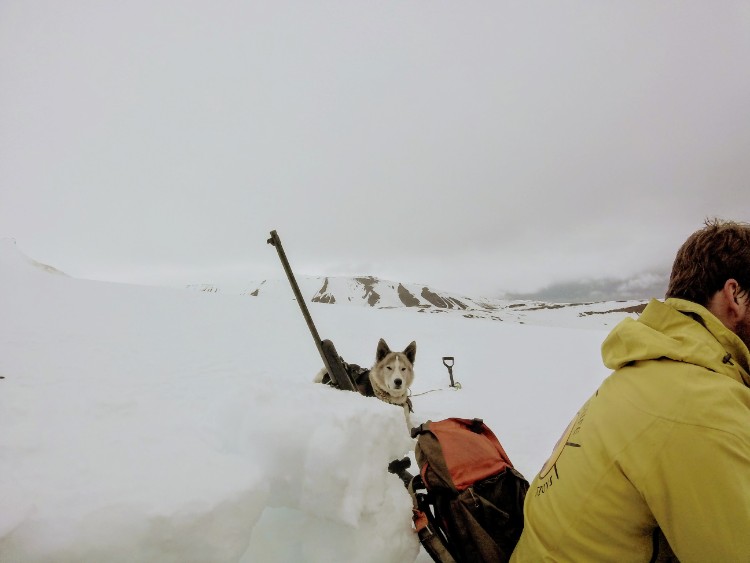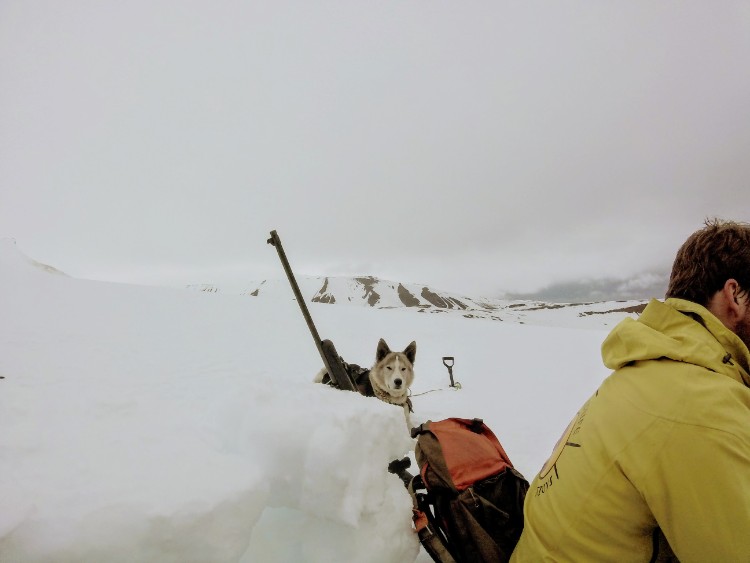 And, of course, kayaking with all the cold weather gear was quite the experience!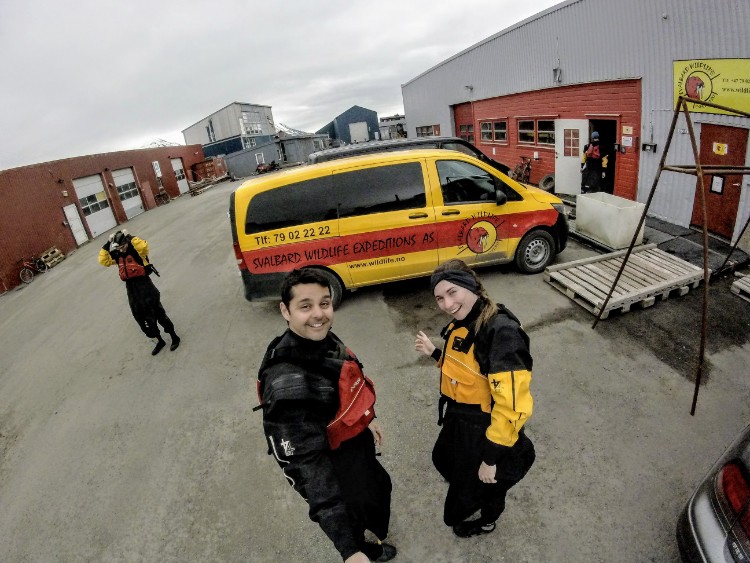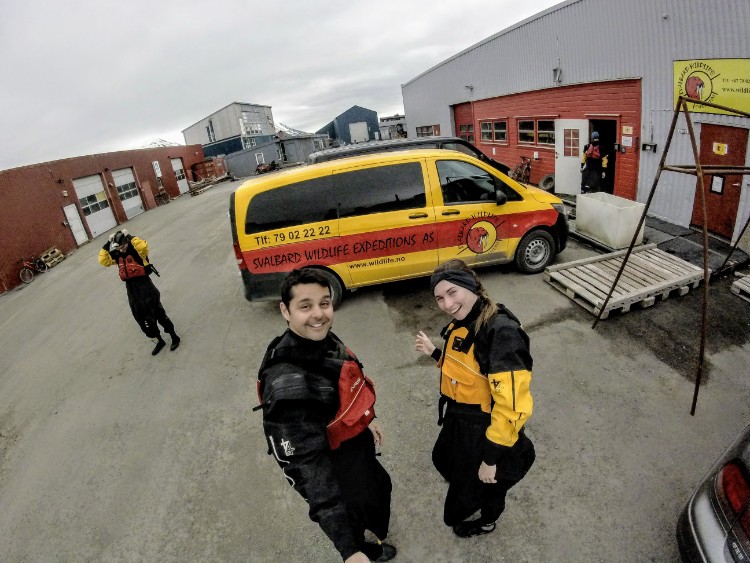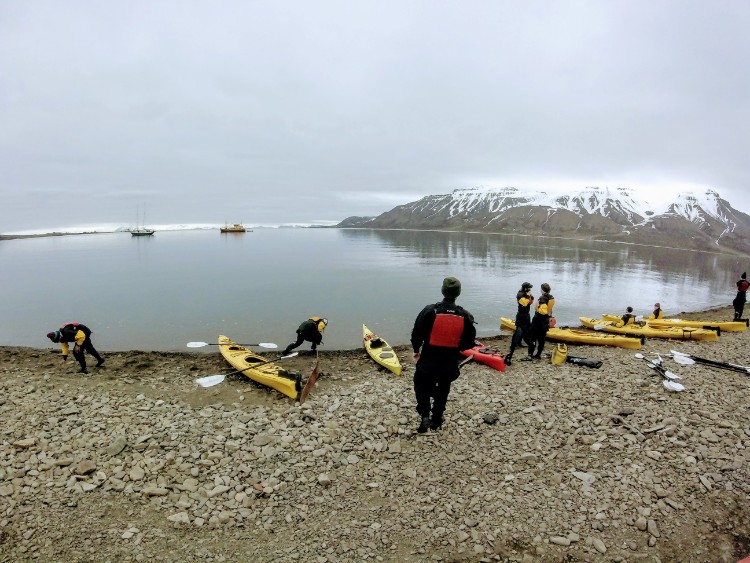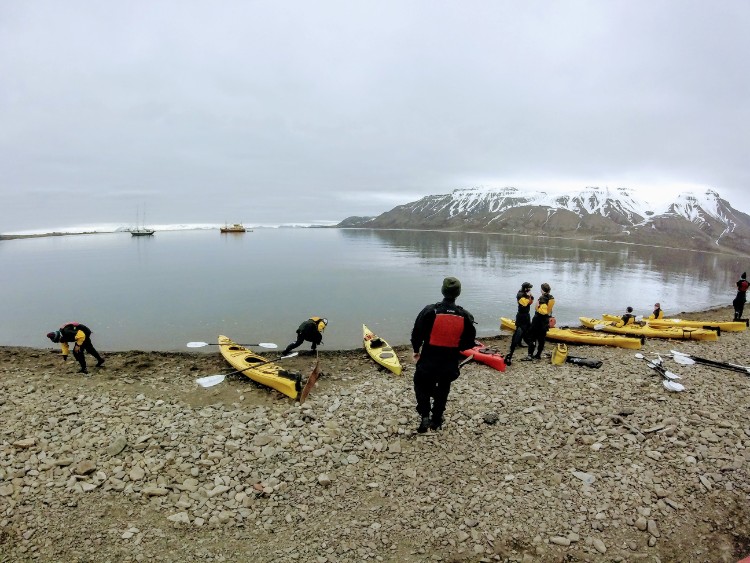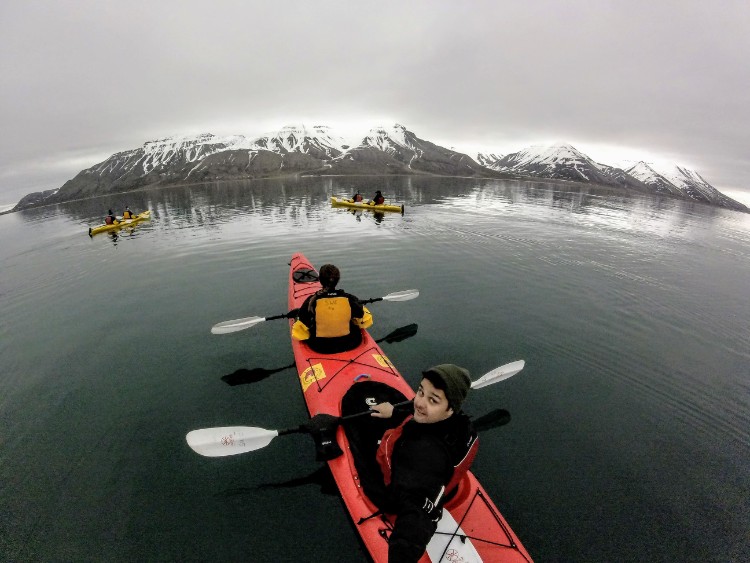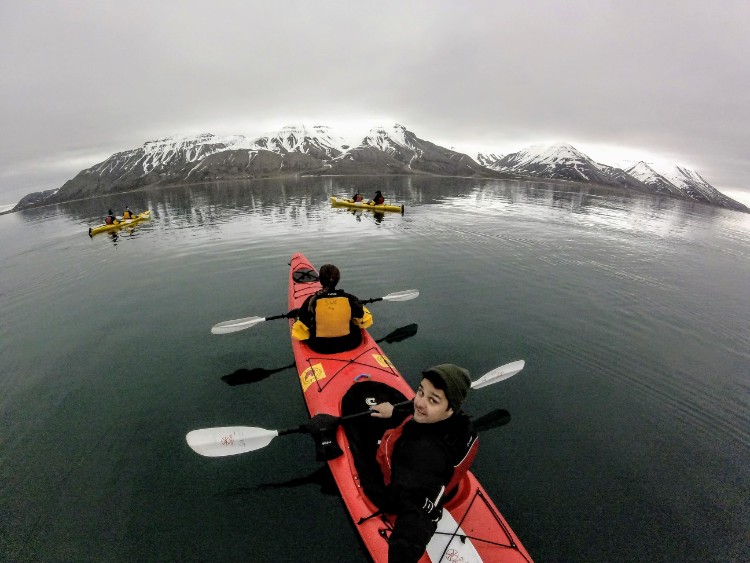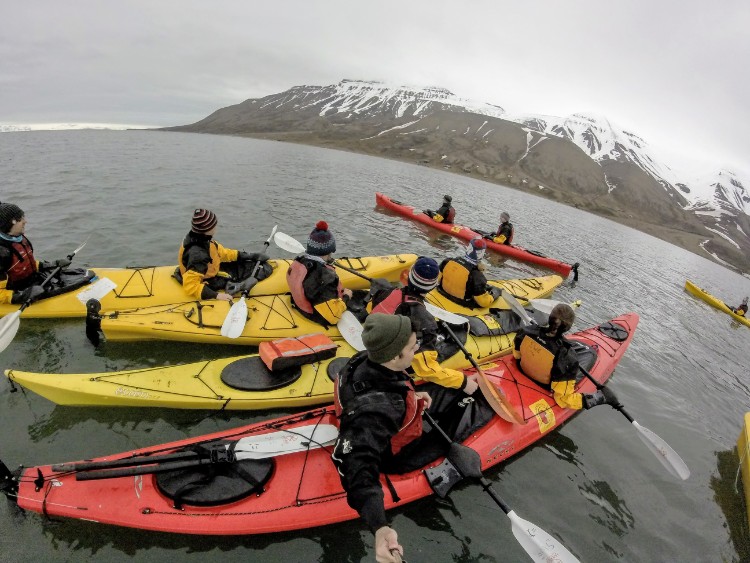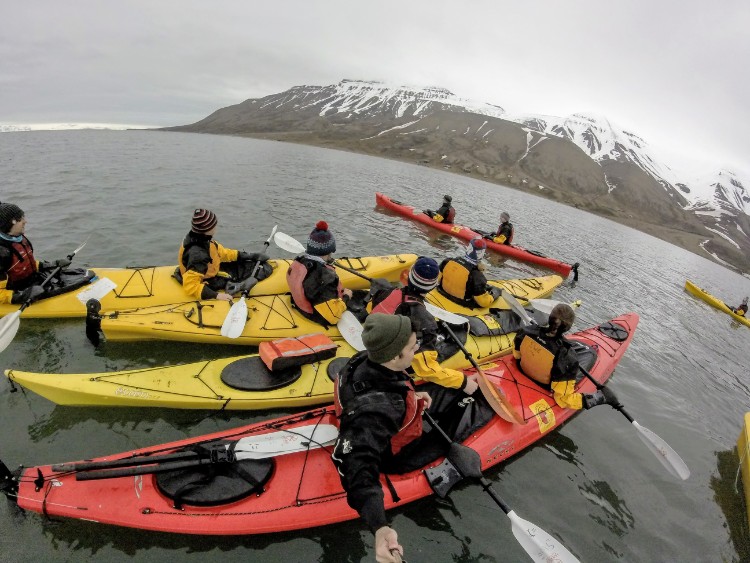 Svalbard Wildlife runs this tour Mondays, Thursdays, and Saturdays from June to September. You can read more info and book here.
Day #5: Fjord cruise to Nordenskiöld Glacier & the (almost) abandoned city Pyramiden with Henningsen
If you thought Barentsburg was bizarre, just wait until you visit Pyramiden!
This once booming Russian mining town, which was home to 1,000 people, is now home to just 9 isolated residents. Yet, the town has remained almost entirely as it was during its Soviet "glory days."
(Read more about Pyramiden and its bizarre history here)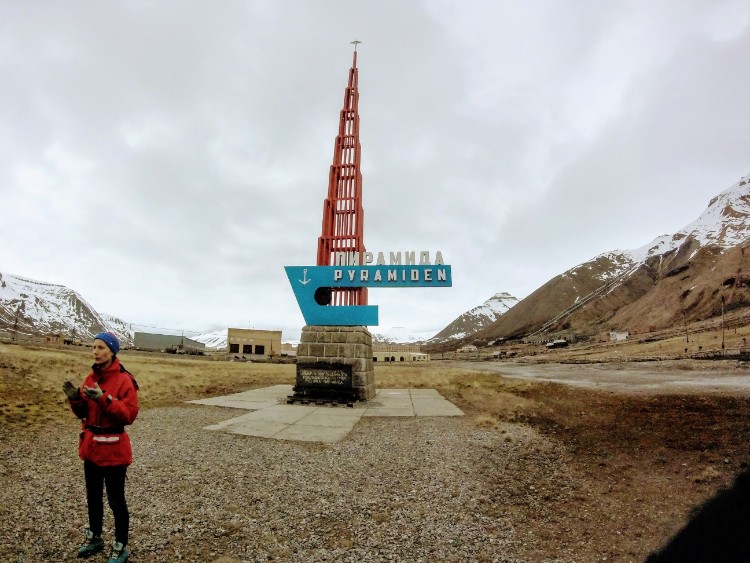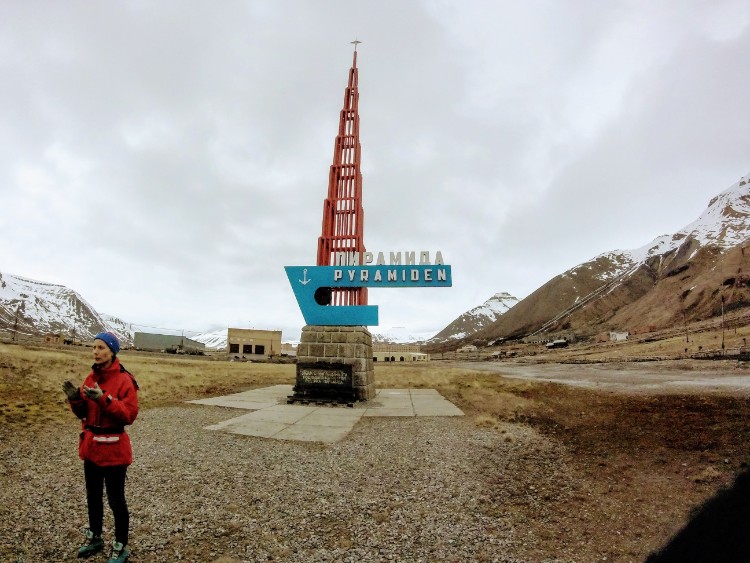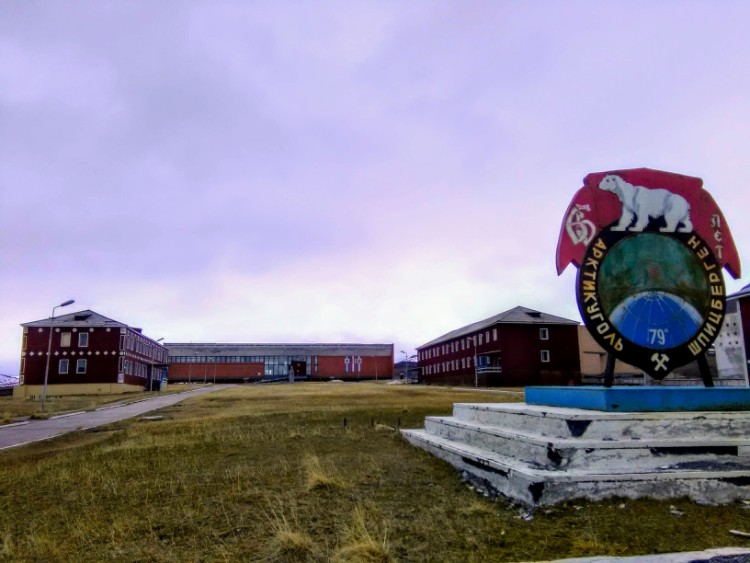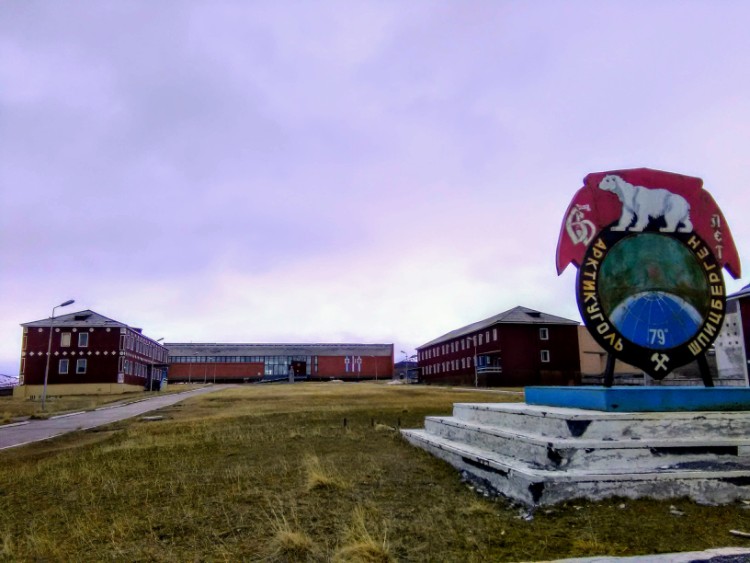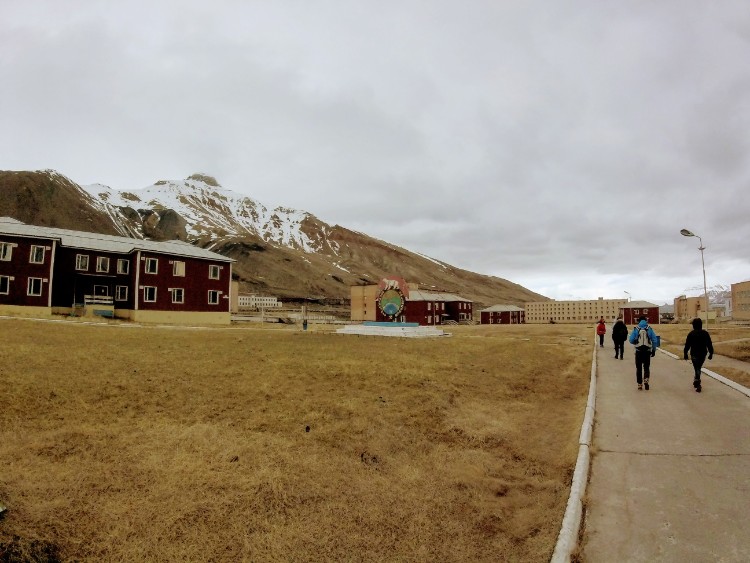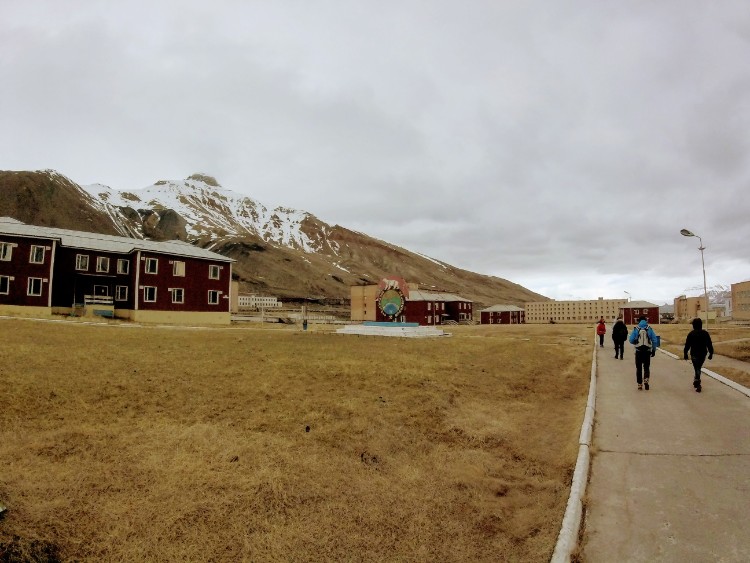 Though many of the buildings are now locked up if you're lucky your guide will open up a few for you to explore…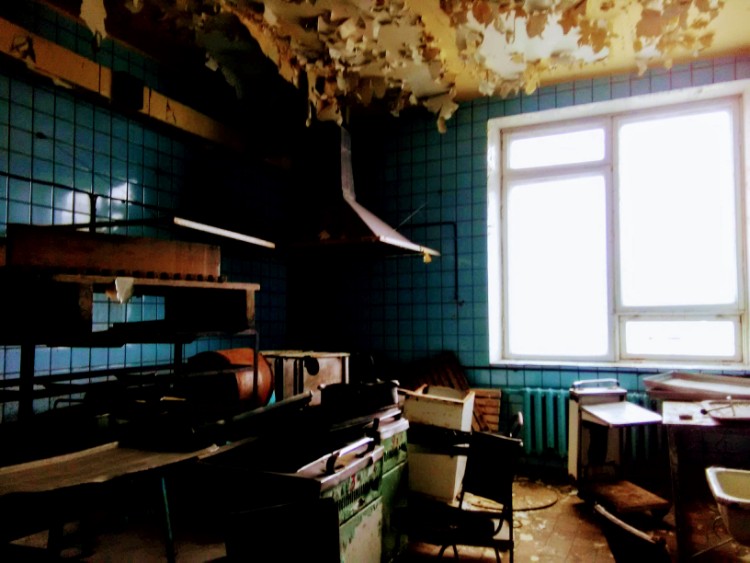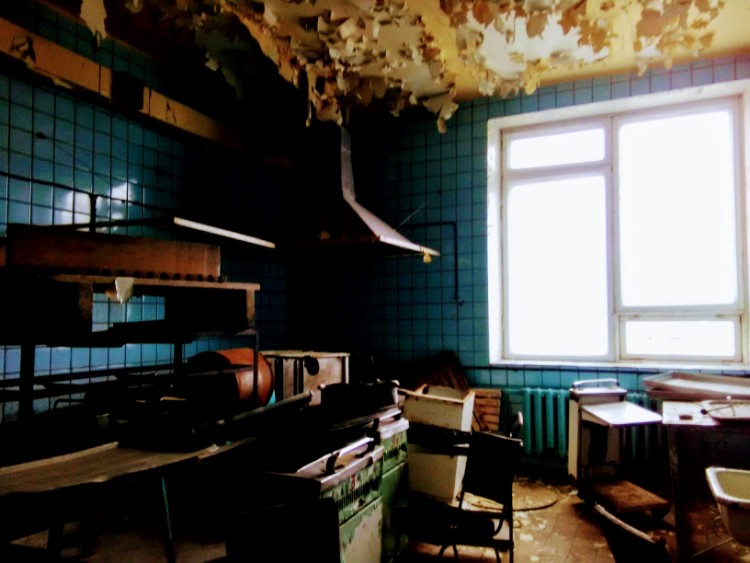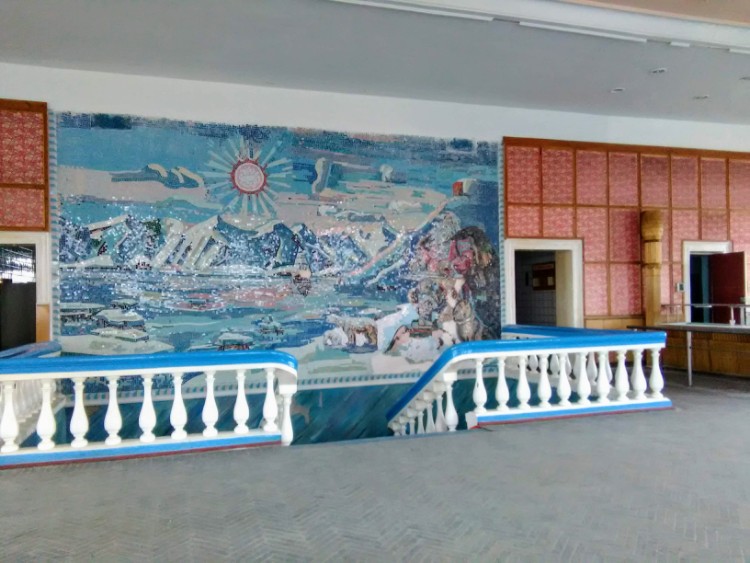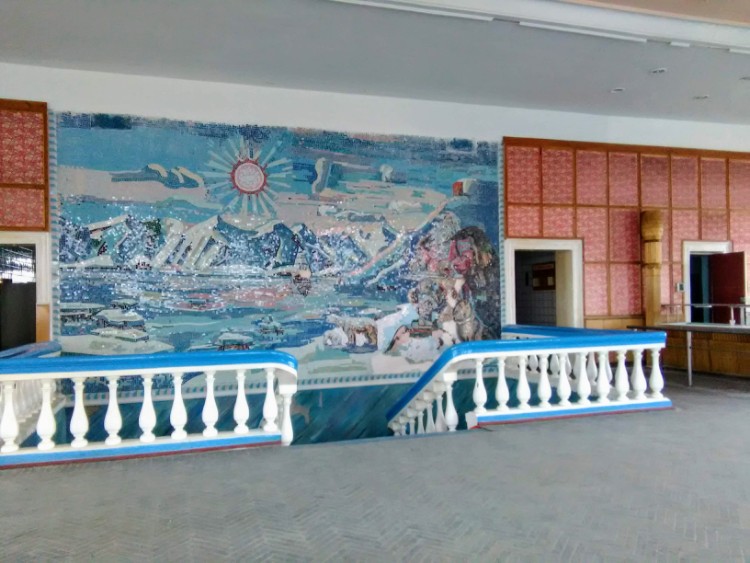 As with the cruise to Barentsburg, the trip to Pyramiden is equally stunning and hopefully filled with wildlife (we saw 2 blue whales, a pod of beluga whales, and a polar bear from a distance). Admittedly, the boat ride is kind of long….but chatting with fellow passengers, admiring the view, and taking a bit of a cat nap will certainly keep you entertained.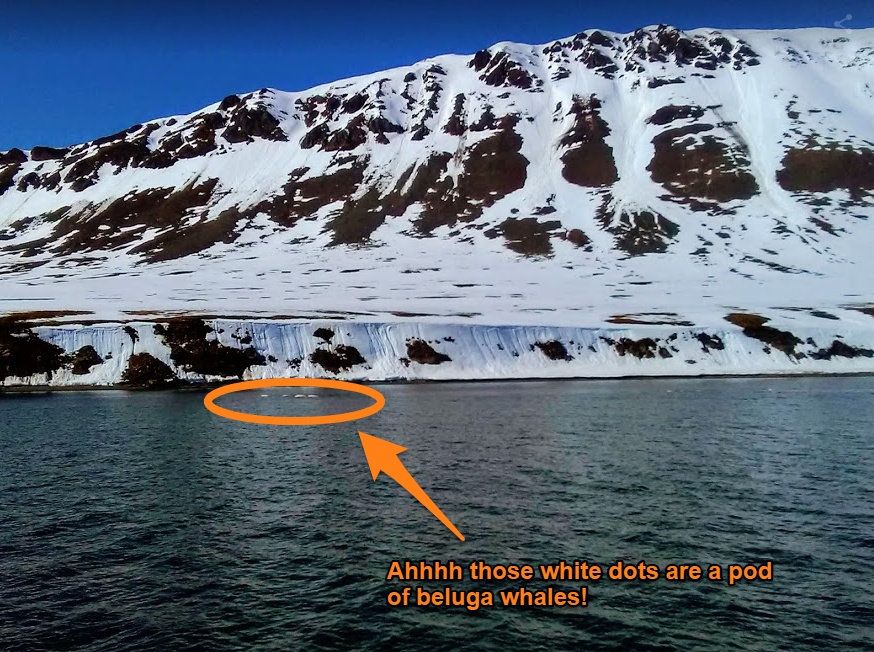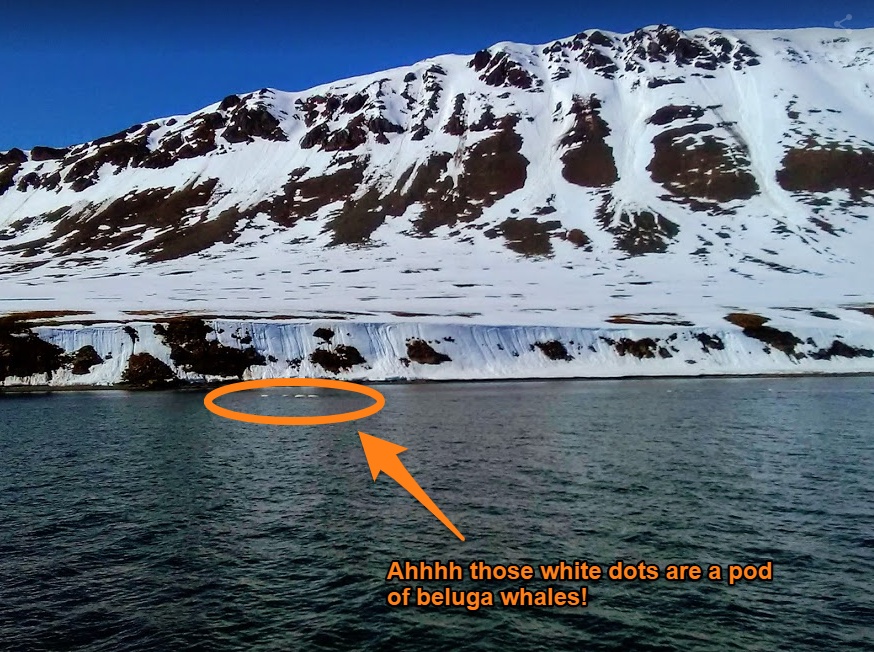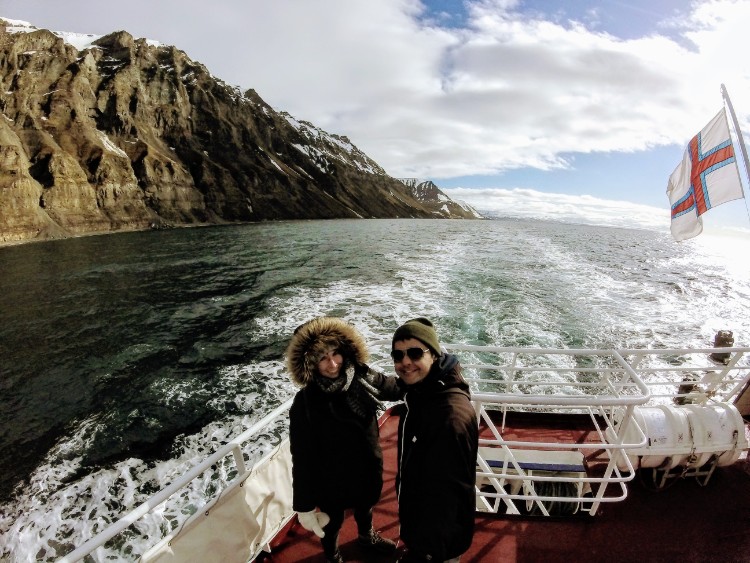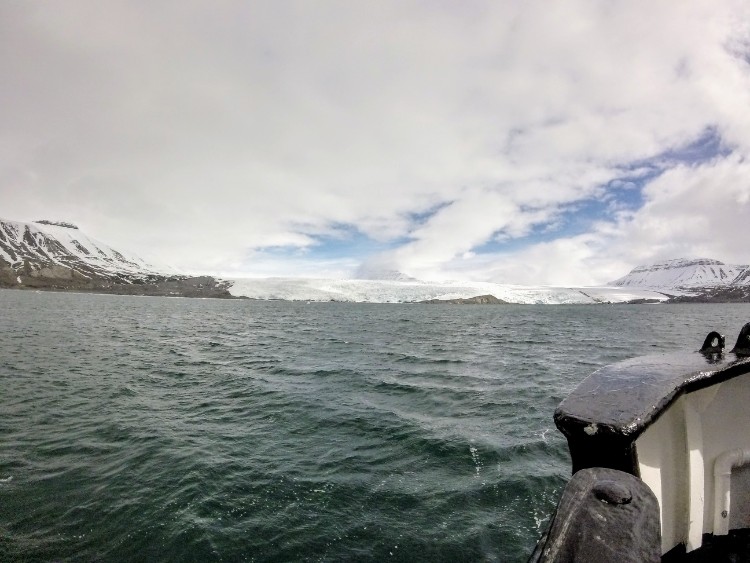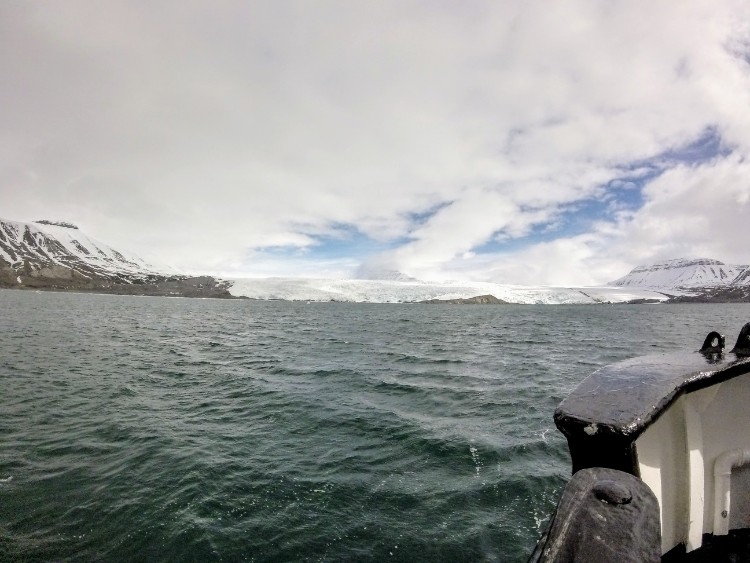 Like with our trip to Barentsburg, we also went with Henningsen and our favorite guide Marcus.
Henningsen runs boat tours to Pyramiden every day March 1st to October 24th. You can read more about the tour and book here.
One more thing: check with the tour company before your trip to make sure the ice isn't too thick for you to dock at Pyramiden. This sometimes happens and you won't be refunded if it does.
6.2) Svalbard Winter Itinerary & Activities
The first thing to decide is if you want to go during the "Northern Light Winter" with 24 hours of darkness (1st October – 28th February) or the "Sunny Winter" (1st March – 16th May).
Again, we weren't there in the winter so we can't help too much with this. But like I mentioned above, you can check out the Svalbard Activity Planner on the Svalbard Tourism website to see all your options for winter tours and activities.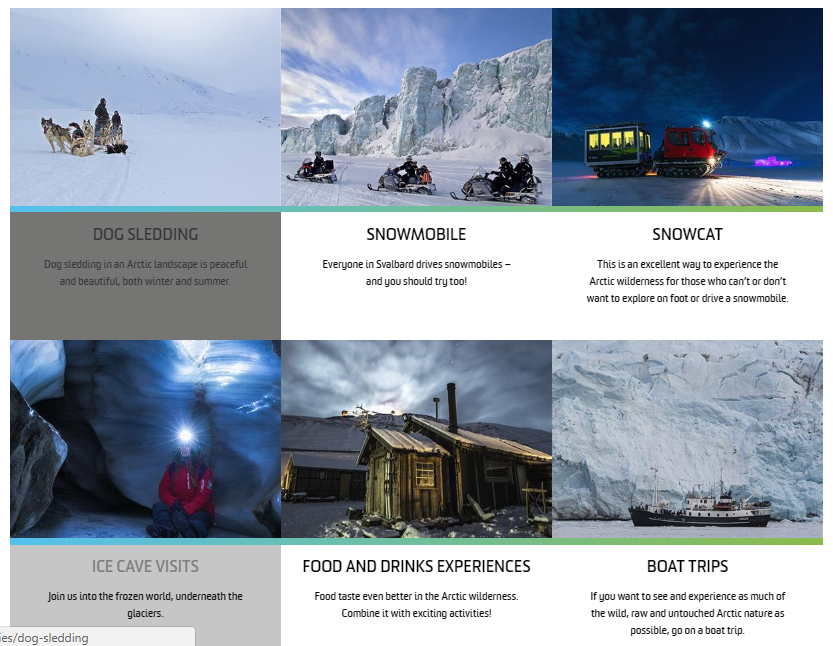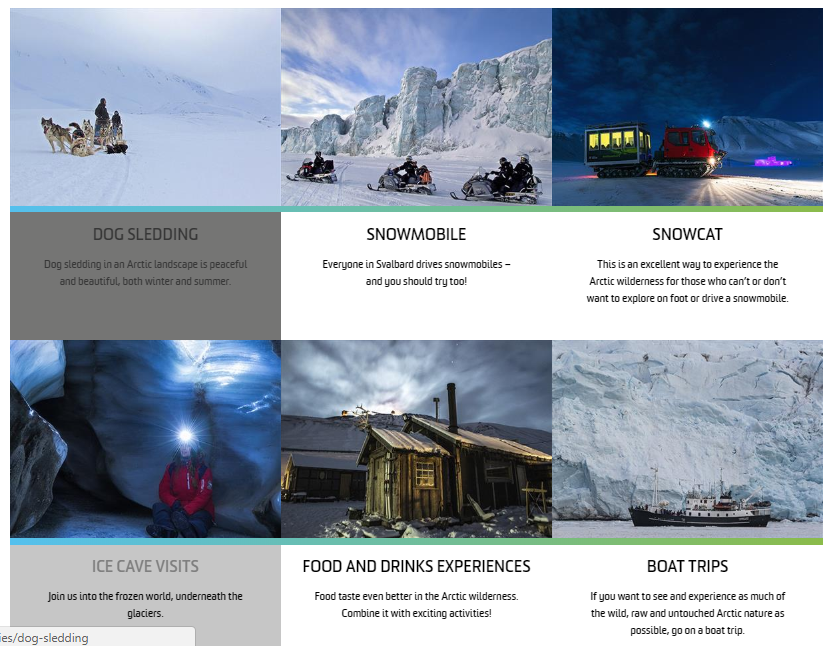 Some popular winter activities in Svalbard include:
Snowmobile trips to Barentsburg and Pyramiden

Snowshoeing/cross country skiing

Dog sledding

Northern light cruises

Ice cave tours
One last tip: before you book an excursion, check the reviews for the tour company on Tripadvisor to see if other people have had good experiences.
6.3) How to visit the Svalbard Global Seed Vault (the "doomsday vault")
Unfortunately, it's not possible to visit the interior of the vault. But you can see it from the outside!
The vault isn't too far away from Longyearbyen, so it might be possible to hike there. However, it is outside the "safe from the polar bear zone," so you'd need to rent a rifle to make the hike.
Otherwise, as we mention in day #1 of our itinerary above, we highly recommend doing the Longyearbyen and surrounding area tour with SvalbardBuss (which includes a stop outside the Global Seed Vault).
6.4) How to visit Barentsburg
In the summer, there are a few companies that have boat tours to Barentsburg (which also include a tour of Barentsburg once you arrive).
Most of the companies use expedition, icebreaker-type boats (which are awesome because they let you get closer to the glaciers) that have indoor/outdoor seating, and go more slowly.
There's also a fast catamaran if you'd rather spend less time in the boat (although it's quite a bit more expensive, only has indoor seating, and just isn't quite as fun if you ask us

)
Like we said in our itinerary above, we went with Henningsen (in one of the slow/expedition/icebreaker-type boats) and had a great time. Scroll up to day #2 of our itinerary for more info about our trip to Barentsburg.
If you wanted to spend the night in Barentsburg, you can try talking to some of the tour companies and see if you can negotiate a 1-way trip (or a round trip that has you coming back on a different day).
In the winter, Barentsburg is only accessible by an overland snowmobile tour.
6.5) How to visit Pyramiden
Visiting Pyramiden is fairly similar to how you'd visit Barentsburg. You either have the option of a slow/expedition/icebreaker-type boat or a fast boat.
As with Barentsburg, we also went in the slow/expedition/icebreaker-type boat with Henningsen and had a wonderful trip. Scroll up to day #5 of our itinerary for more info about our trip to Pyramiden.
In winter, Pyramiden is also only accessible by snowmobiling across the frozen fjords.
6.6) Exploring Svalbard without a tour/by yourself
If you want to venture out beyond Longyearbyen on your own to hike one day like we did (day 3 in the itinerary above), then there's two important steps you need to take: #1) rent a rifle and #2) ask about the weather and environmental conditions.
Keep on readin' for some more details about these two steps.  
6.7) Exploring Svalbard without a tour: how to rent a rifle in Svalbard
IF you are comfortable operating a rifle when confronted with a polar bear, then you can rent a rifle to do some individual exploring.
If I was by myself, I would never have dreamed about renting a rifle alone. However, since Rodrigo has military experience and is comfortable operating a weapon if necessary, he rented the rifle (you just need a single rifle per group).
One VERY important thing to know: rifles should primarily be used to scare a polar bear away. Shooting them is an absolute last resort. 
https://www.sysselmannen.no/en/Shortcuts/Firearms/Renting-firearms/
Here are the steps you need to take to rent a rifle in Svalbard:
Step 1: Fill out this application form here and provide a "Certificate of Good Conduct" from your home country. Rodrigo used a background check from his home country, Brazil, as his "Certificate of Good Conduct."
The "Certificate of Good Conduct" must be in either English or Norwegian, so I then translated the document for him into English from Portuguese.
Step 2: Print out both forms, sign the application, then email it to the governor's office on this website here.
Step 3: If you're approved, you'll receive an email letting you know with an attached "approved form." Print this out and bring it to Svalbard with you.
Step 4: When you arrive in Svalbard, bring this form (along with your passport) to Longyear 78 Outdoor & Expedition sports store to rent your rifle. The store is right downtown near the supermarket.
Step 5: They walk you through using the rifle, you pay the rental and bullet fee and demonstrate you know how to use the rifle, and off you go!  
6.8) Exploring Svalbard without a tour: check the conditions
Conditions change fast in Svalbard and there's some unexpected natural hazards you need to watch for (meltwater in glaciers, avalanche zones, polar bear sightings, etc.). So, we'd highly recommend talking with the people at your accommodation, the tourist office, tour guides, or locals to see if your hiking route is safe to do currently.
Safety note: If you are heading out by yourself, tell someone (receptionist at your hotel, the person you rent the gun from at the sports store, etc.) where you are going and what time you expect to be back. Tack on a few extra hours to your estimate and ask them to let the authorities know if you aren't back by then.
How to work or study in Svalbard

Unlike the rest of Norway (and most other places in the world), Svalbard is a 100% visa-free zone. In other words, anyone from anywhere in the world can come to live and work without a work visa in Svalbard.
If you do plan to stay long-term and arrive without a job offer, however, you do have to show proof of funds to support yourself.
This article here does a great job breaking down what it's like to move to and work in Svalbard.
If you want to study, The University Centre in Svalbard (UNIS) has courses in biology, geology, geophysics, and technology. It's also the world's northernmost higher education institution in the world!
To see their courses and learn how to apply, check their website here.
Final tips for visiting Svalbard
Bring good binoculars. This wasn't even something we thought about before our trip, and we wish we had. Luckily, we had really nice guides who let us use their binoculars. But without them, we wouldn't have been able to spot those 3 polar bears on the glacier or look at the blue & beluga whales more closely. (Which would have been pretty heartbreaking after going all the way to Svalbard!) You can check some binoculars models and prices here. 
Bring lots of layers and warm clothes. Since you're in the arctic….this should be pretty obvious. Even though we were there in the "summer," most days I still wore my winter parka (it was around 0 Celsius even in the summer).

Many tour companies will also send you an email after you book an excursion with clothing recommendations.

Get crushed ginger or seasickness pills. As you saw in our itinerary, we took lots of boat rides while in Svalbard. If you'll be there during this same season and are prone to seasickness, make sure you bring something for it (seriously, crushed ginger is amazing for this). You can also find some to buy here. 
Be prepared for changes – unexpected bad weather that makes it impossible for that snowmobile trip, polar bear sightings that cause your hike to be moved to a different location away from the bear (like our hike was), etc. Svalbard is a 'wild' place…and so, sometimes the unexpected happens 
Svalbard Attractions, Tours and Activities
If you are looking for activities to do in Svalbard, I recommend looking at Viator and GetYourGuide. These sites have some very fun options for activities, and the best, several promotions.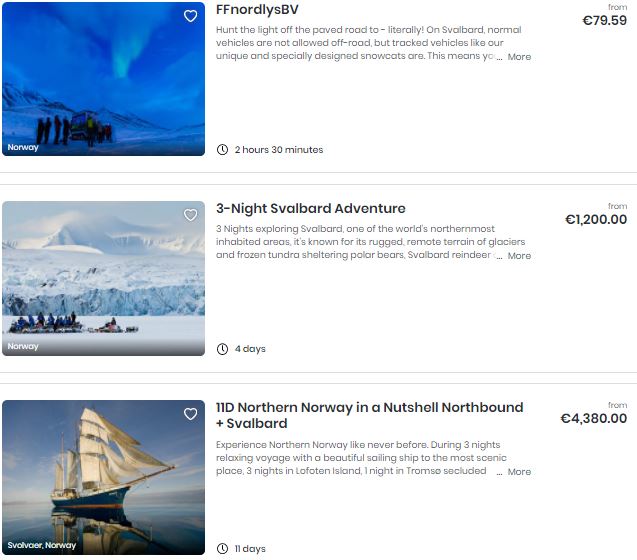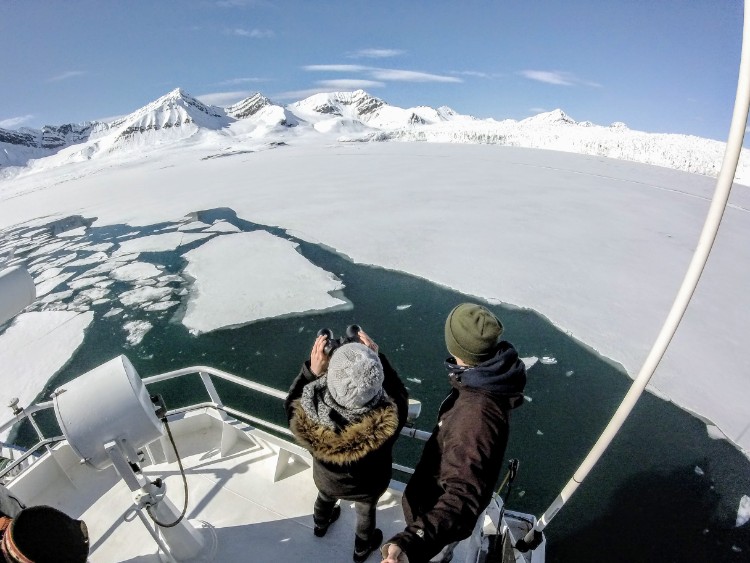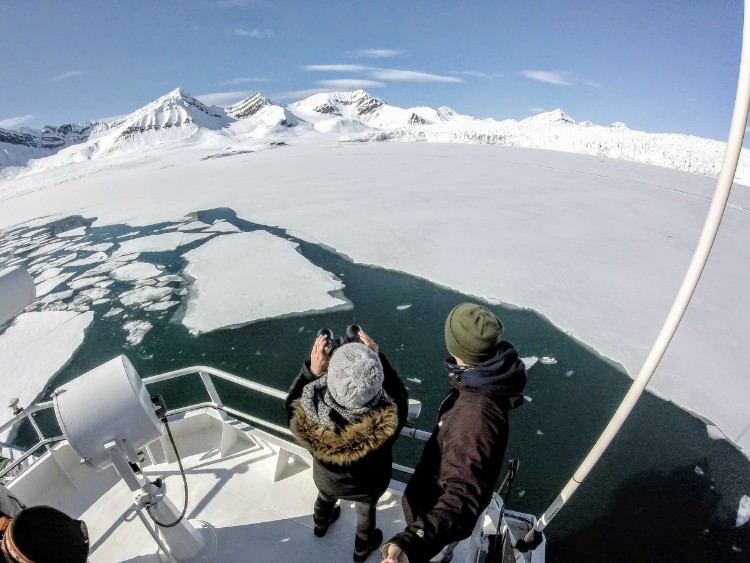 If you didn't get enough of Svalbard in this looong article, here's another for you: 18 Amazing Facts about Svalbard.
And that's it!
Have you been to Svalbard before? Do you have any other tips you'd like to add? Or do you have any of your own questions? Let us know in the comments below!
—– 
A quick disclaimer: we had the privilege of partnering with several of the companies and brands mentioned in this article. As part of our partnerships, we were hosted or may have received discounted rates in exchange for writing honestly about our experiences with them. But as always, all thoughts and opinions are 100% our own.
Planning your next trip?

Then don't forget travel insurance! You don't want to get stuck paying a ton of money and ruining your trip if you get sick or have an accident without travel insurance. WorldNomads is ideal for adventurous travelers, backpackers, or anyone looking to be protected during their trip. They cover almost every single activity you can image! Plus, you can have a 5% discount with the coupon code 

comfort5

.

Already reserved your hotel or hostel? If not, we recommend Booking.com. They have a huge selection of hotels and hostels all over the world. Plus, in most cases, you can cancel your reservation without any costs up to a few days before the check-in date!

Still haven't booked your plane ticket and want to save big? Take a look at KAYAK. and Momondo. They are flight aggregators that combine several other ticket search websites to make it easier for you to compare prices and make sure you are getting the best deal. 

And finally, will you need to rent a car during your trip? Then check out Rentalcar.com to search and compare car rental companies from all over the world on a single website. Then, you can find the cheapest price for the best car!