Last Updated on by Lohanna Reis
Have a trip planned to Ubatuba on the Brazilian coast? Then this article will give you all you need to know for an incredible experience on the beautiful beaches of Ubatuba! 
Ubatuba is a place that's always been close to my heart. 
It's where I spent the summers of my childhood, where I learned to surf, and where I had most of my cool young adventures.

So if you ever get the chance to go, it's a place I know you won't regret visiting. 
After all, with its huge variety of beaches, Ubatuba is one of Brazil's best coastal destinations. And not only is it home to stunning beaches, but also to an abundance of well-preserved (and wild!) nature….such as the Atlantic Forest that stretches throughout the area. 
And with more than 100 kilometers of coastline, Ubatuba is a region that you'll have to come back to many times if you want to explore all the beauty it holds. And believe me: you'll definitely want to come back! 
Ubatuba (note: Ubatuba is both the name of a city and the region) attracts people of all kinds. Throughout the year, you'll find young couples, surfers, families, and more. However, given that this is the beach area closest to São Paulo, it can sometimes get very, very busy. So, you may want to do some research before deciding to drive! 
But before then…. take a look at the tips in this guide to visiting Ubatuba below to help you make the most of your trip!
(P.S. I also made a map marking all of the places in Ubatuba to visit included in this article. You can find that map here or down below under the "what to do in Ubatuba" section!) 
Where is Ubatuba in Brazil 
Ubatuba is a municipality (and city) located on Brazil's southeastern coast roughly 3 hours by car (depending on the famous São Paulo traffic, that is!) from Brazil's largest city, São Paulo.
If you're coming from Rio de Janeiro in the north, it's roughly 5 hours by car (and happens to be a beautiful coastal drive!). 
When to visit Ubatuba
 Ubatuba has earned the nickname "Ubachuva" ("chuva" is Portuguese for "rain") for a reason. Due to its proximity to the Serra do Mar mountain range and the Atlantic Forest, Ubatuba is known for having more rain than many other beach areas in Brazil. 
Although, the rain often isn't enough to deter Brazilian beach lovers. After all, none of us are made of sugar, are we?

But of course, enjoying a  sunny day at the beach is still a lot more pleasant than a cloudy day. Especially in Ubatuba where the sun intensifies the colors of the landscape so you can see the many tones of blue and brilliant green in detail. 
So when you plan your trip to Ubatuba, make sure you watch the weather very carefully. If there's a forecast for rain, then it will rain! 
And as you've likely guessed, summer in Brazil is the rainiest season of the year. And given that summer is high season, the beaches get VERY packed, the traffic around the area is a nightmare, and the price of accommodation skyrockets. 
So if you don't like crowds, loud music, etc., I recommend avoiding Ubatuba during the summer. 
If you're able to travel to Ubatuba outside of the high season, the end of July to October is a great option for steady weather and more comfortable heat. During this period, you'll also be able to enjoy the city's event season as well. In June, there's "Festa do Pescador" ("Fishermen's Festival"), which honors the traditions of the Caiçaras people group and origins of the city. And between October and November, there's PUC Surf, a surf competition between universities in São Paulo. 
How to get to Ubatuba
Update: Azul airlines has just begun running daily commercial flights to Ubatuba's local airport from Congonhas (São Paulo) during high season…making it easier than ever to get to Ubatuba quickly from the city! 
~~~
BY CAR 
Thanks to the size of the area, the best way to get to Ubatuba is by car. With a car, you'll be able to do a circuit around all 102 of the city's beaches. 
After all, the trip between the beaches in the north and the beaches in the south is about an hour. And having a car makes this much easier. 
If you don't have a car but you'd still like to explore the coast, splitting the cost of a rental car is a good option. This way, you can also use the opportunity to visit some beaches on the border with Rio (like Paraty or Trinidade). 
(If you make the trip to Paraty, here's a guide I wrote about visiting it)
If you'd like to rent a car in Brazil to get to Ubatuba, my article with the 5 best and cheapest car rental companies may help. 
BY BUS 
Of course, we can't forget about the option to travel by bus. Ubatuba has a bus station, meaning you can get here by bus from just about anywhere in Brazil. 
To get your bus ticket to Ubatuba, you can check out my article with the 2 best long-distance bus ticket websites in Brazil.  
And to get around between beaches once you're here, you can use the municipal bus company Verde Bus. On their website here (only in Portuguese, unfortunately), you can find the bus lines and current schedules: http://verdebus.com.br/ 
One thing to keep in mind is that, although the buses are scheduled to come each hour, because of the trip through the winding roads, they are usually late. So if you travel in high season or during holidays, it's almost impossible to depend on the buses to get around. 
BY HITCHHIKING  
One final option would be to stick out your thumb and hitchhike, a very common practice among residents of the coast. This way, you'll get to see several beaches while also saving money on a car rental and gasoline! 
What to do in Ubatuba: The Best Beaches & Trails in Ubatuba 
Below, you'll find a breakdown of the best beaches and hikes you can do in Ubatuba (in the north and in the south). 
I've also created a map showing you exactly where each spot is so you can plan out your itinerary (just click the map below to zoom in). 
Best Beaches in South Ubatuba 
Domingas Dias Beach, Praia do Lázaro, and Sununga Beach 
In the south of Ubatuba, you'll generally find beaches with calm water (which often attracts families with children). Some of the most famous of these are Praia do Lázaro (which is full of kiosks and street vendors) and Domingas Dias. 
Given that my grandfather's house was just a few blocks from these two beaches, I have very fond memories of them. 
These two beaches are very close and you can walk between them. At the end of Praia do Lázaro on the right side (when facing the ocean), you'll find a trail that brings you to Domingas Dias. 
You'll find the road to Sununga on the other end of Praia do Lázaro. Sununga is quite different from its neighbors with its rough sea and large waves that break on the sand, something that attracts many surfers adept at skimboarding.   
(I spent many happy hours as a child playing in these waves … and even learned to surf here!)
On Sununga beach, you'll also find the famous "Gruta que Chora" ("Crying Grotto"), a cave in the rocks that the noise of the sea echoes within…causing you to hear a peculiar sound that sounds like a cry. 
Since you're able to visit all three of these beautiful, distinct-from-each-other beaches on foot in a single day (and that these are the beaches I used to spend my summers at – I even learned to surf at Sununga!), this is one of my favorite areas of all of Ubatuba. 
Domingas Dias Beach, Ubatuba (tip: when I was a kid, I used to jump off the rock you see farthest out in this photo. Sometimes, I'd even be joined by the local sea turtles!) 
Best Trails/Hikes in South Ubatuba 
How to hike "Trail of the Seven Beaches" in Ubatuba
If you're adventurous and like to spend your days hiking, one incredible option in Ubatuba is the Trilha das Sete Praias ("Trail of the Seven Beaches"). The entire route stretches 10 km (one way)…so make sure you're in appropriate physical condition and have sufficient water and food for the trip. 
Beyond getting a great outdoor workout in, you'll also pass by seven beautiful and deserted beaches. 
For this trail, you'll begin at Praia da Fortaleza ("Fort Beach") then continue onto Praia do Cerdo ("Pig Beach"), Praia do Deserto ("Desert Beach"), Praia Grande do Bonete ("Big Bonete Beach"), Praia do Peres ("Peres Beach"), Praia do Oeste ("West Beach"), and Praia da Lagoinha ("Little Lagoon Beach"). 
Praia Grande do Bonete is a great place to stop midway in your journey to have some lunch with its bars and vendors. On your journey back, you can also catch a "Bonete" boat to go back to Ubatuba if you're tired and don't want to walk the entire way back (the boat trip costs around 50 reais or 10 dollars).
If you're looking for a shorter hike, you'll find plenty of shorter trails in the south part of the region to choose from.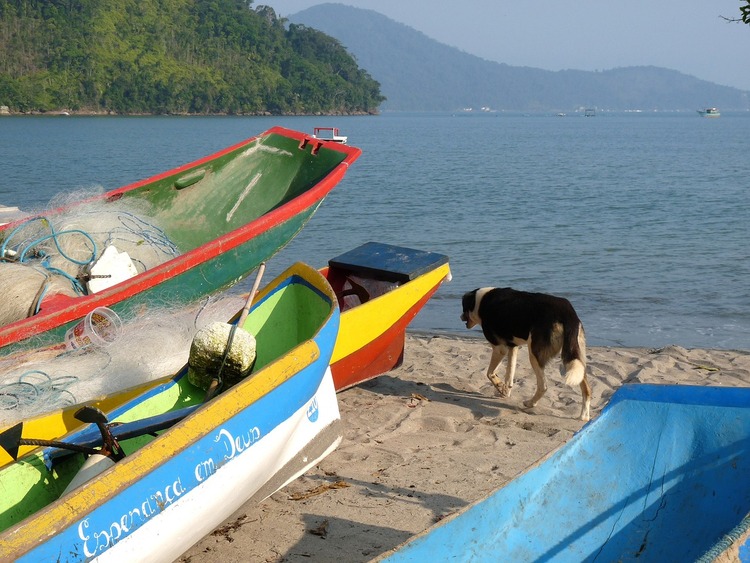 Trail to Praia Brava de Camburi, Praia de Fora, e Praia de Santa Rita
Praia Brava de Camburi is one of Ubatuba's most beloved beaches for its beauty and its good waves, which attracts surfers seeking emptier beaches. From this beach, you can take a trail to get to Praia de Fora ("Outside Beach") and Praia de Santa Rita ("Santa Rita Beach") in roughly 40 minutes. 
If you're looking for a more isolated place without going too far, I can recommend Praia do Costa – a lovely beach that forms natural pools among the rocks at high tide (not far from where you begin the "Trail of the Seven Beaches").
Best

Beaches in North Ubatuba

 
One thing that you can't miss when coming to Ubatuba is exploring the beaches north of the city. Unlike the beaches of the south which are hidden from the road by vegetation, in the north you have incredible views all along the way. 
So, it's definitely worth doing this drive north and stopping at a few beaches along the way…or at least stopping along the road to take some photos. 
After you pass through the Ubatuba city center, the first beach you'll get a view of is Praia Vermelha ("Red Beach"). Almost all of Ubatuba's northern beaches follow the same pattern: long, surrounded by forest, and complete with surfers in the blue water. How can you NOT take a minute to stop and admire?  
Following the road a bit more, you'll find Mirante da Praia do Alto ("High Beach Overlook"). Drive a little more and you'll quickly arrive at the beach itself, which is full of bars and vendors. 
Itamambuca Beach, Praia do Félix, Praia do Português, and Prumirim 
Continuing your drive, a few kilometers later you'll find the entrance to Itamambuca Beach. This is a great little stop because, truthfully, the beach is part of an enormous condo with wooded private homes, hostels, campgrounds, restaurants, bars, and more. 
Although there are often families frequenting the area, it's also a great stop for young people in search of a great beach, good surf, and fun nightlife during their trip to Ubatuba (especially since at night in the condo parties pop up everywhere in local houses and bars. 
Continuing down the road, your next beach will be Praia do Félix ("Felix Beach"), which is accessed through a condominium as well. At the entrance, there's a wonderful viewpoint you'll want to take a minute at: Mirante do Félix. 
Praia do Félix is a beach for everyone – from those who prefer some waves to those who prefer calm waters. 
On one side of the beach, you'll find vendors, bars, and natural pools at high tide. On the other, you'll find surfers making the most of the waves. 
On the side of the beach with the vendors, you can walk through the rocks or swim to a hidden paradise on the other side of the hill: Praia do Português ("Portuguese Beach"). I recommend making this trip in the morning (when the tide is still low) and return before the end of the afternoon. Just make sure you aren't carrying too many things with you! 
Praia do Portuguese looks straight out of a movie. The sea, which blends vibrant blues and greens, is located between two impressive rock formations. And since the beach has few visitors, you'll find no bars, restaurants, or other structures here. Because of this, you may want to spend the morning on Praia do Português and then enjoy the rest of the day on Praia do Félix. 
If you continue your journey, the next beach you'll find is Praia do Prumirim, a beach that is considered to be one of the most beautiful in all of Brazil. Beyond its natural beauties, another advantage of this beach is that it's often quiet, thus allowing you to relax and enjoy the sounds of the nature around you. 
There's also the option to visit Prumirim Waterfall (which is highly rated by visitors to Ubatuba) or take a boat from the left side of the beach to Prumirim Island. Prumirim is a great alternative to the famous Ilha das Couves ("Couves Island"), which is always very busy. 
One tip: if you're a fan of stand-up paddleboarding, you can paddle your way to Prumirim Island in just a few minutes. This way, you can save on the cost of the boat ride (normally between 30-50 reais). 
As you near Praia do Prumirim, look carefully for the overlook on your right side. Here, you'll find one of Ubatuba's most beautiful views. 
Food in Ubatuba: Bars, Restaurants & Grocery Store Options 
A  friend of mine was recently in Ubatuba in August, and told me that even though they were there outside of the high season, prices in Ubatuba were still quite high. They expected that because of the financial crisis caused by the pandemic, the restaurants have raised their prices to recover. 
I'm not sure if these high prices will stay, but if you have a lower budget for your trip to Ubatuba, then I recommend shopping in local supermarkets. Surprisingly, they have very fair prices that compare to those you'd find in the city (unlike other supermarkets you find along São Paulo's northern coast). 
If you're able to eat out on your budget, I recommend looking for options in Ubatuba's city center rather than those on the beach. Food in the center may be expensive, but at least it's good (whereas things on the beach are often expensive but not so good). 
You can also find some cheap options in the center of Ubatuba. If you're looking for something low-cost and don't want to cook, Ki-Beirute is a good option. 
And if you're looking to eat well and drink well with some good nightlife, I recommend taking a walk through Rua Guarani. If you like artisanal beers and snacks, I recommend Sullivan Bar, which has great parties on the weekends. And you're a fan of pasta, Spaguetto or Perequim are great choices. 
But don't just stay in the center! Alongside Praia do Itaguá and throughout Ubatuba, you'll find plenty of good restaurants that are a bit quieter (perfect for those who like to enjoy their meals with a little more peace).  
In conclusion…
Of all the cities and beaches on São Paulo's north coast, Ubatuba definitely lands at the top of my favorites. Enjoying all the natural beauty the area has to offer is sure to be a great experience. 
And by following my tips above, I'm certain you'll have a wonderful trip! 
Let us know in the comments area below what you'd most like to do in Ubatuba. Or if you have any questions about traveling to Ubatuba (or Brazil in general), let me know in the comments area below and I'll get back to you!  
Planning your next trip?

Then don't forget travel insurance! You don't want to get stuck paying a ton of money and ruining your trip if you get sick or have an accident without travel insurance. WorldNomads is ideal for adventurous travelers, backpackers, or anyone looking to be protected during their trip. They cover almost every single activity you can image!

Already reserved your hotel or hostel? If not, we recommend Booking.com. They have a huge selection of hotels and hostels all over the world. Plus, in most cases, you can cancel your reservation up to a few days before the check-in date without any costs! 

Still haven't booked your plane ticket and want to save big? Take a look at Momondo. It's a flight aggregator that combines several other ticket search websites to make it easier for you to compare prices and make sure you are getting the best deal. 

And finally, will you need to rent a car during your trip? Then check out Rentalcar.com to search and compare car rental companies from all over the world in a single website. Then, you can find the cheapest price for the best car!
If you want to hear about new articles, check out our latest pictures, and read our newest updates, be sure to follow us here….
…..and subscribe to our newsletter below!