Last Updated on by Lohanna Reis
Australian beaches are famous all around the world, thanks to the white sand, perfect waves and endless sun.
With over 25,000 kilometres of coastline, there's plenty to discover. Whether you're a local or coming for a holiday, here are our top 5 must visit beaches!
 

  1 – Noosa Main Beach
Located just a few hours out of Brisbane, one visit to this beach and you will already feel like you are on holiday.
With beautiful white sand and clear blue water, it's a must see if you ever find yourself in the visiting south east Queensland. In town, there are plenty of restaurants where you can stop for a lunch break.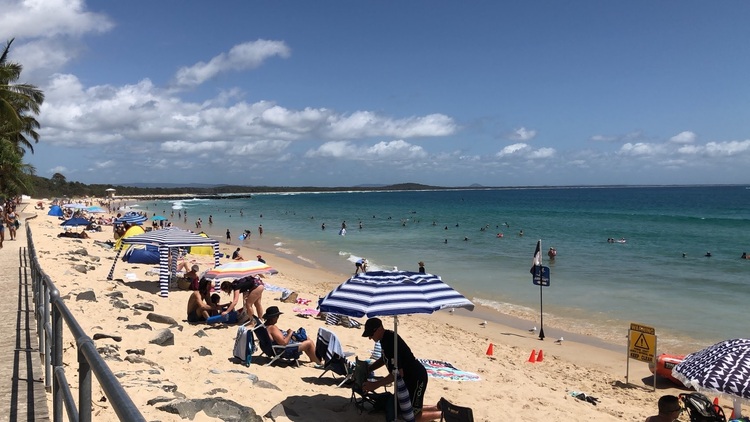 Not far from the beach, moderate sized waves break regularly, making it a good spot for surfing. This beach is truly a tropical paradise.
After visiting Noosa Main Beach, take some time to visit the nearby Noosa National Park, where you can go hiking and see koalas, native lizards and even whales breaching the water as they migrate up and down the coastline!
    2 – North Stradbroke Island Main Beach
Staying in sunny Queensland, but heading down the coast a few hours you will come to North Stradbroke Island Main Beach. Similar to Noosa, this is a beautiful pristine beach, surrounded with green bushland. Perfect for an early morning hike followed by a dip in the ocean.
North Stradbroke Island Main Beach is camping friendly, and accessible via 4WD. With many camping sites right there on the sand itself, you can't get more beach holiday than this. If you're an avid fisher or surfer, then you've come to the right place. Catch a wave, catch a fish and finish your day with a relaxing rest on the 33 kilometre long stretch of white sand.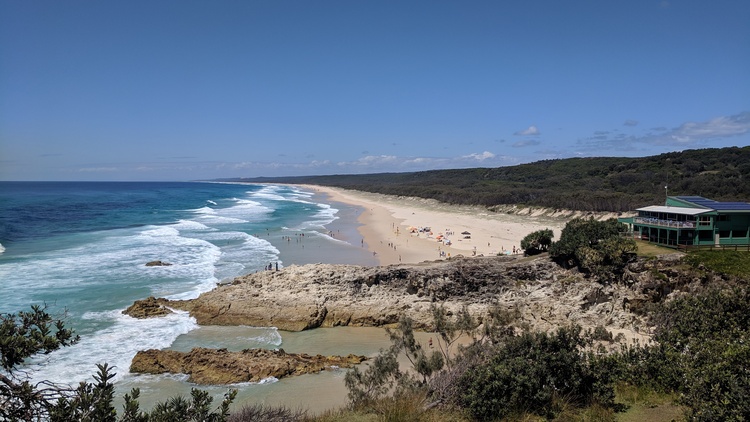 If you're after a swim, there is a dedicated, patrolled swimming area to ensure your safety. Soak up that warm Queensland sun and listen to the crashing of the waves.
North Stradbroke Island is also a great place to enjoy some other beach activities, like sandboarding and snorkelling. There's also some great hiking trails here which lead directly to freshwater lakes. There's plenty to explore here on the second largest sand island in the world!
    3 – Wineglass Bay
Located just a short flight from Melbourne is the island state of Tasmania. More importantly, this is the home of Wineglass Bay, the next beach on our list.
While this beach does have beautiful white sand, it also has pink granite rocks rising straight out of the sea. Depending on what part of Wineglass Bay you find yourself at, you may be able to climb along these rocks by the water.
The beach itself is located within Freycinet National Park, so you can hike your way up one of the hills for an incredible look out over all of the bay, or take it a little slower and head down to the soft white sand and relax. No matter what you choose to do, you're sure to find spectacular views wherever you turn.
Wineglass Bay is the most photographed location and view in the entirety of Tasmania, and with one look at this beach, you'll understand why too.
If you enjoy outdoor activities and nature, you will love exploring Tasmania in general. This island is full of old growth forests, as well as untouched national parks for you to explore. Do yourself a favour and check them out while visiting Wineglass Bay.
    4 – Bondi Beach
Next up is Bondi Beach, the most well-known beach in all of Australia. Only a 20 minute drive from the heart of sydney and you'll leave the bustling city for a relaxing beach. You'll find fine sand stretching around Bondi as well as plenty of waves, popular for swimming and surfing.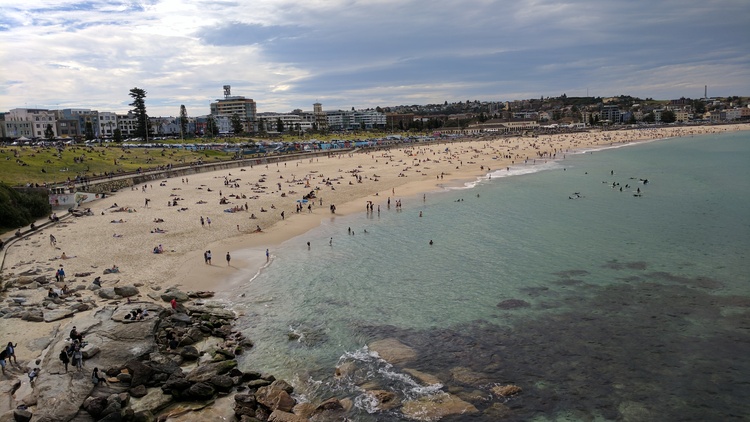 Feel safe and secure knowing that professional lifeguards are patrolling the beach 365 days a year. Bondi is unfortunately known for rips (currents which can drag swimmers), so rest assured that if you get caught up in one of these, there'll be someone there to help you out.
Just a stone's throw from Bondi is a restaurant district with plenty of cafes and eateries, some of which feature on this most instagrammable cafes list. Grab a coffee or something to eat after you have had your fill of the beach.
If you're looking for something else to do, why not go hiking from Bondi Beach to Coogee Beach. This is a popular morning hike with fantastic views over the cliffs and out into the Tasman Sea.
    5 – Lucky Bay
Head over to the opposite side of the continent and you'll find yourself in Western Australia, the home of Lucky Bay.
Lucky Bay has been coined Australia's whitest beach, and you'll quickly realise why if you're fortunate enough to visit this gorgeous area. Lucky Bay offers calm conditions with less currents and rips, making it great for those who aren't the strongest swimmers.
If you bring some extra gear, you can even head out snorkelling in the glistening turquoise waters.
Now one of the most iconic, Australian features of this beach is it's constant visitors.. and i'm not talking about tourists. Kangaroos are commonly seen at Lucky Bay. If you want to be sure of seeing some kangaroos here, visit the beach at either dusk or dawn.
Kangaroos aside, we guarantee you'll be blown away by the serenity of Lucky Bay and may never want to leave.
Summing Up
Australia has many gorgeous beaches, but these 5 stand out for obvious reasons, with their bright white sand, clear blue waters and tropical surroundings there's something for everyone. Hike to the top of Wineglass Bay for a breathtaking view, relax on the sands of Noosa main beach or watch the kangaroos bounce around the white sand of Lucky Bay.
We hope this list has inspired you to get out your bucket list and write a few extra beach destinations down, because you sure don't want to miss these ones!
BIO:
Louis is a huge fan of everything related to camping and hiking in Australia. He writes about enjoying the great outdoors over at Outdoor Explorer. You can also follow him on YouTube and Facebook.
Planning your next trip?