Last Updated on by Rodrigo @ OutofYourComfortZone
Dubai, the dazzling city of the United Arab Emirates, is a dream destination that captivates travelers from around the world with its awe-inspiring skyline, extravagant shopping malls, and luxurious lifestyle. Beyond its glamorous facade, Dubai is also a haven for families seeking memorable and enriching experiences.
The city boasts an array of family-friendly attractions, catering to the diverse interests and preferences of every member of the family. From breathtaking amusement parks to captivating cultural experiences, Dubai offers a perfect blend of adventure and entertainment for visitors of all ages. In this article, we will delve into the top ten family-friendly places in Dubai, where families can create cherished memories together.
From exploring the wondrous world of flowers at Dubai Miracle Garden to embarking on thrilling adventures at IMG Worlds of Adventure, we will take you on a journey through some of Dubai's most captivating destinations.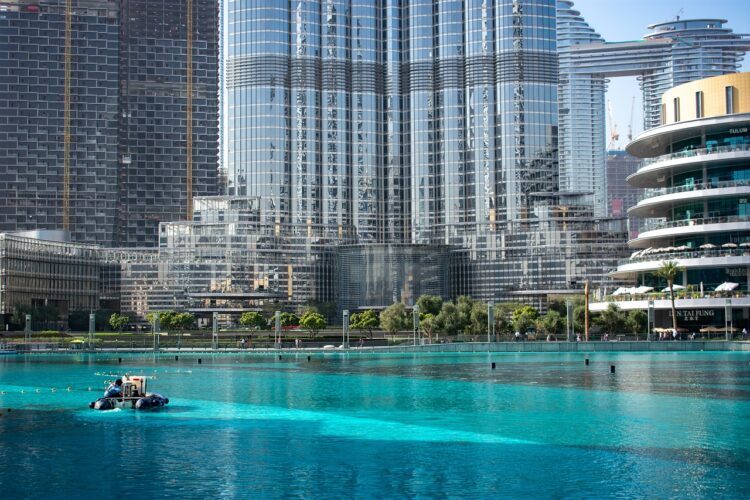 1. IMG Worlds of Adventure
Dubai's largest indoor theme park, IMG Worlds of Adventure, promises a thrilling experience for the whole family. Divided into four themed zones, the park features popular characters from Marvel, Cartoon Network, and dinosaurs in the Lost Valley.
With adrenaline-pumping rides, exciting attractions, and immersive experiences, IMG Worlds of Adventure is a must-visit destination for families seeking an action-packed day out. To get the best deals on IMG tickets, consider booking them online in advance. IMG Worlds of Adventure is a paradise for thrill-seekers and fans of popular franchises.
Families can explore Marvel's iconic superheroes, meet their favorite Cartoon Network characters, and embark on prehistoric adventures with dinosaurs. The park also offers a variety of dining options, ranging from fast food to themed restaurants, ensuring that visitors can fuel up before continuing their adventure-filled day.
2. Dubai Miracle Garden
The Dubai Miracle Garden is a magnificent floral wonderland and a visual treat for all ages. Home to over 50 million blooming flowers, this botanical paradise features impressive flower structures and enchanting arrangements.
Kids can explore the themed gardens, including the Disney Avenue and Emirates A380, while parents can indulge in leisurely strolls amidst the vibrant colors. To ensure a hassle-free visit, make sure to book tickets in advance and secure the best deals for your family.
The Dubai Miracle Garden is a seasonal attraction that opens from November to April, offering an array of captivating flower displays that change with each season. Whether you visit during the winter holidays or the spring break, the garden will greet you with an explosion of colors, making it a delightful experience for the whole family.
3. Bollywood Park Dubai
A cinematic wonderland awaits at Dubai Parks and Resorts, where Bollywood Park Dubai offers an enchanting journey through the magic of Indian cinema. Step into the vibrant streets of Mumbai and the grand palaces of legendary Bollywood blockbusters across five captivating zones.
Enjoy heart-pounding rides, captivating live performances, and interactive experiences that celebrate the rich culture and diversity of Indian entertainment. Indulge in a gastronomic adventure with a range of delectable Indian cuisine options.
To ensure a hassle-free visit, book the Bollywood Park tickets in advance, giving your family the chance to dive straight into the mesmerizing world of Hindi cinema and create unforgettable memories together.
4. Dubai Creek Park
Dubai Creek Park is an ideal spot for a family picnic and a relaxed day out. The park offers a variety of activities, such as children's playgrounds, mini golf, and barbecue areas, making it a favorite among families. A leisurely ride on the park's mini train gives an opportunity to explore the beautiful surroundings.
It's a perfect place to bond with loved ones amidst the tranquil greenery and stunning views of the creek. Additionally, families can hop on traditional Abras, or water taxis, for a short ride across the creek to the Dubai Gold and Spice Souks.
Here, parents can indulge in some shopping while kids marvel at the array of glittering gold and aromatic spices on display. It's a chance to experience the traditional side of Dubai while enjoying quality family time.
5. KidZania Dubai
Located in the bustling Dubai Mall, KidZania is an innovative children's edutainment center that allows kids to experience various real-life professions in a controlled environment. From being a doctor to a firefighter or a chef, children get to play different roles and learn essential life skills.
KidZania Dubai is not only an engaging experience for children but also provides a few moments of relaxation for parents while the kids are immersed in their imaginative world. KidZania offers various career-oriented activities, from aviation and engineering to fashion and media, ensuring that children can explore their interests while having fun.
The city-like setup is complete with its economy and currency, encouraging kids to understand the value of money and the importance of teamwork.
6. Dubai Aquarium & Underwater Zoo
The Dubai Aquarium & Underwater Zoo, situated within the Dubai Mall, offers an unforgettable underwater adventure for the entire family. Witness a diverse array of marine life, including sharks, rays, and colorful fish, as you walk through the mesmerizing underwater tunnel.
Children will be thrilled with the opportunity to meet penguins and participate in interactive experiences. Combining education and entertainment, this attraction is a must-visit for families. For a more immersive experience, families can also take a glass-bottom boat tour or try their hand at diving with sharks (suitable for older children and adults).
The Underwater Zoo offers a chance to encounter fascinating creatures like piranhas, crocodiles, and playful otters, providing an opportunity for children to learn about various aquatic ecosystems and marine conservation.
7. Ski Dubai
Beat the desert heat by visiting the first indoor ski resort in the Middle East – Ski Dubai! Located inside the Mall of the Emirates, Ski Dubai offers an exciting winter wonderland experience for the whole family. Kids and adults can enjoy snowboarding, skiing, or simply playing in the snow-filled slopes.
Little ones can have fun at the Snow Park, while parents can relax at the Alpine-inspired café. Don't miss the chance to book your tickets for an exhilarating snow-filled adventure. Ski Dubai offers various packages suitable for beginners and experienced skiers alike.
The Snow Park features activities like snowball fights, tobogganing, and even meeting friendly penguins. If your family isn't familiar with winter sports, don't worry; Ski Dubai provides experienced instructors who can guide you through the basics and ensure a safe and enjoyable experience.
8. Dubai Safari Park
Dubai Safari Park offers a unique wildlife experience in the heart of the city. Spread across vast acres of land, the park houses over 2,500 animals from around the world, including elephants, lions, giraffes, and much more. With an emphasis on conservation and education, Dubai Safari Park provides an informative and entertaining outing for the whole family.
Kids will love the safari journey through different ecosystems, and parents will appreciate the park's dedication to wildlife conservation. The safari experience at Dubai Safari Park is an unforgettable adventure, offering opportunities to encounter animals in environments that closely mimic their natural habitats.
Families can opt for a guided bus tour through the park, providing a safe and educational experience for children as they learn about various species and conservation efforts.
9. Dubai Frame
A mesmerizing blend of the old and the new, the Dubai Frame is an architectural marvel that showcases the city's transformation over the years. Standing tall at 150 meters, the Frame offers stunning views of both the historic and modern parts of Dubai.
Capture breathtaking family photos from the glass-floored sky deck and learn about the city's rich history through immersive exhibits. To avoid long queues, it's advisable to purchase tickets in advance. Dubai Frame is a symbolic attraction that stands as a metaphorical bridge between the past and the future.
Families can explore the Old Dubai gallery, showcasing the city's historical heritage, and then proceed to the Future Dubai gallery, offering a glimpse of the city's ambitious future projects. It's an opportunity to reflect on Dubai's rapid development and appreciate the city's dedication to progress.
10. Al Mamzar Beach Park
For a fun-filled day at the beach, head to Al Mamzar Beach Park, a beautiful coastal sanctuary featuring pristine beaches and lush green spaces. The park offers extensive facilities, including swimming pools, playgrounds, barbecue areas, and well-maintained picnic spots.
Families can enjoy beach sports, swim in the warm waters, or take a leisurely stroll along the shoreline. To make the most of your time, plan ahead and check for availability of tickets. Al Mamzar Beach Park is a serene escape from the bustling city, providing ample opportunities for relaxation and recreation.
Families can spend quality time together, building sandcastles, flying kites, or enjoying a beachside barbecue. With plenty of shaded areas and well-maintained amenities, the park offers a comfortable and enjoyable beach experience for everyone.
In conclusion…
Dubai is truly a dream destination for families seeking unforgettable experiences. With its unique blend of glamour and culture, the city offers a variety of attractions that captivate travelers of all ages. If you're planning your next trip to Dubai, make sure to visit these top ten family-friendly places:
IMG Worlds of Adventure – For thrill-seekers and fans of popular pop culture characters.

Dubai Miracle Garden – A magnificent floral paradise to marvel at with over 50 million stunning flowers.

Bollywood Park Dubai – A charming journey through the magic of Indian cinema in five captivating zones.

Dubai Creek Park – An ideal spot for a relaxing day and to explore Dubai's traditional side.

KidZania Dubai – An educational and fun experience for children to explore various real-life professions.

Dubai Aquarium & Underwater Zoo – An unforgettable underwater adventure for the whole family.

Skiing in Dubai – Enjoy the cold amidst the desert heat at Ski Dubai, the first indoor ski resort in the Middle East.

Dubai Safari Park – A unique wildlife experience in the heart of the city, with an emphasis on conservation.

Dubai Frame – An architectural wonder showcasing the city's transformation over the years.

Al Mamzar Beach Park – A beautiful coastal sanctuary with pristine beaches and lush green spaces for a day filled with fun.
Remember to purchase travel insurance, book your accommodation, and save on airfare and car rentals with our exclusive tips. With these incredible places, your trip to Dubai will be a journey of unforgettable memories, with fun and learning for the whole family. Get ready to explore and experience magical moments in this dazzling city of the United Arab Emirates!
Planning your next trip?

Then don't forget travel insurance! You don't want to get stuck paying a ton of money and ruining your trip if you get sick or have an accident without travel insurance. WorldNomads is ideal for adventurous travelers, backpackers, or anyone looking to be protected during their trip. They cover almost every single activity you can image! Plus, you can have a 5% discount with the coupon code comfort5.

Already reserved your hotel or hostel? If not, we recommend Booking.com. They have a huge selection of hotels and hostels all over the world. Plus, in most cases, you can cancel your reservation without any costs up to a few days before the check-in date!

Still haven't booked your plane ticket and want to save big? Take a look at Momondo. It's a flight aggregator that combines several other ticket search websites to make it easier for you to compare prices and make sure you are getting the best deal.

And finally, will you need to rent a car during your trip? Then check out Rentalcar.com to search and compare car rental companies from all over the world in a single website. Then, you can find the cheapest price for the best car!