Last Updated on by Rodrigo @ OutofYourComfortZone
Studying abroad can be an incredibly rewarding experience, but it is not without its challenges. One of the most significant challenges that students face is homesickness. Feeling homesick is completely normal, and you are not alone in this experience. Read the article to learn ten tips for overcoming homesickness while studying abroad.
As a person who has spent years exploring the world, I understand how it feels to miss home. But with the right mindset and approach, you can overcome homesickness and make the most of your time abroad.
From staying connected with loved ones to embracing new experiences and making friends, these tips will help you adjust to life in a new country smoothly. So, whether you are a first-time traveler or a seasoned pro, read on for the top tips on how to overcome homesickness while studying abroad.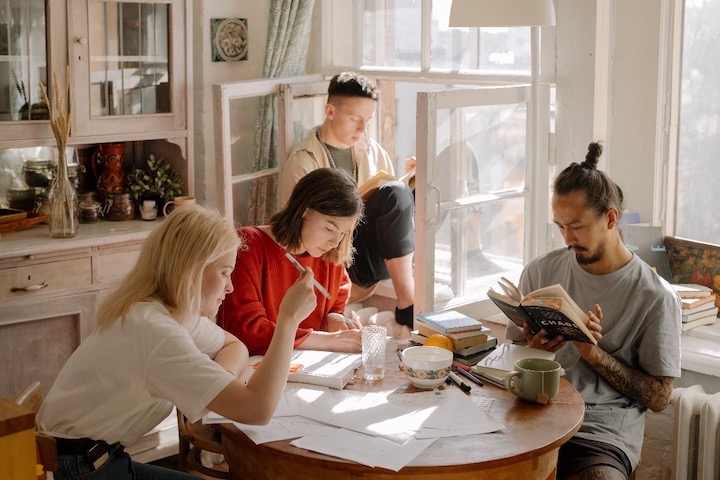 How do I overcome homesickness when studying abroad?
1. Acknowledge and accept your homesickness
As a seasoned traveler, I can attest that homesickness is a natural feeling that one may experience while studying or traveling abroad. Recognizing and accepting this emotion is the first step toward overcoming it.
Remember that homesickness does not imply that you made the wrong decision to study abroad or that you are weak.
Instead, it is simply an indication that you miss the comforts of home. By acknowledging and accepting this emotion, you can begin to address it and make your time abroad more enjoyable.
2. Stay connected with loved ones back home through technology
Staying connected with loved ones back home has never been easier in the modern digital age. Through video calls, messaging apps, and social media platforms, you can communicate with family and friends.
Making time to connect with loved ones regularly can help you alleviate homesickness by providing a sense of familiarity and comfort from home. Try to strike a balance between staying connected and fully immersing yourself in your new environment.
Remember that the goal is to maximize your study abroad experience while keeping your loved ones updated.
3. Make new friends and connections in your new environment
Making new friends and connections in your new surroundings is an excellent way to deal with homesickness while studying or traveling abroad. Interacting with locals and other students can help you feel more at ease and less alone.
Extracurricular activities, group outings, and volunteer work are excellent ways to meet new people with similar interests.
Learning about your host country's culture and customs can help you understand and appreciate your new surroundings. Trying to form relationships with those around you will not only improve your study abroad experience but also broaden your life perspective.
4. Keep yourself busy with activities and hobbies you enjoy
You should find things that make you happy and keep you engaged, such as exploring new places, joining a sports team, or picking up a new hobby. Engaging in these activities will not only help you pass the time but also enhance your overall experience by allowing you to fully immerse yourself in the culture of your host country.
Having something to look forward to each day can help you stay motivated and positive throughout your study abroad experience.
Take the time to look for writing service experts, such as Trust My Paper, who offer writing assistance and assignment help, and immerse yourself in the local culture without jeopardizing your learning performance.
5. Explore your new surroundings and learn about the local culture
Exploring your new surroundings and learning about the local culture is a fantastic opportunity to immerse yourself in a new way of life, expand your knowledge, and gain a broader understanding of the world.
Try visiting museums, historical landmarks, and local markets to get a feel for the culture and customs of your host country.
You can also try attending cultural festivals and events to experience firsthand how people celebrate their traditions. Learning about the language, food, and daily rituals of your host country will not only enrich your stay but also help you communicate better with locals and make meaningful connections.
It is also a great way to step out of your comfort zone and challenge yourself to experience something new. Make sure to be respectful and open-minded as you explore, and do not hesitate to ask locals for recommendations or insights.
6. Maintain a healthy lifestyle through exercise, healthy eating, and sufficient sleep
Maintaining a healthy lifestyle while studying or traveling abroad is often difficult, but you should prioritize your physical and mental well-being. Making time for exercise, healthy eating, and sufficient sleep is crucial to staying energized and focused during your time abroad.
Try incorporating physical activity into your daily routine by exploring the city on foot or joining a local gym or fitness class. You can also try outdoor activities like hiking, biking, or swimming to stay active while experiencing new surroundings.
Eating a balanced diet with plenty of fruits, vegetables, and lean proteins will provide your body with the necessary nutrients to keep you feeling your best. It is easy to get caught up in the delicious local cuisine, but be sure to balance indulgences with healthy options.
Prioritizing sufficient sleep is also vital for your overall health and well-being. Try to establish a consistent sleep schedule and limit screen time before bed to improve the quality of your rest.
7. Seek support from resources available on campus, such as counseling services or international student organizations
When feeling homesick, try to find support from the resources available on campus. Moving to a new country and adapting to a new culture can be overwhelming, leading to feelings of loneliness or isolation.
Many universities offer counseling services or international student organizations that can provide guidance and support throughout your journey.
These resources can offer advice on cultural differences, academic challenges, or personal issues you may face abroad. Getting involved in these organizations can help you connect with other international students experiencing similar challenges.
Creating a supportive network of peers will allow you to learn more about their experiences, difficulties, best essays writing services, and websites that simplify their student routine.
8. Take breaks and give yourself time to relax and recharge from studies
As a student, you should remember that taking breaks and giving yourself time to relax and recharge from your studies is essential for your overall well-being.
While studying in a foreign country can be exciting, it can also be overwhelming and stressful at times. You must prioritize self-care by taking breaks from studying and engaging in activities that you enjoy.
Exploring your new surroundings, trying new foods, or practicing language skills with locals are great ways to take a break while still immersing yourself in the culture. Setting aside time for hobbies or exercises can also help you maintain balance and manage stress.
9. Consider joining a study abroad group or travel program to explore new places with others in similar situations
Joining a study abroad group or travel program can be an excellent way to explore new places with others in similar situations. These programs offer organized trips and excursions that allow you to see and experience new things without the stress of planning them yourself.
They allow you to connect with other students studying abroad. It can alleviate feelings of homesickness and help you create lasting friendships.
When choosing a program, be sure to do your research and find one that aligns with your interests and goals. Some programs may focus on cultural immersion, while others prioritize adventure activities.
Travel programs and study abroad groups offer many opportunities for personal growth and cultural immersion abroad.
10. Remember why you chose to study abroad in the first place and focus on the opportunities and experiences that await you
When studying abroad, it is easy to become overwhelmed by homesickness or culture shock. Remember why you chose to study abroad in the first place and concentrate on the opportunities and experiences that await you.
Living in a foreign country allows you to immerse yourself in a new culture, learn a new language, and connect with people from across the world.
You will also have the opportunity to travel and explore new places, which will broaden your perspective and give you a greater appreciation for different ways of life.
Studying abroad can be a rewarding experience that will help you grow personally and academically. So, stay positive, embrace all opportunities, keep an open mind, be willing to try new things, and do not be afraid to step outside your comfort zone.
Conclusion…
Studying abroad can be an adventure, but leaving the comforts of home is not always easy. Homesickness is a common problem for many students, but there are ways to overcome it and maximize your experience.
By following these ten tips, you will be able to manage your homesickness while also taking advantage of the new opportunities that studying abroad provides. Make the most of your time abroad by taking advantage of all the unique experiences available to you.
Planning your next trip?

Then don't forget travel insurance! You don't want to get stuck paying a ton of money and ruining your trip if you get sick or have an accident without travel insurance. WorldNomads is ideal for adventurous travelers, backpackers, or anyone looking to be protected during their trip. They cover almost every single activity you can image! Plus, you can have a 5% discount with the coupon code comfort5.

Already reserved your hotel or hostel? If not, we recommend Booking.com. They have a huge selection of hotels and hostels all over the world. Plus, in most cases, you can cancel your reservation without any costs up to a few days before the check-in date!

Still haven't booked your plane ticket and want to save big? Take a look at Momondo. It's a flight aggregator that combines several other ticket search websites to make it easier for you to compare prices and make sure you are getting the best deal.

And finally, will you need to rent a car during your trip? Then check out Rentalcar.com to search and compare car rental companies from all over the world in a single website. Then, you can find the cheapest price for the best car!