Last Updated on by Rodrigo @ OutofYourComfortZone
Written by Emma from noseridersurf.com
The allure of a beach holiday can be hard to resist. Pristine beaches and crystal-clear waters beckon us. The feeling of the sun on our skin, the sand under our feet and the curve of the waves are things we dream of at our desks. As humans, a beautiful beach is truly one of our most cherished places.
And it's because of our love for the world's coastal environments, that many of us are making more sustainable decisions in our lives. When it comes to diet, plastic usage, carbon footprint and more, we are conscious and ready to make swaps if it means a better world.
However when we set off on a holiday, the standards we set for ourselves can sometimes fly out the window. We might leave our reusable water bottle behind and swap it for single-use alternatives. Perhaps we hire a car when we usually cycle or take the tram. We might even disregard local recycling rules or book a wasteful 5-star hotel which goes against our values.
Our desire to relax and indulge can overshadow the importance of our sustainable habits. After all, it's hard to remain on the ball when you're away from home and without a lack of reminders or sustainability incentives.
But the truth is, it is crucial to recognise the profound impact our travel choices can have on the environment. By embracing the concept of a sustainable beach vacation, we not only get to soak in the wonders of nature but also play a vital role in safeguarding its delicate ecosystems.
This article guides you through the essential aspects of planning a sustainable beach vacation. From selecting your transport, to surfing the waves at your destination, we'll empower you to minimise your ecological footprint.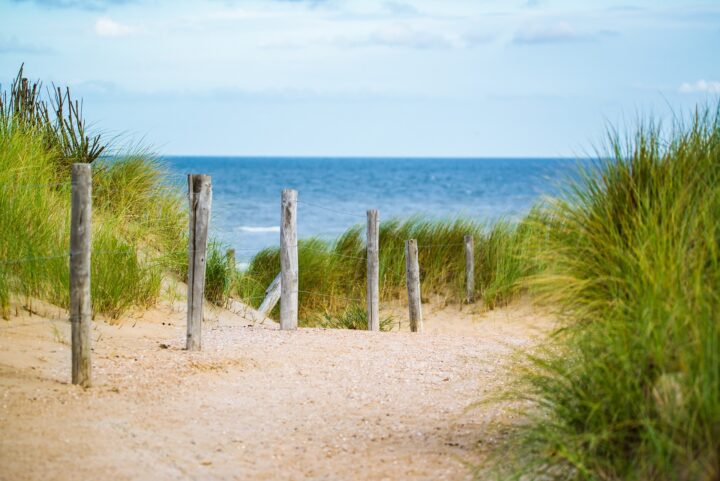 Mapping out an eco-friendly seaside getaway
All travel plans start with just that – travel. Depending on where you're traveling from and to, you're going to look for transport that will get you from A to B. However, there are some things that you can do in order to make your enjoyment a little less harmful to the environment.
1. Take the train
Opting for a train is a wonderful way to ensure that your carbon footprint is kept as low as possible. Enjoyable and relaxing, train travel has become an icon of the slow travel movement. Its comparatively slow pace allows you to move consciously throughout your travels and take in every moment. One thing to note however, is that trains aren't all made equal. Whilst some trains such as the Eurostar produce only 6g CO2 per passenger km, others diesel trains create 41g. Be aware of which option you're taking, and you'll be able to offset accordingly.
2. Offset your carbon
Speaking of offsetting your carbon, this is one great way in which you can keep your carbon footprint at bay. After booking your air or road transport, head to websites such as Sustainable Travel and follow the simple process. Although it's always more sustainable not to take a flight or drive a long journey, this is one responsible way to carry out your travel plans.
3. Travel by bus
Sometimes, a bus is a great option for short distances. In parts of the world such as Europe or South East Asia, buses are used between countries and destinations and offer a greta alternative to driving. Although it might take longer, you can make the most of your time by breaking up your journey and spending time in cities you've never been to before.
4. Fly direct
Did you know that flying direct saves a significant amount of CO2 compared to choosing a cheaper, connecting flight? Saving fuel on landing/take-off cycles, you'll get to your destination quicker and will also be choosing the more responsible option. It's also worth noting that different airlines produce different amounts of CO2. Find out more here.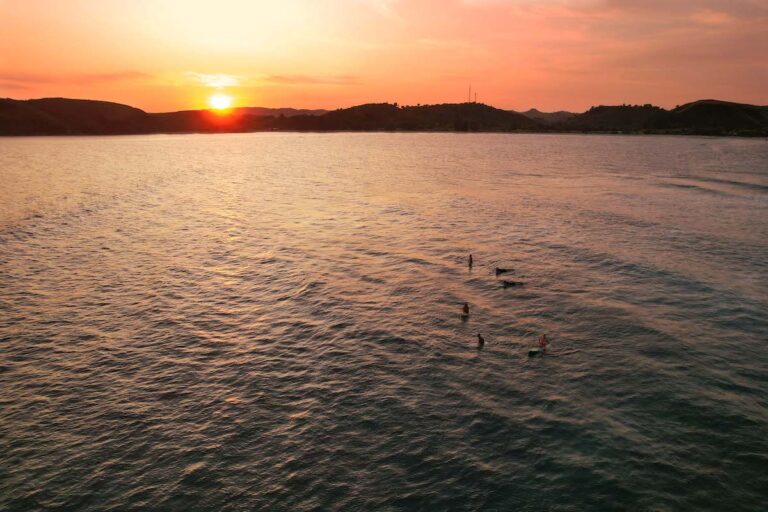 Environmentally-friendly accommodation
Hotels have a hefty environmental footprint. In fact, according to UNWTO, the hotel industry is responsible for 1% of global emissions, and this is set to grow even further in the coming years. So, just as the kind of transport and airline you choose can have an impact on the sustainability of your trip, so can your accommodation.
Various certifications have popped up in recent years which allow us to make sense of a hotel and its initiatives. Labels such as Green Tourism Active, Travel Life, Green Key, Earth Check, Green Globe and LEED are all considered reliable certification programs.
However, it's also worth considering that not all hotels will have a certification. For one thing, they're expensive and they're also time consuming, making it difficult to achieve for small businesses. Not sure if your preferred beachside property is sustainable?
Here are some tips:
Head to the reviews and search for words like sustainability or eco-friendly to see relevant customer reviews

Review the website for any information about eco-friendly initiatives

Beware of greenwashing statements, for example emphasis on tiny elements such as use of paper straws
Sustainable Surfing
So, you're finally at the beach and ready to begin your holiday. If surfing is your activity of choice, there are a number of things you can do in order to keep the ocean safe as you ride the waves.
5. Support a company using eco-friendly boards
Conventional fiberglass surfboards are manufactured using polyester resin applied to polyurethane foam. This process involves the use of hazardous chemicals such as styrene and volatile organic compounds (VOCs).
On the other hand, epoxy boards utilise expanded polystyrene foam combined with standard epoxy resin, which is a less toxic production method but still contributes to a significant carbon footprint. Found a local rental with sustainable boards and values? Support them!
6. Use organic wax
Modern surfboard waxes are typically derived from paraffin wax, a by-product of petroleum. Unfortunately, the production process of paraffin contributes to high carbon emissions and energy wastage. Plus, it's packed with toxic and carcinogenic elements, which is at the least concerning.
The good news is, there are plenty of eco-friendly waxes out there that utilise natural and sustainable materials such as beeswax and natural tree resin. Get your hands on some and keep the ocean safe in the process!
7. Pick up that trash!
End your day of riding waves with a good deed. Don't just walk past the trash strewn across the beach, take a moment to be a hero and pick it up. As surfers, you have a unique responsibility to protect the environment, both in the sea and on the land. By taking the initiative to clean up the beach, you'll not only set a positive example but also educate those who may be unaware of the impact of plastic trash. You rely on the ocean for your hobbies, so keep it clean!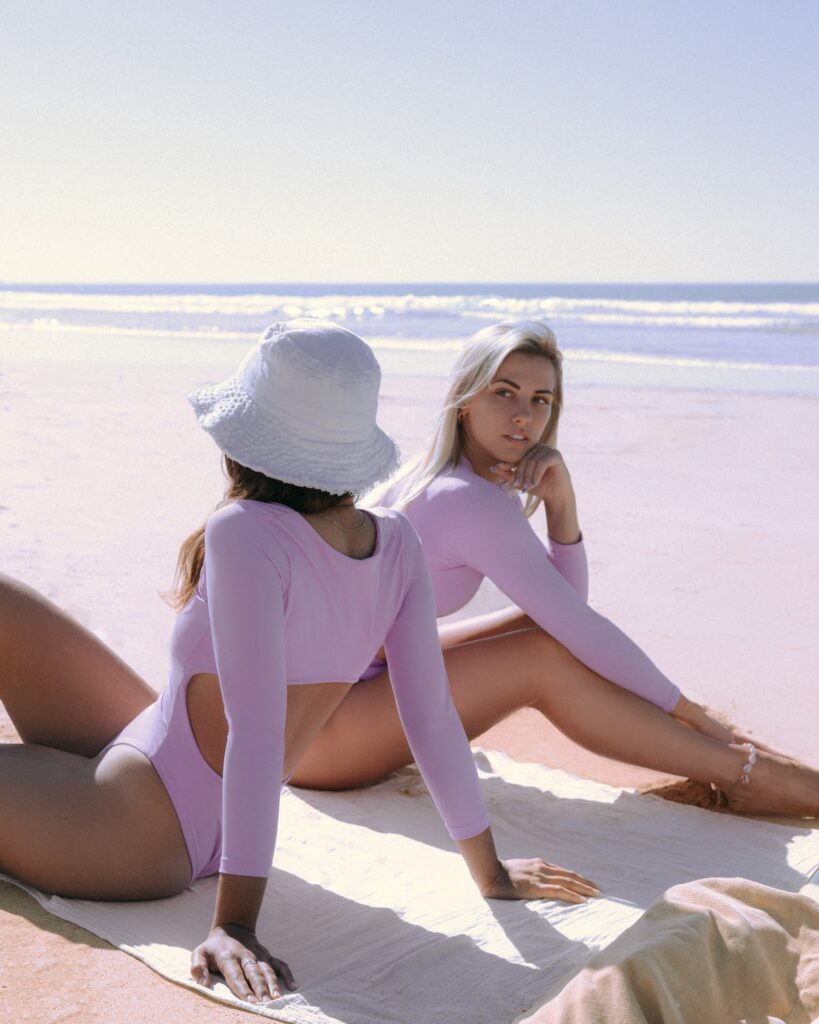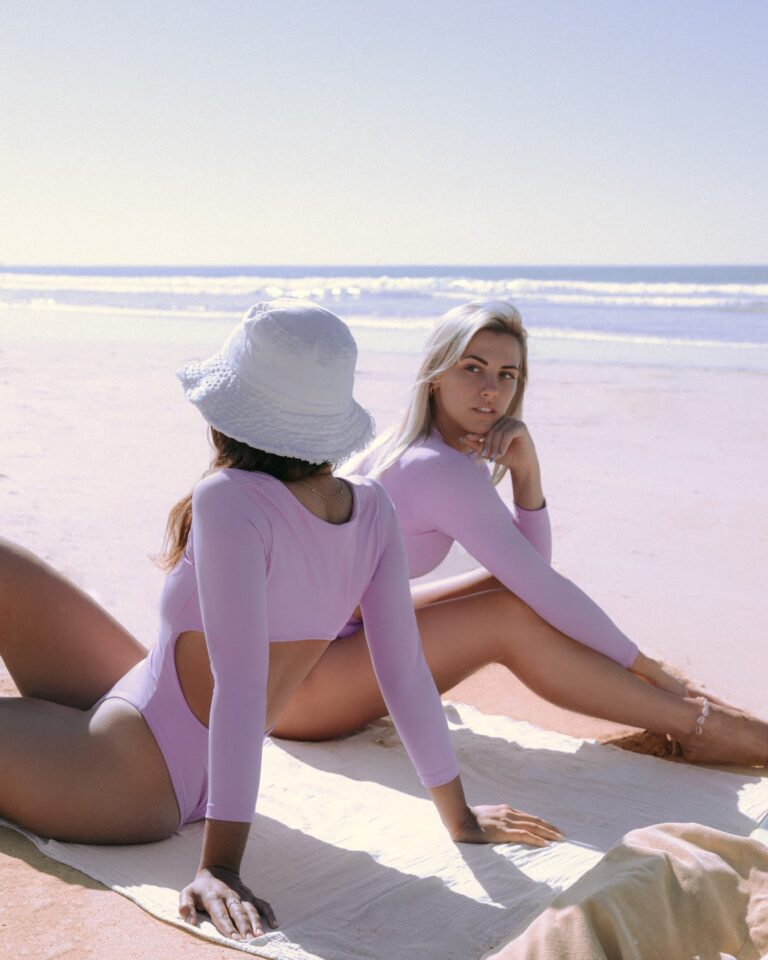 Protecting Our Coastal Paradise
We all want to have a splashing good time at the beach, but sometimes when its previous users haven't treated it with respect, it can hinder our experience. From rocking reef-safe sunscreen to saying no to litter, there are a load of simple practices you can follow which can help us to keep things clean and conscious.
8. Choose sustainable swimwear
Microfibres are real and something we should all be a little frightened about. In fact, there are approximately 5.25 trillion pieces of macro and microplastics in the ocean, with 46,000 pieces found every square mile. One way in which you can care for the ocean, is to purchase swimwear that is sustainably made.
Avoid fast fashion brands with their harmful dyes and plastics. There are plenty of conscious brands out there selling eco-friendly swimwear. Some are made with ocean plastic waste itself, others put emphasis on protecting the ocean as you swim. Have a search and make sure you're opting for the good and not the ugly (and we don't mean colour or style!).
9. Wear reef-safe sunscreen
When you're under the sun, you should always be wearing sunscreen. But the harmful chemicals in our products can wash off into the oceans and cause some awful consequences, including the destruction of coral. Reef-safe sunscreen is a shield for your skin that won't harm marine life.
Without nasty chemicals like oxybenzone and octinoxate it's made of mineral-based ingredients like zinc oxide and titanium dioxide. Soak up the sun guilt-free, knowing you're safeguarding both your skin and the vibrant marine ecosystems below the surface.
10. Don't bring plastic
Bringing plastic to the beach is an accident waiting to happen. Whether it's food containers, straws or plastic bottles, keep it away! Try to bring reusable containers, paper, or cardboard boxes and you'll make sure that pollution stays away. You can even try to buy your lunch at a cafe using biodegradable boxes and cutlers, as another way to protect the seas.
Embark on an Eco-Friendly Sun and Surf Adventure
Armed with some useful tips, you're now ready to book the sun and surf holiday of your dreams. From booking your flight and choosing your accommodation, to surfing the waves and kicking back on the beach, try out some of these handy tricks and you'll be well on your way to being part of the solution.
Planning your next trip?

Then don't forget travel insurance! You don't want to get stuck paying a ton of money and ruining your trip if you get sick or have an accident without travel insurance. WorldNomads is ideal for adventurous travelers, backpackers, or anyone looking to be protected during their trip. They cover almost every single activity you can image! Plus, you can have a 5% discount with the coupon code comfort5.

Already reserved your hotel or hostel? If not, we recommend Booking.com. They have a huge selection of hotels and hostels all over the world. Plus, in most cases, you can cancel your reservation without any costs up to a few days before the check-in date!

Still haven't booked your plane ticket and want to save big? Take a look at Momondo. It's a flight aggregator that combines several other ticket search websites to make it easier for you to compare prices and make sure you are getting the best deal.

And finally, will you need to rent a car during your trip? Then check out Rentalcar.com to search and compare car rental companies from all over the world in a single website. Then, you can find the cheapest price for the best car!