Last Updated on by Talita
13 excellent and diverse guided tours of Iceland await you! These tours come with a range of prices, days, destinations, themes, age groups, luxury levels, and adventure levels.
Iceland is an incredible tourist destination that has become increasingly popular in recent years. The country is located in the middle of the Atlantic Ocean and is known for its stunning natural landscapes, including mountains, glaciers, geysers, lakes, waterfalls, and black sand beaches. It's also one of the best places in the world to see the Northern Lights, a natural phenomenon that attracts visitors from all over the world.
Reykjavik is the capital of Iceland and the most populous city in the country. It offers a variety of restaurants, bars, shops, and museums, as well as a lively nightlife for those who enjoy it. One of the most popular attractions there is the Hallgrímskirkja Church, which offers beautiful views of the city.
Tourists visiting Iceland can enjoy a variety of activities, most of which involve being in contact with nature, such as hiking, trails, boat tours, fishing, diving, and skiing. Additionally, the country's cuisine is rich in seafood, lamb, and local products, offering visitors an incredible gastronomic experience.
However, Iceland can be considered an expensive destination. Therefore, it's important to plan ahead and set a suitable budget for the trip. With this in mind, we've brought together the best tour companies and itineraries to help you plan an amazing and cost-effective trip!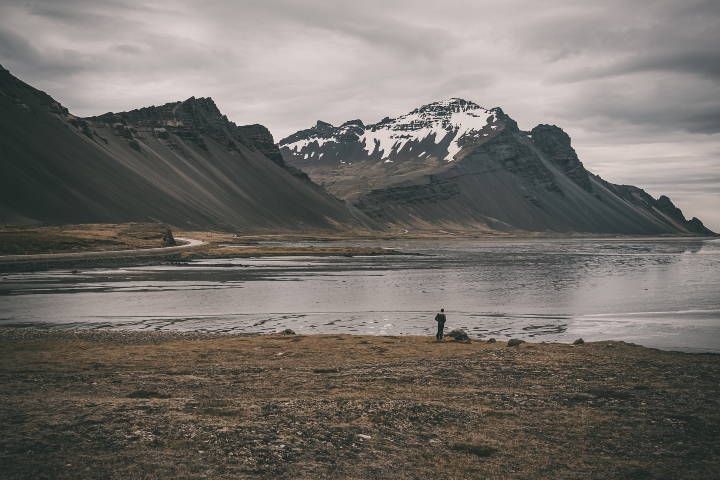 Top 10 Tourist Attractions in Iceland
Before we get to the main point of the article, how about getting to know some of the country's most famous tourist attractions to make it easier when looking for tours and itineraries that best suit your preferences?
As mentioned earlier, the country boasts a strong and beautiful nature, and most of the tourism there revolves around natural phenomena and beauties. Here are the top 10 tourist attractions that stand out the most in Iceland:
Northern Lights:

Iceland is one of the best places in the world to observe the Northern Lights, a natural phenomenon that colors the night sky. The main spot to see them is on the southeast coast of Iceland, 250 km from the capital;

Blue Lagoon:

this is a geothermal spa located just a 40-minute drive from the capital, with naturally heated, mineral-rich, and therapeutic warm waters, offering a relaxing experience and sauna;

Vatnajökull National Park:

this is one of the largest national parks in Europe and is home to the largest glacier in Europe, along with some of Iceland's most incredible landscapes;

Geysir:

it erupts every 10 minutes, shooting hot water and steam up to 20 meters high, and is one of the most famous geysers in the world. Geysir is located in the northeast of Iceland, 110 km from the capital;

Gullfoss Waterfall:

a waterfall located about 2 hours' drive from Reykjavik. It is approximately 32 meters high and 70 meters wide, making it one of the most beautiful among the thousands of waterfalls in the country;

Jökulsárlón:

a glacial lagoon formed from the melting of the Vatnajökull glacier, with floating icebergs in shades of blue and white. Its black sand beach is a major tourist attraction around the world;

Reykjavik:

the famous capital of Iceland, known for its vibrant cultural and nightlife, as well as museums, art galleries, and restaurants;

Thingvellir National Park:

a national park with a variety of activities such as hiking, trails, and diving.

Skaftafell:

a natural preservation area that houses some of Iceland's most beautiful and diverse landscapes, including waterfalls, mountains, and glaciers;

Myvatn:

a region of volcanic landscape known for its unique rock formations, crater lakes, and geothermal activities.
Is it better to travel independently or in group tours in Iceland?
Regardless of whether you choose to travel independently or on a group tour, each option has its own pros and cons.
For example, traveling independently gives you more flexibility to create your own itinerary and choose activities that best suit your preferences, without having to rigidly follow group plans. You also have the autonomy to do what you want and when you want, following your own schedule, and the freedom to explore Iceland as you wish, without having to follow a timetable. Additionally, depending on your choices, this option can be cheaper.
However, traveling independently requires meticulous planning, with research on accommodation, transportation, and activities, which can be time-consuming and laborious. Communication can also be a point of complications if you don't speak the local language, and there are also safety risks in more remote areas.
On the other hand, going on a guided group tour gives you company, which is a great way to meet people with similar interests, and traveling in a group is much safer, especially when accompanied by a local guide who knows Iceland like the back of their hand.
However, this may give you some limitations if you want a more free and uncommitted trip without schedules and timelines.
In summary, whether you choose to travel independently or on a group tour largely depends on your personal preferences. Both options offer advantages and disadvantages, and it's up to you to decide which is best for your profile.
If you choose to travel independently, you can check our 1-day itinerary in Isafjordur, Iceland.
| | |
| --- | --- |
| Positives of traveling on a group tour | Advantages of traveling on your own |
| Company and opportunity to meet people with similar interests | Possibility of access to places or activities that may be difficult or impossible to reach alone |
| Peaceful and fun group experience | Autonomy to follow your own schedule |
| More safety when riding in a group, especially with an experienced local guide | Freedom to explore Iceland without having to stick to a schedule |
| Less need for planning and research as the tour already provides accommodation, transport and activities | Potential savings, since depending on the choices it can be cheaper |
| Possibility of access to places or activities that may be difficult or impossible to reach alone | Greater challenge and opportunity to learn and grow with the experience of planning and conducting your own trip |
13 Best Tours and Itineraries to Explore Iceland
Best small-group guided tours and itineraries in Iceland for adventure seekers.
GAdventures – Best Of Iceland (7 days)
If you're looking for a quick but comprehensive visit to Iceland, this seven-day trip is perfect. It includes a plethora of hidden natural beauties that are found nowhere else in the world, coupled with free time to experience many of the highlights, such as erupting geysers, glacier lagoons, and stunning black sand beaches and waterfalls.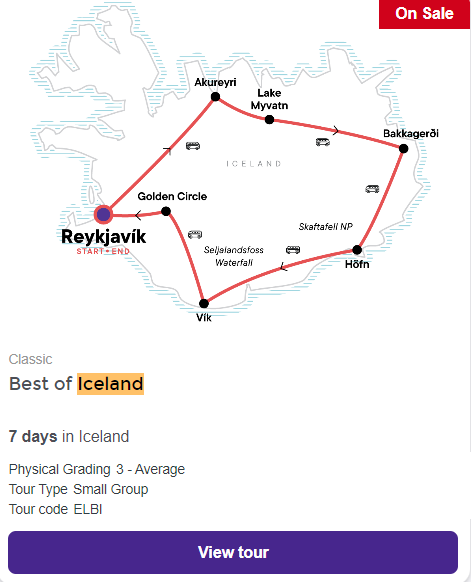 GAdventures – Explore Iceland (9 days)
Discover the natural highlights of Iceland, land of fire and ice and stunning beauty, by walking along incredible black sand beaches and hiking to enchanting waterfalls with rainbows reflected in the waters.
You'll witness the Earth's action in some of the island's volcanoes, learn about the life and culture of the Icelandic people, and explore the otherworldly landscapes that have inspired fantasy writers for centuries, from Jules Verne to J.R.R. Tolkien and George R. R. Martin.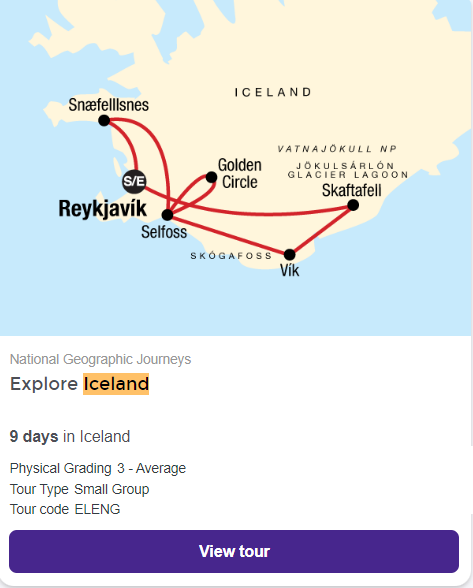 Iceland may look small on the map, but its huge and cinematic landscapes hardly seem to belong to Earth in person. On this tour, you'll get outdoors and into the action on a 6-day adventure through some of the most epic scenery in the country.
Here, you can hike to the bases of impressive waterfalls and travel through landscapes full of imposing peaks, massive glaciers, expansive ice fields, black sand beaches, and wild fjords. Plus, this tour features some of the best hikes in the region, such as Skaftafell Glacier, Mount Laki, and Brennisteinsalda Volcano, where you can take a dip in a natural hot pool.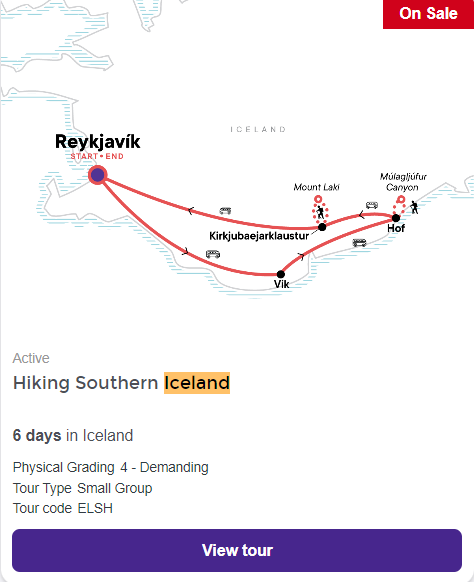 An arctic expedition through East Greenland and Iceland, with the perfect opportunity to mix nature and culture. See everything from the icebergs of Scoresbysund, considered the most beautiful fjords in the world, to Europe's largest bird cliff, crowded with adorable puffins and other seabirds.
Additionally, get to know the surprising culture and history of this remote region by learning about the Inuit people and their way of life, and visit the picturesque island of Flatey, where you can see a church with a mural of Jesus wearing a classic Icelandic sweater.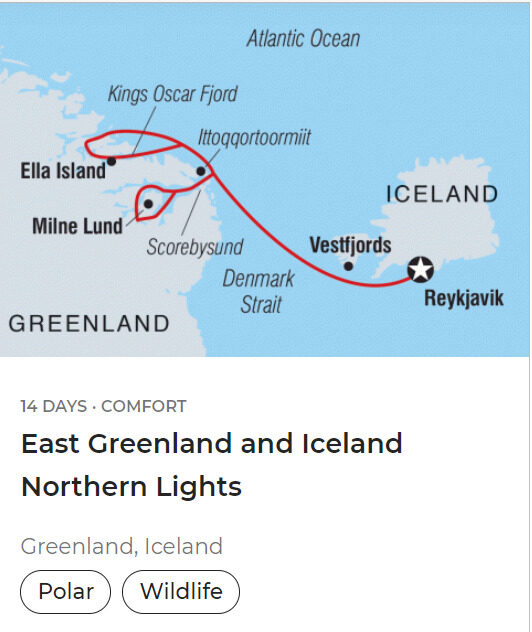 Intrepid – Iceland Express (5 Days)
Looking for a big adventure in a short amount of time? This tour takes you on a five-day journey through the ancient land of the Vikings and volcanoes. You'll explore the Golden Circle and visit the Geysir Geothermal Area and Gullfoss waterfall.
Additionally, you'll have the opportunity to walk along the black sand beaches of the Jokulsarlon lagoon and decide whether to take an optional hike on the mighty Myrdalsjokull glacier. This quick adventure focuses on the natural and untamed beauty of Iceland.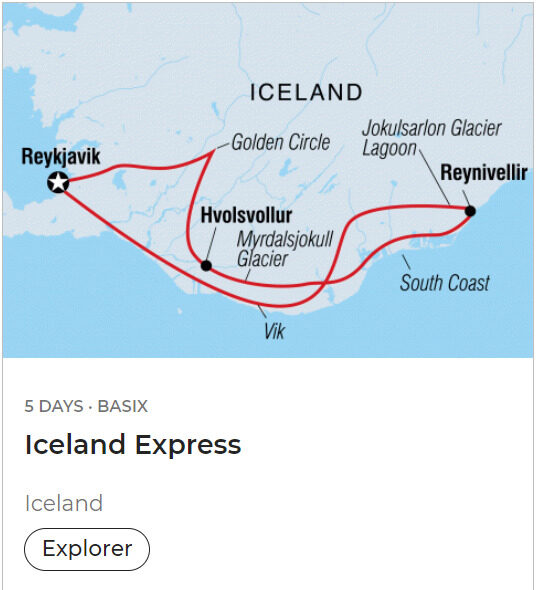 Best Iceland Tours and Itineraries for Groups of Young Singles (18-35 year olds)
Contiki – Fire and Ice (6 Days)
This tour starts in the inspiring city of Reykjavik, Iceland. Along the way, you'll witness erupting geysers, waterfalls, volcanoes, and glaciers, as well as bathe in the Blue Lagoon, a geothermal mineral wonder surrounded by steam and stars (for 18-35 year olds). It's one of the best tours and itineraries in Iceland for groups of young, single travelers.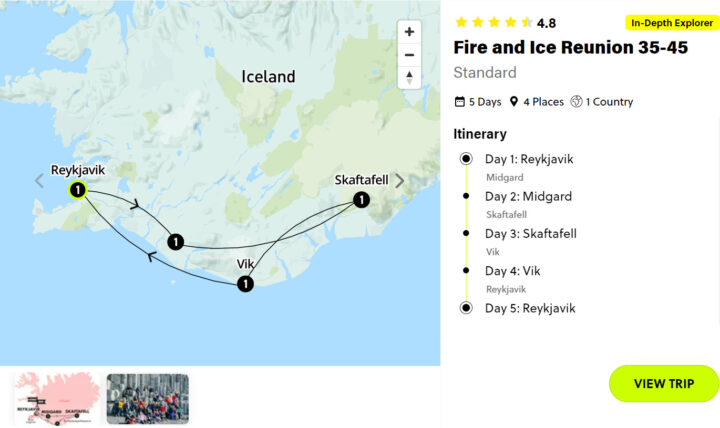 Looking for a trip that gives you goosebumps (in a good way)? Explore Iceland with a group of 35 to 45-year-olds, starting in the soulful city of Reykjavik and visiting Iceland's biggest and best geysers, waterfalls, volcanoes, and glaciers. You'll relax in blue lagoons and indulge in healthy cuisine. It's one of the best tours and itineraries in Iceland for groups of young, single travelers in their late thirties and forties.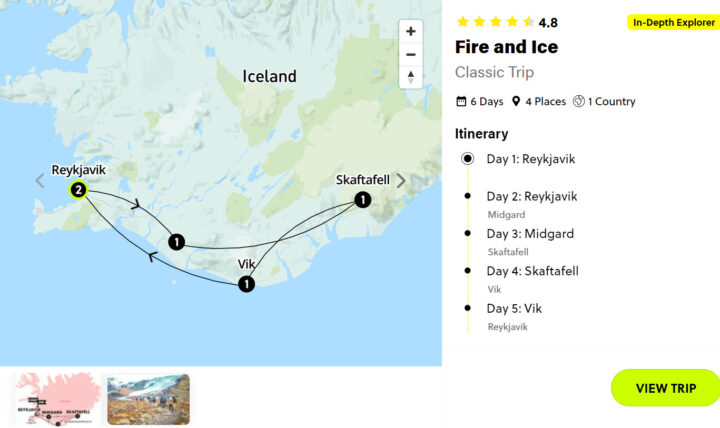 Topdeck – Delve Deep: Iceland (8 Days)
Iconic attractions and deep adventures with a local guide. This eight-day tour will take you to another world, starting from Reykjavik to discover Iceland's top attractions: shimmering thermal pools, stunning glaciers, and impressive waterfalls. Then, delve into the fascinating folklore, magical myths, and traditional delicacies that this unique country has to offer (for 18-35 year olds). It's one of the best tours in Iceland to explore the country's natural wonders and cultural heritage while having a blast with like-minded travelers.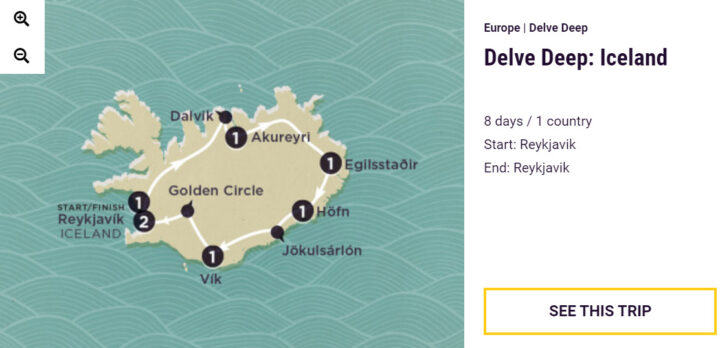 Best Luxury and Comfort Iceland Tours and Itineraries for Small Groups with Guides
An adventure through Iceland with the Blue Lagoon, highlighting all the natural and man-made wonders in this ethereal world of fire and ice. Highlights include a walk through the ancient Thingvellir National Park and a relaxing soak in the geothermal waters with the locals. It's one of the best luxury tours and itineraries in Iceland for small groups with expert guides who can offer insider knowledge and personalized attention.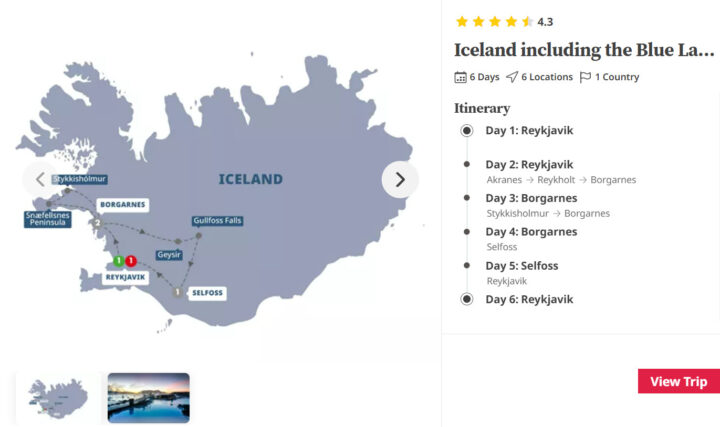 Tourradar's Best Iceland Tours (Best website to search and compare Iceland tours of different durations, styles, prices, and operators)
10. Tourradar – Iceland Discovery (8 Days)
Starting and ending your tour in Reykjavik, this cultural excursion package takes you to 13 destinations in Iceland over 8 days. With Iceland Discovery, you'll enjoy hotel accommodation, a specialized guide, meals, transportation, and more. It's one of the best tours for Iceland offered by Tourradar, the go-to site for searching and comparing excursions of different durations, styles, prices, and operators. Whether you're looking for adventure, nature, culture, or luxury, Tourradar has got you covered.

11. Tourradar – 6 Day Around Iceland Adventure (6 Days)
This 6-day tour around Iceland also starts and ends in Reykjavik! With this adventure, you'll travel to 21 different destinations across Iceland, including Reykjavik. The tour includes hotel accommodations, an expert guide, meals, transportation, and more.

12. Tourradar – Best of Iceland (7 Days)
With this cultural tour focused on the best that Iceland has to offer, you'll have a 7-day travel package that will take you to Reykjavik and 7 other locations in Iceland. Best of Iceland includes a specialized guide, hotel accommodation, meals, transportation, and more.

Best Itineraries & Group Tours in Iceland for Women Only
13. Solo Female Travelers – Iceland Wellness and Wilderness
Explore the land of fire and ice on this exclusive premium wellness and nature trip that will take you to the most impressive locations in the country. You'll explore 14 amazing sights in Iceland on this women-only trip!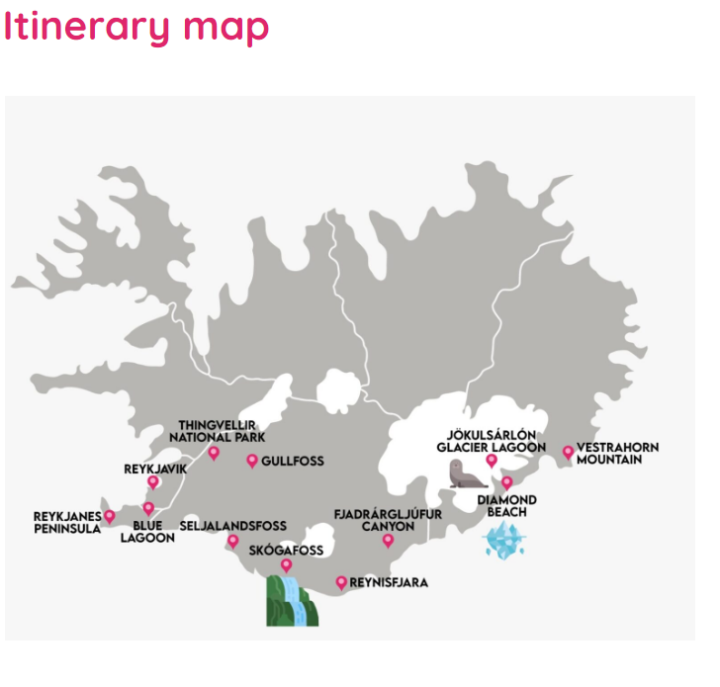 Concluding…
We have seen that there are many companies that offer incredible tours, trips, or excursions through Iceland, from adventure travel to cultural and relaxing experiences.
With so many options available, it is important that you do your own careful research before choosing a company that meets your needs and expectations. Be sure to check the reviews of other travelers to make sure you are choosing a good option, as well as checking details like accommodations offered.
Regardless of the chosen company, one thing I can guarantee you: traveling to Iceland is a unique experience in life!
Planning your next trip?

Then don't forget travel insurance! You don't want to get stuck paying a ton of money and ruining your trip if you get sick or have an accident without travel insurance. WorldNomads is ideal for adventurous travelers, backpackers, or anyone looking to be protected during their trip. They cover almost every single activity you can image! Plus, you can have a 5% discount with the coupon code comfort5.

Already reserved your hotel or hostel? If not, we recommend Booking.com. They have a huge selection of hotels and hostels all over the world. Plus, in most cases, you can cancel your reservation without any costs up to a few days before the check-in date!

Still haven't booked your plane ticket and want to save big? Take a look at Momondo. It's a flight aggregator that combines several other ticket search websites to make it easier for you to compare prices and make sure you are getting the best deal.

And finally, will you need to rent a car during your trip? Then check out Rentalcar.com to search and compare car rental companies from all over the world in a single website. Then, you can find the cheapest price for the best car!