Last Updated on by Lohanna Reis
1- Day Cruise Stop Itinerary by Bike!
Have 1 day in Isafjordur during your Icelandic cruise? Want to make the most of your time and explore the area's natural beauty? Then read on for the best 1-day Isafjordur budget itinerary (including how to hike to the Troll's Seat, recommended bike routes/viewpoints, and more!). No overpriced ship excursions or private taxis needed.  
Ahhh Iceland. The land of fire and ice…and one of the most popular tourist destinations in the world! As soon as you step foot on the island, it's not hard to see why. 
This means there's plenty of info out there about the more common spots to visit – Reykjavik, the Golden Circle, the Ring Road. But when we found Isafjordur (a tiny town buried deep in a fjord in northwest Iceland) on our upcoming cruise itinerary, we were surprised by how hard it was to find info online about what to do. 
That's why we wanted to write this article based on what we learned after our visit so you can plan the perfect, active, outdoorsy, and budget-friendly day in Isafjordur of your own.  
Whether you're visiting Isafjordur independently or on a 1-day Isafjordur cruise stop, I'm sure you'll still find at least one useful tip in the article below. Especially when it comes to how to rent a bike in Isafjordur, visit Isafjord's abandoned coastal road, or hike to the Troll's Seat. 
First things first….for this itinerary, you'll need to get a bike! 
As a quick heads up, this is a very active itinerary, considering you'll be biking or hiking for most of the day (to give you an idea, we each got 20,000+ steps in plus several hours of biking). 
That said, if you're looking for something a little more low-key or relaxing, feel free to shorten your bike ride, just do the hike, or use the recommendations below to create your own itinerary with a private taxi. 
How To Rent A Bike In Isafjordur
As far as we could tell, there is just one tour company in Isafjordur that rents out bicycles for individuals (most companies seem to have a stock of bicycles only for people who do their bike tours). 
It's called Borea Adventures, and it's right downtown just a short walk from the cruise terminal (Isafjordur isn't very big so you can find the location of the store in Google Maps or just by asking around).  
The prices they gave us were roughly $28 per person per day of bike rental. We're not sure whether or not you can book bikes ahead of time. So you'd likely need to contact them directly on their website here to find out: https://www.boreaadventures.com/ 
If you are looking for a high-quality bike that's comfortable and easier to ride, this is probably a better option than the one I'll give below. 
The Cheapest Way To Rent A Bike In Isafjordur
If you're looking for a budget alternative to rent a bike in Isafjordur, then download the Donkey Republic bike-sharing app on your smartphone. This way, you can instantly rent any one of the local city bikes spread all throughout the town. 
An entire day of renting bikes through the app cost us nearly half of what it would have at Borea at just 15 USD/day. 
Note: you'll need to have an active data connection for this app to work. But if you have a European SIM card from any EU/Schengen country, then it should give you connection even here in this remote corner of Iceland. 
One last thing: if I were to do this trip again, honestly I would probably just pay more to get a higher-quality bike from Borea. 
Though these Donkey Republic bikes work great for short trips, they are pretty heavy, not super comfortable, and only have 3 gears (making those hills a bit extra painful!). And given the length of our ride and that I have some lingering knee issues, I wasn't super happy with it by the end of the day. 
That said, I am more of a runner than a biker anyway…so you do you!  
What to do in Isafjordur (1-day Isafjordur cruise stop itinerary by bike) 
Now that you have your bike in hand, the 1-day Isafjordur itinerary you'll find below is roughly broken up into two parts: a bike ride along Isafjordur's abandoned coastal road l in the morning, and a hike up to Troll's Seat for the views in the afternoon.

(There's also one optional stop for a viewpoint right next to the city that I'll mention at the end.) 
Isafjordur Bike Itinerary Stop #1: A Ride Along Isafjordur's Abandoned Coastal Road
We started our day at the tour office (located right near the cruise terminal, you can't miss it) to pick up a map. When we asked them for recommendations on where to bike, we were told to check out their old coastal road, which is now abandoned in favor of a new tunnel that cuts straight through the mountain. 
We had never heard of this road before, and our internet searches of "abandoned coastal road Isafjordur" pulled up few results. 
And It. Was. Stunning! 
Wildflowers grew abundant, boulders lay in the center of the road, and mass colonies of seabirds had come in to reclaim the now-untouched area. And that's not even mentioning the incredible fjord views you'll have every step (or, er, pedal) of the way. 
To get to the abandoned road, you'll first have to bike along the modern road (there's a sidewalk/bike lane), in the opposite direction of the Troll's Seat, perhaps 20 minutes or so. 
You can't really get lost, as there's just one road to take, but here's an overall map of where the abandoned road begins. But you can also stop into the tourist office to get a map and ask them to mark the road so you can be sure.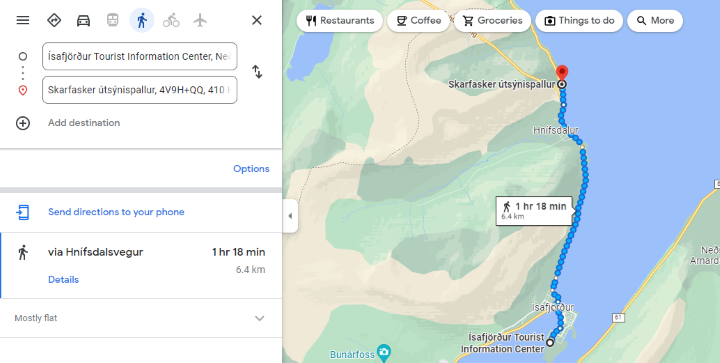 You'll bike until you reach the main road's tunnel (again, can't really miss it), at which point you'll take a road onto the abandoned road. 
From there, feel free to bike as long or as short as you like. 
We personally biked quite far along the road until we reached a sequence of what looked like three tunnels (though we believe they were actually to divert water from the road), as seen below.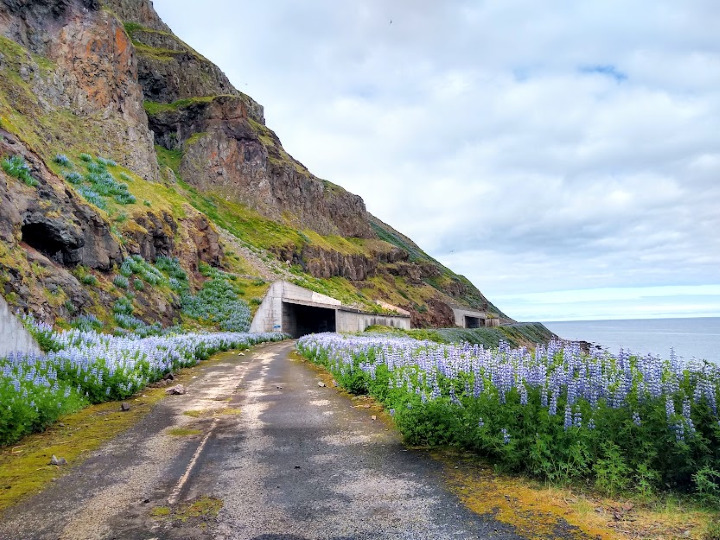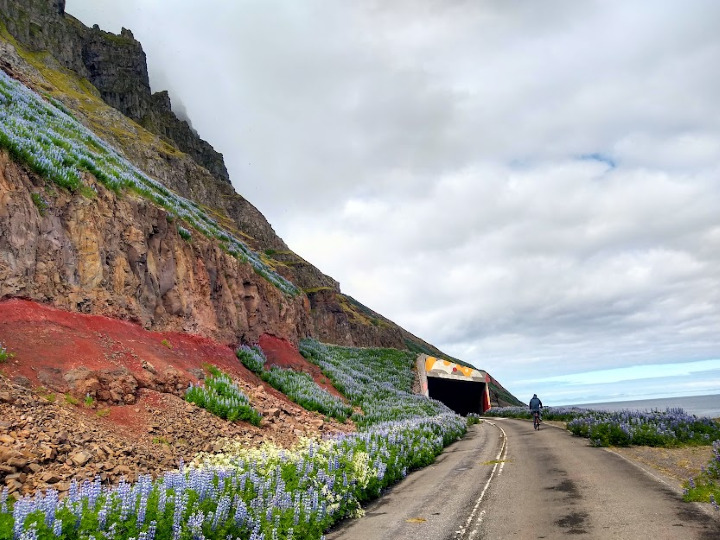 The scenery and isolation here truly made it feel like the end of the world, especially after navigating our way around a big chunk of the road that had collapsed into the sea. 
We were also treated to an abundance of bird colonies tucked into the mountain…so be sure to bring your binoculars!  
Isafjordur Bike Itinerary Stop #2: A Hike up to Troll's Seat 
If you've done any sort of research on Isafjordur, you've probably seen The Troll Seat hike as a top activity to do. 
And as a relatively short hike with rewarding views of the surrounding fjords, your ship, and the town, I can confirm that it's well worth the time to do. 
HOW TO GET TO THE TROLL SEAT TRAILHEAD/HOW TO HIKE THE TROLL SEAT, ISAFJORD 
If you want to hike Isafjordur's Troll's Seat, you have a few options to get to the trailhead. 
There aren't any buses or public transportation that'll take you there, but you can: 
Take a local tour (though the hike is pretty straightforward, so you really don't need a guide) 

Take a taxi to the trailhead 

Walk to the trailhead (roughly a 90-minute to 2-hour walk each way from the cruise port/city center) 
Though as you'll probably guess…our recommendation is to bike there! From the city center, it took us probably 30-40 minutes to the trailhead each way. And luckily, it's really just one road, so you really can't get lost. 
(You can also put "The Troll Seat" directly into Google Maps to see where the trailhead is.) 
But to give you an idea of what it looks like to get to The Troll Seat from the Isafjordur tourist info office…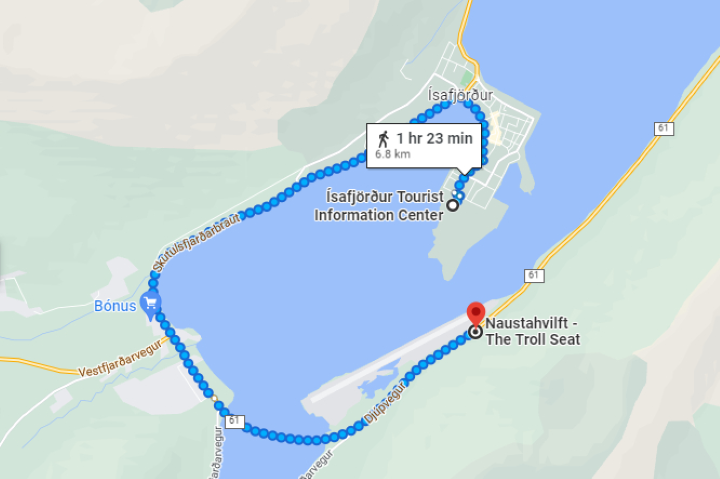 HOW LONG DOES IT TAKE TO HIKE TO THE TROLL SEAT, ISAFJORDUR  
Of course, this will depend on how fast you hike. But it seems like, on average, you can expect to spend about 30 minutes going up, however long you take at the top to admire the views, and about 20-30 minutes going down. 
(Optional) Isafjordur Bike Itinerary Stop #3: Isafjordur Observation Deck
By the time we finished our long bike and hike, we had to make our way back to our ship (and, to be honest, our legs were fried). So, we skipped this observation deck. 
But if you shorten your bike ride or skip The Troll Seat hike, you can head up the stairs to the platform just behind the town for a lovely view! 
---
And that's all for today! Isafjordur may be a bit off Iceland's well-trodden tourist track, but it's no less beautiful than the rest of the country. 
If you still have any questions about your visit to Isafjordur by cruise (or if you've already gone and noticed that some of our info here is out-of-date), please let us know in the comments area below and we'll get back to you! 
Planning your next trip?
Then don't forget travel insurance! You don't want to get stuck paying a ton of money and ruining your trip if you get sick or have an accident without travel insurance. WorldNomads is ideal for adventurous travelers, backpackers, or anyone looking to be protected during their trip. They cover almost every single activity you can image! Plus, you can have a 5% discount with the coupon code comfort5.
Already reserved your hotel or hostel? If not, we recommend Booking.com. They have a huge selection of hotels and hostels all over the world. Plus, in most cases, you can cancel your reservation up to a few days before the check-in date without any costs! 
Still haven't booked your plane ticket and want to save big? Take a look at Kayakand Momondo. They are flight aggregator that combine several other ticket search websites to make it easier for you to compare prices and make sure you are getting the best deal. 
And finally, will you need to rent a car during your trip? Then check out Rentalcar.com to search and compare car rental companies from all over the world in a single website. Then, you can find the cheapest price for the best car!