Last Updated on by Editor
Are you a bit unsure about using Airbnb for the first time? If you're looking for some tips, then this article is for you!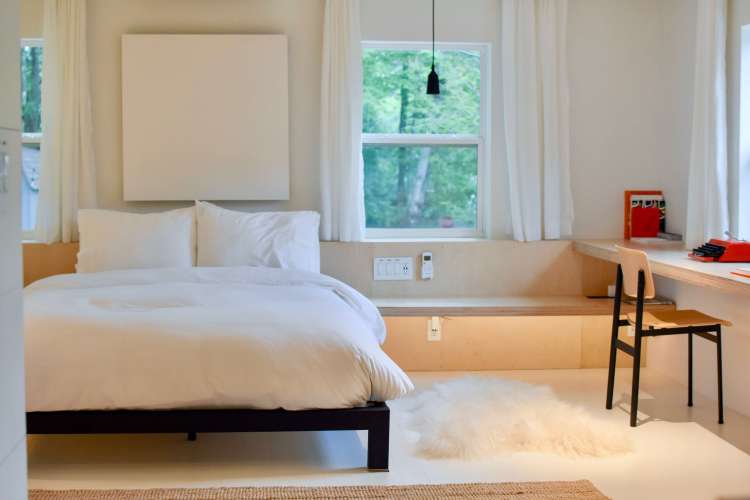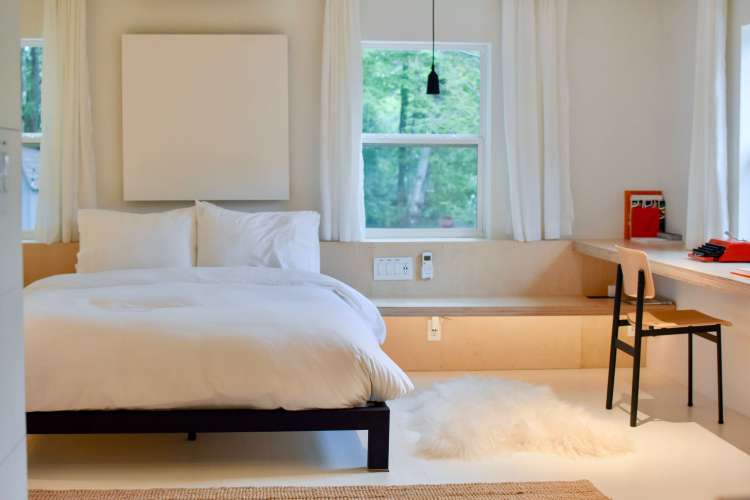 Airbnb, a platform that offers travelers accommodation in private homes and apartments, has really grown in popularity over the last few years. 
Beyond finding a great space that matches what you're looking for no matter where you are in the world, the platform is also one of the most secure and trustworthy ways to rent an actual apartment, home, or room while traveling.  
Today, there are thousands of accommodation options available on Airbnb with all types of styles of prices. So with all these options, it's important to make sure you choose the right one so you don't run into trouble later on.  
And on that note, the 13 tips below should help you find the perfect Airbnb for your next trip. 
How does Airbnb work? 
First things first, I think a brief introduction is in order. 
To help you make the right choice on Airbnb, you first need to have an understanding of how the sign-up process works and how your options are categorized.
Anyone can sign up on Airbnb as a guest. However, as with the hosts, your profile will have to pass through a few verifications. From an email or phone number verification, to the proof of a document showing your identity. 
The more details that a guest and host can verify with the platform, the better. Once this is done, you should create a good profile (a tip that we'll talk more about below), and begin your search for the perfect Airbnb. 
It's worth pointing out that these verifications are also important for the company since they are responsible for all agreements made on the platform. Including the payment, ensuring that the host gets the money, and even insurance. 
So, if you arrive at your accommodation only to find that it is completely different from the photos or you've been scammed, you can contact Airbnb for help. 
How to create a good guest profile on Airbnb  
Like I said above, one of the most important things you'll need to do is create a good Airbnb profile since your profile shows potential hosts who you are. In other words, the hosts will read through your profile before accepting your stay at their property.  
So, the more information you can share, the better. 
You can begin by describing a bit about who you are and what you like to do, where you live, and the languages you speak. And don't forget to add a photo! 
With a complete and fully-verified profile, the chances of you finding a good host are much higher. 
Here's a good Airbnb profile example, if it helps inspire you while you're creating your own: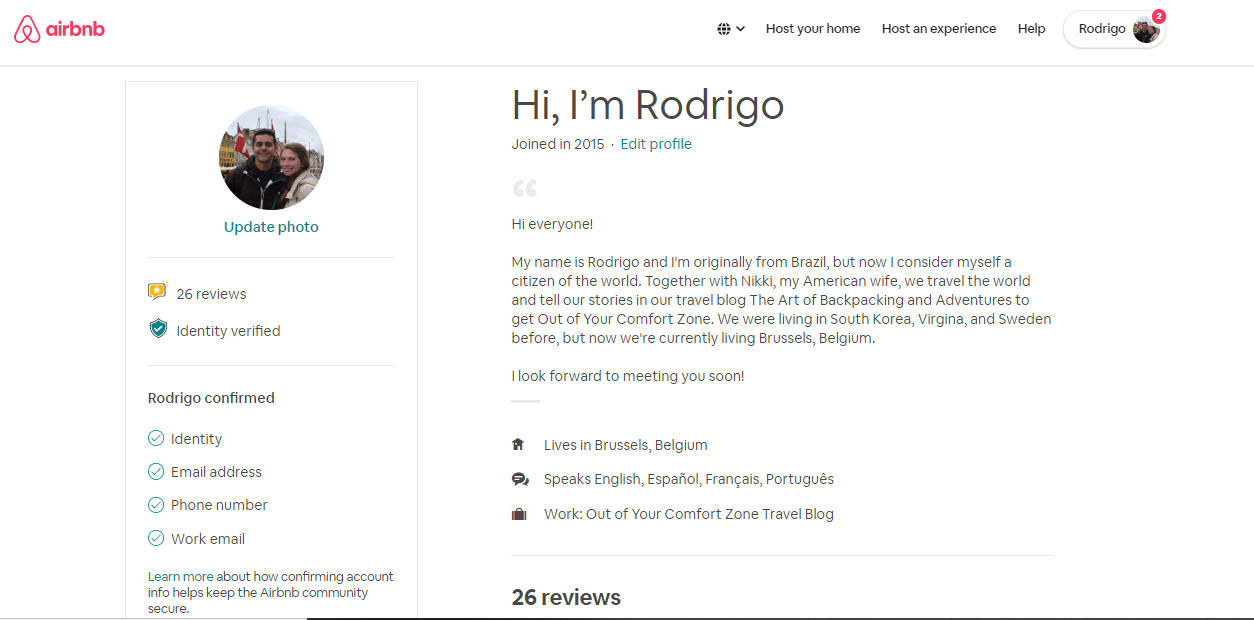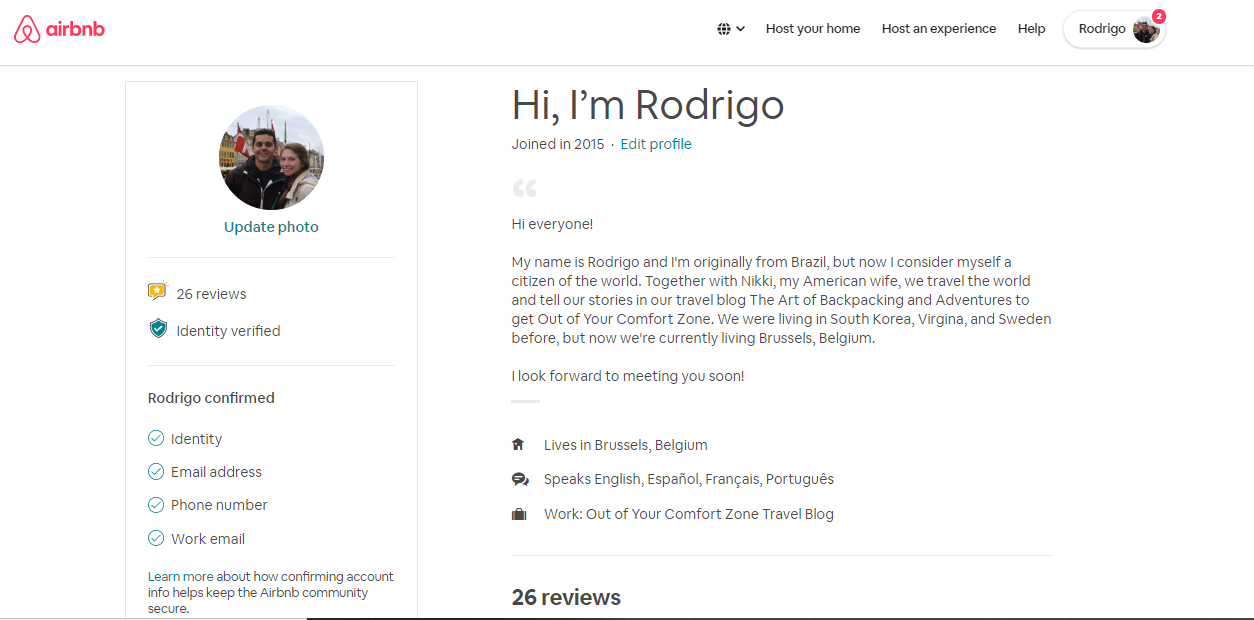 After your stay, hosts can also review you and leave comments. So, make sure you're a good guest and respect the rules of the space.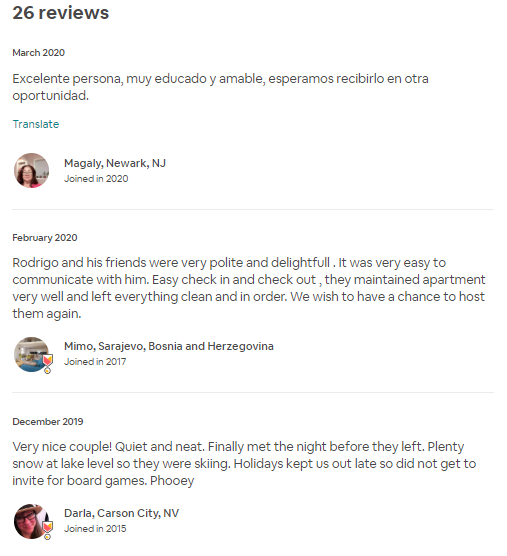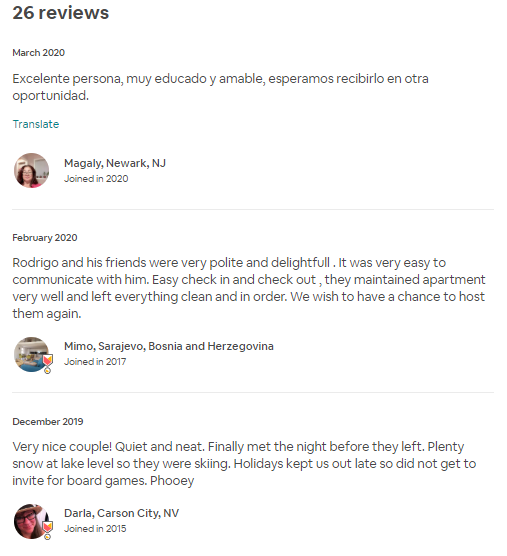 To get up to a $20 discount off your first Airbnb booking, use this link here.
How to earn some extra income renting out your room, house, or apartment on Airbnb 
Airbnb is great for guests, but it's also a great option if you want to be a host and earn some extra cash by renting out an extra apartment that you have…or simply an empty room in your house. It's not just Airbnb that has this service for hosts. Booking.com and other websites also give you the option to rent out your home, apartment, or a room. 
To learn more, take a look at my article with the 3 Best Airbnb Alternatives to Rent out Your House, Apartment, or Room. 
How to choose the right Airbnb: 13 tips
Now that you know how the platform works and how to create a great profile, let's get to the heart of the article with the 13 tips below! 
    1. Look for an Airbnb discount code
To start, did you know that you can get up to $20 off your first Airbnb reservation? 
So, if you haven't created a profile on Airbnb yet, you can use this link here to create one right now and get your discount!  
    2. Use the search filters to filter your options 
Airbnb has a TON of different search filters that help you find exactly what you're looking for. 
You can filter by price and by amenities like a kitchen available to guests, wifi, breakfast, washing machine, or even hangers! You can search for specific items like a pool or free parking. You can also filter by different types of "unique stays," including caves, on a boat, or even in a castle!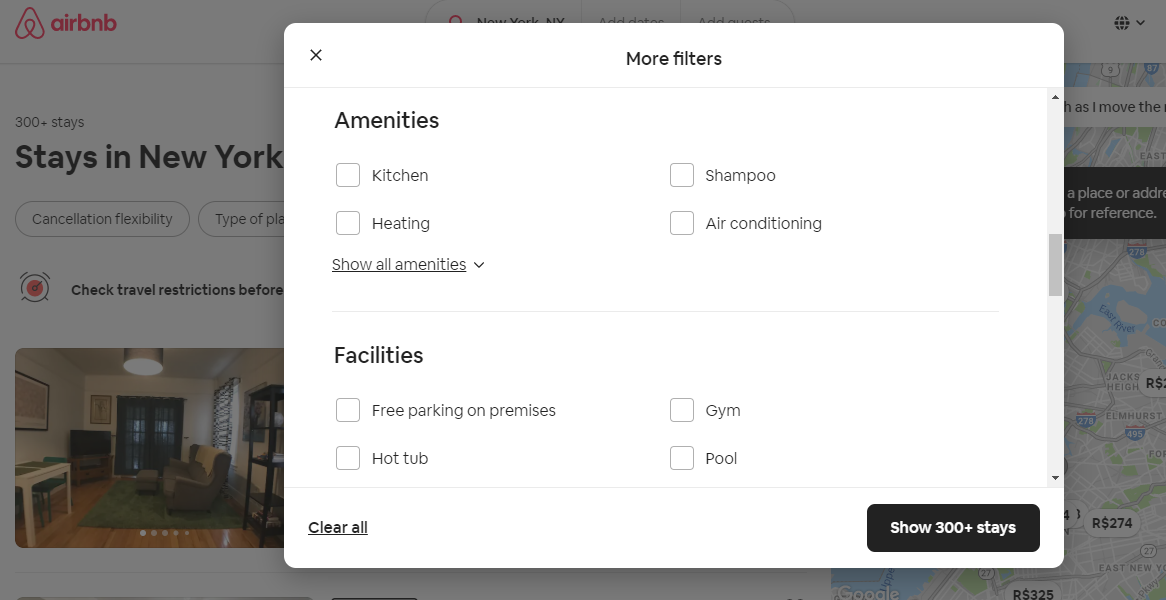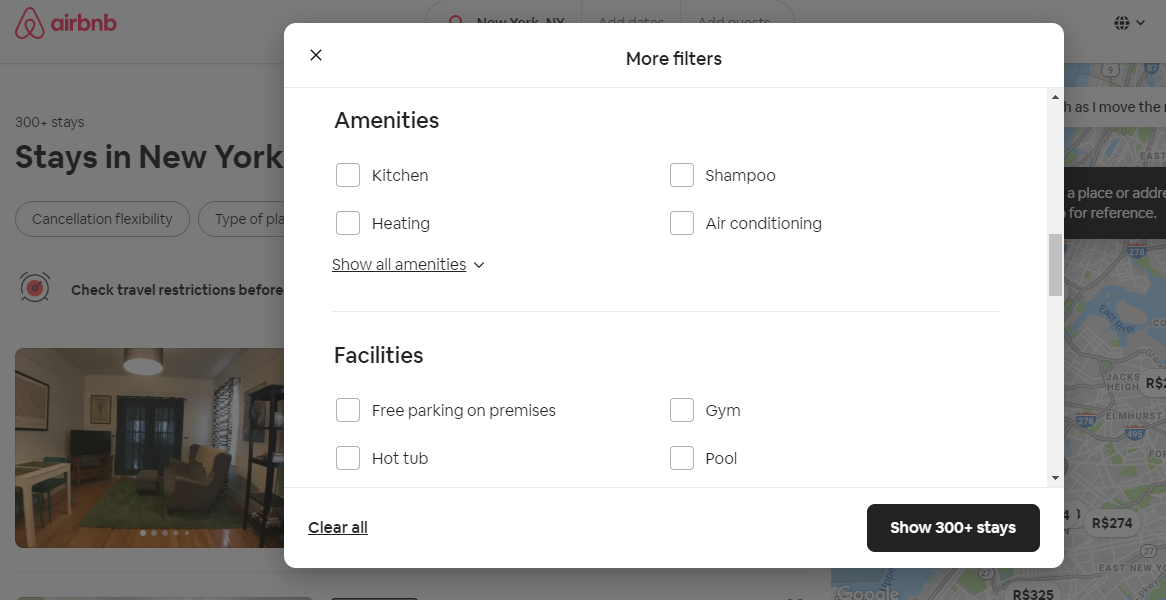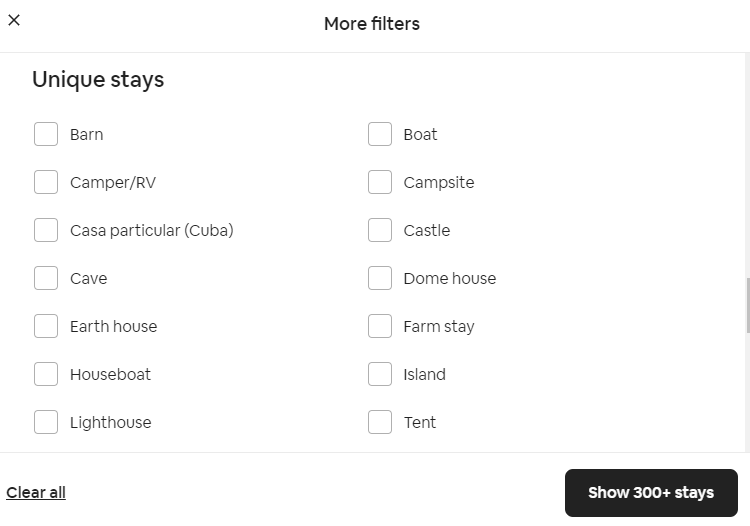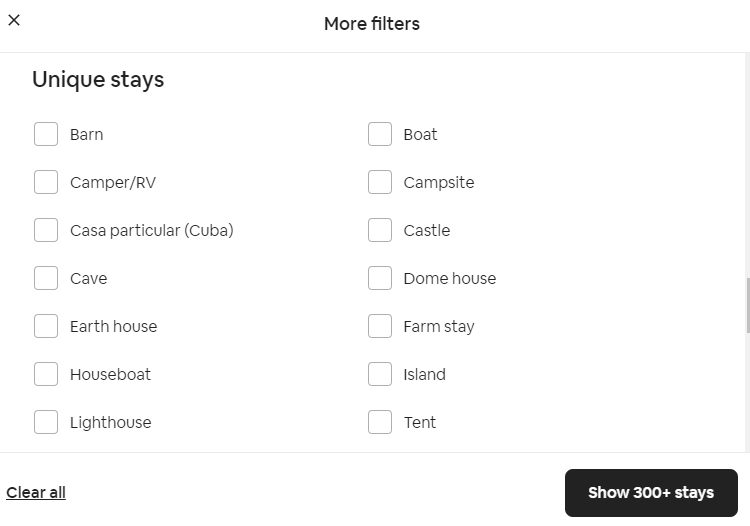 If this is your first stay and/or you're a bit nervous about staying in an Airbnb, I recommend you turn on the filter for "superhosts" (which I'll talk more about in tip #10 below). And if it'd make you feel more comfortable, you can also select languages that the host speaks if you'll be staying in another country. 
Once you've selected these two options, you can mark anything else that you'd like to have on your trip.  
    3. Specify what type of Airbnb accommodation you want 
Regardless of whether you choose to stay in a house, cave, boat, or castle, you'll have to define what type of place you'll stay in. 
Airbnb has several options for this, as you'll see below, with varying levels of privacy and pricing.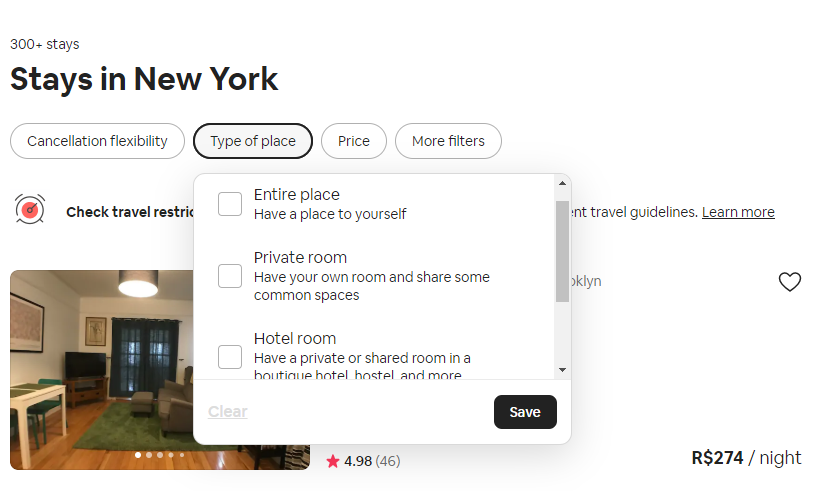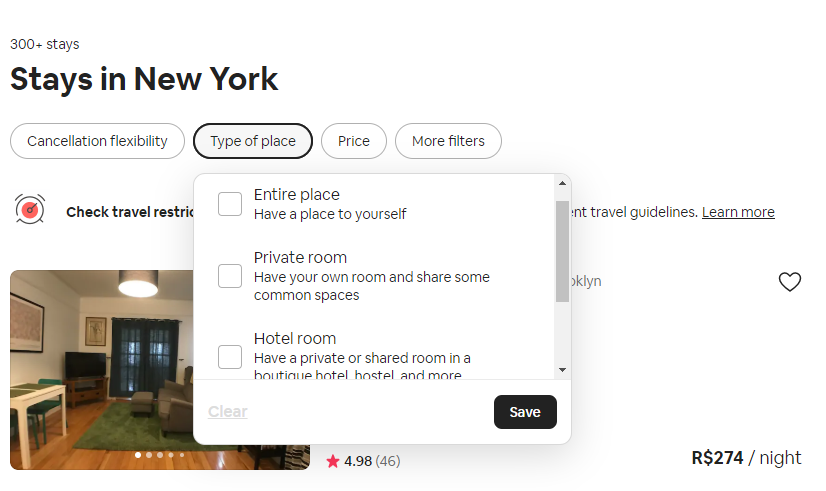 Private room: If you're just looking for a private room and are fine with staying in a private room in someone else's house. For these types of properties, it's normal to share the bathroom, kitchen, and other living spaces with the hosts who live there or other guests. 
Shared room: Similar to the option above, but you'll be dividing your room with other people. Like a hostel. This is usually the cheapest option. 
Entire place: For anyone who wants to rent the entire space to themselves (without other hosts or guests living there at the same time). Such as an entire house or apartment to stay in with friends or family. This is usually the most expensive option.
    4. Choose the region that you want to stay in
Just like when you choose a hotel, you'll also have to choose what part of the city you want your Airbnb to be in. 
Since the majority of Airbnbs are houses and apartments, it's very common for them to be located in residential neighborhoods. However, it's still very easy to find accommodation in central areas.  
To help you with a decision, use the platform's map to get an idea of what options are available in every region. As you move the map around and zoom in/zoom out, more options will appear.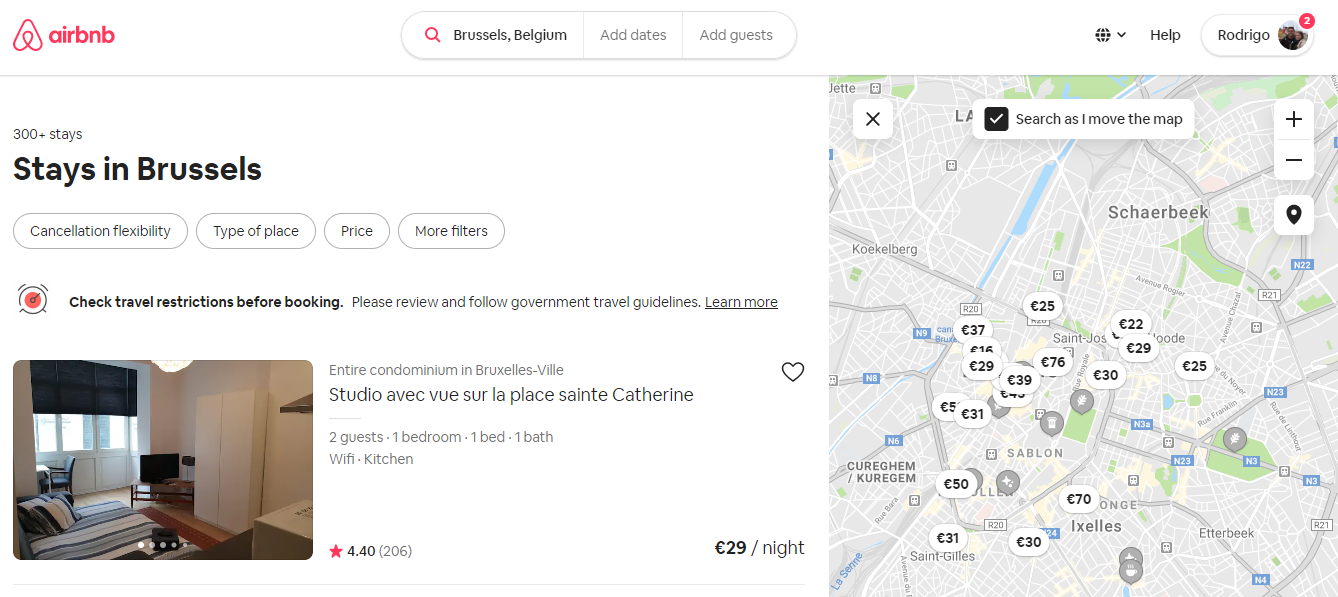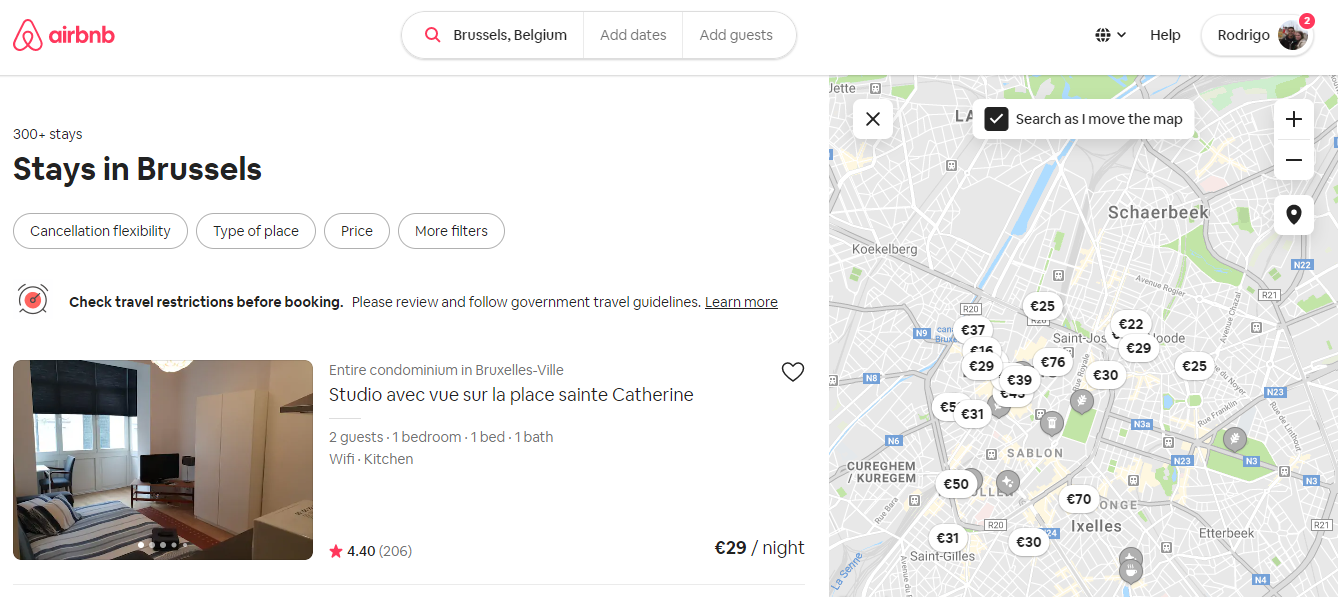 5. Carefully read the description of the place and the host on Airbnb
Once you find a place that you like, it's very important that you carefully read the description of the space and the host. Just like you've created a good profile, the host also should have created a good description of the space. 
Normally, you'll want to look for things like the type of bed, check-in and check-out times, and the property's distance from points of interest and public transportation. These are important bits of information that you can use to compare all your options.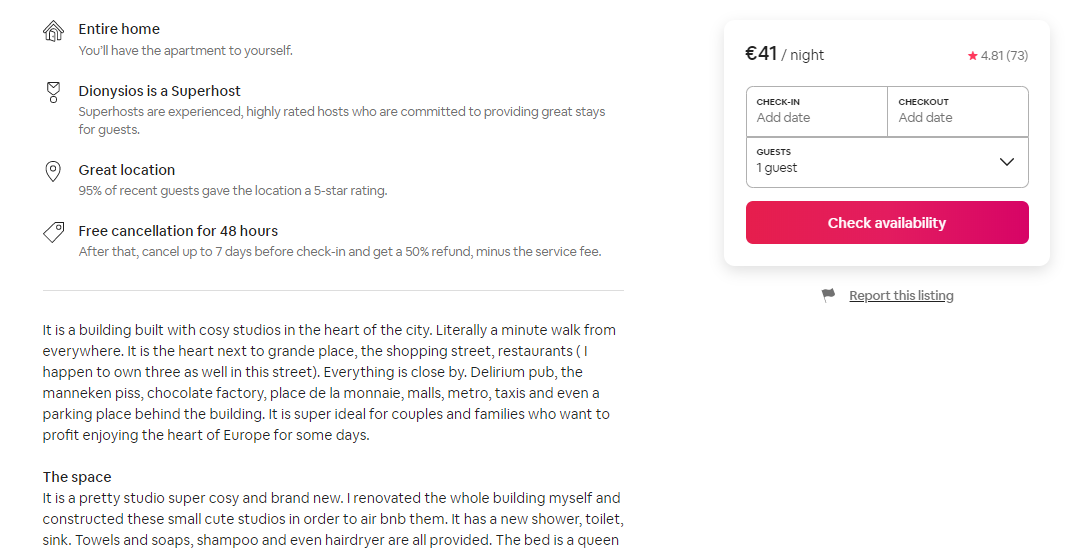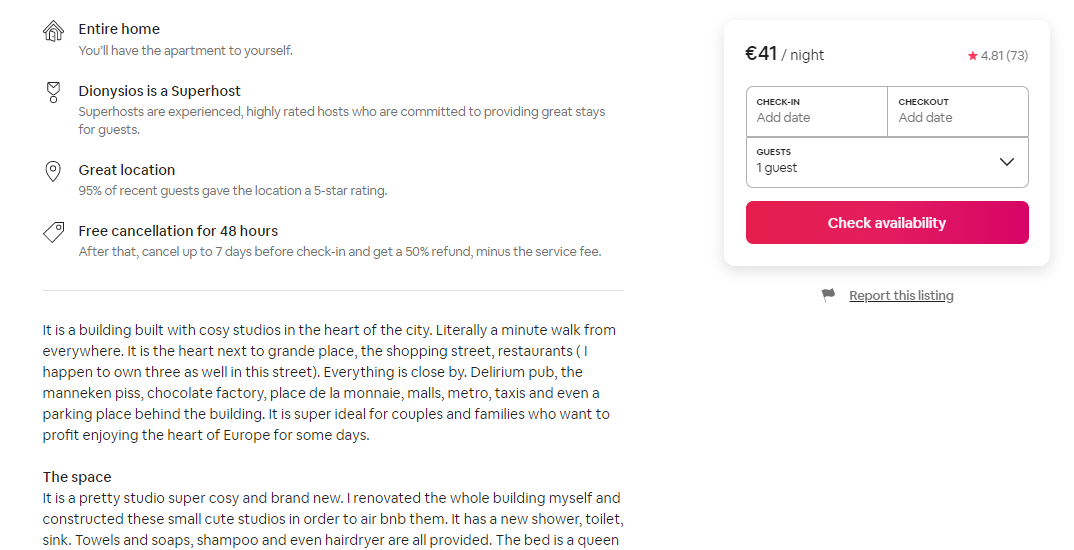 Once you've read through the description of the space, you can scroll down to the host section and read their profile as well.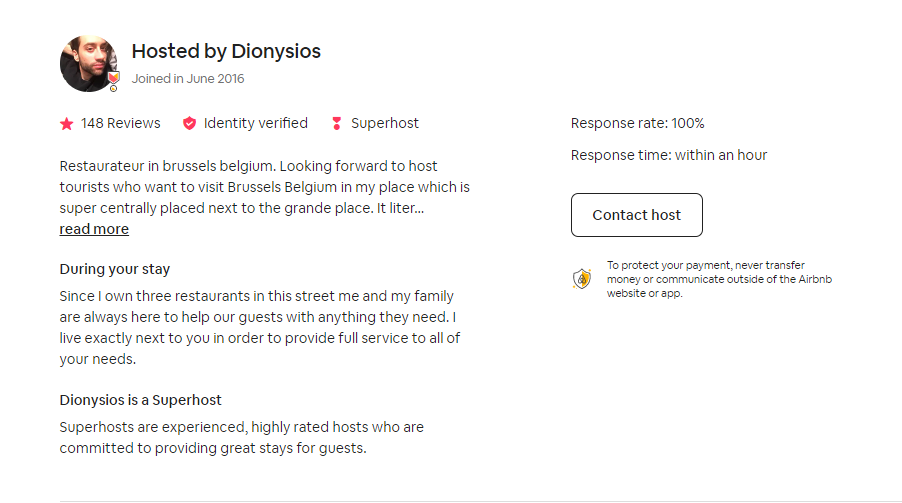 Just click the image of the host above (you'll find this on the listing for the accommodation), and you'll be taken a complete profile like this: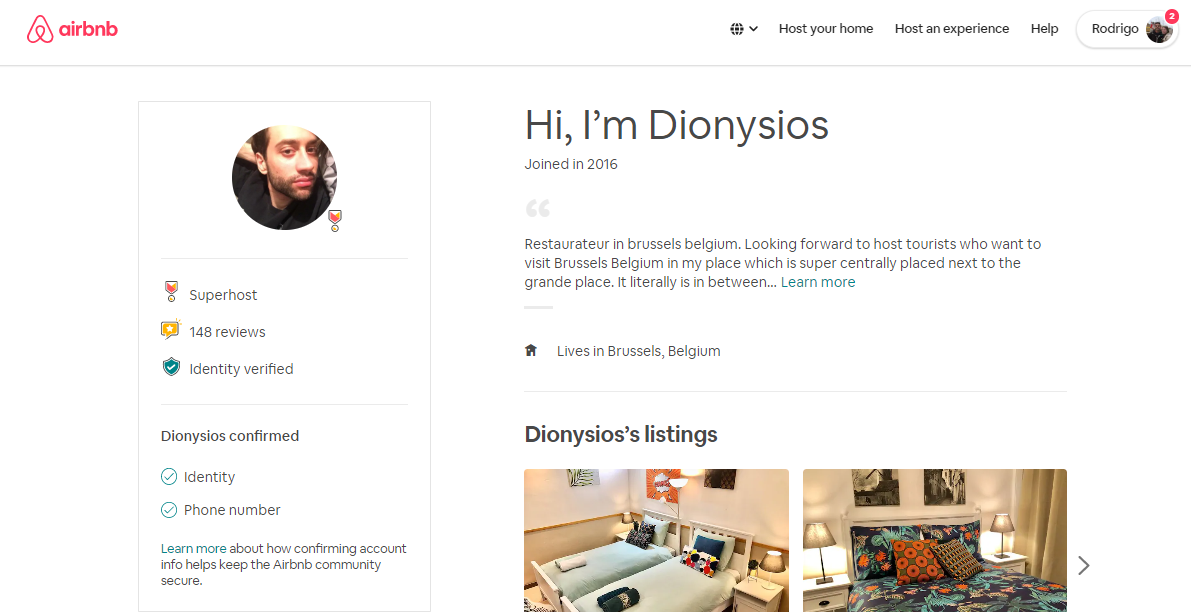 6. Read all the comments and reviews left by previous guests
This might be one of the most important tips on this entire list: make sure you read comments and reviews about the space you are looking at!
So, I'd recommend always choosing options that have already been reviewed by other guests (we've taken the risk a few times to stay with new hosts without reviews because we wanted to help them get started, and it usually hasn't worked out well for us). 
See what people are saying about the space and if it matches up with the description offered by the host.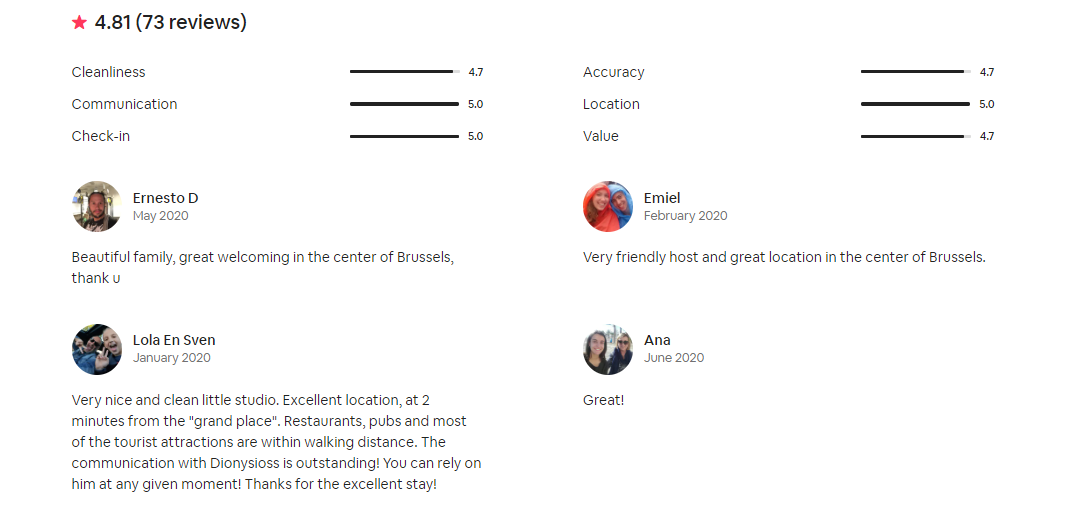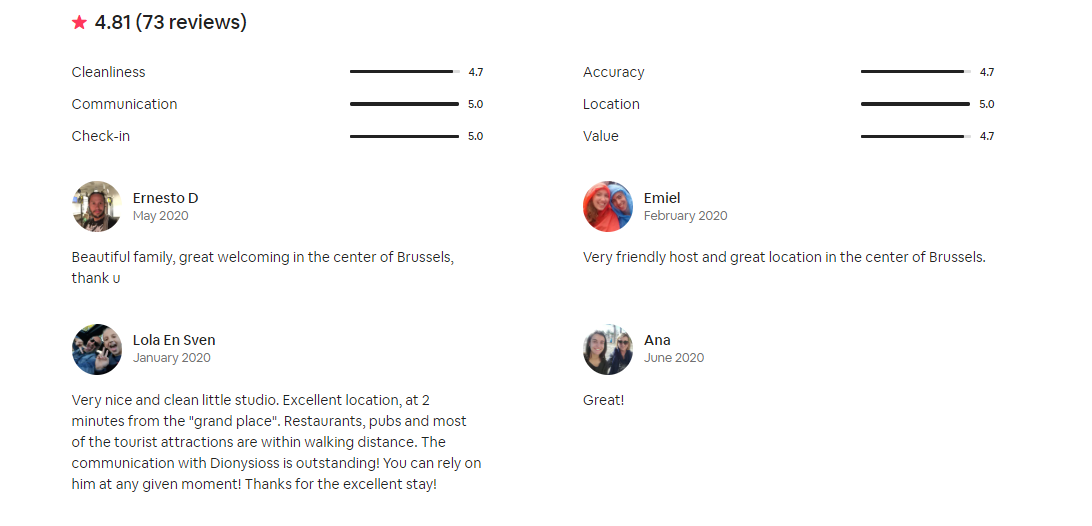 The hosts themselves also receive comments and reviews, so you can read this as well. You can find them by going to the "host" profile I talked about in the previous tip and scrolling down. This way, you'll have a really good idea of the people you'll meet on arrival. 
    7. Look through the available photos 
Many people read just the description of the place and ignore the photos, while others focus on the photos and forget to read the description. But the truth is that both of these things are important when you make your decision.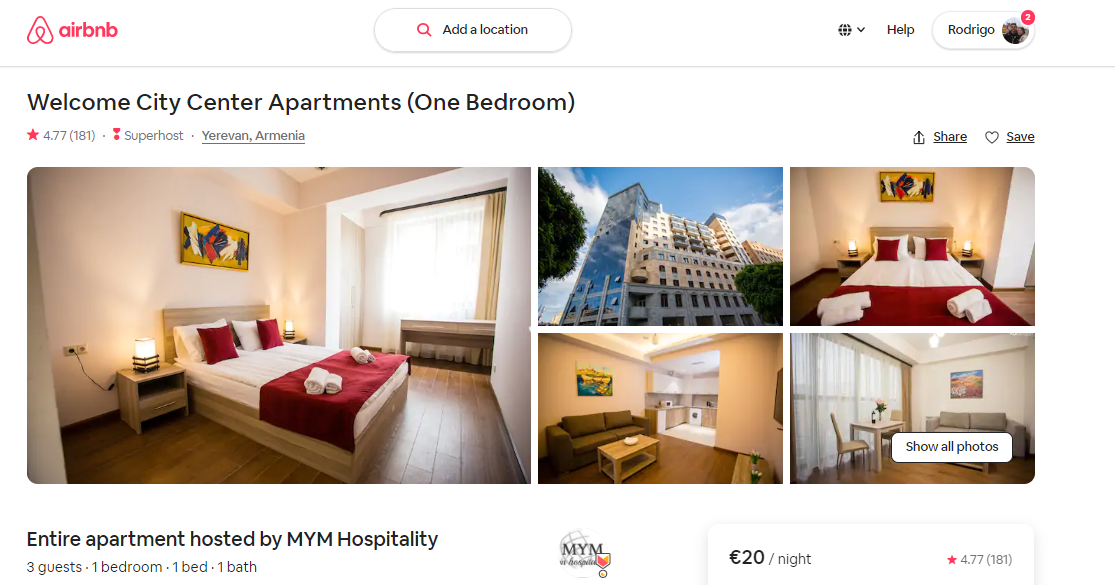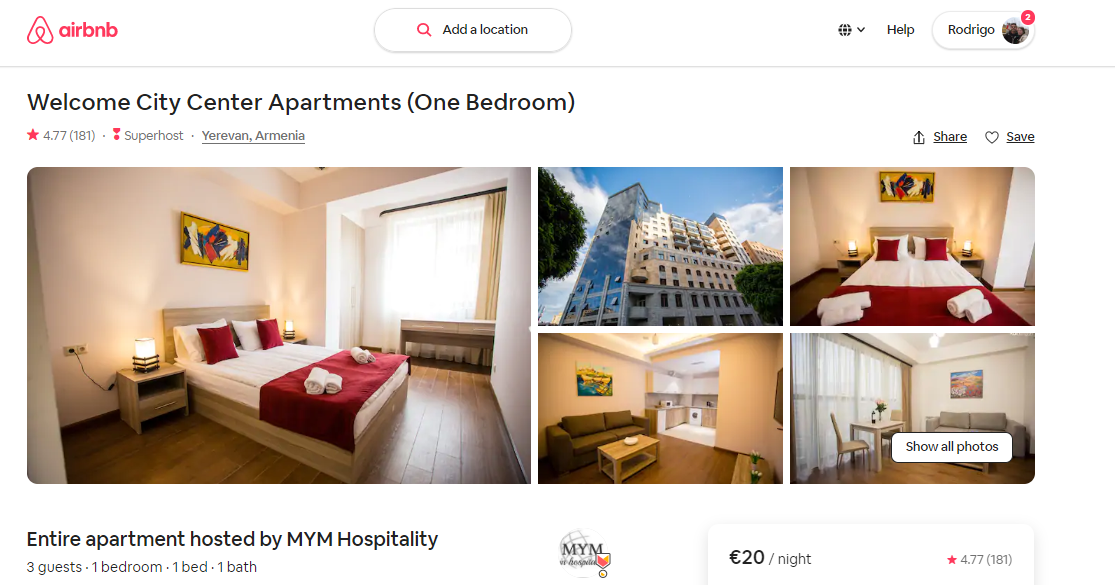 Be sure to look at the photos carefully so you can visualize the space and what it has to offer. Many cities have the option for their properties to be photographed by an Airbnb professional, which lends more credibility to the space. 
    8. Send a message directly to the host to ask any questions you have

 
Another nice advantage of Airbnb is that you can use the platform itself to speak with the host. So if you have any questions or need any extra information, you can send them a message.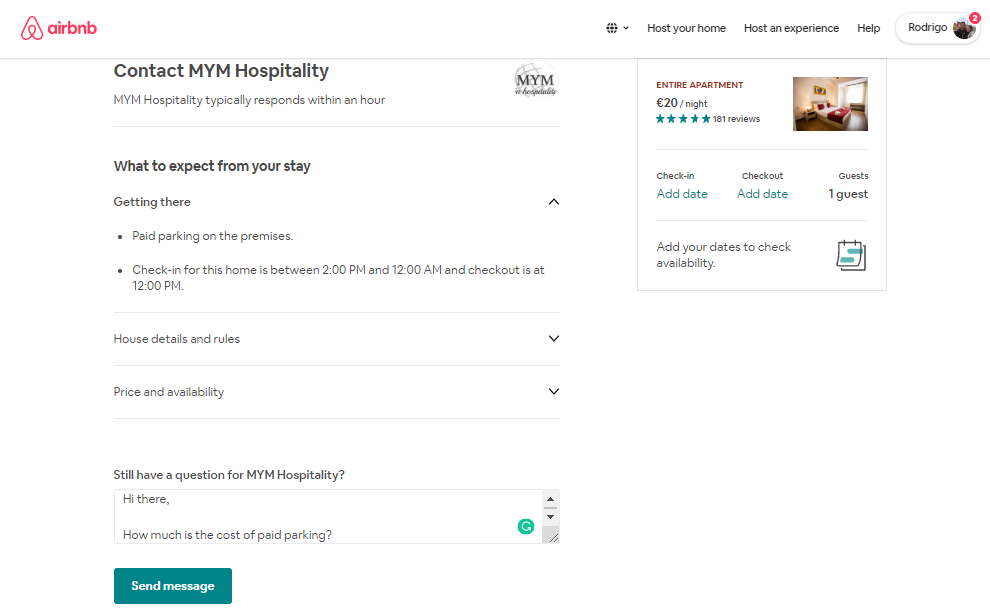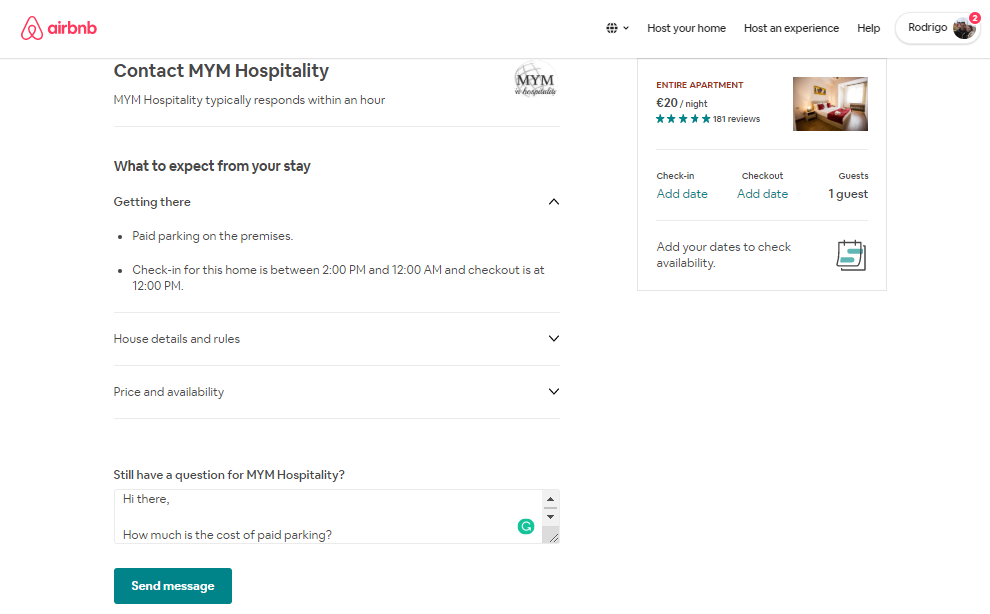 Just click the "contact host" button at the bottom of the property description, or near the host bio. 
Even if everything is clear and you make your booking, you should still send a short message to your host introducing yourself, saying why you're coming to their city, and mentioning who else you'll be traveling with. 
    9. Pay close attention to cancellation policies & other fees 
Airbnb cancellation policies can change a lot depending on the host, so make sure you look into them closely. You should be able to see what the host's cancellation policy is right at the top of the listing. 
For the "Flexible" cancellation policy, the guest can get a complete refund if they cancel up to 24 hours before check-in. If they decide to cancel after this, they'll be reimbursed at 50%. 
In the "Moderate" cancellation policy, guests have to cancel at least 5 days before the trip to get a full refund. In the "Strict" cancellation policy, guests receive a 50% refund if they cancel 30 or 60 days in advance. If they cancel after this time, no refund will be offered.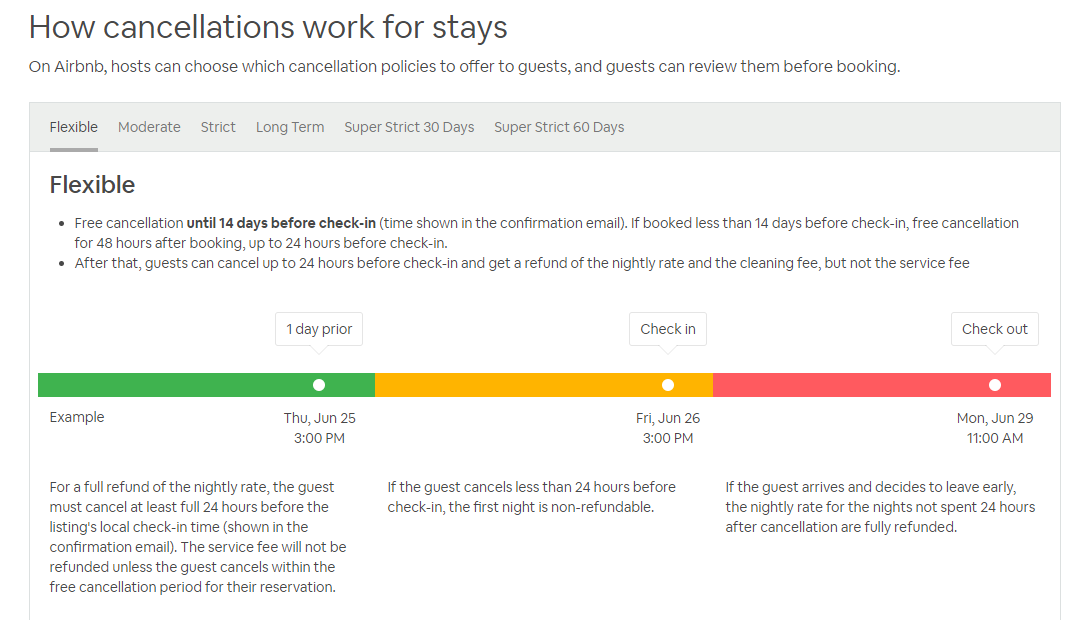 Also make sure you pay close attention to the fees that are tacked on when you go to make your booking. Some hosts require cleaning fees, Airbnb has a service fee, and various cities have overnight city taxes. You should be able to see these when you put in your booking dates so you can get the final total. 
One thing to keep in mind is that, even if you do cancel and get a refund, things like service fees and cleaning fees may not be refundable. 
    10. Stick to "superhosts," if you can

 
As I mentioned in tip #2 above, this is a really valuable filter to use during your search. Superhosts are hosts with many position comments, 5-star reviews, and who respond quickly to messages. 
So if you the superhost filter, that you'll be staying in a property managed by an experienced host. 
However, if you'd rather not limit your search options, you don't need to apply this filter. Especially because there are plenty of great hosts out there who haven't yet received the status of a superhost. So, whether you go with a superhost or not, just make sure you read the comments and reviews! 
    11. Don't negotiate outside of Airbnb
This is an important tip to make sure you don't get scammed. 
If a host wants to come to an agreement off the platform, don't accept their request! Keep everything within Airbnb. This guarantees that you have all your rights as a renter. Because if you pay through another platform and get scammed, Airbnb won't be responsible. 
So to avoid problems, try to avoid exchanging messages through Whatsapp or other applications and instead keep all contact to Airbnb. 
And while negotiating off the platform may be tempting to avoid all the extra fees, Airbnb may ban you or deactivate your account. So, proceed with caution. 
    12. Create a "favorites" list and save your top options

 
The truth is that finding good accommodation can take some time. Sometimes days of research, sometimes weeks! And that's where Airbnb's saved favorites list can help. 
During your search, you'll probably find many interesting options. To make sure you don't lose them, you can save them to a list of your choice by clicking the little heart just above the listing's photos.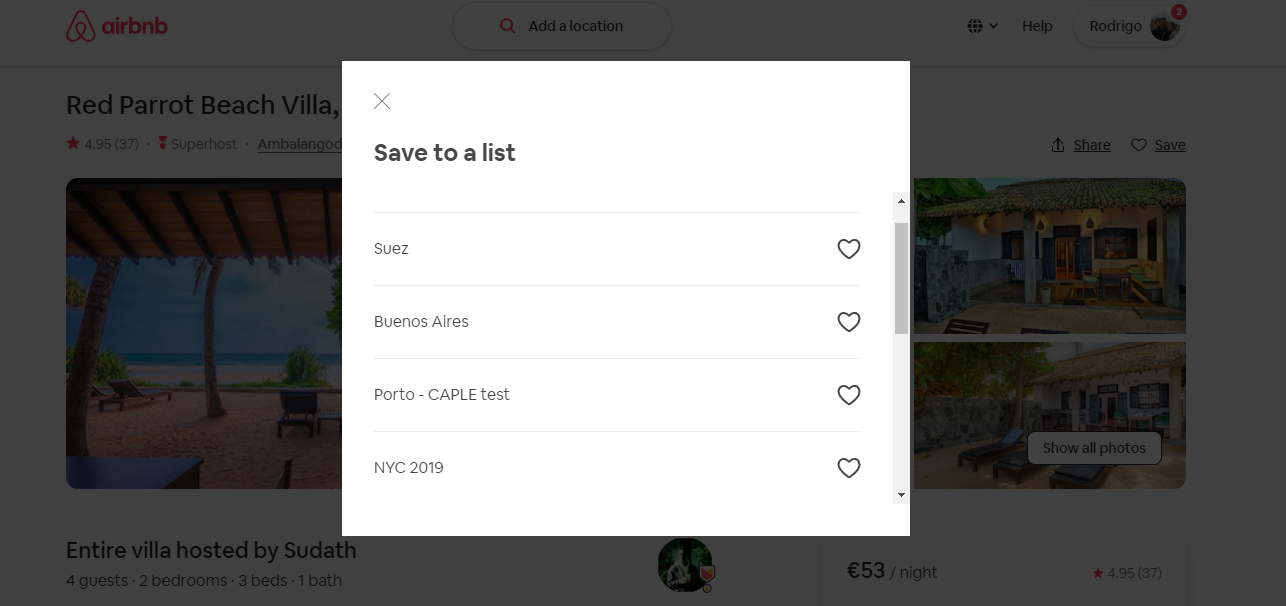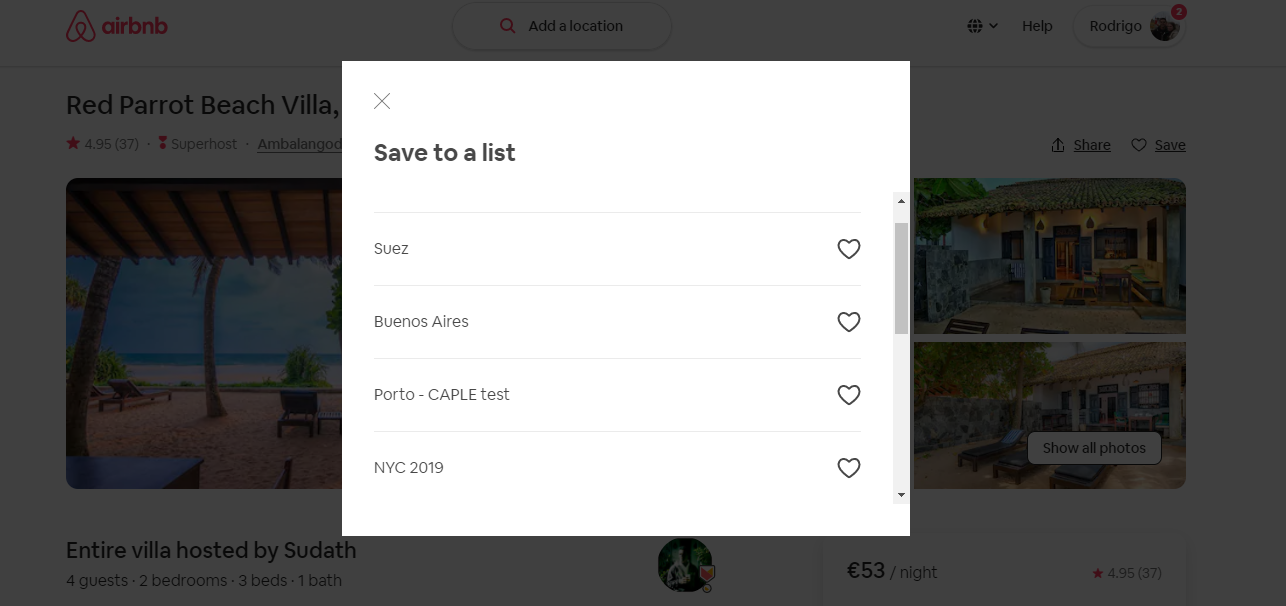 13. Make your Airbnb reservation early 
And of course, if you can avoid it, don't leave your reservation to the last minute. Sometimes, your options will run out and the prices will skyrocket. So, the earlier you can begin your search and make your reservation, the better off you'll be! 
In summary…
Here's the quick recap of the 13 tips we covered above: 
Look for an Airbnb discount code

Use the search filters to filter your options 

Specify what type of Airbnb accommodation you want 

Choose the region that you want to stay in

Carefully read the description of the place and the host on Airbnb

Read all the comments and reviews left by

previous

guests

Look through the available photos 

Send a message directly to the host to ask any questions you have 

Pay close attention to cancellation policies

& any additional fees

Stick to "superhosts," if you can 

Don't negotiate outside of Airbnb

Create a "favorites" list and save your top choices 

Make your Airbnb reservation early 
In conclusion…
Airbnb is a platform that is safer, more complete, and easier to use than most of the other options out there. Not to mention, it also has thousands of options to stay around the world! 
However, finding the right Airbnb can be a challenge. So, make sure you start by using the filters and checking out the cancellation policies. And don't forget to carefully read the property descriptions, and read through the reviews, 
Now tell me…what do you think about the tips above to find the right Airbnb? Any other tips to add? Or have any questions about renting out an Airbnb? Let me know your thoughts in the comments area below!
Planning your next trip?
Then don't forget travel insurance! You don't want to get stuck paying a ton of money and ruining your trip if you get sick or have an accident without travel insurance. WorldNomads is ideal for adventurous travelers, backpackers, or anyone looking to be protected during their trip. They cover almost every single activity you can image! Plus, you can have a 5% discount with the coupon code comfort5.
Already reserved your hotel or hostel? If not, we recommend Booking.com. They have a huge selection of hotels and hostels all over the world. Plus, in most cases, you can cancel your reservation without any costs up to a few days before the check-in date! 
Still haven't booked your plane ticket and want to save big? Take a look at Momondo and Kayak. They are flight aggregators that combine several other ticket search websites to make it easier for you to compare prices and make sure you are getting the best deal. 
And finally, will you need to rent a car during your trip? Then check out Rentalcar.com to search and compare car rental companies from all over the world in a single website. Then, you can find the cheapest price for the best car!